7 Best Things to do in Norfolk: An Itinerary for a Long Weekend
1. Horsey Gap (Beach) to see the Seals
Of all the things to do in Norfolk, visiting the wild seals at Horsey Beach was the activity I was most excited for. Despite travelling extensively, I've never seen wild seals up close.
The irony that they had been lying on a beach in nearby Norfolk, all along, was therefore not lost on me.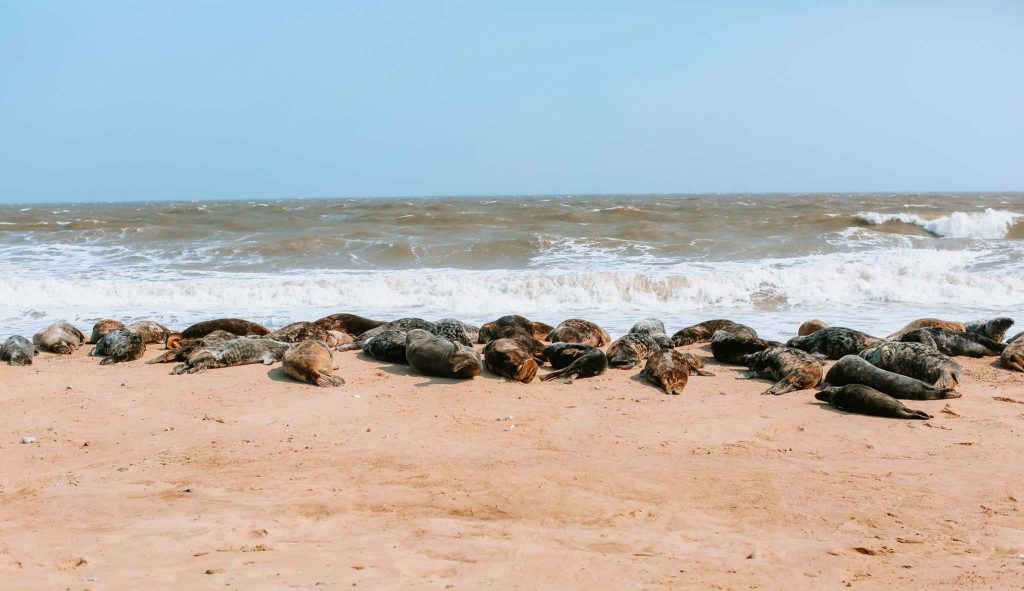 From our barn (more on this below), we were able to take a scenic 10-minute walk down to the sand dunes and directly onto Horsey Gap. Clambering over the golden sand dunes, with Olive strapped to my back, I breathlessly surveyed the scene below.
Much to my amazement, I was met with the sight of over 100 seals lying just meters in front of me. Although I'd been hoping to see a few seals, I hadn't expected to see quite as many as there were.
I'm not sure if this was pure luck, or if there are usually this number, but it was an incredible sight nonetheless.
When is Best to Visit Horsey Gap to See the Seals?
For those wanting to ensure that they catch sight of Horsey's grey seal colony, then be sure to visit during the winter months – late October to February. This is when the seals come ashore to mate and birth their young. In fact, between 2019 to 2020, a whopping 2069 seals were born on Horsey beach.
The beach is ideal for a sunny morning stroll, stopping to wave to the seals or to watch the crashing sea. The beach is flanked by miles of bronzed sand dunes, which add a rugged and remote feel to this lovely, quiet beach.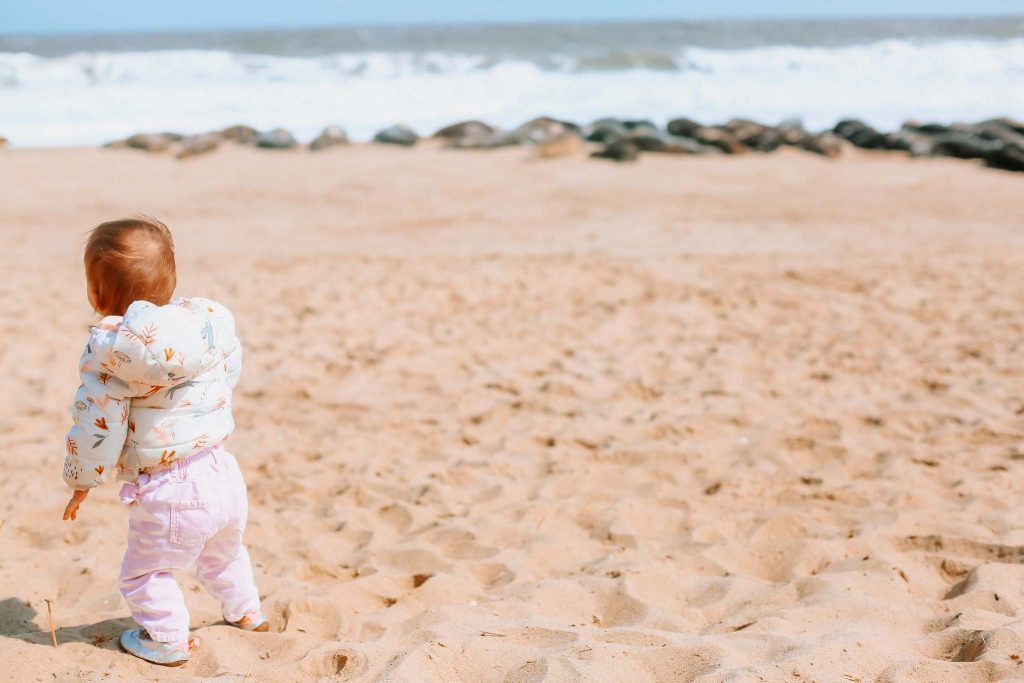 Can You Park at Horsey Gap?
Yes, there is a pay and display car park located at Horsey Gap, which allows you to walk onto the beach in a matter of minutes. Please be warned, however, that the walk up is quite steep and those with mobility issues might struggle to get on to the beach.
2. Lunch at Poppylands, Horsey
A stone's throw from Horsey Gap is the delightfully quirky Poppylands tearoom.
A 1940s inspired affair, Poppylands is part museum, part tearoom and part restaurant. This little spot is jam-packed with wartime memorabilia and was an unexpected delight to enjoy lunch at and added a quirky touch of our list of things to do in Norfolk.
Offering a diverse range of food and delicious cakes (and plenty of options for children), we really enjoyed our visit here. Be sure to order a pot of their tea, which comes complete with quirky teapot warmers.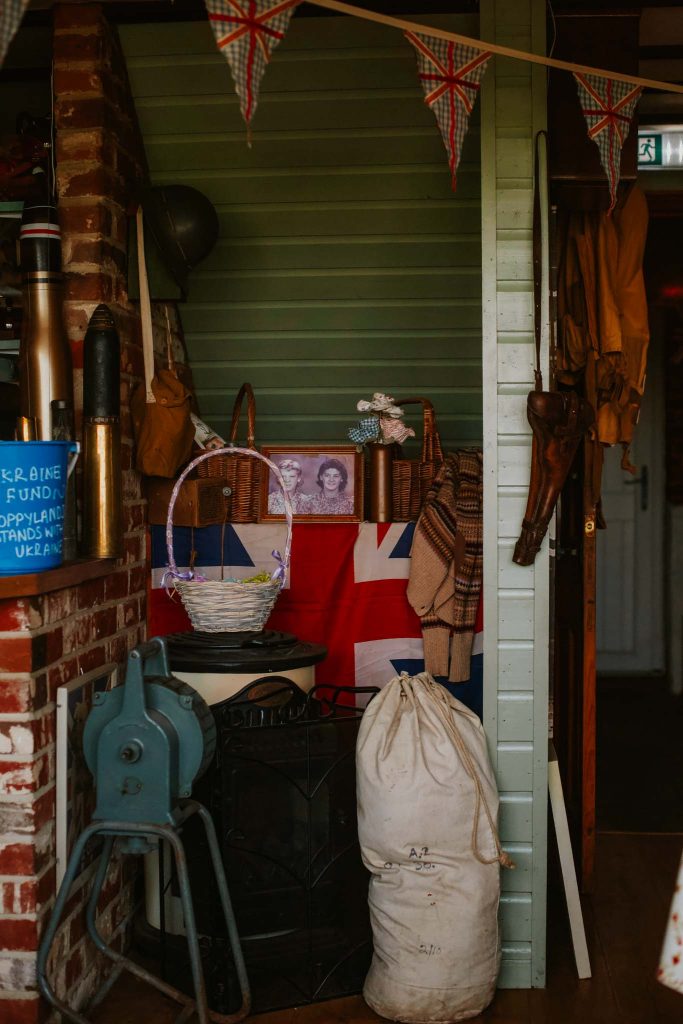 3. Visit Horsey Wind Pump (National Trust)
After lunch at Poppylands (and an optional afternoon nap for your baby), head to Horsey Windpump.
As we were staying in Horsey itself, the Windpump was less than a five minute drive away. We felt very fortunate to have this beautiful National Trust site on our doorstep.
Horsey Windpump is an iconic building set on the Horsey estate, overlooking the beautiful Mere. Brought back to life in 2015, after standing empty since 1943 when it was struck by lightening, visitors can now tour this picturesque building; walking up its narrow steps for panoramic views of the Broads below.
There is also a lovely tearoom here, ideal for a cup of tea and slice of cake after a walk around the estate.
There are lots of clearly signposted trails around the area and for those looking for more adventure, you can also take Ross' Wildlife Boat Trip from the Mere. Unfortunately, we ran out of time to do this, but are definitely eager to return to explore the area's wildlife (children of all ages are welcome on the boat).
This National Trust site also has a small, but perfectly formed, Sensory Garden, which Olive thoroughly enjoyed exploring. A great little place to add to the list when considering things to do in Norfolk with children.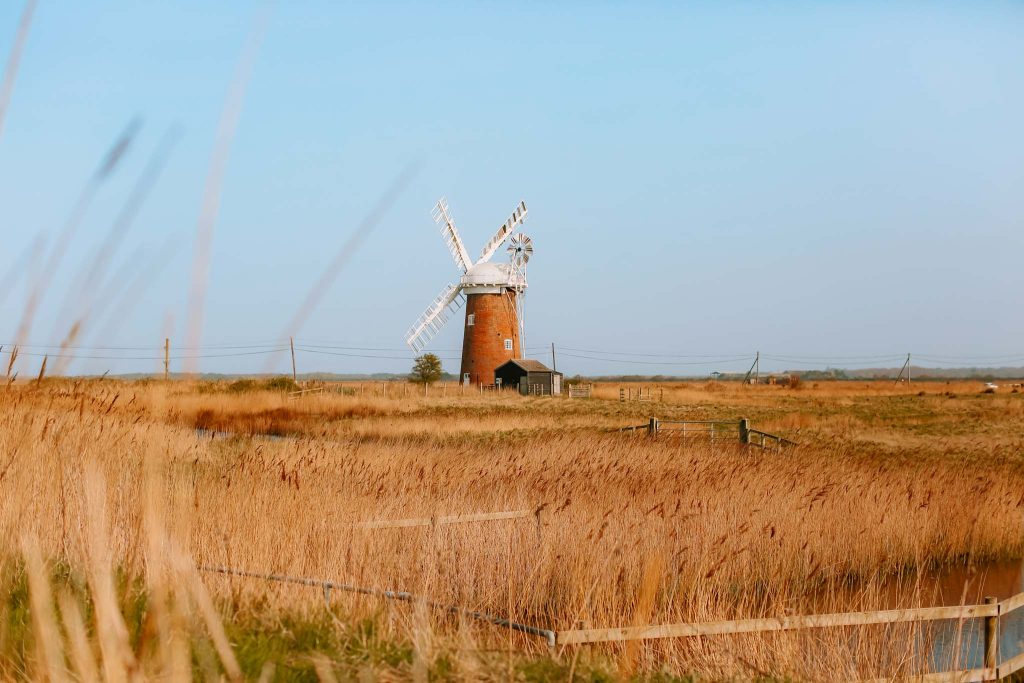 4. Happisburgh Lighthouse
Having explored Horsey, it's time to travel twenty minutes up the road to Happisburgh Lighthouse (pronounced 'hayz-buh-ruh'). The oldest working lighthouse in East Anglia, built in 1790, Happisburgh is a red and white striped wonder to visit.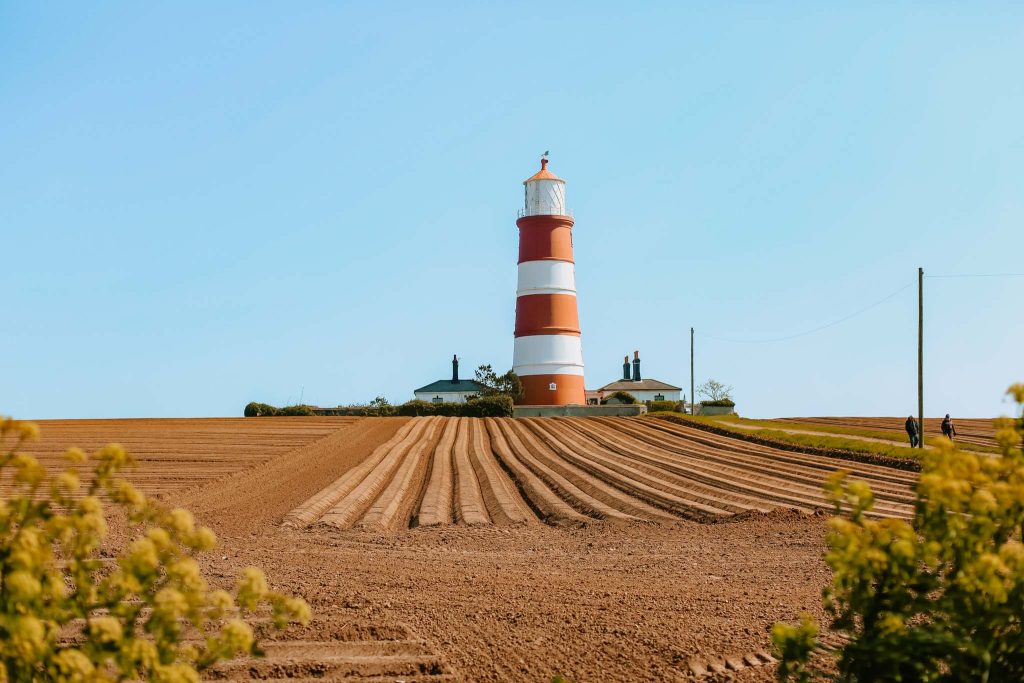 Although you can only visit the inside of the Lighthouse on certain days of the year (more information on open days here), the walk around the building is still well worth it. We visited on a bright, sunny April morning, when the smell of the salty coast was fresh in the air.
Much to Olive's delight, there was an excellent park next to the Lighthouse, which she really enjoyed before we went on a walk down to the coastline. There is also an excellent 1.75 mile walking trail around the Lighthouse, which will take you down to the coast and back round in a loop.
Parking at Happisburgh Lighthouse: there is a pay and display carpark next to the Lighthouse, which also provides easy access down to the coastal path.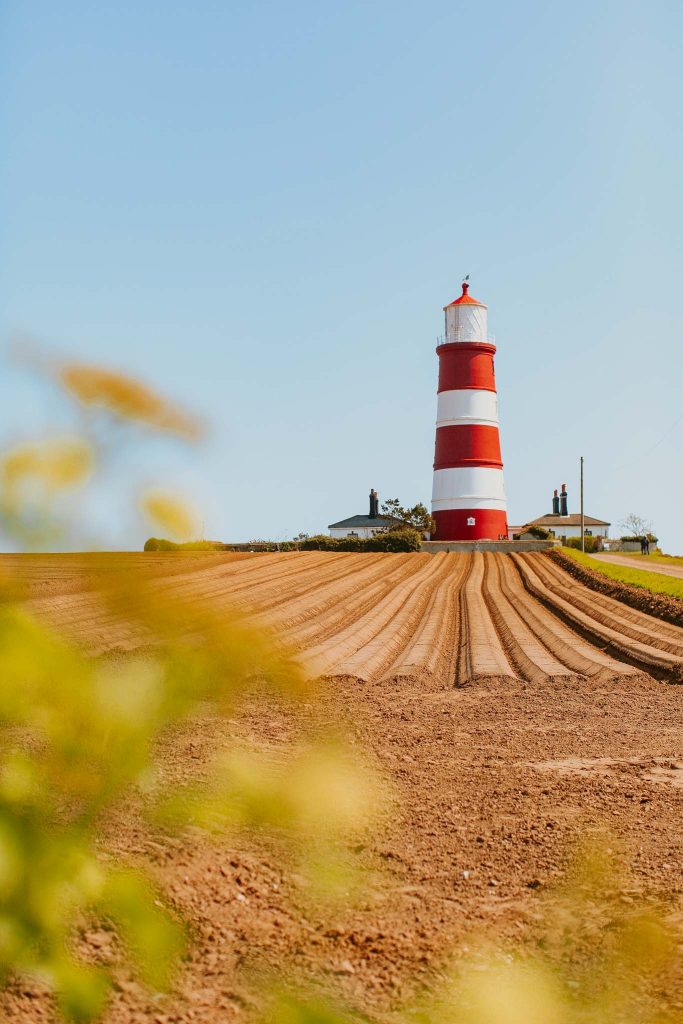 5. East Ruston Vicarage Gardens
The East Ruston Vicarage Gardens were perhaps the unexpected highlight of our long weekend in Norfolk and should be added to your list of things to do in Norfolk.
Privately owned by Graham and Alan, who bought the property in 1973, the gardens have been a labour of love. Initially a barren piece of land, the gardens are now 32 pristine acres, including woodland, Mediterranean, winter and glasshouse gardens. Here you'll also find meadows, walled gardens and more formal walkways.
They are, in short, a nature lover's paradise and Olive was in her element exploring the gardens on a warm, sunny afternoon.
Visit the Tea Rooms
As East Ruston was just a five minute drive from Happisburgh, we decided to have lunch at the tearooms onsite. On a sunny day, sitting in the gardens for lunch was a delight, although I did feel that the lunch was very overpriced. I'd instead suggest bringing a picnic with you and buying a cup of tea and slice of cake when you visit, to save some pennies.
We spent far longer in the gardens than expected, exploring the different designs and soaking up the sunshine. The Vicarage's pets can also be found roaming the estate and Olive adored stroking the friendly dogs and resident cat. The gardens also boast a lovely plant shop, where I bought a boot full of colourful, bee friendly plants for my own garden.
It was a blissfully happy afternoon and I cannot recommend a trip to East Ruston Vicarage Gardens enough when enjoying a long weekend in Norfolk.
6. Wells-next-the-Sea
On the final day of your long weekend in Norfolk, it's time to visit one of North Norfolk's most beloved spots – Wells-next-the-Sea.
From Horsey, this was a bit of a drive for us – taking just over an hour and 15 minutes, but we decided it was worth the journey, setting off when Olive was due a nap. It was a straightforward drive and for those happy to travel around Norfolk, I would definitely recommend making time for a longer road trip like this.
Can you rent beach huts at Wells-next-the-Sea?
The beach at Wells is renowned for its array of mismatched, colourful beach huts that line its sandy stretch of coastline. Many of the beach huts at Wells-next-the-Sea can be hired for the day, with The Happy Huts recommended to me as one of the best providers. These cost £60 a day during peak season and £55 a day during off peak times.
As we knew we didn't have too much time to devote to the beach, we decided against hiring a beach hut, which I instantly regretted as soon as we arrived at this sandy paradise. Peeking into many of the huts, while Olive scooped sand like a woman possessed, I was transfixed by the tiny little worlds found inside them.
Quirky and bursting with colour – and boasting names such as 'Dolly Mixture' and 'Linger Longer' – the beach huts looked like the ideal base for a day by the sea and I would certainly recommend hiring one when considering things to do in Norfolk.
The beach at Wells-next-the-Sea is also flanked by a pinewood forest. Planted over 100 years ago, these Corsican pines are a delight to wander through and we had a lovely walk through them, spotting squirrels and birds as we went.
For those really looking to stretch their legs, you can walk the few miles along the beach to the Holkham Estate, who actually own the beach at Wells.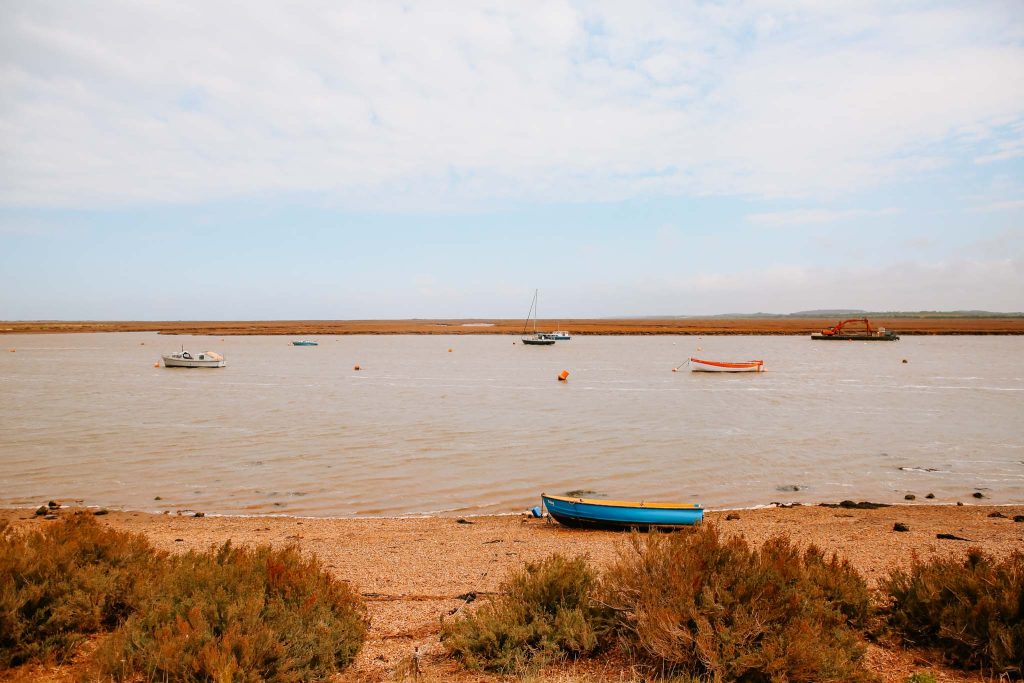 Beach aside, Wells Quay (port) was also a lovely spot to enjoy in the afternoon sun. We demolished some fish and chips here as we watched the tide came in across the marshes.
For those looking to enjoy the British seaside pastime of crabbing, you can also do this at the Quay at Wells. Re-usable metal buckets and eco-friendly tackle can be bought at Gilly's Hut and can be hired for just £1.00 (with a £5 deposit). I'm genuinely excited to return to the Quay when Olive is older, to enjoy this traditional seaside pastime.
Parking at Wells-next-the-Sea
There was ample parking at Wells-next-the-Sea, including both in the centre of town and at the beach. We decided to park in town and enjoy the twenty-minute coastal walk over the marshes to the beach. For those planning just a day just at the beach, however, I would recommend making full use of the seaside carpark.
The carpark also came complete with a cafe, toilets and much to my delight, a Joules shop.
Parking costs:
Up to 2 hours: £3.50
Up to 4 hours: £6.50
Over 4 hours and all day: £9.00
7. Felbrigg Hall (National Trust)
Your final stop during your long weekend to Norfolk is to another beautiful National Trust site – Felbrigg Hall, Gardens and Estate. While parts of the hall, dating back to the 1620s, are open to the public, we decided to stick to just the gardens – thanks to our toddler tyrant in tow.
Even just a stroll around the garden, however, was well worth the visit.
The Gardens at Felbrigg are ideal for children to explore and include an octagonal dovecote (a home for doves). We were fortunate enough to visit when the resident doves at Felbrigg were being fed – and Olive had a very excitable 10 minutes of pointing, shrieking and, at times, attempting to pick up these very patient birds.
The walled gardens of Felbrigg are a magical spot to visit on a warm, spring afternoon, and were the ideal spot to end our long weekend to Norfolk.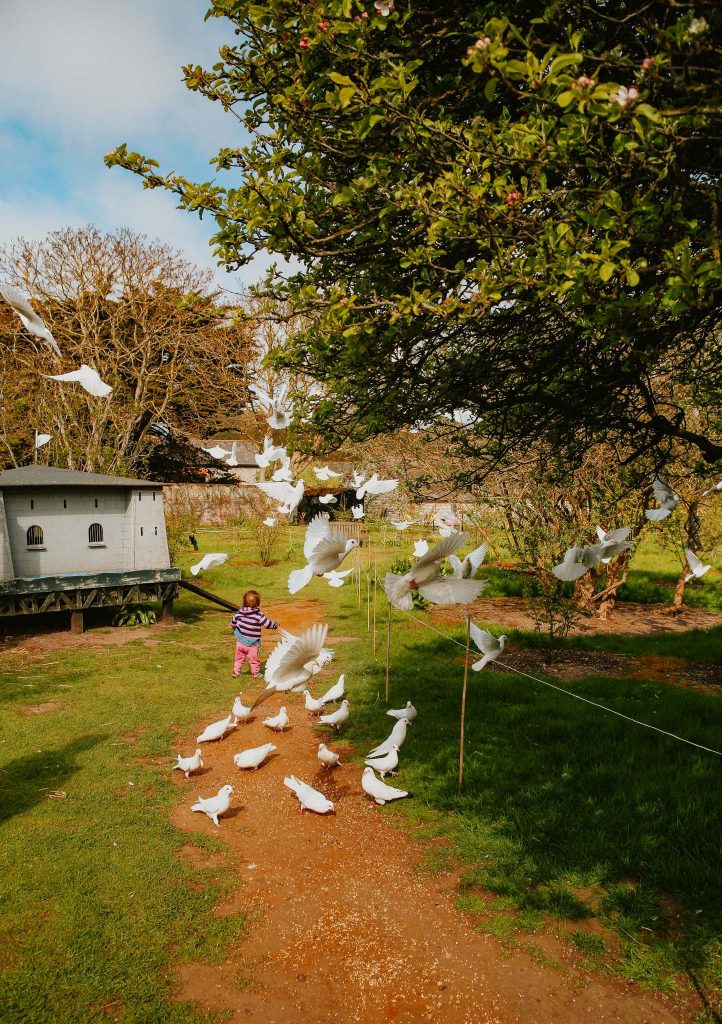 Where to Stay in Horsey, Norfolk
Aside from discussing the best things to do in Norfolk, I also wanted to share a brilliant accommodation option for those staying in the Horsey area.
I have wanted to stay in a National Trust Holiday Cottage for years and was thrilled when I discovered that a barn conversion in Horsey, owned by the National Trust, was available during our visit.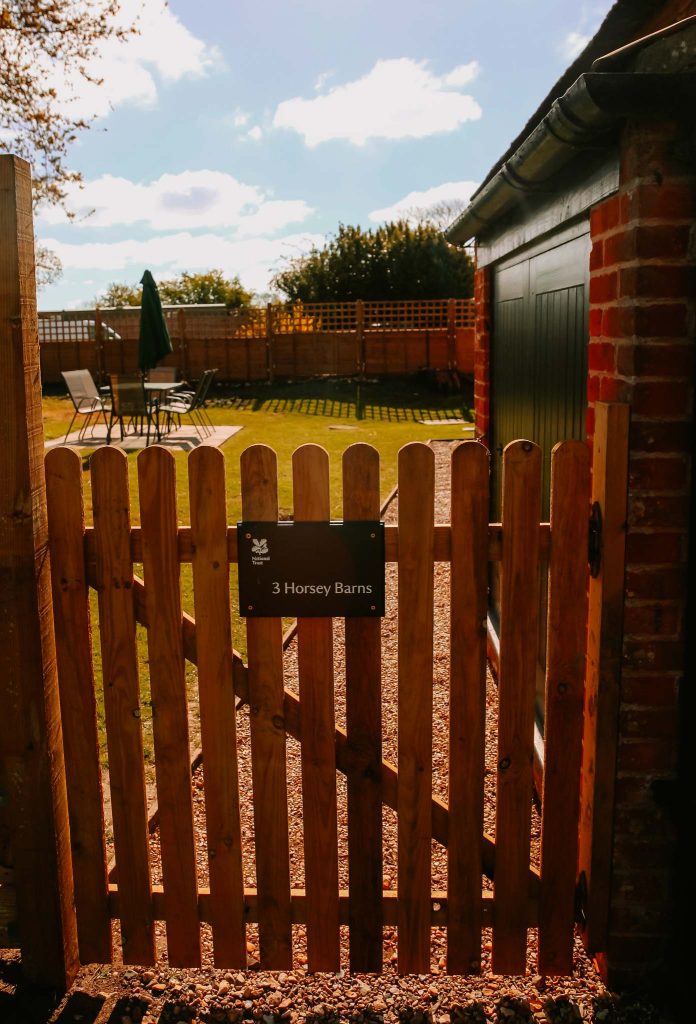 We stayed at 3 Horsey Barns and I was incredibly happy with both the quality of the accommodation and its location. For those looking to stay in Horsey, I would highly recommend this barn, which is also located next door to a pub that offers takeaway drinks, meals and puddings.
This is something we definitely made the most of once we had put Olive to bed.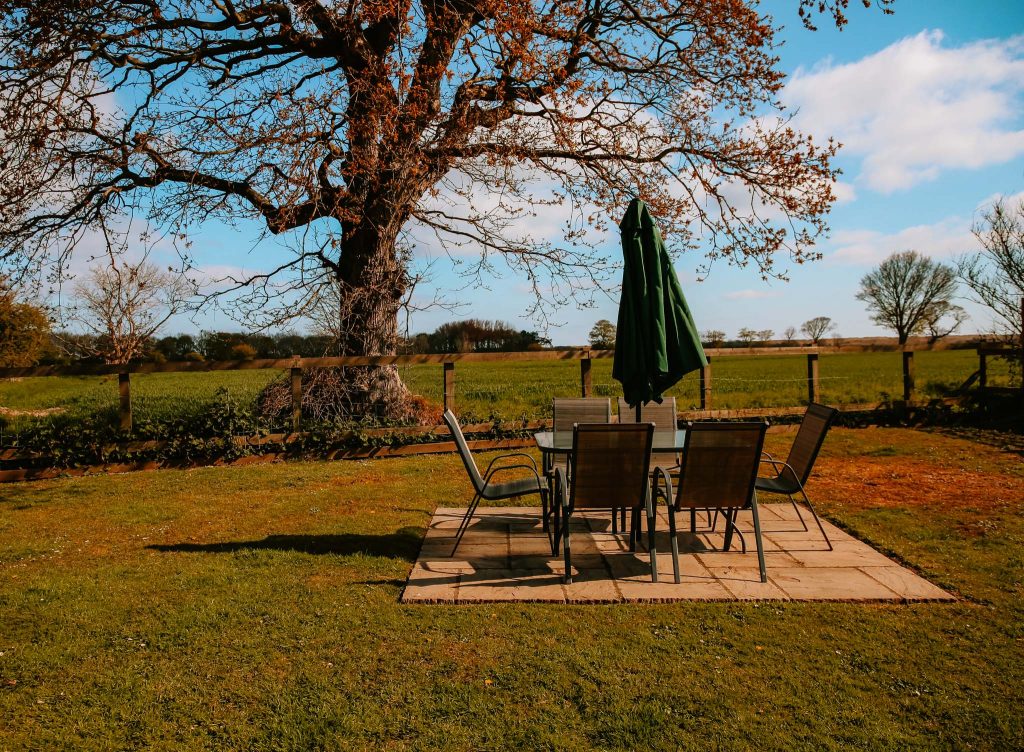 The Benefits of Staying at a National Trust Holiday Cottage
There are many benefits to staying at a National Trust Holiday Cottage:
1. Unique Properties
The National Trust have lovingly restored over 400 properties in the UK, since they started in the 1940s. These unique properties range from medieval cottages, traditional Scottish bothies, to art deco villas on the sea. Each and every one of them is steeped in history and heritage. Working alongside local historians and craftsmen, the National Trust ensure that each of their holiday homes are sympathetically restored to remain in keeping with the original period of the building.
2. Unique Locations
The properties provided by National Trust are also found in unique locations in the UK; providing quirky and one-off experiences. Our barn, for instance, was located on the Horsey Estate, which provided us with unrivalled access to the beach and the surrounding Broads.
Other locations include, national parks, clifftops views and glamping sites in protected woodland.
3. Free Access to National Trust sites 
During your stay at a National Trust Cottage, you are granted free access to any National Trust sites (excludes parking). We loved this aspect and made the most of it during our stay –  visiting two other NT sites. Furthermore, for those holiday cottages located on the grounds of historic houses or parkland, you are guaranteed 'out of hours' access, meaning a twilight stroll amongst beautiful grounds with not another soul in sight.
4. Doggie Friendly 
Many of the National Trust Holiday cottages are dog friendly, with a full list of these properties available on the website.  Our holiday cottage was dog friendly and came complete with a box of dog food, leads, blankets and food and water bowls. There was even a special blanket for any doggie visitors, to put over the designated 'dog sofa'.