Things to do in Prague in December was updated in December 2022.
Visiting Prague's Christmas Markets has been a dream of mine since I read the book: Daughter of Smoke and Bone.
Set amongst the city's wintery streets, this magical story follows the tale of Karou, an art student who lives between Prague's historic lanes and a monster's workshop (filled, incidentally, with teeth and bones). The book, filled with lyrical descriptions of Prague and its gothic spires, not only had me captivated – but determined to visiting Prague in December.
Finally escaping the sofa just after Christmas, we decided to seize the moment and board an early flight to Prague; booking just a few nights in this gothic city. With the UK abruptly packing up Christmas – the festive period disappearing the moment the last of the turkey had been scraped into the bin – we were instead headed to a place where celebrations were still in full swing and, as the story suggests, magic lurked behind every door.
Our long weekend exploring Prague's Christmas Markets was the ideal way to keep the festivities alive. In fact, exploring the city after Christmas, rather than arriving before, comes recommended. With the stress of gift shopping and family politics out of the way, all that is left to do is relax and enjoy all the best things to do in Prague in winter.
Below is a complete guide to things to do in Prague in December, including its Christmas Markets, located in Old Town Square.  From the tourist hotspots of the Old Town Square and Prague's Castle, to its quirkier, lesser-known museums, this guide will ensure that you get the very best from a wintery break in this spellbinding city.
How to get to Prague city centre from Prague's Airport
Public transport from Václav Havel Airport
Cost: £1 each way (90 minute ticket)
Getting to the city centre by public transport from Václav Havel Airport couldn't be easier. We jumped on Bus 100 (best for those staying in the southwestern part of the city), which runs every 20 minutes from outside the airport.
Most airport buses in Prague drop you on the outskirts of the city, where you can then pick up a Metro line. We were dropped at the Zilčín Metro line (close to a slightly curious shopping outlet), where we then travelled eleven stops into the city centre. The journey took around 45-minutes in total.
For those staying in other areas of the city, there's also bus 119, which takes you to Metro line A or the Airport Express Bus, which will take you to Prague's main train station.
Public transport tickets can be bought in the arrival halls of the airport, just make sure you validate them before starting your travel. 
Taxi
Cost: Approximately £22 (each way)
With Prague's airport located only 17 km from the city centre, a taxi is still a fairly inexpensive option and will take around 25 minutes. Our hotel offered a service to and from the airport, but taxis are also available outside the airport (AAA Radio Taxi).
Most accept card payment.
Getting Around Prague
Prague's Metro, tram and bus systems make travelling around the city incredibly easy.
Transport tickets, which allow you to travel on the Metro, tram and buses, can be bought from the arrivals hall in the airport or at metro stations (and at some tram spots).
You can buy 30 minute, 90 minute, one day or three day passes, which are handy for those planning on using public transport the entirety of their stay.
A 72 hour pass cost us £10 pp, however, as we were staying in a central location, we actually ended up not using public transport at all (much to my frugal annoyance at having forked out £10 each).
Although we walked a healthy 20,000 plus steps a day, getting around the city and its major sights was entirely achievable by foot. This also allowed us to discover more unexpected spots and we could experience the city's three bridges as we passed between the Old and New town.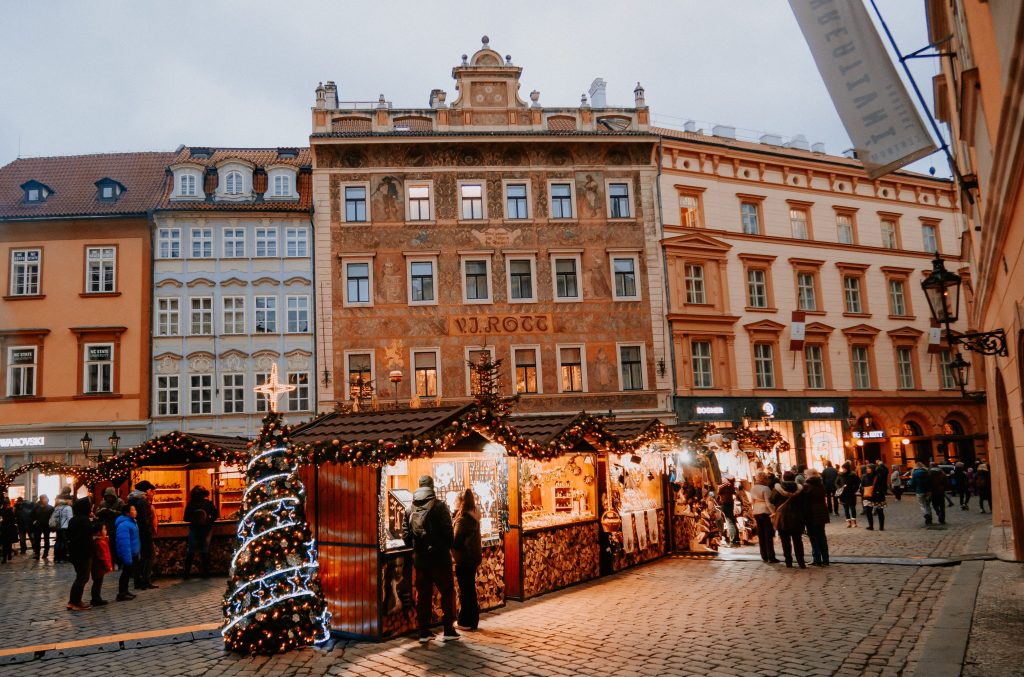 Tram No. 91 (now Tram 41)
For a more nostalgic way to explore the city, hop on Tram no. 91.
A vintage tram from 1908, Tram 91 (now confusingly rebranded as Tram 41 after changing lines), departs from outside the Public Transport Museum and stops regularly along the way.
We noticed this vintage tram a number of times and, one afternoon, even chased it over a bridge to try and board it. Unfortunately, it is only open to private pre-booked tours over the holiday season, but can be used as regular transport between March and mid-November.
Note: ordinary public transport tickets are not valid on Tram 91 and you'll need to buy a new ticket onboard to travel.
Where's best to stay in Prague?
Keen to stay in a central location, I spent quite a bit of time researching the best hotels in Prague.
Eventually, I decided on Élite Hotel, which is situated within walking distance of the Old Town and is just a minute's walk from the Metro station. We had a very comfortable stay here, with the hotel offering a delicious and varied breakfast.
Having bought cheap flights to Prague with EasyJet, I was happy to spend a little more on our hotel.
Our three night stay cost £541, including breakfast.
How much do you need to budget for a trip to Prague?
When I was budgeting for Prague, I had read that the city was no longer as cheap as it once was – something I'd agree with.
Riding high on a wave of tourism, it's now in keeping with most European cities; something that's perhaps demonstrated by the cost of its tourist attractions. With most of these charging between £8 – 12 per entry, a large majority of our budget was in fact spent on simply getting into places.
Below is a round-up of our total spend for our three night/four day stay whilst visiting Prague at Christmas (peak season).
Now in my thirties, my days of scoping out bargain-basement breaks are perhaps over; something that was reflected in our hotel choice and our budget for the trip. As such, the budget below reflects a comfortable break, with mid-priced activities and places to eat.
Cost of flights to Prgague: £180 (return for two people) with EasyJet from London Luton
Hotel: £541 for 3 nights (central location and breakfast)
Money spent in Prague: £420 (includes eating, drinking, visitor attractions, transport and souvenirs.)
Total: £1, 141
Tip: Save money by buying a Prague Card, which will give you discounts across the city.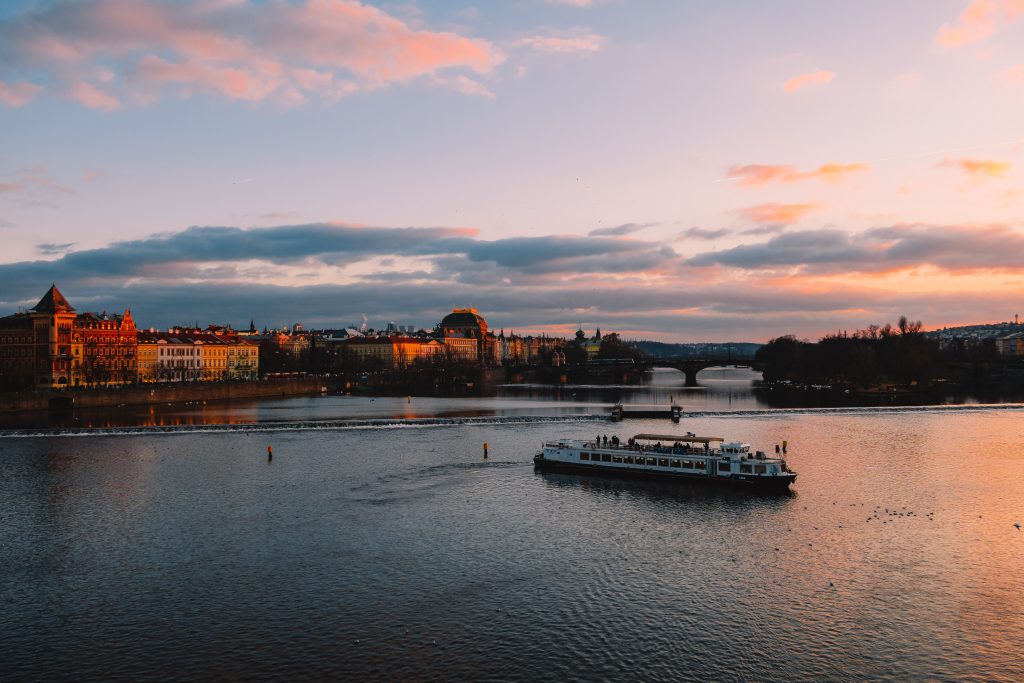 The Best Things to do in Prague in December
Visiting Prague at Christmas time means that there's an additional layer of activities to enjoy (of the magical, sparkling kind). For the purposes of this guide, I'll begin with the festive activities going on in Prague, before moving onto its main sights and delights that can be enjoyed all year round, including in winter.
1.Enjoy Prague's Christmas Markets (Vánoční trhy)
There's only one place to head to when visiting Prague at Christmas and that's its magical Christmas Markets held in the Old Town Square and Wenceslas Square.
In 2022, Prague's Christmas Markets are running from 26 November 2022 – 6 January 2023 and are open everyday: including Christmas Eve, Christmas Day and Boxing Day.
After a very early start to catch our flight, we arrived rather bleary-eyed to find ourselves inside a real life snow globe.
Ahead of us stood an enormous Christmas tree in Old Town Square, decorated with twinkling lights and shining baubles. Framed by the gothic spires of the Square, it was a veritable festive masterpiece. Surrounding the tree were candy-cane striped stalls, selling aromatic food, local products and Christmas gifts.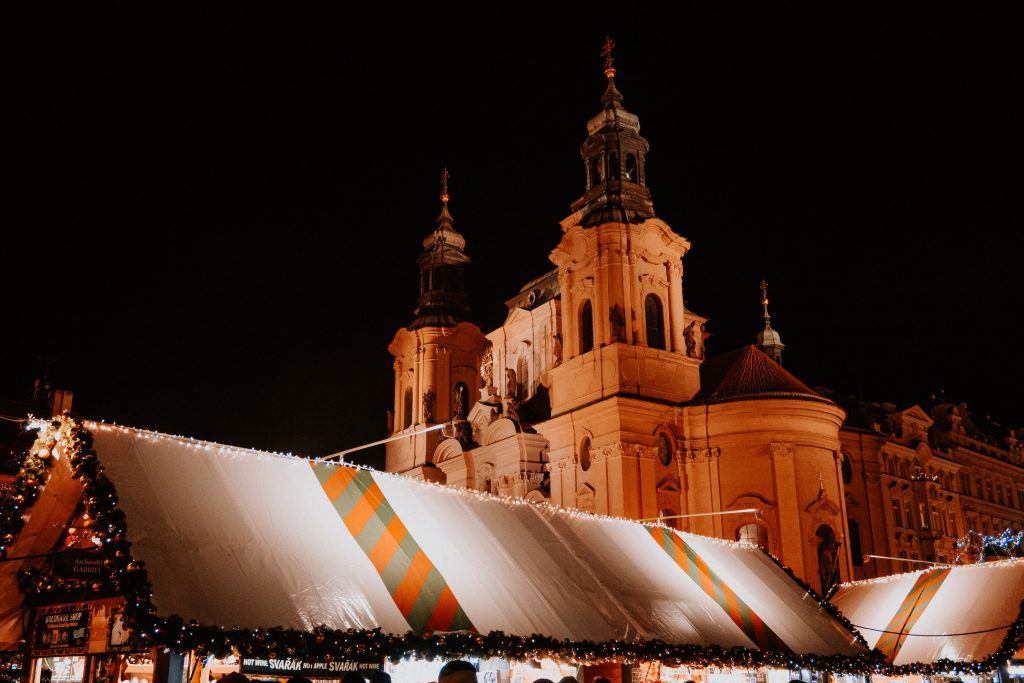 Following our noses, we made our way through the crowds to discover foodie delights in the Christmas Market, such as Pražská Šunka (ham roasted on spits), langoš (flatbread topped with cheese, ketchup and garlic) and trdelník (hot sugar coated pastry).
However, my favourite time to visit Prague's Christmas Market was once night fell; the square coming alive with glittering lights and above, a sea of twinkling stars. Carol concerts also regularly took place within the square and added yet another layer of utter magic.
If you're visiting Prague during its Christmas Markets, put these top of your list of things to do in the city.
2. Climb Old Town Square's Clock Tower
In order to get panoramic views of the Old Town Square in all its festive splendour, we headed up the Old Town Square's 70m-tall clock tower. From above, the square takes on a story-book feel; with miniature people milling between the stalls and around the towering Christmas tree.
Tip: The tower is open 9:00 – 8:00pm during December and January, and costs approximately £8 per person. There was quite a queue when we visited, so avoid peak times if you're in a hurry.
3. Visit The Astronomical Clock – Old Town Square
Prague's Christmas markets aside, you'll also find the beautiful Astronomical Clock located on the southern side of the Old Town Hall Tower.
A sight to behold, crowds gather around the clock every hour (between 9:00 – 11:00pm), to watch as its whirrs and chimes for 45 seconds. The clock itself tells a rather dramatic story – as 'Death' rings a bell and inverts his hour glass, and 12 apostles pass around the clock, nodding diligently at the crowd.
For a closer look at the clock, you can also take a guided tour of the Old Town Hall, which will take you inside the structure to see its inner workings.
4. Visit Prague Castle (Pražsky)
Tickets: There are three ticket options for Prague Castle, which will give you access to different areas within the grounds. These can be bought at the Castle or at the tourist information centre in the Old Town Square.
Handily, the tickets are valid for two days if you run out of time during your first visit.
Read any guide to Prague and number one on the list for things to do in Prague is a visit to Prague's Castle.
Less a castle and more a small town, this UNESCO protected monument is situated high above the Vltava River. Home to St Vitus Cathedral, a maze of courtyards, the Royal Gardens, a Picture Gallery, a 'Golden Lane' of multicoloured houses, a tower and the Old Royal Place, Prague Castle isn't a spot you can visit in a hurry.
Bracing ourselves for the crowds, we made our way up the steep hill that leads to Prague Castle – where we found even more Christmas Stalls and an unmissable panoramic view of the city.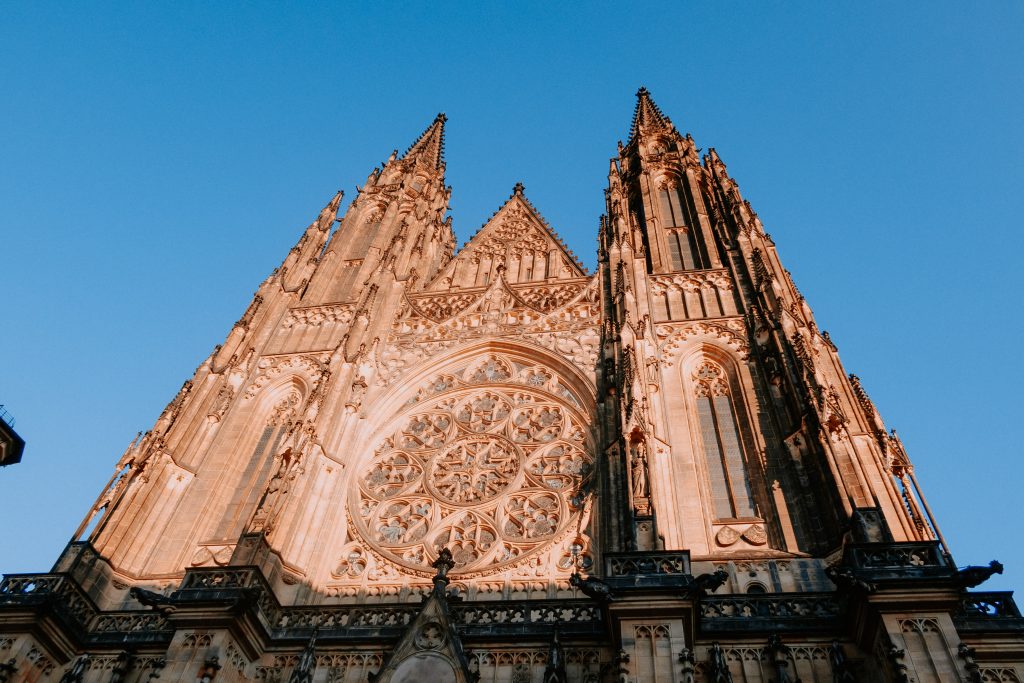 Unfortunately, we found our visit to Prague Castle a little disappointing, simply due to the immense crowds, long queues and hefty price tags associated with most of its attractions. As we were visiting during peak season, I did suspect that this would be the case and I'm therefore hoping to return during a quieter time when we'll have more space to enjoy it all.
Tip: Don't buy a ticket until you're inside Prague Castle and can see the queues. We (thankfully) chose to do this and saved ourselves some money when we realised the queue for the Cathedral alone was over an hour.
Despite not buying a ticket, we could still wander through the courtyards and gaze up at St Vitus Cathedral.
5. Walk over Charles Bridge
No trip to Prague in winter would be complete without a stroll (or wrestle, dependent on the crowd size) over the iconic Charles Bridge. A chaotic Gothic and Baroque masterpiece filled with buskers, artists and looming stone figures, crossing Charles Bridge is an entertaining and memorable experience and should come high on your list of things to do in Prague in winter.
Built in 1357 and commissioned by Charles IV, the bridge was able to survive 500-years of footfall and wheeled transport thanks to (apparently) the eggs that were mixed in with the original mortar. Charles Bridge was eventually pedestrianised after WW2, but still remains one of the busiest spots in the city.
Faced with the choice of a very early wake up call to see Charles Bridge free of its crowds, or climbing one of the bridge's towers for panoramic views, we opted for the latter – we were on holiday after all.
6. Climb the Eastern Tower for views of Charles Bridge
We chose to climb the eastern tower, for views of Charles Bridge leading into the Old Town. With the sun beginning to set over the city, we stood mesmerised by the continual stream of pedestrians weaving their way across the bridge, before disappearing through the Old Town gates.
In fact, as far as city sunsets go, Prague's is hard to beat: the gothic towers and centuries old buildings glowing a deep orange against the flowing Vltava River. The ideal way to appreciate Prague in winter, before the dark nights draw in.
7. Prague Jewish Museum
Tickets: The Jewish Museum ticket is a combined ticket, which gives you access to multiple sites.
The Prague Jewish Museum is home to six Jewish monuments and holds precious Jewish artefacts that were rescued from Czech Synagogues during WW2.
Although all of the sites are fascinating (and well worth visiting), it was the Pinkas Synagogue that we spent most of our time in; learning of the devastating fate of Czech Jews during the Nazi invasion.
Built in 1535, the Pinkas Synagogue was transformed from a working place of worship into a memorial, shortly after WW2. As such, inside the Synagogue, you'll discover wall upon wall inscribed with the names of all the 77,000 plus Jews that went missing during WW2 and the Nazi invasion.
It's a surreal sight and one that helps put into context just how many people suffered at the hands of the Nazis.
During WW2, Czech Jews were sent to the Nazi concentration camp of Terezin; a former holiday destination for Czech nobleman. Used as propaganda by the Nazis to show a holiday-like camp for Czech Jews, Terezin was in fact a ghetto where hundreds of thousands of Jews died. Indeed, it's estimated that 33,000 people died at Terezin from malnutrition or disease.
For those who survived Terezin, however, their fate remained bleak – with 88,000 of its victims sent onto Auschwitz or other extermination camps.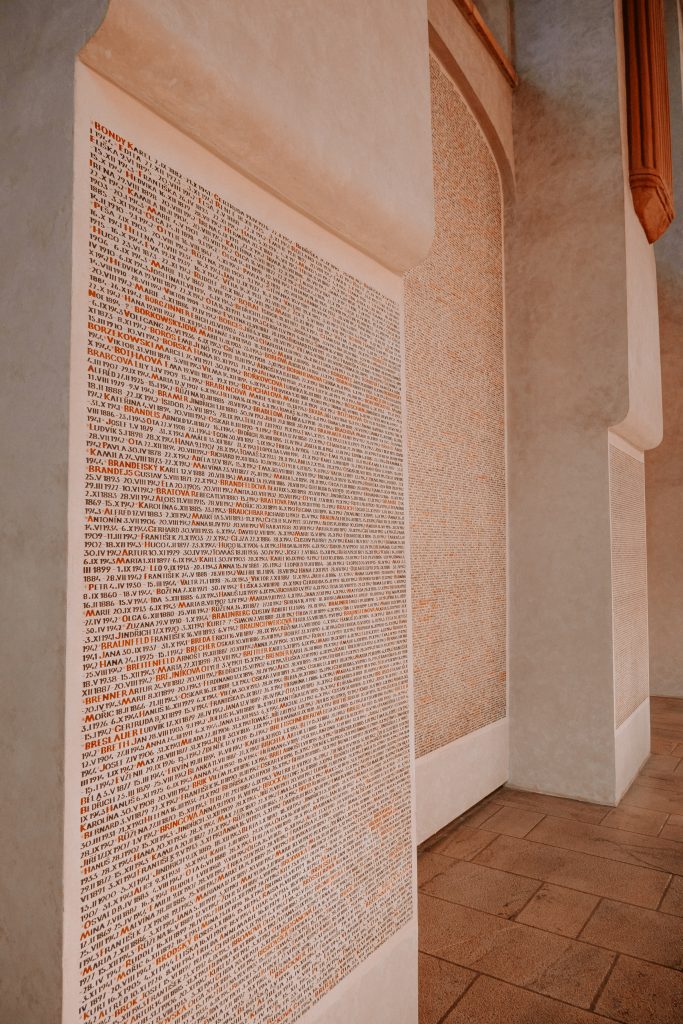 On the first floor of the Pinkas Synagogue, you'll find another moving exhibition consisting of the drawings made by the children living in Terezin. The display brings to life the lives (in colour) and fate of hundreds of thousands of Jewish children during this time.
Upon leaving the Pinkas Synagogue, visitors move through the Old Jewish Cemetery: Europe's oldest surviving Jewish graveyard. An equally haunting space, the cemetery houses over 12,000 crumbling headstones (although it's estimated that there are over 100,00 graves throughout the grounds).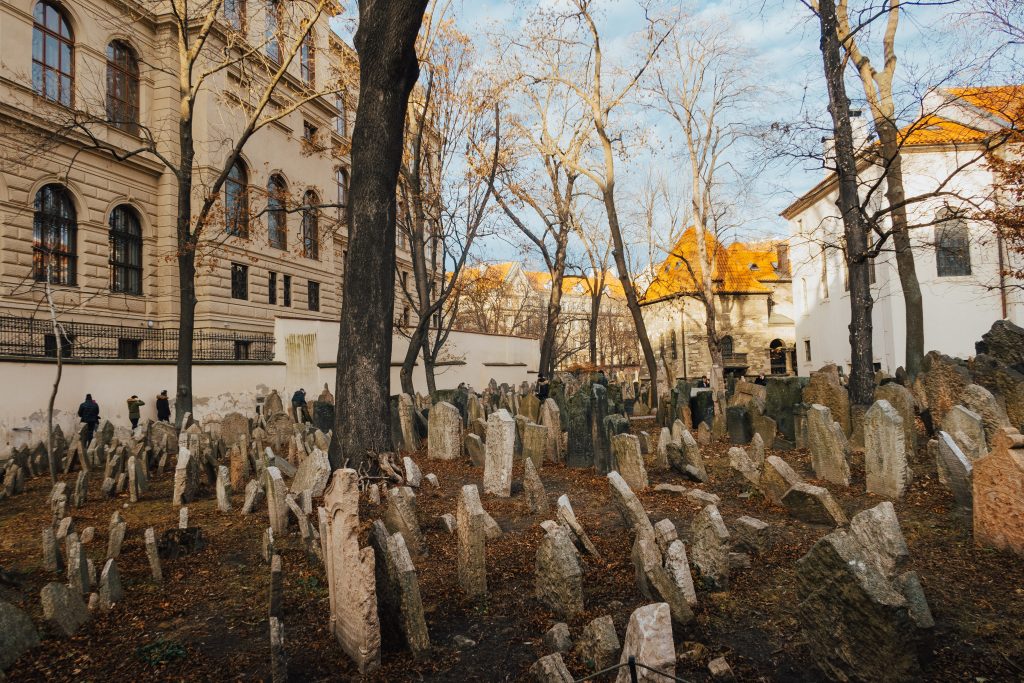 Although Prague's Jewish Museum might not be the first thing that springs to mind when visiting Prague at Christmas, this is an incredibly important site to visit and a place that is difficult to forget.
8. Visit Strahov Monastery
Strahov Monastery is located at the very top of the hill that also leads to Prague's Castle. Stumbling across the site by accident during our final afternoon in the city, we were initially eager to enter the Monastery to escape the bitter wind.
Paying for our admission tickets (thankfully I paid for the extra photography pass), we climbed the stairs to the Monastery with little expectation of what was waiting for us.
As we were soon to discover, however, Strahov Monastery is home to not one, but two, of the most beautiful libraries I've ever seen.
How about that for an accidental find?
9. Visit Strahov Library
Strahov Library is home to two breathtaking baroque library halls that date back to the 17th century.
A library lover's dream, I could hardly believe our luck when we stumbled across these magnificent, book-filled spaces. Although (sadly) you're no longer able to walk through either halls (the changing humidity from visitors' breath was damaging their interiors), you can still view both halls from the entrance.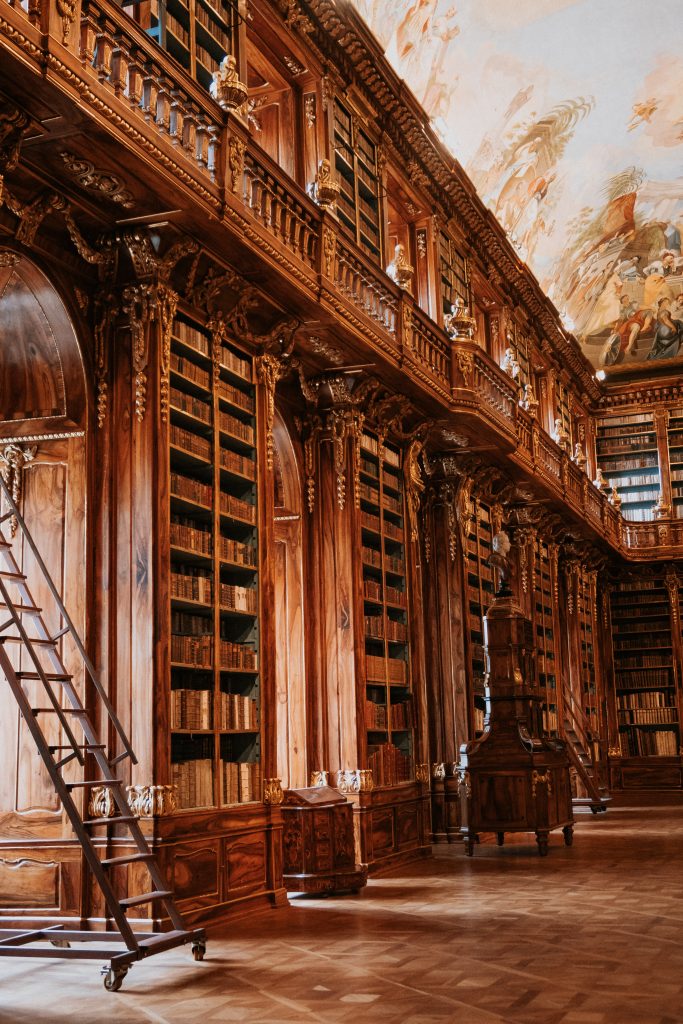 The first library hall is the Philosophy Hall, with gleaming walnut wood and soaring ladders. A two-storey high library, the interior was built to fit around the walnut shelving that was rescued from another library in South Bohemia. To add to its magical feel, the hall is also home to two concealed staircases that take visitors up to the library's second floor.
Stood at the very edge of the entrance, camera in hand, it took all of my will power not to run through this sea of historic texts.
My favourite library hall, however, was the Theological Hall. The older of the two Baroque halls, dating back to 1679, the Theological Hall is set snuggly beneath a low ceiling, decorated with baroque stuccowork and paintings depicting the 'True Wisdom'.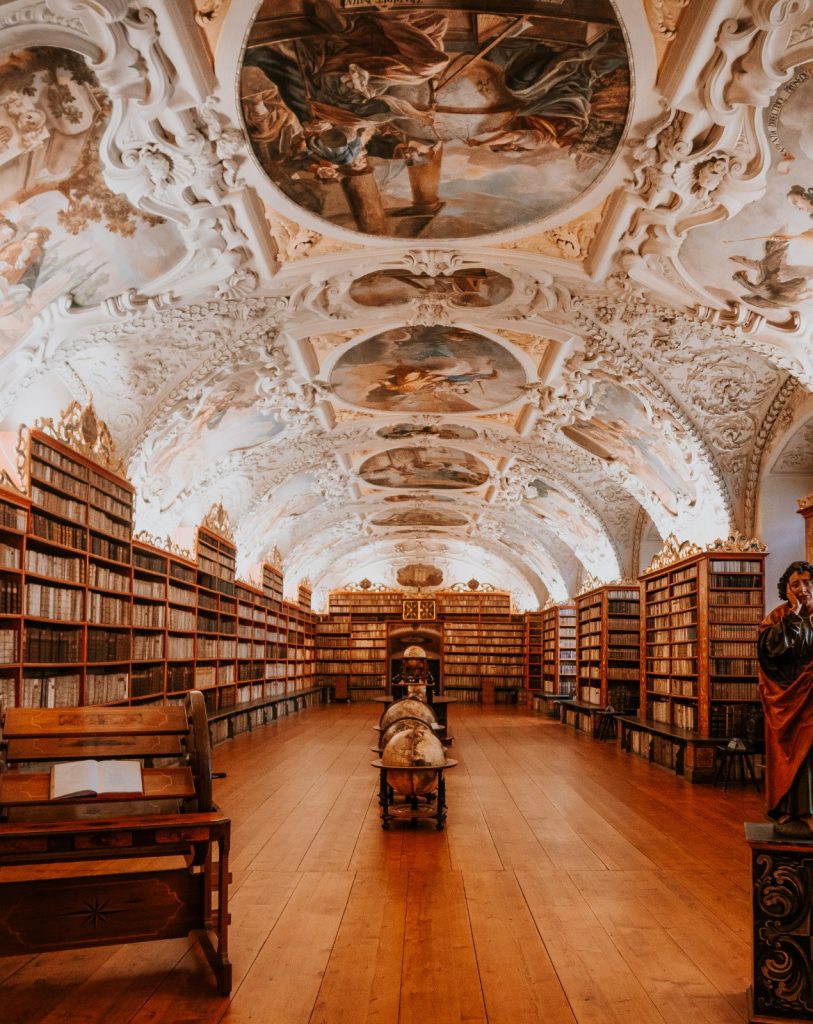 9. Visit Loreta 
Located a short walk from Strahov Monastery is Loreta: an important place of pilgrimage in Prague. Another baroque masterpiece, this was a lovely place to visit on a sunny morning in Prague.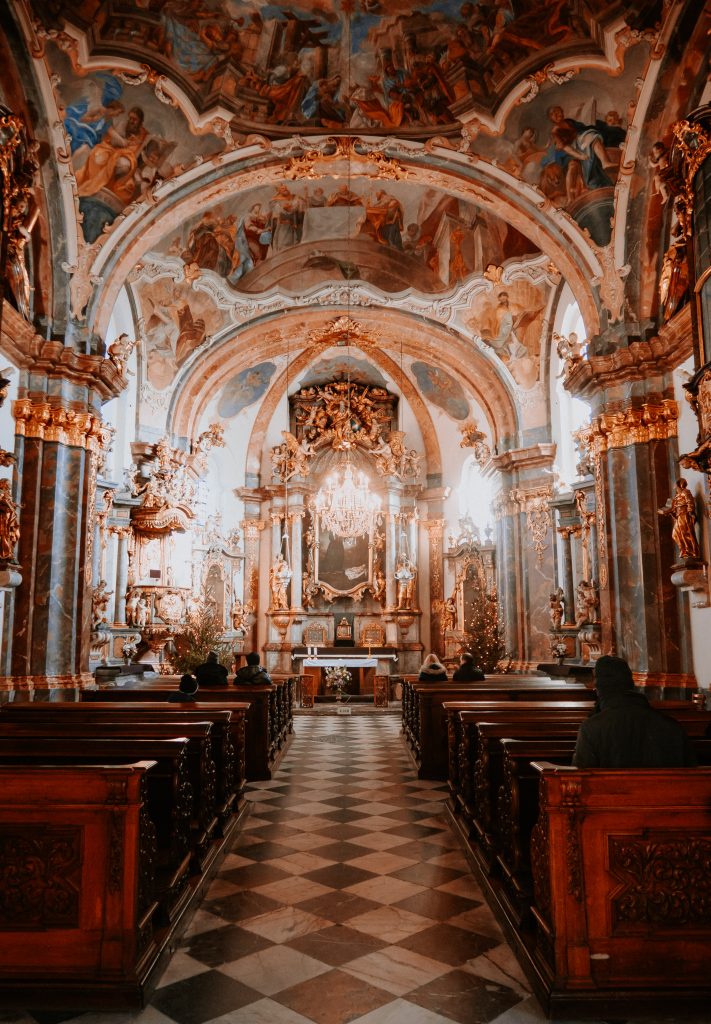 Founded in 1626, Loreta is said to have been built as a replica of the Santa Casa (Holy House) that's located in Loreto, Italy. You'll find this beautiful structure in the middle of the main cloister.
The site also includes a beautiful clock tower that we had the pleasure of enjoying as it struck midday. The 27-bell carillon plays the Loretan Marian song 'A Thousand Times We Greet Thee' (every hour from 9 am – 6 pm).
10. Enjoy the Swans of Prague
One of the best things to do in Prague in winter, is spend some time with Prague's infamous swans on the Vltava River. To find Prague's swans, head to Cihelna Street, under Charles Bridge.
The spot is hard to miss – just look for the gaggle of swans and tourists.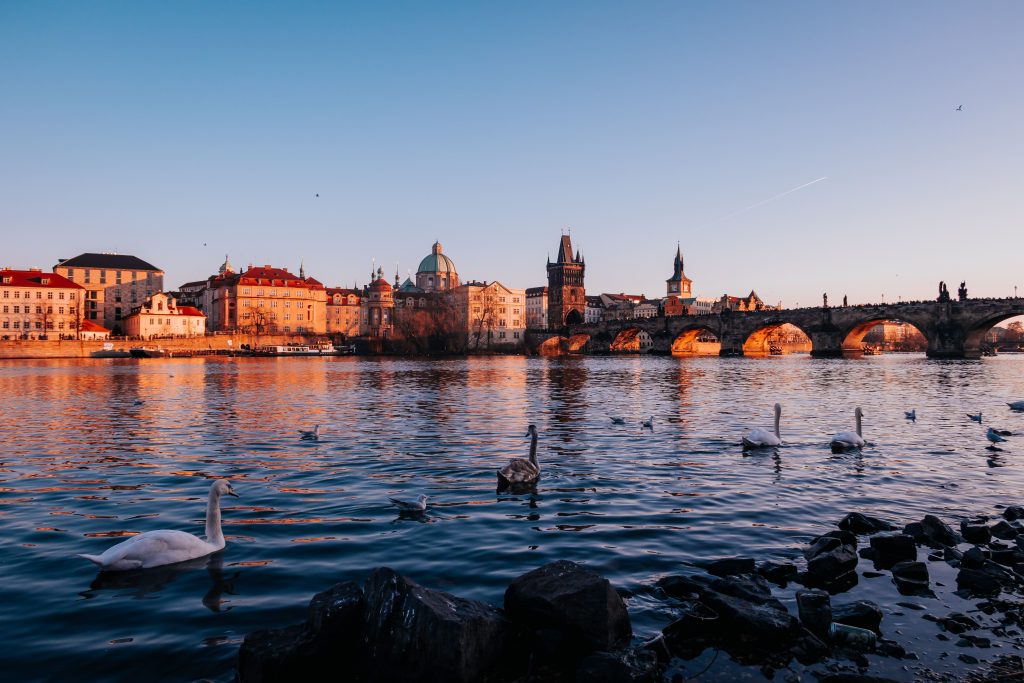 Incredibly tame (and seemingly gentle), you can bring some seed with you to feed the swans, all whilst enjoying the picturesque wintery backdrop. We stumbled across the swans on our way to Charles Bridge, just as the sun was beginning to set across the city.
Framed by the burning orange background of the city's spires (another reason to visit Prague in winter), the swans took on an almost majestic form and provided us with the perfect photo opportunity.
11.Ice skating in Prague (2022 locations)
There are a number of places throughout Prague to enjoy ice skating under the Christmas lights. During our visit, we skated at the Čapadlo rink. This is a magical location, offers its skaters views of Prague Castle, from the banks of the Vltava river.
Quirky Things to do in Prague
Aside from enjoying Prague's Christmas markets tourist hotspots, we were also keen to enjoy some lesser known, quirkier parts of the city. Taking to Instagram in order to garner some advice, I received some unusual, shall we say, recommendations.
Naturally, I visited them all.
Below is a round-up of these more eclectic spots. From a miniatures museum boasting Jesus Christ on half a poppy seed, to sex machines of past and present, here is where to head in the city for something a little different.
12. Visit The Sex Machines Museum (preferably after a drink or two)
Perhaps not the first place you might think of visiting when in Prague, a trip to the Sex Machines Museum was an unexpected highlight of our time in the city.
Curiosity piqued by the laughing crowds that surrounded it, we decided to visit the Museum after dinner and a few beers. With 350 'items' located over three floors, this is a Museum that takes the heritage of sex toys very seriously.
Peering at a mysterious object, a fellow visitor informed me that I was looking at a 'condom dryer'. Bursting into laughter at the absurdity of the situation, my time in the Sex Machines Museum was certainly enjoyable. From contraptions that looked like torture instruments, to the world's first porn film (to be 'enjoyed' with fellow visitors in a small room), this Museum is well worth an hour or two of your time.
Perhaps just don't visit with your parents.
13. Visit Apple Museum, Prague
Another unexpectedly good museum to visit whilst in Prague is the Apple Museum (think Steve Jobs, not the fruit). Located just around the corner from the Sex Machines Museum, the Apple Museum is dedicated to all things, unsurprisingly, Apple.
After another hearty dinner, we decided to make the most of the Museum's late opening hours and spent a subsequent 50 minutes absorbed in the world of everyone's favourite tech brand.
A private exhibition, the Apple Museum exhibits products produced between 1976 – 2012. Although the Museum is yet to update the exhibition with Apple's most recent history, it's still thoroughly enjoyable.
From reminiscing over Mac computers from the early 1990s, to reacquainting ourselves with every model of iPhone, we spent longer in this little museum than we expected.
14. Museum of Miniatures, Prague
Located on the grounds of Strahov Monastery, this fittingly small, yet perfectly formed, Museum is home to a delightful collection of miniatures. The resting place of the largest collection of microminiature art in Europe, the Museum of Miniatures was yet another unexpected highlight of our time in Prague.
The Museum boasts 29 pieces of miniature art that can be enjoyed through individual microscopes or magnifying glasses. From Jesus Christ on half a poppy seed, to a camel train in the eye of a needle, you're in for quite the ride when visiting this bijoux Museum.
15. Prague's Yellow Penguins
Walk along the river, through Prague's Kampa Park, and you'll stumble across the curious sight of 34 yellow penguins. Lined up neatly along a metal beam, the penguins, despite their cheery appearance, are actually designed to deliver a more poignant message.
Created by the Cracking Art Group, the penguin installation is a reminder of the threat of climate change and plastic consumption.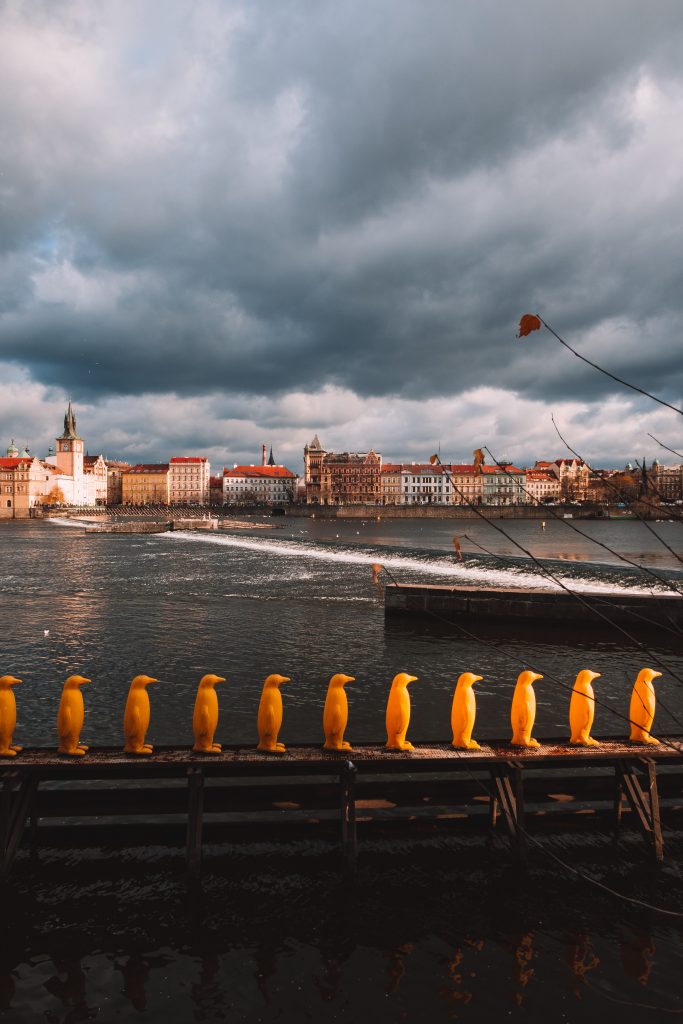 Made from recycled bottles, the penguins also represent the increasingly artificial nature of the world and the threat wildlife, including penguins, are under from large scale environmental damage.
16. Prague Golf and Games (Glow Golf) 
Admittedly, a game of glow-in-the-dark mini golf wasn't high on my list when planning our Christmas in Prague. However, faced with an hour to kill before leaving for the airport, we decided to drop by Prague Golf and Games for a quick game of everyone's favourite holiday past-time.
Located in a slightly questionable looking warehouse, Prague Golf and Games offers, amongst other activities, an 18-hole course, complete with glow in the dark golf balls and wrist bands.
With a beer in one hand and a golf club in the other, we made our way around the course with intense concentration and competitiveness.
Glow Golf is well worth a visit with a few friends after a long day of sightseeing.
Food and Drink Recommendations in Prague
Prague is a place I'd been eager to visit since acquiring a love for beer in Germany, back in 2012. A city renowned for its world-class dark beers (Urquell, Budwar and Staropramen), I had refrained from too much alcohol consumption over Christmas in anticipation of my visit.
As suspected, Prague's beer offering did not disappoint.
With cosy pubs bursting with traditional beers (international and artisan) and giant pretzels to help soak up the alcohol, I found myself agreeing with the well known Prague saying: 'Where beer is brewed, life is good.'
Beer Tip: don't feel short-changed if your beer arrives with half of it consisting of a frothy head. This is just how the beer is poured in Prague.
Traditional Czech Food
Traditional dishes in Prague are not for the faint hearted. A classic meat and potato fare, the food can leave you feeling many pounds heavier by the time you leave the city.
We discovered that finding traditional Czech food in Prague isn't hard – just look for menus serving soups, stews, dumplings and roast pork. Indeed, roast pork with bread dumplings and sauerkraut is the most popular dish on most menus.
Czech food aside, we enjoyed a varied diet whilst in Prague. Below is a round-up of a few of our other favourite restaurants and cafes.
1.Forky's (Vegan)
A city whose culinary delights are mainly focused around meat, we were surprised at how many (well-reviewed) vegan restaurants there were in Prague. After a heavy meal the night before of 'beef beer', I was eager to find a lighter alternative the following lunchtime.
Taking to TripAdvisor, I discovered the vegan, fast-food chain Forky's was located just around the corner from the Jewish Museum. A 100% plant based bistro serving an excellent range of vegan burgers (and beers), this was the ideal place to come to restore a little dietary balance.
2. Choco Cafe
There was nothing I wanted more whilst visiting Prague at Christmas than a warming cup of hot chocolate. After some careful research, we opted to visit one of the two Choco Cafes located in the city.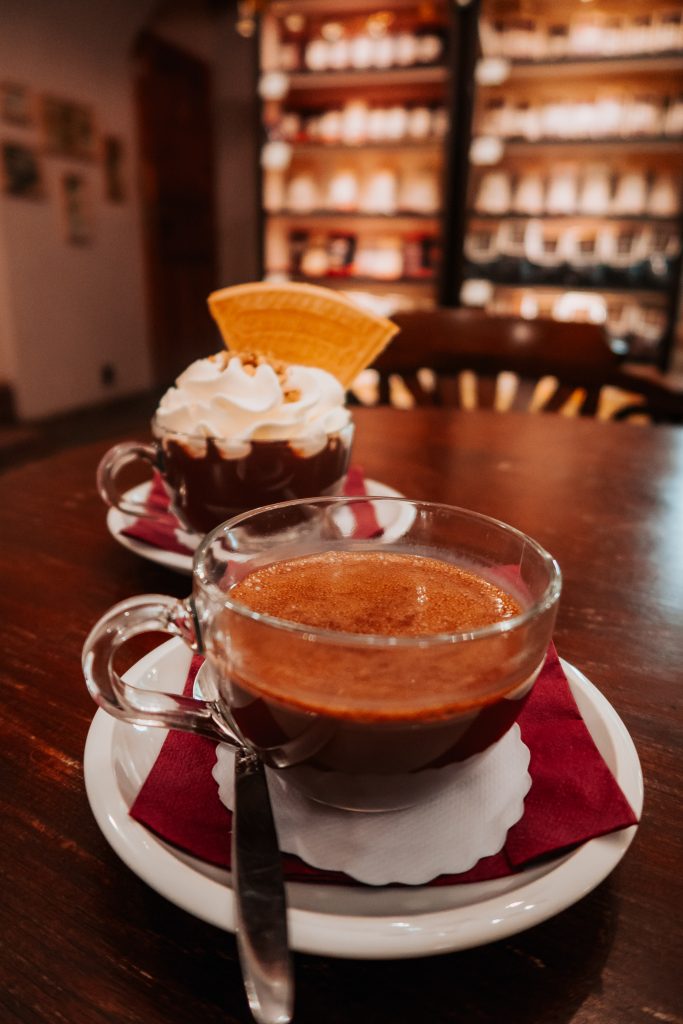 A family run chocolatier, Choco Cafe serves real hot chocolate. Forget the watery, powdery experience of machine hot chocolates, at Choco Cafe you'll be served mugs of thick, melted organic chocolate.
The menu here offers a huge array of premium, organic and responsibly sourced chocolate to choose from, all before it's melted into a steaming cup of deliciousness.
I opted for a salted caramel hot chocolate, whilst James went all-in with a hazelnut hot chocolate complete with whipped cream and chocolate sprinkles.
Tip: don't attempt a cup of Choco Cafe hot chocolate before a large meal. This will keep you going for a number of hours.
3. Velkoprevorsky Mlyn
This 'instagrammable' cafe and restaurant was another unexpected find. Boasting a winter wonderland in the cafe courtyard – complete with sleighs adorned with thick (faux) fur – this was the perfect place to plonk ourselves down in, for a warming cup of something.
Located on the famous Devil's Stream, Velkoprevorsky Mlyn also looks to be a lovely place to visit in the summer – with a few seats available on a suspended decking area above the river.
4. Street Burger Bistro
Having sampled a vegan burger whilst in the city, it was only fair to sample one of the meat variety, too. The Street Burger Bistro, offering speedy service, pints of beer and delicious burgers, was another great find for a late lunch.
Tip: the burgers are cooked medium/rare unless requested otherwise.
5. Perníčkův sen
Eager to pick up some treats to take home, we stopped by the achingly cute Perníčkův sen gingerbread shop on our final day in the city. Known as the best gingerbread shop in Prague, this is the best place to come for traditional Czech gingerbread, made from fresh ingredients.
Things to do in Prague in Winter: Final Thoughts
Escaping the confines of my sofa and the vaguely depressing rush of the Boxing Day sales, our long weekend in Prague was the ideal way to keep the festive spirit alive. A winter wonderland of picture-perfect squares, Christmas Markets, twinkling lights and steaming mugs of hot wine, visiting Prague at Christmas was truly unforgettable.
Having been to many European Christmas markets, I would say Prague's Christmas Markets are truly special and if you're considering visiting Prague in winter, make sure you allow plenty of time to enjoy them.
Christmas festivities aside, however, Prague proved itself to be a diverse city to explore outside of December. From gothic towers and cobbled streets, to quirky museums and delicious vegan bistros, Prague was much more than a tourist cliché – it was unexpected, dynamic and full of spots to return to all year round.