When planning our trip to Iceland, one thing we knew we absolutely wanted to do was to take a whale watching tour.
Touted as one of the best places to go whale watching, Iceland's icy cold coastline and rich marine life attracts a whole host of big-ticket mammals. These include minke whales, humpback whales and white-beaked dolphins. However, it's not uncommon for visitors to also spot orcas, fin whales, sperm whales and blue whales – if you're really lucky.
As such, if you're visiting Iceland, it really would be silly not to take the plunge (figuratively, of course) and invest in a whale watching tour.
While we knew we wanted to try and see these beautiful animals during our visit, we were unsure who to book our sea adventure through. Indeed, there are a large number of tour groups operating out of Iceland, with each offering everything from whale watching tours, to puffin-viewing expeditions.
As a result, we had many questions. Who offer the best whale watching tours in Iceland? Who offer the most responsible whale watching tours in Iceland? Are you guaranteed to see whales on a whale watching tour in Iceland? And were there any cheap whale watching tours available?
Thankfully, and after a little research, we had all the answers we needed. Having read through multiple reviews and searched extensively for operators running quality and responsible tours, we came across the unbeatable Elding Whale Watching – a company offering the best whale watching tours in Iceland.
Why We Chose Elding Whale Watching Tours
As I mentioned above, we spent a long time researching who to book our Icelandic whale watching tour through.
We knew that we would be taking our tour from Reykjavik, given that this is where we were staying for four nights. Handily, and from the city's harbour, you can head immediately out into the stunning Faxaflói bay, where you have a supurb chance of spotting a variety of marine life – taking just 30 minutes to hit deep waters.
We also knew that we wanted to use a company strongly geared towards responsible tourism and that were respectful towards the sea-life it encountered; neither chasing nor stalking it, but allowing animals to pass by spontaneously.
Lastly, we wanted to use a tour company that were authentic and relatively small; whose earnings would go straight back into the country and directly support Iceland's sea-life and coastlines.
Elding, the self-professed 'whale watching pioneers', ticked all of these boxes.
Said to be Iceland's very first whale watching tour operator, Elding are a family-owned company that launched in 2000; founded thanks the owners' own interests in wildlife, boats and hosting. Delivering high-quality and trustworthy tours, Elding expanded in 2016, offering whale watching tours in Akureyri, Northern Iceland. In this part of the country, Elding tours have an incredible 100% success rate when it comes to spotting the giant mammals  – an impressive statistic no doubt down to their knowledge and wealth of experience.
A fiercely warm and ethical company, Elding easily offer the best whale watching tours in Iceland – and we are so glad we booked our experience through them.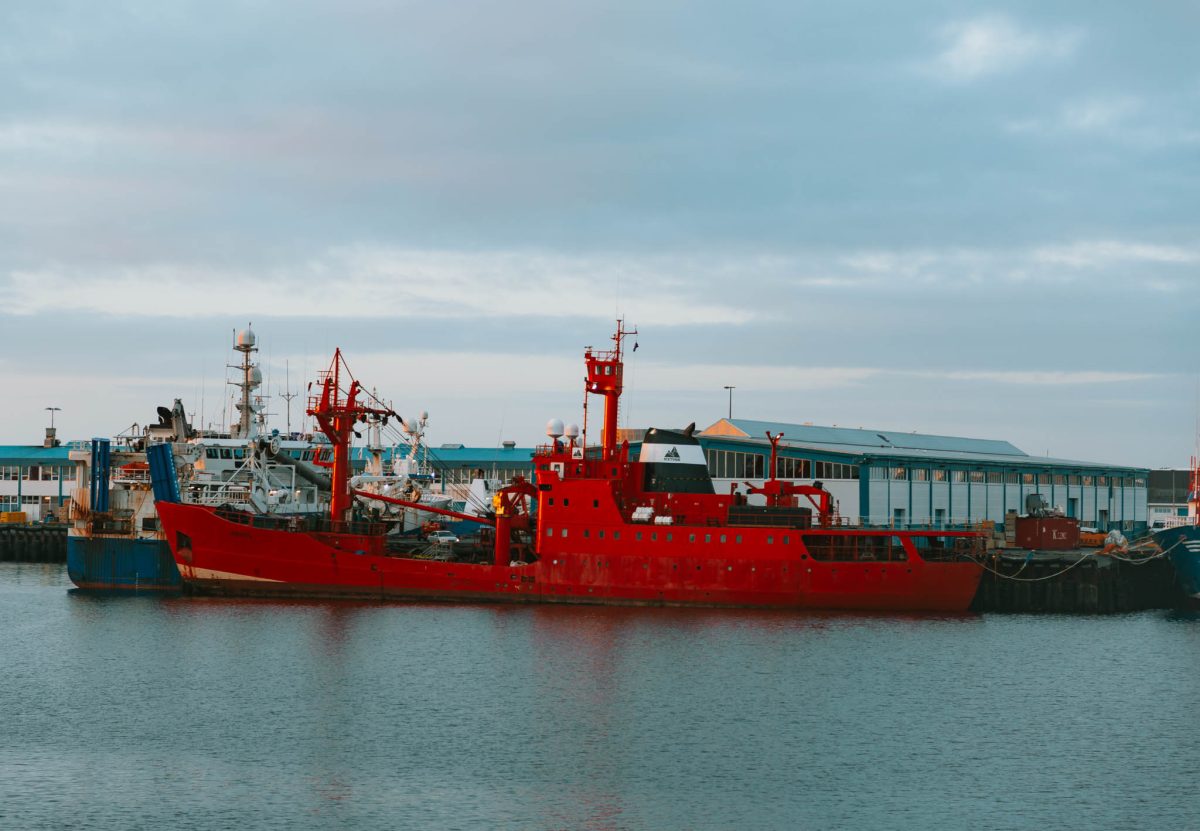 Are Elding a Responsible and Sustainable Tour Company?
In short, yes – absolutely.
Elding follow IceWhale's codes of conduct for responsible whale watching, alongside following their own guidelines. Additionally, Elding are part of wider whale watching initiatives, such as IWC and Planet Whale, and regularly collaborate with marine biologists to research the marine life surrounding Iceland.
Elding are also the first environmentally certified whale watching company in Iceland and are the only Earth Check Gold Certified whale watching company – in the entire world.
What Tours Do Elding Offer?
Alongside their 'classic' and most popular whale watching tours, Elding also offer visitors a whole host of other land and sea-based adventures.
Whale Watching
Perhaps Elding's most popular tours are their whale watching tours. The company has several of these, departing from both Reykjavik and Akureyri.
There are several Elding whale watching tours from Reykjavik, including their Reykjavík Classic Whale Watching Tour (lasting 3 hours), Reykjavik Premium Whale Watching Tour (2 hours, but on a smaller 12-man boat) and their Reykjavik Classic Whales in the Midnight Sun Tour.
In the end, we opted for the Elding Classic Whale Watching tour, aboard their bigger, converted fishing vessel – and loved every minute of it.
Northern Lights Cruise
The Elding Northern Lights Cruise is another popular option for visitors to Reykjavik. Run only in the winter (the midnight sun prevents any real chances of seeing the Northern Lights come the summer), this magical tour offers one of the best chances of seeing the aurora borealis whilst in Iceland.
And if you don't happen to see them, you are offered another complimentary cruise to try your luck again.
Likewise, if you are feeling very lucky, you can book onto Elding's Northern Lights and Whale Watching Tour – split across an afternoon and nighttime cruise, with the hope of seeing both whales and the northern lights, on the same day.
Imagine Peace Tower Tour
The Imagine Peace Tower is a memorial to John Lennon, commissioned by his wife, Yoko Ono. Perched on Viðey Island in Kollafjörður Bay, the Tower projects a tall tower of light up into the night's sky; creating a powerful and beautiful display – especially on a cold winter's evening.
The Elding Tour here includes a trip to Viðey Island, including a tour of the island and its beautiful nature reserves, alongside its impressive art instillations (this tour runs from 10th October – 8th December).
Puffin Tours
If we'd visited Iceland during the summer months, we would have absolutely have booked onto Elding's Puffin Tour.
Combined with their 3 hour whale watching adventure, Elding offer you the chance to take a 1 hour puffin tour, aboard their smaller boat – taking visitors to the islands of either Akurey, Engey or Lundey, dependent on tides and conditions. On all three island, you'll have the chance to not only spot puffins, but also eider ducks, arctic terns, guillemots and cormorants.
Sea Angling
Lastly, and if you're after a real taste of Icelandic life, then you can also book onto one of Elding's Sea Angling tours.
Boarding Elding's little fishing boat SAGA – a 40 feet traditional Icelandic fishing boat – guests are taken to the best fishing grounds Iceland has to offer, surrounding Reykjavik. Available to book onto from May – September, guests can spend between 3 – 5 hours learning the art of fishing, with the boat's staff even setting up an onboard barbecue, so that you can cook and eat your catches onboard.
With protective clothing and fishing gear provided, guests are not only in for a really lovely and memorable experience, but are likely to actually catch something – including catfish, cod, haddock, mackerel and pollack.

Refunds if You Don't See Whales or the Northern Lights
Another reason why we decided to book a Elding Whale Watching tour was due to its fantastic refund policy.
Whilst you have a good chance of seeing whales or the Northern Lights whilst visiting Iceland, nature is, of course, unpredictable. This was perhaps the one thing that made us reluctant to book onto a whale spotting tour in Iceland. We were concerned that given the cost of these tours (upwards of £70), we might be left out of pocket and disappointed.
Thankfully, Elding offer you a complimentary ticket for the same tour, if you don't see either whales or the Northern Lights on your first go. A real bonus is that these tickets are valid for two years – meaning that if you can't fit in a repeat adventure whilst you're still in Iceland, you can perhaps rearrange for when you make a return visit.
Where Are Elding Found in Reykjavik?
Elding's kiosk can be found right on the Old Harbour front, a few feet away from the docked ships. They are sandwiched between the other tour operators that run out of Reykjavik and are incredibly easy to find. Alongside buying your tickets at the kiosk on the day (as we did), you can also book online – this is recommended during their busier, summer months.
Inside, they have a small waiting area for guests to use – handy on those colder, less welcoming days.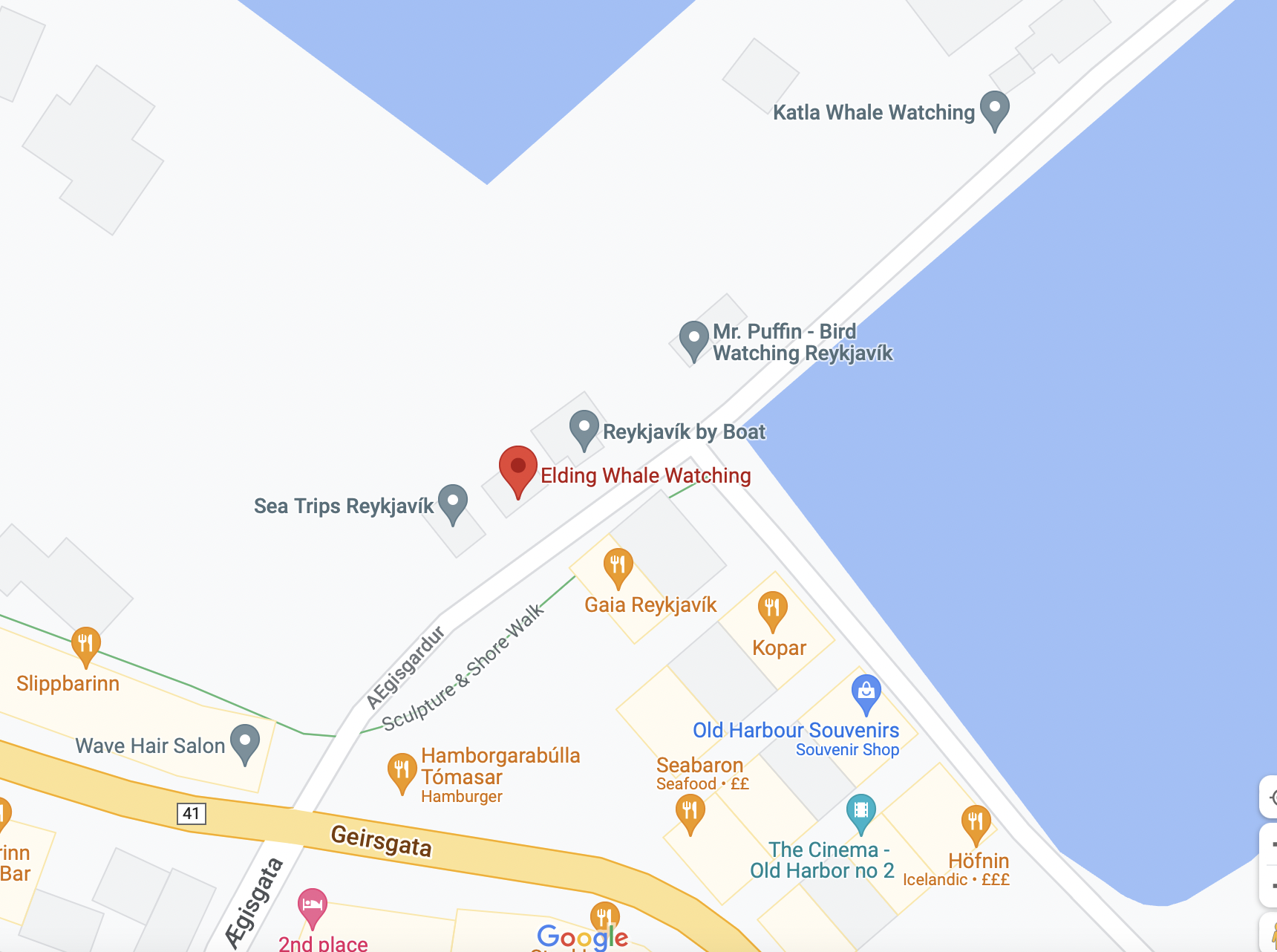 How Much Does a Whale Watching Tour in Iceland Cost?
Whale watching is not a cheap activity and this something to keep in mind if you do come across any tours that seem a little bargain-basement.
Indeed, if a whale watching tour does seem suspiciously cheap, it likely means that it's not from a particularly experienced or trustworthy operator – and their approach to whale watching may be a little dubious.
I'd therefore advise you don't book your tickets based on price alone, but take into account the authenticity and respectability of the operator.
Thankfully, Elding offer tours that are of an incredibly high calibre and (thankfully not as financially crippling as I'd imagined.
We booked onto their Classic Whale Watching Tour, which cost us 12,490 ISK, or approximately £73.
Lasting 3 hours in total, I actually didn't think that this price was too bad, especially as I knew we would get complimentary ticket if we didn't see whales that day.

What's Included in a Elding Whale Watching Tour?
Alongside (I hoped) providing the boat that we would hopefully see the whales from, I wasn't quite sure what else we'd get included in the price of our Elding Whale Watching tour.
Alongside your ticket, you can expect to get:
A 3 hour whale watching tour, aboard one of their vessels
Free sea-sickness tablets
Free WiFi
Access to blankets and big, waterproof overalls (a must, if taking the tours in the winter)
Access to their Wildlife Exhibition
Heated indoor saloon at their Visitor Centre
Large viewing windows
Whale guarantee (or try again for free)
Pictures taken by crew (if any)
Access to trained guides and naturalists
One thing to note is that food and drink does not come included in the price of your ticket.
However, onboard the boat is a bar that sells hot drinks and snacks, in case you get peckish.  Despite this, I'd still recommend bringing your own food with you, if you think you'll get hungry. While the bar was OK, it was constantly very busy (especially during winter when it's cold on the top deck) and they sold out of snacks, such as crisps, very quickly.
It also wasn't cheap (although, you come to expect that after being in Iceland for a while).
Do You Get Sea Sick on a Whale Watching Tour?
One thing I was a bit worried about was the possibility of getting sea sick.
Although I don't suffer particularly badly with it, I do with other forms of motion sickness – and that's got worse since I had a baby (for reasons unknown to me). While I was desperate to see whales in their natural habitat, I was also mildly concerned that I'd spend most of the trip locked in a toilet, or trying to discreetly be sick into a bag.
Thankfully, when you collect your ticket from Elding, you're offered a stash of sea-sickness tablets. Their advice is that even if you don't think you suffer from it, you might as well take one just to be sure. The Altantic Ocean is a fickle place and can get stormy; particularly during those winter months.
However, during our own tour, even though there was a strong wind – the big fishing vessel ensured we didn't feel the undulations too much. If you do get a bit queasy on boats, I'd definitely advise staying on the top, outdoor deck. I went below deck a few times to use the toilet and get a drink, and definitely felt the movement a lot more there.
However, as long as I was on the top deck (which, really, is the best place to be anyway), I was completely fine and found the entire experience plain sailing (if you'll excuse the pun).
The Elding Whale Watching Boat
After we'd bought our tickets at the Elding kiosk (we purchased ours around 10am, ready for a 1pm cruise) we popped into Reykjavik for a coffee, before meeting 15 minutes before the tour started, at the boat.
The boat is really easy to find and just a few hundred metres down from the kiosk, clearly signposted. Basically, look for a large tent attached to the boat and head towards it.
The boat we sailed on was a fairly large and sturdy one – and used to work as a fishing vessel. It had a warm, heated bottom deck, with comfortable booths and seating around the bar. This is where lots of people gathered when it got too cold, or rained.
However, the place most people wanted to be was on the top deck, which provided a 360 degree view of the entire Reykjavik harbour and bay. There was plenty of places to stand and a fair few rows of seating, so you needn't stand the entire time.
We found a little alcove to stand in and despite it being cold, we stayed there the entire time – mesmerised by the golden sunlight that was illuminating Iceland's Faxaflói Bay.
What to Wear on a Whale Watching Cruise in Winter, Iceland
Before we booked our Elding Whale Watching tour, we were a little panicked about what to wear. Whilst the most popular time for whale watching in Iceland is the summer, these tours run all year round – in often freezing conditions.
We took our tour in November, just as a freezing wind began to blow across the icy blues of the Atlantic Ocean. As such, we were a little concerned that spending 3 hours on the top deck was going to be a miserably cold experience.
We therefore dressed as warmly as possible, wearing ski thermals, jumpers and big jackets (I highly recommend this expensive, but incredibly warm and proactive, Lululemon coat). Hats, gloves and sunglasses are also very much recommend. Indeed, even if it's not sunny, the sunglasses will help keep the sting of the wind out of your eyes.
However, we really shouldn't have worried about being cold – thanks to Elding's provision of big, warm and waterproof suits. These will keep you really warm and, if it rains, completely dry. So please don't worry too much about dressing for completely arctic conditions, as Elding's staff will make sure you stay toasty warm.
Our Experience of an Elding Whale Watching Tour
Now onboard our boat, tucked into our alcove and wearing our big, complimentary overalls – we were more than ready to set sail.
Onboard was one of Elding's guides – the very knowledgable, enthusiastic and helpful, Elena. Over a microphone, she began by explaining the lay out of the ship, asking that we all take heed of the fact they used a 'clock' system to help alert passengers to any possible sighings. For example, the front of the boat was 12pm, the back 6pm.
If anyone saw anything – any hint of an animal – we were to shout out the time, relating to our position, ensuring everyone else could hear. It was quite exciting to know we all had to keep our eyes peeled, scanning every inch of water in case we might see anything.
Whale watching with Elding is definitely a team effort.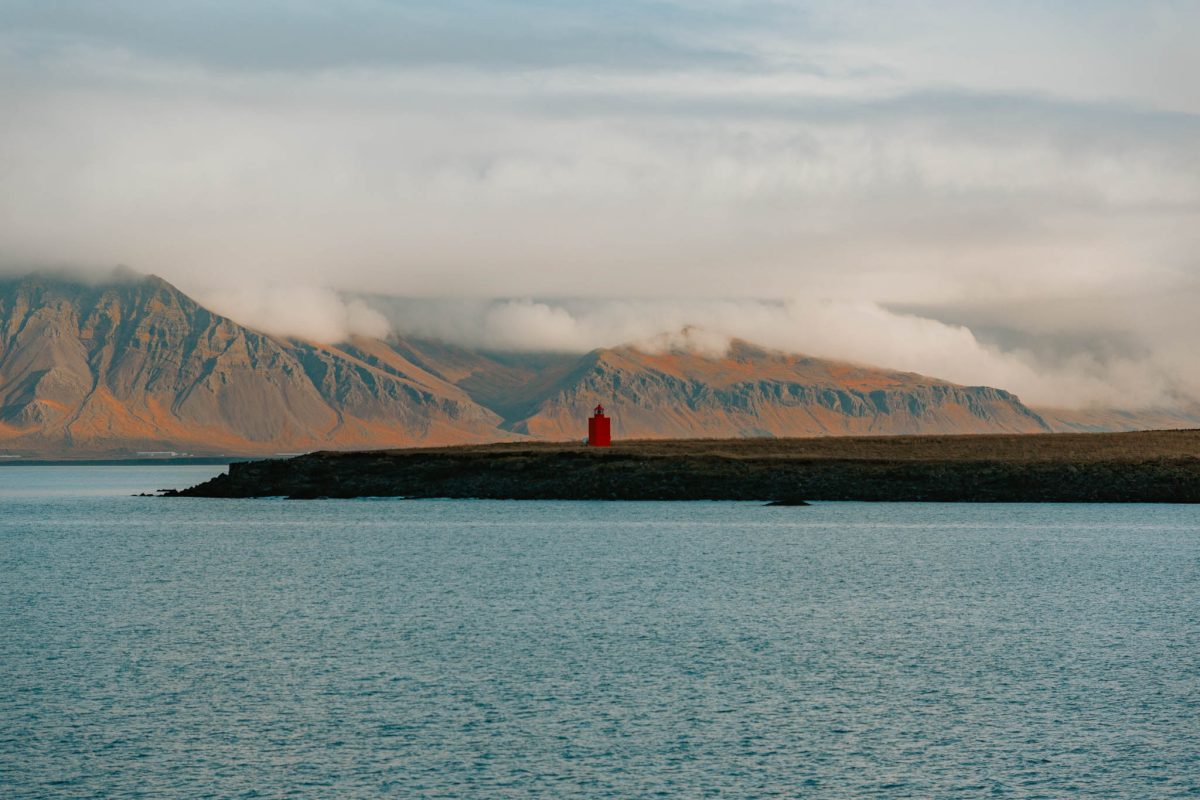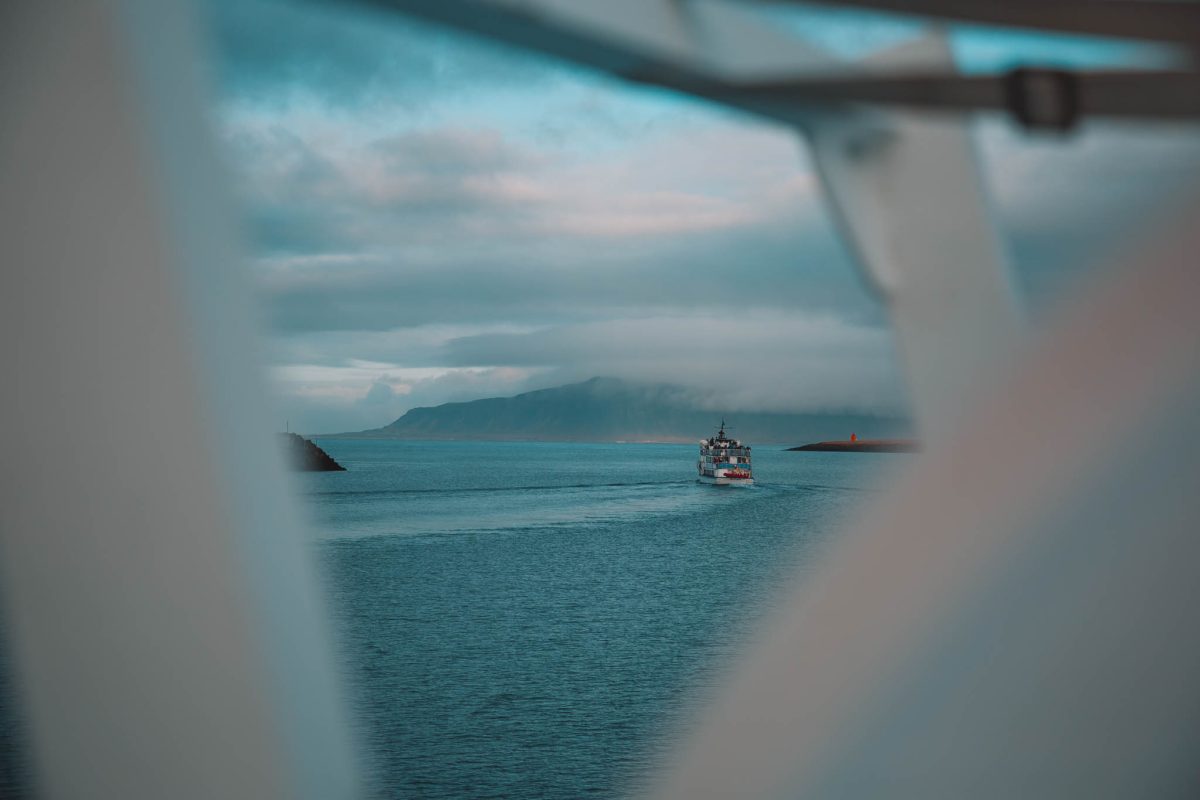 Next, Elena (armed with her own pair of binoculars), told us about the various animals we might see – and any hints that they might be in the area e.g. a 'Whale Watching 101' guide.
This included seeing flocks of birds, who sometimes land where schooling fish are (which whales and dolphins also like), streams of bubbles on the surface of the water (often dolphins) and the (loud sound) of whales breaching.
Lastly, our guide promised that whilst she couldn't promise we'd see any wildlife, Elding had a high success rate. Rather than stalking these animals, however, they'd simply sail the boat out on its course and see if they came to us – an approach I was more than happy with.
Below are the breeds of whales we could hope to see while on our whale watching tour with Elding. I'll be honest, at this point I was excited to see just about any wildlife – but the idea I might see an orca, or humpback whale, left me almost shaking with excitement.
As our boat left the harbour, my heart was genuinely pounding.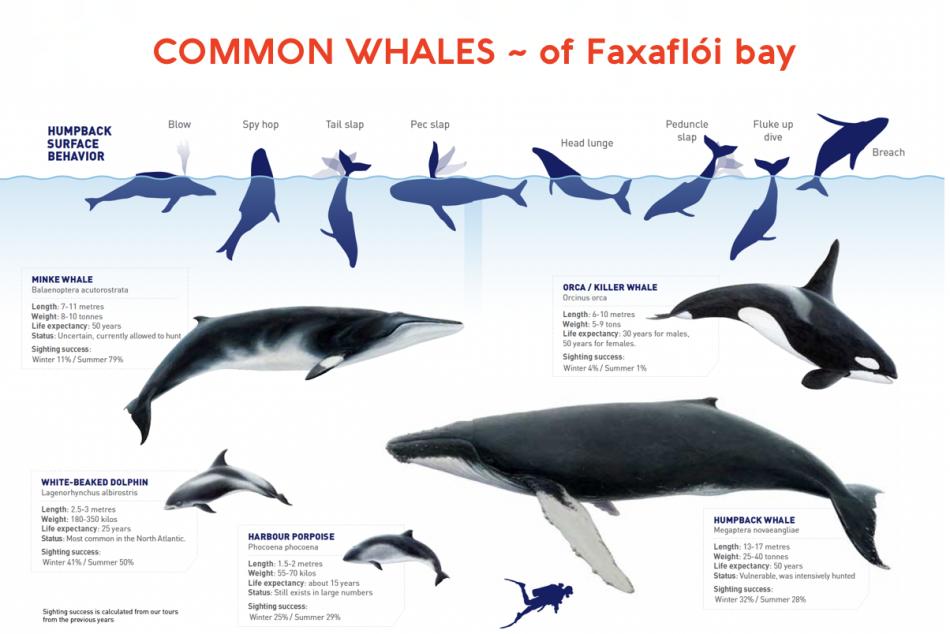 Did We See Whales on our Elding Whale Watching Tour?
Before leaving for our own tour, I checked Elding's whale diary, which provides a handy journal of what the last tours spotted. Checking in, it looked like the previous tours had all had some luck – spotting at least dolphins, harbour porpoise and minke whales.
Although the best time to go whale watching in Iceland is summer (thanks to the bounty of food on offer), it's still possible – and likely – to see whales during the winter in Iceland, even off the coast of Reykjavik.
With this in mind, and knowing that the last few tours had also seen them, I was very hopeful that luck might be on our side.
With the winter sun glinting over the Faxaflói Bay, we set out to sea. Even without seeing any marine life, the views aboard our Elding boat were spectacular. As you head out to water, you are afforded the most amazing views of Videy Island, the wider Akranes peninsula, the Esja mountain in the Northeast, and even the famous Snæfellsjökull glacier (a 700,000-year-old stratovolcano, with a glacier covering its summit).
At certain times of the year (May – August), it's also possible to see Reykjavik's beautiful puffin colony – although sadly they had left the bay by the time we took our November tour.
Sailing along the bay, with such spectacular views of the wider Reykjavik area was, dare I say it, worth the price of the tour, regardless of what wildlife we saw.
Sailing along as beams of golden sunlight fell across Iceland's mountainous landscape, we stared out to sea – looking for any signs of life. Craning to see trails of bubbles, or flocks of birds, we stayed fixated on the water until we heard someone from the group shout: '3pm'.
As everyone on the top deck hurried to the other side, we saw a pod of 8 dolphins, arcing and disappearing beneath the waves. They looked so beautiful in the winter sunshine and seemed so relaxed; completely nonplussed by our presence (which was lovely to see).
Our Elding tour guide quickly grabbed her microphone and told us that what we could see was a pod of striped dolphins – a beautiful dark species of dolphin, with a white strip down their fin and middle.
Having only once seen dolphins in the wild in Florida, it was magical to see them here in Iceland – swimming gently through the waters.
With everyone on board now buzzing from our first sighting, it wasn't long before a few more eagle-eyed guests spotted another pod of dolphins; this time, the more common white-beaked dolphin. Again, this was a small pod of around six – cruising alongside our ship, so that we could hear them blowing regularly. It was completely captivating, especially as the sky turned a blushing pink as the afternoon drew on.
Following a brief rain shower (and a quick cup of tea inside, to warm up), we headed onto the top deck once again, aware we now only had around 30 minutes of our tour left.
Once again, we struck lucky and saw a pod of harbour porpoise lazily heading inland, for a spot of dinner. These were much smaller than the dolphins we had seen and were a little more playful, which was lovely to see.
Sadly, and as the minutes flew by, it was becoming obvious that it was unlikely we were going to see any whales. Of course, we always knew it was never a certainty and as Elding says, nature isn't here just to perform for us. However, I did still feel disappointed and was very envious of those groups that had seen humpback whales breaching just a few feet in front of them, or had seen pods of orcas flying past.
On the plus side, we did see some amazing sights – a remarkable number of dolphins, beautiful views of Iceland's many volcanoes and mountains, and a whole host of sea birds. But more than that, just sailing peacefully through those icy cold waters, on a sunny winter's afternoon, was an incredibly enriching and beautiful experience.
Whale Watching in Iceland: Is it Worth?
Before we booked our Elding Whale Watching tour, we asked our Instagram audience (those that had taken a whale watching tour in Iceland before), whether they thought it was worth it.
The results were split – and predictably so.
Of course, for those that had seen whales – blue whales, humpback whales and even orcas – the consensus was a resounding 'yes'. This was a once in a lifetime experience and a moment so special, some couldn't even put it into words.
However, for those that paid the roughly £80 to go on the tour and hadn't seen whales (or, on some occasions, anything at all), the answer was 'no'.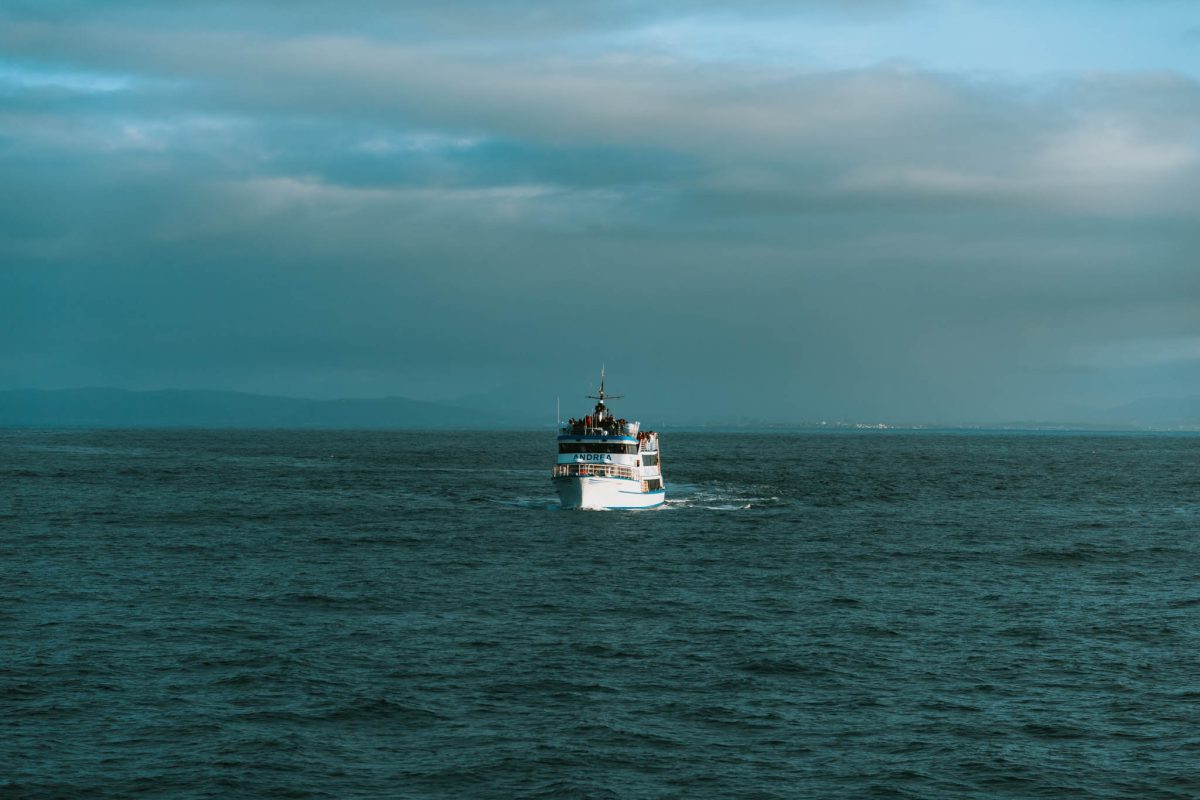 Ultimately, paying for a whale watching tour in Iceland is a risk – you are not guaranteed to see anything. It's therefore your own appetite for risk, alongside your desire to see whales wild in the Atlantic, that'll sway your decision.
It's important to note, however, that there are definitely a few things you can do to increase your chances of seeing whales in Iceland.
For example, go on a tour in the summer months (May -August) and your chances of seeing whales increase considerably – thanks to the increased amount of food in the ocean during this time. Additionally, changing your location might help things. Elding claim that their whale watching tours in Akureyri have a 100% success rate (much more so than those tours out of Reykjavik). Additionally, the fishing town of Húsavík is recognised as one of the best whale watching locations in the world (although Elding don't currently run a tour from this destination – so you'd need to look at other operators).
As it was, we decided to take the Elding Whale Watching tour from Reykjavik, and during the winter months, so we knew that our chances were diminished when it came to seeing whales.
However, we felt that paying for the tour was still a risk worth taking.
As it was, we didn't see any whales – and I'd be lying if I said I wasn't disappointed. Like everyone else, I had dreams of capturing incredible videos of humpback whales breaching alongside our boat, whilst orcas played just metres away from us. However, some tours genuinely do see this – and so I think it's well worth getting on that boat, just in case.
Whilst we sadly didn't see any whales on our Elding Whale Watching tour, what we did see and experience was still unforgettable. Dolphins swimming past us as Iceland's winter sun danced on the water, and watching as the Atlantic Ocean turned different shades of gold, was an amazing and life-affirming experience.
For these reasons, we think a whale watching tour in Iceland is worth every penny.