There is something surreal about Monschau Christmas Market.
A historic town nestled in the rolling forests of Germany's Eifel region, Monschau is a place where time stands still. Crowded with centuries-old timbered houses, crumbling medieval walls and retired water mills, Monschau is undoubtedly one of Germany's most beautiful spots.
Yet, it is when the summer crowds retreat – the last of the town's leaves falling into the babbling River Rur – that Monschau really comes to life. With snow falling past its candle-lit windows, the town sparkles under row upon row of twinkling lights. Towering fir trees decorate street corners and the smell of cinnamon lingers in the air.
Indeed, it is when Monschau's 'Weihnachtsmark' arrives that the town truly casts its spell; the air thick with Christmas Magic.
Below is your complete guide to enjoying every moment of it.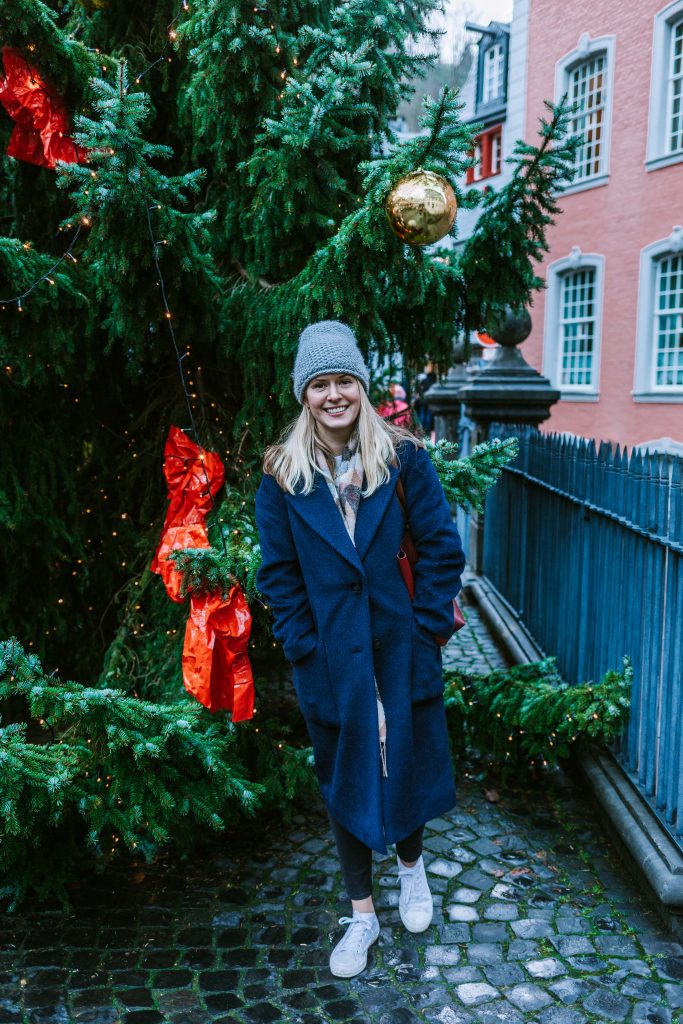 How To Get to Monschau Christmas Market
Car
Monschau sits on the Belgium-German border, surrounded by hilly mountain ranges. Due to its location, the town is easy to reach by car, with many visitors coming from the larger towns of Aachen, Cologne, Bon, Liége (Belgium) and Maastrict (the Netherlands).
To visit Monschau, we flew from Heathrow Airport via Eurowings, direct to Cologne. Our return flights cost just under £100 per person.
From here, we hired a car courtesy of Avis and drove directly to Aachen. For three nights (four days) our car hire cost approximately £168. After our fill of Aachen, we continued on to Monschau Christmas Market, which was an incredibly straightforward drive on the Bundesstraße 258, taking just forty-five minutes in total.
Where To Park in Monschau
Although there are numerous car parks around Monschau, please note that due to the town's popularity (particularly during the Christmas season), these can fill incredibly quickly.
We managed to get a space at the centrally located Parkhaus Seidenfabrik, where parking costs €7 for the day. For those staying in the town overnight, or for a few days, a parking permit can be obtained from your hotel or from the Monschau Tourism Bureau, at a cost of €3 per night.
Park and Ride in Monschau
Others might prefer to take the 'Park and Ride' option when visiting Monschau Christmas Market, which operates throughout weekends.
Visitors are invited to park in neighbouring Imgenbroich, with buses leaving for Monschau's Old Town every ten minutes.
A return journey costs just €3.20.
Take a Bus to Monschau
Perhaps one of the easiest options is to travel to Aachen (via train or car) and to then catch the bus to Monschau Christmas Market.
From the station (Aachen-Rothe Erde), you can take the Number 66 bus headed towards 'Parkhaus/Schmiede, Monschau'. A single day trip ticket will cost you €5.30, whilst a day ticket is €14,00.
Make sure you exit at the 'Flora Monschau' stop. From here, Monschau's Old Town is just a 300 metre walk.
A full timetable for the bus route can be found here.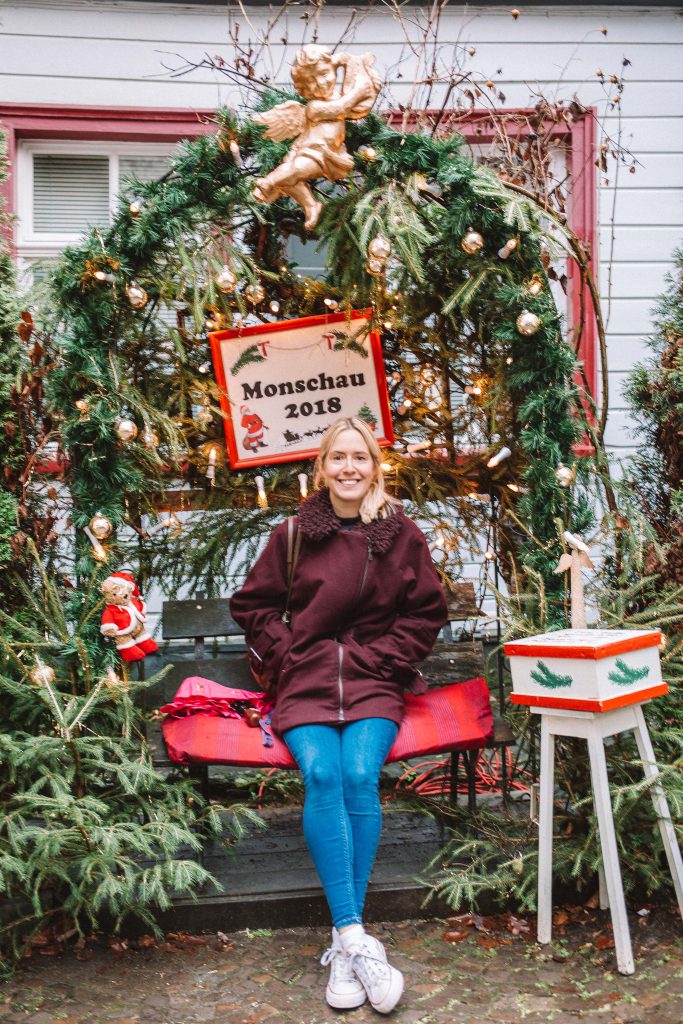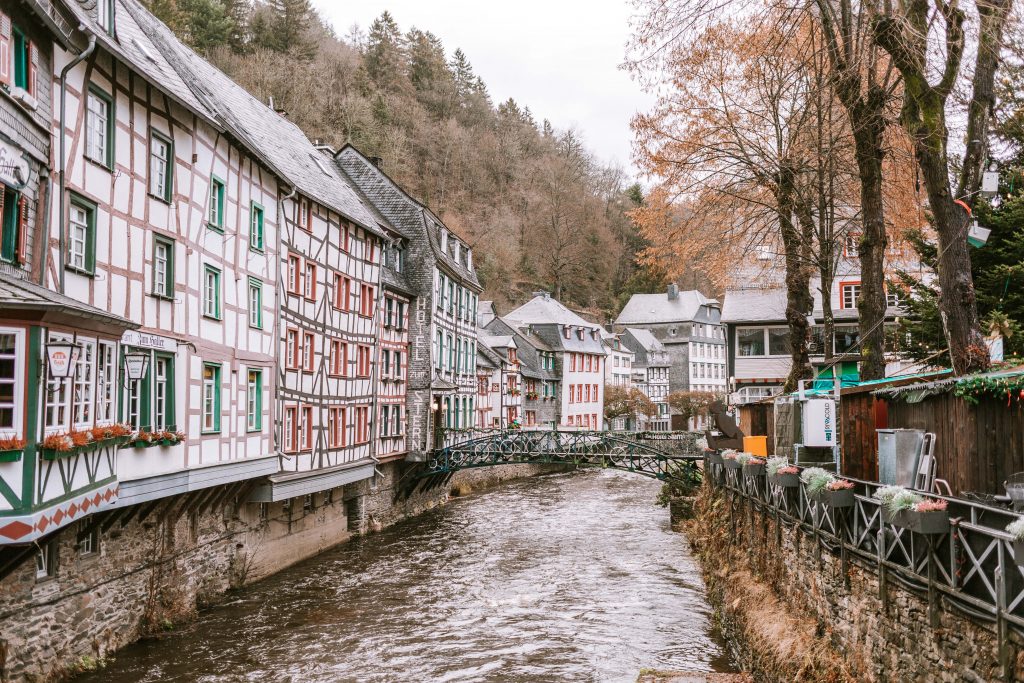 What You'll Need When Visiting Monschau Christmas Market
Money
If you are visiting Monschau Christmas Market, then please be sure to take money with you – many of the Christmas stalls accept cash only.
There are just two ATMS in town (perhaps the most secure being found inside 'Sparkasse').
Walking Boots
Perhaps not your first thought when thinking of visiting Monshcau Christmas Market, but walking boots (or at least a pair of sturdy shoes) are a must.
Nestled within a valley, the town is surrounded by beautiful viewpoints and a 13th century castle. During the wintertime, these walks (or gentle hikes) can be incredibly muddy and slippery, so do ensure that you're wearing something hardy.
When to Visit Monschau Christmas Market
Monschau Christmas Market 2022: Dec 9, 2022 – Dec 18, 2022
Whilst this question may seem a little self-evident, it's important to note that the Monschau Christmas Market is only open at weekends, usually beginning in the last weekend of November and lasting all four weekends of advent.
The Market opens at 11am each weekend, with stalls closing by 9pm.
Although visitors are welcome to wander Monschau's streets throughout these hours, perhaps the real magic of the Monschau Christmas Market can only be experienced at night (with sunset at 4pm in December), as the town's lights sparkle in the inky darkness.
Inevitably, Monschau Christmas Market tends to be much busier in the evening, as families arrive to witness the illuminated medieval streets.
If you are hoping to explore the main town when the streets are a little quieter, arrive at 11am and you'll have the town largely to yourself (the town itself only has a very small resident population, with temporary visitors making up the crowds).
What to do at Monschau Christmas Market
When first arriving in Monschau, you might be forgiven for wondering where the famous Monschau Christmas Market is hidden. This was certainly our first thought when arriving in town.
Walking down the steep, cobbled street that leads towards Monschau's centre, the town was eerily quiet. In fact, all we could hear on that cold December morning was the babbling sound of the River Rur; its waters snaking their way through the town.
This was the very same river that once made Monschau's historic Water Mill turn and creak – a hint of the town's textile history.
Entering the neat square at the bottom of the hill, we were met by a towering Christmas tree – one that reached twenty feet skywards. Rather than being heavily laden with dancing baubles or glass decorations, the tree was instead simply decorated with strings of white fairy lights.  It was simple, but unbelievably beautiful.
Passing through the town's snaking lanes – half-timbered buildings leaning towards the fast-flowing river – we eventually smelt the Monschau Christmas Market; that familiar scent of cinnamon, star anise and roasted chestnuts wafting across the river.
Walking towards the town's Aukirche church, we finally spotted the famous Market, hidden behind an elegant spire.
Although not large, it was immediately obvious that the Monschau Christmas Market was special – something from a children's storybook perhaps.
Entering the central market square and the Weihnachtsmark appeared suddenly and colourfully: a vision of dancing lights, glowing candles, cabins decorated with thick bushes of holly and a vintage carousel turning slowly.
Throughout the Monschau Christmas Market stood a large selection of stalls, selling everything from steaming Glühwein, large dishes of Kartoffelpuffer (a delicious grated potato dish), handmade soaps, wooden toys and intricately carved wooden puzzles. On one particular stand stood a dizzying array of miniature mangers; each ready to play a staring role in a family's Nativity scene.
However, it was perhaps not what was for sale that made the Monschau Christmas Market so special, but instead its lovely atmosphere. With live music gently playing and fresh dishes of veal and rolled noodles being served on street corners, visiting this Market was a little like time travelling; a glimpse of Monschau some three hundred years ago.
The surrounding landscape only added to this feeling, as Monschau's historical buildings crowded around us.
With the river passing directly through the town, you'll also discover that Monschau is filled with a selection of small bridges, each one decorated with dazzling Christmas lights and strings of red bows. Leading to hidden restaurants and veiled corners, you could spend an entire evening exploring these beautiful bridges alone.
Other Things To Do In Monschau
Whilst the Monschau Christmas Market is no doubt the town's main attraction, the town boasts a host of other beautiful sites most definitely worth visiting.
The Rotes Haus
As mentioned above, the Rotes Haus takes pride of place in Monschau.
A blushing pink building, adorned with intricate carvings and gold stars, the Rotes Haus is unbelievably photogenic. Although considerably younger than its peers (built in the 18th century), the house still holds its own as one of Monschau's most beautiful buildings.
Today, the building is preserved as a Museum, allowing visitors glimpses of its surprisingly sumptuous interiors. Featuring a staircase with twenty-one meticulous carvings (each depicting a particular phase in the cloth making process), this unique feature spans three floors.
A fascinating glimpse into Monschau's illustrious past, the Rotes Haus is well worth a visit. The Museum is closed on Mondays, but is otherwise open 10am – 12pm in the morning, and from 2pm – 4pm in the afternoon.
Adult entry costs just €3.
Beautiful Viewpoints
Monschau is found hidden in a small valley, surrounded by the otherwise rolling hills of the Eifel region.
As such, it offers fantastic views to those willing to climb (a few) stairs; with a bird's eye view over Monschau's slate roofs and the wider Hohes Venn – Eifel Nature Park.
In particular, the 'Panoramaweg' (or the 'Panorama Walk') offers spectacular views – although be warned, the entire trail includes nearing 1,000 steps. To begin the walk, find the town's Parkplatz Aukloster (Austraße 10, 52156 Monschau), where the hike begins at the car park's lower deck.
Burg Monschau
If you do decide to take the Panoramic Walk, you'll soon find yourself at Monschau's 13th Century Castle, which now (slightly surreally) is home to a youth hostel. Once the fortress of the formidable Jülich Counts, this once great castle was seized by Charles V in 1543, before falling into disrepair under French rule.
Restored and returned to Germany at the turn of the century, the Castle was transformed from an impregnable fortress into a youth hostel – or 'youth castle' – at the end of World War I.
Boasting not only your standard hostel rooms, the Youth Hostel Monschau Burg offers five family apartments and a small chapel, where recitals are regularly held. Come the summer and the Castle's courtyard comes alive with concerts and festivals.
Whilst there is little to see inside the Castle, it's still worth making the climb up to Burg Monschau, simply for its wonderful views.
Senfmühle Monschau
A little bizarrely, Monschau holds another trump card: its famous mustard.
'Moutarde de Montjoie' has been made in Monschau for over 120 years, expertly crafted by one dedicated family. Connoisseurs of this spicy relish, visitors are invited to visit the family run Mustard Mill, learning how their nineteen varieties of mustard are made.
Where to Eat in Monschau
Whilst the Monschau Christmas Market offers more than enough local delicacies to satisfy any visitor, the town does offer a surprising range of affordable places to eat.
When we first arrived in Monschau, we immediately headed to the town's Schokoladen Café to warm up.
Nestled inside a small timber-clad building, the lights of the Shokoladen Café glowed warmly as we walked towards it; sleet and icy winds freezing our hands.
Unsurprisingly, the Café's defining feature was its hot chocolate. Simply choose your preferred 'chocolate lollipop' (we opted for the 'Christmas' flavour) and you'll be greeted with a steaming mug of hot milk to dip your lollipop in.
A fantastically cosy and quirky spot, Shokoladen Café is a warm haven within which to warm cold fingers and frozen toes.
For dinner, we headed to Monschau's slightly more expensive restaurant – Alte Herrlichtkeit. Housed in yet another beautiful building, the restaurant offers an authentically German experience, with dishes including schnitzel and fried duck breast.
Although slightly more expensive than some of the town's other restaurants, Alte Herrlichkeit boasts beautiful views across the River Rur and has a traditionally decorated interior.
Where to Stay in Monschau
While Monschau is commonly touted as a 'day trip' destination, many visitors do choose to stay within its cobbled streets. With a huge array of hiking, cycling and running tracks available in the local area, it's also a particularly popular spot to stay over the summer months.
Despite its popularity as a tourist hotspot, Monschau has largely resisted the urge to ask its visitors to pay a small fortune to stay overnight. Most of the town's hotels are incredibly reasonably priced, with the majority of rooms costing in the region of £7o – £80 per night.
Hotel Horchem is housed within a particularly pretty building, close to the river Rur. Featuring cosy rooms –  each hidden under timbered ceilings – and a restaurant complete with roaring fires, Hotel Horchem is an ideal spot to base yourself. Double rooms begin at £80.
Hotel Alt Montjoie has a similarly relaxed and cosy feel, although it is perhaps a little more basic in terms of its furnishing than Hotel Horchem. Again, the hotel is incredibly affordable, despite being in the centre of the Old Town, with prices beginning at £73.
Monschau Christmas Market: Final Thoughts
Throughout December, Germany is illuminated by the glowing lights of hundreds of Christmas Markets. Indeed, come Christmas, there's perhaps no better place to be than here.
Yet, before you automatically head to the bigger sights of Munich or Berlin, instead consider a trip to a little town, hidden in the folds of a forest-filled valley. Here, you'll find a place filled with storybook buildings, the sound of choirs singing and plush green fir trees blowing gently in the wind.
Indeed, if there's one place to really experience the magic of Christmas, it's in Monschau.