This guide on the best things to do in Rügen, Germany, came about thanks to a sponsored trip we took to the island with the support of Tourism Germany.
It's a warm Thursday evening on the Baltic island of Rügen and a concert is taking place. In the small village of Groß Zicker, residents have gathered to watch a performance in their local church; their wooden chairs crowded together. Stood at the altar is an accordionist, his melancholy music dancing out of the church's doorway and into the surrounding graveyard.
We stop to listen, watching as the 15th century stained glass windows glow and swallows dive overhead.
It's an unbelievably serene scene.
Heading past the church, we continue through the village, past thatched cottages (or Friesenhäuser), decorated with towering sunflowers and swaying hollyhocks. On our right are rolling hills filled with hay bales and sheep, and to our left lies the nearby Baltic sea, chalky cliffs and a slither of golden sand. The air smells like brine and roses and – as we near a small restaurant – fresh Fischbrötchen.
Fanning myself in the humid evening heat, I ask Claire if this is what she expected from Germany's largest island. Was this the Rügen she was expecting?
"I'm not sure anyone could imagine all this", she replies, pointing to a powder-blue house with a peaked thatched roof. Behind it, lighthouses glimmer on the horizon and a dark beech forest seems to tumble over the cliff edge.
Passing yet another garden filled with pin-stripped Strandkorbs – a sort of hybrid deck chair – and past buckets of fresh, orange sea buckthorn, I find it difficult to disagree with her.
Rügen is a uniquely special place.
Where Is Rügen Island, Germany?
Rügen is a Baltic island floating a few miles above Germany's north-eastern tip and is part of the ruggedly beautiful Pomeranian coast. Lapped by the dark (yet unexpectedly calm) waters of the Baltic sea, and a stone's throw from Sweden's Malmö, Rügen is something of an anomaly.
Although Germany's biggest island (twice the size of our own Isle of White), it is a place that remains relatively undeveloped – and thankfully so. Filled with acres of primeval beech forest, the country's smallest national park and woodland that is home to stags and cuckoos, Rügen has – to date – successfully avoided the glare of tourism's flashlight. 
This is perhaps in no small part due to the island's history. A fashionable coastal resort for well-heeled Germans during the 19th century – a little like Brighton or Bath – Rügen's glitter and charm was abruptly eclipsed by the cloak of the Iron Curtain.  Falling into disrepair, Rügen became an island reminisced about, rather than visited. 
However, since Germany's reunification, Rügen has been restored to its former glory. With the island's piers and towns renovated, and new cafes and restaurants springing up, Germans are again beginning their summers with a drive north; bound for Rügen's soft sands and pastoral landscapes. 
How to Get to Rügen Island, Germany
When I told friends I was visiting Rügen, Germany, most responded with a shrug of the shoulders. 'Never heard of it', they'd say, 'do you have to get a boat there?'
The reality is that Rügen is in fact incredibly easy to get to from the UK. Visitors are encouraged to fly to either Berlin or Hamburg airport, with trains running to the island from both. Alternatively, it's just as easy to hire a rental car and simply drive there; enjoying a journey over Rügen's soaring bridge as you go.
Driving to Rügen from Berlin: we flew to Berlin from Heathrow airport, before collecting our Hertz hire car. It was then a 3 hour 30 minute drive north, predominantly along autobahns.
A coach also runs between Berlin and Rügen and takes between 5-6 hours. A return ticket will cost you around €30 and includes free WiFi.
Alternatively, the drive east from Hamburg airport will take you approximately three hours.
Catching the train to Rügen from Berlin: For those arriving in Berlin, a train runs (via Stralsund) to the town of Bergen; located in the centre of Rügen. The train takes around 4 hours and a return ticket will cost you just £24.74.
Catching the train to Rügen from Hamburg: Alternatively, the train from Hamburg takes just over four hours, via Rostock. A return ticket begins at £21.97.
How to Get Around Rügen Island, Germany
Do I need a car to explore Rügen? If you're hoping to explore all that Rügen has to offer (and believe us, there's an awful lot to see), we would highly recommend hiring a car. The island is criss-crossed by beautiful, chestnut tree-lined roads and driving here is not only easy, but beautiful.
Parking is also prevalent and fairly cheap, and most hotels offer private car parks.
However, if you don't drive, or simply want a break from life behind the wheel, then there are plenty of other ways to navigate Rügen.
Biking around Rügen: One of the first things you might notice about Rügen is just how popular it is with cyclists. Stealth road bikes, an abundance of lycra and small beetle-like lines of cyclists fill the island's leafy lanes; with many visitors cycling Rügen's entire circumference (set a week aside for this).
Some great bike tours can be booked here. 
Taking the train around Rügen: In and amongst its quiet lakes, ancient forests and balmy beach resorts, runs one of Rügen's most famous residents: 'Rasender Roland' (or 'Racing Roland'). Opened in 1895, this steam-powered train links some of the island's most popular towns, running from Putbus to Göhren, via Binz, Sellin and Baabe.  
More on Roland later, however, a ride on him is obligatory and considered one of the best things to do in Rügen.
Buses on Rügen: alongside its romantic little steam train, Rügen also operates a bus network that joins most major communities. Tickets can be bought on board.
Where to Stay in Rügen
Having completed our drive from Berlin, we arrived on Rügen and headed straight to our new home: the pretty resort of Binz.
Although there are plenty of places to stay on the island – ranging from traditional 'pensions' to luxury hotels – we'd recommend basing yourself in either Sellin or Binz, particularly during the summertime.
Whilst in Binz, we stayed at the affordable and very comfortable Hotel meerSinn, Binz. Positioned on one of Binz's main promenades and featuring large rooms, a spa, swimming pool, wellness centre, two (independent) restaurants and underground parking, the hotel was ideal for our short break in Rügen.
Warning: the hotel books out quickly during peak season (with bookings for the following year already in the calendar), so be sure to book ahead. During the downseason, a double room (city side) begins at £140 per night. 
The Best Things To Do In Rügen
Although an island, it would be wrong to assume that Rügen is small or isolated. Covering 926km and declared Germany's largest island, Rügen is extensive, geographically diverse and filled with towns, areas of natural beauty, leading restaurants and – of course – 'freikörperkultur' beaches (nudist beaches). 
As such, shortlisting the best things to do in Rügen is not an easy task – hence the length of this article. However, we hope we've captured below some of the island's most beautiful sights; spots that we hope you visit.
Visit Beautiful Binz
Our first stop on Rügen came in the form of the pretty town of Binz. Having driven across the island's pastoral landscape – past 18th century thatched cottages and along cobbled lands – the drive into Binz was slightly surreal.
One of the island's most beautiful (and largest) beach resorts, Binz appears like a wedding cake topper: a place of white, ornate mansions, flower-filled verandas, long boulevards and tree lined streets. 
The town has an almost Disney-esque feel to it: a slice of old time glamour mixed with sugary white romance.
Binz's architecture is reminiscent of the many German beach resorts that sprang up during the 19th century. With sea bathing being vaulted as a modern day elixir – curing anything from syphilis to a mere sniffle – much of Germany's Baltic coast was quickly transformed from a hub of sleepy fishing villages into a glittering string of fashionable resorts.
Featuring lush green parks, streets lined with grand mansions, fashionable shops and boutiques, and a large promenade filled with cafes and sophisticated looking holiday-makers, Binz might be touted as Germany's answer to St. Tropez (albeit without the sticky veneer of fake tan).
After collecting two cones of vanilla ice-cream, we walked towards Binz's main attraction: its pier and long stretch of golden beach.
Backing onto the shadowy depths of an ancient beech forest, the beach at Binz is an impressive mix of Maldivian blue waters and Nordic-green woodland. With the Baltic waters being far from – well, Baltic – and with no tidal movement to speak of, the sea here is a bearable temperature and incredibly still.
As such, it is a lovely place for families to play, drift or – as we saw – swim their dogs.
Indeed, the beach at Binz is split into three sections: one for nudists, one for dogs and one for 'textile' – (i.e. those who prefer to keep their clothes on). Immaculately kept and organised in a way that only Germans can conjure, a visit to the beach at Binz is easily one of the best things to do in Rügen.
To really soak up the bygone charm of the Baltic coast, be sure to hire your very own 'Strandkorb' for the day. Devised by Wilhelm Bartelmann in 1882 to shelter the infirm, the Strandkorb soon took on a life of its own: becoming the 'must-have' accessory for German's across the country.
Deciding to trial what can only be described as the love child of a beach ball and a small closet, we hired our very own Strandkorb for an hour (€3 euros and a €10 deposit).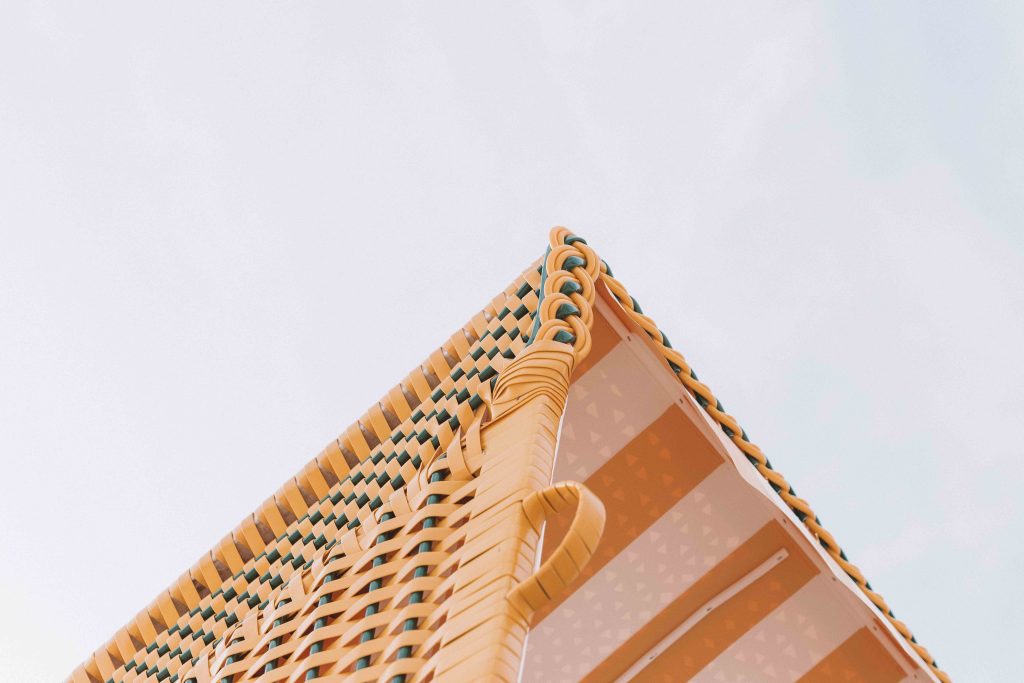 As the sun settled over Binz's long, wooden pier and the sky blushed a sugary pink, we had only one question: if life on the Baltic coast was this good, why had we never heard of Rügen before?
Jasmund National Park
Whilst reclining in your very own basket by the sea, you might notice that ahead of Binz lies a wall of shimmering white cliffs and tumbling beech forest. This is Germany's smallest national park: Jasmund.
Just a short 20 minute drive north of Binz, a hike in Jasmund National Park is often quoted as being one of the best things to do in Rügen. 
The subject of German Romantic painter Caspar David Friedrich, this diminutive – but undeniably stunning – park once posed as the posterboy for 19th century romanticism. With its primeval forests, small shimmering lakes and plunging, chalky white cliffs (the tallest cliffs in Germany, in fact), Jasmund National Park is the jewel in Rügen's crown: a place for hikers, ramblers, photographers, mountain bikers, horse riders and wanderers.
The park offers a number of different walking trails, ranging from a 'mere' 50 minute hike, to one that will take the average person nearly five hours. Ranging in difficulty, it's advised that you do your research before setting off for a stroll through these thick forests.
Rather than walk the entire coast (we had a Strandkorb waiting), we decided to instead drive to nearby Sassnitz and park on the quiet Weddingstraße. Parking here is free and relatively quiet when compared to other 'official' car parks.
Here we were treated to a lovely hour's walk, tracing the amber-filled beaches, white cliffs and forest trails. Walking through the UNESCO protected beech forest – one of the last of its kind in Europe – the sun danced through the leaves as warning signs for stags, owls and wild boars appeared.
Due to the unseasonably warm temperatures – and not due to our cardiovascular abilities – we walked until we reached the newly reopened 'Welterbeforum', found nestled in a clearing. Providing a base for all hikers, alongside selling fat slabs of torte, dishes of currywurst and hot, bitter coffee, the Welterbeforum reminded me of a building from a Brother's Grimm story: one hidden amongst the ancient vines of the forest.
For those who are hoping to see Jasmund's piece de resistance – the UNESCO protected 'Königsstuhl' or 'King's Chair' –  then you can drive up to the centre of the park; taking a shuttlebus towards the grand cliffs. You'll  need to pay an entrance fee of €9.50, before following a (fairly crowded) 3km path to the famous cliffs.
Our advice? Save yourself a few pennies (and encounters with selfie sticks) and instead take the walk that we did from Sassnitz (parking on WeddingStraße). You'll not only save yourself some money, but will have much of the forest to yourselves.
A Treetop Walk at the Naturerbe Zentrum Rügen
Just a short drive south of Sassnitz lies Rügen's latest addition: its somewhat magically named: 'Baumwipfelpfade'.
Driving into (yet another) forest clearing, we parked outside a beautifully designed Centre: the entrance to the treetop walk. Paying a small entrance fee of €11 (children under six go free), we walked past the Centre (featuring some great activities and exhibitions for  kids), and followed the crowd – heading once again into the forest.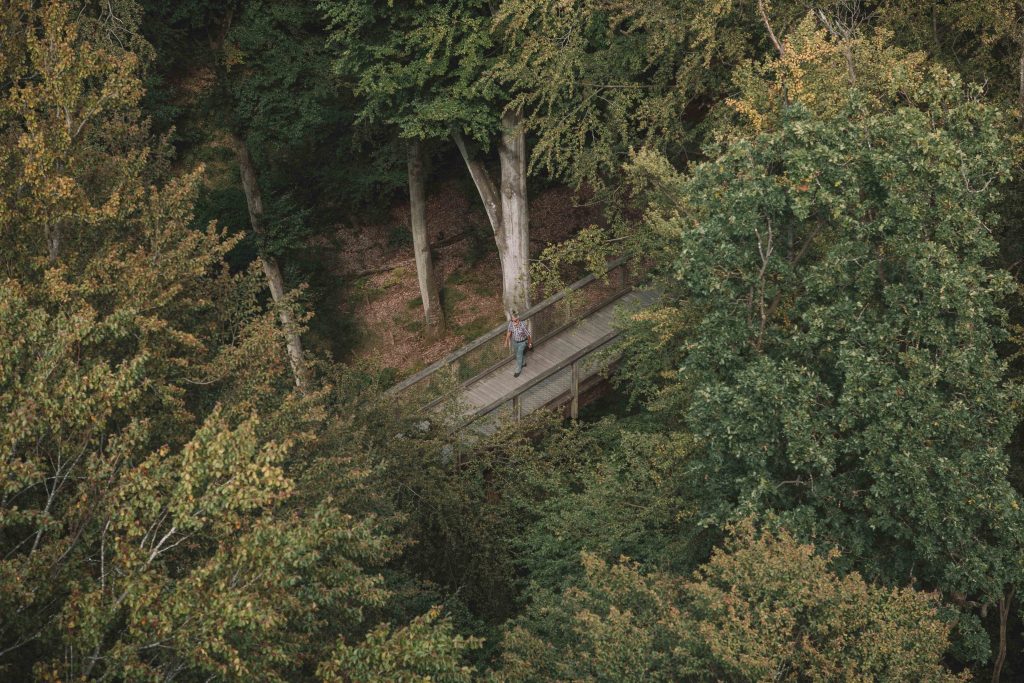 The 'Baumwipfelpfade' – or treetop walk – begins benignly; up a gently sloping wooden path that smells of Larch and Douglas fir. However, as the path begins to snake upwards – like the inside of a beehive – it becomes obvious that this is more than a simple woodland stroll.
The treetop walk spans a whopping 1,250 metres and takes visitors from 4 metres to 17 metres; where the viewing platform awaits.
After 20 minutes or so, we eventually reached the top – perspiring ever so slightly. Stepping onto the viewing platform – grateful for the mild Baltic breeze – we gazed across the carpet of green forest that spread out ahead of us. 
It was beautiful.
With the sun high in the sky, the viewing platform afforded views not only of the surrounding forest, but of Rügen's many lakes. Standing here – even for 5 minutes – highlighted not only how vast the island was, but its lushness, too.
Standing here on that warm Thursday afternoon was perhaps one of my favourite moments of our trip and (what I would consider to be) one of the best things to do in Rügen.
Prora
From your leafy woodland perch, you might notice an impossibly long, stern looking building. Directly overlooking the long stretch of beach at Prora, the building comes in various hues: a modern white at one end, a depressingly oppressive grey at the other.
The building is a 4.5km long holiday camp, once belonging to the Nazi Party. 
In 1936, it was decided that Rügen – specifically the golden beach at Prora – would make an excellent environment within which to instil the vaulted Nazi party value: 'Kraft durch Freude' or 'strength through joy'. As such, work began on what might be described as a Nazi party Butlins: a place for workers to prepare for the war, amongst walls of welcoming GDR grey.
Made from reinforced concrete, the building was intended to house 20,000 holidaymakers. However, with the outbreak of WW2 and the events that followed, the camp was never completed.
Instead, this six-storey, omnipresent building was left deserted.
Today, visitors can visit Prora – cycling the length of the building if they wish (even on a bike, this would easily take the average cyclist around 20 minutes). The building is also home to a fascinating museum, a youth hostel and – perhaps a little peculiarly – the island's largest discotheque.
Although brutish and no doubt ugly, Prora is absolutely worth visiting if you have the time.
Rügen's Prettiest Village: Groß Zicker
Rügen is an island of contrasts; something that was no more apparent then when we drove from Prora to the picture-book pretty village of Groß Zicker.
Situated on the south-east of the island, squeezed between rolling waves and gently sloping hills, the chocolate box village of Groß Zicker showcases yet another side to Rügen: its peaceful, pastoral and centuries old side.
Arriving as dusk had begun to settle over the island, we parked behind a 15th century church: its windows illuminated by dancing candlelight. The village's cobbled streets were completely deserted, aside from the odd prowling cat.
Passing bushes bursting with roses and small thatched cottages framed by swaying sunflowers and lilac bushes, it was difficult to imagine a more idyllic village than this. Nearby, and as an autumn chill set in, we watched as wood smoke began to plume from a chimney; the nearby sheep calling to one another across the fields. 
There isn't an awful lot to see or do in the village – aside, of course, from basking in just how beautiful it is. However, there is one small museum worth visiting: the Pfarrwitwenhaus – or the 'Parson's Widow's House'. 
Built between 1719-1720, this corn blue house – with circular walls and peaked roof – is one of the oldest houses on Rügen. Built when Rügen belonged to Denmark, the house was constructed to house the widow of Johannes Cadow and her four children.
Today, visitors can explore the inside of the house and its front garden; a small patch of land filled with fragrant herbs, flowers and a little picket fence.
An unbelievably beautiful place, be sure to visit Groß Zicker at sunset, just as the hills behind the village turn a deep gold and swallows dive over the surrounding fields.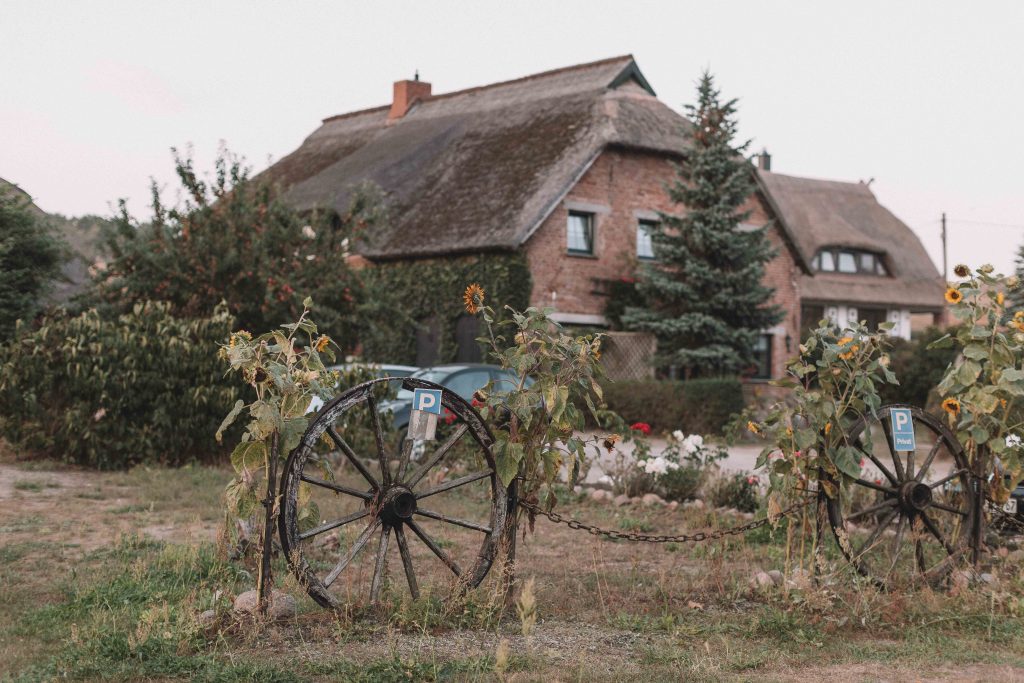 Rügen's Pink Castle: Granitz Hunting Lodge
After a night back in pretty Binz, we decided to take the short walk uphill into the nearby woods. Rumour had it that somewhere in these dense forests was a hidden castle; one complete with pink turrets and grand staircases.
After a 40 minute walk from Binz (be warned, it's fairly steep), we eventually arrived at Granitz Hunting Lodge.
Often cited as one of the best things to do in Rügen, a visit to the Hunting Lodge affords a taste of what life was like for the island's 19th century elite; most of whom would have spent their days galloping through woodland in search of wild boar and deer.
Built between 1836 – 1848 for Prince Wilhelm Malte I of Putbus, the grand Hunting Lodge – or 'Jagdschloss' – became something of a holiday home for Europe's ruling elite; with visits from the likes of Otto von Bismarck and Frederick William IV.
Today, the Lodge is a museum – allowing visitors to climb the spectacular spiral staircase that lies at the heart of the building. Although the height-averse amongst you may wish to sit this one out, there is also a brilliant viewing platform on the top of the Lodge.
The most popular and visited castle in the wider area of Mecklenburg-Vorpommern, a visit to Granitz Hunting Lodge should come top of your list for the best things to do in Rügen.
Entrance to the Lodge costs €6 per person (do bring cash). If you don't fancy the 3km walk from the car park, then a small train is also available, which costs €7 return (parking is €4 2 hours).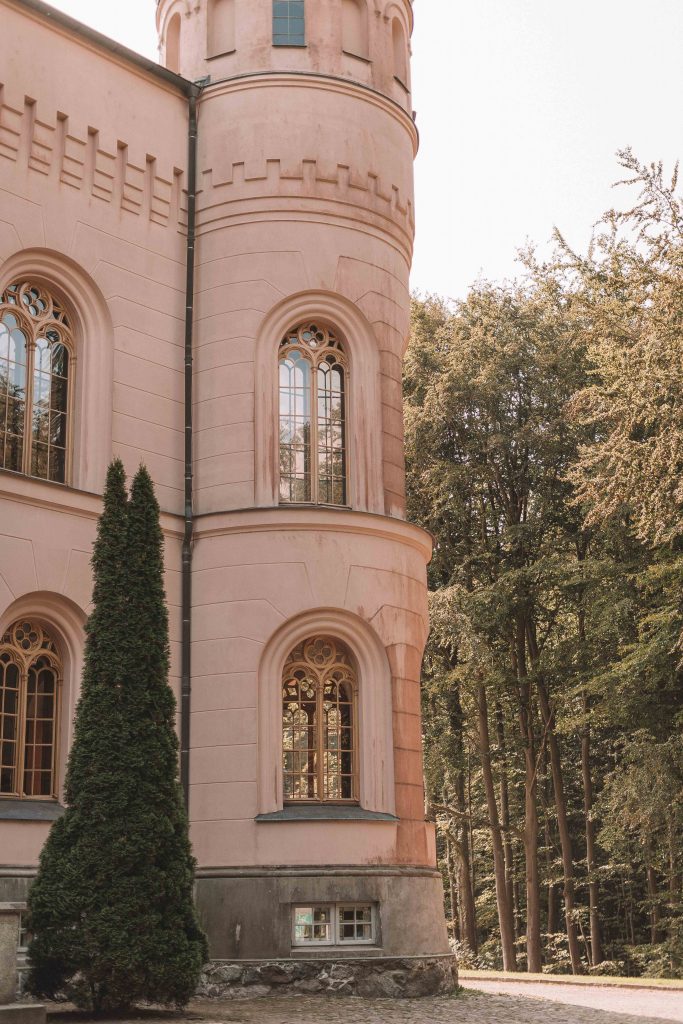 Take Rügen's Famous Narrow Gauge Railway: Rasender Roland 
As we explored the forest surrounding Granitz Hunting Lodge, the peaceful silence was regularly interrupted by the sound of a train horn, followed by a rhythmic chug: it was Rasender Roland.
Rasender Roland, or 'Racing Roland', is Rügen's much loved – and irresistibly sweet – narrow gauge railway. Transporting visitors across the island since 1895, Roland visits 13 stops across the island, delivering passengers from Putbus to Göhren.
As little Roland stops at some of Rügen's main sights – including Binz, Sellin and Baabe, this nostalgic train is a fantastic way to navigate the island.
Reaching a top speed of just 19mph, the train gently chugs its way through Rügen's leafy forests; steam and smoke trailing behind it. For those of you who want to make more of your Racing Roland experience, you can also book to sit in the train's Restaurant Cart; decorated with little net curtains, a bar and fresh flowers.
Tickets can be bought at each station – with an all day ticket costing €23 per person. A designated bicycle carriage is also available for those travelling with their bikes.
Explore Well-Heeled Sellin and its Art-Nouveau Pier
Sitting in the dappled sunshine, snug inside one of Roland's roofless carriages, we slowly meandered along the coast from Granitz to Sellin; one of Rügen's most elegant beach resorts.
A popular Baltic spa town since 1880, Sellin is perched on Rügen's south-eastern coast and reminded me (albeit fairly tenuously) of perhaps a very small San Francisco. With long, stretching boulevards and steep rolling hills, this town is filled with grand white mansions, climbing jasmine and blossom trees.
Getting off Rasender Roland at Sellin Ost (east) station, it was a short 15 minute stroll into the town's centre. Walking uphill, along a road shaded by chestnut trees, we past Sellin's pretty boutiques and restaurants, before arriving at the town's most famous attraction: its Art-Nouveau inspired seebrücke (pier).
Initially built in 1906, the pier overcame both ice damage, a fire and neglect, in order to be restored to its former glory in 1991. Now an 'imperial pier', with high arching glass windows, New-England white wooden panelling and a 394m long pier, exploring Sellin's seebrücke is easily one of the best things to do in Rügen.
The beach surrounding the pier is also incredibly popular and – almost surreally – surrounded by powder white sand and turquoise waters. Featuring its own take on the strandkorb – this time boasting a distinctly pin-stripped design – the beach at Sellin is a busy spot throughout the summer, filled with families, children and couples.
Having enjoyed a large ice-cream on the pier, we hunkered down in one of the strandkorbs just as the wind picked up. As the sun dipped in the sky and the pier began to glow, we sat snugly inside our chair and watched as evening settled over the Baltic resort.
It was a heavenly way to finish our short break to Rügen.
The Best Things To Do In Rügen: Final Thoughts
When we first discovered that we would be visiting Rügen – an island hidden until 30 years ago – we were unsure what to expect. Although fondly thought of by Germans – with sentimental stories of vacations to the island regularly told over family dinners – it remains relatively unheard of throughout wider Europe.
In fact, Rügen is perhaps Germany's best kept secret.
Having arrived on the island – one where you're unlikely to hear another English voice, or find an English menu – it was all the more obvious that Rügen is predominantly a resort for Germans – or perhaps a lone Austrian or Swedish tourist. It is a decidedly, and utterly brilliantly, German place.
An island of Christian Anderson like beech forests, pretty thatched cottages, sublime beach resorts and glimpses of recent Cold War history, Rügen is unlike any other place we have visited – and unlike any place we're likely to see again.
Welcoming, beautiful and the proud adopter of its own distinct island sub culture – complete with miniature steam train and local beach festivals – Rügen is a place that has left me in two minds.
Indeed, whilst I hope that it is more widely recognised for the beautiful travel destination that it is, I also hope that Rügen stays just as it is: a hidden and peaceful island paradise.
Thank you to Germany Tourism for inviting us to experience the best things to do in Rügen.
Other articles you might like:
Pin it: