Before heading to St Lucia, I only knew it as a lush green island, offering beautiful beaches and secluded resorts. Aside from that, I wasn't sure what else I'd find there – if there were any other activities, spots or areas that would make this emerald island truly stand out. Following our week there, I can confidently say that there is so much to do in St Lucia (aside from wiling away the hours at the pool), that you'll be hard pushed to fit it all in. To make things a little easier for you, below is therefore our list of unique things to do in St Lucia – ensuring you'll have (what we hope will be) the holiday of a lifetime.
An Introduction to St Lucia
Humidity has a way of slowing things down: a sticky quicksand that clings to your skin and drags at your limbs. Step off a plane, and the air can feel less like a new climate and more another dimension: a steamy void to backstroke through. As a kid, I used to imagine that if I waved an empty jar in front of me on a humid day, I'd be able to collect the air: treacly, damp clouds filling my glass pot.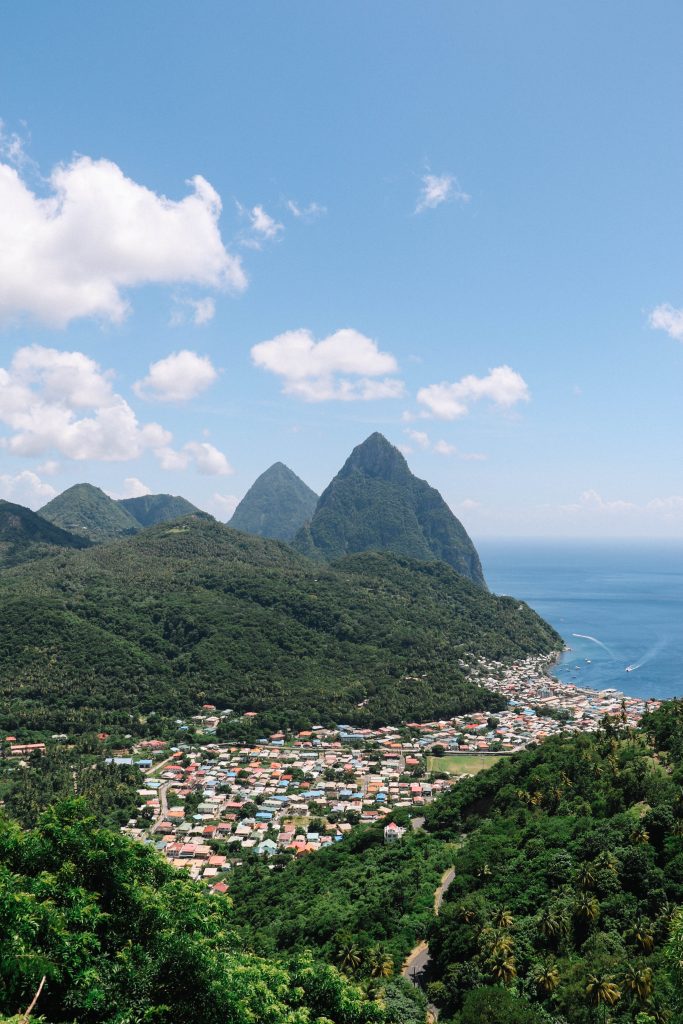 Now, stood beside the winding mountain road – clouds of vapour rising from the rainforest below – I wished more than ever that I had that little jar with me. St Lucia – an island I'd arrived on just two days before – had surprised me. Mountainous, rugged and lush, this is a place where thick, dense rainforest lines every road and heavy bunches of bananas peek out from behind leaves. It's an island where roads climb almost vertically and lip-biting hairpin turns decorate every corner. A country where the air is thick and walking takes its time.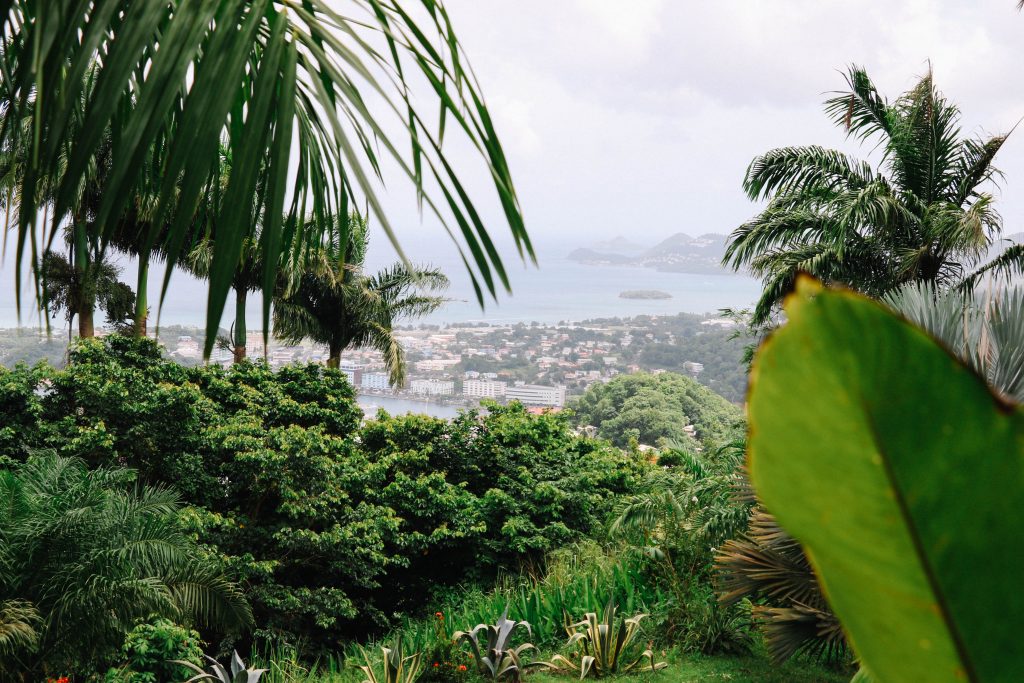 Visiting in August had of course meant that we were visiting St Lucia during its hottest period; tropical conditions weighing heavily over its towns and beaches. This is the Island's 'down time' – its natural pause before holidaymakers pour in in a bid to escape the North American and European winters.
Despite the heat, however, I was glad to visit during the Island's sticky season. "During the summer, we all move slowly", our taxi driver, Philip, had told us earlier that morning. "If people think we are laid back in the winter, then they should visit in August. Even the animals get lazy!" With resorts half full, popular tourist spots empty, and muggy – 32 degree – evenings seemingly stretching on for hours, it seemed a special time to visit; a time when the Island had slipped into an alternative, hazy, reality.  Indeed, it makes for the perfect time to explore the Island, seeking out all those unique things to do whilst in St Lucia.
Where to Stay in St Lucia
We had settled in the country's North West corner at St James's Club Morgan Bay – a stone's throw from the Island's capital, Castries. This side of the country is lapped by the warm Caribbean Sea and offers the golden beaches and honeymoon hideaways that have come to characterise most Caribbean escapes.
Think of Saint Lucia and it's impossible not to imagine an island drowning in strawberry daiquiris and rum punch. Whilst our stay at St James's Club Morgan Bay would more than cater to this side of island life, Philip's stories of soaring volcanic peaks, wild deserted bays and dilapidated sugar mills, hinted that there was much more to Saint Lucia than miniature cocktail umbrellas.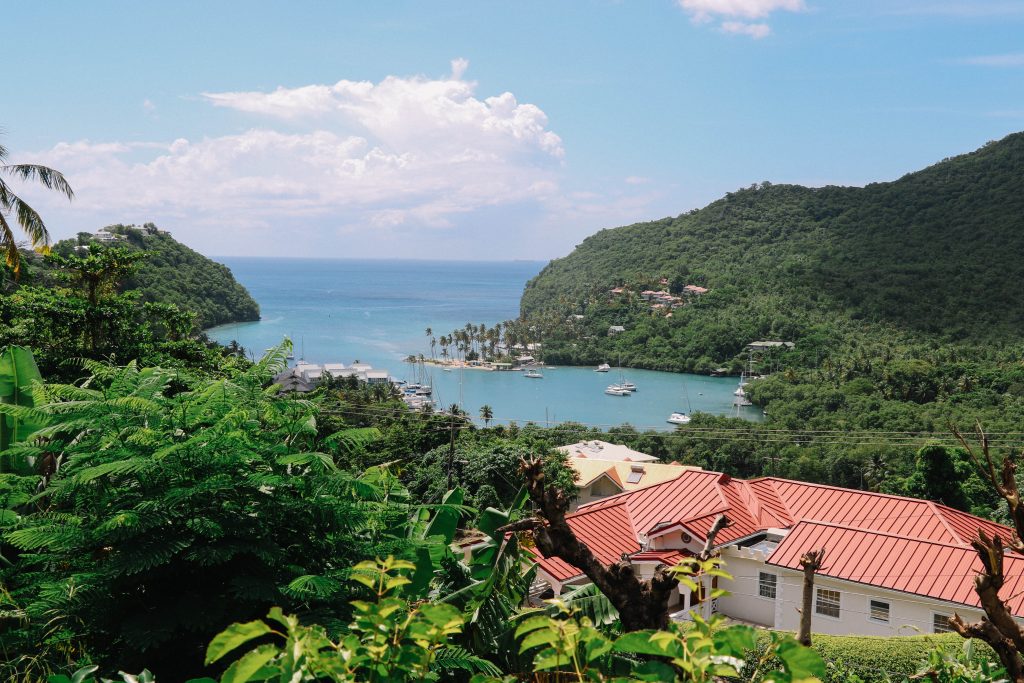 Unique Things to do in St Lucia
For an island shaped like an imperfect avocado – 27 miles long and 14 miles wide – St Lucia certainly packs a lot into its 617km². Whilst the edges of this green island boast spectacular beaches – silvery soft on the West and rugged on the East – head inland and you'll discover dense rainforest, iguana-filled trails and tumbling waterfalls. Framing all this, of course, is St Lucia's pièce de résistance – its UNESCO protected Pitons: two, jungle covered peaks that soar out from the ocean.
"Saint Lucia is a place for the adventurous" Philip had declared, widening his eyes and flashing a smile in his rear view mirror.
A Visit to Pink Plantation House
And so it was that two days later, we found ourselves climbing the steep mountain road. Philip's promise of adventure had proven too much – we'd hired a car and were going rogue; seeking out some of the unique things to do in St Lucia. We had decided to begin our off-piste campaign with a gentle introduction to island life, courtesy of Castries' infamous Pink Plantation House.
This dusky mansion promised – quite literally – a rose coloured glimpse of what French colonial life was once like on the island.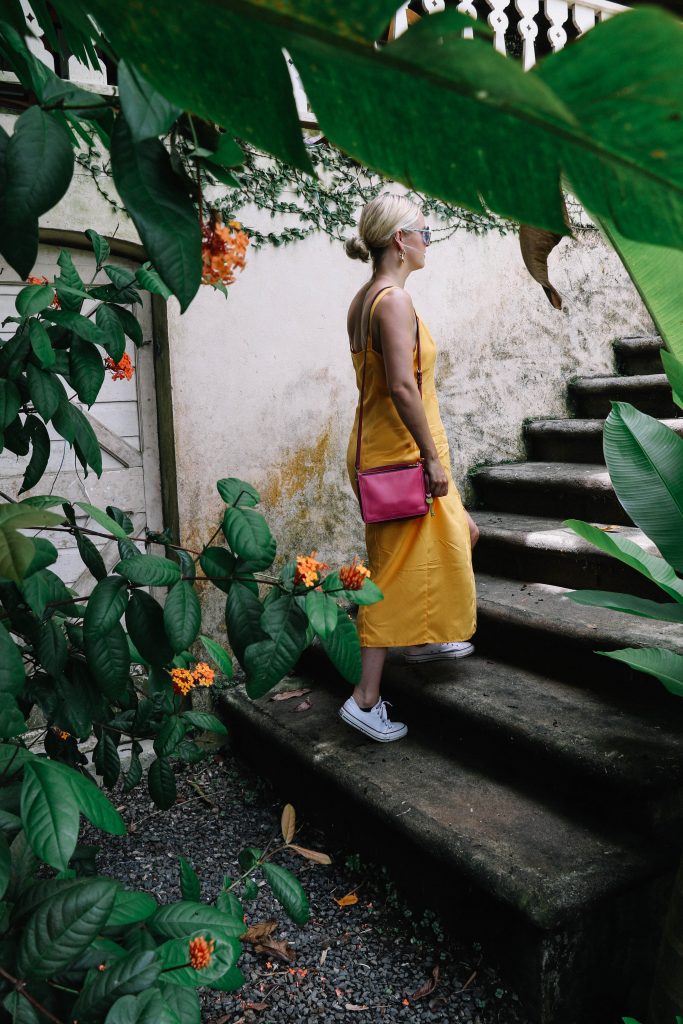 The 150-year-old home, found along a steep Victorian road, is initially hard to spot. Nestled so deeply in the surrounding forest, even its highest peak – a window framed by white, wooden shutters – is hidden. Pushing creeping plants aside, we eventually spotted its stooping veranda; iconic pink cladding confirming that we were in the right place.
Inside, a small living room greeted us, bleached photographs of the mansion's former occupiers hanging on the wall. A galleried staircase towered above us, light from the third floor pouring down and lighting the mahogany floorboards beneath us. It was a world away from St James' Bay: a colonial relic, disguised in stunning pink.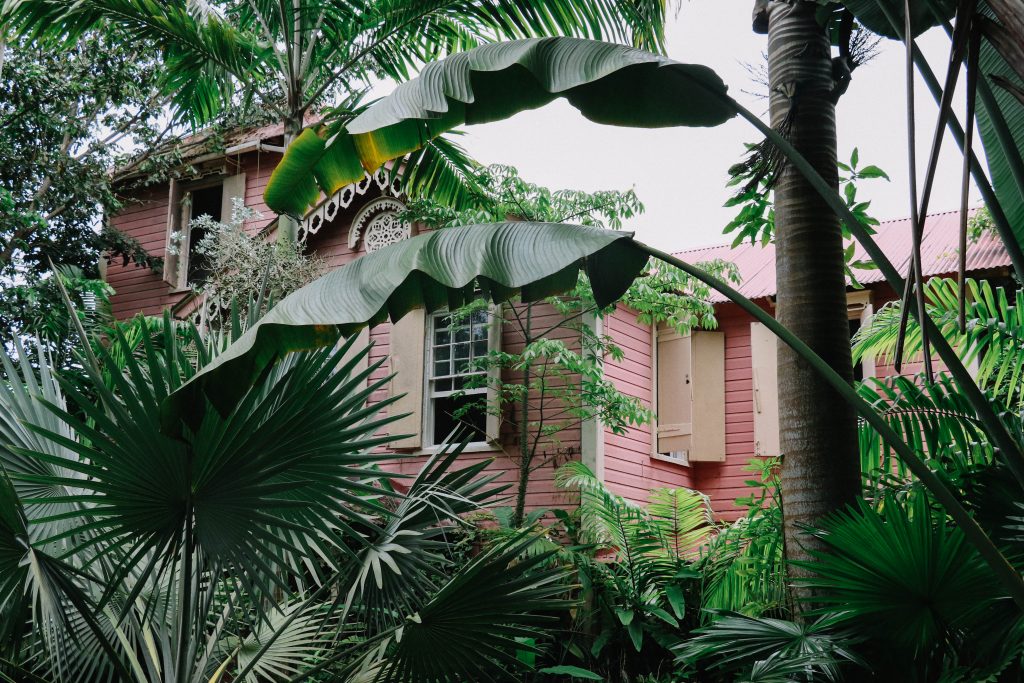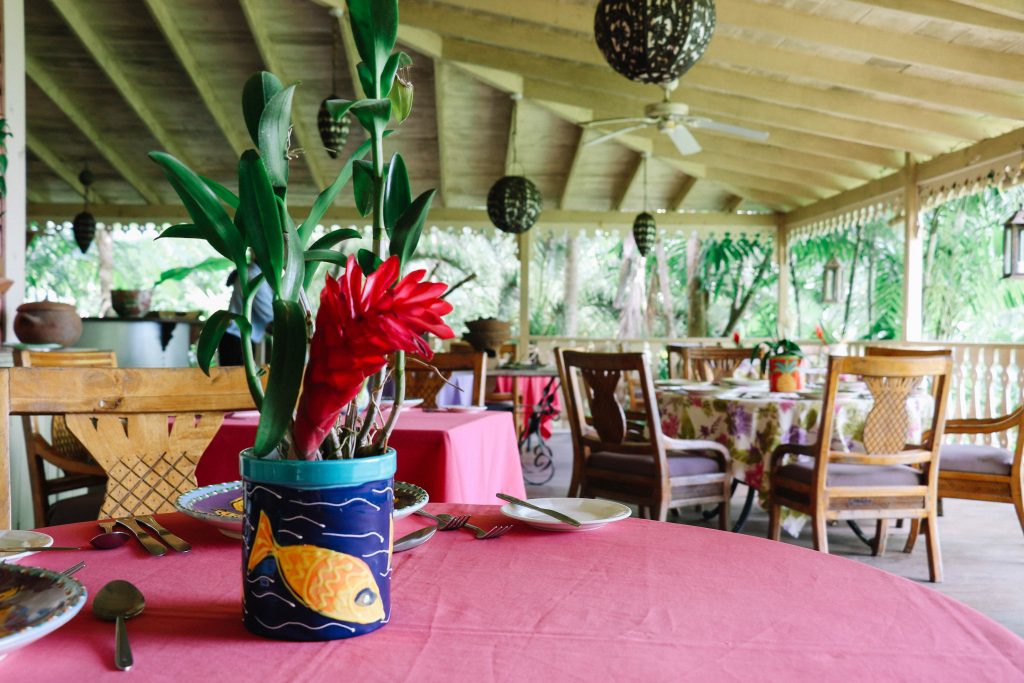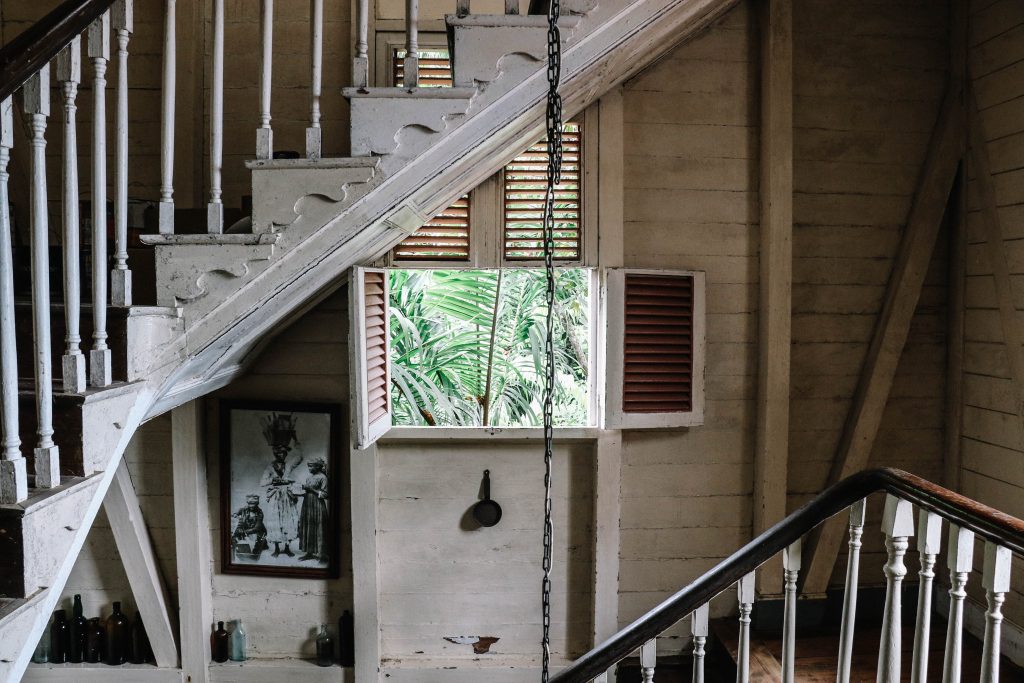 The House is now a restaurant and art studio, owned by Michelle Elliott, a St Lucian. The studio is a bright, open space at the back of the house, filled with vibrant, hand-painted ceramics. Orange fish, vivid yellow pineapples and self-portraits of the eccentric Pink Plantation House, decorate the many vases, plates, mugs and picture frames displayed here.
Next door sits the beautiful restaurant, tucked under the shade of a large open veranda. As we walked through, smiling staff explained that they were setting up for the day: preparing to serve a feast of authentic creole food. With spectacular views over to Rat Island, Pink Plantation House certainly offers an ideal lunch spot: a place to soak up a piece of St Lucian history, whilst enjoying fresh crab, grilled Dorada fish and pumpkin gratin.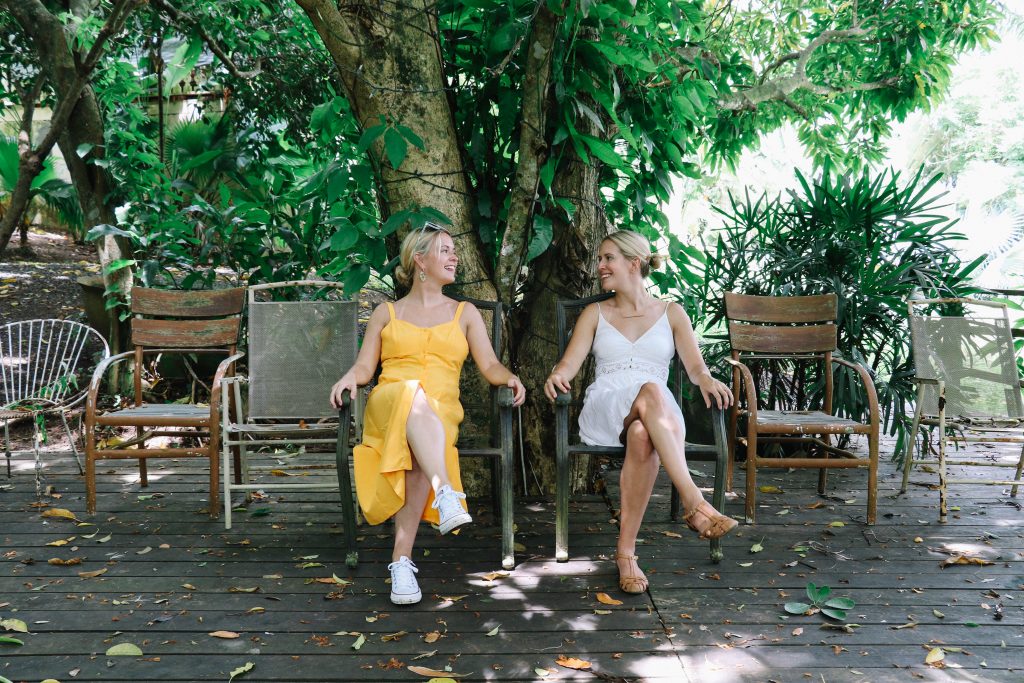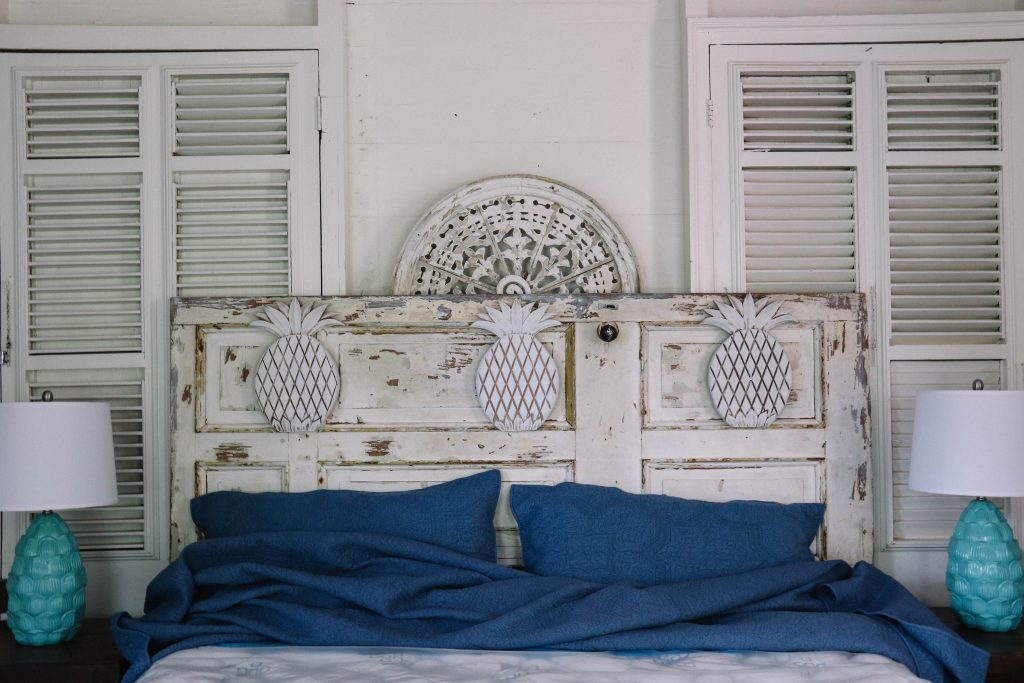 Examples of such colonial history are scattered across the Island. Initially home to the Arawaks and later, the Caribs, St Lucia was wrestled over by possessive Europeans for 150 years; its flag changing a whopping 14 times between 1160 and 1814. It's unsurprising that the country is therefore littered with colonial relics.
Pink Plantation House aside, perhaps the most obvious of these remainders are the country's iconic plantations: a trip to these certainly making for a unique thing to do in St Lucia. Thanks to its mineral rich soil (an upside of an island harbouring a volcano), the French quickly realised that Saint Lucia would play the perfect host to hundreds of plantations, growing predominantly sugar, and later, cocoa. Many of these plantations are still active: crayon coloured estates, offering a glimpse into what Philip had called "the heartbeat" of the St Lucian economy.
We decided we had better visit one.
A Visit to Fond Doux Plantation
From Castries we headed south towards the mineral-rich hills of Saint Lucia's 'first' town: Sourfrière.
Casually positioned on the Island's now dormant volcano, the area seemed somehow even greener and denser than the north of the Island: home to giant ferns, wild orchids and endless mango and papaya groves. It is also known as the heart of St Lucia's chocolate country – the Caribbean alternative of Birmingham.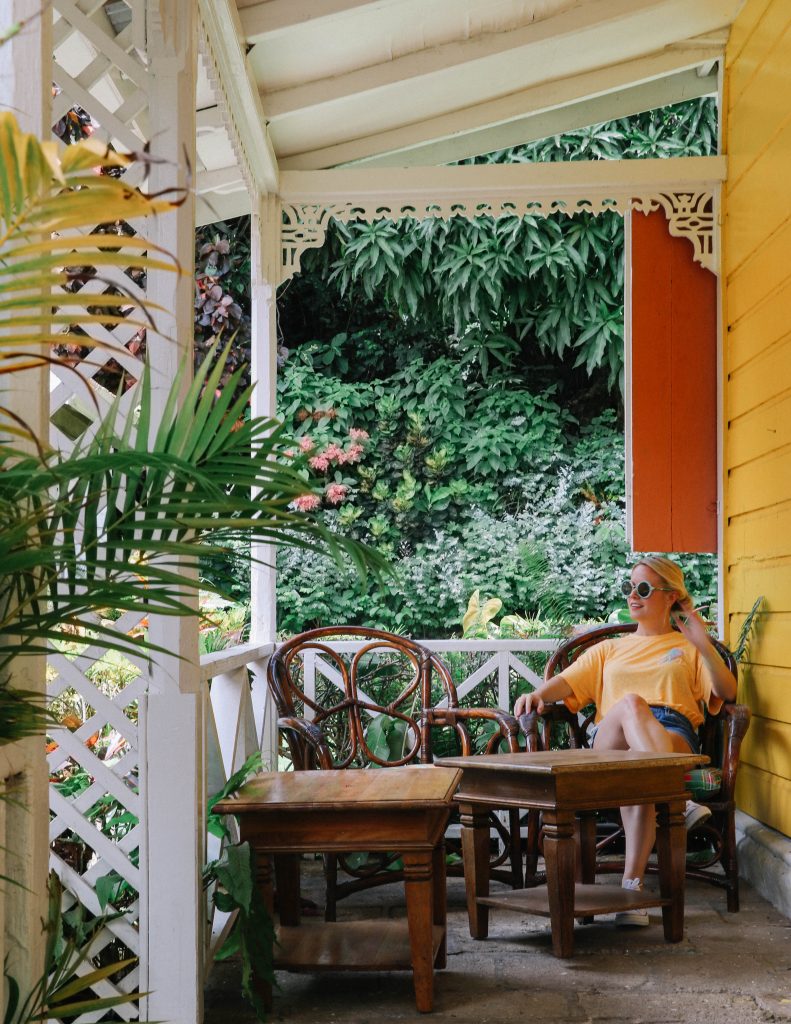 Fond Doux – the cocoa plantation we would be visiting – sits close to the town and is still fully operational: a rainbow estate now 250 years old. Having arrived via a deceptively hidden track, we settled down in reception; the humidity creeping even closer. A lizard crawled lazily over my knee and Claire fanned herself lethargically with a magazine. For now at least, plantation life seemed unhurried; another casualty of the warm fog that hung over us.
Eventually, we were greeted by our tour guides: Angel and Shyne. They explained that our excursion around the plantation would not just take us through cocoa groves, but past a catalogue of tropical fruits, wild flowers and emerald green hummingbirds. It was every piece of St Lucian flora and fauna, presented within just 135 lush acres.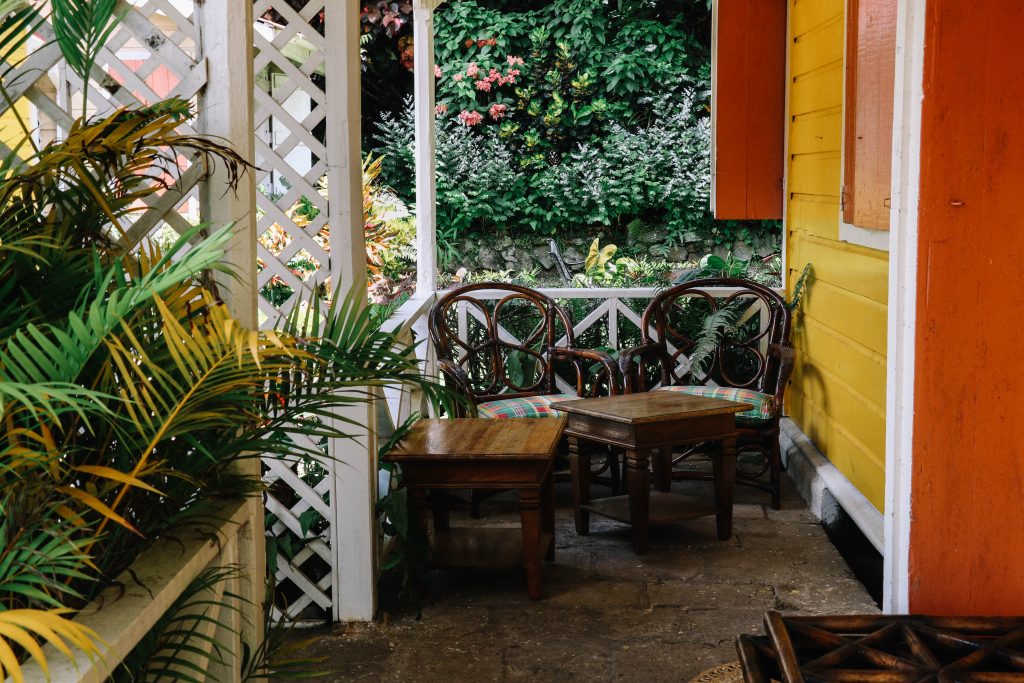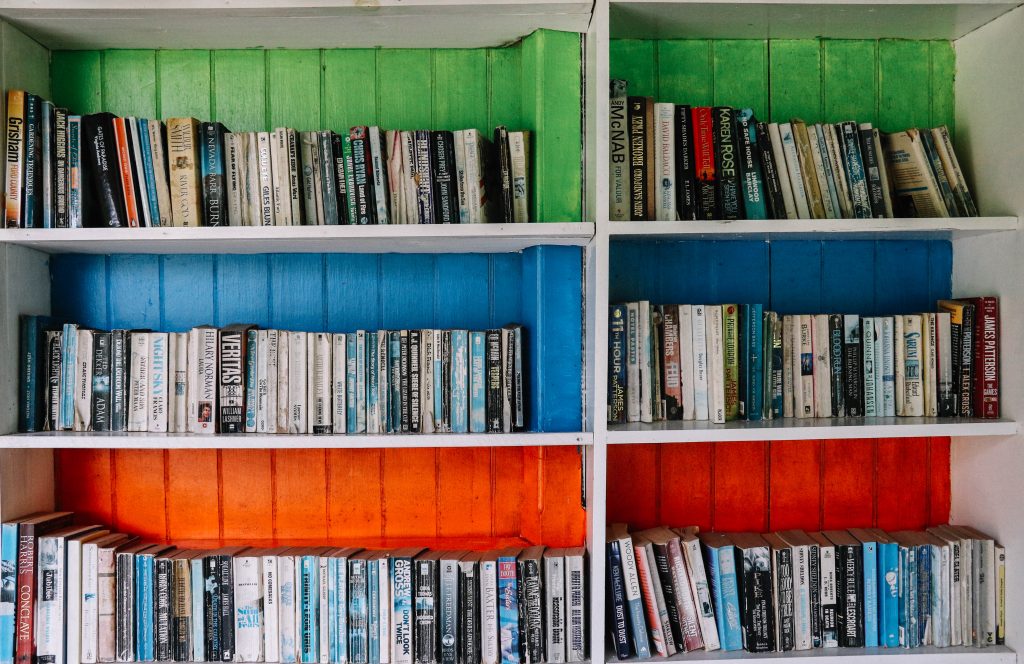 Walking through the dense nature trails, Shyne revealed his encyclopaedic knowledge of the plants surrounding us: each of them not only delicious, but harbouring valuable medicinal properties. "Tropical fruits are high in anti-oxidants", Shyne explained, "So St Lucians never get sick!"
I thought back to grey England and the hunched apple tree in my garden, fuelled only by the weak English sunshine. Suddenly, my failure to ever reach optimum health was clear. A vinegary apple was nothing in the face of those papaya blasting, guava healing, passion fruit saving bounties. Gazing at a collection of prickly soursop fruits, I felt embarrassedly nutrient-deficient.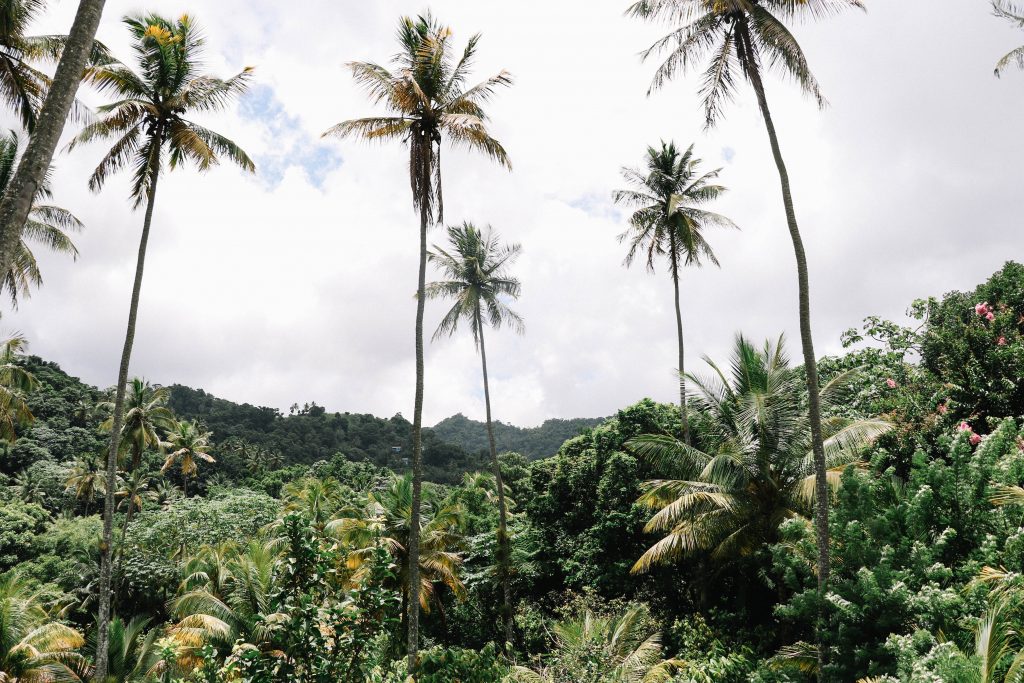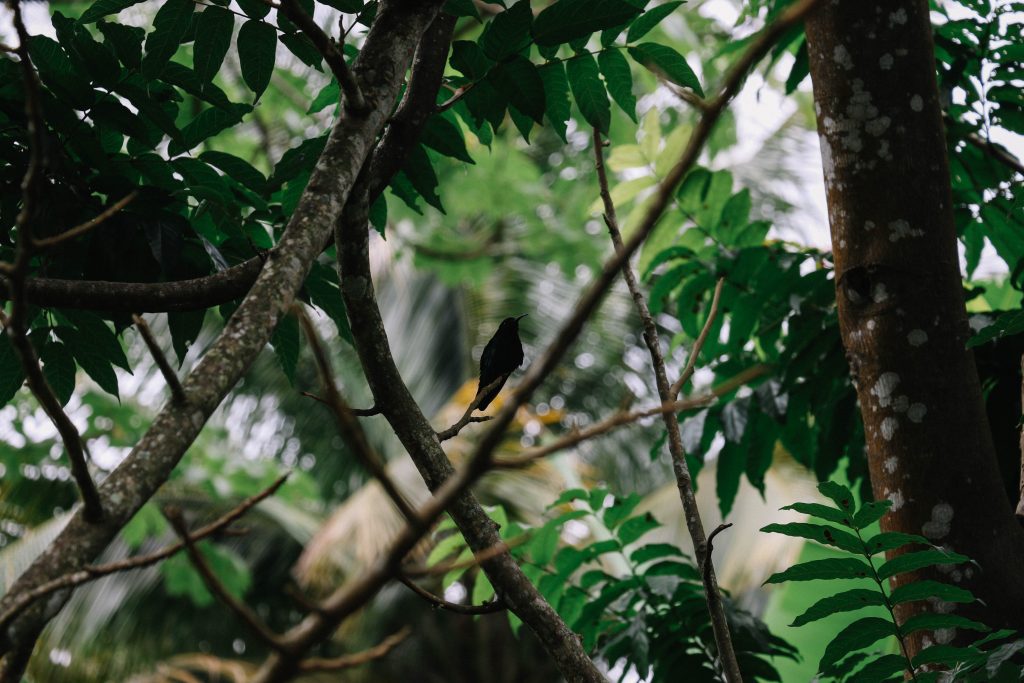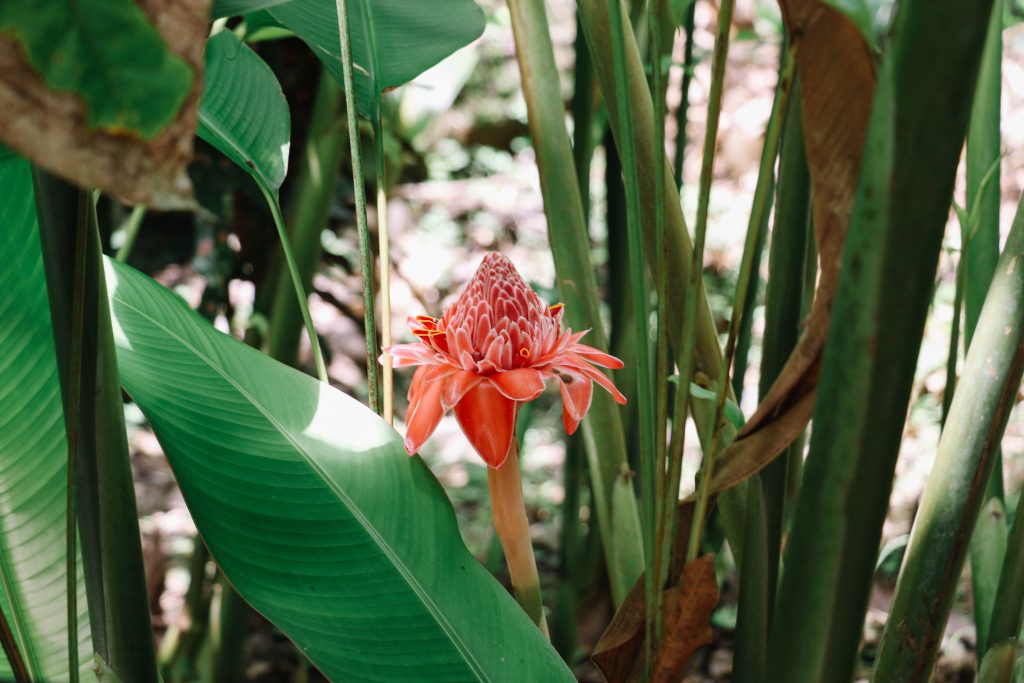 Perhaps the highlight of the tour was the story of the humble cocoa bean. For most, cocoa means Cadbury's Buttons: brown, round and soft. Yet, we were presented with a fruit that appeared to be the slimy love child of a banana and a corncob.
Smiling, Shyne peeled back the fruit to reveal a wet cluster of seeds, each coated in white goo. They reminded me of fat, tropical grubs. "Cocoa beans!" he declared. Detaching one of the slimy objects, Shyne popped it in his mouth, explaining that each bean would have been sucked, before being left to ferment in the sun.
Hesitantly, I lifted the mutant bean to my mouth: my gag reflex primed for rejection. Surprisingly, however, it tasted like a lychee fruit – sweet and fruity. We would later learn that each cocoa bean goes through an arduous process before becoming a family-sized slab of Dairy Milk. Fermented, dried, roasted and ground, behind each Cadbury's button is a lengthy and established procedure, and an even longer heritage.
It was fascinating and a truly unique thing to do in St Lucia.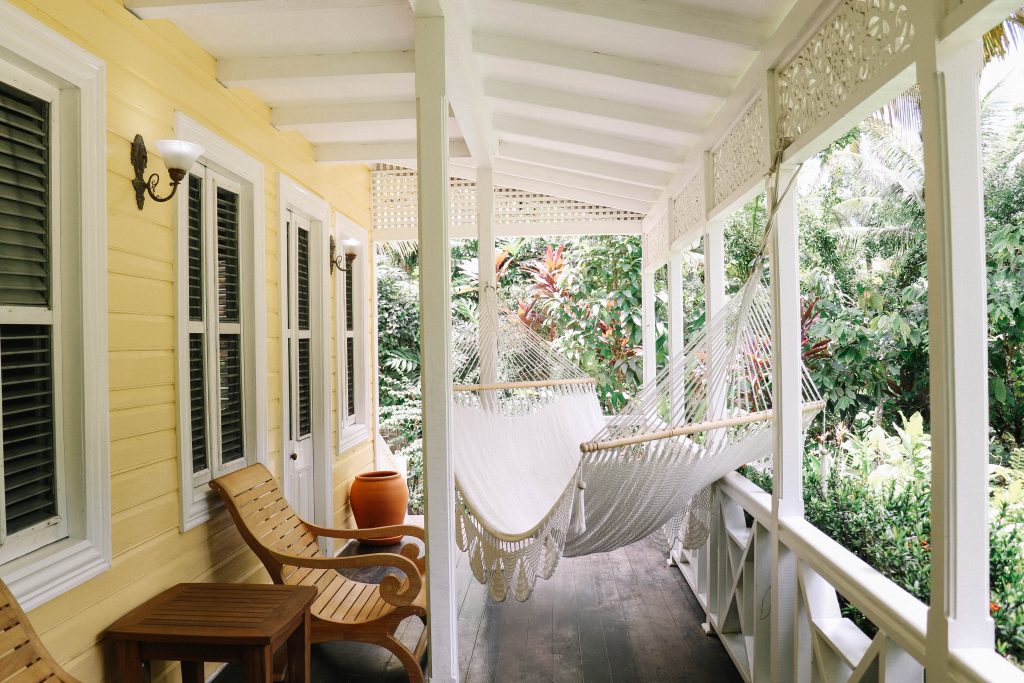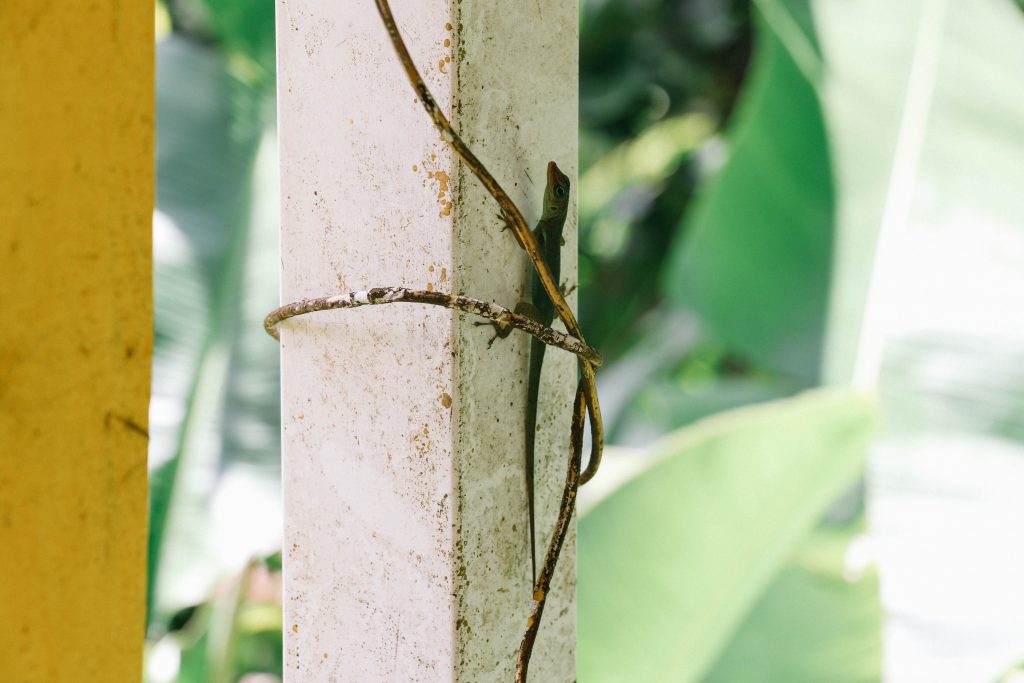 It would have been all too easy to drive the entire Island, seeking out restored sugar mills, working plantations and yet more beautiful, colonial architecture. Yet, with only a short amount of time on the Island, we moved onto what St Lucians seemed especially proud of: their country's potential for 'soft adventure'.
A Catamaran Trip
Boarding the Calypso Cat – a 42-foot power catamaran – the pulsing base of the Caribbean music made my teeth vibrate. Someone handed me a cup of calypso punch: "welcome to the best day of your life", came a smooth-as-honey voice. Miss Lucy would be our compare as we sailed down the West coast to the Island's magnificent Pitons; one of the unique things to do in St Lucia. I wondered if Miss Lucy had ever considered DJ-ing: her voice so velvety. In comparison, I sounded like Mr Bean.
Gliding down the coast, it was clear that the best views of St Lucia were by sea, providing sightings of stretching beaches, turquoise waters and the cliff-teetering boltholes of the rich and famous.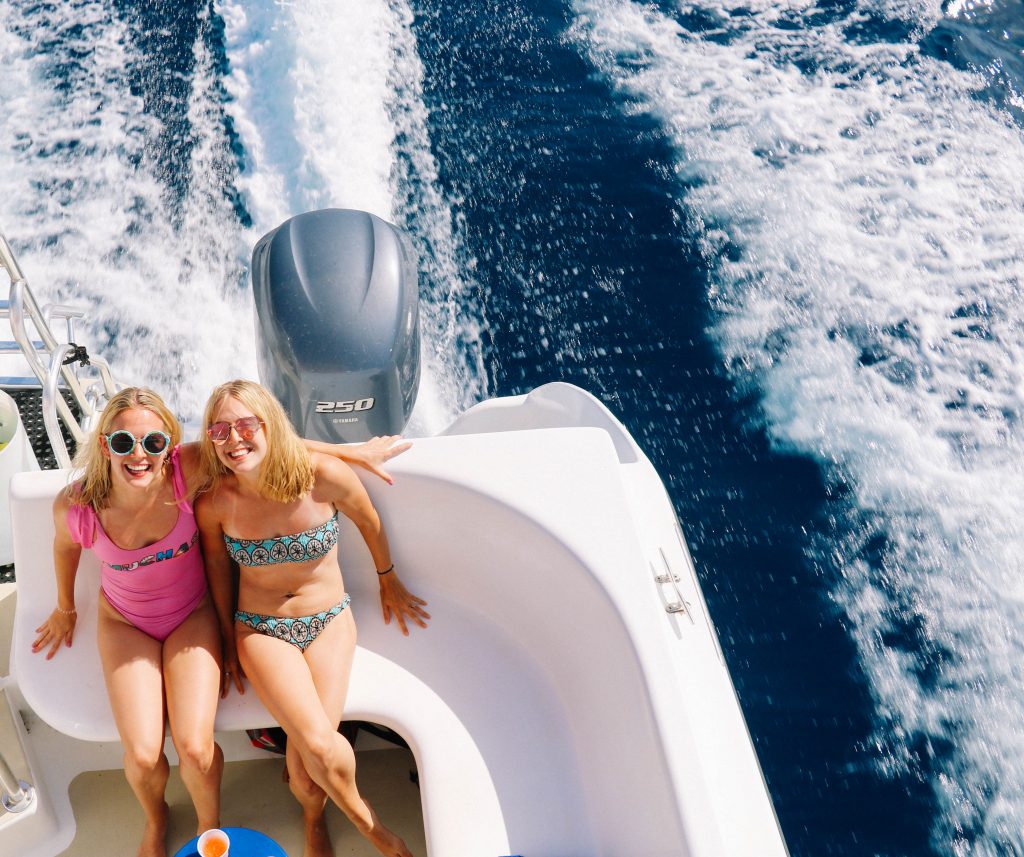 A Visit to a Volcano
Having passed the legendary resorts of Jade Mountain and Sugar Beach, and stopped to gawp at a festering bat cave, we arrived back in Soufrère, ready to drive 'into' St Lucia's volcano. Despite paranoid images of a bubbling crater filled with molten lava, the drive into the volcano was quietly scenic – the only hint we were on the mountain being the sulphur springs where we would soon take a dip. Stripping down, we bravely marched towards the 38 degree pool, ready to let the milky water and nearby volcanic clay reverse all visible signs of ageing.
It's claimed that both Richard Branson and Oprah have both bathed here. Dipping my toe into the water, I tried to imagine how they might have reacted. The water was boiling. In fact, combined with my sunburn, I was momentarily convinced that the burning sensation was my skin swiftly dissolving. Had Richard screamed, too?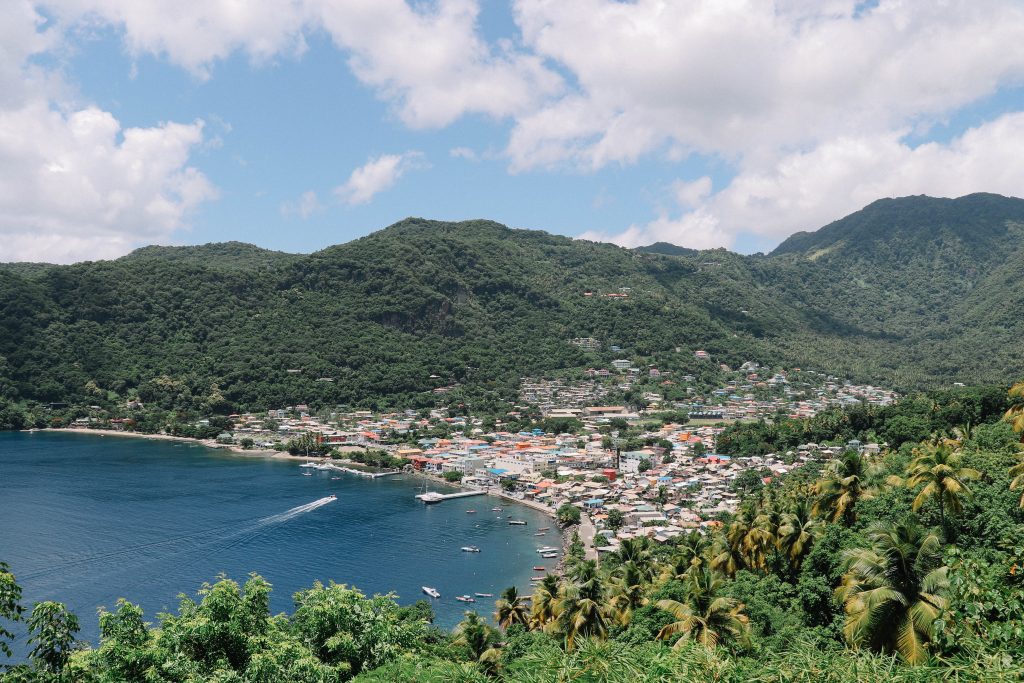 Diamond Waterfalls
After a few moments, however, the heat subsided, leaving me to glide blissfully in the velvety smooth pool of volcanic water. Combined with the icy cool torrents of the nearby Diamond Waterfalls – the next stop on our volcanic adventure – my skin was left soft and refreshed. A visit here is truly a unique thing to do in St Lucia.
Our watery excursion culminated with a trip to a local diving spot, near the sparkling waters of Anse La Raye. The water here is calm and still; a warm bath rather than a salty ocean. It is also coral-rich and home to a vivid population of marine life. Here, puffers; flounders; octopus; parrot fish; moray eels and lobsters gently sway in the warm currents, and divers are promised possible sightings of minute seahorses. It's an underwater world as abundant as the land above it, and a reminder of just why Saint Lucia is considered such a tropical paradise.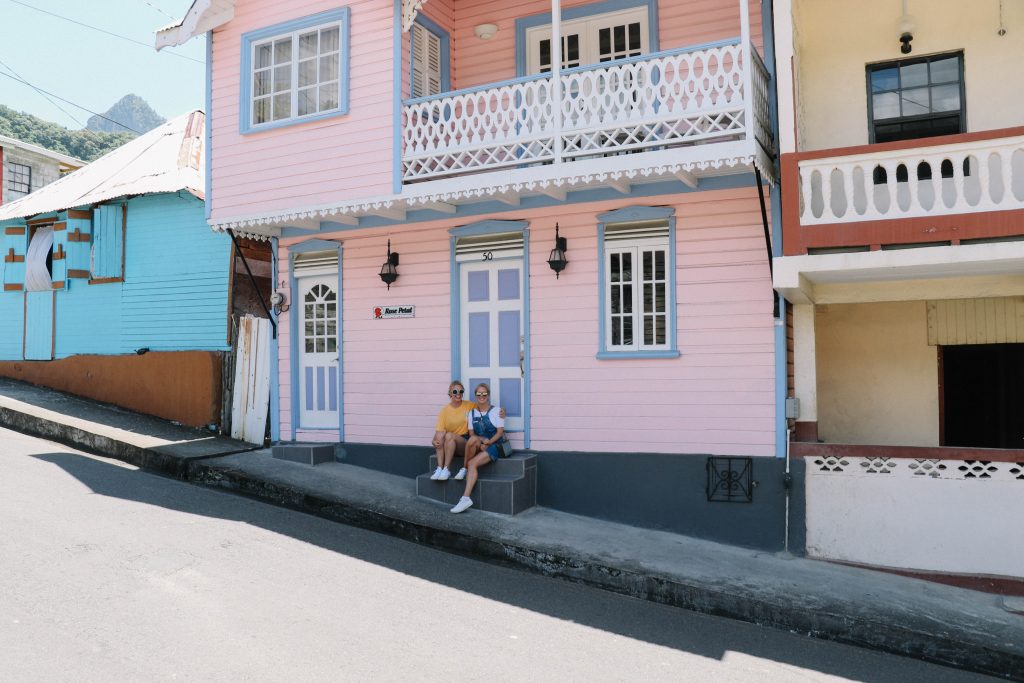 Cook Like a Lucian
Having sampled St Lucian culture, history and (tentatively) adventure, we were keen to try one last activity: cooking. "The best way to really get to know a country", Kai – our tourist board representative – had told us, "is to try a local cookery course. There's no better introduction".
Indeed, St Lucia is a country where food appears – quite literally – everywhere. Drive along mountain roads and small roadside grills appear; charred corncobs roasting on greyed coals. Pass through little towns and small tables line the pavements, filled with bananas, mangos and cascading piles of cashew nuts. Pass local restaurants and their 'specials' are proudly announced: Langouste (local lobster); Bouyon (stew); green figs and salt fish; Pouile Dudon (chicken stew with treacle) and cocoa tea and bakes. Saint Lucian food is hearty, welcoming and unpretentious: an apt description of the country itself.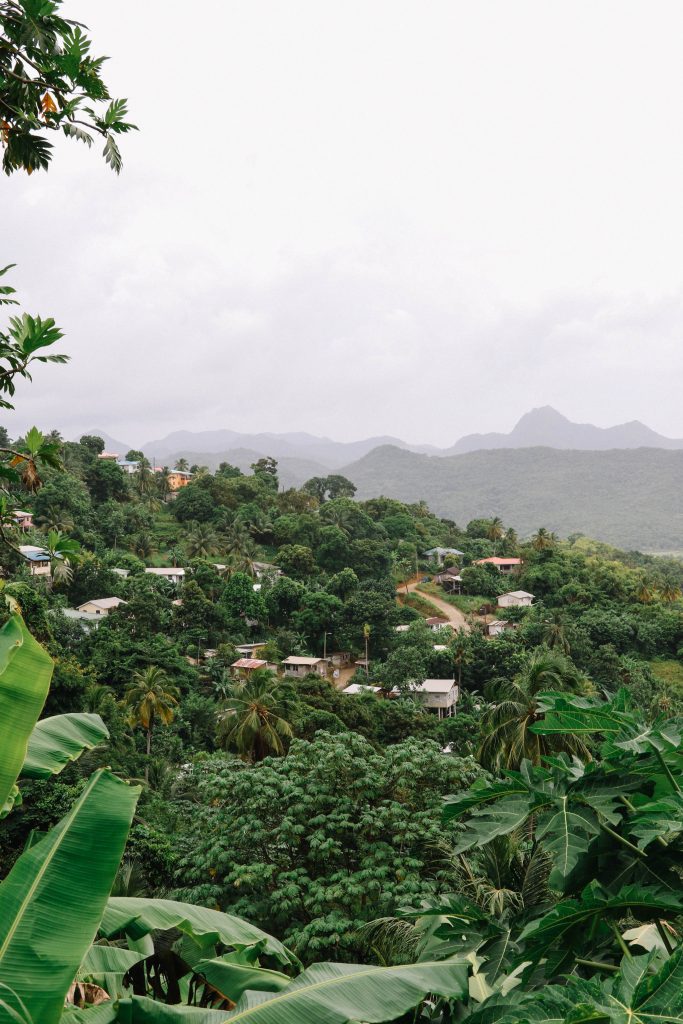 Our cookery class came courtesy of Cook Like a Lucian: a business run by the impossibly warm Joseph family. Headed by Tony and his sou-chef-come-mother, Tonick, the class promised an interactive introduction to Saint Lucian cuisine, aided by Tony's booming Caribbean music and Tonick's self-taught skills.
We were introduced to our menu: a gut-busting 9 course meal including curried chicken; green fig salad; macaroni pie; fried ripe plantain roast bakes; and chocolate tea and dumplings. My mouth watered as my eyes slid down the menu. With the music turned up, the kitchen became its own carnival: music, steam and the smell of cinnamon and coconut all mingling.
My embarrassing Caribbean inspired dancing aside, the whole afternoon was brilliant and definitely one of the (many) unique things to do in St Lucia. Listening to Kai describe how slicing the ripe green figs reminded him of his own childhood, it was evident just how entwined food was with St Lucian family life, events and culture. A perhaps unique thing to do in St Lucia, it was a brilliant – and delicious – way to get to know the Island.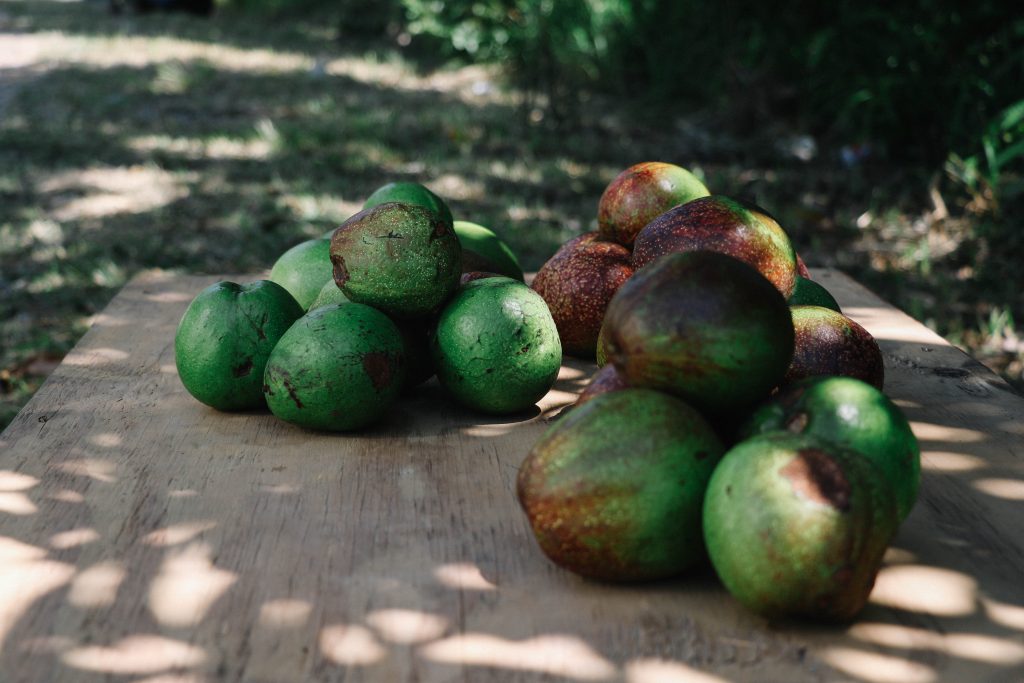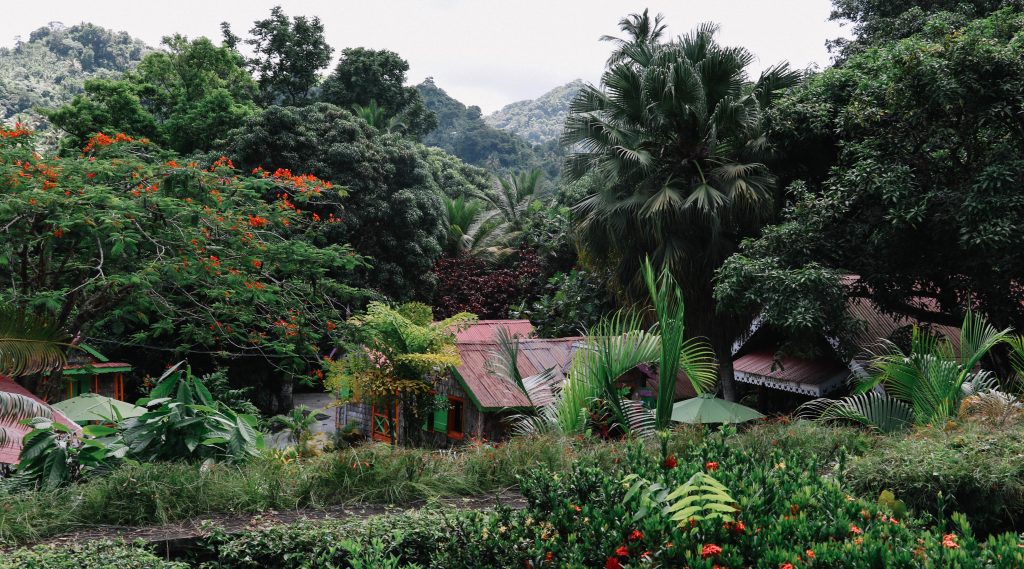 Unique Things to do in St Lucia: Final Thoughts
Heading south one last time, our final night on the Island drawing in, we stopped just north of Castries. The sun now setting, a rolling grove of banana trees fell away from the roadside; the edges of the leaves gilded a vibrant gold.
Nearing rush hour, locals drove past apparently unaffected by the beautiful scene – used, perhaps, to these sort of evening spectaculars. Walking down towards the lush grove, camera in hand, the smell of wood smoke filled the air. It lingered in the muggy evening breeze, twisting and curling around the trees.
Looking out across the dense forest, the St Lucia I could see ahead of me was entirely different to the one I had been expecting. Wild, vivid and heartbreakingly beautiful, this was not a country dominated solely by rum punch or honeymooning couples. Such a description only touches the sides of this spectacular place – particularly given that there are so many unique things to do in St Lucia.
Lifting my hair from the back of my neck and fanning myself, I took a seat next to the trees to watch the sun slowly set. The heat still close, time now seemed even slower; the wood smoke thickening the air. Smiling, I only wished that I had my glass jar to hand, ready to capture that warm, fragrant St Lucian air: a small reminder of a true paradise.
'Unique Things to do in St Lucia': listen to our podcast.
Unique Things to do in St Lucia: watch our vlog