This guide to Trevone Bay, Cornwall, contains affiliate links.
There's something about the rugged coastline of North Cornwall that's always calling me back.
From Port Isaac to ancient Tintagel, foodie Padstow to charming Boscastle, North Cornwall offers a magical blend of wild moorlands, ancient woodland and hidden beaches. Each time I visit I discover something new: a new village, a new restaurant, a new windswept cove.
This year, however, I hit the jackpot – staying in a beautiful village just a stone's throw from Padstow. Boasting its own golden beach, an aquatic-blue tidal pool, a long stretch of rock pools and an incredible beach cafe, Trevone Bay was one of my best discoveries yet.
The Times even declared it the most perfect place to stay in Cornwall.
Heading there earlier this summer with my partner and young son, we spent seven days making this small Cornish village our home. We loved it so much that we've already booked our return trip for next year.
Below is everything you need to know about visiting Trevone Bay, Cornwall – based on our own experiences.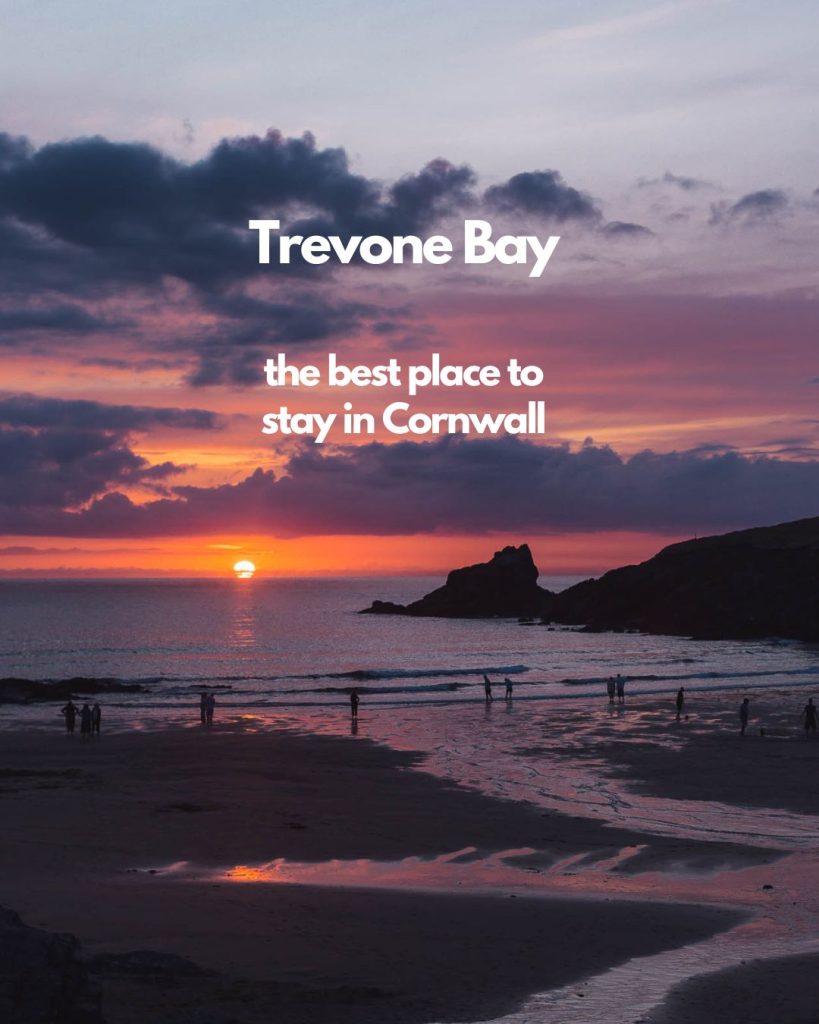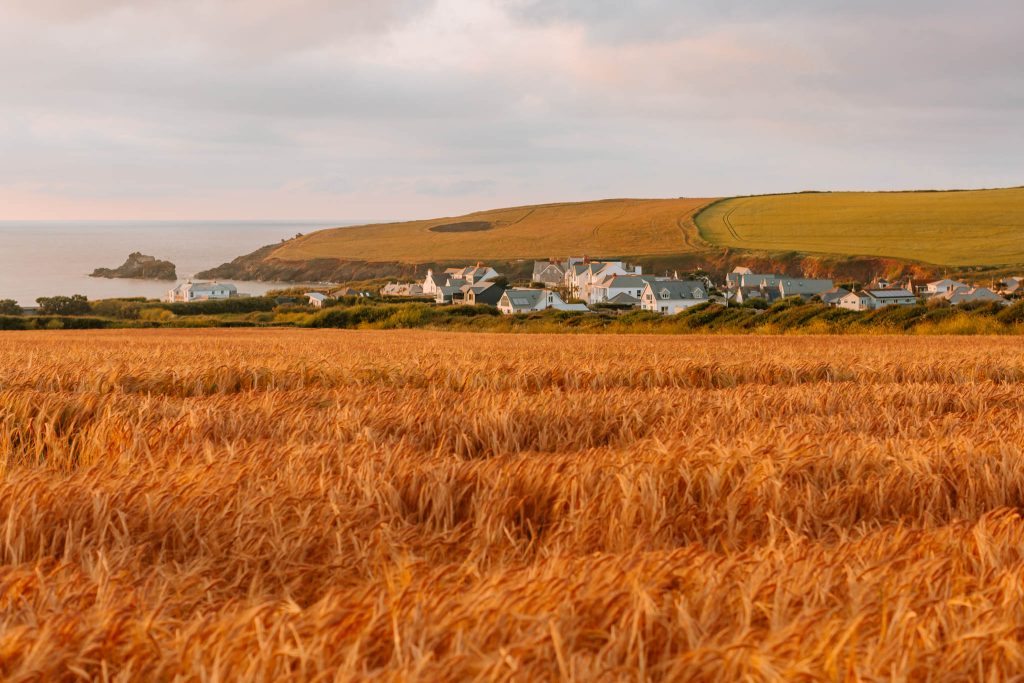 Where is Trevone Bay?
Trevone Bay, Cornwall, is a small (but beautifully formed) village in North Cornwall, nestled between Padstow and Harlyn Bay.
Further down the coast, you'll find Porthcothan and beautiful Mawgan Porth, with a cluster of lovely beaches in between. Drive northwards and you'll eventually reach Port Isaac and Boscastle – with Devon on the horizon.
For those flying to Cornwall (we understand, the drive can be torturous), Trevone Bay is just a 25 minute drive away, making it a convenient fly-and-drive destination. If travelling by train, you can come from London to Bodmin Parkway, which is about 40 minutes away (by car).
The village is intersected by some of the area's best walking routes – including the South West Coast Path. Following this path, you can wander to other villages and towns nearby, including Padstow – passing the village's famous 80ft blow hole (known as the 'Round Hole') as you go.
If you're looking to explore inland, then Trevone Bay is a short drive from Bodmin Moor and incredible National Trust properties, including Lanhydrock.
Overall, Trevone Bay benefits from being close to all of North Cornwall's big hitters, without suffering the crowds or impossible parking situation. It's also close to some great transport links too, meaning long car journeys aren't always necessary.
Geographically speaking, Trevone Bay is a real sweet spot.
Is Trevone Bay Expensive?
One reason we stayed in Trevone Bay, rather than any of the larger nearby towns (e.g. Padstow), was the glimmer of hope that it might be a tad cheaper.
However, I can confirm that it's pretty much similarly priced to the surrounding area, especially in terms of accommodation.
Our own self-catering house – a beautiful home overlooking Trevone's Atlantic shoreline – was just under £2,900 for the week, with prices rising to just under £4,000 in July.
Likewise, the local beach cafe wasn't cheap, with two pizzas, chips and drinks setting us back nearly £55.
While it may seem modest and quiet, the reality is that Trevone Bay has the Padstow postcode, and with it, the price tag.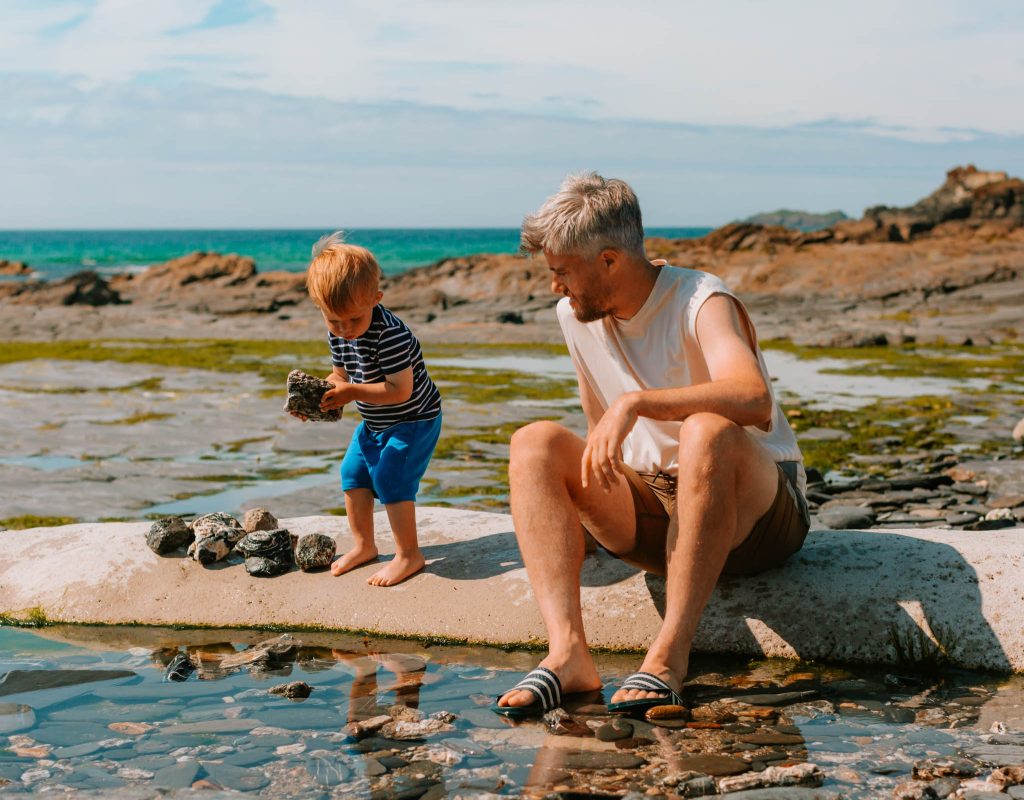 Accommodation in Trevone Bay, Cornwall
By and large, Trevone Bay is filled with self-catering accommodation. This ranges from quaint, traditional cottages, to sprawling modern mansions overlooking the Bay's foaming surf.
Cornish Gems
During our own holiday to Trevone Bay, we stayed in the beautiful Chycoose – a holiday home booked via Cornish Gems. My sister has stayed with Cornish Gems before and always raves about the immaculate standard of their properties – and she wasn't wrong.
Recently updated, this very spacious and light-filled house boasted three large bedrooms (the master bedroom can be found in the eaves and offers incredible sea views), a modern kitchen with AGA, a large lounge and a cosy snug (perfect for little kids).
It also had a writing desk overlooking the sea, a sunny garden and – most importantly (if you're my partner) – ample parking.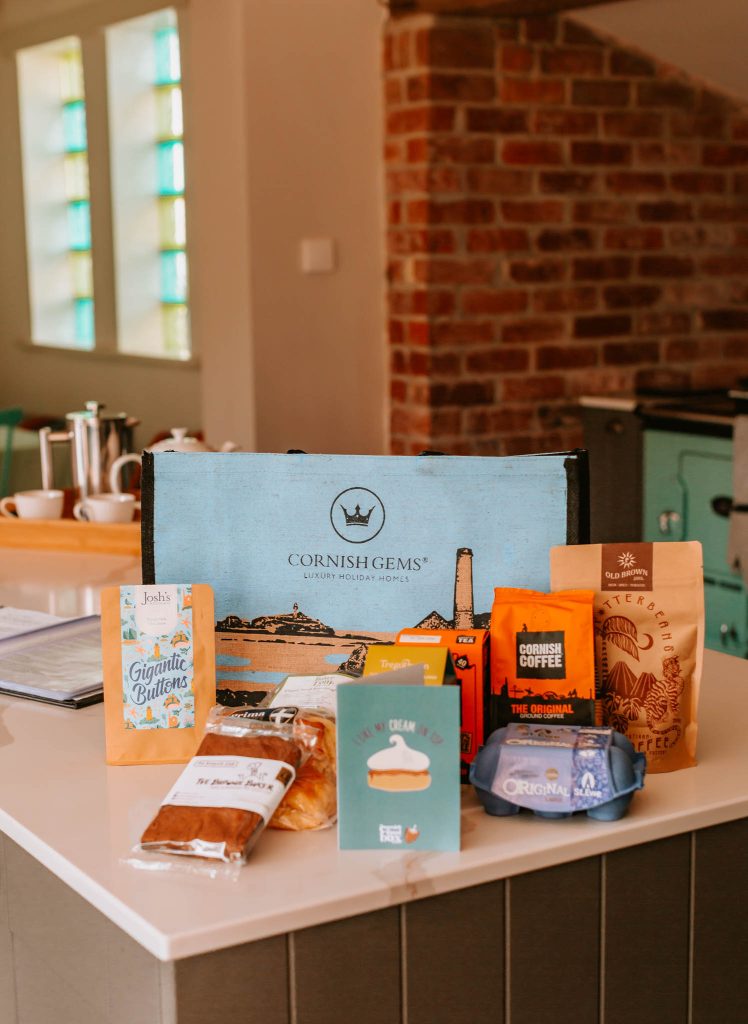 Chycoose was an absolutely beautiful house and offered us so much space to relax, play and eat in. Our son still talks about his 'holiday house' even now, and given that it was just a five minute walk to the beach, it really was the ideal place to stay in Trevone Bay.
The (very pretty) shed in the garden was also filled with everything you'd need for a beach holiday, including paddle boards, wetsuits, games and beach chairs.
At night, Chycoose's magic really came to the fore. It was the perfect place to watch as the sun set over the Atlantic and the stars began their twinkling display. Quiet, peaceful and offering stunning views – staying here was an unforgettable experience.
Atlanta Trevone Bay
If you're looking for a self-catering experience with a difference (and a touch of luxury), then it's worth looking at the Atlanta Trevone Bay.
A vast and sprawling mansion overlooking the stunning Trevose Head, the Atlanta Trevone Bay is split into a number of different properties, including The Penthouse, The Net Loft and One Atlanta.
Each property offers something slightly different in terms of style – although all are designed to the same impeccable standard. Atlanta Trevone Bay also provides its guests with a number of services, including catering services (led by incredible chefs), babysitting services and beauty treatments.
Think a tiny Soho Farmhouse, but perched on the clifftops of Trevone Bay.
Again, prices here are not cheap – with a week stay in the summer costing around £3,000 – £4,000.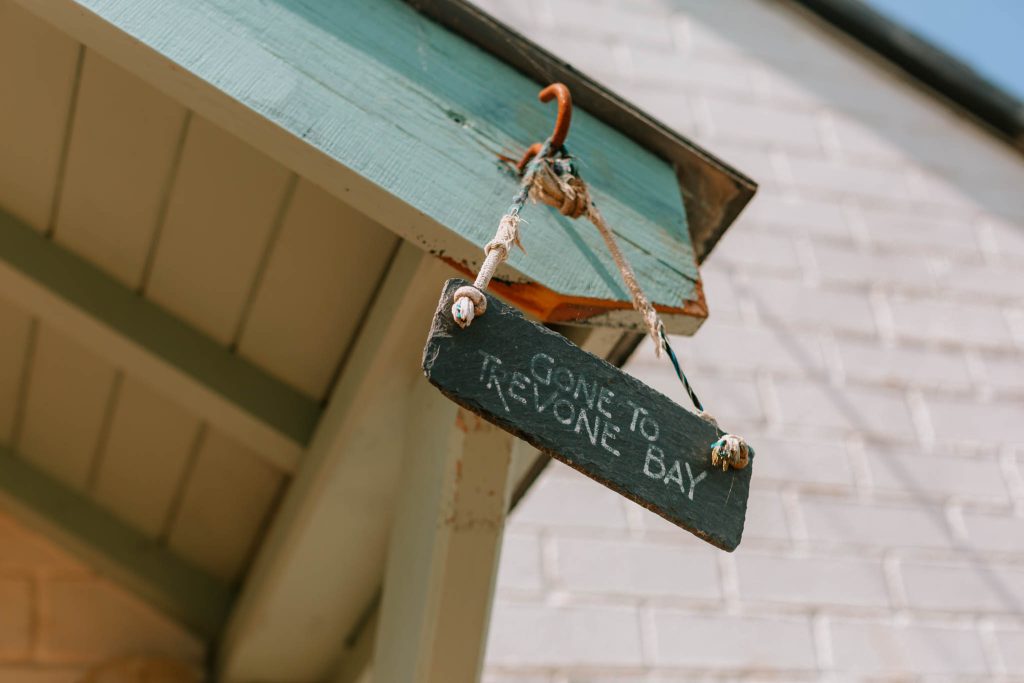 Beaches in Trevone Bay
The crowning jewel(s) of Trevone Bay is definitely its two entirely different, yet equally beautiful, beaches. During our own week long stay, we didn't actually visit any other beaches as Trevone's were more than enough to keep us both occupied and relaxed.
Porthmissen Beach, Trevone Bay
First up is Trevone's Porthmissen beach – a buttery expanse of golden beach, sheltered by cliffs and rolling wheat fields.
This beach is the perfect place to set up camp for the day and enjoy some paddle boarding, swimming and kayaking.
During the summer months, there are RNLI lifeguards on patrol, making it an incredibly safe spot to swim. The water is also fairly calm, with minimal waves, which means we could take our toddler in for a paddle.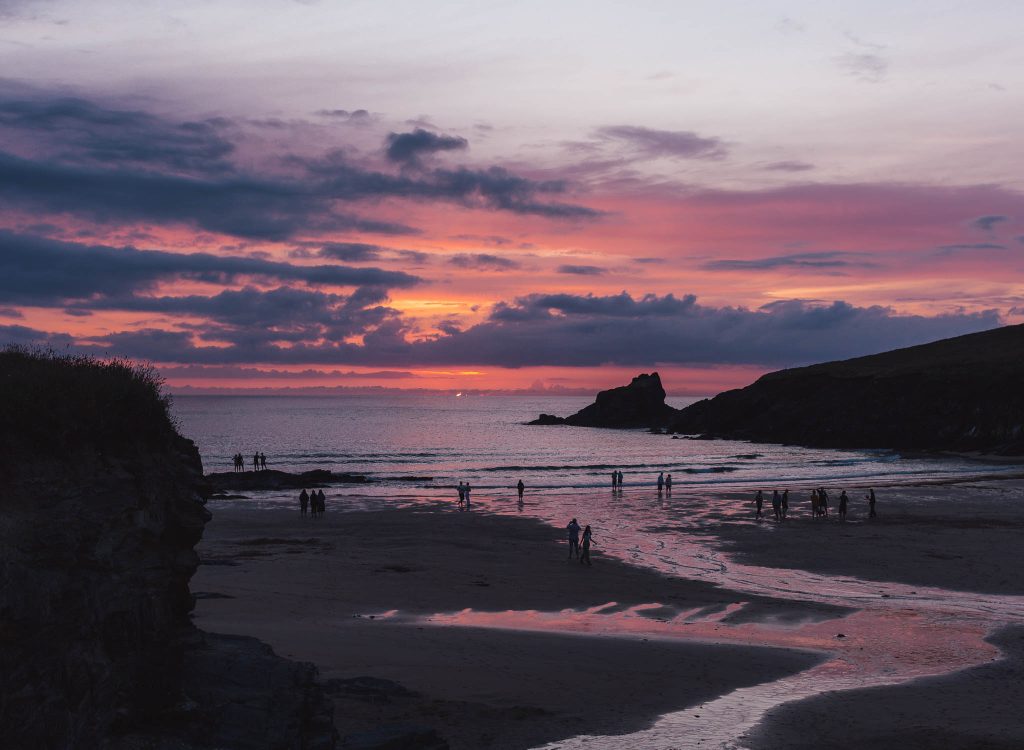 To the side of the beach is a large cliff, where Trevone Bay's famous Blow Hole sits (a collapsed sea cave that plunges some 80ft). From the beach, you can sit and watch as walkers scale the cliff for a look into the hole, before walking onwards towards Padstow.
This really is a spectacular beach and our toddler had the time of his life here.
There are toilets available, but do bring change as they're 50p to use. If you forget your beach basics, you can also buy them from the fantastic store on the beach – though be warned, this place is not cheap.  A swimming costume will set you back an eye-watering £75.
Parking is £5 for the day.
(Note: dogs are not allowed on the beach from 15th May to 30th September, 10am to 6pm).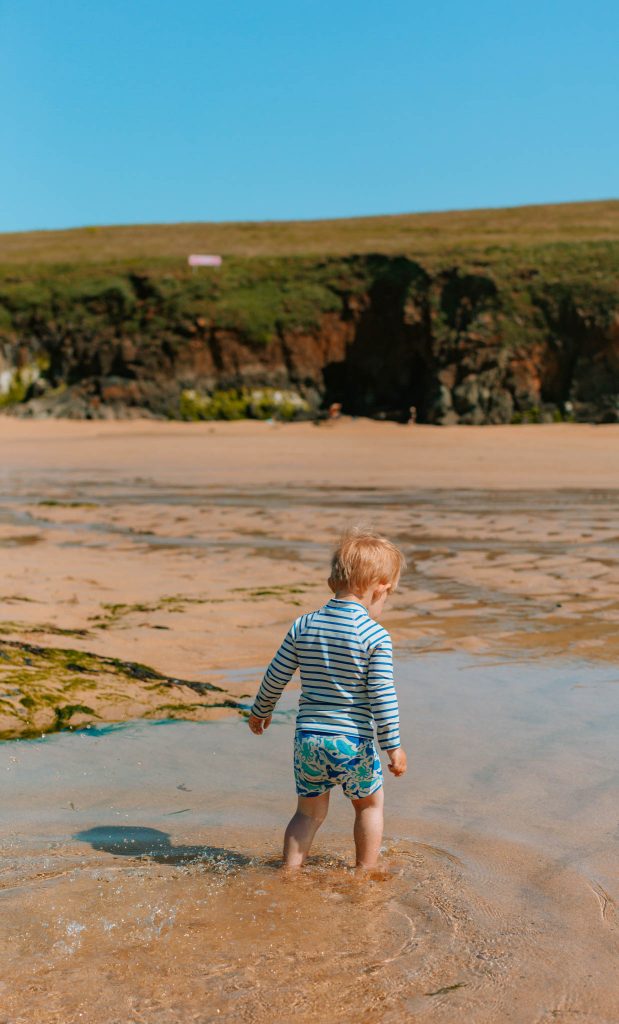 Newtrain Beach (Rocky Beach)
Newtrain beach, known locally as 'Rocky Beach', does exactly what it says on the tin.
Just a short walk from the sandy shores of Porthmissen beach, Newtrain beach is made up of large slate slabs – perfect for walking, hopping and scrambling across. When the tide is out, the extent of this rocky landscape is revealed, unveiling hundreds of individual rock pools.
Our toddler absolutely loved this beach and we spent hours rock-pooling and crabbing here (or just simply throwing stones into the pools). We brought our beach chairs and pitched up here for the day; enjoying having the beach largely to ourselves.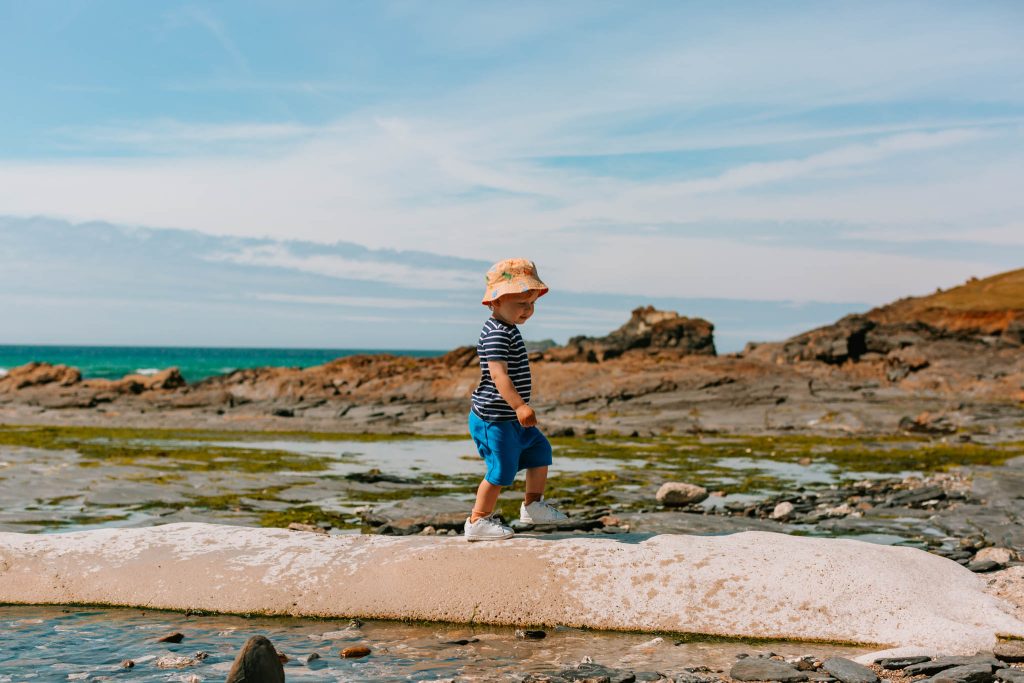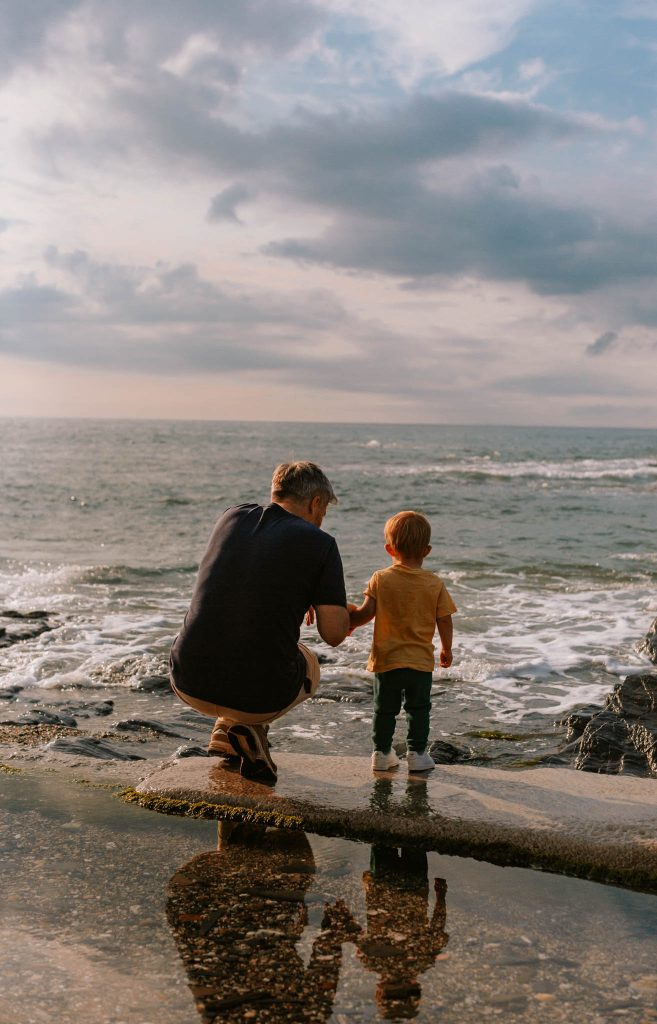 Above the beach is also a wonderful walk, with plenty of benches to sit on during sunset. I witnessed some of the most incredible sunsets here and would highly recommend visiting as the sun slips below the horizon.
Tinker Bunny's Bathing Pool
Just around the corner from Rocky beach is Trevone Bay's large tidal pool – known as Tinker Bunny's Bathing Pool.
This pool is absolutely breathtaking – both to look at and to bathe in (thanks to the coolness of the Atlantic waters that fill it). We first came across it during a coastal walk; watching as people and dogs jumped into its turquoise blue waters.
Only visible during low tide, the pool is a little tricky to get to – requiring you to clamber over and scale the slate slabs surrounding it (I found going bare foot made things easier). However, we made it – toddler in tow – and it was well worth the climb.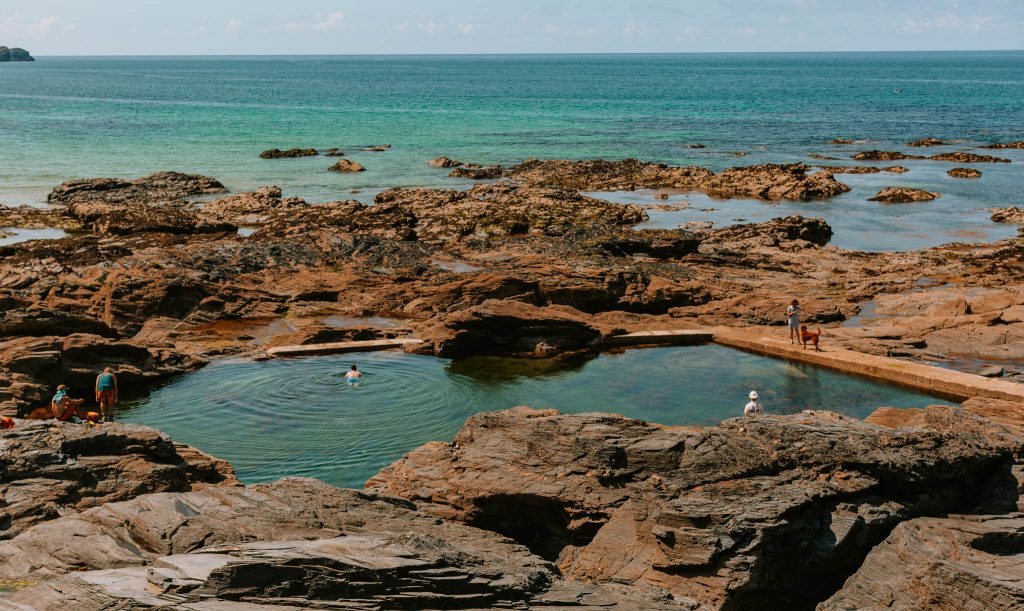 Yes, the pool is cold, but it's beautifully clear and safe to swim in (although probably too cold for very young children).
The pool is only accessible for a few hours either side of low tide, so double check your timings before you set off.
Things to do in and Around Trevone Bay
Trevone Bay is not only a great place to stay due to its beautiful beaches, but also thanks to its proximity to wider attractions, towns and walks.
During our own week long stay in the village, we discovered that there were plenty of things to do in Trevone (and in the surrounding area) to keep us busy. In fact, we could have stayed the entire summer and still not exhausted the list.
Explore the Sea
Firstly, if visiting Trevone Bay during the summer months – definitely take advantage of its relatively calm waters and gorgeous beach.
Trevone Bay Adventures organise some great tours out to local wildlife spots, setting you back £45 for an hour long tour. Likewise, at Trevone Beach Store, you can hire bodyboards, surfboards, kayaks and canoes to take out independently.
For those wanting to sit out the activities, you can hire deckchairs and windbreakers from the store.

Take a Look at Trevone's Round Hole
An 80ft hole originally thought to be a blow hole, Trevone's mysterious Round Hole is quite the visitor attraction.
A short walk (uphill) from the sandy beach (towards Trevose Head), the Round Hole is thought to have formed when a cave fell in on itself – forming a perilous drop. Previously, people could explore the Hole from the bottom when the tide went out, but due to safety concerns, it can now only be viewed from above.
The Hole is a spectacular sight, but do be careful if visiting with young kids or dogs.
Coastal Walks from Trevone Bay
From Trevone Bay you can follow the South West Coast Path and enjoy some incredible walks (or hikes, dependent on your energy levels).
One of the most popular circular walks takes you from Trevone to nearby Padstow, spanning 12km (you could catch a taxi or bus back, if you want). This walks takes you past some fantastic sights, including the famous Doom Bar, St George's Cove and Stepper Point, before ending in Padstow.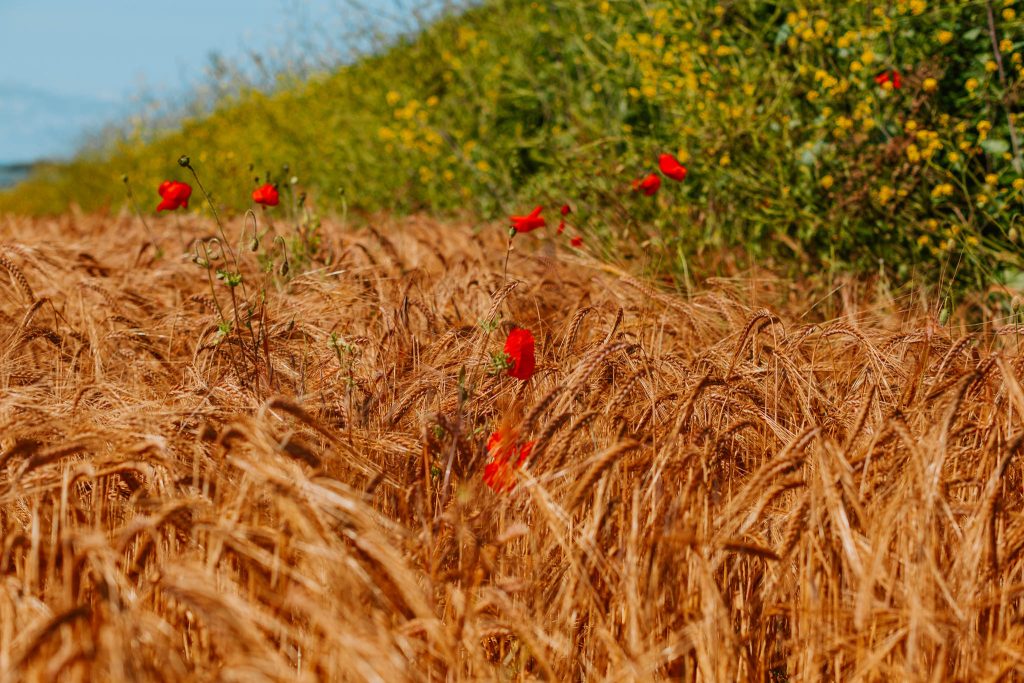 Visit Padstow
Just a 10 minute drive from Trevone Bay is the famous, and immensely popular, Padstow.
Famous thanks to Rick Stein and his plethora of restaurants, Padstow is one of North Cornwall's biggest foodie hubs, attracting chefs from across the country. These include Paul Ainsworth at No 6, the fabulous Prawn on the Lawn, The Seafood Restaurant (another Rick Stein establishment), and Caffè Rojano (belonging, again, to Paul Ainsworth).
Alongside its wealth of fantastic restaurants, Padstow is a lovely place to come for a spot of crabbing and to browse its independent stores. A firm favourite of ours is Jam Industries, which sells some lovely womenswear bits.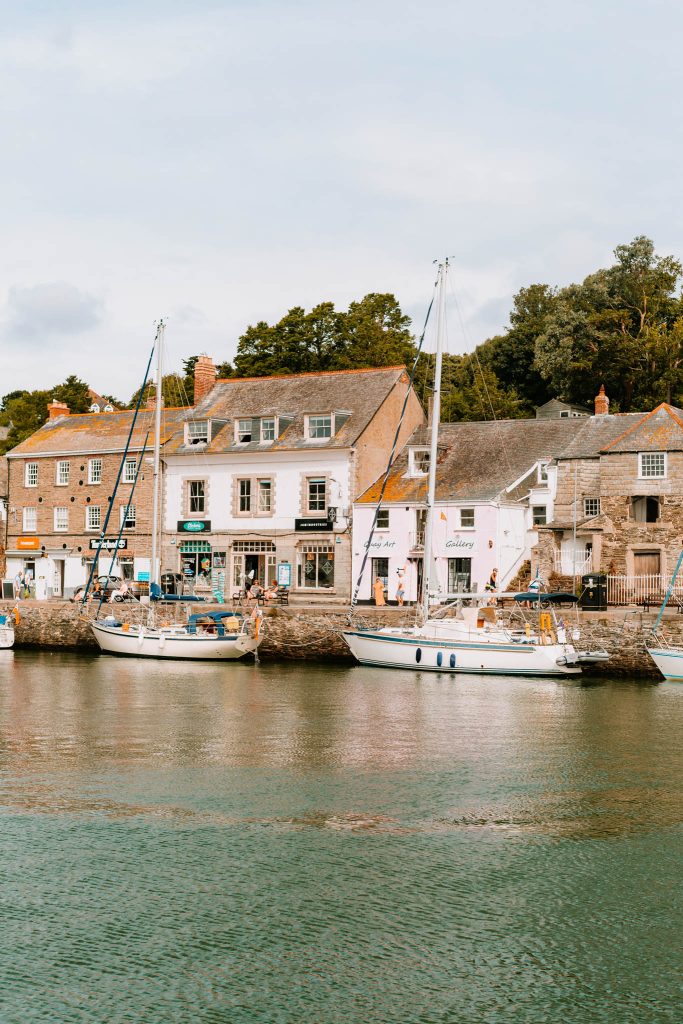 Our son also really enjoyed a trip to the Lobster Hatchery, which is (oddly) fascinating and geared towards families.
If you have time, I'd also highly recommend taking a sea safari from Padstow harbour – particularly those run by Padstow Sealife Safaris. These experienced guides are your best bet when it comes to spotting seals, puffing and dolphins, and offer safe and reasonably priced adventures (a 2 hour tour costs £42.50 for an adult and £32.50 for a child).
From Padstow, you can also hop on a ferry to Rock – something we've always really enjoyed doing. Rock is a well-heeled village just across the estuary from Padstow and has some excellent restaurants and well-to-do shops. The Black Tor passenger ferry runs from Padstow and the journey across the river takes just 5 minutes.
Macdonald's Farm
If you're visiting Trevone Bay with children (or just enjoy a slap up breakfast), then definitely pay a visit to the nearby Macdonald's Farm.
A short 15 minute drive from Trevone Bay, Macdonald's Farm is a 5 star, award-winning campsite and touring park; offering glamping and camping accommodation, alongside a great restaurant and regular pizza parties.
It also benefits from a great park for kids, alongside toy diggers, vehicles and cars – which more than occupied our son.
We popped by Macdonald's Farm for brunch – enjoying a full English while our son petted the resident ponies. It was a great place to bring kids and come the evening, live music makes an appearance and fresh pizza is served.
Screech Owl Sanctuary & Animal Park
Another one for those visiting Trevone Bay with children.
We came across Screech Owl Sanctuary after a quick search of what to do in Trevone on a rainy day. Another short 15 minute drive away, this lovely, volunteer-led sanctuary was a surprising highlight of our trip and we all really enjoyed our visit.
Home to a vast number of owl species, alongside other animals, including lemurs, a red fox, raccoons, wallabies and emus, the sanctuary also runs regular owl talks, flying displays and hands-on experiences (at an additional cost), including 'owl encounters' (costing £40 for 30 minutes).
We spent a morning here and our son loved it.
On the way, we drove past The Cornish Birds of Prey Centre, which looked equally as good.
Harlyn Bay Beach
Another great day trip from Trevone Bay is to the very popular Harlyn Bay Beach (walkable from Macdonald's Farm, mentioned above).
Declared one of the best family beaches in Cornwall, Harlyn Bay Beach is a great place to set up camp on a warm, sunny day – making full use of its sheltered shores and great cafe, the Beach Box Cafe (although expect long queues for food during peak times).
Unlike Trevone's beach, dogs are allowed here all year round.
This beach is popular with surfers and the Harlyn Surf School can kit you out with all the gear and lessons, if you fancy a go. Regularly voted the best surf school in Cornwall, you can also rent SUP boards via the company, alongside arranging kayaking and coasteering adventures.
The Eden Project
For those looking for a day trip from Trevone Bay, definitely head to the incredible Eden Project.
A 40 minute drive from Trevone Bay, the Eden Project is a veritable oasis featuring two vast indoor Biomes, all nestled within 30 acres of wider tropical gardens.
Built into a former clay mine, the Eden Project was built to demonstrate the beauty, but also fragility, of the natural world – and to better connect human beings with the wonders of nature.
Its two biomes offer two very different experiences.
The Rainforest Biome is (predictably) filled with plants indigenous to South East Asia, West Africa and South America, whilst its Mediterranean Biome is like taking a walk though Greece and – at some points – California.
Alongside its Biomes, the Eden Project also offers interactive and ever changing exhibitions, landscaped gardens and most recently, a brilliant natural adventure play area (known as Nature's Playground).
It's a great place to spend the day and offers something for both adults and kids.
Top tip: you can use your Tesco Clubcard points to buy tickets for the Eden project (just convert them into vouchers on your app, or on the Tesco website).
Visit Newquay
While visiting Trevone Bay, we decided to head down to Newquay.
As we've already visited Port Isaac and Tintagel a few times, we decided to head southwards to this popular seaside town (largely to relive memories of our own teenage holidays to the town).
While Newquay is largely known as a popular teen holiday destination, it's also an international surf hub, and is filled with some great independent stores and creative pop-ups.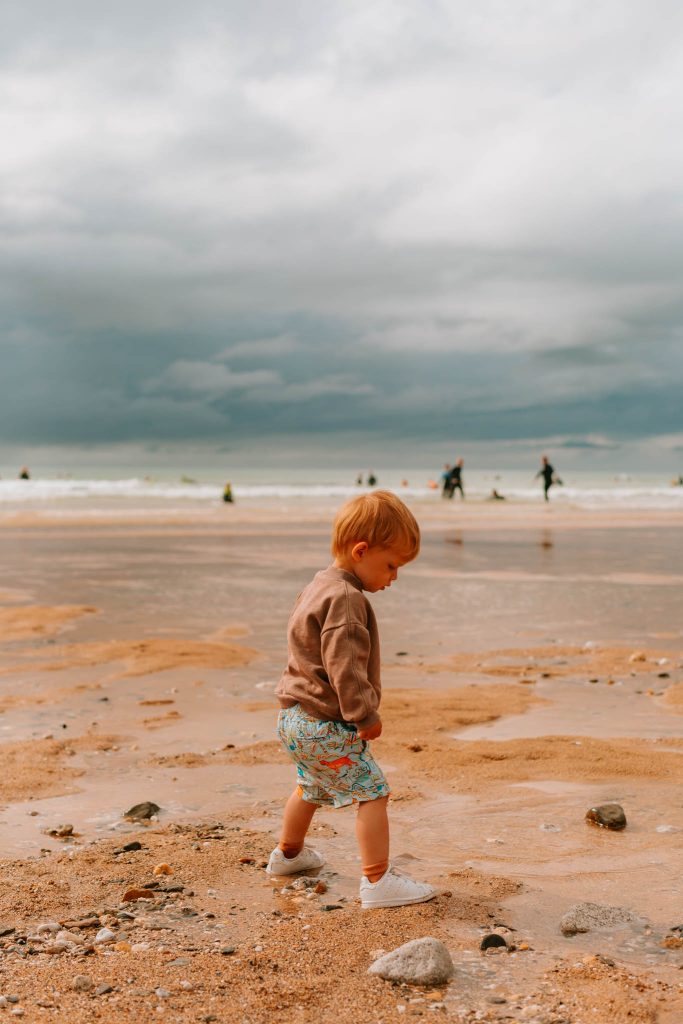 First things first, be sure to take a walk on Newquay's vast Fistral Beach.
We visited early evening when the tide was out, which meant the beach seemed even bigger than normal. As the sun set, our son ran along the beach, collecting shells and chasing waves, before we sat down to enjoy some takeaway pizza.
We'd also recommend visiting Rick Stein's Fistral Beach restaurant – offering Asian and Indian inspired dishes.
A slightly quieter and more windswept beach in Newquay is Porth Beach. Award-winning, this narrow stretch of beach is so beautiful and offers some incredible views back across Newquay and beyond.
Newquay itself is a mix of tired, clapboard stores and exciting, creative outlets – so is definitely worth a stroll through. A guide to some of its best stores and boutiques can be found here.
Additionally, Newquay Zoo is a lovely day out if travelling with little ones, and children under 3 go free.
Camel Creek Theme Park
In terms of things to do in Trevone Bay, particularly if travelling with kids, a trip to the much-loved Camel Creek theme park is definitely a must.
Just 15 minutes from Trevone Bay, Camel Creek is a great day out and offers a blend of pretty big rides (great for older kids), alongside animal experiences perfect for smaller children. It also has a large indoor play area and soft play, perfect for rainy days.
Compared to a lot of theme parks, Camel Creek is reasonably priced, with children under 92 cm going free (that's 2cm more than Legoland). They also hold regular flash sales outside of peak times, so it's worth checking their website and pre-booking before your own visit.
Best Restaurants in Trevone Bay
One reason that Trevone Bay is one of the best places to stay in North Cornwall is its proximity to a number of fantastic and award-winning restaurants.
Below are the best restaurants in Trevone Bay and the surrounding area.
Beach Cafe Trevone
This fantastic beach cafe-come-restaurant was just a short walk from our own holiday home. As such, we visited daily – for both breakfast and often dinner.
Breakfast here is fantastic – the full English and sausage sandwiches are outstanding. The Cafe also offers freshly made (and delicious) pizzas from lunchtime onwards.
Alternatively, guests can sit inside and choose from a fuller menu, including mouthwatering Monkfish tacos, burgers and risotto.
It is quite expensive, but I guess that's the price you pay for being able to drink beer, eat pizza and watch as the sun sets over Trevone Bay's gorgeous sandy beach.
The Lobster Shed, The Pig
We are big fans of The Pig hotels and were thrilled to discover that one was just around the corner – The Pig at Harlyn Bay.
Alongside offering its usual beautiful dining room to guests and visitors, this particular Pig hotel also benefits from a fantastic Lobster Shed restaurant. Informal and laid back, we came here for an early dinner and had a great (if not expensive) meal.
Our son, aged 2, was more than welcomed here and we enjoyed the cocktail of the day, alongside plates of fresh lobster and crunchy fries.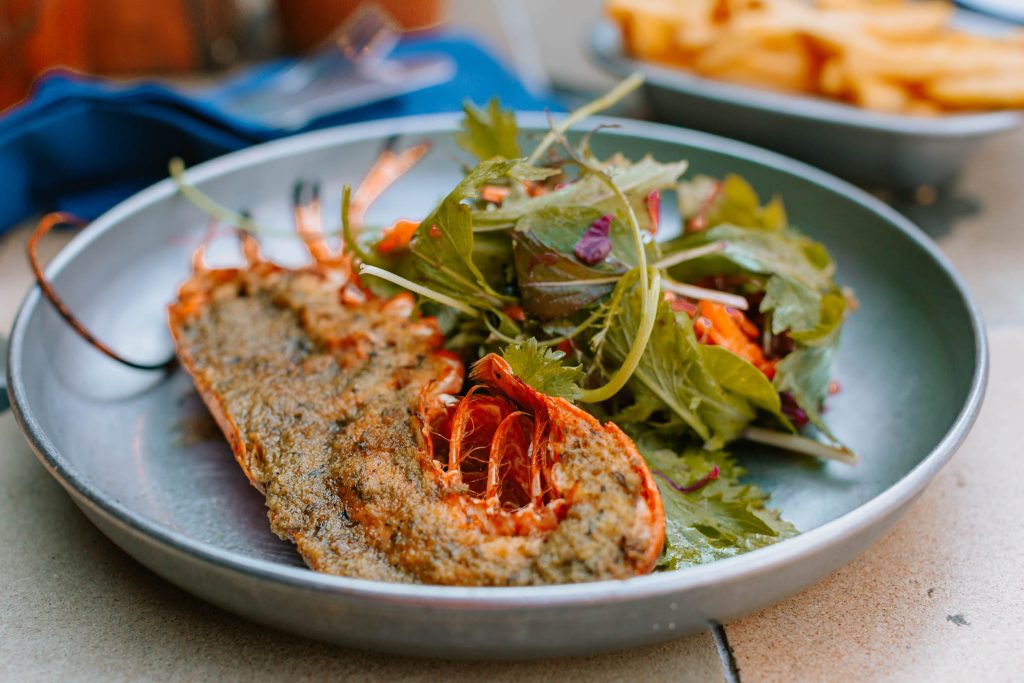 Prawn on the Lawn
Prawn on the Lawn, found in fabulous Padstow, is such a fantastic restaurant that we visited twice.
Informal and relaxed, yet still delivering outstanding food, visit this cheeky restaurant for seafood orzetto, Padstow crab, fresh oysters and beautifully fresh seared tuna.
The staff are lovely and the atmosphere is exceptionally friendly.
Duchygrub
Duchygrub,  just a 5 minute drive from Trevone Bay, is a small, but outstanding, restaurant. Run by couple Jas and Joe, this restaurant offers a menu of small plates that changes weekly; with a focus on seasonable and deliciously prepared vegetables.
Each plate is impeccably presented and tastes equally as divine.
Be sure to book ahead to secure a spot.
The Cornish Arms
For a friendly pub, make sure you pop into The Cornish Arms – a short (ish) walk from Trevone Bay.
Owned, once again, by Rick Stein's conglomerate, the Cornish Arms offers homely food, cooked to a great standard. It also has a pretty good children's menu that more than suited our son and had a lovely, sunny beer garden – which was a joy to sit in.
If you're looking for some great food for a good price, take a look at their 'Rick Stein's set menu', which offers 3 courses for just £17.50
Our Verdict: Is Trevone Bay Worth Visiting?
Prior to our own trip to this beautiful Cornish village, we'd never heard of Trevone Bay.
Drawn instead to the more established Padstow, or the popular beaches of St. Ives, this gem of a destination flew entirely under our radar.
I'm not sure how.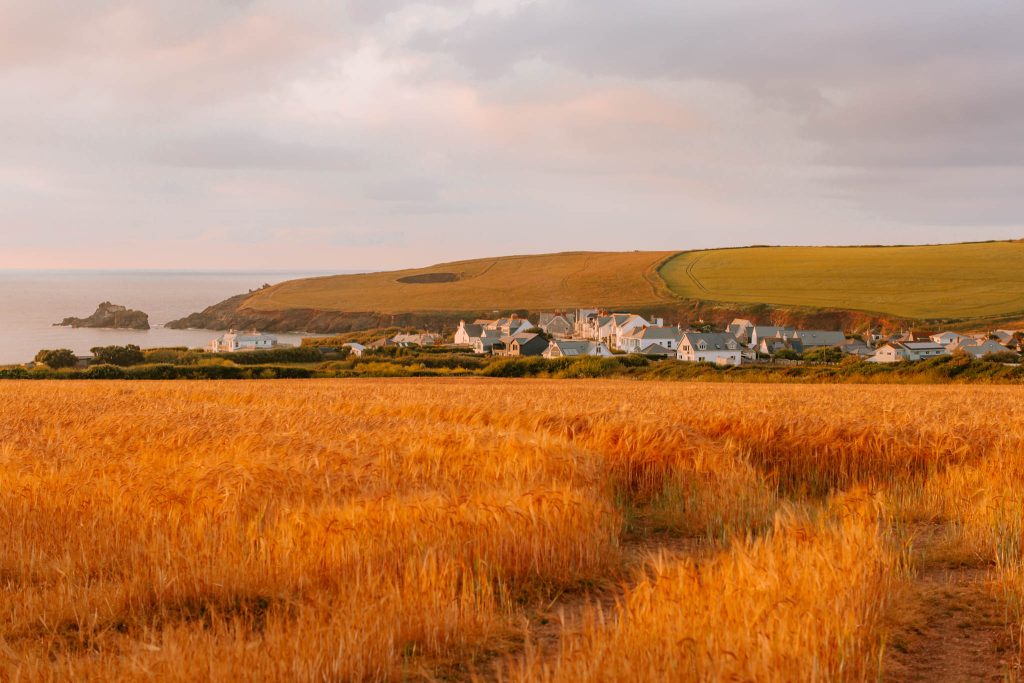 Trevone Bay is (quite possibly) one of the best places to stay in Cornwall – offering everything you'd want from a trip to this ancient county, yet without the incessant crowds, busy streets and constant noise.
Small and perfectly maintained, Trevone Bay is a truly special place – somewhere with two incredible beaches, breathtaking views and wonderfully windswept walks.
We cannot wait to return next year.