This review of the By Sarah London Facial Oil and Natural Green Clay Cleansing Balm is not sponsored. I genuinely wanted to try these products and given the fantastic results I've experienced, I hoped this summary might be useful to others with sensitive skin.
I once heard that French women – disciples to careful, sophisticated and costly skincare regimes – tut disapprovingly when they hear that the regime (and I use that term loosely) followed by their UK counterparts consists largely of a frenzied and short-lived encounter with a makeup wipe.
Where are the cleansers? The toners? The serums and the cooling gels? How could anyone drag an alcohol soaked wipe across their face and hope to resemble anything less than a freshly disinfected toilet bowl?
When I read this little anecdote, I wondered what those sophisticated French ladies would make of my own approach to skincare.
You see, when it comes to my skin, I'm incredibly lazy. After a prolonged teenage relationship with acne and a love affair with the only mildly corrosive benzoyl peroxide, I was almost relieved when, during my twenties, my skin transformed from an oil slick into a dehydrated desert.
I took it to be a good sign: surely it meant that my greasy, pubescent days were behind me?
As a result, my skin enjoyed a daily smear with a face wipe, a quick scrub with (any old) face wash in the shower and a token pat of moisturiser.
Et voilà: my not so elaborate skincare routine was complete.
How My Skin Has Changed in my Thirties
However, and now in my thirties, those years of neglect have come back to haunt me.
Thanks to regular flights, dramatic changes in temperature (from Caribbean humidity to Arctic conditions), and with nothing more than a thin layer of moisturiser to soothe it, my skin is now an unpredictable, angry and hyper sensitive monster.
Although I've scrambled together a vague skincare regime in an attempt to placate it (see here for our winter skincare saviours), it's proven too little too late. What began as a little fallout between me and my skin – the odd blemish here, a strange rash there – has now intensified into all out war.
My skin has gone nuclear: exploding into angry flushes of red and throwing missiles in the form of bumpy, irritated blemishes.
Indeed, my skin has served me with perhaps its greatest revenge: rosacea.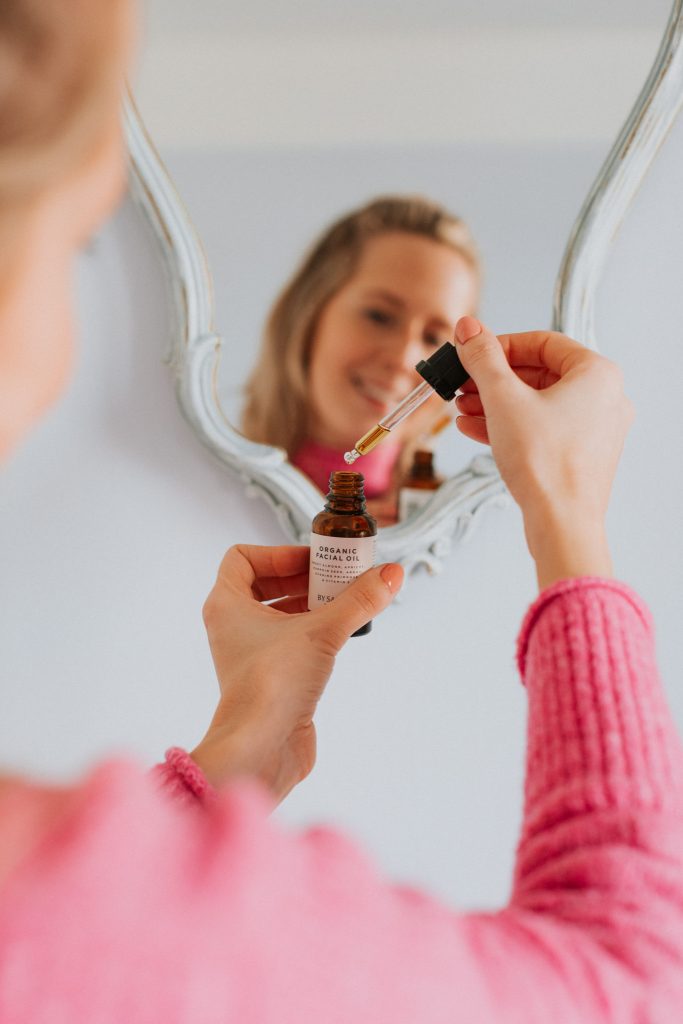 My Rosacea Symptoms
I hadn't really considered the fact that I might have rosacea until just last month.
For the last few years, I've regularly joked at my unnerving ability to abruptly flush an almost neon red. While I might make it through the day an acceptable shade of pink, as soon as the central heating turns on, or I enjoy a cup of tea or glass of wine, a tsunami of heat and colour is released.
Within minutes my cheeks (and, if I'm lucky, my ears and nose too), are an almost luminous crimson. Glowing like the love child of Rudolf and an angry Phil Mitchell, all I can do is either hope that it passes quickly or stick my head in the fridge.
For a long time, I didn't think much about these symptoms and put them down to the fact that I was, well – British: the victim of a strawberries and cream complexion.
However, and after a recent trip to the Arctic, my flushing suddenly got much worse. Having endured five days of -25 degree icy winds, I came home and noticed that my skin had moved from amber to red on the Richter scale.
I was now shining like an angry red beacon nearly twenty-four hours a day.
However, not only did it look bad, it also really hurt. Each time I heard the boiler start to whirr, I'd feel my skin almost prickle in anticipation, before it would begin to sting and pound. At times, it felt as though there was a tiny nightclub hidden deep beneath the vessels of my cheeks: the sound of its base sending rhythmic shockwaves through my face.
If this wasn't bad enough, these regular flushing sessions were also leaving their calling card: a sweep of red blemishes that travelled up both cheeks.
They looked angry and painful – and worrying acne like.
Eventually, and now resembling an alcoholic or at best, a ruddy-cheeked farmer, I went to see my doctor. After a brief examination and some small talk, he quickly confirmed what I'd begun to suspect: I was suffering from a flare up of rosacea.
His advice? Stay cold, avoid caffeine and if all else fails – try that 101 of mysterious ailment cures: a course of antibiotics.
How To Manage Rosacea With Natural Products
Of course, the doctor's advice wasn't particularly helpful.
Aside from living in a permanent state of hypothermia – with the added insult of also being caffeine deficient and possibly (at a later date) anti biotic resistant – there didn't seem much I could do to solve my perpetual redness.
A little stuck, I started to do my own research into natural cures and products to help treat my rosacea.
Warning: the amount of literature on this subject is mind boggling.
It seems that every man and his dog has a theory on what causes rosacea (a hypersensitive sympathetic nervous system, parasites, mystery viruses, caffeine intolerances, dairy intolerances, intolerances to life in general) and with it, their own theories on how to treat it.
While some said to smother the skin in rich moisturisers, others advised to leave it to 'dry out'. Whilst some people suggested antibiotics, others declared that the drugs would only aggravate things. Delving further, I found that one lady swore by laser therapy, whilst another sought treatment in the form of a reiki healer (apparently red cheeks are symptomatic of inner, and tightly wound, rage).
I was left a bit confused. Where should I begin?
Rather than getting my chakras aligned or dehydrating my skin like a sun-dried prune, I decided to instead focus on natural (rather than medicated) skin care products to treat my rosacea.
There were two reasons for this.
Firstly, Claire and I have been trying lately (where possible) to use natural and sustainable products, uncovering some fantastic alternatives during our usual weekly shop. These have ranged from an elixir like natural deodorant to sustainable razors, a life changing reusable tampon applicator to sustainably sourced toilet roll.
I therefore wanted to find something as sustainable and natural as possible to treat my rosacea.
Secondly, I had tried a few medicated products to help calm my redness, including a few anti-redness moisturisers from La Roche-Posay and Eucerin. Ironically, however, within a few hours of trying both, my skin was angrier than ever.
An itchy rash developed that quickly spread from my neck to my forehead, and it only calmed down when I discontinued the products.
Not surprisingly, I decided to subsequently ditch the medicinal creams and lotions, and instead focus on all things au naturel.
Introducing By Sarah London
After asking our trusty Instagram audience for their recommendations for fantastic natural skincare ranges, I noticed that one suggestion in particular kept popping up: the By Sarah London skincare range.
It seemed that a lot of ladies, all with similarly sensitive skin, had transformed their skincare regime thanks to this natural and ethical brand. And the best bit? All that it involved was just two easy to use products.
About By Sarah London
This all natural skincare range was the vision of sisters, Sarah and Lauren, and the result of their own (often difficult) experiences with the skincare industry and its use of hidden and toxic ingredients.
Whilst recovering from Leukemia in 2012, Lauren found that many of the products she was using to soothe her skin (and those that Sarah was trying to find for her), failed to list the many ingredients that they contained – with many causing more irritation and harm.
Determined to do something about this lack of transparency and dependence on synthetic chemicals, Sarah began to research and produce her own skincare range: made from all natural, plant-based ingredients.
Ensuring that she clearly and honestly listed every ingredient that went into her products, Sarah created a skincare range with a difference: one that was not only organic and plant-based, but one that was entirely transparent.
Indeed, it would be the only UK skincare range to list all of its ingredients on the front of its labels.
The Response to By Sarah London
Having only read the small introduction to this wonderful brand, I was already hooked.
Not only was this incredible initiative the product of two sisters (naturally, I'm a sucker for a sister-led enterprise), but it was also one that stemmed from a genuine concern and a desire to help. For Sarah and Lauren, By Sarah London wasn't about driving enormous sales and figures, but instead about creating an honest, effective and genuine brand that could be trusted.
Thankfully, it also seems that the brand is as brilliantly effective as it is sincere.
Scanning their website, I discovered that By Sarah London had already won a litany of awards and received glowing (if you'll excuse the pun) reviews.
Perhaps even more impressive was the fact that the By Sarah London Facial Oil had already reached 'cult' status: declared a unique and irreplaceable elixir able to treat a range of skin related ailments: from sun damage to wrinkles, rosacea to eczema.
As one customer review declared, this was a brand that 'works miracles'.
A Review of the By Sarah London Natural Green Clay Cleansing Balm
Cost: £29.50
Another temptation of the By Sarah London range is that you need to buy just a few products (in my case, just two) in order to have a complete (and effective) skincare regime.
Far from the expensive and mind-bogglingly lengthy six step programmes touted by some brands, By Sarah London instead advocate just two key products: their Natural Green Clay Cleansing Balm and their cult Facial Oil.
That's it: no toning, no exfoliating, no foaming cleansers required. Just a soothing balm and some natural oils.
Following a conversation with Sarah on Instagram (she was fantastic in providing me with some advice on my rosacea), I ordered the Cleansing Balm (and separate Muslin Cloth) and Facial Oil; trialling both within an hour of their arrival.
The Balm itself comes in a beautiful glass (reusable and recycled) jar and almost resembles a little candle.
Entirely plant based, the balm contains just four ingredients: organic apricot oil, organic virgin coconut oil, French green clay (the protagonist of this miracle cleanser) and organic beeswax.
As such, By Sarah London proudly declare it 100% natural and 84% organic.
Sarah promised this gentle balm would soothe my face, with the beeswax providing anti-inflammatory relief (thanks to its high dose of Vitamin A). Furthermore, and thanks to the coconut oil, it would also remove every bit of my makeup, including mascara (just rub the balm delicately over your eyelids).
I'd never used a solid balm to cleanse my face before, so wasn't sure what to expect.
Taking a small amount onto my finger (just enough to cover the tip of my index finger), I tentatively rubbed the balm onto my (dry) face in small circles. Immediately warming up, the previously solid balm spread across by face beautifully – lathering into a comforting, oily serum.
I could see it was removing my makeup incredibly quickly – even across my eyes, where I had mascara and eyeliner on.
Following the instructions, I then dampened the muslin cloth (which had an almost exfoliating effect thanks to its slightly rough texture) and gently wiped the cleanser off.
Not only was my face entirely clean and makeup free, but it also felt incredibly soft and protected.
I was immediately hooked.
A few weeks on and the Natural Green Cleansing Balm has only got better and better. My skin is now visibly calmer, nourished and, thanks to the muslin cloth, exfoliated and glowing.
Additionally, and unlike the previous cleansers I've used, it doesn't leave my skin feeling tight or dry; something I'm sure was triggering my rosacea. Thoroughly cleansing my skin without stripping it has made all the difference to my flushing, leaving my skin more resilient and definitely less sensitive.
A Review of the By Sarah London Facial Oil
Cost: £12 for 10ml.
When it came to managing my rosacea, I wasn't sure what was best: desperately lathering my skin in a rich moisturiser, or opting for a hands off approach.
Having spoken to Sarah, who advised applying only a light and natural moisturiser, I decided to try By Sarah London's much celebrated Facial Oil.
The ying to the yang of the Natural Green Clay Cleansing Balm, it's recommended that the oil is applied twice a day after cleansing; providing the skin with a nourishing and light-weight barrier against any nasties.
Entirely vegan, and guaranteed to provide flawless and healthy skin, I had only read fantastic things about it.
Like the Balm, this magic potion is entirely plant based and made from six ingredients: Organic Sweet Almond Oil, Organic Apricot Oil, Organic Pumpkin Seed Oil, Organic Argan Oil, Organic Evening Primrose Oil and Vitamin E.
Again, and like the Cleansing Balm, I was excited to see that the oil had anti-inflammatory properties (in the form of the pumpkin seed oil) and also contained primrose oil; something I'd heard was useful in managing flushing.
In the past, I've never seemed to get along with facial oils. I've always (in hindsight) applied too much and would spend the rest of the day looking vaguely sweaty, with my makeup gradually sliding down my face.
However, the By Sarah London Facial Oil is a different breed entirely. Thanks to its lightweight texture and inclusion of argan oil, my skin absorbs it incredibly quickly – leaving my skin soft, but not sticky or damp.
In fact, it's proven to be a brilliant primer, with my make up going on smoothly and seamlessly once I've applied it.
However, and perhaps most importantly, is the transformation that the facial oil has had on my skin. Whilst I've always used moisturisers, I've found that they've not really improved my skin aside from giving it perhaps a superficial (and temporary) glow. Beneath that, my skin has still felt dry, tight and sensitive.
The By Sarah London Facial Oil, however, seems to have had an effect on my skin at an almost cellular level.
As soon as I've used it, I notice that the redness on my cheeks fades and my skin feels cool and calm. This lasts all day – even after I've washed it. The bumps on my cheeks (a tell-tale sign of rosacea) have almost disappeared and my skin feels much smoother.
Combined with the Cleansing Balm, I've not really wanted for any other skincare products or potions. Instead, the calming and cleansing properties of both the oil and the cleanser have been enough to improve my skin beyond measure.
Calming My Rosacea: My Go To Products
After years of neglect, interspersed by slathering on chemical-filled and entirely un-natural products onto my face, I'm both relieved and excited to have finally found a skincare routine that works for both me and my rosacea.
Relying on just two plant-based and ethical products, my skin has transformed from being angry and red, to being (only occasionally) temperamental. Feeling calm and protected, and without the need to follow some laborious six step routine, all I have to do each day is gently clean my face with a soft balm, before gently patting some face oil on.
It's a quick and easy routine, and one I genuinely look forward to.
And the best bit? I know that none of the product's ingredients are harmful to either me or the environment.
By Sarah London, you have (yet another) convert.