This review of DAME's reusable tampon applicator – D – features gifted products.
Loyal readers will know that in and amongst reviews of UK boltholes and sandy shores, I also like to write about life's more mundane elements. 
In fact, I revel in it. 
Deodorant, sweaty armpits, bed linen and your friend and mine – the humble tampon – are things I've dedicated novel-length blog posts to; writing with an almost religious fervour about sanitary towel induced nappy rashes and sweaty loins. 
However, aside from uncovering this unexpected passion, I've also enjoyed exploring another side of our bodily functions: the problematic products we use to manage them.
From single use plastic tampon applicators to harmful aerosols, many of the products we use to improve and clean ourselves with ironically harm our planet. With landfill sites overflowing with used sanitary towels and aerosol particles appearing in our deserts, mountains and oceans, it seems that with each and every spritz and wipe, we are slowly – but surely – harming the world around us.
Thankfully, a now (surging) wave of start-up companies are attempting to rectify this; creating sustainable, eco-friendly and safe alternatives to these plastic-hungry products. From the brilliant Wuka Period Pants, to the elixir-like Nuud deodorant, I've discovered some fantastic sustainable solutions this year – and hope you've been encouraged to give them a go, too.
Introducing DAME: Sustainable Sanitary Solutions
Most recently, we were contacted by DAME – a company taking the menstruation scene by storm. Created by Celia and Alec – a dynamic duo concerned not only by the sheer amount of plastic waste created by tampons, but by the harmful toxins found inside them – these ethical entrepreneurs have decided to turn our periods green. 
DAME Products 
Celia and Alec began their green revolution by innovating the award-winning 'D': the world's first reusable tampon applicator. Made entirely from BPA free Mediprene, the D can be used not only for one period – but for hundreds of them; month after month, cycle after cycle.
With the D applicator proving an enormous success, DAME next introduced its own brand of organic (and 100% biodegradable) tampons, made from GOTS certified organic cotton. Featuring none of the nasties found in regular brands of tampons, Dame's organic heroes are free from chlorine, bleach, polyester, dyes, plastics, deodorant and pesticides.
Together, this loyal applicator and its merry men (the tampons) ensure that every woman's period is both waste and risk free; providing sustainable, long lasting and biodegradable solutions.
Having already ditched sanitary towels for  WUKA period pants, I was intrigued to trial DAME's greener than green products. Although my period pants are undoubtedly fantastic, on the heavier days of my period, I often miss tampons. I'd like to be able to go to the gym, swim, or go out for dinner without having to feel my period's comings and goings; something that the tampon excels at.
However, unaware that there were tampons out there that didn't come with a host of plastic accessories, I resigned myself to tampon free periods.
Until now, that is.
Why Should You Buy A Reusable Tampon Applicator?
Loading up DAME's website and the first thing I noticed was their 'Tampon Calculator'. Perhaps it was a slow day at TTT HQ, but I found this tool utterly intriguing.
The page claimed that 100 billion period products are used and discarded each year; with the majority of these products proving non-recyclable. Beneath this uncomfortable fact was a photo of a sandy beach and a pair of gloved hands cupping a gruesome gang of used tampon applicators.
Skipping to the next step, I inputted my calculations and held my breath. It seemed that even as a Wuka Period Pants devotee, I was still likely to use and discard 5,000 plastic tampon applicators in my lifetime; the majority of which would be washed up on our beaches or found deep within the bellies of sea animals.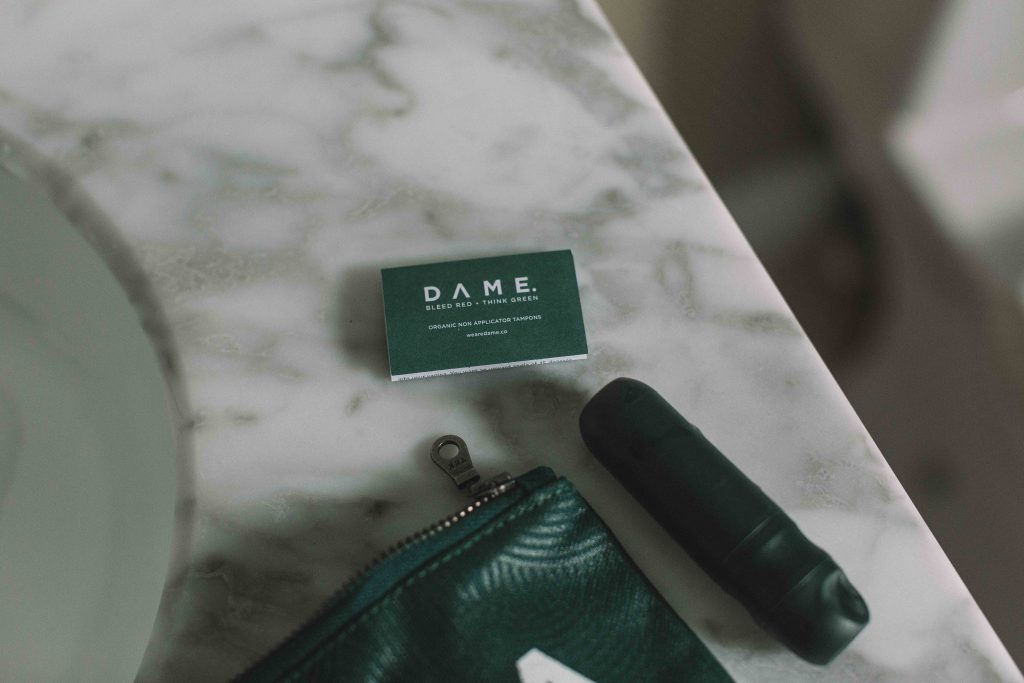 Additionally, and whilst I know not to flush plastic applicators, I'll admit that I have flushed used tampons. Indeed, I (ignorantly) assumed that these cotton products would simply biodegrade along with the toilet paper.
Sadly, this is far from true.
With most tampons comprising of a mix of plastics and rayon, the majority of them will end up exactly where the plastic applicators do: as tiny particles in our oceans and food chain.
Are Tampons Harmful?
Alongside the fact that most tampons contain plastic (and are therefore non-biodegradable), there are also suggestions that our monthly saviours contain unwanted chemicals. In fact, it seems that as tampons are classed as 'consumer' products rather than 'medical' products, there are alarmingly few regulations surrounding their production.
Bizarrely, hairdryers are more stringently monitored than your average tampon.
Given this lack of governance, you might discover that your tampon contains more ingredients than you thought. Often made from a mix of plastic fibres, synthetics and rayon (fibres which, DAME claim, can break up and remain inside our bodies after removal), tampons have come under fire for their additional use of chemicals and dyes, including bleach.
There are even claims that some contain pesticides. Indeed, studies have suggested that the chemicals used throughout the cotton farming process (can) end up in the eventual tampon; a byproduct of the cotton's former life.
Although relieved that tampon manufacturers didn't simply assume that the average woman's vagina might be at risk of a bout of green fly, it was still a little unpleasant to think that something as sensitive as a tampon might contain those sorts of chemicals.
Ultimately – and as with the debate surrounding the harmful effects of aluminium in deodorant – it seems that there is no definitive answer as to how harmful these products might be to a woman's health. However, worryingly unregulated and heavily doused in a wealth of chemicals, wouldn't you prefer to use organic tampons, if you could?
Using the Dame D Applicator for the First Time
Having done the obligatory research and now satisfied that DAME's products were safely sterilised and organically made, it was time to trial them.
I began by unpacking DAME's D tampon applicator – which comes in beautiful (and sustainable) packaging. Presented within a small bathroom tin, the applicator comes with its own little storage pouch (to avoid it rolling about in the bottom of your handbag along with a tired banana) and a selection of 6 of DAME's organic tampons.
My first impression was that this alluring forest green applicator resembled a lip balm: complete with a little lid you can pop on and off to keep things nice and clean. Once the lid is removed, the D looks fairly similar to most applicators, with a plunger (sounds more dramatic than it is) and the applicator itself.
Whilst traditional applicator tampons come with the tampon 'pre-loaded', the D requires you insert a new tampon each time you use it. Popping the tampon inside is easy and you'll notice that there's a small 'string lock hole' to secure the tampon string through. This just stops it snagging or catching when you remove the plunger.
As with a normal applicator, you then just pop the applicator in, push the plunger (stopping just before it clicks), then remove both parts.
Et voila – your newly 'green' period is underway.
Is The D Comfortable?
Initially, I thought that the D looked a little larger than the tampon applicators I'm used to. Perhaps it's just its design – but it seemed wider and more domed than those that I've tried in the past.
As such, I approached 'deploying' the applicator with slight trepidation. Whilst I would say that it did feel initially a bit uncomfortable  – and I had to 'faff' about for a while to successfully insert it  – I did get used to its design fairly quickly and any initial discomfort disappeared. As with all things, it takes a little practice at first, before quickly becoming second nature.
As I mention below, the organic tampons also feel a little different (perhaps slightly uncomfortable at times) so it's wise to set aside a few days with them to find your grove.
How Do I Wash the D?
I've considered using a menstrual cup for a long time, but have been put off by the fact that it requires washing. Call me sensitive, but the idea of rinsing my uteruses' lining down the sink makes me come over a little funny. It's bad enough finding Mike's facial hair in the sink after shave, let alone the remnants of my monthly cycle.
I was therefore a little apprehensive about washing the D applicator (as you must after every use). However, I needn't have worried: as with a normal applicator, there isn't too much 'residue' on the D once you've used it (particularly on lighter days). As such, DAME advise that you simply give your applicator a quick wash in the sink, or wipe it down with some toilet roll.
Once you're done, you're ready to go.
Made from medical grade Mediprene, the D applicator also contains inbuilt antimicrobial properties to keep it clean. As DAME are keen to point out, this means that a quick rinse of the applicator will suffice and you needn't pop it in the dishwasher.
(As a side note: I can only imagine Mike's face if I committed such an atrocity; cheerily retrieving my tampon applicator from in and amongst the knives and forks).
The DAME Organic Tampons
Whilst you can use any non-applicator tampons with the D, DAME do encourage that you use their own organic tampons. Not only are they a perfect fit, but are reassuringly free from nasties.
Coming in 3 sizes: regular, super and super plus, you'll find a selection of their tampons in your D applicator kit when it arrives.
Absorbency and Effectiveness
I've never used organic tampons before so 'popped one in' (I can't think of any other term) and set about my day. What I should have read, however, was DAME's warning that organic tampons may not absorb in the same way that others do: e.g. those that rely on synthetics and rayon to enhance their absorbency.
As a result, I did get a little caught short and found the tampon was ready to call it a day sooner than I'd anticipated. DAME therefore advise that anyone making the switch to organic tampons check their tampon a little more often than they normally would.
Comfort
Another thing I noted was that these organic tampons can be a bit more difficult to insert and remove. This is purely due to their organic nature, meaning they feature no shiny silicone coating to increase their glide-ability. Their texture might therefore be a little rougher than you're used to, so do take your time when removing them (particularly on lighter days).
Don't do what I did and yank it out – it's the vaginal equivalent of getting a Chinese Burn.
Can I Flush DAME Organic Tampons?
DAME ask that you don't flush their products, but instead wrap the tampon in toilet paper and pop it in the bin. This way it can biodegrade naturally, rather than take an impromptu voyage across our oceans.
Will DAME Products Reduce My Risk of Getting Menstrual TSS?
One thing I wondered when moving to organic sanitary products, was whether they might lessen the risk of getting Menstrual Toxic Shock Syndrome.
Since sitting through a lesson on the topic when I was 12, I've lived with a deep seated paranoia about succumbing to this infection and therefore treat tampons like kryptonite – removing them hourly.
Whilst DAME products might be fantastic, however, they are not infallible. As with any tampon, they come with a slightly increased risk of triggering TSS. As such, and to reduce any risk, simply make sure you change your tampon every 4-8 hours and only use tampons with the minimum absorbency needed.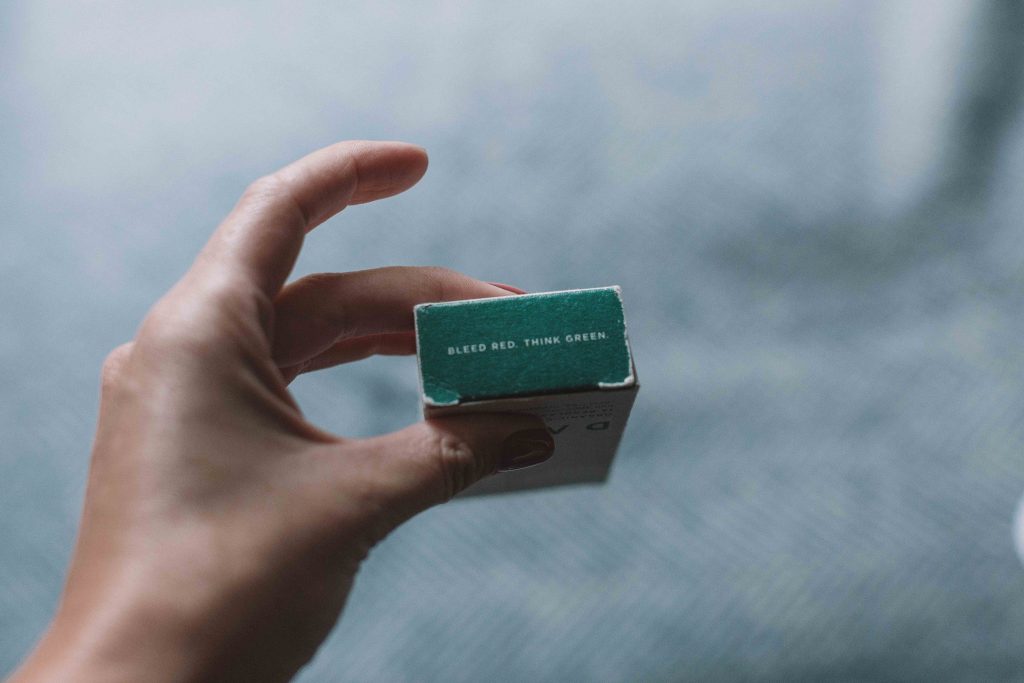 How Much Does The Dame D Applicator and Organic Tampons Cost?
The D (complete with its bathroom tin, travel pouch and 6 tampons) costs £24.99 plus £3 for (UK) shipping. Considering that I used to buy two boxes of Tampax Pearl a month, at a cost of £5.88 (£70 a year), this represents a significant saving.
The DAME organic tampons come as part of a handy subscription service, tailored to your cycle. E.g. one delivery will provide you with 34 tampons (you choose the absorbency) and cost £8.50. You can choose to have these sent monthly, twice a month, or every three months and they are shipped free of charge.
A quick tip: if you buy a D applicator, you get 1 x subscription box free.
Considering how regularly I use tampons (reinforced by my trusty Period Pants), I would still only need a box every 3 months or so, therefore costing me £32.80 a year. Again, this is a huge saving when compared to regular tampons.
The DAME Reusable Applicator and Organic Tampons: Final Thoughts
As someone who regularly relied on tampons for a comfortable and dry period, I am over the moon to find DAME.
Having stopped using tampons altogether (in favour of sustainable sanitary products), I definitely missed their convenience; particularly on the heavier days of my cycle. There's nothing like having to stop suddenly in the street when your period is in full flow – shifting uneasily from side to side – to remember just how downright grim they can be.
However, by discovering DAME, I can now not only (joyfully) start using tampons again, but know that in doing so I'm significantly reducing the number of disposable applicators being flushed into our oceans. Sustainable and green, it's also reassuring to know that this product is – I hope – much better for women's health and our bodies' most sensitive of areas.
As a frequent traveller, the convenience of the D tampon applicator is also a big selling point. Normally, I have to stuff handfuls of tampons into my bag and hope I've got enough. Now I can simply pop my applicator and enough (very small) organic tampons into my travel pouch and head out the door.
Like any new product – particularly organic products – getting used to the D applicator and the DAME organic tampons takes time. But in the scheme of things? Reducing our plastic waste and ensuring that our oceans are free from soiled sanitary products is – my friends – a no brainer.
I only wish I'd discovered DAME sooner.
Pin it: