In the winter of 2008, I told my parents that I wanted to become a Beauty Editor. Home from university, I was sat on my bed in tears – the complete works of 18th Century German philosophers surrounding me. After weeks inside a library – nothing but the words of Nietzsche and Kant for company – I was a woman on the edge, desperate to read anything other than critiques of reason (a phrase I'm yet to fully understand). Most specifically, I just wanted to read the beauty section of my Grazia magazine. On the brink of my very own existential crisis, I slammed my book shut and frantically opened the beauty supplement – filling my head with reviews of hydro-nourishing serums. I immediately felt calmer. Later that night, I made the announcement that I was done with philosophy, an enlightened future of my own waiting just around the corner. It was one that lay in reviewing face creams. I remember my Dad pouring himself a whiskey as I broke the news.
As it was, I never did make that promised career move. I endured another two terms of German critical thought, graduated and a few years later, became a travel blogger. Yet alongside all of this, my inner beauty editor remained: slathering on face oils during long-haul flights and obsessively rearranging drawers filled with creams. A beauty junkie since I was small, I can still remember buying a little blue pot of Nivea face cream when I was ten; entranced after watching my Grandma use it.
Today, as we edge further into our thirties, Claire and I remain as dedicated to beauty and skincare as ever. After teenage years dominated by acne and benzoyl peroxide (it swiftly eradicated the spots, but with it, took several layers of healthy skin), our complexions now need some looking after: partial to bouts of dryness, rosacea and sensitivity. Combined with the recycled air of airplanes and the rays of often-sunnier climes, we parted ways with the trusted face wipe long ago, embracing cleansers, toners, and balms instead. As Coco Chanel once said: "Nature gives you the face you have at 20. It's up to you to merit the face you have at 50". With the amount of products I've invested in, I can only hope that fifty-year old Laura is nothing less than a living, breathing Benjamin Button.
Given our long-standing dedication to skincare (and my failed dreams as a Beauty Editor), we thought it was time to share with you our experiences with the many lotions and potions that have filled our suitcases. And the best place to start? With the products that we have been using to see us through one of the UK's longest and coldest winters on record: our winter skincare saviours.
Review of Clinique Fresh Pressed Range
I was first introduced to Clinique when I was 14: the famed 3-step kit wrapped and hidden under the Christmas tree. With angry acne spreading across my forehead and chin, adolescent Laura decided to take skincare seriously, turning her back on gritty-feeling Clearasil and investing in a comprehensive skincare programme instead. On that Christmas Day night, I can still remember how I felt using those numbered bottles for the first time: a sassy, sophisticated adult. That I was a spotty 14 year old still waiting to develop was not the point: owning a Clinique skincare range made me feel like a woman.
When an invitation recently landed in our inbox to attend a Clinique Vitamin C infused breakfast, we therefore jumped at the chance to attend. This was the moment philosophy-hating Laura had been waiting for: the perfect environment within which to channel my inner beauty guru.
Held at the vibrant Sanderson Hotel, the breakfast would not only include a morning yoga class, but would showcase the antidote to all our winter-ravaged skin problems: the Clinique Fresh Pressed skincare range.
Throughout winter, I'm a Vitamin C enthusiast: satsumas, glasses of evanescent orange drinks and chewable vitamins filling my home. Yet, whilst I understand that this wonder-vitamin can help me ward off winter colds and rampant flu viruses, I hadn't appreciated the impact it could also have on my grey, winter skin.
Seated around a large table – bouquets of orange flowers filling the room – a beautiful Clinique ambassador carefully sliced an apple in half. Whilst one half of the apple was left, the other was coated in a thin layer of Clinique's Fresh Pressed Daily Booster with Pure Vitamin C. Wearing the iconic white Clinique lab coat, our demonstrator reminded me of the glamorous science teacher I never had. After a short wait, we gathered around to see the results.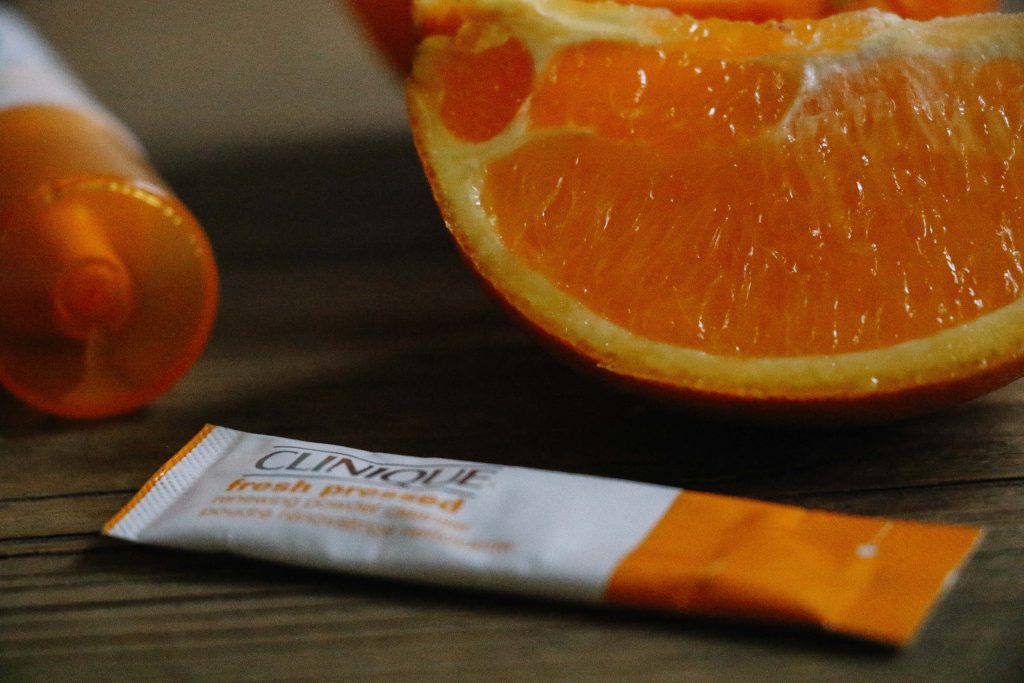 Whilst the abandoned apple had succumbed to oxidisation – turning a faint brown – the other apple looked better than ever: fresher, almost. It was the Jane Fonda of the apple world. To explain this Hollywood transformation, we were told that Vitamin C is in fact one of the most powerful de-ageing vitamins available, with its magic ingredient – ascorbic acid – helping to leave behind bright, smooth and radiant skin. Staring at the now iridescent apple, I wondered if Vitamin C would help my skin in the same way.
Before leaving, we were tasked with a Clinique Fresh Pressed 7 Day Challenge of our very own. Kindly given the Fresh Pressed 7-Day System with Pure Vitamin C booster and the Clinique Fresh Pressed Renewing Powder Cleanser with Pure Vitamin C (which came as seven little sachets), we were told to take the following steps:
Wash our faces with the powder cleansers (you add water to the powder and gently mix in your hands until it becomes a beautiful, soft foam)
Take our booster and 'release' the active Vitamin C (sealed in the top of the booster) into the liquid concentration below – shake for around 15-20 seconds to ensure the powdered Vitamin C is fully absorbed
Pump two drops of it into our hands and mix with a moisturiser (we used Clinique's Moisture Surge). Apply to the face, both morning and night.
Once home – my long-suppressed beauty editor aspirations revitalised – I worked the powder cleanser into a soft foam. Surprisingly rich, the cleanser removed all traces of my make up and left no telltale 'tight' feelings behind. Following this, I mixed the Vitamin C booster with my moisturiser and circled it into my skin: it was incredibly light and absorbed almost immediately.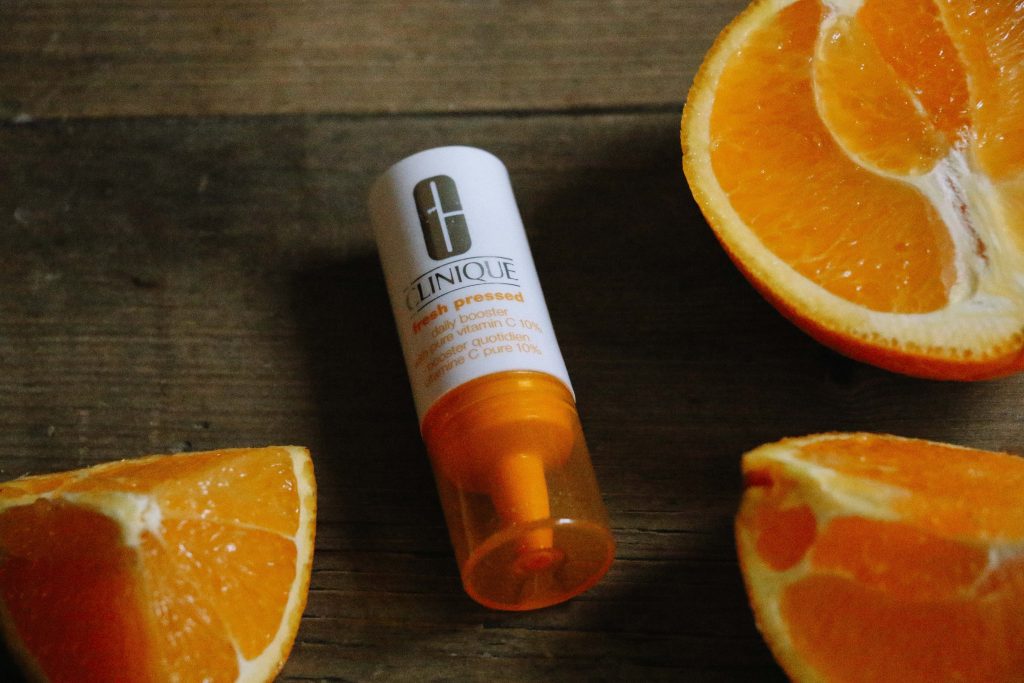 Within two days, I noticed an instant difference to my skin. Previously grey and dull (blasting car heaters taking their toll), my skin was now visibly brighter – glowing, even. Over lunch with a friend, she even asked if I'd had a face peel – my skin that luminous. Added to this, it also remained very soft and hydrated; not something I'd expected from a product featuring ascorbic acid.
I'll admit that when first hearing about the Fresh Pressed range, I'd been a little dubious. How much change could a small amount of Vitamin C really bring about? However, after seven days of using it religiously, I can safely say that it had a tangible and definite effect on my skin: injecting a summertime glow into my winter-worn complexion. Although I'd perhaps not use it all year round, the 7 Day Challenge is the ideal winter remedy to anyone else feeling a little like that brown, oxidised slice of apple and very much in need of an instant glow.
Review of Crème de la Mer
In 2013, I bought one, lone 30ml tub of the iconic Crème de la Mer. Having carefully unwrapped it, I held it up in front of me – staring at the famous pastel green and pink packaging. I felt like one of the Wise Men, clutching a pot of myrrh. For the next few months, I would use the small spatula that came with the cream to deposit almost microscopic amounts of the cult beauty icon onto my face, scared it would all too soon run out. Luxuriously rich and with a fragrance that reminded me of my Grandma's lavish face creams, the Crème de La Mer soon became a highlight of my skincare routine (heck: a highlight of my year). It was my little piece of French luxury in suburban Buckinghamshire.
Eventually and inevitably, my sacred moisturiser ran out and – in the middle of buying a house – I failed to replace it. Instead, the small pot sat empty on my dresser for months; a shrine to my former skincare regime.
Yet this winter – and quite unexpectedly – La Mer has made its return to my life. In early February, La Mer and its philanthropic arm – The Blue Heart Oceans Fund – held an event; one that would raise awareness of the plight of our oceans and their delicate eco-systems. Co-hosted by the inspiring Hanli Prinsloo – a world champion free diver and ocean activist – the event explored the environment from which La Mer comes: its mythical mix of nutrient-rich algae, antioxidant extracts and semi-precious stones owing itself to these ocean beds. The whole event was incredible and surreal, and a brilliant representation of a brand I love.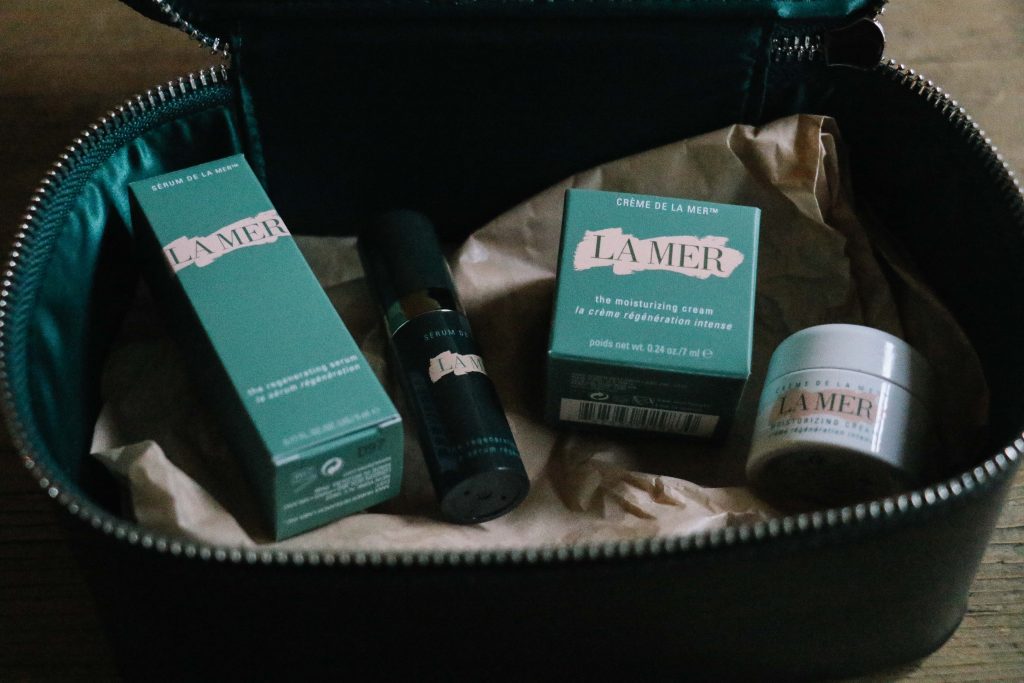 Before leaving, we were handed two products to try: a small pot of the Crème de la Mer and the La Mer Regenerating Serum. I was beside myself. Like Queen Victoria, I'd taken to the art of mourning very well; spending the last five years grieving for a small pot of moisturiser that had transformed my skin. Yet here it was: light at the end of the tunnel – La Mer firmly back in my hands. I could not wait to try the products.
La Mer, The Regenerating Serum
Having never used the serum, I was unsure what to expect. I'd anticipated it might be a gel formula, but it is in fact a light cream: La Mer's signature richness ever present. Containing the coveted Miracle Broth (that includes a powerful anti-irritant), the serum is said to diminish the look of lines and wrinkles, using two powerful marine and plant-based ferments to support the skin's natural collagen.
A long-time sufferer of sensitive skin and rosacea, I was keen to see how the Miracle Broth might help calm my skin – something it has absolutely done. Since using the serum, I've noticed my skin is less irritable and red in the mornings (stepping out of the shower and my cheeks are often an angry red hue). I also used to get a small, bumpy rash across my cheeks; something else that has cleared up. The overall effect seems to be a soothing, rebalancing one: protecting my skin against the extremes of winter weather and roaring central heating.
Opening the new pot of Crème de la Mer was like being reunited with an old (glamorous) friend. Whilst the Clinique Fresh Pressed products offered an outwardly visible injection of vitality and energy, the Crème de La Mer would provide rich hydration at a deeper – more sustained – level.
For many, the crème has long been synonymous with its price, and it is fair to say this is most certainly a luxury rather than an everyday purchase. However, for someone with extremely dry and dehydrated skin – the results of the crème are genuinely incredible.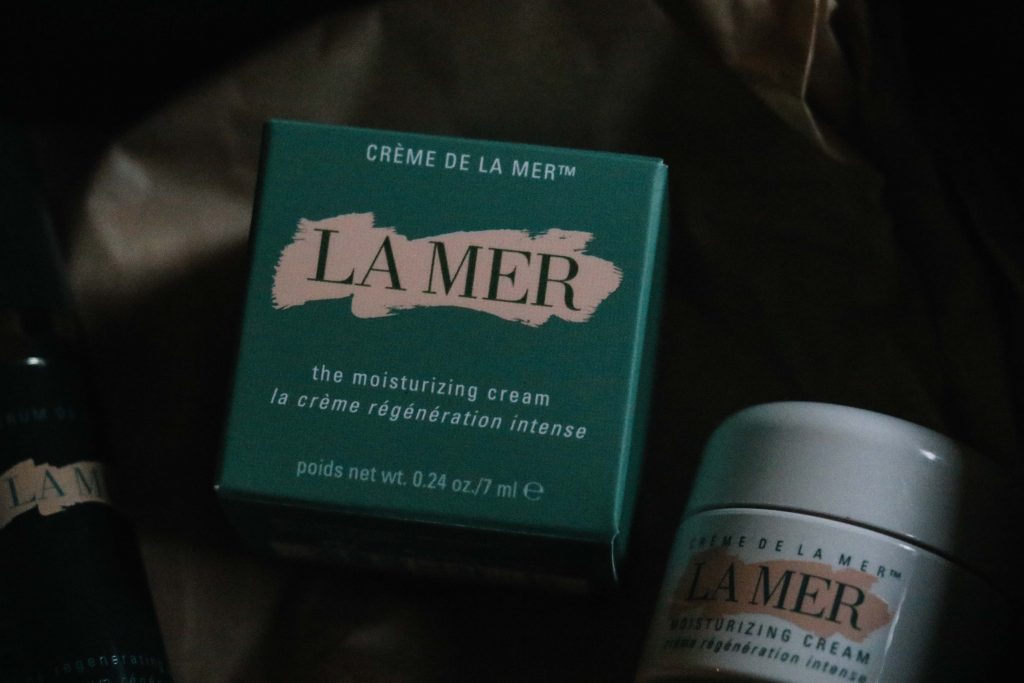 Ultra-rich, it is best to warm the product between your fingers before applying – you'll know it is ready once it becomes translucent. From here, all that is to be done is to gently apply to the neck and face. Having done this for the past fortnight, my skin is undeniably brighter, fuller and incredibly soft, whilst small patches of open pores are noticeably smaller. Furthermore, I've found that you only need to use a very small amount each day to see results: I use an amount slightly smaller than the size of my little finger nail. Lastly, the crème is neither oily or sticky (despite its richness), so I find that once it's settled into my skin, it provides a fantastic base for my foundation.
Declared to be a 'miraculous' skincare range, the Crème de la Mer and its partner in crime, the La Mer Regenerating Serum, have completely transformed my wintery skin. Rather than feeling tight or irritated, it's felt smooth and soft: a dewy glow left behind each time I use it.
All that's left to do now is make it last until 2019.
***
Thank you for taking the time to read our winter skincare saviours – my suppressed Beauty Editor is delighted! We'd love to know what your winter skincare heroes have been this year, so please leave a comment below. Thank you for reading!
Pin for later: