This review of FFS Razor Subscription Box contains affiliate links.
In early January, I became vaguely addicted to rose gold hygiene products. Admittedly, it was an unexpected turn of events that stemmed from the purchase of a rather handsome rose gold electric toothbrush.
Unable to stop admiring my latest bathroom addition, I began to hunt for yet more sparkling accessories: toilet roll holders, soap dishes – even a tube of toothpaste – nothing escaped that rose gold gleam.
It was, of course, this new obsession that saw me arrive at the Instagram page of FFS Shaving one quiet Sunday afternoon.
Lured in by the image of a shiny, pink FFS razor, I scrolled through their Instagram page with increasing enthusiasm. Having spent most of last year attempting to make the switch to sustainable products for both home and travel, I found myself intrigued by this sustainable, women's shaving subscription box.
Visualising my ageing, plastic razor languishing in the shower and unable to remember when I last replaced it, I decided to take the plunge and order my own FFS razor.
With promises of friction free shaving, cruelty-free accessories and an efficient blade recycling scheme, this seemed like a product worth trialling.
Two months on and my love affair with my rose gold FFS razor continues. Now sporting silky smooth, rash free armpits, I thought that a review of the FFS Shaving subscription box might be a useful one; particularly for those looking to upgrade to a sustainable shaving product.
Below is my honest review of FFS razor and FFS shave cream, alongside my own (humble) opinion on just how sustainable it really is. More importantly, however, I'll also address whether or not I actually had enough bodily hair to make a monthly subscription to a shaving box worthwhile.
Gripped? Read on.
My honest review of FFS Razor Subscription Box
About the FFS Razor Subscription Box
With a number of beauty awards under their belt, including a Gold Award at the Pure Beauty Awards, there seems to be a lot of hype surrounding the  FFS Subscription Box
Touted as a sustainable and responsible shaving alternative, 'FFS' (or 'Friction Free Shaving') is dedicated to improving the experience of hair removal for women; offering a handy monthly (or bi-monthly) postbox friendly service for female shaving.
Having spent most of my life buying cheap plastic razors and replacing them only when I noticed a visible layer of rust had developed on them (don't judge), I read with vague terror FFS Shaving's  facts surrounding shaving hygiene.
It seems that I was just one tired razor away from a nasty bacterial infection.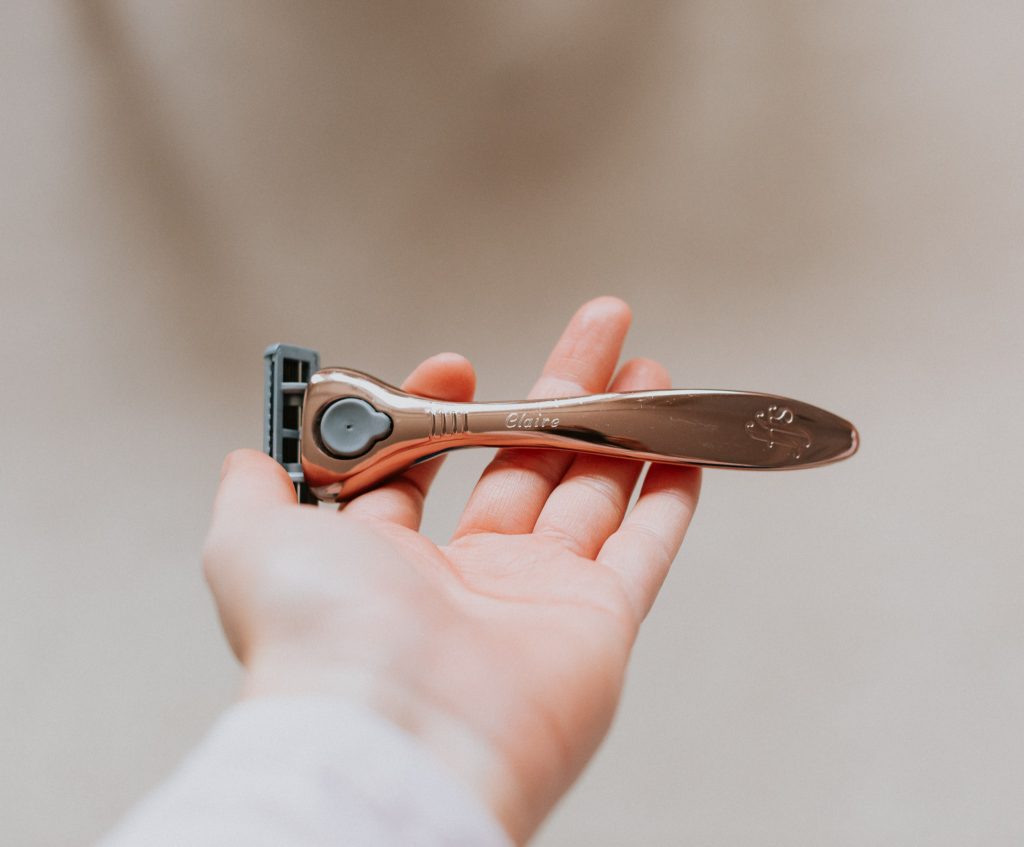 To mitigate this risk, FFS promote weekly or bi-weekly blade changes to ensure close, friction free and hygienic shaving. The FFS Shaving subscription box therefore offers an easy way for women to keep on top of their shaving hygiene, all whilst reducing their plastic waste.
Tip: don't leave your razor in the shower. This spawns bacteria, which will grow over the blades and transfer onto your skin.
The Pink Tax
The notorious 'pink tax' applied to women's products such as tampons and razors is another issue that the superwomen at FFS Shaving are tackling.
With FFS blades set at £1 less than most competitors, alongside ensuring a higher quality product, FFS feel like a brand who are fighting women's corner.
Cruelty Free
FFS Shaving subscription box's final selling point (if you're still not swayed) is their commitment to cruelty-free products. With a 'Leaping Bunny Certification' on all their products – including packaging – the FFS razor and accessories are 100% cruelty free and suitable for vegetarians and vegans.
Ordering your first FFS Razor Subscription Box
You can buy your first FFS Subscription Box for as little as £9.
This initial bundle consists of the metal 'Lily' green or 'Rose' gold handle, which comes free of charge with your first box, alongside your first four blades.
When ordering my first subscription box, I decided to also treat myself to the offer of having my name engraved on the handle for an extra £6.
This was largely to avoid the very real threat of Laura and I confusing our razors when we travel; something that's happened, disturbingly, many times over the years.
Indeed, there's nothing like discovering your sister's armpit or pubic hair in your own razor blade.
In your first box, the razor also comes with a free 'clamshell case' to protect the razor head. A little disappointingly, mine doesn't seem to fit that well over the blade and so spends more time on the shower floor than it does on the actual razor.
However, this might just be bad luck and the design itself is a lovely addition.
Smooth, remove, soothe
When ordering your first box, you're also offered the opportunity to add additional products to your box including: organic shaving scrubs, shaving creams and shaving balms. With irresistible blends including Manuka honey, coconut oil and shea butter, I settled on adding the 'award winning' shaving cream to my first box for an additional £6.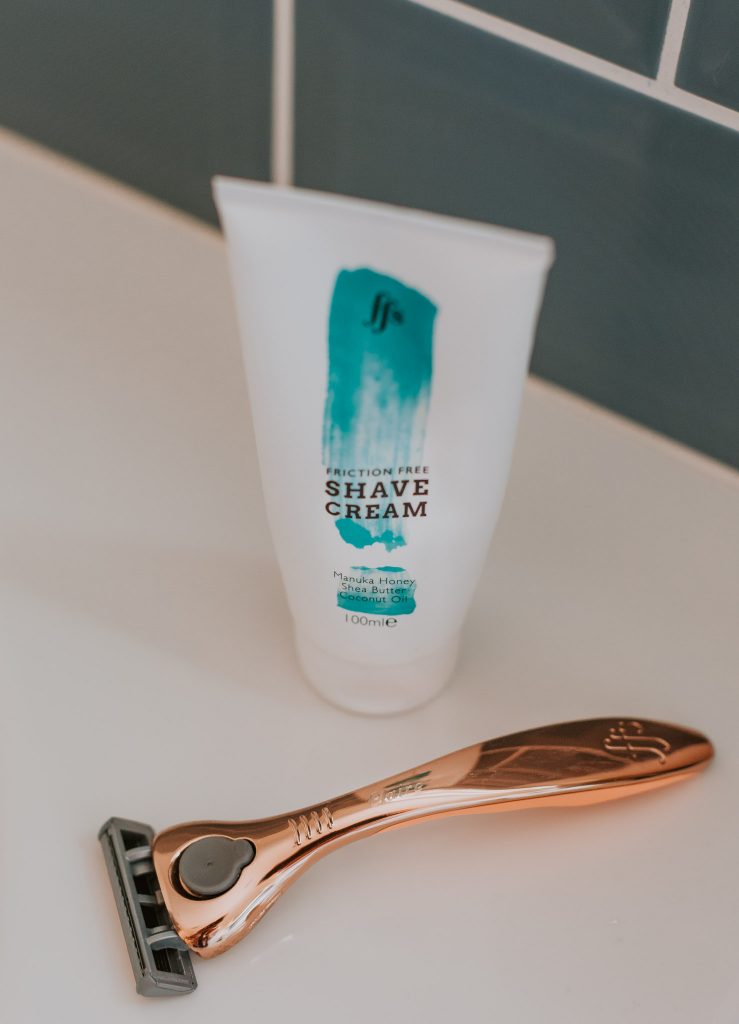 FFS encourage you to buy the exfoliator, cream and balm as a three for the 'smooth, remove, soothe' process, but I decided to trial all three products independently first, considering the additional price.
Handily, you can select one of the products for every future subscription box, or alternatively, change products per delivery. This is what I've decided to do; allowing me to test each lotion and potion first, before committing to the extra £18 for all three.
Having now trialled the shaving cream, I can conclude it is a creamy, holiday smelling delight that actually encourages me to shave. The smell of Manuka Honey, coconut oil and shea butter instantly perks me up on a dreary, dark Monday morning and makes the whole shaving process less of a chore.
For my first subscription box, I also added one final cute accessory to my order: the 'Peach Travel Pouch' for an additional £4.
Given my frequent travel, I thought it was only fitting that my shiny new razor had its own little pocket.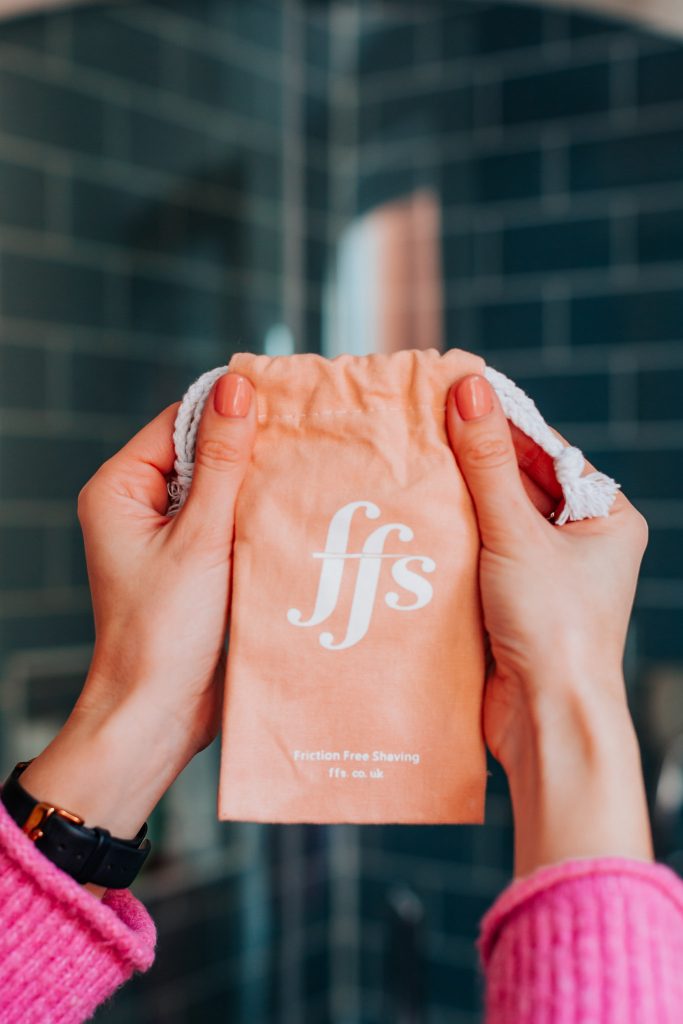 Additional FFS Products
There are lots of other additional items you can add to your monthly subscription box, including natural deodorants, lip balms, wax strips, rose gold tweezers and nail files.
FFS Shaving do promise extra 'gifts' in your monthly subscription box, so I'm looking forward to trialling some of these extra goodies over the coming year.
Tip: if you run out of a product in between boxes, you can buy additional products at any time using the FFS online shop.
FFS Razor Blades
Finally, your first box includes the first 4 razor blades (£9), which have kept me going over the first two months of my subscription. Set in a neat pack of four, the blades are diamond coated and feel a lot heavier and more substantial compared to the usual flimsy blades I'm used to.
In fact, they feel far more like the razor blades sold to men.
I hadn't really considered the difference between male and female razors before now, but I've realised just how flimsy those sold to women are. When it comes to FFS, however, the only notable difference to my husband's blades is that mine come with a nourishing aloe vera strip included at the head.
Peach Points
As an FFS customer, you can benefit from 'peach points'. These points, accumulated by actions such as referring a friend, making a purchase or even having a birthday, help you to reach different tiered statuses.
For example, the (coveted) Rose Gold status allows you access to free shaving products and special seasonal offers.
The FFS Razor and Shaving Rash
A selling point for me when trialling the FFS razor was their claim that the FFS blades reduce the likelihood of developing a shaving rash.
With sensitive underarms, shaving rash is something I've had for years. Often suffering with an army of angry red dots under my arms (attractive), I was intrigued to see if the FFS blades would actually make a difference.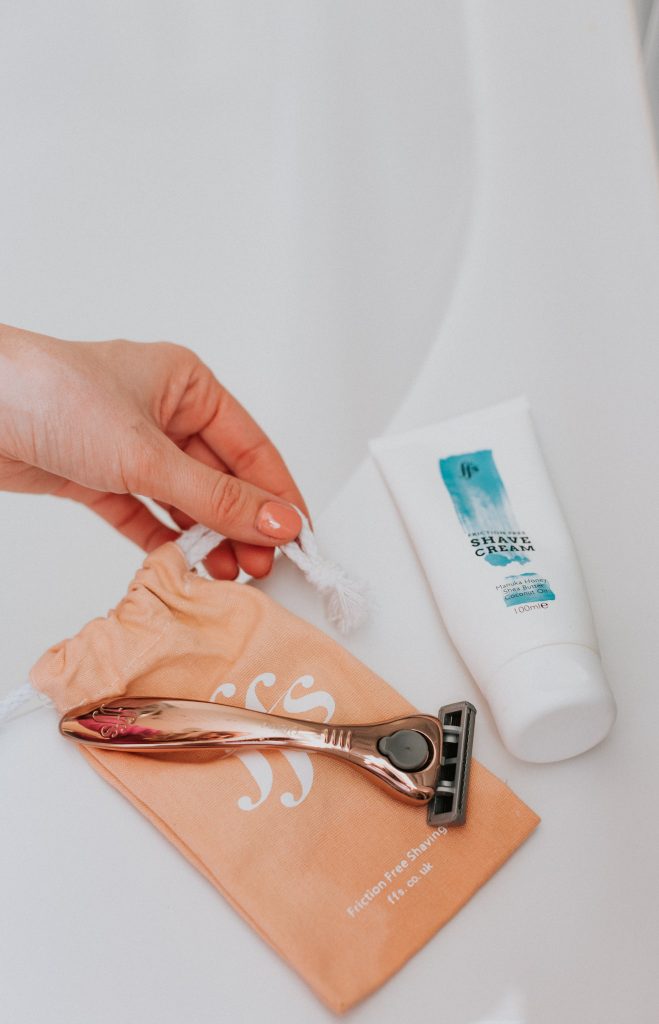 With diamond coated blades and aloe vera lubrication strips, I had high hopes as I took my new FFS Shaver to my long suffering armpits. In fact, I don't think I've ever been so excited to shave my armpits since my early teenage years.
After a month of using FFS blades, my underarm skin has improved hugely. Finding myself in the midst of an unexpected shaving epiphany at 33, I've realised how I'd come to neglect my poor armpits. Lazily slathering them with a bit of shower gel before taking an ageing blade to them has not only left my armpits highly sensitive – but angry.
Now armed with my new, delicious smelling shaving cream and high quality razors, I feel as though I've returned to my teenage years; enjoying the novelty of a satisfyingly effective shave.
Subscription Box Flexibility
When researching the FFS subscription box, I was a little concerned about just how much use I'd get from the blades. With four blades per subscription box, I worked out that I'd need to be shaving almost continually to be able to get through them each month.
Whilst I have what I'd say is a respectable layer of fuzz – I'm hardly Chewbacca.
Fortunately, FFS Shaving offer flexible subscription options, including a bi-monthly or every three months subscription box. I opted for the bi-monthly option, meaning I can change my blade once every two weeks.
The Winter Setting
As if reading the minds of women across the nation, FFS have also introduced a 'winter setting'.
Understanding that our legs are in a state of hibernation and ensconced within tights for most of winter, the FFS Winter Setting allows you to swap razors for shaving exfoliators, creams for balms. During this time, you'll also only receive one razor in your subscription box.
FFS also offer a 'pause' or 'skip' option if your bathroom cupboards begin to overflow with razors.  It's this flexibility and transparency that I find particularly impressive and as such, find FFS incredibly easy to use.
Having trialled the FFS Shaving Subscription box for a month now, I do feel as though I've got enough use out of my fortnightly blades. Safe in the knowledge that these will be recycled rather than thrown away, there's also no pang of guilt when I switch the blades around.
Is FFS a Sustainable Product?
Acutely aware of the amount of plastic I was using to keep my armpits and legs smooth, it was the sustainable angle of FFS Shaving that initially attracted me to their subscription box (alongside that rose gold razor veneer).
Indeed, reading up on the sustainability angle of FFS, I was shocked to discover that two million plastic razors are thrown into landfill every year.
Waving goodbye to cheap plastic razors, the reusable metal handle and blade recycling scheme means that the FFS razor is a brilliant sustainable alternative to your average razor.
Now aware of the amount of plastic I was wasting, it seems mad to think that I was even buying into these cheap, single use products for so long – particularly after discovering such higher quality, sustainable alternatives such as FFS.
Recycling your FFS Blades
In order to recycle your blades, you can simply pop them back in the post using a previous box or, alternatively, request a new recycling bag online.
FFS Shaving recommend storing up to 12 blades before returning them by post.
Of course, in terms of how many FFS blades are actually recycled, this is (admittedly) entirely dependent on customers' proactiveness in posting the blades back. However, FFS Shaving have made it an incredibly easy and stress-free process.
In terms of general recycling, the FFS Shaving subscription boxes are made from cardboard and are fully recyclable. The shaving cream bottles are also recyclable, as are the metal tins that are used for FFS deodorants and lip balms.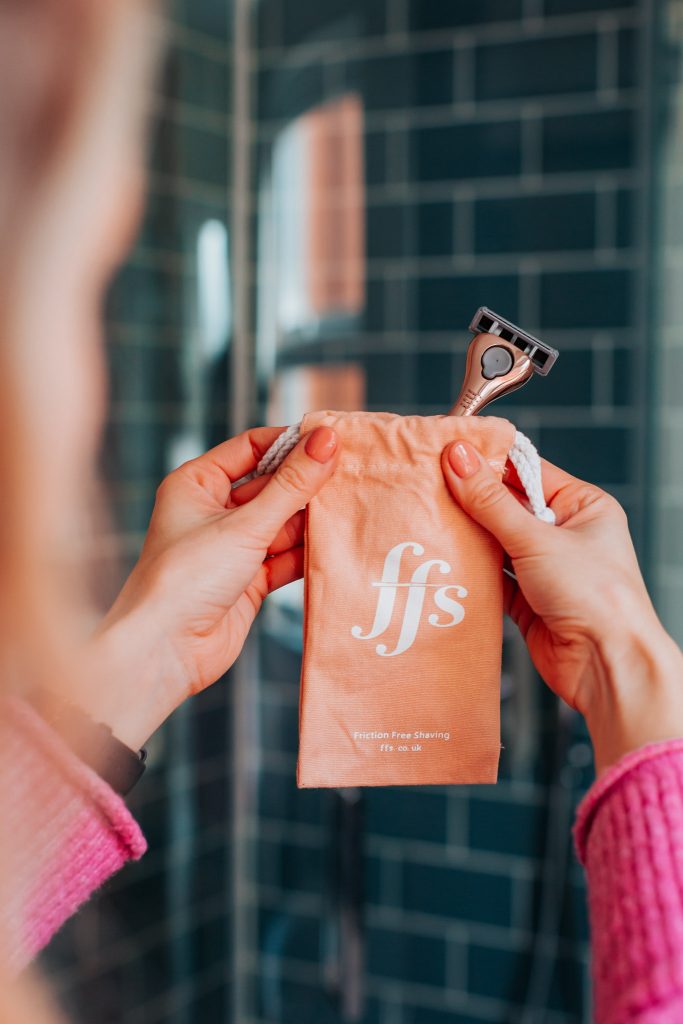 FFS Shaving Razor Box: Is It Worth the Money?
Initially bought as an impulse buy to feed my rose gold obsession, my two months trialling the FFS Shaving Subscription Box have been unexpectedly transformative.
After years of subjecting my long-suffering armpits and legs to cheap, plastic razors, learning to take a little more time during my morning routine has been an unexpected highlight of these long winter months.
Now irrationally excited to use my personalised rose gold razor, alongside the exquisite smelling shaving cream, my shower times have become far more enjoyable.
A brand that isn't simply aimed at the exceptionally hairy (as I'd initially feared), FFS are a truly fantastic and sustainable enterprise, who empower both women and the environment.
And for that reason, they have my vote.
Order yours here.