As the plane's wheels touched down on Cologne's runway, I looked excitedly at our itinerary for the next few days.
Assigned the task of exploring two of Germany's most beautiful Christmas markets – Aachen Christmas Market and Monschau Christmas Market – I scanned the highlights of our long weekend away. Over the next two days, it looked as though we would be filling ourselves with steaming mugs of Glühwein, plates of roasted chestnuts and dragging home bulging suitcases crammed with festive gifts.
However, it wasn't just Aachen Christmas Market that we'd be exploring. As our itinerary suggested, this city offered far more than just twinkling lights and stalls overflowing with handmade gifts.
An ancient place built on mineral-rich thermal waters, boasting a UNESCO protected 8th Century Cathedral and boasting a burgeoning food scene, Aachen was – it seemed – a city to explore year round.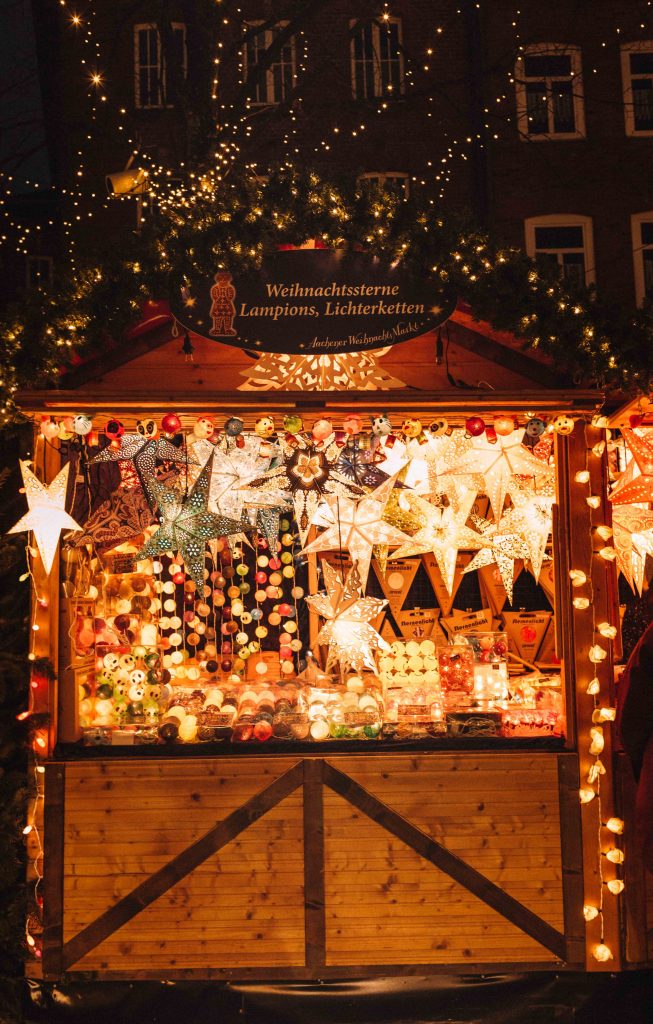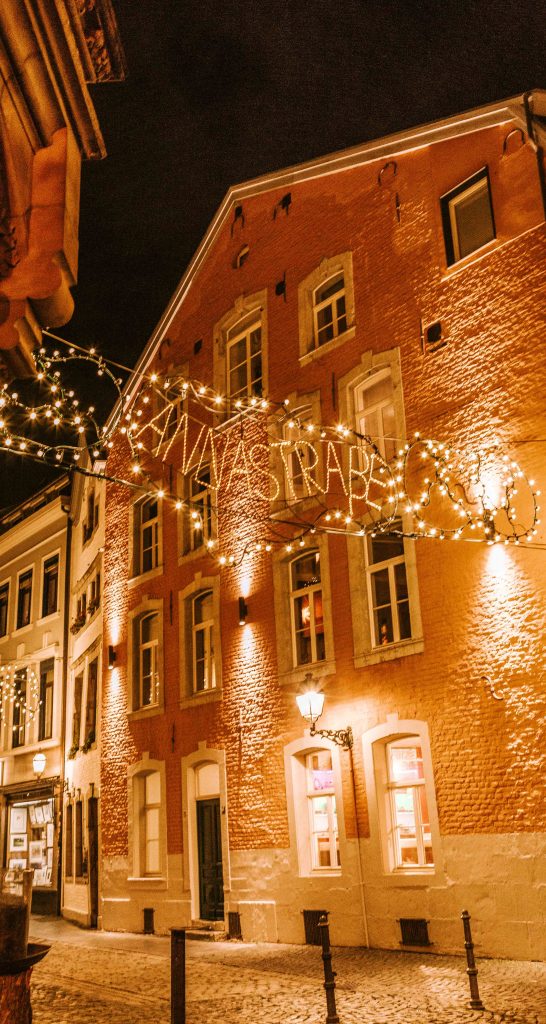 How to get to Aachen Christmas Market, Germany
The westernmost city in Germany, located on the Belgium-Netherlands border, there are many ways to get to Aachen Christmas Market from the UK.
For ease, we jumped on the hour long flight from London Heathrow to Cologne, via EuroWings; our return flights costing just under £100 each. From here, we picked up a car at the airport with Avis (a four day hire costing £168), and drove the forty minutes south on Germany's famous autobahns.
For those wishing to travel to Aachen Christmas Market by train, the journey is surprisingly easy and can be completed in just under four hours. To travel by train, take the Eurostar from St Pancras to Brussels, before hopping on a second train from Brussels to Aachen (approximate cost £128 return per person).
Where To Stay When Visiting Aachen Christmas Market
Whilst visiting Aachen Christmas Market, our home away from home was the Aachen Innside hotel, which was just a short ten minute walk from the city's historic centre. Offering a rooftop restaurant with views across the city's spires, this was the ideal hotel to base ourselves whilst exploring Aachen. With prices starting from just £71 a night, it's also incredibly reasonably priced.
For other hotel recommendations whilst in the city, take a look here.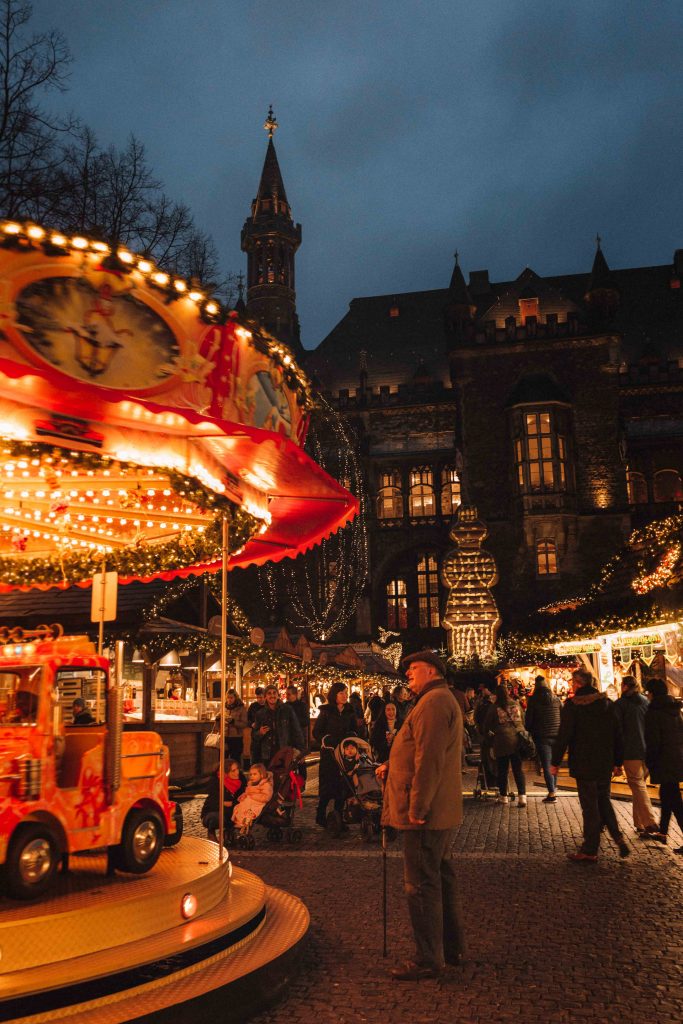 Visiting the Aachen Christmas Market
The annual Aachen Christmas Market runs every year between the 23 November – 23 December. A glittering paradise of fairy lights, glowing stalls and festive music, this event is a Christmas lover's dream. Indeed, regularly making the 'Top 10' of the best European Christmas markets, the Aachen Christmas Market is perhaps the gold standard when it comes to unforgettable festive fun.
Visiting a German Christmas Market had been on my bucket list for as long as I can remember, and I was bursting with happiness as we made our way through the bustling  stalls that first afternoon.
Priding themselves on local, high quality produce, the Aachen Christmas Market is the ideal place to pick up (truly) unique Christmas gifts. From stalls bursting with Christmas decorations for your tree, to finely crafted and intricate wooden puzzles, the stalls were a welcome alternative to the usual commercial department stores.
Weaving their way down the cobbled lanes surrounding the Cathedral and town hall, Aachen's Christmas Market is one to take your time exploring. In fact, taking a gentle wander around these sparkling lanes – all whilst munching on Germany's traditional fried potato dish – was perhaps one of my favourite travel experiences this year.
Alongside Christmas gifts, there were also plenty of stalls selling traditional German cuisine and glühewein. We stopped by Oecher Glühwein-Treff, where we were treated to a delicious glühwein tasting experience. Fully acquainted with traditional mulled wine made from red grapes, we also sampled a white wine glühwein, which was unexpectedly tasty (and, dare I say it, even better than the traditional version).
Over the course of half an hour, we sampled a variety of Glühweins; our cheeks becoming rosier with every sip. "We've had harder gigs," Laura mused as we said our farewells to the owners of Oecher Glühwein-Treff and disappeared (a little unsteadily) into the crowds.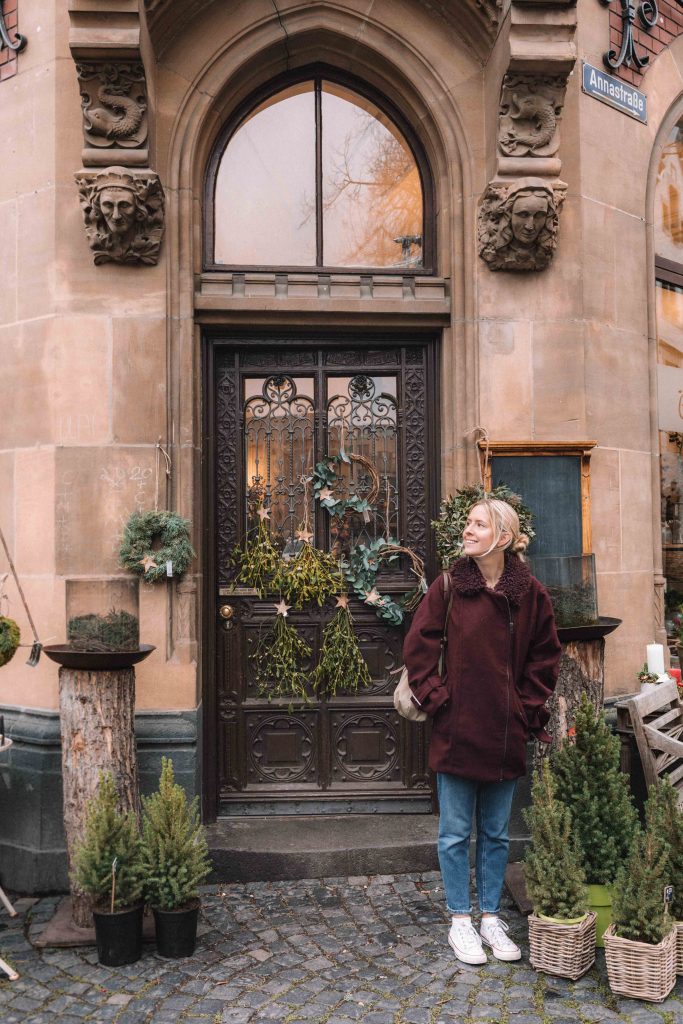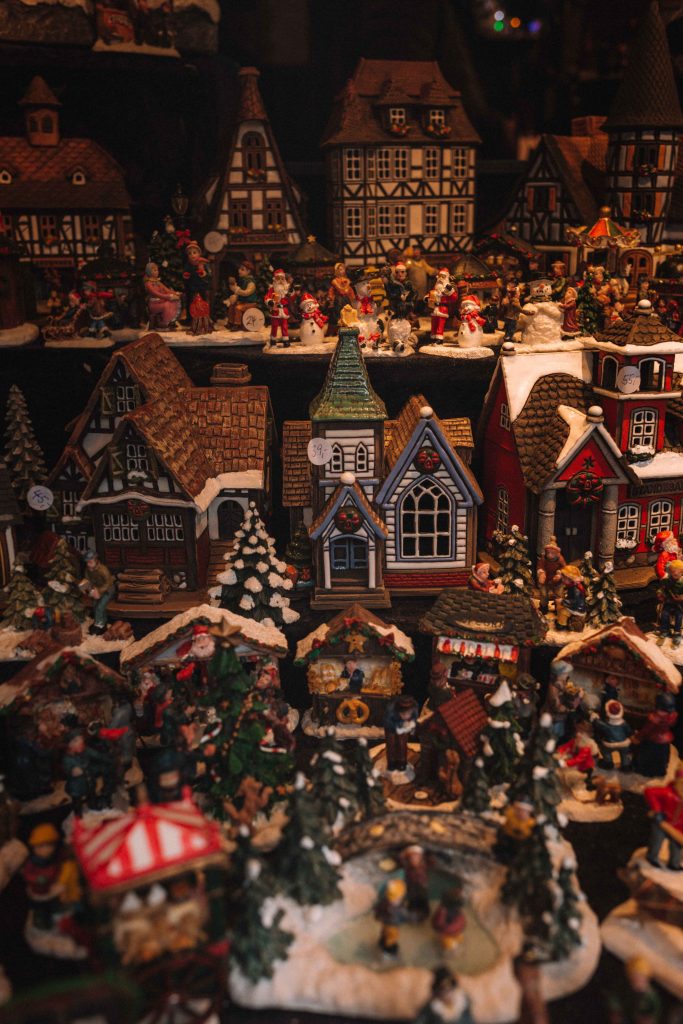 Visit Aachen's Famous Historic Spas
'Aachen is a place defined by water', our tour guide said as we began our walk through the city.
Aachen (or 'Bad Aachen', literally meaning 'Spa Aachen'), is a name derived from the old German word for 'river', or the Latin term 'Aquae'. Indeed, utilised by both the Celts and the Romans, Aachen's 30 sulphurous natural springs are not a recent discovery; Aachen's healing waters were the very reason that the illustrious Emperor Charlemagne decided to build his palace here.
It is a grand past, some might say, for a city that often flies under the tourism radar.
With the toasty 47°C springs pumping out 3.5 million litres of mineral rich water each day, Aachen is a (perhaps alternative) place to come for an indulgent spa break. After a blustery few days exploring the city, we had just enough time to revive our frozen limbs with a dip in the famed thermal waters of Carolus Thermen.
Connected to the spring 'Rosenquelle', Carolus Thermen spa boasts large indoor and outdoor areas featuring eight pools, an intriguing 'sauna world', restaurants and luxurious pampering treatments.
We were fortunate enough to be gifted the Pamper Package Thermal Plus for the day (€59 per person), which treated us to a heavenly 30-minute massage and lunch at the spa. As the rain poured (we were in the city of water, after all), we floated from the indoor pool to the one located outside.
With the delicious feeling of the cold air wrapping around us, we remained perfectly snug below the warm thermal waters.
After a busy few days exploring Aachen Christmas Market, a trip to the spa made for an incredibly welcome experience. We even made a mental note to return here with our friends; the city of Aachen offering a brilliant alternative to the usual UK spa destination of Bath.
Visit Aachen's Beautiful Cathedral
Known as Cathedral of Aix-la-Chapelle, Aachen's Cathedral is home to a mind-bogglingly rich past.
Erected by Emperor Charlemagne 2,000 years ago, it remains an important modern-day pilgrimage site. Said to be one of the oldest in Europe, Aachen's Cathedral has witnessed more history than most, beginning with the construction of Charlemagne's Palantine Chapel in the year 796.
Now forming part of the larger building (the Cathedral was enlarged in the Middle Ages), the Palantine Chapel is the nucleus of the Cathedral. After Charlemagne was buried at the site in 814, the Cathedral continued to play an important role in Germany's history; witnessing the coronation of thirty-one German Kings and twelve Queens.
Stepping inside the Cathedral, the winter sun dipping behind the city's spires, we were met with flickering candlelight and a sparkling mosaic ceiling. Glittering spectacularly, the ceiling shimmered thanks to the 32 million pieces of mosaic covering it, all of which were added after Charlemagne's death.
Legend dictates that local 'Aacheners' ran out of money whilst building the church (now Cathedral), having spent Charlemagne's money on festivities. Anxious to have the Cathedral completed upon his return, locals made a pact with a well-clothed man (i.e. the devil) who had mysteriously appeared in the city.
A slightly dubious pact if you ask me, the locals agreed that in return for money, the devil would receive the first soul of whoever entered the Cathedral. Realising the error of their ways once the deal was sealed, Aacheners began to plot a way to fool the devil.
Capturing a wolf from the forest, they opened the doors of the Cathedral and threw the poor beast in. Snatching the soul of the wolf, the devil realised he had been duped and flew into a rage. Storming out of the Cathedral, he slammed its doors with such force that it caught his thumb; splintering the door in the process.
The curious 'thumb' mark can today be felt inside the bronze handle of the door, along with a large, jagged crack. Mesmerised by this legend, we stood in the inky darkness of the Aachen night, cautiously touching the alleged thumb of the devil.
Boasting so much history, we would definitely recommend a trip to Aachen Cathedral and to take its 'Treasury Tour', which can be booked here.
Take a Food Tour Whilst In Aachen
One of the more unexpected activities on our itinerary, aside from the Aachen Christmas Market, was the Walking Food Tour of Aachen.
Hosted by Eat The World (starting at €33 per person), the Aachen Old Town Food Tour helped us to learn more about the city, via the means of a delicious 3 hour eating and drinking extravaganza.
Beginning at the former gates of the city, we met our friendly guide, Tim, who whisked us off to our first stop: the sushi restaurant of Ozaki. Perhaps not the cuisine you immediately think of when in Germany, we curiously stepped through the door of the restaurant, our bellies rumbling.
Just ten minutes later and we were already converts. 'This is the best sushi I've ever had', Laura declared as we polished off two plates of delicately made Japanese cuisine. Laughing at our enthusiasm, Tim reminded us that we needed to pace ourselves – we had another 6 stops left of our tour.
Over the course of the afternoon, Tim took us from sushi restaurant to traditional tea house, a French inspired delicatessen to a craft brewery. Not to spoil the stops for those hoping to book the tour, we'll keep the full details of our afternoon a (delicious) secret.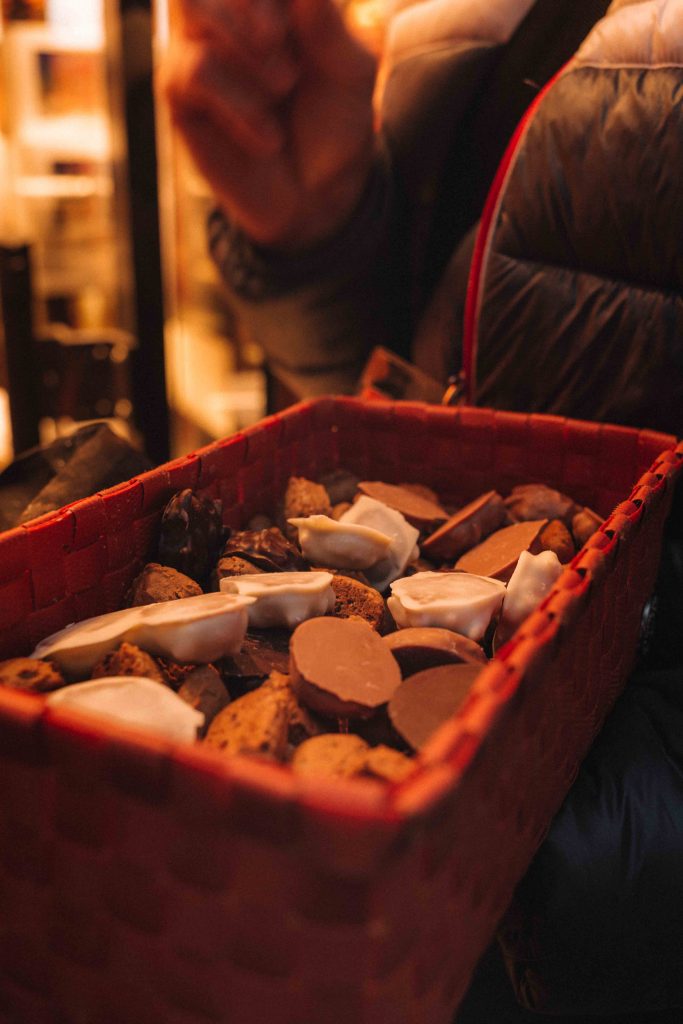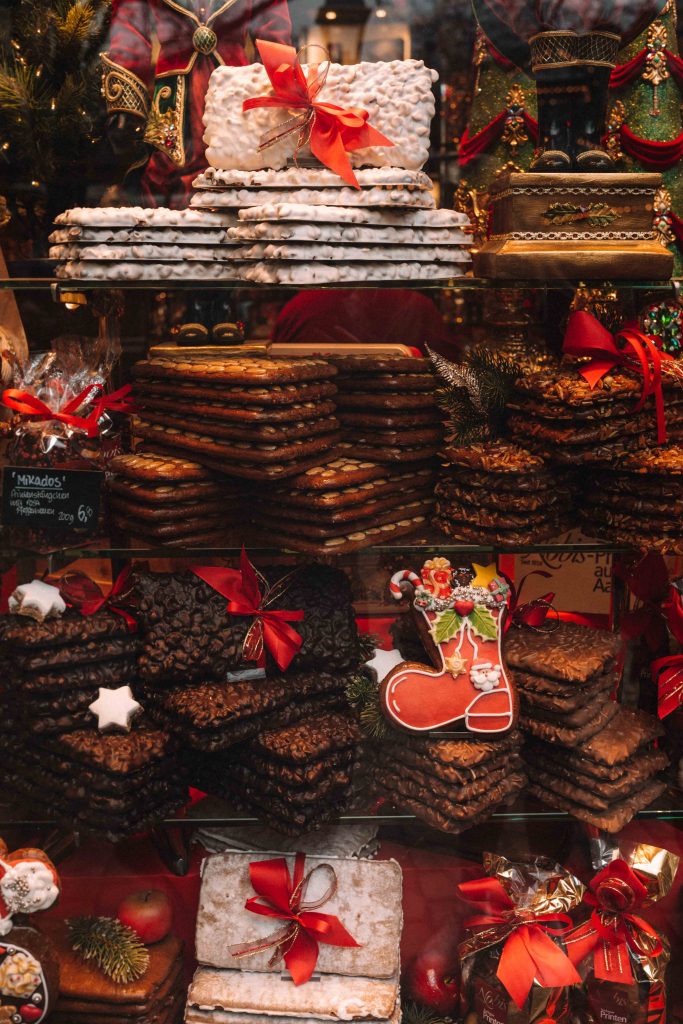 Of course, no trip to Aachen Christmas Market would be complete without sampling the city's famed Aachener 'Printen' biscuits.
A form of the German 'Lebkuchen' biscuits, Printen have been produced in Aachen for over 1,000 years. Thought to have originated in Belgium, Printen are made from dark flour, sugars and exotic spices (although the full recipe has never been revealed).
Watching Laura rush around the Nobis Printen Bakery – the best spot to pick up Printen while in Aachen – I could see the panic in her eyes. Packet upon packet of gleaming biscuits lined the walls and the desire to buy every possible combination was overwhelming. Having sampled many options throughout our food tour, I can safely say all are equally as delicious as the other.
While in the city, we also dropped by Aachen's oldest cafe: Van den Daele. A warren of small timbered rooms and crooked staircases, the cafe was formed by joining four houses together in 1655.
Picking a cosy corner featuring an original stained glass window, we treated ourselves to cake and steaming mugs of hot chocolate. It was the perfect spot to seek a bit of peace, away from the busy crowds of Aachen Christmas Market.
Aachen Christmas Market: Final Thoughts
Squeezing our suitcases shut – our Christmas treats threatening to burst the seams – we sat on the corner of the bed for one last Printen biscuit.
Our hair still damp from our morning at Carolus Thermen, we felt more relaxed than we had in months. Knowing little of Aachen before visiting, we had grown incredibly fond of this city – its fascinating past and cosmopolitan present making for an intriguing place to visit.
Our only remaining tip for visiting Aachen? Don't just wait for the Aachen Christmas Market to visit the city. This is truly a fascinating destination to visit all year round, with or without its yearly sprinkling of Winterzauber.