This is a sponsored blog post in collaboration with German National Tourist Office.
It's been thirty years since the reunification of Germany and the fall of the Berlin Wall. A monumental moment in both German and European history, the removal of the divide not only united a country, but pieced together a destination overflowing with extraordinary natural beautiful, fairytale towns and Tolkeinesque castles.
As Germans began to move from East to West, and West to East – exploring mist-shrouded mountain lakes and warm sandy islands – so international tourists began to join them. Indeed, from the moment the borders between West Germany and the German Democratic Republic opened on 9 November 1989, so Germany quickly transformed into a popular tourism destination: its dark green canopies, cosmopolitan cities and deeply carved valleys enticing visitors from across the world.
Over the years, we've joined these many visitors – with Germany now dominating our travel bucket list. From following Bavaria's fairytale 'Romantic Road' just as the first snow began to fall, to enjoying warm spring mornings at Hamburg's frenetic Fish Market, we've visited Germany in both the depths of winter and the height of summer – enjoying what is a year round destination.
Building on this, and to help you plan your own visit to Germany, we've put together a seasonal guide to visiting Germany: guiding you from the dark winter months through to the country's warm, hazy summer.
From visiting fairy light filled Monschau in December, to the country's largest island of Rügen in the summer, we hope this guide inspires you to visit some of Germany's lesser known spots, inviting you to reimagine just how those early tourists to the country must have felt some thirty years ago.
Where to Visit in Germany in the Spring: Hamburg
Despite being Germany's second largest city, Hamburg often passes under the radar when it comes to European city break destinations.
A maritime city defined by the sea that surrounds it, Hamburg is seen as the 'gateway to the world' – connecting to 900 ports and 170 countries. Thanks to these global relationships, and perhaps unlike its land-locked neighbours, Hamburg has nurtured a fiercely independent and cosmopolitan character.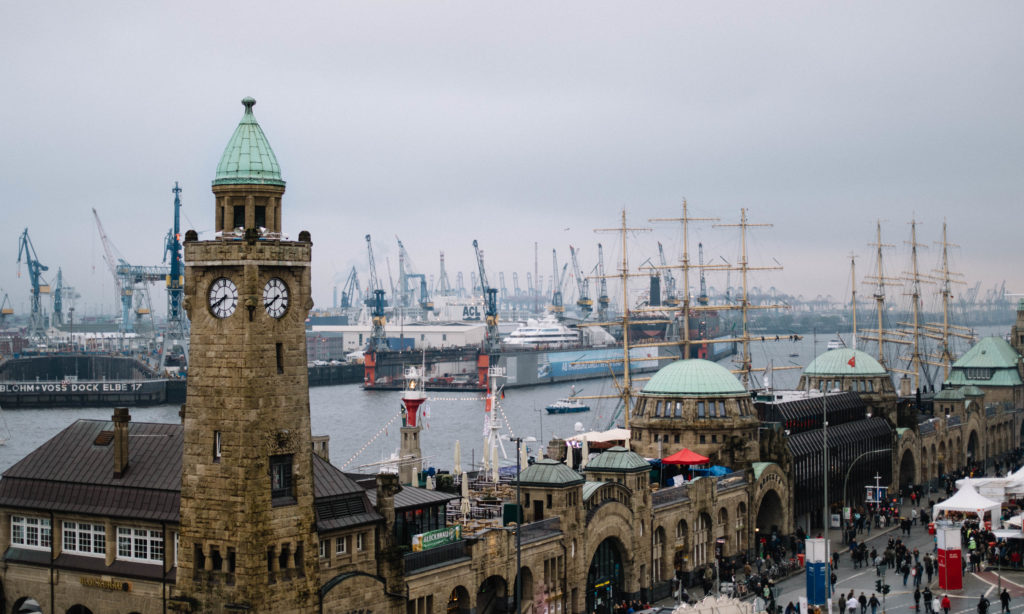 It's this unique character that drew us to Hamburg, where we enjoyed a long weekend exploring its rich maritime past and quirky neighbourhoods. It's a city that took us completely by surprise and left us wondering why (aside from the British stag parties known to frequent the city), this isn't a city visited as much as the likes of Berlin or Munich.
Things to do in Hamburg
1. Explore the City's Port by Boat
The first thing we did when we arrived in Hamburg was to head to the city's port to enjoy a boat ride around its historic harbour. We happened to be visiting during the city's much anticipated Hafengeburtstag, or 'Harbour Anniversary' – an annual festival that celebrates the 'birthday' of the harbour.
Hamburg's harbour was founded in 1189 when Emperor Frederick Barbarossa granted the city's merchants the freedom to trade. It was a decision that transformed Hamburg into one of Germany's wealthiest cities. Our boat ride around the harbour, with an incredibly knowledgable guide, helped to provide us with this important context before we began to explore the city more fully.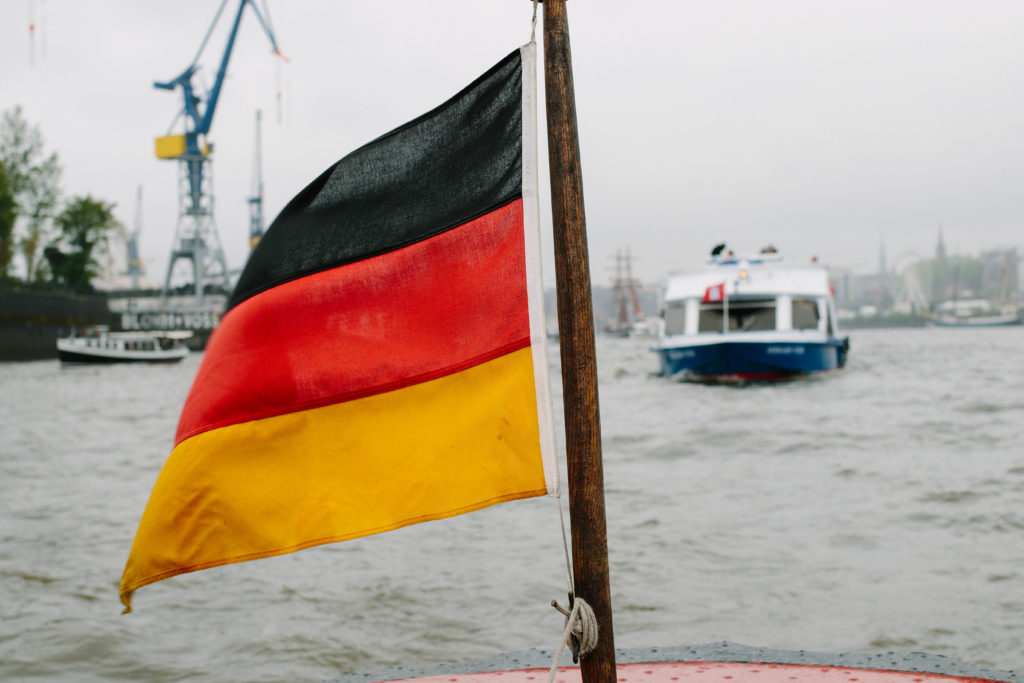 2. Discover Hamburg's Portuguese Quarter
A place with watery connections to cities around the world, it comes as no surprise that Hamburg has been welcoming international communities for decades. During the 1960s, an influx of Portuguese families moved to Hamburg to work in its thriving port and as a result, a bustling and vibrant Portuguese community has formed.
The Portuguese quarter can be found just behind the Landungsbrücken harbour.
Wander these streets and you'll discover authentic Portuguese tapas restaurants and cosy cafes selling mouth-watering custard tarts fresh from the oven. We sampled the best custard tarts outside of Lisbon at Pastel de Nata.  Swing by here for a delicious sweet treat and coffee.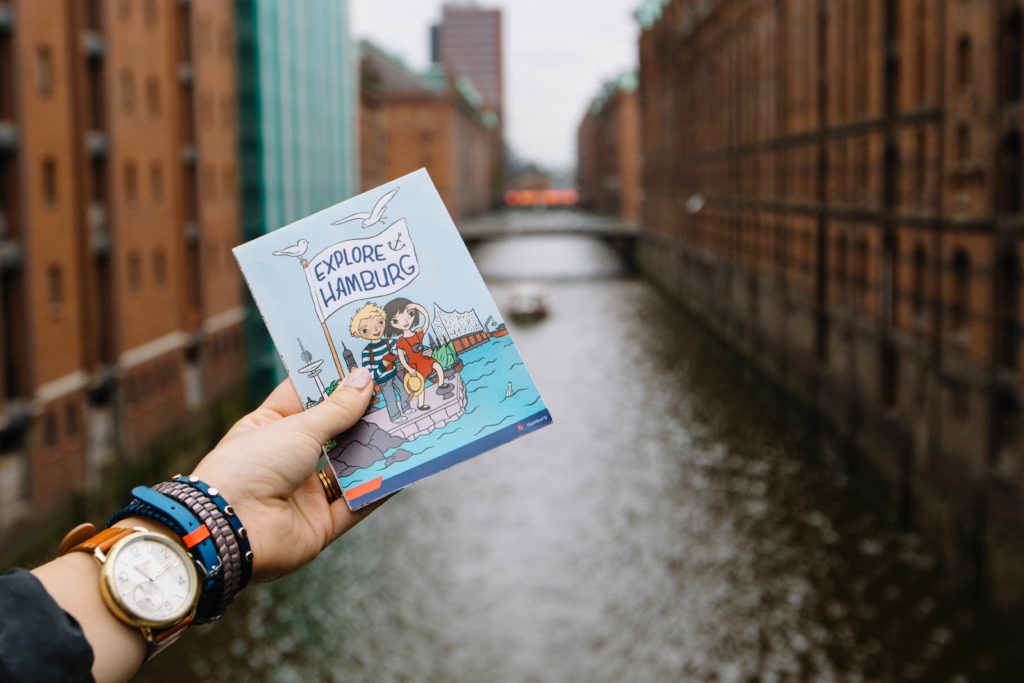 3. Enjoy the St Pauli District
A visit to Hamburg would not be complete without experiencing the infamous St Pauli District. An area once reserved for sailors looking for a 'good time', the district is now home to lively bars, restaurants and music venues.
Indeed, bars aside, we were introduced to the incredible (and unexpected) array of music venues in Hamburg, as we wandered down the 'Reeperbahn'. It's on these bustling streets that The Beatles first cut their teeth from 1960-1962. As John Lennon famously quoted: 'I was born in Liverpool, but I grew up in Hamburg'.
4. Visit Hamburg's Iconic Elbphilharmonie
The crowning jewel of Hamburg is the recently opened Elbphilharmonie (concert hall) that dominates the city's skyline. Taking an incredible 12 years to build, the Elbphilharmonie is the product of breathtaking architecture, found both inside and out.
We visited the hall one quiet Sunday and were fortunate enough to be able to listen to the resident orchestra rehearsing for a concert.
5. A Bike Ride to Blankense
Perhaps the highlight of our long weekend in Hamburg was a bike ride to the formally Danish owned Blankense. Cycling in the sunshine from the city's Fishmarkt, we rode along the 'Rivera of Hamburg' and soon found ourselves surrounded by picture-perfect white houses, wild flowers and unexpected beaches.
This is where we (reluctantly) ended our time in Hamburg; enjoying a cold beer and fresh fish under azure blue skies.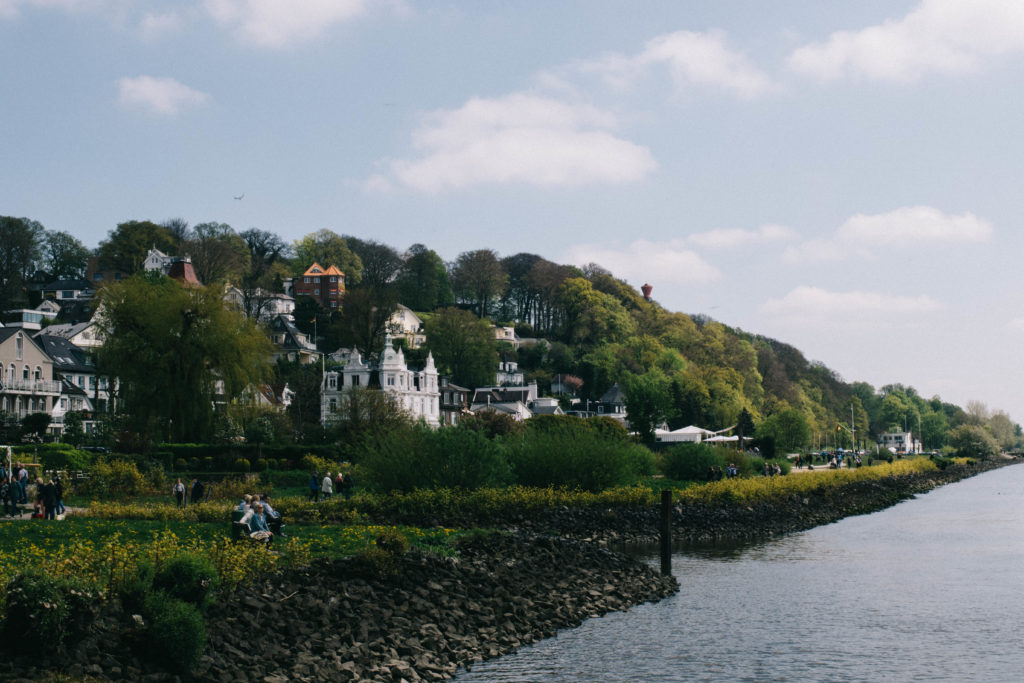 Where to Visit in Germany in the Summer: Island of Rügen
When we announced to our friends and family that we were heading to the German Baltic Island of Rügen, we were met with a confused silence.
'Germany has islands?', they asked.
Once part of the former GDR, Rügen is in fact Germany's largest island, located close to the Pomeranian coast.
An island with UNESCO protection, this is a hugely popular summer destination for Germans, but is mostly unheard of by those outside of the country. Intrigued by this discovery, we jumped on a plane to Berlin and made the scenic drive north-east to enjoy four sunny days on the island.
Yet another German destination that took us by surprise, we cannot recommend this little haven enough.
What to do on the Island of Rügen
1. Visit Binz
During our time on Rügen, we settled ourselves in Binz; one of the island's largest beach resorts. A bustling seaside town with handsome 19th century buildings lining its wide promenades, little Binz was a pleasure to explore.
Whilst here, indulge in a little relaxation in a delightful looking 'Strandkorb'. This interesting contraption was created in the 1800s to provide shelter to the infirm whilst visiting the beach. A cross between a chair and a parasol, the yellow and white striped Strankorbs can be hired for three euros an hour.
2. Jasmund National Park
One of our favourite places on Rügen was Germany's smallest National Park: Jasmund.
Just a twenty-minute drive from Binz, Jasmund is the perfect place for nature lovers looking to escape the crowds. A UNESCO protected primeval forest complete with dramatic chalk cliffs and amber scattered beaches, Jasmund National Park is (quite literally) a treasure to explore.
There are a huge array of hikes on offer throughout the park, ranging from one hour strolls to five-hour endeavours (we opted for an enjoyable one hour hike given the 30 degree temperatures). The crowning jewel of this national park are the impressive 'Königsstuhl' or 'King's Chair' chalk cliffs.
3. Visit Groß Zicker
Pretty little Groß Zicker was a last minute addition to our Rügen itinerary and what an unexpected delight it was. Located towards the south-east of the island, this sleepy chocolate box village feels like a place that time forgot.
Although there isn't a lot to see in the village, enjoy a leisurely stroll around its 15th century church and visit the village's famous building: the Pfarrwitwenhaus – or the 'Parson's Widow's House'. This quirky home was built between 1719-1720 and boasts sky blue walls and a thatched, peaked roof.
4. Enjoy a Steam Train Ride
An unexpected highlight when visiting Rügen was a ride on the island's beloved steam train: 'Racing Roland'. A narrow gauge railway that has been transporting visitors around the island since 1895, Roland makes for quite the ride.
For those lucky enough to ride in a carriage with a buffet cart, be sure to book a table.
5. Visit Sellin
Before leaving Rügen, we headed to the island's second beachside resort: Sellin. Hugely popular in the 1880s, Sellin is famed for its elegant art nouveau inspired Seebrücke (or pier).
We strolled down this 394m 'imperial pier' to enjoy ice cream and gaze out over the (unexpected) turquoise waters.
Where to Visit in Germany in the Autumn: Aachen
As summer fades, it's time to warm up with a visit to one of Germany's famed spa cities: Aachen.
A city built on mineral-rich thermal waters and one that boasts an UNESCO protected 8th Century Cathedral, Aachen is yet another hidden gem of Germany that is well worth exploring.
As the westernmost city in Germany, Aachen isn't a destination that you'll necessarily hear much about. However, due to its location on the Belgian border,  Aachen is an incredibly accessible city (from Belgium, Germany and the Netherlands) and one worthy of an autumn weekend break.
What to do in Aachen
1. Visit Aachen's Famous Spa
'Aachen' – a name derived from the ancient German word for 'river' – is a city defined by the water beneath it. Boasting 30 sulphurous natural hot springs, Aachen's waters have been in use since Roman and Celt times.
However, it was Emperor Charlemagne who truly put Aachen on the map, declaring it as the spot on which to build his famous Palace.
The springs of Aachen continue to be utilised to this day, with many luxury spas on offer throughout the city. Whilst visiting, we enjoyed a spa break at the Carolus Thermen; enjoying the outdoor and indoor pools, as well as a pamper package complete with massages.
2. Visit Aachen Cathedral
Having warmed up in Aachen's natural springs, it's time to head to the city's UNESCO protected Cathedral: Cathedral of Aix-la-Chapelle. Built by Emperor Charlemagne 2,000 years ago, Aachen's Cathedral remains an important site for modern-day pilgrimages.
With the original Palantine Chapel of 796 still forming part of the existing Chapel, this is a place of almost incomprehensible history, with Charlemagne's remains buried at the site.
To truly appreciate the history of the Cathedral, we recommend you book a  'Treasury Tour'.
3. Aachen Old Town Food Tour
They say that the best way to get to know a place is by sampling its local cuisine, and that's exactly what we did when visiting Aachen thanks to a walking food tour.
We embarked on a three hour eating and drinking extravaganza with Eat The World, who took us on a hugely knowledgable adventure around some of the best restaurants, bars and stalls in the city.
Perhaps not the first place you'd think of visiting when considering a spa weekend, Aachen has it all. From traditional thermal springs to world-class food and cuisine, Aachen makes for a perfectly cosy autumn escape.
Where to Visit in Germany in the Winter: Monschau
In terms of where to visit in Germany come winter, rather than heading to the better known cities of Berlin or Munich, instead head to the historic town of Monschau.
Nestled in a valley in Germany's Eifel region, Monschau is a truly fairytale town; coming into its own during the festive season.
In fact, Lapland aside, you'll be hard-pressed to find anywhere just as festive as little Monschau.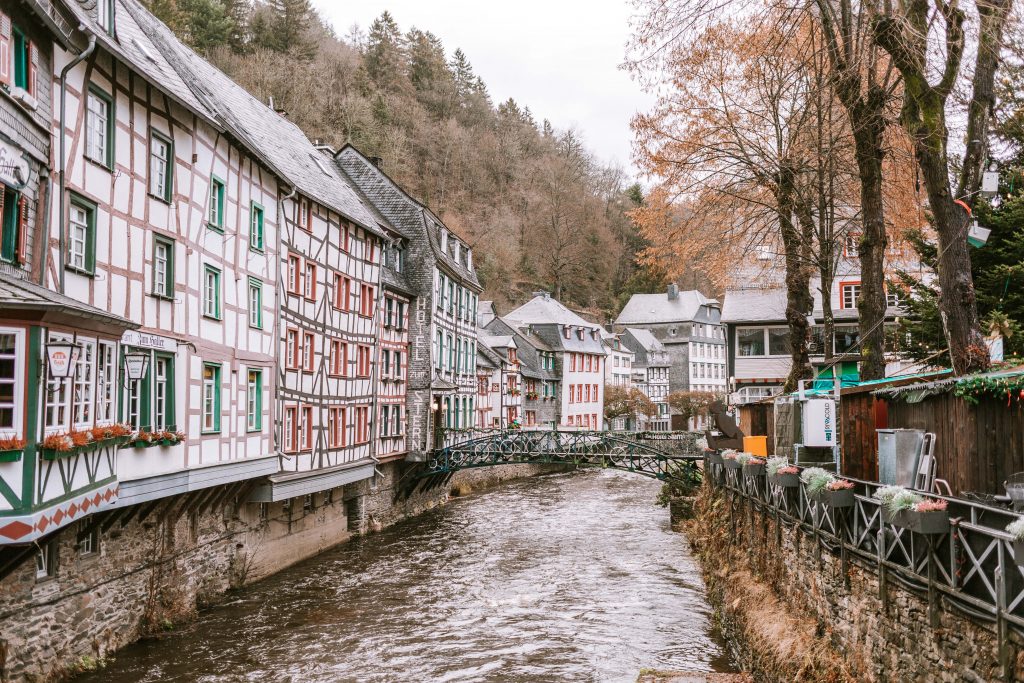 What to do in Monschau
1. Enjoy a Christmas Market
It's important to firstly note that the Monschau Christmas Markets only run over the weekend, beginning in the last week of November and lasting all four weekends of advent.
Opening at 11am and closing at 9pm, we found that the markets truly came alive as dusk fell and the Christmas lights began to sparkle.
Follow the cobbled streets that wind through the ancient timber-framed buildings and across the bubbling river Rur, to discover glowing stalls full of Christmas treats and decor.
Enjoying many hot mugs of steaming Glühwein, we wandered the enchanting streets of Monschau, carefully selecting unique, hand-made gifts for our loved ones back home.
2. Incredible Vistas
For the best views of fairytale like Monschau, walk the 'Panorama Walk' that leads upwards from the town. Covering 1,000 steps, the view from the top – across both the valley and sparkling Monschau – is nothing short of magical.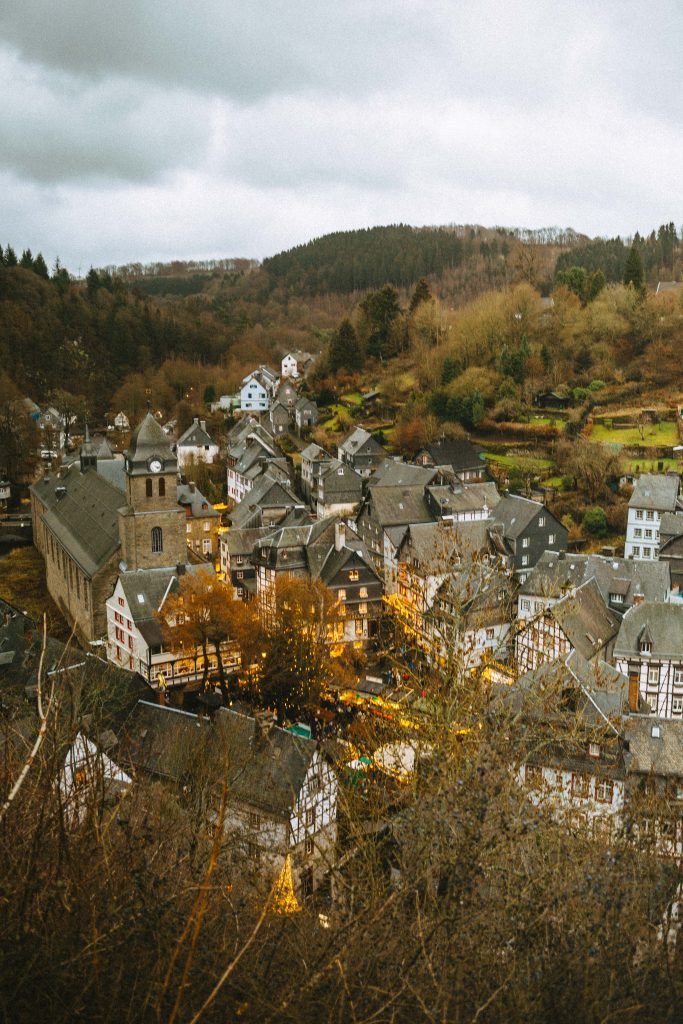 3. Senfmühle Monschau
Christmas markets aside, no trip to Monschau would be complete without picking up a few pots of 'Moutarde de Montjoie' mustard. A Monschau delicacy for over 120 years, this famous mustard continues to be created by just one local family.
For those who truly enjoy their mustard, take a visit to the Mustard Mill where you can learn more about how the nineteen varieties of mustard are made.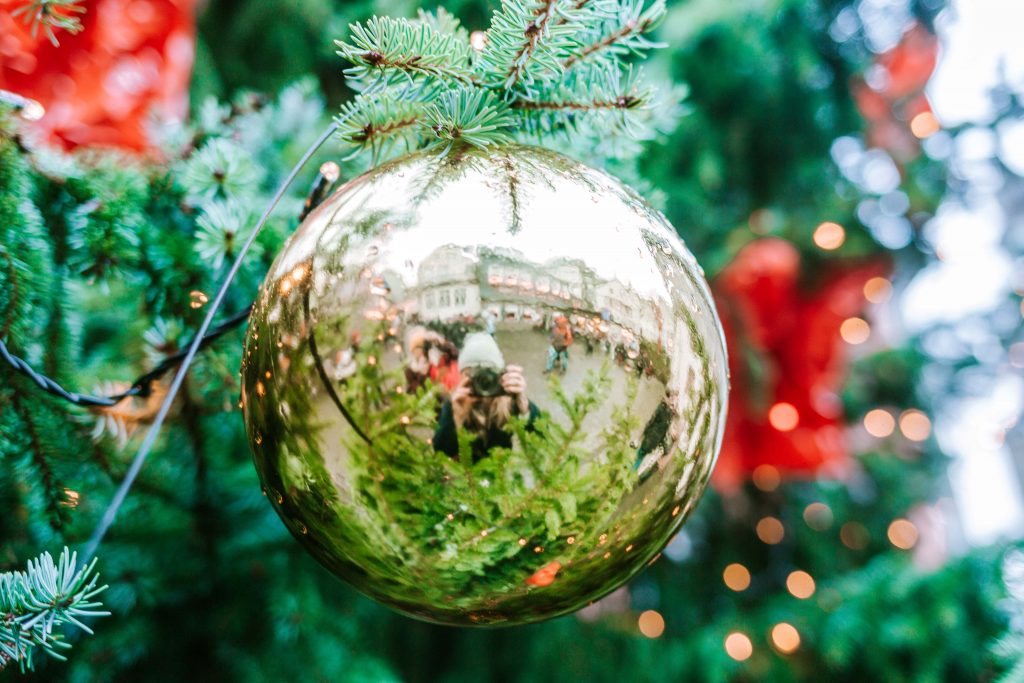 A Seasonal Guide to Visiting Germany: Final Thoughts
Thirty years since its reunification and Germany has transformed into a place united by its natural beauty and historic destinations. Indeed, with the country's UNESCO sites soaring from 8 to its current day 46, this is a country that is not only embracing its past and present, but a place revealing itself to be one of the world's most exciting travel destinations.
Above is just a taster of what Germany has to offer its visitors – towns and islands that not only span both East and West – but places that continue to fly under the tourism radar. Indeed, it may be 30 years since Germany's reunification, but there are still many towns, cities and dark forests left to explore.
Germany, it seems, is still very much a destination revealing itself – and we could not be more pleased.
Pin it: