It might feel a little odd to stumble across this review of the Sureflap Microchip Cat Flap Connect whilst on a travel blog. Yet, before you click away  – in search of someone better suited to write this review – I have a confession. For five long years, I've been carefully nurturing the online persona of a passionate, avid traveller. A travel lover whose very life is devoted to exploring new cities and far-flung destinations. Whilst this is certainly one element of my personality (travel blogging now my 'career'), there is, however, one other passion that I've long harboured.
That passion? Cats.
The proud owner of Beatrice ('Bea', for short) – an overweight, loveable British Blue cross – my life has long been dominated by these demanding furry critters. From getting our first cats, Tom and Jerry, aged five, to buying Bea on the first week I moved into my new home, cats are the centre of my universe. Now accustomed to the annual showering of cat related cards and merchandise every birthday and Christmas, it's a well known fact amongst family and friends that nothing makes me happier than these furry little friends.
When the (predictable) question comes up in conversation as to whether I miss my husband when travelling, I often hesitate. Of course I miss him, but – well awkwardly – I miss Bea more. As a loyal side-kick, saying goodbye to her each time I leave for the airport is a drawn out affair. Showering her with kisses, I instruct her to stay safe – no late night outings whilst I'm away – before squeezing her as tight as I can without suffocating her. Leaving Bea is, in fact, the hardest part of my life as a travel blogger.
Cue: tiny violins.
In the last few months, however, I've discovered the new Sureflap Microchip Cat Flap Connect, which has made me feel far more confident when leaving little Bea behind. Having very much enjoyed using it since September (all whilst completing eight trips around the world), I thought it was about time I wrote a review on this incredibly clever and handy gadget.
So, if you're a cat owner looking for peace of mind that your fur child is safe when you're away from home, read on.
What is the Sureflap Microchip Cat Flap Connect?
Prior to moving to the Microchip Cat Flap Connect, we used a 'traditional' microchip cat flap. With a boisterous cat called 'Buzz' living next door, we purchased the Sureflap Microchip cat flap to prevent other cats (namely him) from getting in. After several months of arriving home to find Bea sat miserably next to empty food bowls – Buzz curled up in her favourite spot on the sofa – we invested in the microchip cat flap to help Bea regain her territory. And her sanity.
With a cat flap that successfully kept the neighbourhood's feline community out, there wasn't much more I thought a modest little 'animal door' could offer, until I saw an advert for the new Sureflap Microchip Cat Flap Connect. My inner crazy cat lady rejoiced.
The Sureflap Microchip Cat Flap Connect is a new generation of cat flaps, enabling far more functionality and data than you could think possible from a small plastic door. Communicating via a 'smart hub', to an app on your phone, the Sureflap Microchip Cat Flap supplies owners with handy functionalities – such as activity trackers and curfew setters – when you're both home and away.
Does my cat need to be microchipped to use the Microchip Cat Flap Connect?
Although microchipping your cat is always preferred, your little friend doesn't need a microchip in order to use the Microchip Cat Flap Connect. Instead, you can purchase the handy SureFlap RFID collar tags (£9.99 for two), that attach to your cat's collar. These will instead supply a unique code to the cat flap, in much the same way a microchip would, to ensure only your cat(s) enter. You can buy the tags here.
How easy is it to set up the Microchip Cat Flap Connect?
Fearful that it would be a long and complicated process, setting up our Microchip Cat Flap Connect was completed in under thirty minutes. The hardest part of the process was in fact enticing Bea through the cat flap, in order for the microchip to be registered. Not one for mid-afternoon exercise, she was eventually tempted by a giant bowl of Dreamies.
The only snag with the setting up process comes via the hub (detailed further below). Plugged into your WiFi router with an ethernet cable (which is included in the set-up pack), the hub also needs to be within 10 meters of the cat flap in order to work. Fortunately for us, our router is located in the kitchen – close to the back door -but for those with a router upstairs, this could prove problematic.
In future, a WiFi based hub (without the requirement of an ethernet cable) would make installation much easier.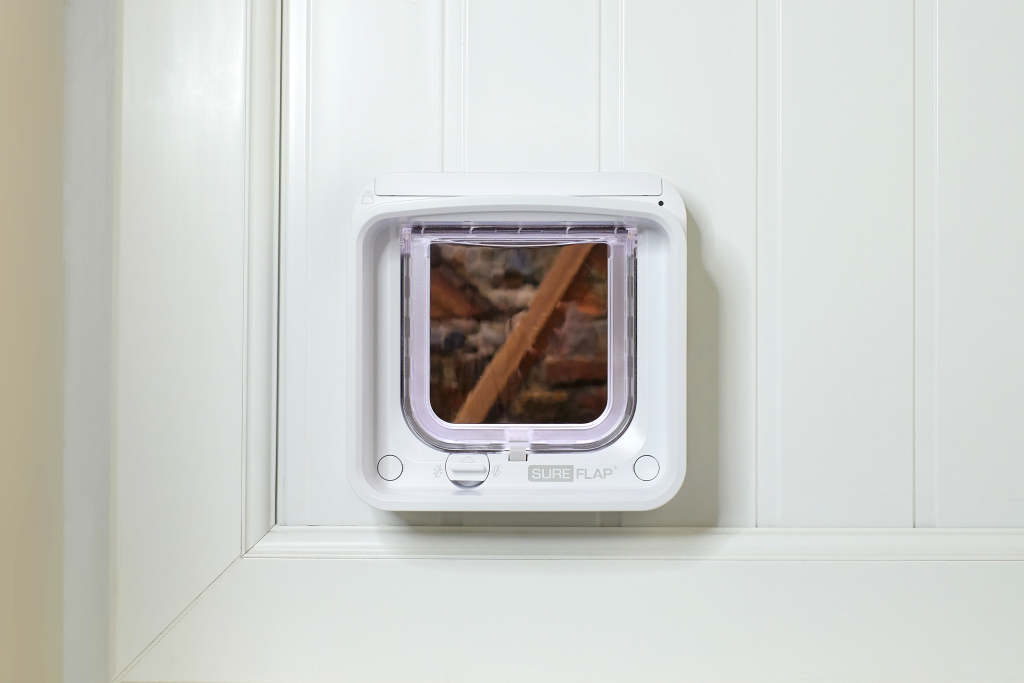 Can the Microchip Cat Flap Connect be used on more than one cat?
In short, yes. The Microchip Cat Flap Connect and app, allows you to add multiple cats to the cat flap and Sure Petcare app. You will find each of your pet's own profiles on the app (complete with profile images – cute), so that you can keep a tab on who is out, and who is in (and who is the laziest family member).
Sure Petcare Hub
Call me shallow, but the first thing that attracted me to the Sureflap Microchip Cat Flap Connect was the ridiculously cute looking hub. A semi circle shape, complete with triangular cat ears, the hub now takes pride of place in my kitchen. As mentioned above, in order to work, the hub needs to be plugged into your WiFi router – the ears turning green when fully set up. The ears will also flash (much to my delight) for notifications i.e. when Bea has returned through the cat flap.
As aesthetically pleasing as it may be, the hub is the crucial part of the Sureflap Microchip Cat Flap Connect. Without it, the Sure Petcare app won't work, so do ensure that you purchase this with the cat flap itself.
The hub costs £49.99 as a stand alone purchase, or you can save £10 by buying the cat flap and hub as a bundle. All products can be bought here.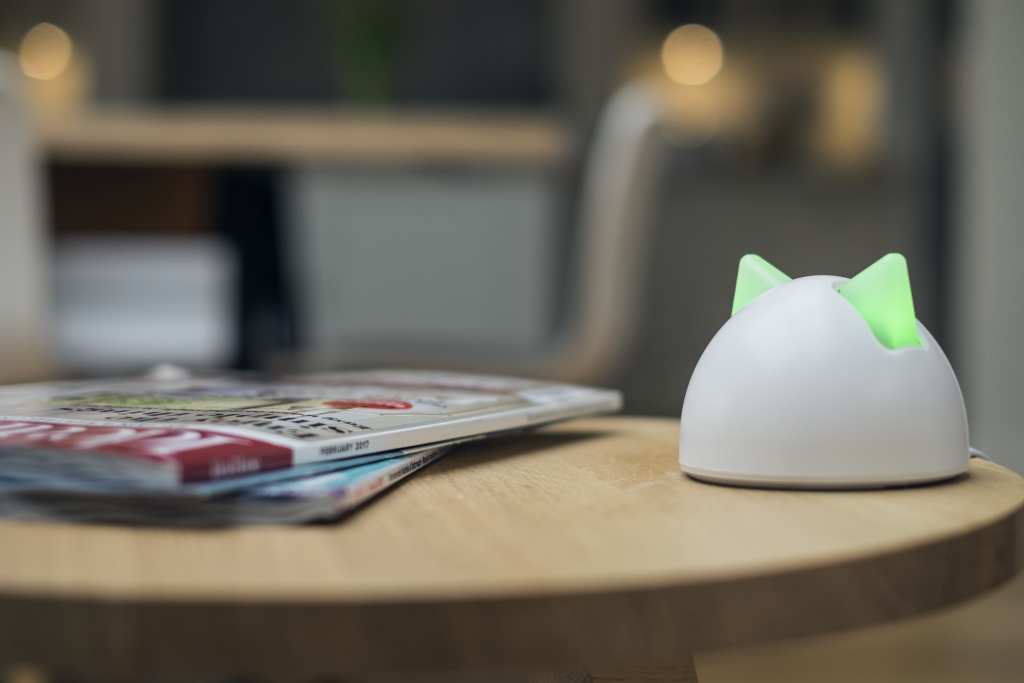 Sure Petcare App
The best part of the Sureflap Microchip Cat Flap Connect is surely the handy app, which can be downloaded from any usual app stores. Connected to the hub, the Sure Petcare app provides me with a dazzling array of information about Bea, which has made managing her safety much easier – especially when I'm travelling.
Below are a round-up of its most useful features:
1.Notifications of when your cat has gone in and out of the cat flap
First and foremost, the app will tell me when Bea has left and returned to the house through the cat flap. With the most gloriously cute 'Meow' sound alerting me to a push notification, the app has proven invaluable when I'm away, as well as providing me with a constant source of amusement. Handily, you can also manually 'mark' your cat as inside or outside (if they escaped through an open door or window, for example) – something I found strangely satisfying.
No longer fretting as to whether Bea is tucked up safely in her cat bed, the Sure Petcare app keeps me up-to-date on her whereabouts 24/7. It's like the Nanny State, only for cats.
2. Curfew settings
One of the most important features of the app is being able to set a curfew for Bea. Like a paranoid mother, I can now enforce a bedtime for my only child. This means setting a time that the cat flap will lock at night (it will let her in, but won't let her go out again after that time). It will then open again in the morning.
With the original Sureflap Microchip Cat Flap, you would need to lock and open the cat flap manually, which could be tiresome when Bea wanted to be let out for her 5am morning patrol. The curfew setting is managed within the app, and also allows you to lock the cat flap if required. Indeed, being able to lock the cat flap from my hotel room in LA, for example, is hugely reassuring.
3. Activity tracking 
From the broader perspective of your cat's health, the Sure Petcare app also offers you handy data to monitor your cat's activity levels. Providing daily, weekly and monthly reports, the app can help inform you of how active (or in the case of Bea – inactive) your cat is. According to the app, Bea currently averages three entries a day, with a total of 1 hour and 40 minutes outside. On reflection, I know more about Bea's exact daily activities than I know about my husband's.
The monthly, longer term activity reports are also particularly handy for spotting anomalies, i.e. if the report shows your cat has suddenly become less active, thus suggesting illness or stress.
4. Share the app with friends and family
This is one of the most useful facets of the Sure Petcare app, especially when I'm travelling. With my husband also away regularly, it's my long-suffering Mum who is often relied upon to feed Bea. Being able to allow my Mum access to the app means she can also keep an eye on Bea's movements. This saves her time (meaning she doesn't have to undertake the normal 'under the bed' search for Bea), and means she largely knows when she'll be waiting by her food bowl.
Conclusion: is the Sureflap Microchip Cat Flap Connect worth the money?
With a considerably higher price tag than your standard cat flap, the Sureflap Microchip Cat Flap Connect isn't for everyone. Indeed, if your cat prefers to live a life of mystery, or if like some, you respect your cat's privacy, then a traditional cat flap might suit your needs entirely.
For those, however, who are trying to keep tabs on multiple cats, or who are often away from home, the Microchip Cat Flap Connect is well worth the investment. Offering me peace of mind over the last few months and allowing me (or my family) to manage her movements from anywhere in the world, the Sureflap Microchip Cat Flap Connect has been a welcome addition to my household.