I've always been captivated by America's Pacific Northwest (PNW).
Rather than finding descriptions of its endless rain, perpetual mist and dark, Sasquatch-filled forests a deterrent, instead they stitched together a sense of place that I found irresistible. 
Although this stretch of rugged coastline might lack California's tantalising golden hues, it seemed to me that this was an area that came in much richer shades: dark forest greens, pacific blues and flannel shirt reds. I entertained romantic notions that mornings here would begin with a steaming mug of coffee in a dimly lit cafe; a place ripe for knitwear and fallen leaves.
Eventually, and after years of visiting other parts of the US, from Florida to Los Angeles, I decided enough was enough; spending one June afternoon searching for cheap flights to Seattle. Seizing my credit card, I booked the most reasonable flights I could find – ten years of dreaming realised in the short time that it took to boil my roast potatoes.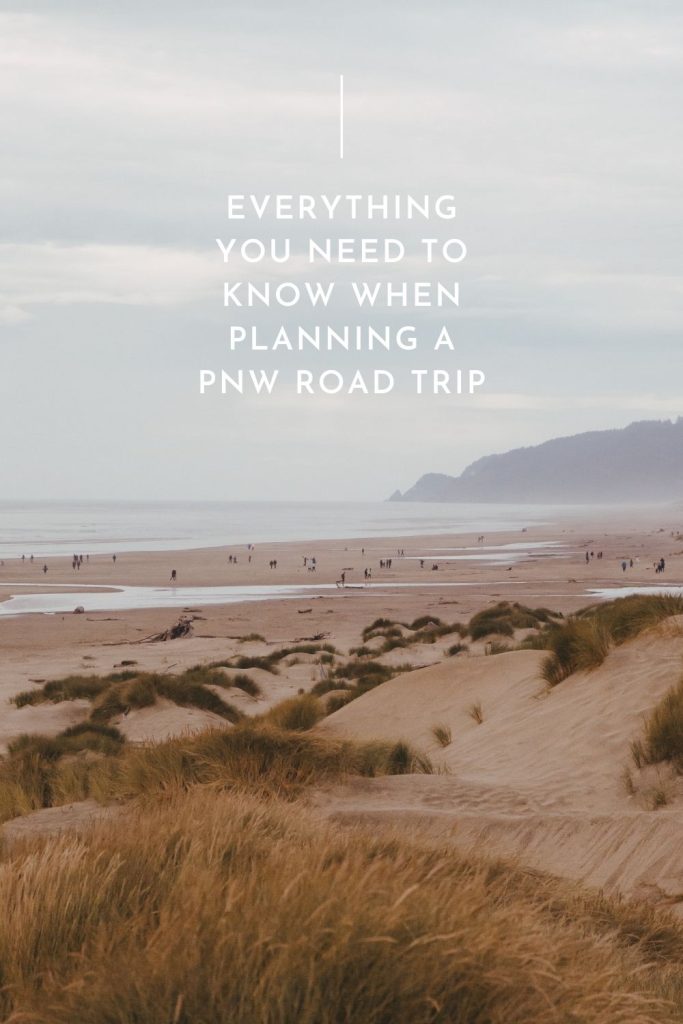 However, I soon realised that booking my flight was merely the beginning.
Browsing a map of America's Pacific Northwest – national parks, towering mountains, azure blue lakes and vibrant cities filling every square inch – I realised that planning a PNW road trip would not be as straightforward as I'd hoped. 
How long should I visit the Pacific Northwest for? How expensive was this area? What should my itinerary for a Pacific Northwest road trip be? Where should I end my adventure? What would be the best way to travel around this region? And where should I stay?
After weeks of agonising, I managed to answer a handful of these questions; eventually putting together a nine day itinerary for my Pacific Northwest road trip. It was an itinerary that would prove unforgettable, but also one that (with hindsight) could have been improved with a little more research.
To ensure that you don't encounter the same pitfalls that I did when planning my adventures, I've put together a guide on everything you need to know when planning a Pacific Northwest road trip.
Including information on how long you should spend exploring this area, where to visit, where to stay, how best to travel the Pacific Northwest and what sort of budget you'll need for such a trip, I hope my experiences ensure that you're able to plan your own, unforgettable and seamless PNW road trip.
Everything You Need to Know When Planning a Pacific Northwest Road Trip
Where Should I Begin a Pacific Northwest Road Trip?
For me, the answer to this question was always obvious: Seattle. 
The northernmost city in America (and a mere three hour drive from Vancouver), Seattle represented the most natural starting point for my PNW adventure.
Intent on beginning my journey north and driving south, starting our PNW road trip in Seattle also meant that we could see a few key sights before even arriving in our second stop – Portland.
We also decided to start our adventures in Seattle in order to manage costs. Whilst some might wish to start their Pacific Northwest road trip in the south –  flying to northern California, perhaps – we found flights to be much cheaper when flying to Seattle (from the UK) than say San Francisco or Los Angeles.
In total, our flights (with British Airways from London Heathrow) were £342 each; which were much cheaper than I'd anticipated.
Starting in Vancouver:
On reflection, and if I had more time, I would have definitely begun my road trip through the Pacific Northwest in Vancouver. 
This Canadian city is often paired with Seattle and Portland in order to form a mighty trio – with each stop offering its own bespoke take on PNW living. With a comparable flight time from the UK, starting our adventure in Vancouver would have provided us with even greater access to independent coffee shops and alpine-fresh forests, before those warmer climes of North California began to creep in.
If you're (as you'll see below) not intent on driving too far south (into California, perhaps), then I'd highly recommend starting your Pacific Northwest road trip in Vancouver; taking the beautiful ferry journey from Victoria to Seattle.
Where to End a Pacific Northwest Road Trip?
How long is a piece of string? 
Trace your finger down the coastline from Seattle and you'll find yourself brushing over some of the US' most beautiful cities and sights. From the Olympic National Park to Oregon's (little known) Wine Country, and from Crater Lake to Okanogan-Wenatchee National Forest, this is an area overflowing with outdoor adventures, quirky neighbourhoods and heady vistas.
Eventually, I decided to complete our Pacific Northwest road trip in San Francisco – venturing across the border into north California.
The reason for this was twofold: firstly, I had (embarrassingly) never visited San Francisco before and secondly, we were keen to include a trip to the Redwoods in our itinerary. An hour or so across the south Oregon border, this momentous valley of trees proved simply too beautiful to resist, and we decided to put the hours in behind the wheel to ensure we caught a glimpse (the Redwoods are a  nine hour drive south of Portland).
However, for those of you who have perhaps already seen the hills of San Francisco, or explored the vineyards of Napa, I would suggest keeping your Pacific Northwest road trip to just Washington and Oregon (and perhaps British Columbia).
Without the added drive south, you'll have plenty of time to explore many more of the national parks that litter this region, including visits to Mt Rainer and Mt Hood, along with the northerly Vancouver Island. 
Ultimately, I would be inclined to base your decision on what sort of adventure you're after. If it's a love affair with the great outdoors you're hoping for – one featuring mammoth lakes and alpine forests – then stick to British Columbia, Washington and Portland.
Alternatively, if you want to experience coastal city life – and watch as the coastline transforms from rocky outcrops to gleaming golden beaches – then you may wish to complete your adventures in San Francisco.
What is the Best way to Travel the Pacific Northwest?
Hire Car 
The US is a (firmly) car-centric society and as such, I'd highly recommend exploring the PNW by car. Not only is it incredibly convenient – with the impossibly long U.S. Route 101 leading to Los Angeles – but a hire car will also come in handy in those areas where public transport is scant (e.g. national parks).
Indeed, without a car, it's likely you'll have to forgo some of the breathtaking vistas that Washington and Oregon have to offer.
If driving, I would highly recommend following Route 101 – if only for its sheer beauty. Tracing the coastline – with intermittent diversions into rocky valleys, dark forests and pretty coastal towns – the U.S. Route 101 is a vacation in itself; offering breathtaking viewpoints and idyllic picnic spots.
For those of you in a hurry, you can also opt to take the Interstate 5 (i5), which whilst less scenic, is slightly faster.
Note: in Oregon you are prohibited from refuelling your own car – so let the attendant see to this task.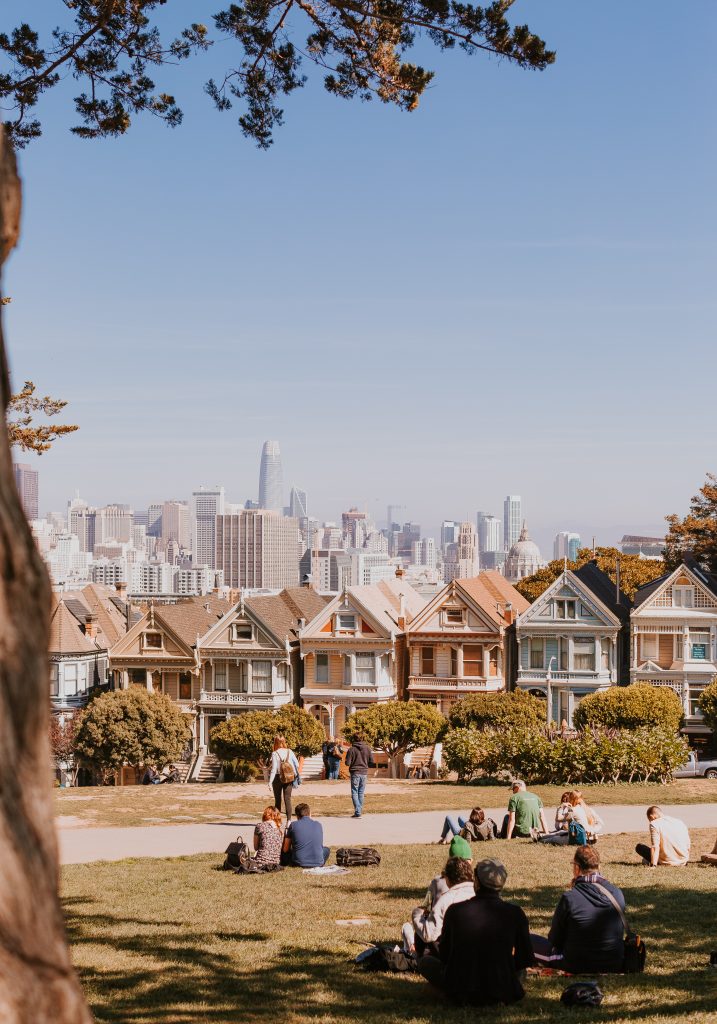 Train – Amtrak and VIA Rail
For those intending to only stop by some of the PNW's major cities, then travelling by train is an alternative option. Although perhaps offering less freedom than a car, travelling by Amtrak is an affordable and efficient way to travel the coast.
The PNW is served by Amtrak's Coast Starlight, which links LA to both Portland and Seattle, via Oakland.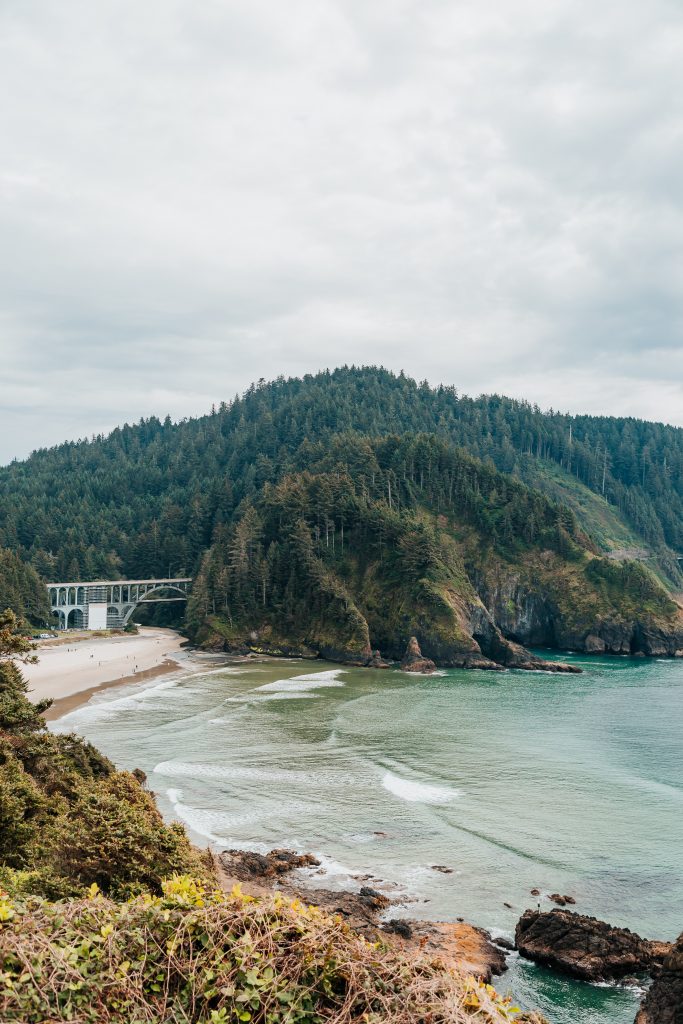 We did consider travelling by Amtrak and had a look at prices, but noticed that they fluctuated. If booked in advance, however, prices are reasonable (for example, if booking four months ahead of time, we found 'Saver' tickets for the Seattle to Portland journey for $28).
However, do be warned that these tickets book out far in advance. 
For those of you hoping to begin (or indeed end) your Pacific Northwest road trip in Vancouver, then you can also use Canada's Via Rail to get around.
Bus – Greyhound Bus
Unlike European countries, the bus system in the US is far less used and as a consequence, less reliable. 
Ironically, travelling by bus could also prove more costly than simply hiring a car. However (and as with rail travel) if booking in advance, you might be able to secure a reasonable price. I had a look at prices four months ahead of time and a single ticket from Seattle to Portland could be purchased for $19 (including one free checked bag). 
Plane
If you're planning on pairing your Pacific Northwest road trip with a city a little further afield (San Francisco, for example) and want to avoid the monotony of a long drive, then flying between Portland and California is a convenient option.
Had we not wanted to see the Redwoods, or been intent on travelling Oregon's coastline, we would have certainly considered air travel.
We found cheap flights viaAlaska Airlines for £53, flying from Portland to San Francisco. United Airlines and Delta also seemed to offer flights for a comparable price.
How Long Do You Need to See The Pacific Northwest?
Again, this is a difficult question to answer. However my advice? The longer the better.
In my haste to book flights to Seattle (and spontaneously deciding to return from San Francisco), I looked at Google Maps and made a mere estimate on how long it would take us to travel southwards from Seattle. 
Nine meagre days.
Indeed, deciding that the distance didn't look 'too far', I naively decided that nine days would be enough for our PNW road trip – something I should have looked into a little more.
In the end, nine days to travel 900 miles was quite the feat and as a result, meant we had less time than we wanted in certain cities (Portland and Seattle), and not enough time to explore some of the PNW's national parks.
Although we still saw a large amount and experienced most of what we hoped to, some days were dedicated to long stretches of driving; meaning precious time was swallowed up by mileage.
If I were to do my Pacific Northwest road trip again, I'd absolutely ensure I had two weeks at the very minimum. This would afford five more days to venture out to the Washington Cascades, visit quaint Astoria and perhaps stop in Napa or Sonoma.
How Expensive is the Pacific Northwest?
The PNW, particularly Seattle and Portland, are not cheap cities to explore.  As such, this might not be your most budget friendly of adventures – something to keep in mind when planning your trip.
Daily Budget
On average, we set aside around $150 a day, but once paired with museum entries or visiting sights such as the Space Needle, we spent easily double this (e.g. combined tickets for the Space Needle and Chihuly Gardens cost $123.90 for two). 
To save money, purchase a Seattle City Pass ahead of your visit. If I had been thinking sensibly, I would have done this and saved myself around 50%.
You might also find our guides to free and cheap things to do in Seattle and Portland helpful.
On average, whilst in Seattle and Portland, I would expect to spend between $150 – $200 a day, dependent on how many museums, galleries or sights you wish to visit (and, of course, food you wish to enjoy).
Eating Out
Whilst food carts (particularly in Portland) meant we could get our hands on fairly cheap meals, some of the main restaurants set us back around $100 per meal, including wine and dessert. 
Parking
Parking was easily one of our biggest costs whilst on our road trip through the Pacific Northwest. Indeed, when booking your hotels (or self-catered accommodation), you'll need to consider where to park your car. In cities such as Vancouver, Seattle and Portland, you can expect to pay anything from $40 – $60 for valet parking each night (if staying in a hotel).
To alleviate this cost, we booked an Air BnB in a suburb in Portland, which came with private parking.
Outside of Portland and Seattle
Outside of Portland and Seattle and things were more reasonable. The Oregon coast and its small seaside towns were fairly  priced, with an evening meal costing $60 for two courses each and a round of beers (note, this was also one of the nicest restaurants in town). 
Petrol
As I mentioned above, gasoline is fairly cheap in the US and as such, we only spent around $100 on petrol, despite driving nearly 900 miles.
When To Visit the Pacific Northwest
We chose to take our Pacific Northwest road trip in October; harbouring romantic notions of fiery red forests flecked with golden leaves.
Thankfully, autumn (or fall) in the PNW is a beautiful time to visit and as a shoulder season (before low season begins), prices are lower, despite the main attractions remaining open.
Whilst I imagine summer in the PNW is beautiful – affording visitors the chance to swim in lakes and enjoy balmy evenings sat outside of microbreweries – prices are significantly more expensive and coastal towns throughout Oregon become more crowded. Additionally, winter will see many of the main sights close to visitors and a decidedly unkind chill often creeps in from the Pacific.
I'd therefore highly advise visiting the Pacific Northwest in the autumn or spring time.
What Are The Top Sights in the Pacific Northwest?
Given the sheer beauty of this region, this is not an easy question to answer.
However, it is generally agreed that there are several key sights that must be visited during any journey through the Pacific Northwest.
Vancouver:
I first visited Vancouver in 2013 and have been longing to return ever since. An ideal city to begin (or indeed end) your road trip, Vancouver epitomises the 'green city' model: one with soaring mountains, miles of coastline and a smattering of islands at its doorstep. Be sure to take a walk through the city's Stanley Park, enjoy a boat ride to Victoria (where you'll discover microbreweries a plenty) and stop by the Vancouver Aquarium (adult tickets begin at $38), if only to catch a glimpse of the Beluga whales.
Seattle:
Perhaps it was those endless evenings spent watching 'Sleepless in Seattle' or cups of coffee whilst watching 'Frasier', but I had high (if not vaguely rose tinted) hopes for Seattle.
The good news? It did not disappoint.
A city wedded to the dark waters and Northwest produce surrounding it, Seattle is both uniquely international and decidedly homely; a place dedicated to farm-to-table cuisine and hikes in the great outdoors.
If visiting, it would be treasonous not to visit the historic Pike Place Market (if only to gawp at the celebrated 'fish throwing'), to not ride high above the clouds in the Space Needle (adult tickets begin at $32.50) or to take in the views of the looming Mt. Rainer from the Olympic Sculpture Park (free to enter).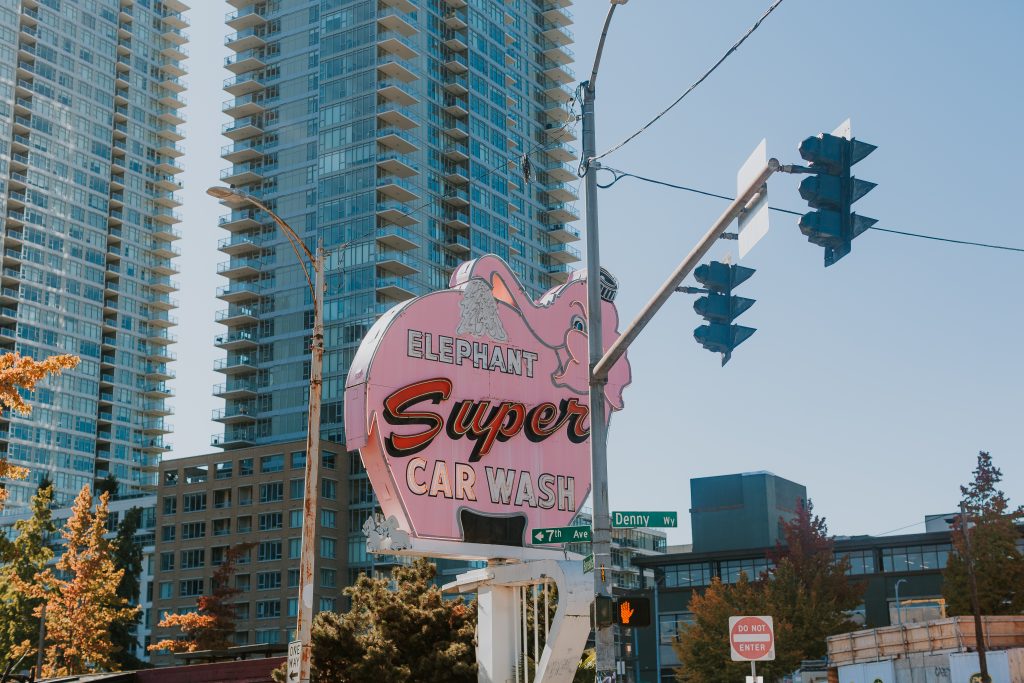 Throughout our stay in Seattle, we stayed at the irresistibly trendy Kimpton Palladian Hotel (look out for the 'Frasier Crane' embossed cushions). Prices begin at £143 per night.
Portland:
 'Keep Portland Weird', or so the famous saying goes. Unapologetically hipster, with a penchant for beards, microbreweries and plaid shirts, Portland is often cited as being one of the US' coolest cities.
Although smaller in size than perhaps some of its neighbours, Portland is home to the headquarters of the likes of Nike, Intel and Colombia – earning it the nickname the 'Silicone Forest'.
As such, it has a small town feel with an (unexpectedly) international flavour.
For any foodies amongst you, Portland will certainly deliver – boasting streets crowded with delicious food trucks and independent coffee roasters. Whilst the city centre might lack the scale of the other Pacific Northwest cities, it's the neighbourhoods you'll want to hang out in – exploring boutique stores, 'tiny massage sheds' and shops dedicated to the finest of axes.
If you do head into the city centre, be sure to swing by Powell's City of Books and head up into the hills for panoramic views from the Portland Japanese Garden (adult entry costs $16.95).
Alternatively, and if you're looking to explore Portland on a budget, then you may find our guide to 10 free things to do in Portland helpful.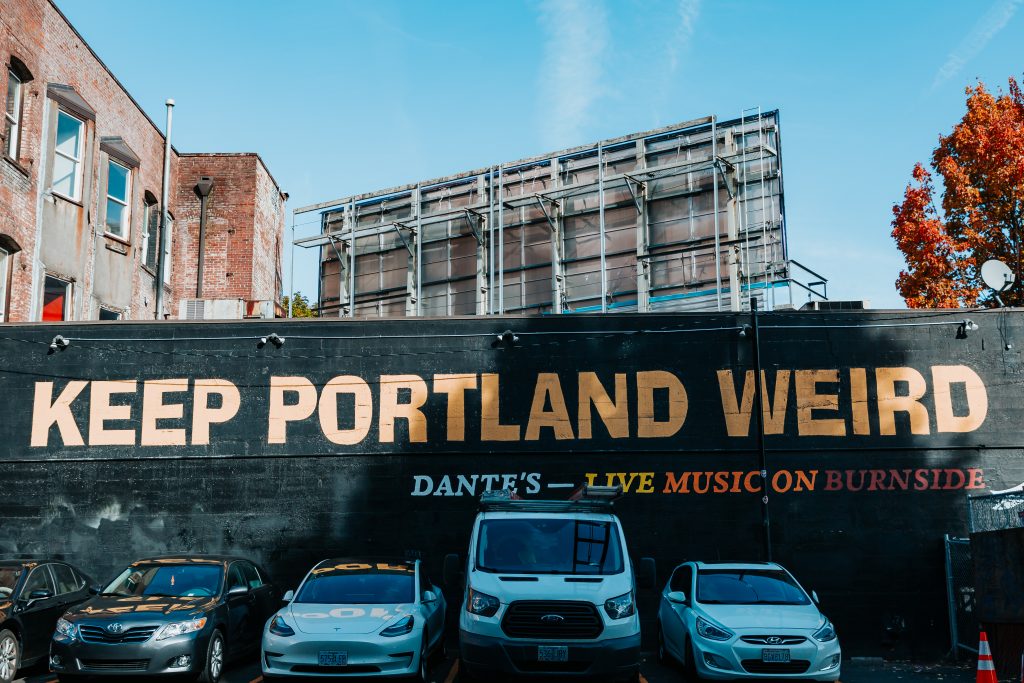 The Oregon Coastline:
 Whilst visitors clamour to experience California's lyrical coast, Oregon's more northerly coastline is often overlooked. Ensure you remedy this by driving at least part of it during your road trip through the Pacific Northwest.
Whilst we covered the entire coastline from Portland to California (staying in the quaint seaside town of Florence at the beautiful Old Town Inn), you might wish to stay within northern Oregon. If so, ensure you visit the mighty Cannon Beach and picturesque town of Astoria, both backdrops to the 1980s movie, 'The Goonies'.
Mt. Rainer National Park & Mt. Hood National Park:
Walk Seattle or Portland's streets and you'll be aware that someone – or something – is watching you: two looming mountains. Whilst Mt. Rainer oversees things in Seattle, Mt. Hood is Portland's stalwart; a constant reminder of both cities' proximity to the great outdoors.
Mt. Rainer – the US' fifth highest peak – is surrounded by a beautiful national park ($25 to park). For easy accessibility, head to the Nisqually entrance, from where you can head towards a fantastic Information Centre.
Mt. Hood is not only a national park, but boasts four ski resorts. Head here to enjoy hikes and, if you fancy it, a 10,000ft climb to the mountain's peak.
The Redwoods:
Although not strictly part of the Pacific Northwest, the Redwoods – a nine hour drive south of Portland – are well worth a visit.
To break up the journey a little, we drove from Portland to the seaside town of Florence, before heading onwards. From here, it was then a further six hour drive to Miranda, deep in the heart of Humboldt Redwoods State Park.
Whilst in the Redwoods, we stayed at the historical (and supposedly haunted) Benbow Historic Inn. Rooms begin at £176 per night.
A quick tip – whilst there is a Redwood National and State Parks (close to Crescent City), these historic forests continue throughout several other parks, including Humboldt, where you'll find the mighty Avenue of the Giants.
A Pacific Northwest Road Trip: Final Thoughts
Whilst travellers have long celebrated the US' Route 66, or perhaps the 'SoCal' inspired road trip from LA to San Diego, the journey through the Pacific Northwest has (perhaps thankfully so) flown under international tourism's radar.
However, and having now spent nine days exploring this beautiful area – I'm not entirely sure why. An intoxicating blend of trendsetting cities, soaring mountains and dune littered beaches, the PNW is one of America's most beautiful – and exciting – regions.
Lacking the crowds of San Francisco or LA, a road trip here provides space, alpine fresh air and a healthy dose of coffee-shop sprawling. It is an area that you could dedicate weeks to and still feel that you've only scraped the surface of the snow capped mountains surrounding you.
In short, the Pacific Northwest – a place that is at once cosy and bracing, homely and international – is everything I had both hoped and imagined it would be.
Looking for a complete itinerary for a Pacific Northwest road trip? Why not read our nine day itinerary for driving Seattle to San Francisco.