After a week exploring the leafy Pacific Northwest, it was time for the final leg of our trip: a weekend in San Francisco.
I'll admit: I felt a little guilty that we'd left so little time to explore this complex and veritable rainbow of a city. In fact, I'd been so fixated on the idea of exploring Seattle and Portland – dreams of hipster coffee spots and dark forests filling my mind – that when it came to planning our own PNW road trip, San Francisco had been a bit of an after thought.
Embarrassingly, we decided to visit the city as it seemed a handy place to finish our trip, return our car and fly home to London.
However, and as we approached its golden bridge – the light bouncing off the waters of the famous San Francisco Bay – I immediately regretted our decision. Ahead of us the city balanced like a wave on a hill; pastel rows of houses tumbling downwards and the Pacific blue ocean framing its edges.
I panicked: had we left enough time to really experience this city? Would 48 hours in San Francisco be enough?
As it turns out, and after some fastidious planning, a weekend in San Francisco was all we needed. In the space of just two days, we explored its  rainbow-painted streets, gawped at its vibrant street and sampled some of the city's best bars and restaurants.
Below is the itinerary that we followed – ideal for those of you, who like us, might be a little short on time.
A Weekend in San Francisco
Saturday
Areas to explore: The Mission, Castro, Golden Gate Park and Haight-Ashbury.
Saturday Morning: Explore The Mission
Rather than beginning your time in San Francisco fighting the crowds at the usual tourist hotspots, instead head inland: towards The Mission.
San Francisco's very first neighbourhood, The Mission is the city's Ground Zero: a historic and blended area often cited for its 'grittiness'. Founded by the city's Spanish padres in 1776, today The Mission has clung to its Latino roots; its walls decorated with murals painted by the likes of Diego Rivera.
Once overlooked by tourists, today The Mission has – perhaps unavoidably – become the new hipster hangout. A place that blends young families, tech professionals and a large Mexican community, the neighbourhood's vibrancy has bought about some of the city's best new restaurants and artsy hangouts.
8.30am: Breakfast at Newkirk's
Since making the pilgrimage to Egg Slut whilst in LA, I like to think of myself as a connoisseur when it comes to oozing egg and brioche sandwiches.
Unsurprisingly, when I heard about Newkirk's in San Francisco, I immediately had to visit.
Opened by a native New Yorker, the fried egg sandwiches at Newkirk's bring a little East Coast comfort to West Coast living. Offering everything from the humble one egg sandwich, to a pick'n'mix approach including cheddar, pastrami and applewood smoked bacon, brunch here is a gut busting affair.  and a brilliant way to start your weekend in San Francisco.
Just be sure to ask for their 'special sauce'.
9.30am: Explore The Mission's Murals (Balmly Alley & Clarion Alley)
When planning our 48 hours in San Francisco, we'd heard rumours that if we ventured deep into the heart of The Mission, we'd find a treasure trove of vibrant, historic and poignant murals.
Initiated by the likes of Mexican painter, Diego Rivera, his work – alongside other Latino artists – resulted in an outburst of artistry; with over 500 different murals eventually appearing on The Mission's walls.
In fact, it's now said that the area has the highest concentration of street art than any other neighbourhood in the world.
To ensure you don't spend too long wandering around a little aimlessly, head straight to Balmy Alley and nearby Clarion Alley, where you'll find a rainbow of politically pertinent, culturally significant and beautiful murals.
Balmy Alley: A haven of politically-charged murals since the 1970s, Balmy alley is a dazzling blend of colourful artwork and sensitive messaging. Concerning topics such as gentrification, police harassment and indigenous cultures, you could easily spend 30 minutes exploring this small, unassuming alley.
Clarion Alley: A short walk from Balmy Alley is the equally kaleidoscopic Clarion Alley. The art work here is updated a little more regularly, with only a few historically significant pieces remaining.
Instead, the murals here concern the modern day challenges facing San Francisco, such as rapid gentrification and homelessness.
10am: Head to the Women's Building
Easily one of my favourite buildings in San Francisco, the Women's Building occupies an entire street corner: featuring an unapologetically loud, bold and divine mural dedicated to feminine power.
The artwork – known as 'MaestraPeace'–  was completed by seven female artists in 1994, including the likes of Juana Alicia, Miranda Bergman and Edythe Boone.
The largest and perhaps best known mural in the city, a visit here should definitely feature during your weekend in San Francisco.
Midday: Urban Putt (Saturday and Sundays Only)
For those of you with a penchant for mini golf, you'll find a fantastic indoor course right in the heart of The Mission: Urban Putt.
Costing $12 to enter (adults), this 14 hole mini golf course is brilliantly retro, creative and eclectic, with a in-house restaurant serving everything from Mac n Cheese to Gumbo.
1pm: Walk To The Castro (between a 25 – 40 minute walk)
during
Within walking distance of The Mission (grit your teeth up those hills), lies another San Francisco institution: The Castro.
A world famous LGBTQ+ destination, The Castro is a colourful, intoxicating and dynamic place. Here you'll discover a sea of rainbow flags, businesses flaunting wicked double-entendre names, drag queens aplenty, finely decorated theatres and fabulous thrift stores.
1.10pm: Find the Rainbow Crosswalk
A resident of Castro since 2014, the Rainbow Crosswalk is one of San Francisco's most iconic photo spots.
Spanning the crossing at the 18th and Castro intersection, this colourful feature regularly appears on Instagram feeds and offers a kaleidoscopic introduction to this vibrant area.
1.25pm: Pass Castro Theatre
Another spot not to miss during your 48 hours in San Francisco is the historic (and beautiful) Castro Theatre.
Built in 1922 by the Nasser Brothers, the Theatre is one of the longest running movie theatres in the country – still offering regular viewings of new and vintage films.
Unfortunately, to fully appreciate the Spanish, Oriental and Italian architecture you'll find inside, you'll need to buy a ticket to see a film ($10 – $13) – something I'd definitely recommend. during your weekend in San Francisco.
1.30pm: Grab a Sandwich and Head to Mission Dolores Park:
For a quick lunch and a great view, head to Dinosaurs for tasty Vietnamese sandwiches, before making the short walk to Mission Dolores Park.
One of the city's most popular parks – spanning 16 acres – this is not only a fantastic place to sit and people watch, but a place to enjoy incredible views of the wider Bay area.
3pm: Visit the Conservatory of Flowers
Whilst we made the (uphill) 50 minute walk to the peaceful Conservatory of Flowers (found within the Golden Gate Park), I would recommend simply getting an Uber here; saving you both time and tired feet.
The Park itself represents one of San Francisco's largest green spaces, covering some 1,000 acres. Perched high above the city, this green oasis offers a quiet refuge from the chaos of city life.
At its heart is the magnificent Conservatory of Flowers. A resident in the city since 1878, this peaceful, Victorian Style, glasshouse is filled with exotic plants and ornamental foliage.
Costing $11 to enter, visitors can spend as long as they want wandering the building's connecting spaces; browsing tropical plants, lily ponds and delicate flowers.
3pm: (alternatively) – Visit Haight-Ashbury:
For those of you hoping to experience more of San Francisco's famously alternative side, instead leave The Castro behind and head to the neighbourhood of Haight-Ashbury.
Home to psychedelic shops, marijuana vendors and stores selling everything from vintage clothing to healing crystals, this area of San Francisco has long attracted the city's punks, hipsters and yogis.
Lined with gothic-inspired Victorian mansions, Haight-Ashbury is also incredibly photogenic; with lurid green homes and dazzling pink mansions lining its streets.
It's therefore absolutely worth visiting during your weekend in San Francisco.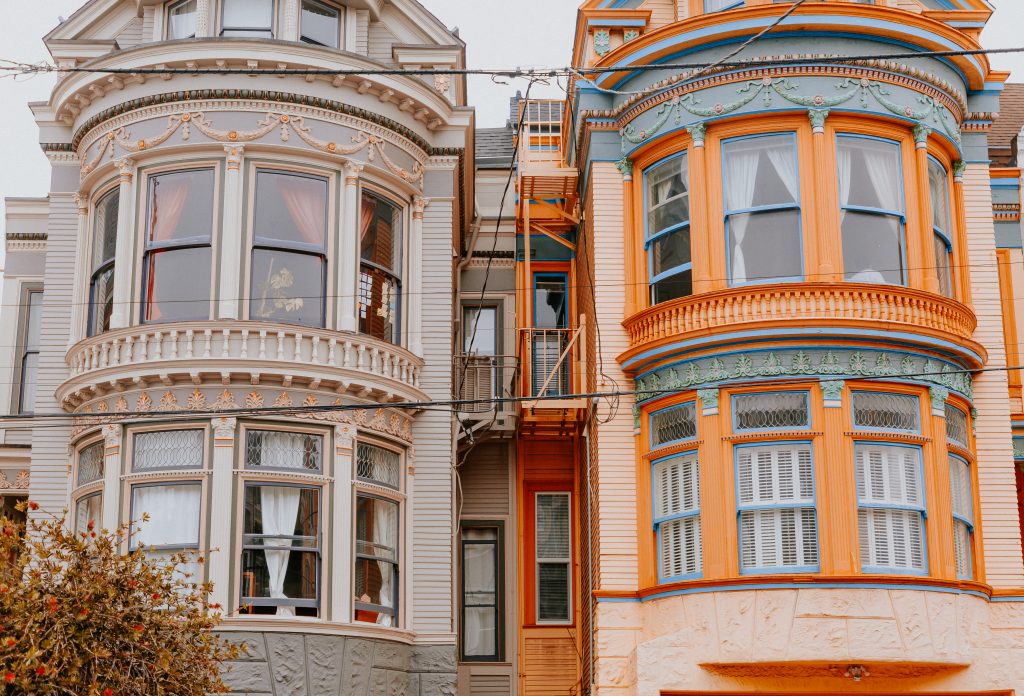 5pm: Evening Views: The Painted Ladies  (710–720 Steiner Street)
From Haight-Ashbury, or the Golden Gate Park, begin a lazy descent back towards downtown San Francisco; making an obligatory stop at the city's most famous residents: the iconic Painted Ladies.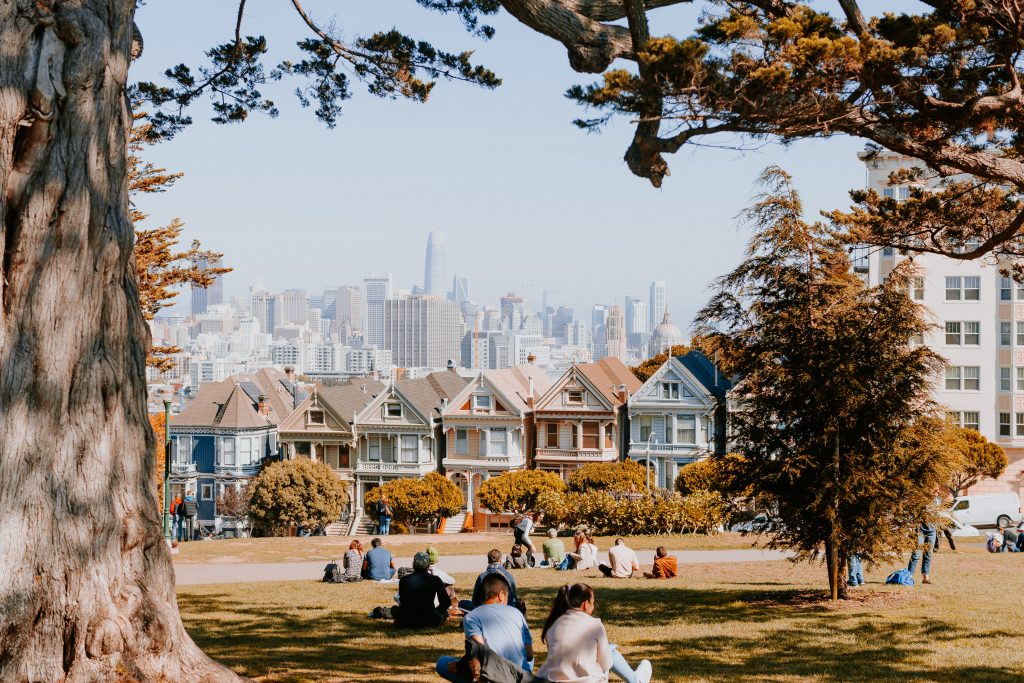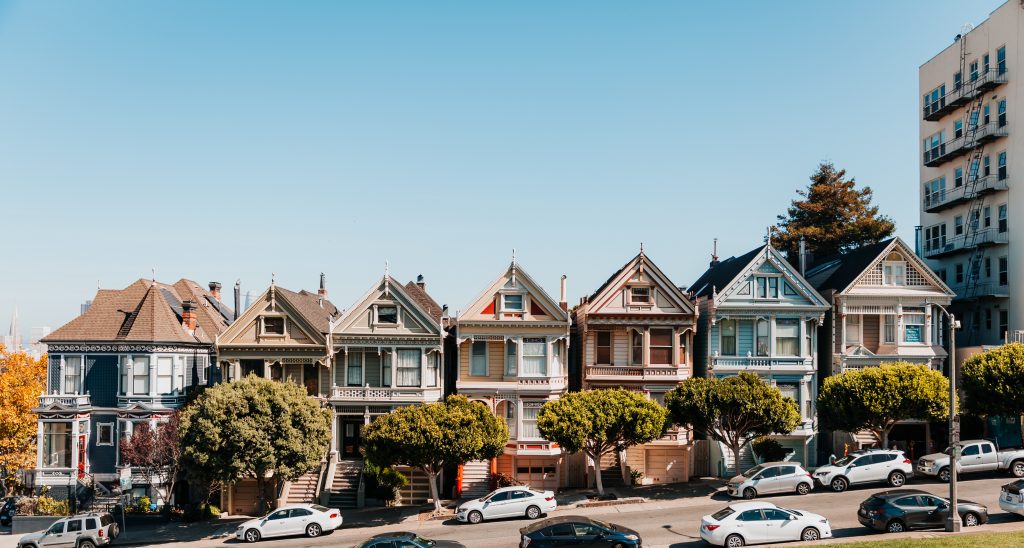 Located opposite Alamo Square – with sweeping views of downtown San Francisco – the Ladies are a collection of Victorian and Edwardian homes, each painted a different dusky shade. Having appeared in over 70 films, television shows and adverts, this small selection of San Francisco's real estate is the city's most famous.
Arrive here just as the sun is setting over the city for unforgettable – and unbelievably beautiful – views.
7pm: Dinner At Rich Table
A thirty minute walk downtown will lead you to the fresh, seasonal and ever popular Rich Table.
A vision of reclaimed wood and light filled spaces, Rich Table offers fresh Californian fare alongside carefully selected wines. For a real treat, be sure to try their Porcini Mushroom doughnuts.
9pm: Drinks at Smugglar's Cove
If you still have some gas in the tank (understandable if not), why not head for Saturday night drinks at the irresistibly fun Smugglar's Cove.
Not only offering some of the best rum cocktails in the city, this bar is decorated like no other: a blend of a pirate ship, a tropical hideaway and a sailboat.
My advice? Try the 'Top Notch Volcano' or 'The Dead Reckoning' cocktails for a real taste of island living.  weekend in san Francisco
Sunday
Areas to explore: Fisherman's Wharf, Chinatown, Union Square and Alcatraz.
9am: Breakfast at Dottie's True Blue Cafe
Dedicate at least an hour of your weekend in San Francisco to breakfast at the immensely popular Dottie's True Blue Cafe.
Although you'll likely have to queue, it's well worth the wait just to try Dottie's famously fluffy pancakes – complete with spiced ginger and cinnamon.
A San Francisco institution, breakfast here is the perfect way to start any Sunday.
10.30am: Head Towards the Ferry Building
The Ferry Building is perhaps one of San Francisco's most iconic buildings: its neat flag framed against pastel skies and the distant sparkle of the Oakland Bay Bridge.
Once the city's main transit hub, today the Ferry Building is filled with some of the city's tastiest spots to eat, including Biscuit Bender, Blue Bottle Coffee, Humphry Slocombe (ice-cream) and the Donut Farm.
Spend a slow hour exploring this beautiful building, sampling some of San Fran's most famous treats.
11.30am: Explores the Fisherman's Wharf
It might be a little cliché, but there truly is no other place more San Francisco-esque, than the busy, brash and vibrant Fisherman's Wharf.
Although expectedly touristy in parts, it's difficult not to get swept up by its seaside atmosphere. Visit here and try your hand at kiosk games before joining the crowds at Pier 39 to watch the resident sea lions soak up the sun.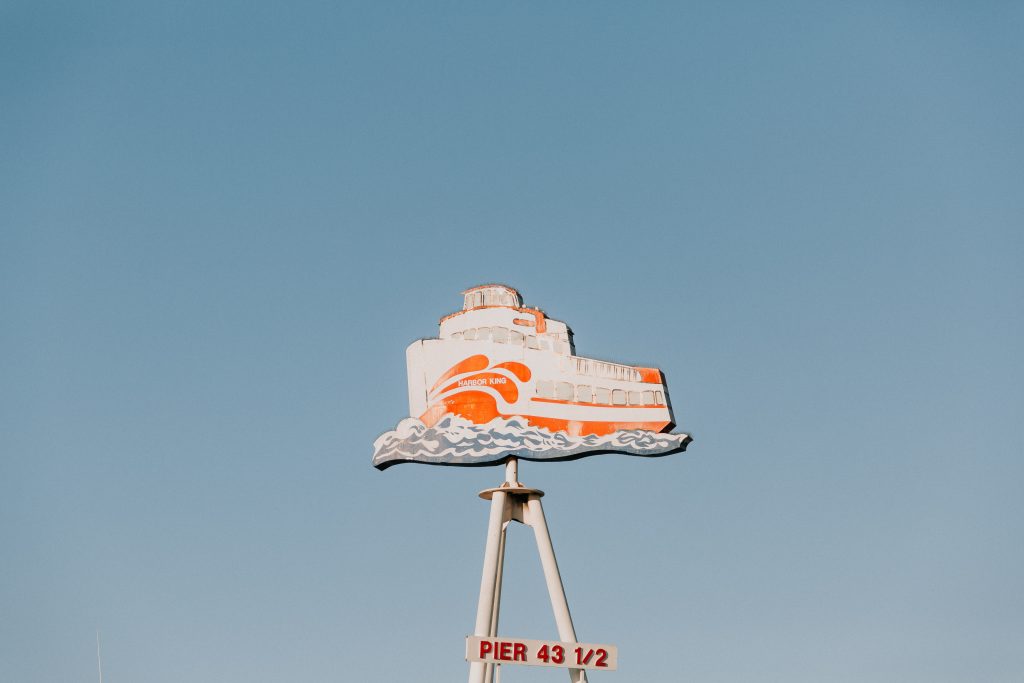 1pm: Visit the Golden Gate Fortune Cookie Factory
Tip: To find it, search 'Ross Alley'.
Although a little niche, there was one place I was determined to visit during our weekend in San Francisco: and that was the Golden Gate Fortune Cookie Factory.
A resident of the city since 1962, the Factory can be found in the heart of the city's atmospheric Chinatown. Producing 10,000 cookies a day, in 2016 the Factory received the coveted title of 'San Francisco Legendary Business' – making it a popular tourist attraction.
Today, visitors are able to watch the cookie making process, alongside sampling a dizzying variety of flavours: from vanilla to chocolate, green tea to strawberry. After your tour (it's a tiny place, so this won't take long), you're free to watch the staff at work, before stocking up on your own bags of cookies.
3pm: Grab a Delicious Custard Tart at the Golden Gate Bakery
A short walk from the Cookie Factory (and still within Chinatown) lies the legendary Golden Gate Bakery; a place that you'll most likely smell first, before you see it.
Again, and like Dottie's True Blue cafe, you should expect to join a fairly long line when you arrive at the Bakery – but (and yet again), the wait is worth it.
Claiming to make the best custard and egg tarts on the West Coast, here you'll discover crowds of tourists leaving with steaming hot pastries hidden in small paper bags.
They are nothing short of delicious.
3.30pm: Visit the Museum of Ice Cream, San Francisco
Less a museum and more a vision of pink sprinkles, glitter and limitless treats, San Francisco's Ice Cream Museum is one of the city's latest attractions.
Costing $38 to enter (and bookable only online), the Museum is certainly not cheap, but with promises of  unlimited ice cream and (dare I say it) plenty of 'instagrammable' exhibitions, it's difficult to resist.
Whilst I won't spoil what you'll find inside – do expect to get hands on. Think ball pits, giant unicorns and treasure hunts. It's childish, wacky and largely an aesthetic experience – but a glorious one none the less.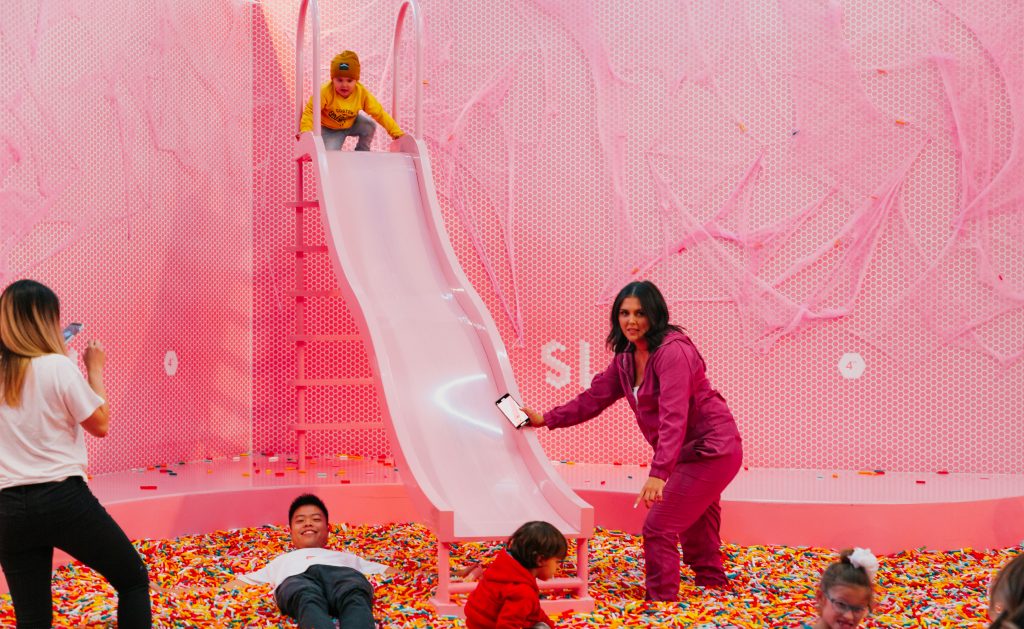 5pm: An Alcatraz Evening Tour
For anyone visiting San Francisco for the first time, it would be sacrilegious not to plan a trip to its most haunting of residents: Alcatraz.
The inspiration behind J.K Rowling's Azkaban, Alcatraz clings to a lonely outcrop out in the cold waters of the Frisco Bay; its cells and windows turned towards the city lights.
Known locally as 'The Rock', Alcatraz has played host to Civil War deserters, Native American prisoners, US soldiers convicted of war crimes and – perhaps most famously – a who's who of some of the country's most violent and dangerous criminals.
Harbouring inmates such as Al Capone and Machine Gun Kelly, this is a prison filled with its own myths and legends.
Whilst tours of Alcatraz run throughout the day, I'd highly recommend booking an evening tour. Arriving on the island as the shadows begin to lengthen, the prison's dark corners and cells seem to come alive once darkness falls, making the whole experience all the more atmospheric (and a little spooky).
Tickets begin at $44 for adults.
9pm: Tonga Room & Hurricane Bar (Fairmont San Francisco Hotel)
There's perhaps no better place to end a weekend in San Francisco than at the brilliantly eclectic Tonga Room & Hurricane Bar.
A Tiki Bar with a difference, a visit to the Hurricane Bar is an immersive experience: filled with tropical decor, Polynesian fusion dishes and its very own lagoon, including (legend has it) occasional rain storms, complete with thunder and lightening.
A popular resident of the city since 1945, visit here for final drinks and the chance to dance until the early hours to the tunes of the resident 'Island Groove Band'.
It will offer the perfect end to a busy, yet (and I hope) unforgettable 48 hours in San Francisco.