Do you suffer from travel anxiety?
We can help you overcome anxiety and see the world.
Having heard rumours of churches decorated in intricate blue and white tiles, breathtaking river views and charming alleyways, we were keen to compile a list of the best Instagram spots in Porto before our own trip, last week.
During our three days in Porto, we stumbled across many more picture-perfect sights than we'd written down. Allowing ourselves time to wonder the city's many lanes and hillsides, we discovered quirky street-art, unexpectedly quintessential English country gardens and one of the prettiest train stations in Europe.
A photographer's paradise, this city is fantastic to explore – camera in hand. After three days discovering every nook and cranny of this underrated city, here's our list of the 18 best Instagram spots in Porto.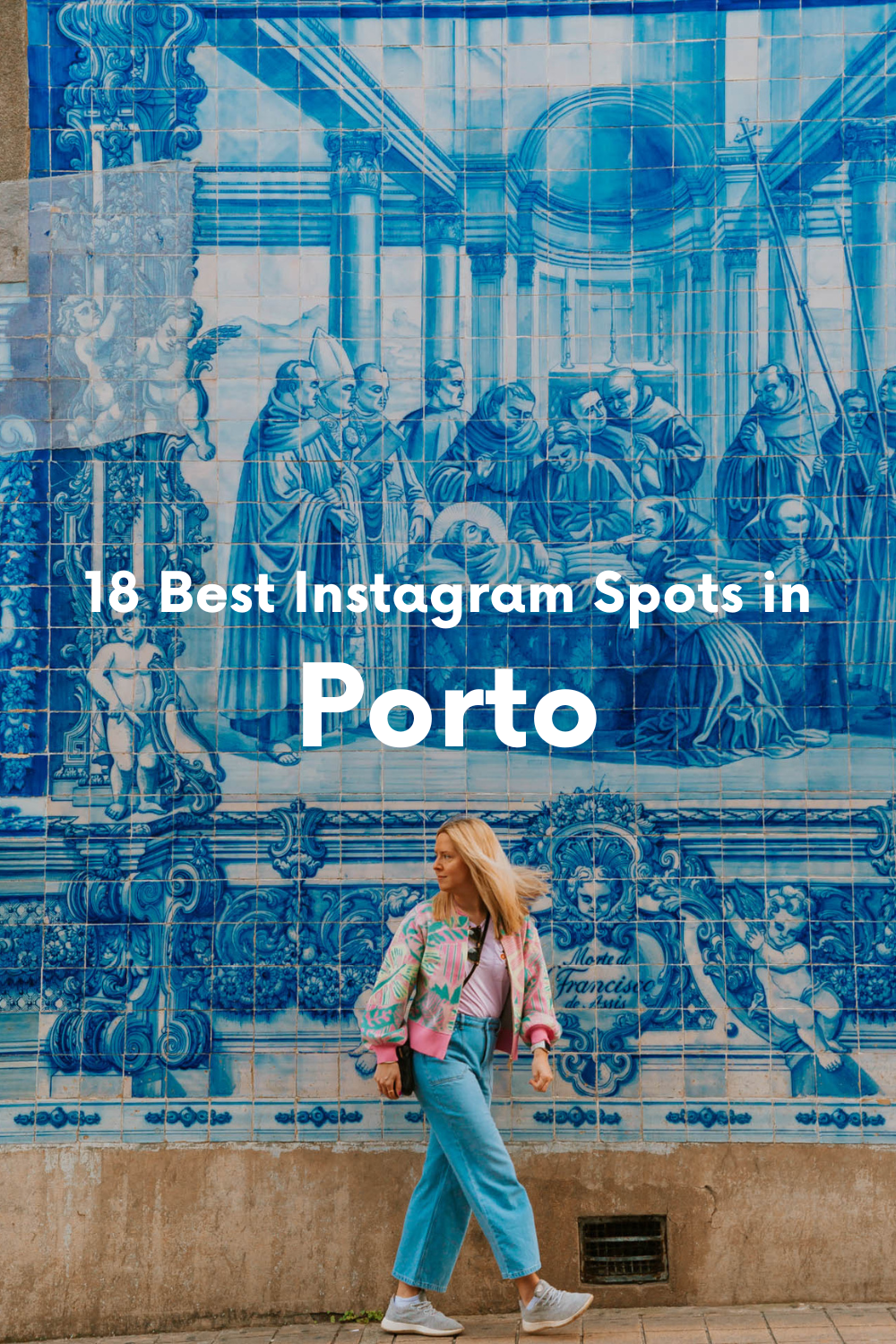 18 Best Instagram Spots in Porto
1. Palácio da Bolsa
Although the exterior of Palácio da Bolsa may look unassuming, it's the interior of this former Stock Exchange that makes it the prettiest building in Porto.
Built between 1842 to 1910, Palácio da Bolsa is a labyrinth of seemingly endless neoclassical rooms, all of which are exquisitely decorated with artwork, murals and mosaics.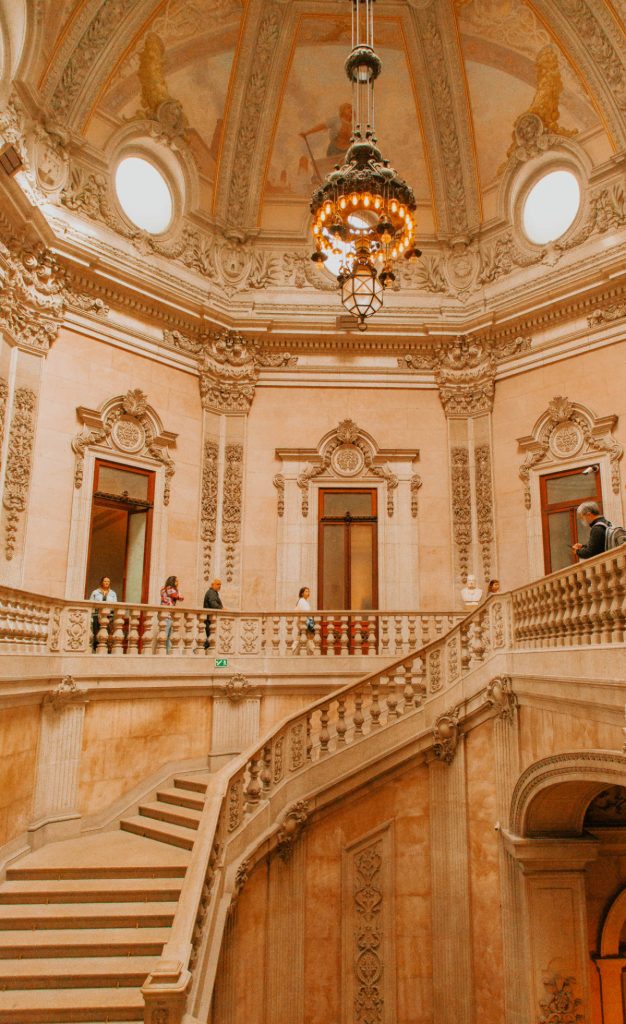 You can visit the building via a 30-minute guided tour, which ends with the Palacio's showstopper: the Arabian Room. Adorned with stunning Moorish designed tiles, 20kg of gold leaf and gleaming stucco arches, this room will take your breath away.
2. Pérola do Bolhão
This unassuming delicatessen has quickly become one of the most popular Instagram spots in Porto, thanks to its pretty Art Nouveau entrance.
Decorated with pastel green and yellow tiles – detailing two women drinking tea – this is a beautiful store to photograph in Porto. Pop inside and you'll be met with cabinets bursting with traditional products – including sardines, dried fruit and plenty of Portuguese red wine.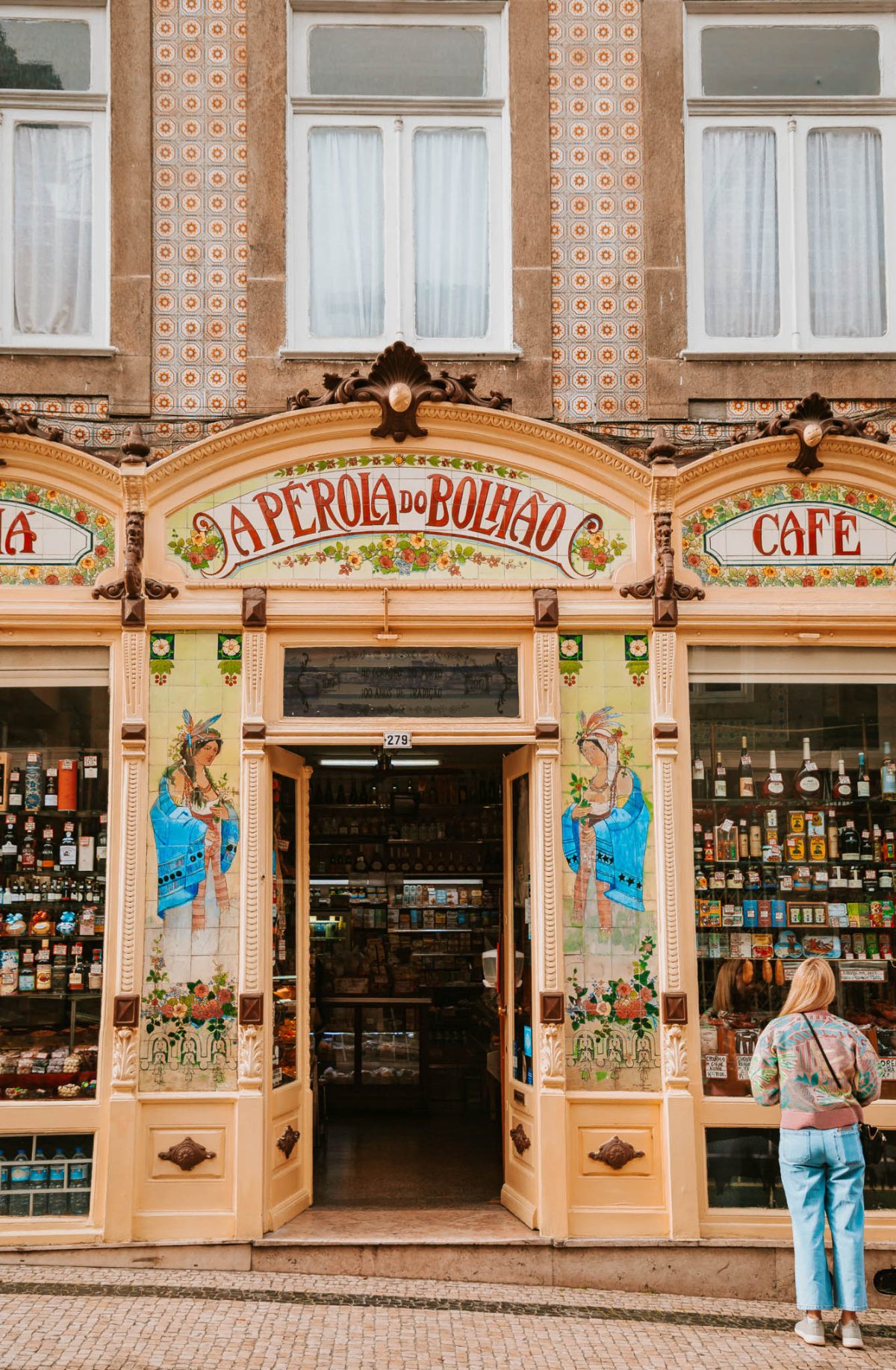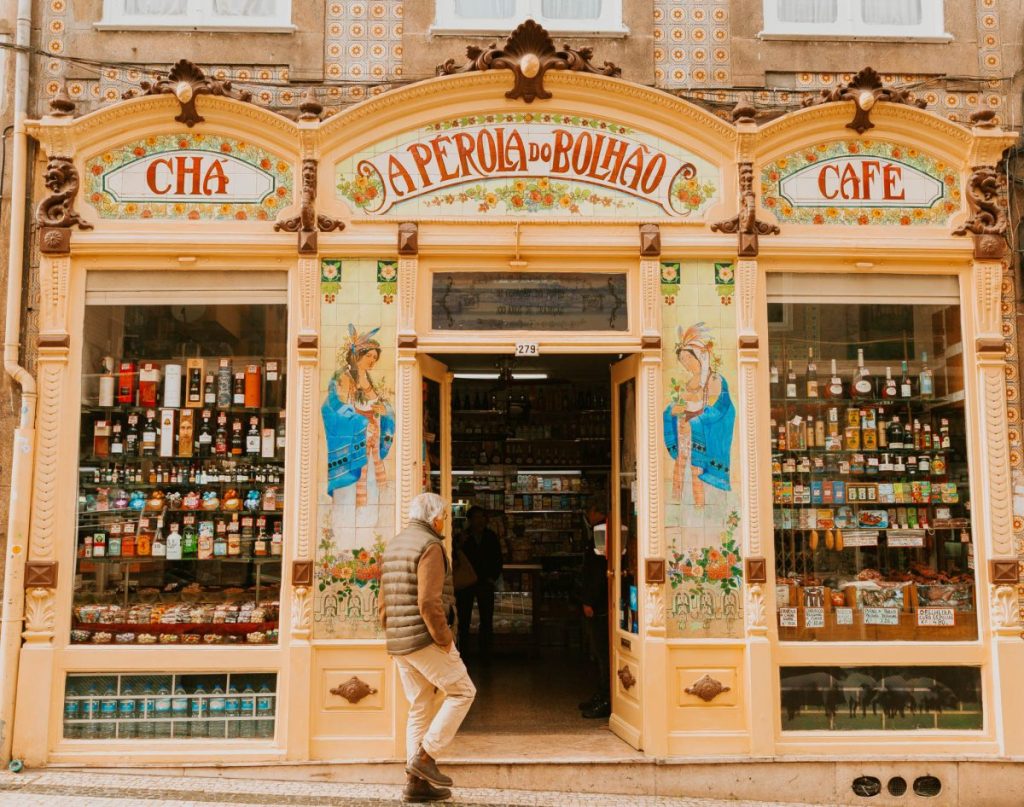 3. Sé (Cathedral)
No list of the best Instagram spots in Porto would be complete without mentioning the city's magnificent Cathedral – Sé. Sitting atop a soaring hill overlooking the city, the views themselves make visiting here worth the climb.
Views aside, the interior of Sé is just as impressive – boasting a Romanesque barrel-vaulted nave and imposing Gothic windows. Be sure to stop by the Cathedral's cloisters to see its gleaming blue and white azulejo that date back to the 18th century.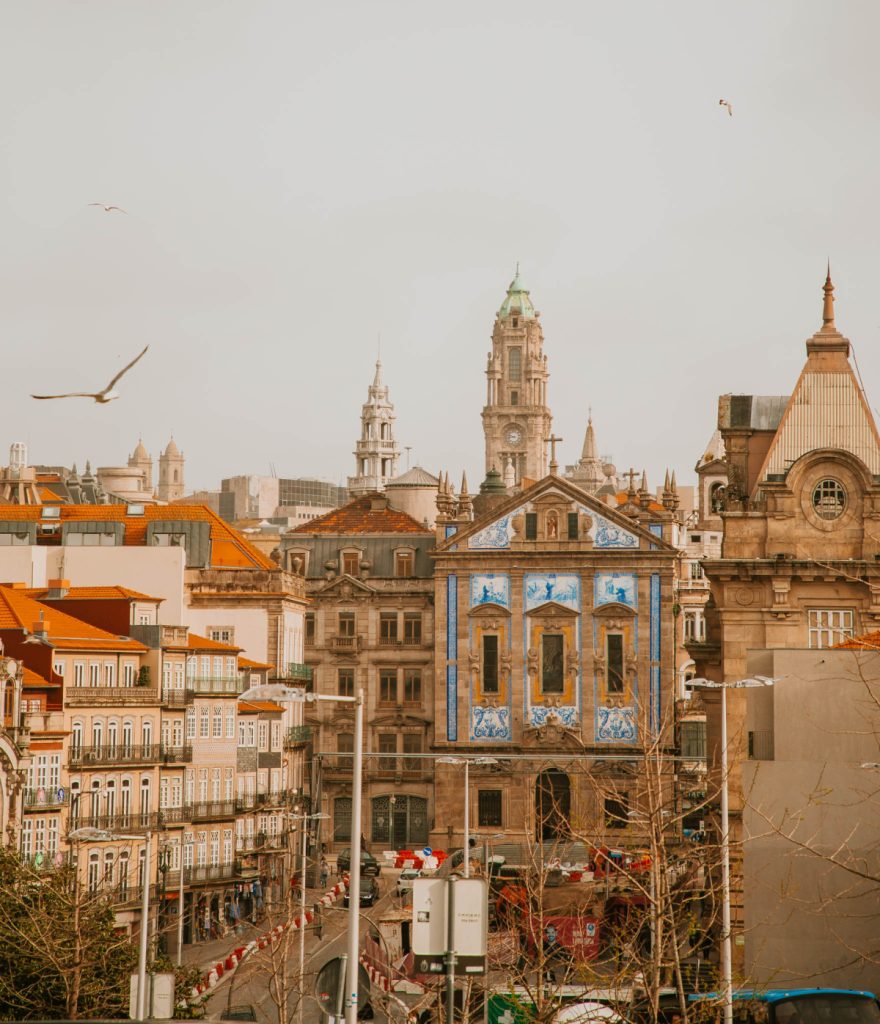 4. Parque de Serralves
Leafing through our Porto guidebook, we stopped at a photo of a building altogether different from the baroque buildings that fill this city. This was a pink, Art deco villa found in the gardens of Parque de Serralves.
This distinctive villa was built by the second Count of Vizela, who inspired by his travels, wanted the home designed in Streamline Moderne style. As such, it looks like something straight out of a Wes Anderson movie. Inside, you'll discover contemporary art on display, which supplements the gleaming white U-shaped art museum that also sits on the site of Serralves.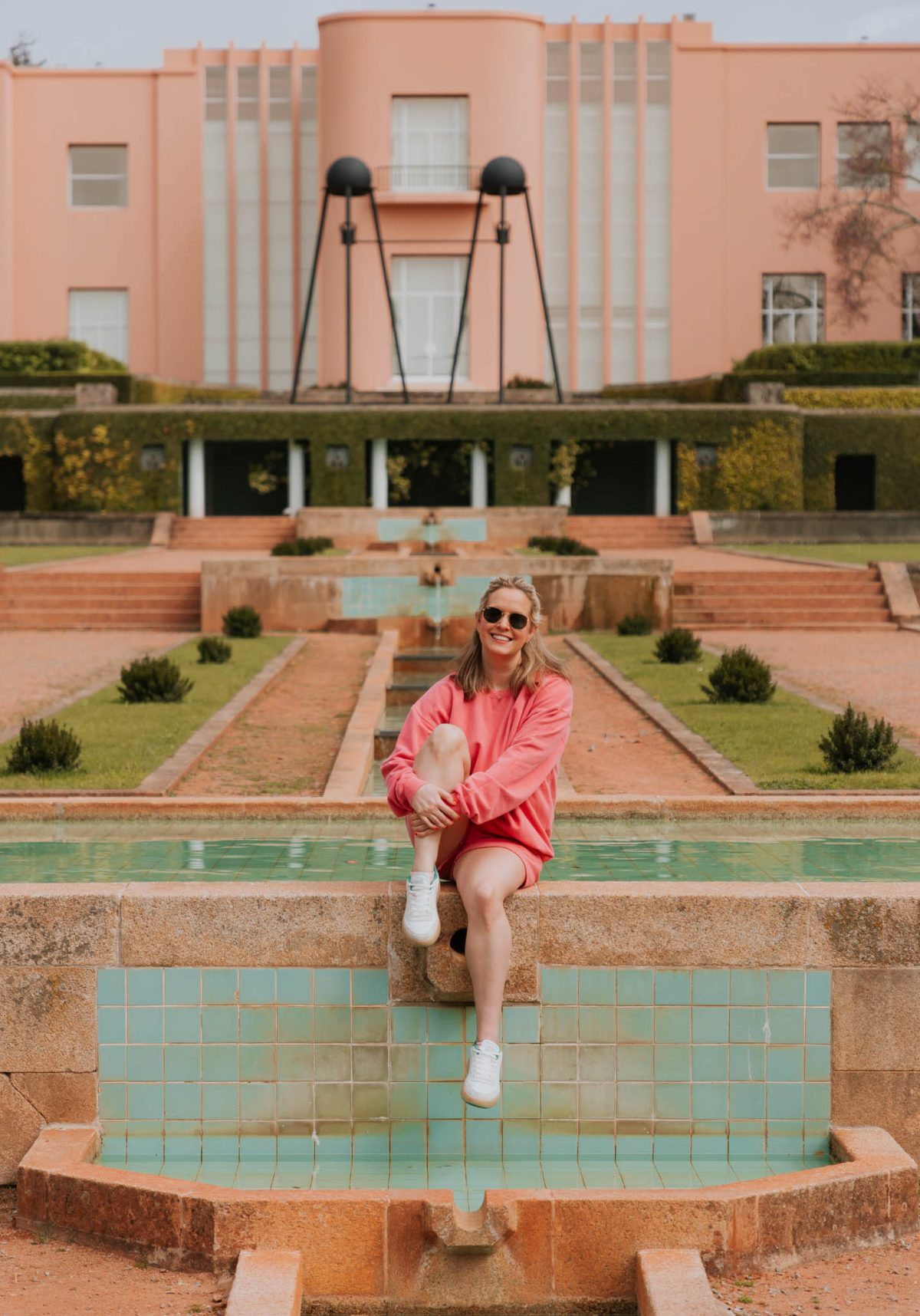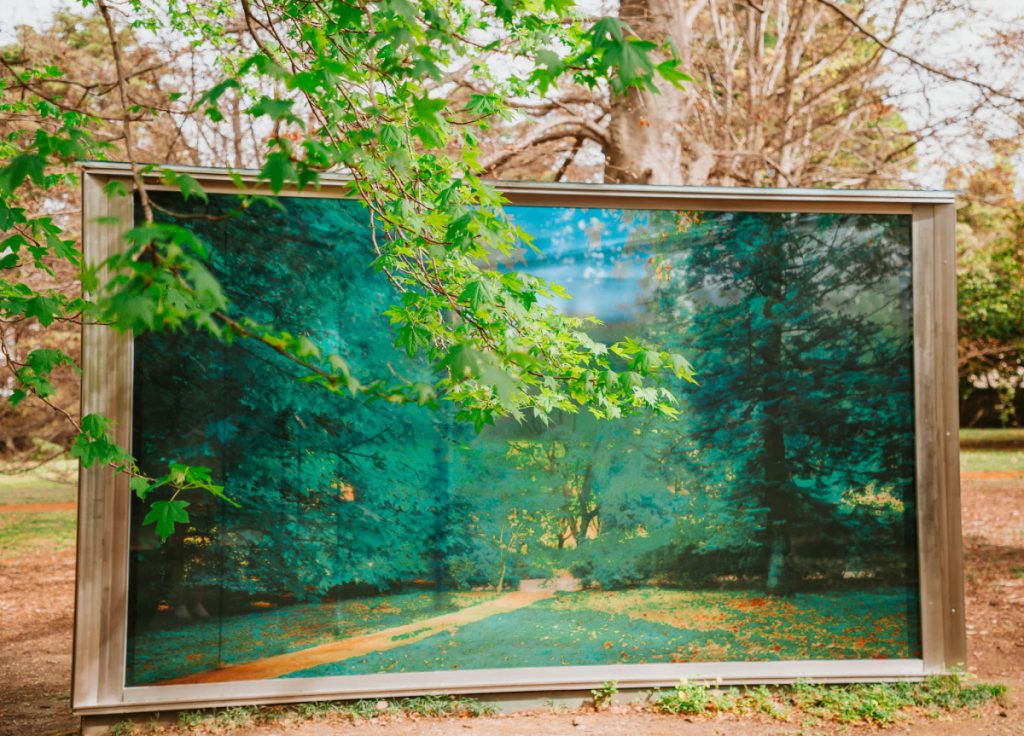 Once you've had your fix of admiring the art exhibitions, stroll the 18-hectare park surrounding the villa, littered with outdoor sculptures (the giant shovel was a favourite), until you meet the turquoise pools and fountain that sit behind the exterior of the villa.
5. Taylor's Port Tasting
We weren't expecting to find a quintessential English garden in Porto, but on our last day in the city we found ourselves sat in one – enjoying a little port tasting.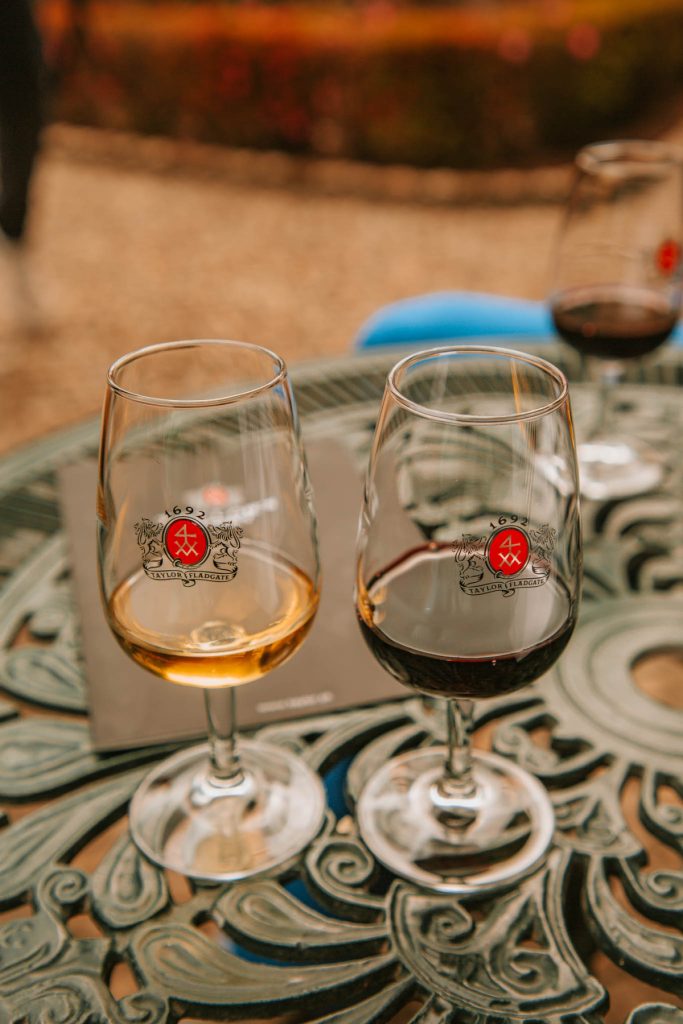 Taylor's, a British producer of port in the city, offers charming grounds to explore, alongside the chance to try two of their signature ports – Chip Dry White and Late Bottled Vintage. Head here for a lazy afternoon in the sun and enjoy knock out views across the river. It's definitely one of the most instagrammable spots in Porto.
The audioguide tour, which includes the tasting, costs €15 per person.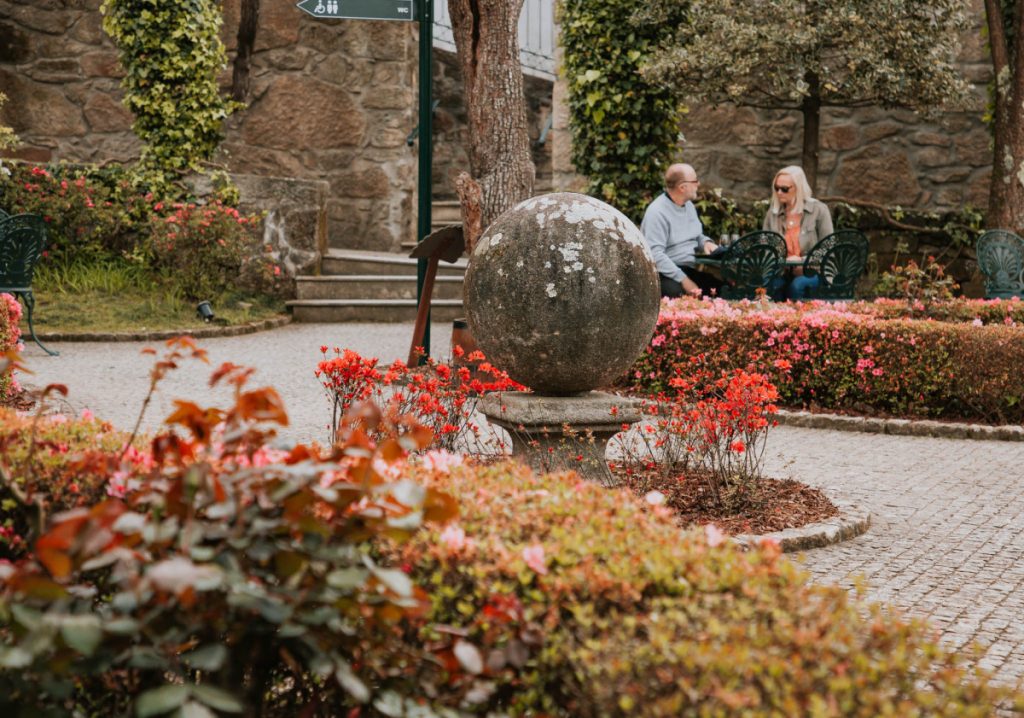 6. Livraria Lello
Now, we do have to pre-warn you that this best Instagram spot in Porto is very well-known. In fact, we would say that it's so popular, visiting here isn't worth the effort unless you plan your visit (very) strategically.
Livraria Lello is known as the prettiest bookstore in the world, inside and out. Said to be the bookstore that inspired parts of J K Rowling's Harry Potter series, this store now enjoys a cult-like status.
A bookshop since 1906, the interior is in an Art Noveau style, complete with a spiral 'floating' red staircase that takes centre stage. Indeed, search for the store online, and you'll be greeted with endless images of this centre piece.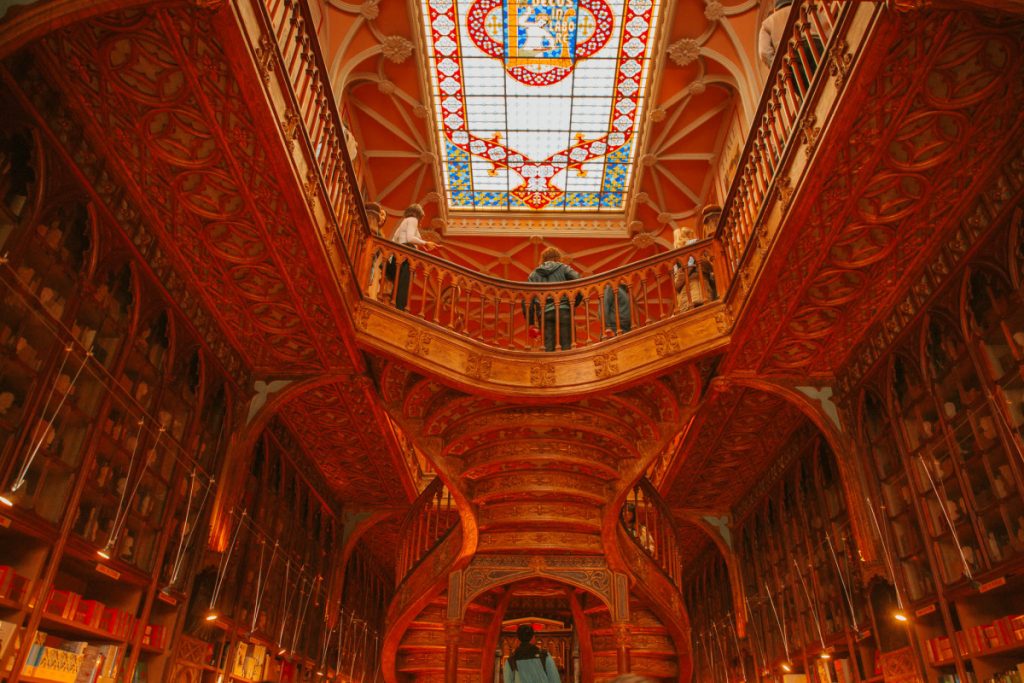 Unfortunately, the chances of glimpsing the staircase, let alone getting a shot of it, are minimal. During our own visit at 10.30am, the store was absolutely crammed full, despite having to pre-book tickets. Stranded in a sea of pushing elbows and selfie sticks, taking a photo was near impossible.
All is not lost, however, as rumour has it that if you visit in the evening, the crowds have usually left and capturing an image of the famed staircase is therefore much easier.
7. Jumbled Lanes of Ribeira
Stroll the tangled alleyways of Porto's liveliest neighbourhood, Ribeiro, and you'll met with postcard worthy opportunities at every turn. From colourful washing lines strung overhead, to gangs of cats curled up on balconies, this neighbourhood is alive with activity.
A UNESCO World Heritage maze of medieval alleys that wind their way down to the Douro River, take your time with this neighbourhood, stopping for a delicious seafood lunch and plenty of wine before continuing your quest for the best Instagram spots in Porto.
8. Cat Mural, Rua das Flores
As mentioned above, Ribeira is alive with colour and activity, and this is particularly so along the famous Rua das Flores.
We stumbled across this boulevard by chance and immediately spotted its captivating cat mural, peeking out from a street corner.
Explore Rua das Flores and you'll not only uncover more street art, but lovely boutique shops bursting with local produce and beautiful gold jewellery.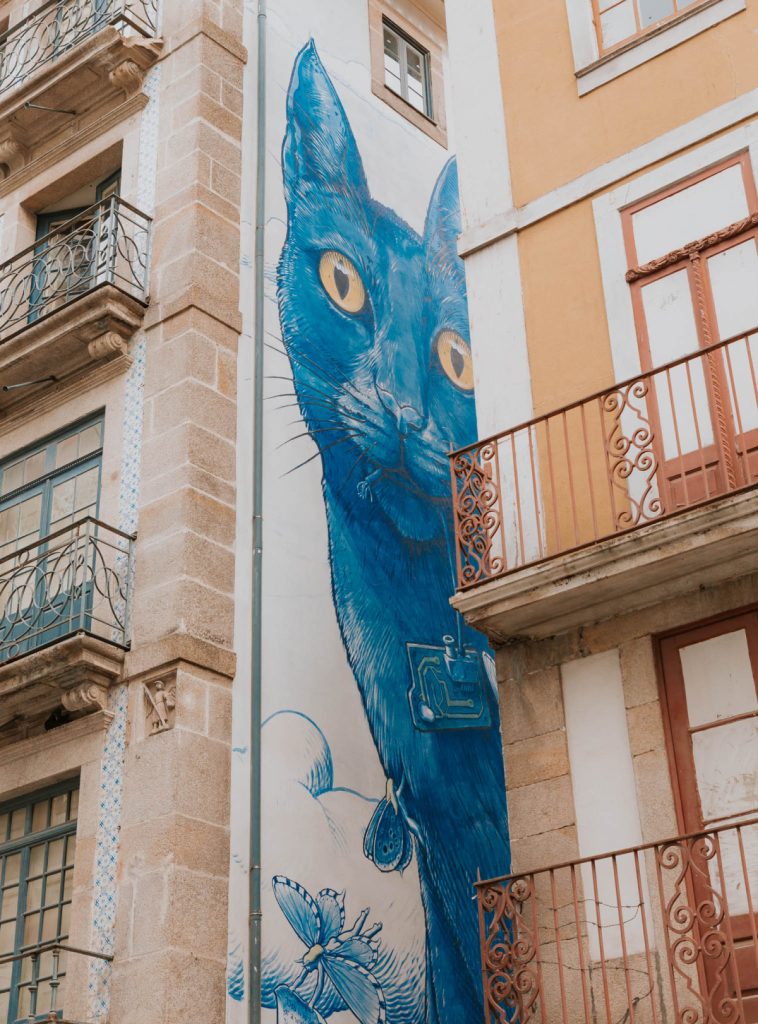 9. Rabbit Street Art, Gaia
Another unexpected find was this mural of a giant rabbit, known as the 'Half Rabbit' that sits in the Gaia district of Porto. This neighbourhood is located on the other side of the Douro river, and you can find the rabbit, made from rubbish and recycled plastic and metal, just off the main road that spans the riverfront.
If you decide to hop on the cable car, look out for the rabbit as you weave your way up or down the streets of Gaia.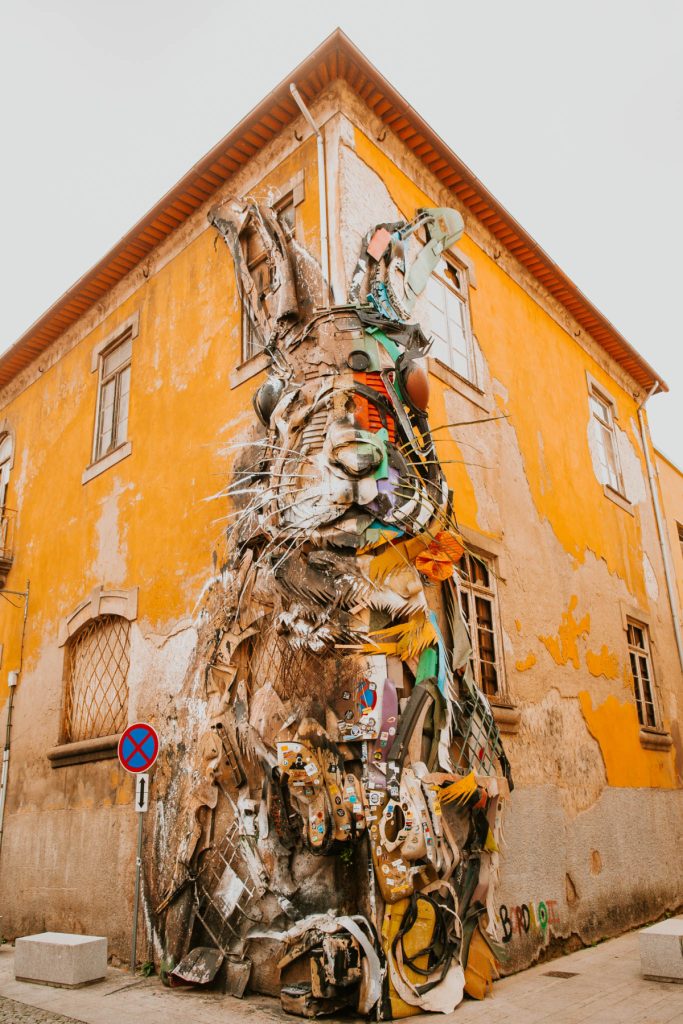 10. Trams of Porto
Although the tram network of Porto is no longer as extensive as Lisbon's, they're still a key feature of the city. Indeed, you'll be hard pressed to miss these traditional streetcars as they casually amble passed you.
The most popular tram route is line no. 1, which runs along the banks of Duoro (similar to the bus route of no. 500). It's a picture perfect ride and a great way to take scenic photos of the city.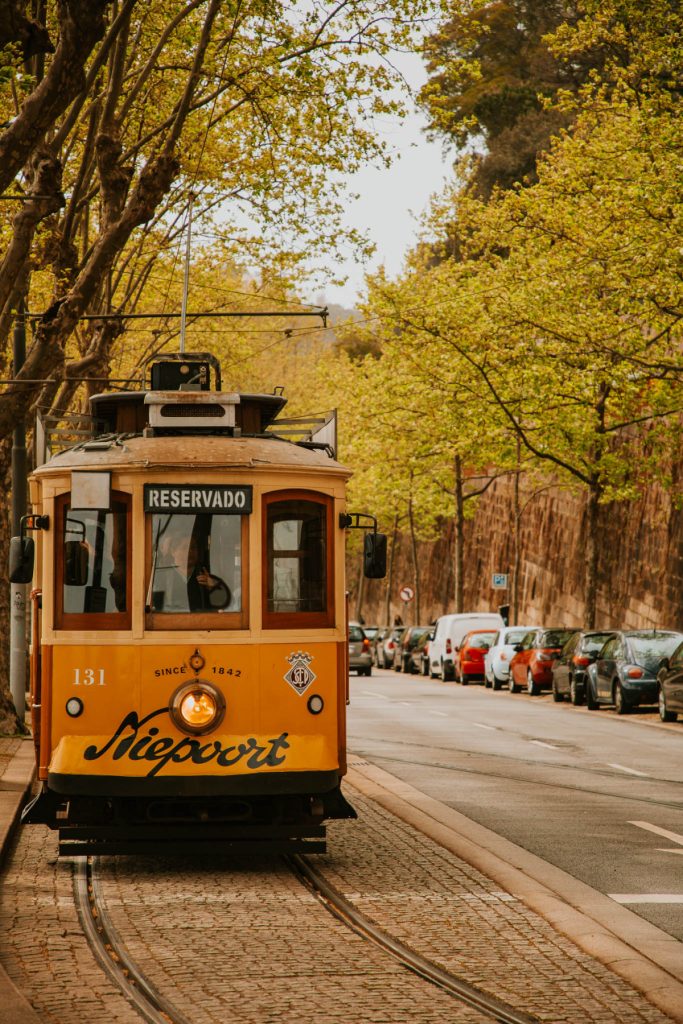 Where to Find the Best Views in Porto
If you're looking for views of Porto from up high, then below is a round-up of where to go for these. Much to our delight, the majority of these spots are entirely free to access, so you can save your money for a nice bottle of wine later.
11. Jardins do Palácio de Cristal (Free Entry)
Sitting high above the city, these (free to enter) botanical gardens are the ideal place to come for spectacular views of Porto. We enjoyed a lovely hour here, sat on a bench looking out over the city, whilst peacocks, fountains and olive trees surrounded us.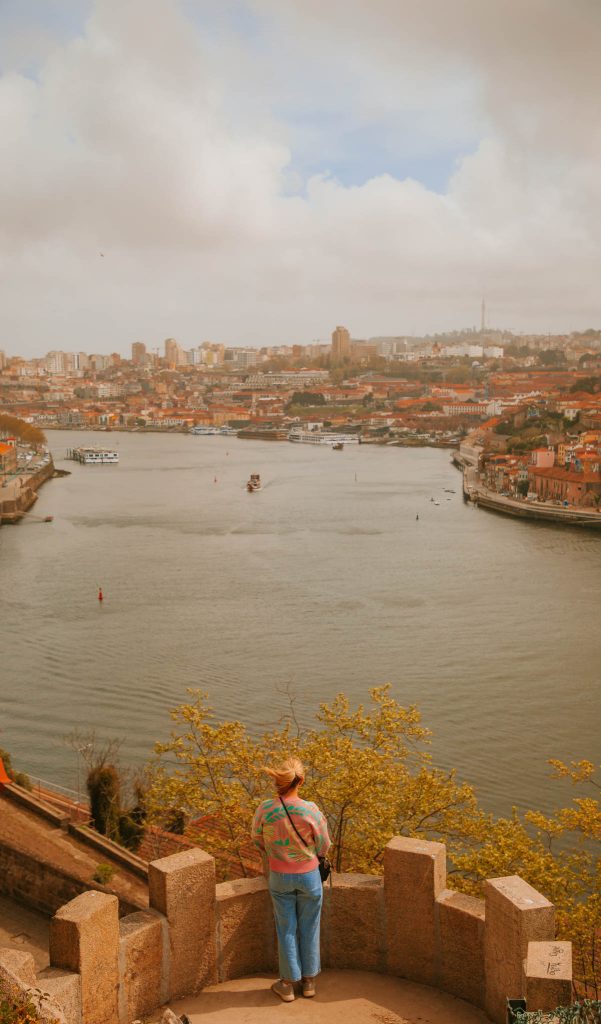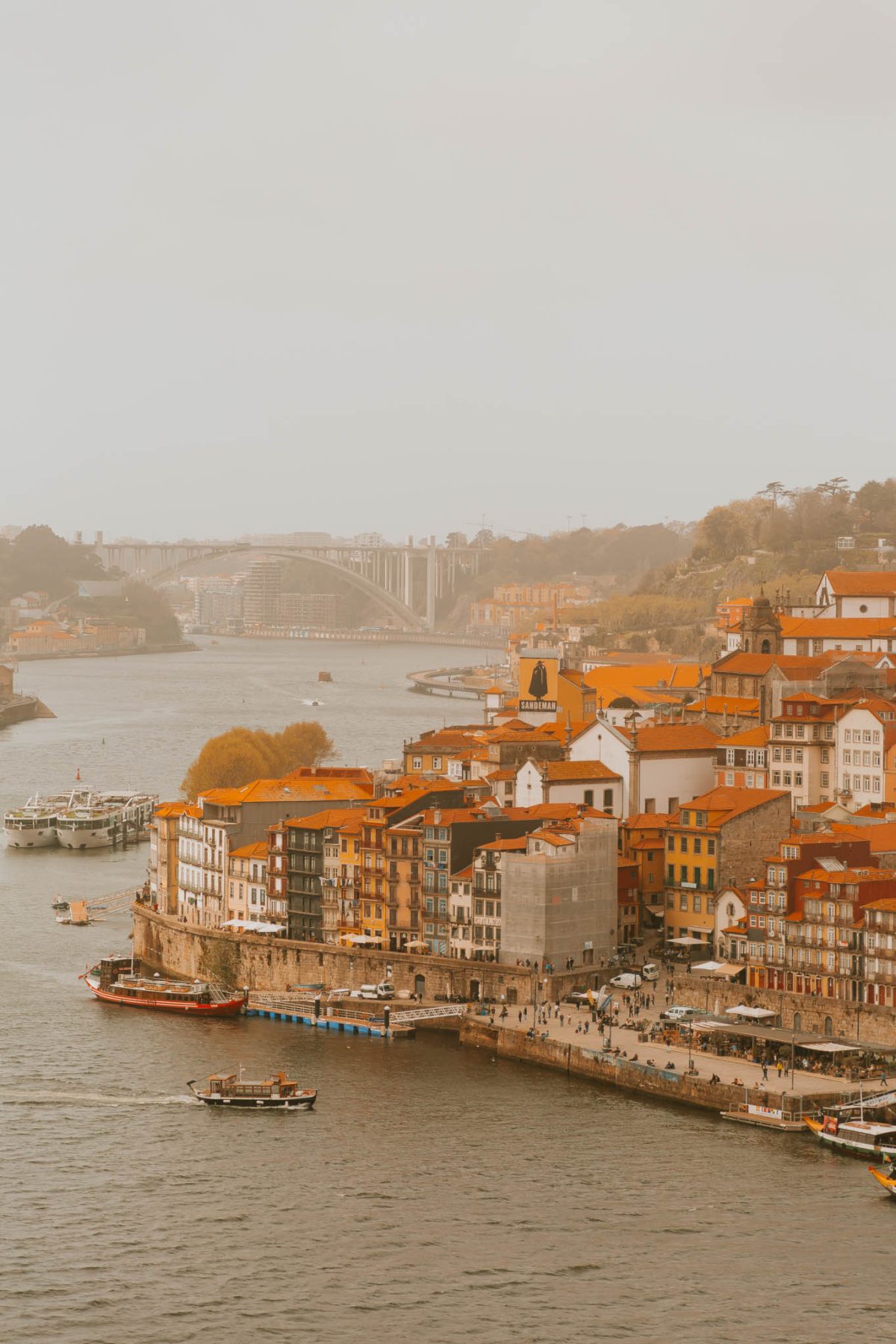 12. Jardim do Morro
Another free garden to visit for amazing views of Porto is Jardim do Morro. This garden is located on the other side of the river (Gaia side) and offers ideal views back across the pastel coloured houses of Ribeira.
To access the gardens from Ribeira, we simply walked over the Dom Luís I Bridge and the gardens sit conveniently opposite.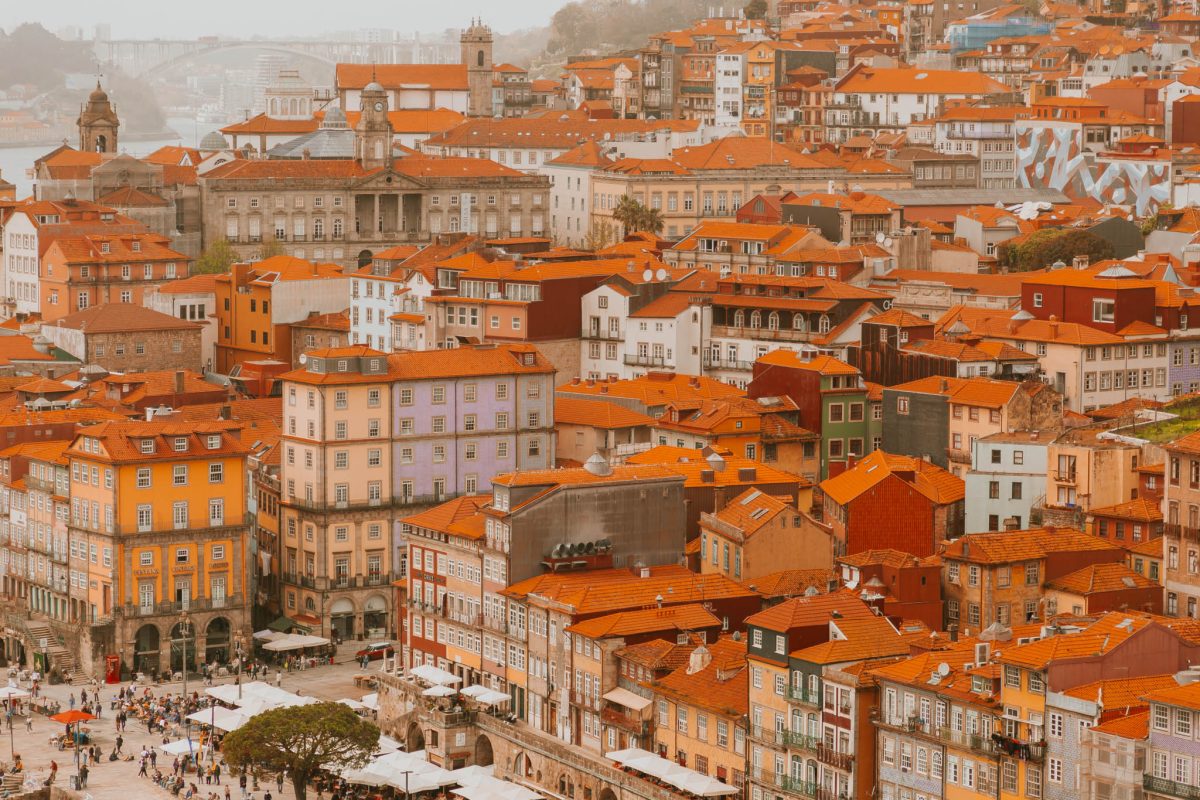 13. Cais da Ribeira
Although not technically up high, some of the best views of Porto and the Dom Luís I bridge can be seen along Cais da Ribeira. Forming the riverfront promenade of the city, Cais da Ribeira allows you to capture images of the sweep of the city and the river, all while enjoying the throng of the crowds, live music and bustling bars.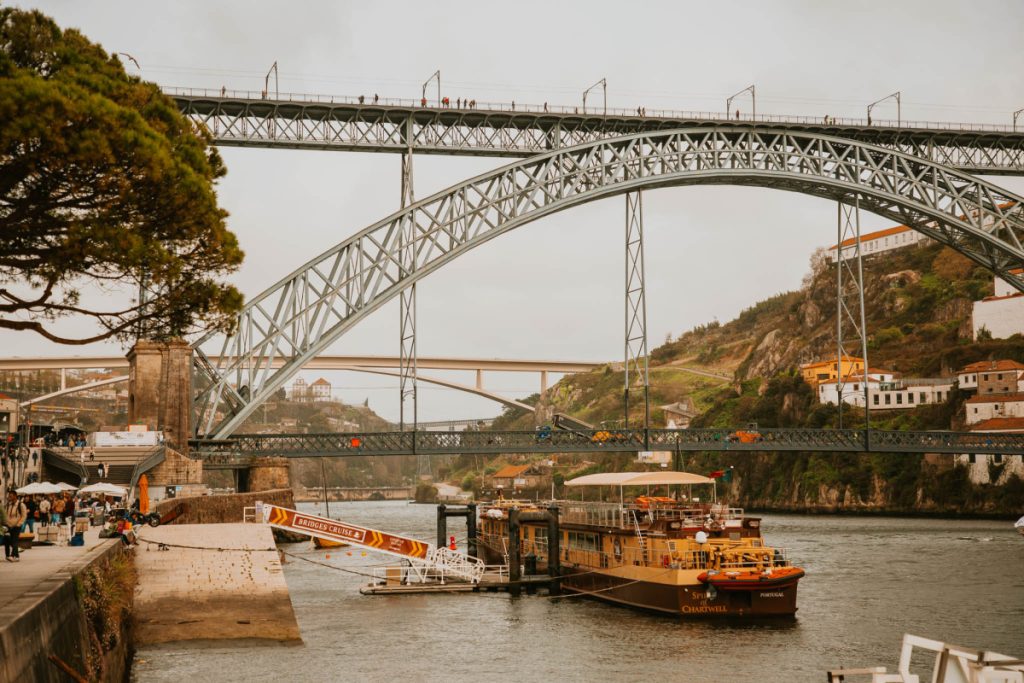 14. Teleférico de Gaia
Definitely one of the best Instagram spots in Porto is from inside one of the cable cars that runs on the Gaia side of Porto. Handily located a moment's walk from Dom Luis I Bridge, the cable car connects the top of the pedestrian bridge with the riverfront (ideal for those with tired legs).
Although just a 3-minute journey, the views of Ribeira from here are wonderful and the cable car provides the ideal opportunity to grab some photos of the iconic ochre roofs that fill Porto's hillsides.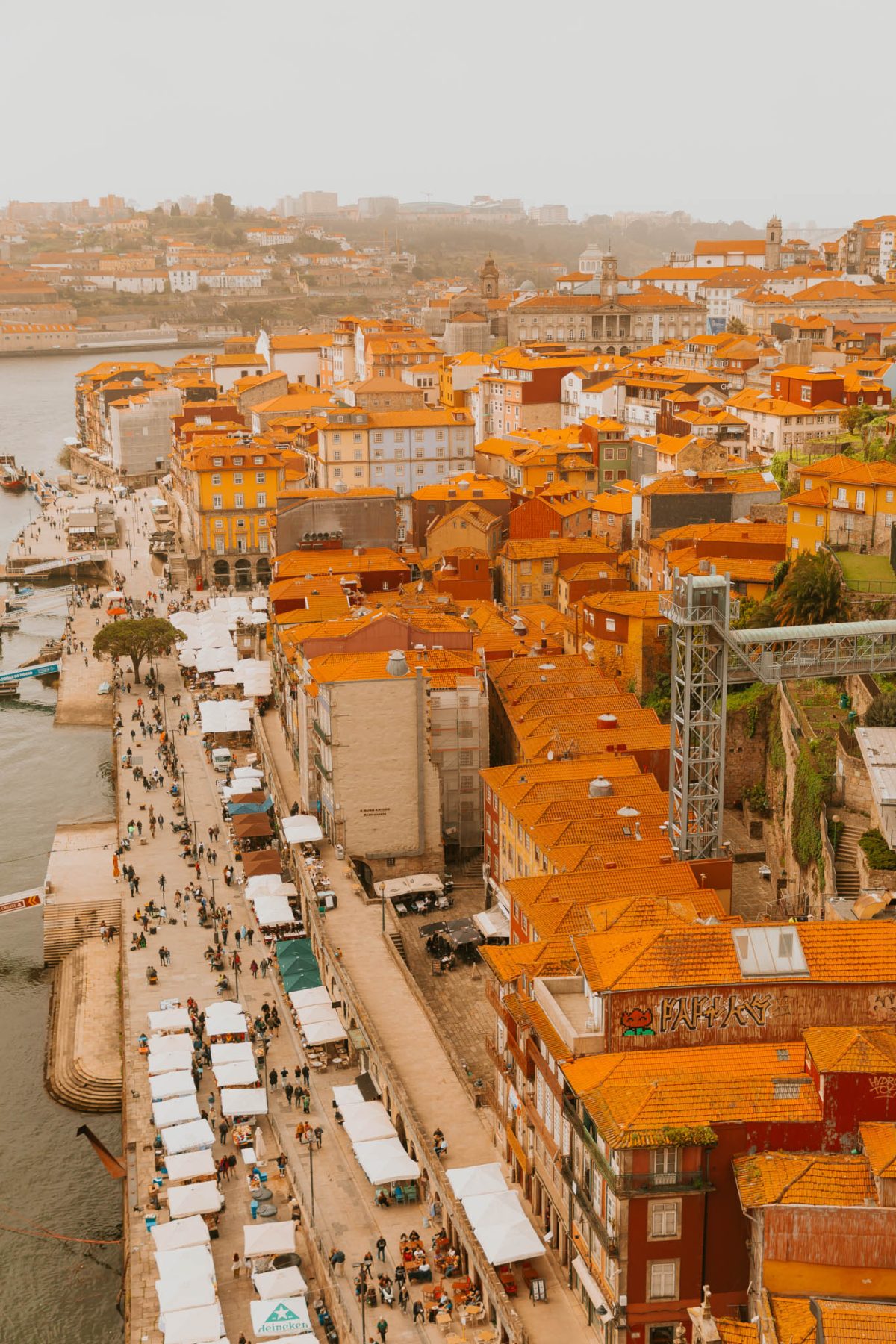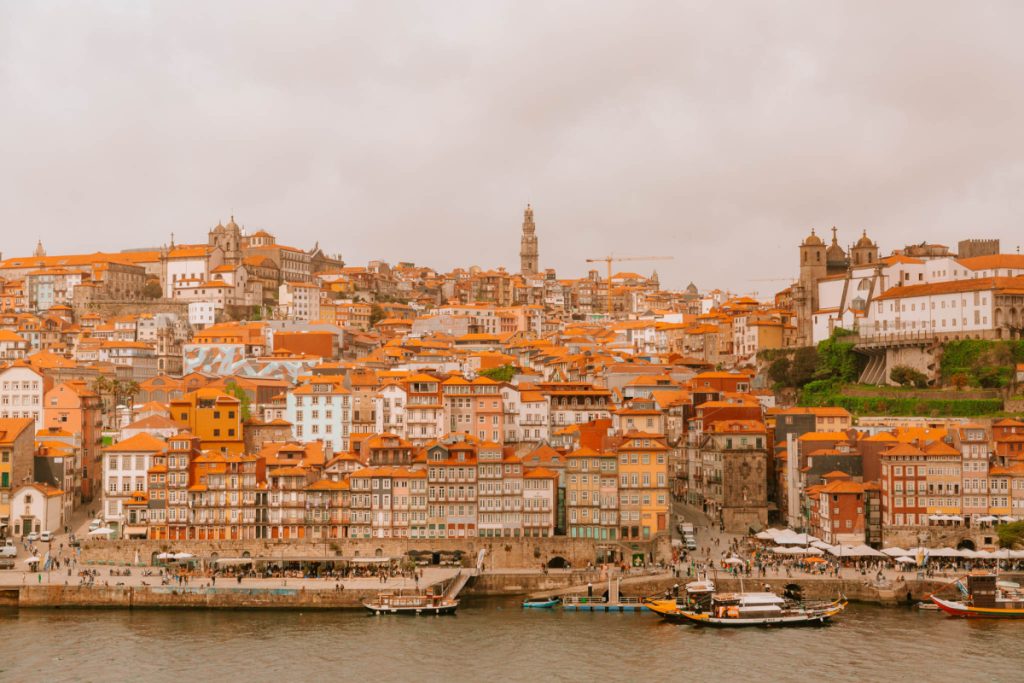 Where to Find the Best Azulejos in Porto
No guide to the best Instagram spots in Porto would be worthy of a read without mentioning the city's infamous azulejo. The word 'azulejo' is of Arabic origin, meaning – 'small, polished stone' – and is now most associated with the famous Spanish and Portuguese tiles that adorn buildings, churches and train stations in cities such as Porto, Lisbon and Seville.
In Porto, the azulejo are usually blue and white, representing the colours of the Portuguese Royal Family – and can be found all over the city. Below, are a few of our favourite azulejo facades in Porto.
15. Igreja do Carmo
Located in the Miragaia district of Porto, this captivating azulejo-covered church is one of Porto's best examples of rococo architecture. This church is located a stone's throw from Livraria Lello, so an easy spot to visit after recovering from the crowds of the 'world's most prettiest bookstore'.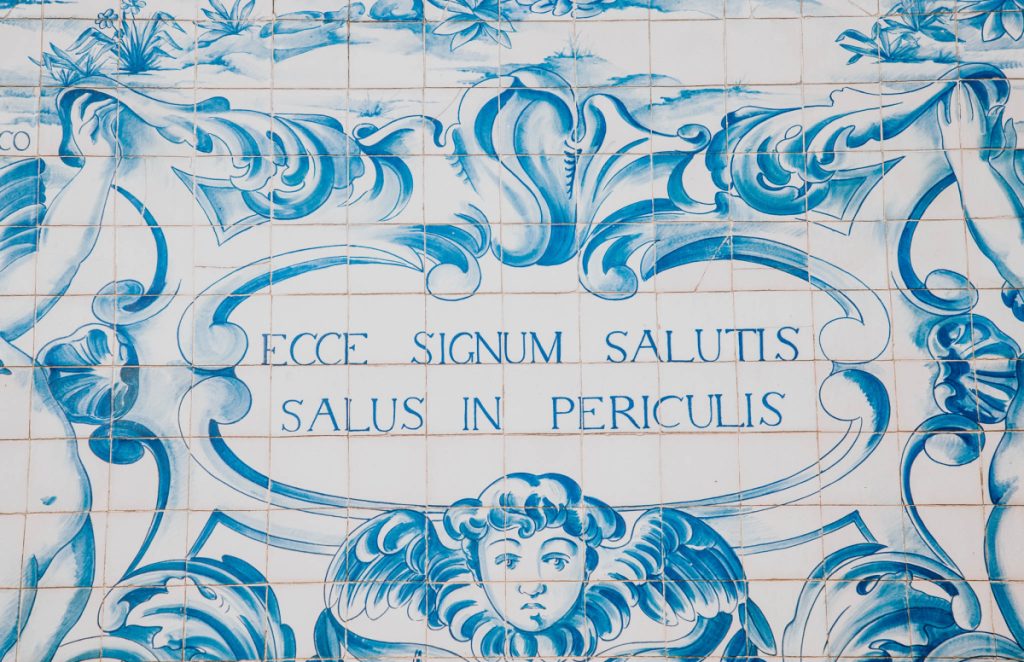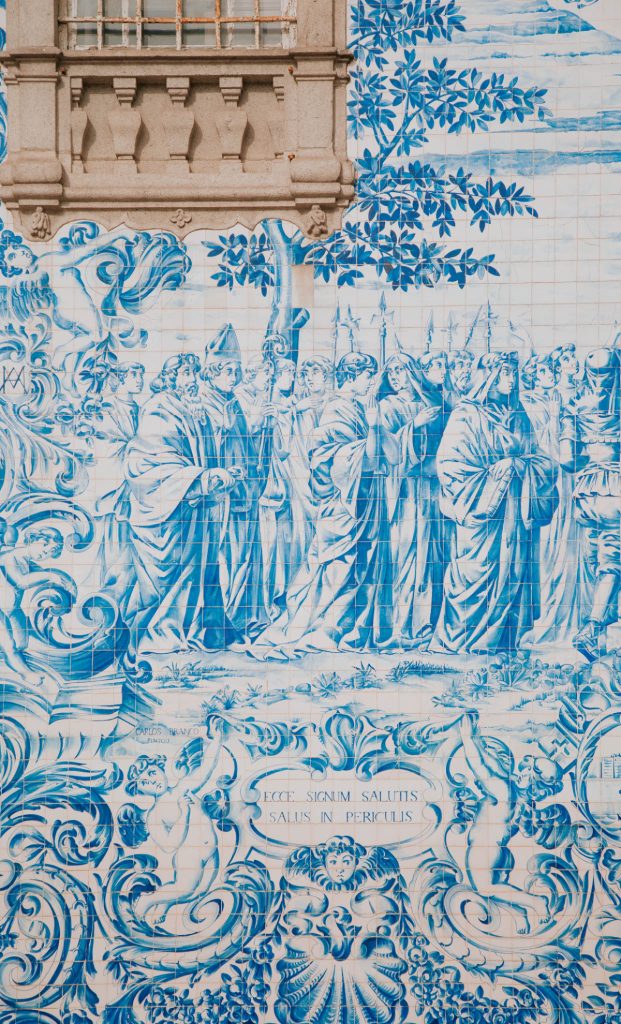 16. Chapel of Souls (Capela das Almas)
Our favourite azulejo-clad building in Porto was the Chapel of Souls.
Its soaring blue and white ceramic tiles depict scenes from the lives of various saints and are exceptionally beautiful. Handily, the building sits next to a zebra crossing, so it's easy to capture an image of someone strolling past the tiles from the other side of the road.
17. São Bento Train Station
You may not expect to find breathtaking ceramic murals in a train station, but Porto's São Bento Train Station boasts just this. One of the world's most beautiful train stations, São Bento transports visitors back to a more graceful and enjoyable era of train travel.
The 20,000 historic azulejo tiles and panels depict various historic scenes, all roofed under a Parisian style structure. It really is a feast for the eyes, and worth popping in to see if you're passing.
18. Igreja de Santo Ildefonso
Perhaps one of the prettiest buildings in Porto, Igreja de Santo Ildenso sits like a vision in Praca da Batalha (Batalha Square). Dating back to the 18th century, the granite church wasn't actually adorned with azulejo until 1932.
You can enter the church and accompanying museum for just €1 per person.