I have just one regret from my first year of motherhood – and that's that I didn't discover The Octopus Club sooner.
When preparing for my own newborn, I was on a bit of a high; purchasing expensive Scandinavian knitwear and babygrows that would, eventually, be worn just the once. Every piece of furniture that I bought was brand new and every tiny pair of socks pristine and unworn.
Far from preparing for a newborn on a budget, I did – with retrospect – waste a silly amount of money during those early days.
Thankfully, now 12 months into parenthood, I'm not only realising the error of my ways, but have come across an incredible number of platforms that make preparing for a newborn on a budget both easy and fun.
As preloved fashion moves from niche to mainstream, buying secondhand no longer harbours connotations of tired car boot sales or stuffy charity shops. Instead, it is a fast-moving world of big names, premium labels and endless variety.
Saving you money, encouraging sustainability and helping keep your home free of clutter and barely worn clothes, there really is no reason to have to buy new anymore (particularly when it comes to items for fast growing and fickle babies).
Converted to the idea of preloved rather than once loved? Then why not start your journey with the brilliant, The Octopus Club.
What Is The Octopus Club?
The Octopus Club was launched by Ana in the summer of 2020 (e.g. the height of lockdown 1.0).
Tired of a house brimming with rarely used and outgrown baby paraphernalia, Ana decided that there must be another way to shop secondhand for your little one (without spending hours embroiled in online bidding wars, or trawling charity shops). Aware that there must be millions of other parents in her position, Ana decided to create a peer-to-peer marketplace where families could pass on child and baby items, before welcoming other preloved items into their home.
With no selling or joining fees, this would be a secondhand marketplace rooted in – as Ana put it – kindness.
And so, just like that, The Octopus Club was born.
How Does The Octopus Club Work?
An online platform, The Octopus Club gives you three options: buy, sell or give (e.g., donate).
Signing up is quick and easy (you can do it here), and you are then immediately ready to start selling, buying or donating your items.
Built around transparency, users are encouraged to message one another when interested in items and to foster a sense of community based around mutual support and a dedication to rehoming, rather than buying new.
A number of postal and shipping services are recommended, but if you want to save both time and money, you can set your search to only include local sellers.
Encouraging sellers to always include a little note when sending their parcels (after cleaning their items thoroughly, of course), this is a warm online community built around likeminded families, sharing and recycling.
What's Available on The Octopus Club?
The Octopus Club is conveniently divided into different sections: Care, Feed, Move, Organise, Play, Read, Sleep and Wear.
Alternatively, just hit the 'everything' option for a good old browse of all that's on offer.
Having spent the last few days browsing the Club, I can confirm that there are some fantastic items to be had, including many premium brands such as Ergobaby, Newbie, Elvie, The White Company, Baby Bjorn and Silver Cross.
There are also some lovely nursery furniture items on offer, which I really wish I'd seen when putting together Henry's room (I spied, for example, a nearly new Snuzpod for just £45 and a Sleepyhead Grand for £20 – an absolute bargain).
9. Secondhand Baby Carriers and Slings from £10
If there was one item that saw me through those tough newborn days, it was my baby sling. From dawn until dusk, I wore this as Henry snoozed against my chest. Refusing to be trapped under a newborn all day, I'd strap him to me as I did the washing up or, dare I say it, used the bathroom.
As well as a fabric sling for the home, we also invested in a particularly expensive BabyBjorn One carrier, for when we were outside. Although this was a much used item of mine, I think this is another thing that I should have definitely bought secondhand. Providing it was safe and secure, I had little preference as to whether or not my sling had had a previous tenant.
Both the popular Freerider sling, and the more structured BabyBjorn carriers, can be bought on The Octopus Club marketplace for a fraction of their original price.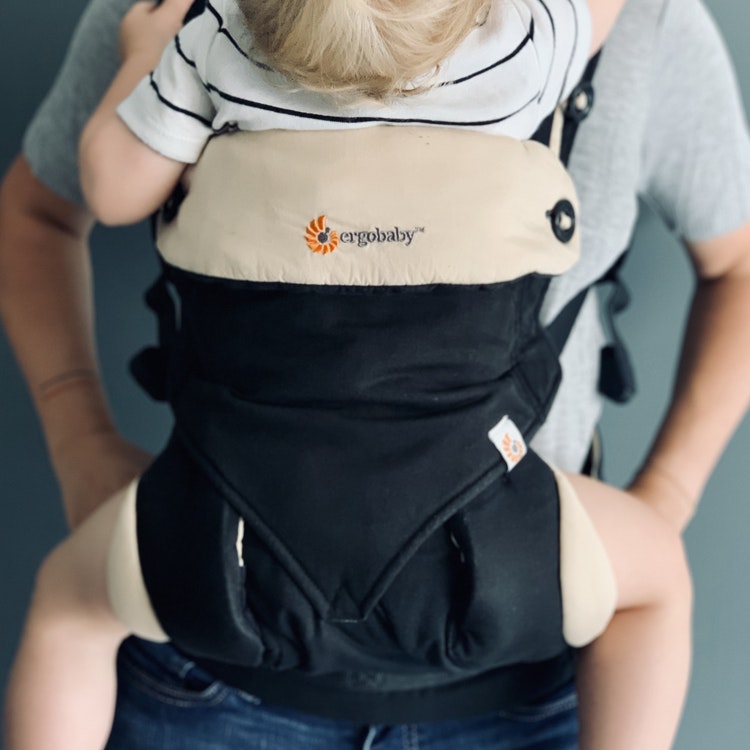 10. Secondhand Wooden Baby Toys from £3
With your once calming and tastefully decorated home now piled high with obnoxiously loud plastic toys, parents quickly learn the error of their ways when it comes to purchasing these items.
Perhaps this is a bold statement, but if there's one thing I've learnt from a year of parenting, it's that buying new baby toys is a colossal waste of money. Quickly discarded for a remote control, baby toys are not something worth investing a lot of money in.
Instead, opt to buy some more durable and sustainable wooden toys (from just £3) on The Octopus Club. The best bit? When your baby grows out of them, simply pass them on to a new owner.