For a long time, I've been hesitant about visiting Lille – or Rijsel, as it is known in Flemish. As far as my history degree had taught me, these Northern French towns had been bombed to pieces during the War. I imagined that once the War ended, they had staggered out the other side – bereft of their medieval buildings and vulnerable to plans for depressing postwar architecture. In terms of things to do in Lille, I couldn't imagine it could quite offer the same beauty and culture as some of its French neighbours.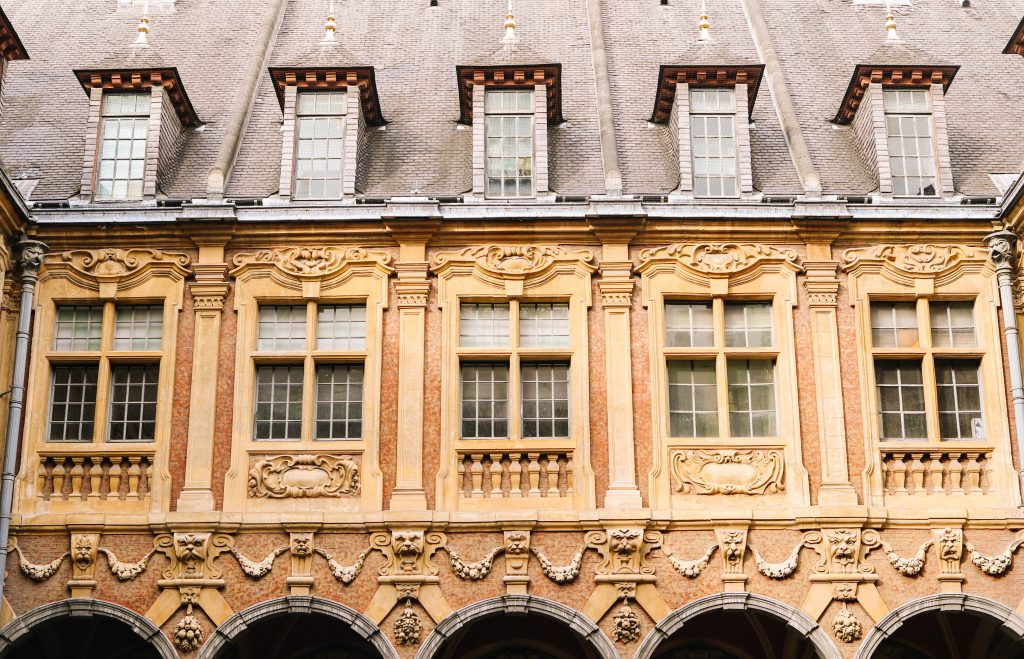 As we rounded the corner on our arrival one sunny Friday in August, I was still imagining this post-war landscape. Yet looking up, I realised it was anything but. In front of us was a large, European-inspired square, filled with pastel coloured buildings and glittering gold statues. Bells from the nearby tower rang out, echoing across the flagstone floors, and swallows dived overhead. Although a late Sunday afternoon, families and students filled the square – also known as Grand Place – enjoying glasses of wine in the golden afternoon sun. On the edge of the square, timber-framed buildings leaned heavily against each other, each painted mustard yellows and dusty blues.
Indeed, as our long weekend in Lille proved, this is a city with far more character, culture, delicious restaurants and cosy restaurants than we had anticipated. The ideal city break for a long weekend from the UK, Lille should be high up on any traveller's European city break list.
Below is our full guide to a long weekend in the city, including things to do in Lille, where to eat and what to see.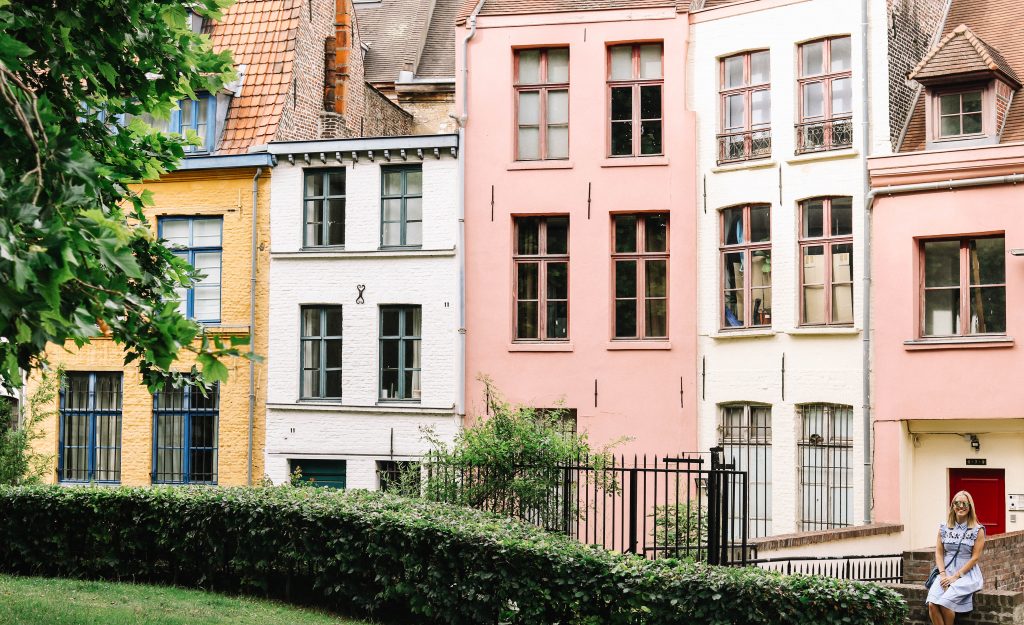 How to get to Lille
Lille by Eurostar
The quickest way to get to Lille is via Eurostar from St Pancras, London. With a journey time of just 1 hour 22 minutes, the Eurostar will drop you handily in the centre of the city, making it the perfect weekend destination. A standard return fare for a long weekend costing approximately £80.
Lille by Ferry 
Another option for those looking to travel to Lille from the UK is to catch a ferry from Dover. This is perfect for those looking to do more of a road-trip around the area. We travelled to Lille with DFDS Ferries  (read about our full experience here) from Dover to Dunkirk, followed by a two hour drive onwards to Lille. A typical return fare costing just over £100.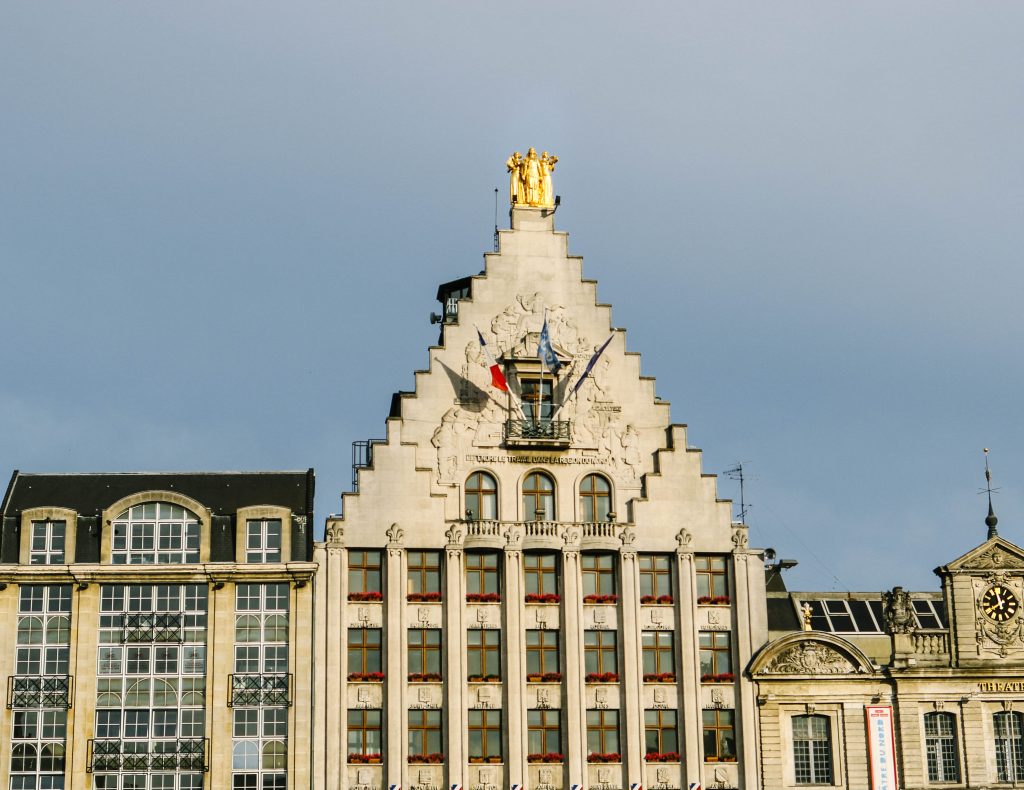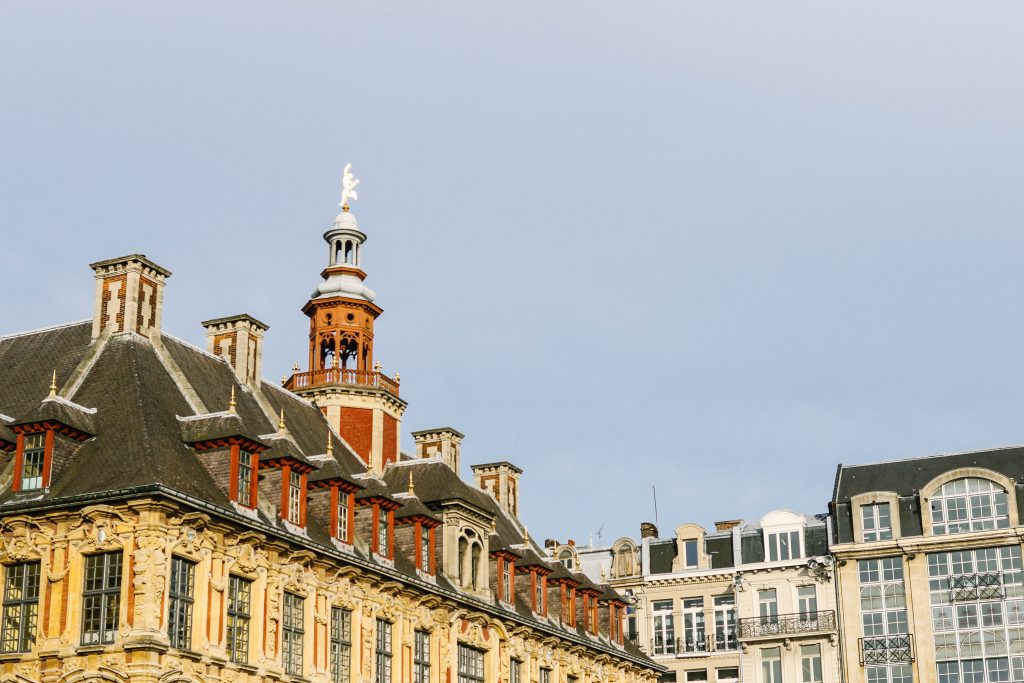 History of Lille
Lille's history is an unusual one, featuring an angry giant and an orphan raised by a deer. The story goes that following the death of his father and after an unconventional childhood in the dark woods of Bois-sans-Mercy (where he is fed by a kindly doe), a young man called Lydéric  sets out to avenge his parents' death, whose lives were taken by the local giant, Phinaert. Finding the murdering giant at the court of Dagobert I at Soissons (I imagine he wasn't hard to miss), nimble Lydéric manages to kill the towering monster; winning in return the land of the Giants. Sometime later, in 640 AD, Lydéric founds the city of Lille on these lands, where it has remained ever since.
None of this was ever mentioned in my history class.
Clearly, this often overlooked city has a rich history. Indeed, murdering giants and animal-reared humans aside, Lille has been subject to land grabs from the Counts of Flanders; the Dukes of Burgundy; the Spanish; the Nazis (during which time it was incorporated with Belgium), before eventually becoming the modern, French, Lille that it is today. Here, French has a distinctly Flemish twist, and is spoken alongside occasional 'Ch'ti' – a form of Picard spoken in Northern France. It's a city of 220, 000 people, with 36% under the age of 25. With such a young population, it's predictably vibrant, friendly and fun. I was looking forward to exploring more.
Things to do in Lille: where to eat
A short time into our walk through Lille's old town and a sugary sweet smell filled the air. We had found ourselves outside of one of Lille's proudest institutions: 'Meert'.  Founded in 1761, Meert is celebrated for its gaufres (waffles), made with melt-in-the-mouth Madagascan vanilla. Walking in, lofty coffered ceilings and wood panelling surrounding us, I immediately knew this was my kind of place. It reminded me of Angelina's in Paris: a refined and historic tearoom. Walking over its beautiful mosaic floor, we headed to Meert's historic salon de thé; ready to inhale those delicate little gaufres under the glint of its glass chandeliers. As we ate pastry after pastry, I wondered why I'd not visited Lille before.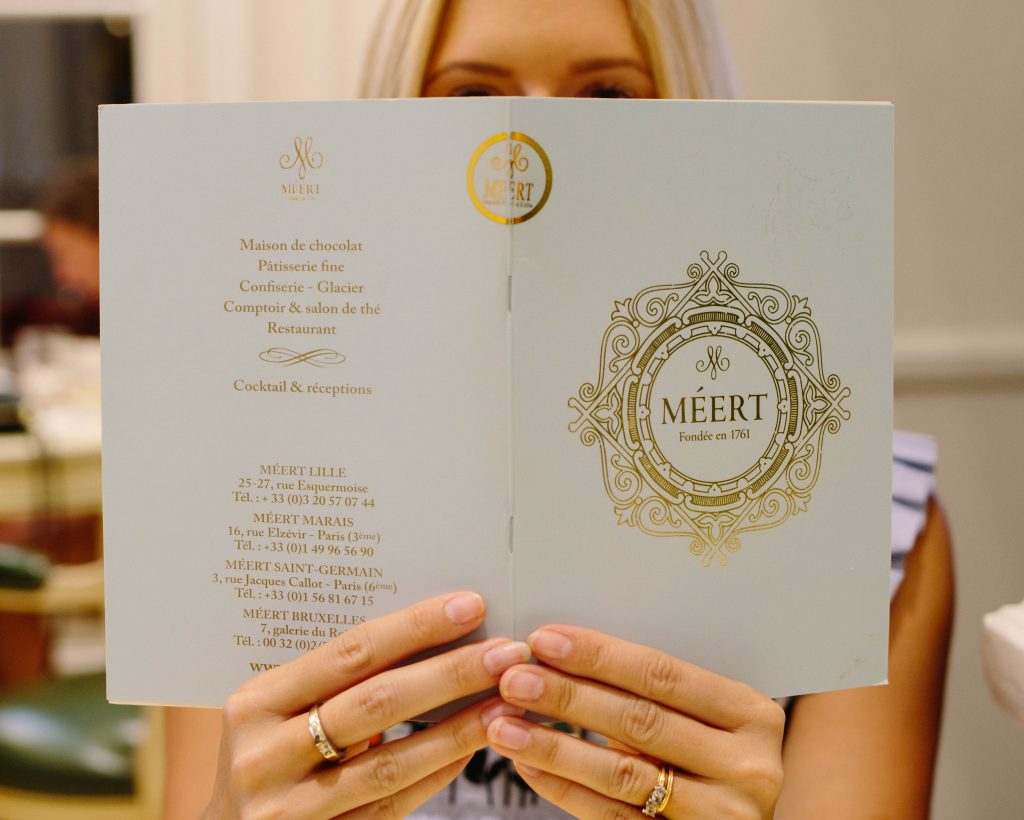 Architecture in Lille
The sun now setting, we left Meert for Lille's Cathédrale Notre-Dame-de-la-Treille. The west-façade, completed in 1999, is a pearly, marble white and shines brightly across the square surrounding it. As we arrived, hundreds of Lille residents (or 'Lillois' as they like to be known) were laying out on the lawns; groups playing boules and smoking cigars. Admiring the cathedral, we walked around it – passing leafy sycamore and oak trees, before reaching a picture-perfect scene. Here sat a row of historic houses, some dating back to early eighteenth century. Lined up like colourful dominos, they were a palette of pinks and yellows, criss-crossed with heavy wooden timbers. I felt like I was in a rural, medieval village, rather than a once industrial metropolis.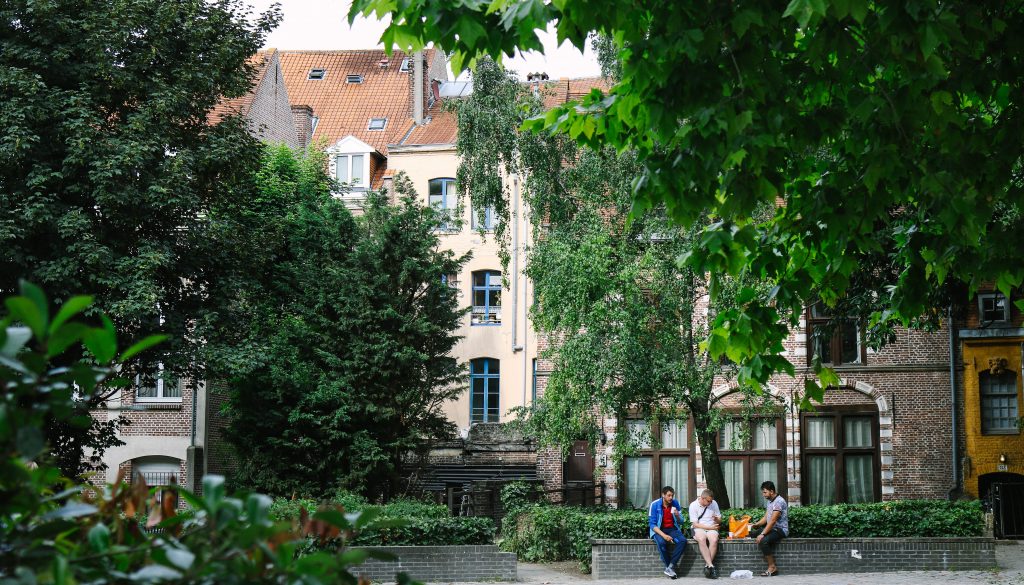 For any self-proclaimed foodies, Lille offers a mouth-watering Mecca of over 3,500 restaurants. Food here is big, hearty and filling: the stew-inspired love child of its Flemish and French ancestors. Browse any menu and you won't be able to miss the regional dishes of Carbonda Flamanade (beef cooked in beer with a sprinkle of brown sugar); Potjeveleesch (quite literally, a small pot of meat) and mussels cooked in beer, hops and chicory. This isn't the sort of French food characterised by those almost microscopic portions, but is instead served up with a big ladle; warm stews sloshing over the side of bowls. It's fantastic. For some great places to dine, head to Rue des Bouchers, for an assortment of excellent restaurants or alternatively, try the slightly 'younger' Rue du Royale, for a taste of Cambodia, Morocco or Japan. While we enjoyed a waistline punishing meal at the delicious Estaminet Chez la Vieille, other recommendations include La Cave aux Fioles (if you're feeling a bit romantic), and L'Assiette du Marché.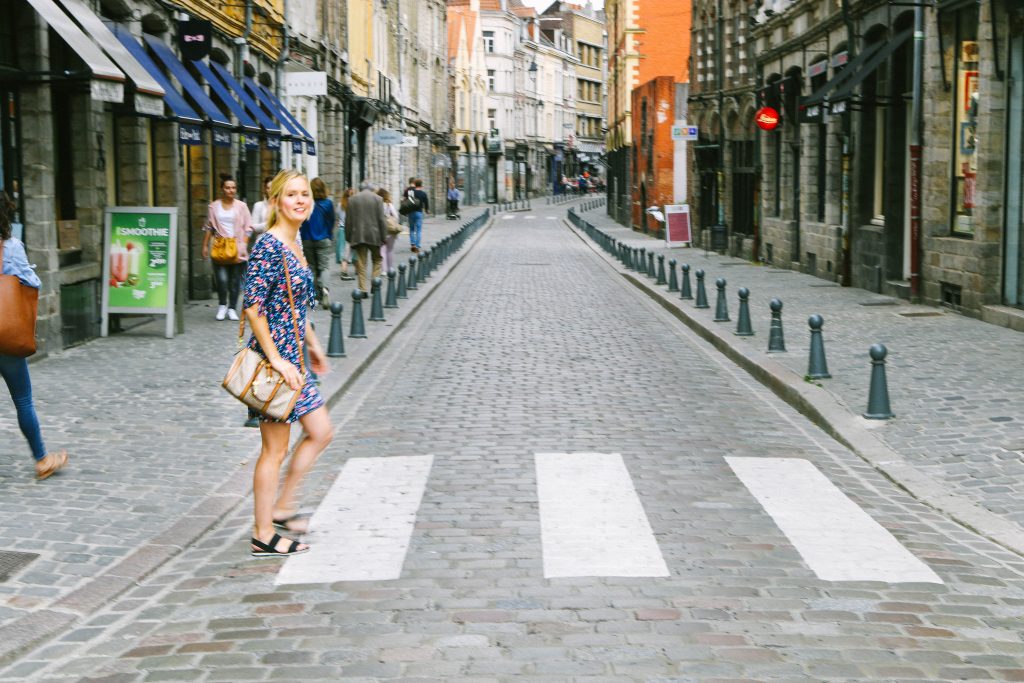 Belts now loosened, our night finished under the stars at Lille's beloved Vielle Bourse: a building fashioned by the Flemish Renaissance in 1653. Made of 24 different houses, the Bourse has an open-air square at its centre; engraved columns and intricate woodwork surrounding it. It's stunning. We hadn't meant to visit on this particular evening, but as we walked past, the sound of slow, Latin music flooded out of its wrought iron gates. Looking through the archway, we saw that the Square had been transformed into a ballroom: couples of every age moving slowly and raptly around one another; mastering the Tango together under Lille's warm evening skies.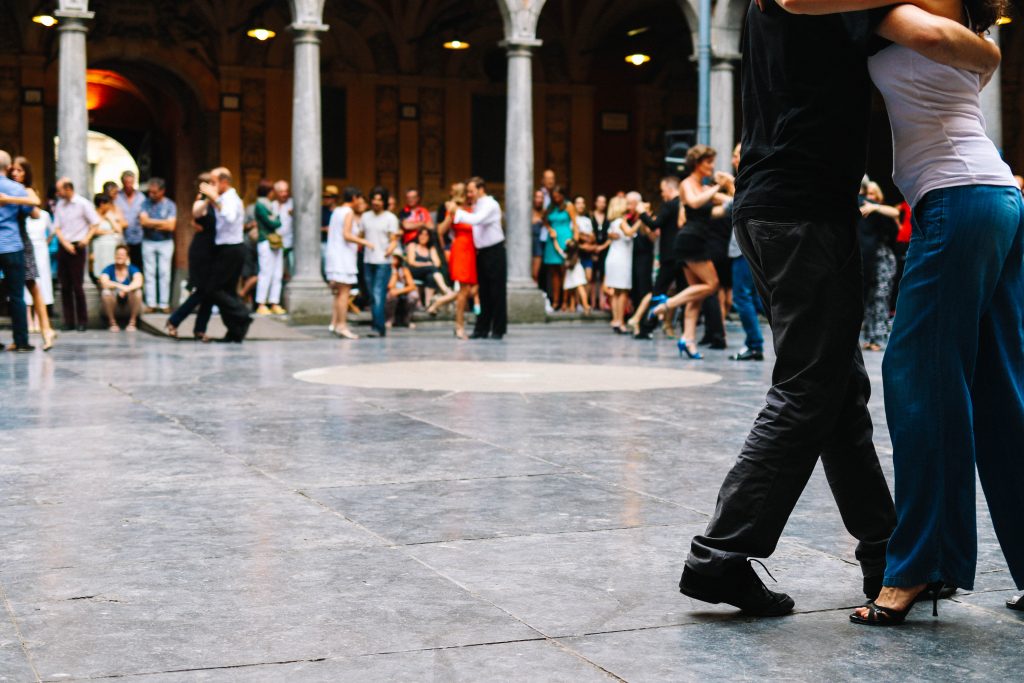 Joining the other transfixed onlookers, we spent over an hour watching as the couples intently closed their eyes, held hands and bowed backwards. It felt a little surreal. Indeed, when we returned the next day, the dancers were gone – replaced instead by the usual book market. The only hint that the dancers had ever been there was a discarded stiletto, lying next to the arch.
If you do happen to miss the impromptu Tango fiesta, it is still well-worth having a walk through the Vielle Bourse and exploring the book market. The wooden stalls, bowing under the weight of dusty hardbacks and brick-a-back, can easily steal hours of your time. On our second visit, we sat on the steps and watched an elderly pair absorbed in a game of chess; a group of fascinated locals crowding them, furiously whispering tactics in their ears.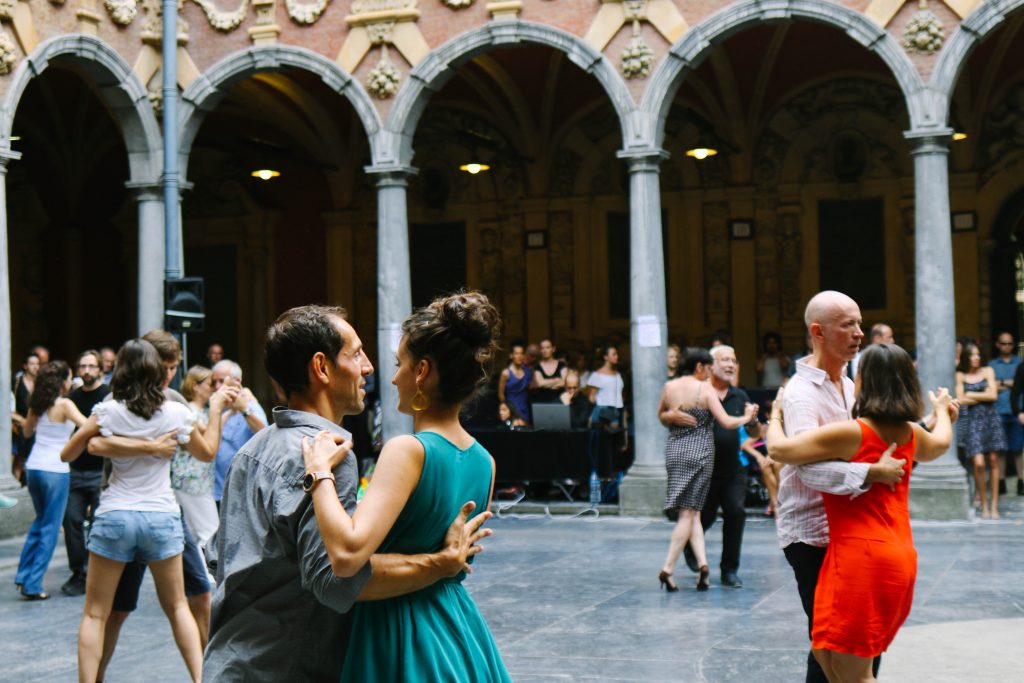 Things to do in Lille: Museums and Art Galleries
Aside from people-watching, Lille spoils its visitors with the sheer amount of museums and galleries it has to offer. Perhaps its most popular are its three renowned art museums, including the magnificent Palais des Beaux Arts, filled with the works of Van Dyck and Manet. Whilst this is no doubt a beautiful gallery, for a more 'watery' experience, it's worth the short drive to Roubaix, where the unusual La Piscine Musée d'Art et d'Industrie awaits. Entering this museum, you might be forgiven for thinking you're on your way for your weekly swim; the smell of chlorine filling the hall. However, this pool is anything but your standard municipal swimming pool. Surrounding every inch of the water are paintings and sculptures – framed by a large art-deco window at the very end. It's perhaps one of the most unusual galleries and swimming pools we've ever visited; and all without a verruca sock or swimming cap in sight.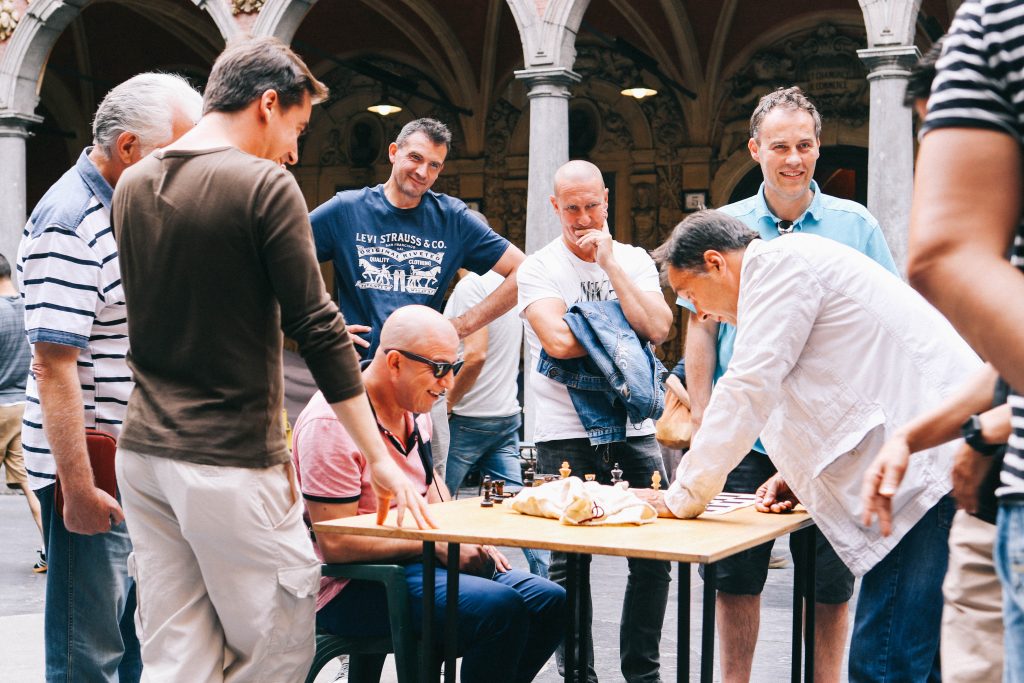 With our trip nearing an end, we felt as though we had only got to know half of what Lille – Mouvaux's big brother – had to offer. We'd not had an opportunity to see the city's historic Citadelle, or visit my favourite sort of museum – the immersive sort – offered by the  Musée de l'Hospice Comtesse. However, with a little time remaining, we decided to explore part of Lille's self-proclaimed 'alternative' corner: the Wazemmes quartier populaire (working-class quarter). Inhabited by those trendy 'bobos' (bourgeois bohemians), students and African immigrants, this is an area filled with flavour, scents and colour. We managed to catch the end of its famed Sunday morning market, heaving with music, visitors and stalls crammed with every imaginable fruit and item of clothing. It's chaotic, crowded and in some parts – to be avoided – but surely they're the best kinds of market?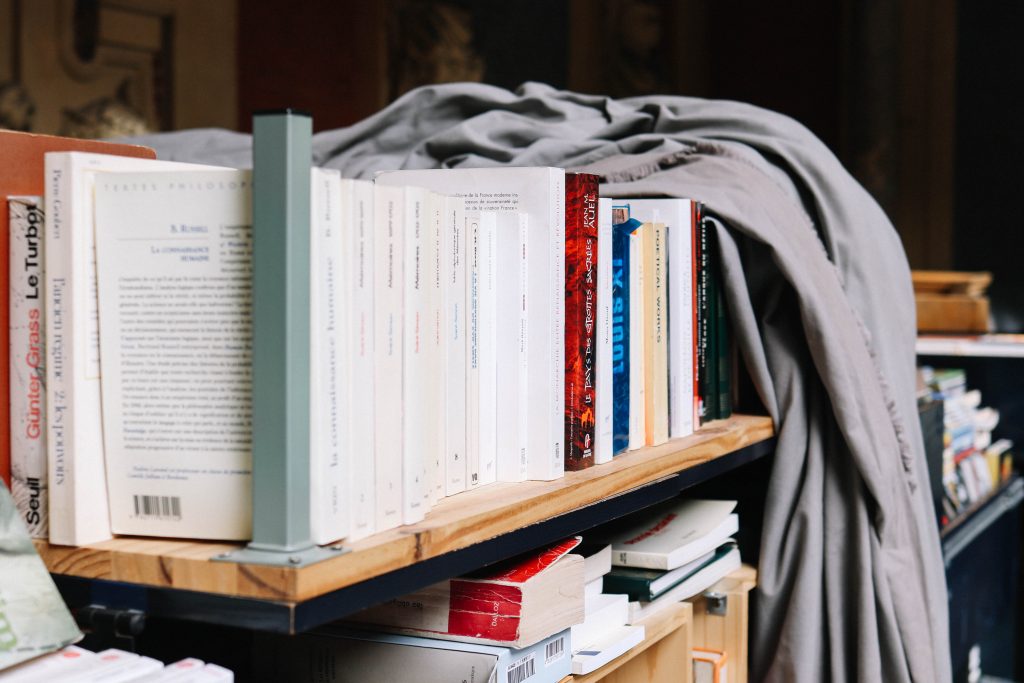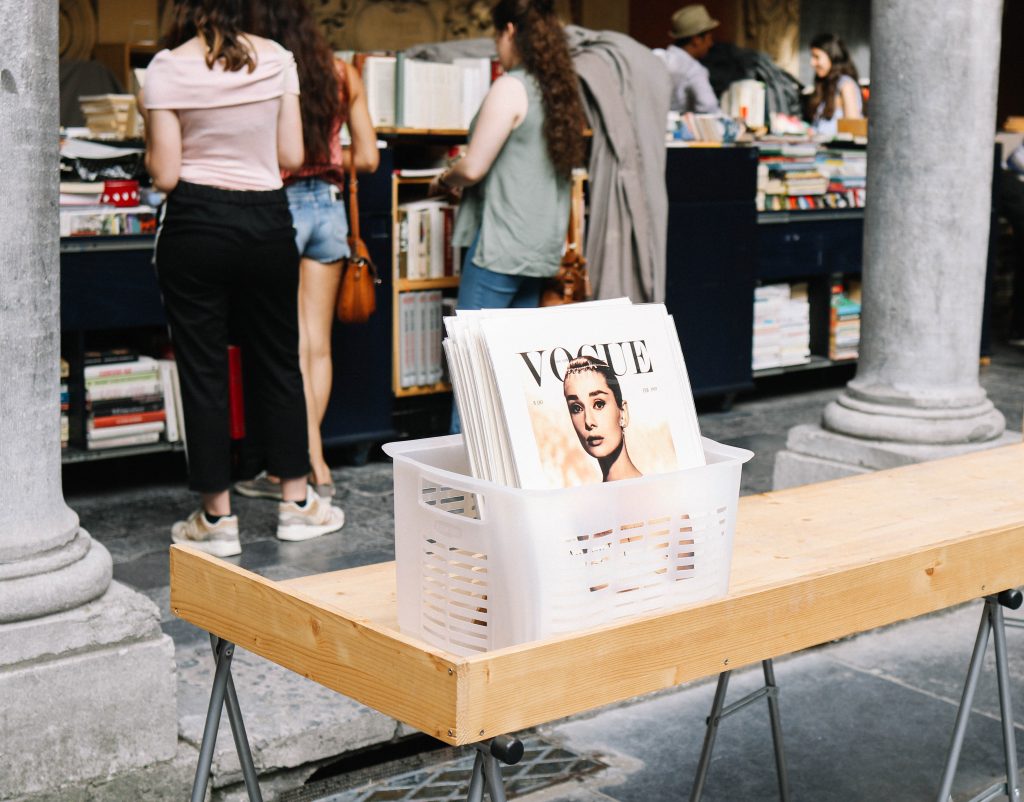 Hastily grabbing a last sweet snack from one of the stalls – a tiny madeline cake surrounded by a creped, pink wrapper – it was time to retrace our steps through the now rain-covered Lille; the cobbled streets turning a dark grey. The church bells chiming once again, the Grand Place was empty; even the pigeons taking shelter beneath the grand canopies of the surrounding buildings.  On our way back to the car, we passed a bus stop where a small bus sat, waiting to depart. I glanced at its destination: 'Mouvaux'. Lille's little brother, and my very own twin town, was waiting to welcome its daily commuters home. I imagined that back in our hometown of Buckingham, it too was waiting for its residents to return; the lights in its little houses slowly flickering on. More than ever, this little corner of France felt like home.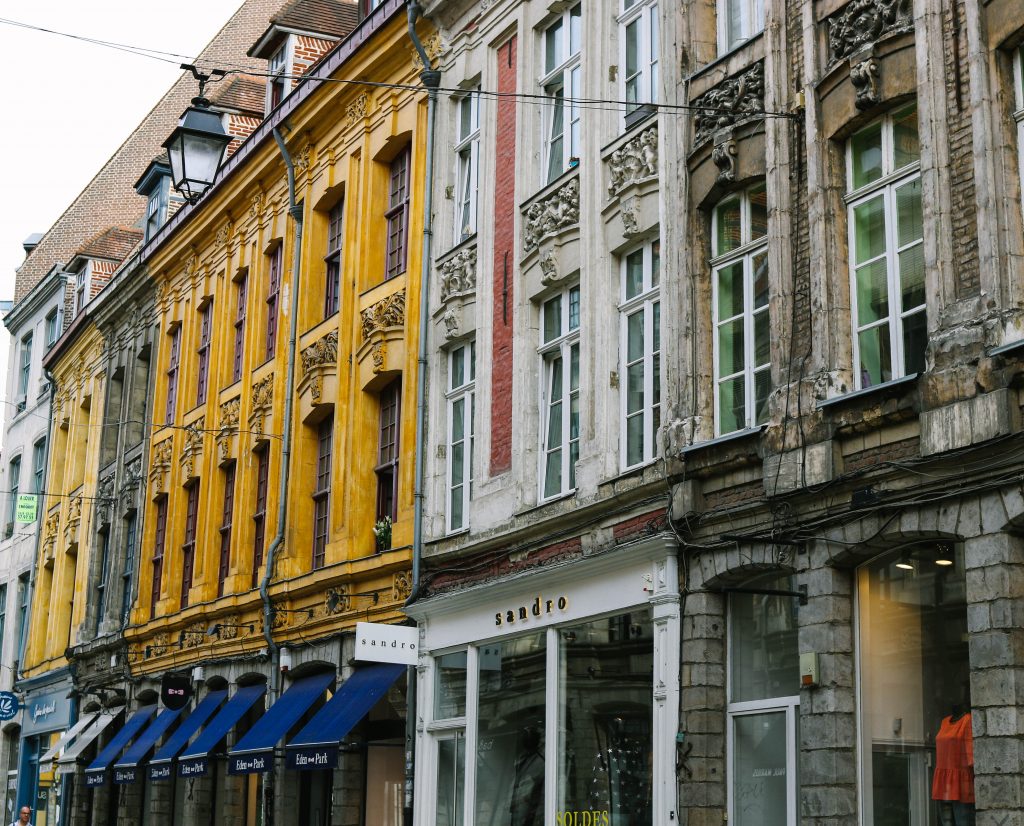 An hour later and we were back aboard our DFDS Ferry, the sun setting behind us as we headed home to Dover. Our Twin Town adventure, although short, had been one of the loveliest trips we've had to date; reminding us that travel doesn't always have to mean venturing to the furthest corner of the world to experience rainforests and volcanoes. Instead, it can be visiting a town that – on the face of it- is no different to your own. I hope you'll find that it makes your world feel a little smaller; more familiar. I challenge you to try it for yourself: seek out your Twin Town and pay it a visit. I guarantee it'll be sure to give you a warm welcome.
Thank you so much to DFDS Ferries for sponsoring us on this trip.
Looking for other European city break ideas? Have a read of the below: 
Pin it: