Clattering up the steps of No. Ten Manchester Stret, almost an hour later than we had anticipated, our anxiety had reached critical levels. Suitcases bouncing behind us as we tried to avoid the drizzle claiming our newly quaffed hair, we burst through this Marylebone based hotel like a chaotic, twin whirlwind.
What greeted us within this Edwardian townhouse, however, was the antithesis of our anxious selves. With the delicate smell of orange blossom greeting us like a calming comfort blanket, Warren – the hotel's manager – welcomed us with a huge smile and reassuring handshake. Taking a moment to catch our breath and pat down our hair, we peered around the beautiful reception hall, feeling as though we'd just walked through the front door of someone's tasteful home, rather than a 44-room boutique hotel.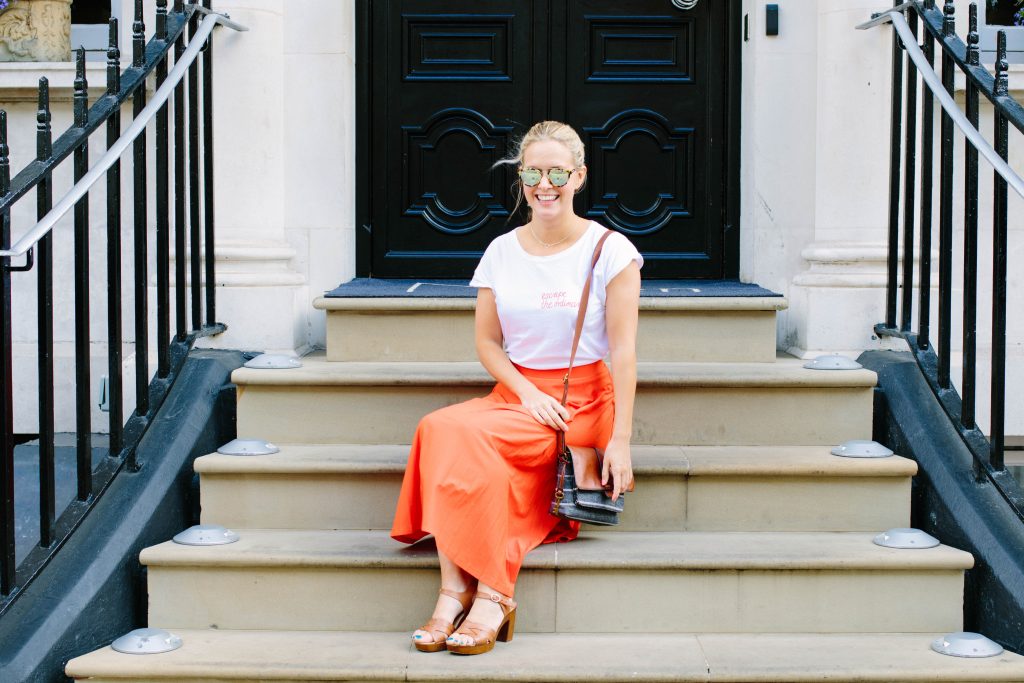 "I know you're in a hurry, so let me show you to your room", Warren said, after a speedy check-in. Warren is clearly a man with fantastic intuition. Continuing to apologise profusely for our tardiness, we bundled into the hotel's lift; closing the traditional shutters in front of us.  Although eager to see our home for the night – a suite on the top floor – I remained preoccupied with just how very late we were now running for the Blogosphere Blog Awards: an event we'd been eagerly anticipating for two months. As such, I'd allocated us an entire six minutes and 32 seconds inside the room, before we would need to career back down the stairs into a waiting taxi. My plan appeared entirely achievable, until the moment that Warren revealed our suite, that is.
Classical FM tinkled gently in the background as we walked into the quiet, luxurious sanctuary of our suite; our continual stream of apologies silenced as we absorbed its details. Spotting the elephant styled towels on our bed – created by the talented Andrea, Head Housekeeper at No. Ten Manchester Street – we scuttled into the bedroom area for a quick stroke of our little roommates. It was then that Warren discreetly cleared his throat;  drawing our attention to the living area, where more gifts awaited.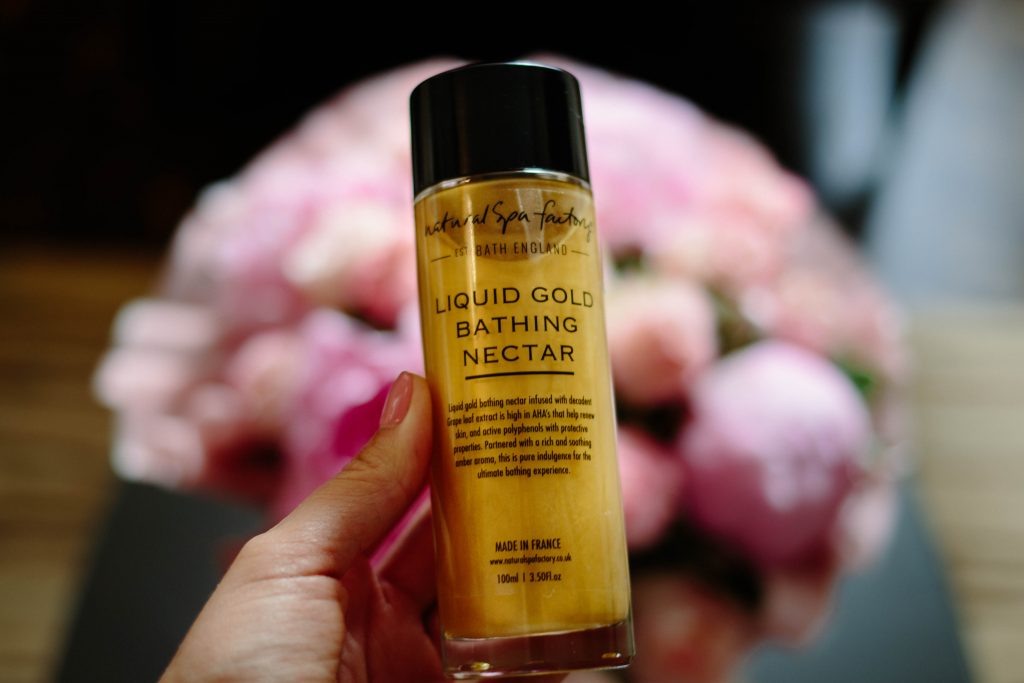 The living room table had been transformed into a small treasure chest of goodies, including a bursting bouquet of pastel pink peonies and roses, mouth-watering macarons and indulgent gold bubble bath. The pièce de résistance, however, lay above us, on the hotel's mirror. Reflecting back at our gawping faces were mini replicas of ourselves in caricature form, drawn in bright neon colours and surrounded by good luck wishes for our evening ahead at the Blogosphere Awards.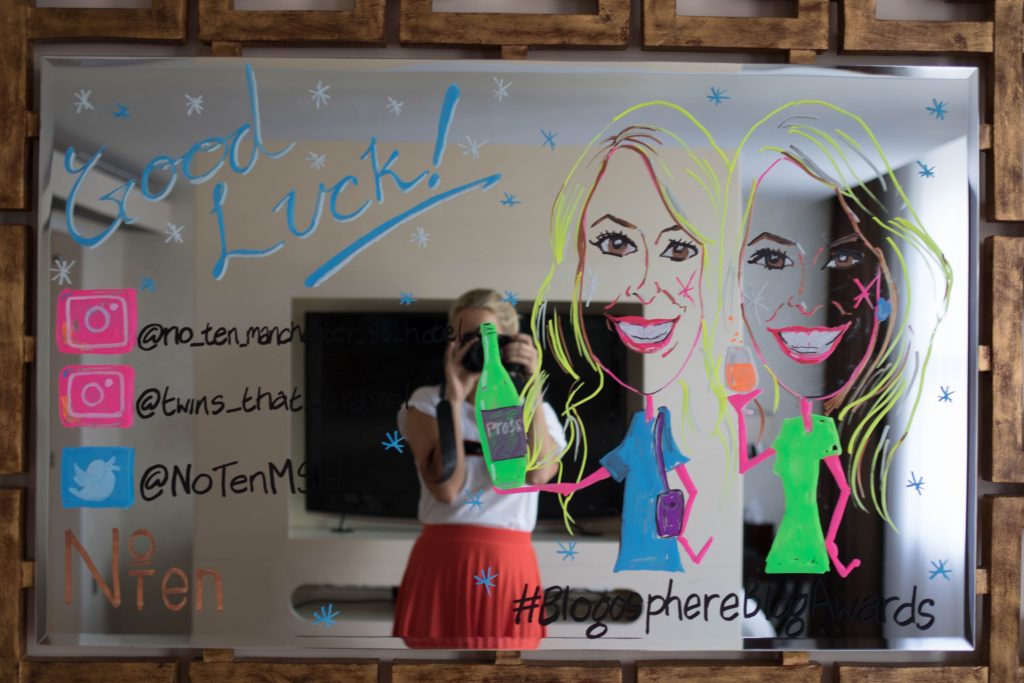 We've only experienced self-portraits once before – aged 12 at a local market in Paris. We passed the uncomfortable hours of being sketched by fantasising over the Mona Lisa worthy portraits our talented artists would surely soon present. The results, however, were both underwhelming and disturbing. Laura looked like the Scream mask. The portraits have not since seen the light of day – gathering dust in the corner of the attic along with my GCSE art coursework. To therefore see ourselves so perfectly replicated was a dream come true; my husband remarking the next day that the artist had even managed to capture one of my eyes being smaller than the other.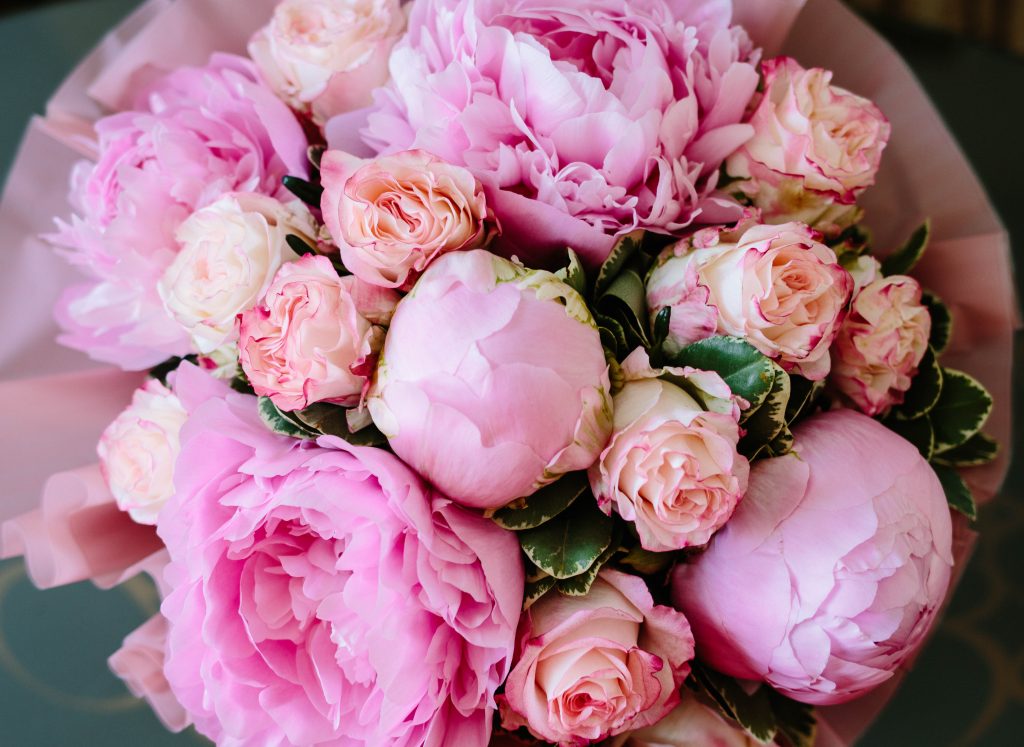 Inside the suite's pocket of calm, time quickly passed us by as we explored our surroundings, taking photos of our 'mini me' caricatures and munching on macarons. Our plan of being ready in six minutes lay in tatters. Indeed, we were so late by this point that there was a vague discussion as to whether we should Skype ourselves into the Blogosphere Awards, instead. Nervously, however, we changed into our dresses for the night – hair and makeup expertly done by the talented ladies at La Powder Box  – and made our way out onto the streets of Marylebone. The time had come to see if we had been fortunate enough to win the title of 'Travel Blogger of the Year'.
The evening was a true blur of flowing drinks; enthusiastic chatter; bursting goodie bags; and the entirely unexpected announcement that we had indeed won the award. With our acceptance speech leaving much to be desired – a bizarre reference to our birth story and a bold announcement that our blog name was grammatically incorrect – we decided it was best to continue our celebrations back at No. Ten. Saying our goodbyes to our friends in the wonderful blogging community, we floated out of the venue on a cloud of happiness.
"Congratulations on your Award!" were the first words that greeted us. "We've been following your night and we're so happy for you," continued the incredibly kind staff who welcomed us back into the hotel. Showing more enthusiasm than some of our friends, it was yet another touching gesture and rather than apologising incessantly – as we had when we had arrived – this time we instead repeated 'thank you' a few hundred times. We then floated up the stairs back to our suite, excited to finally enjoy our little piece of luxury.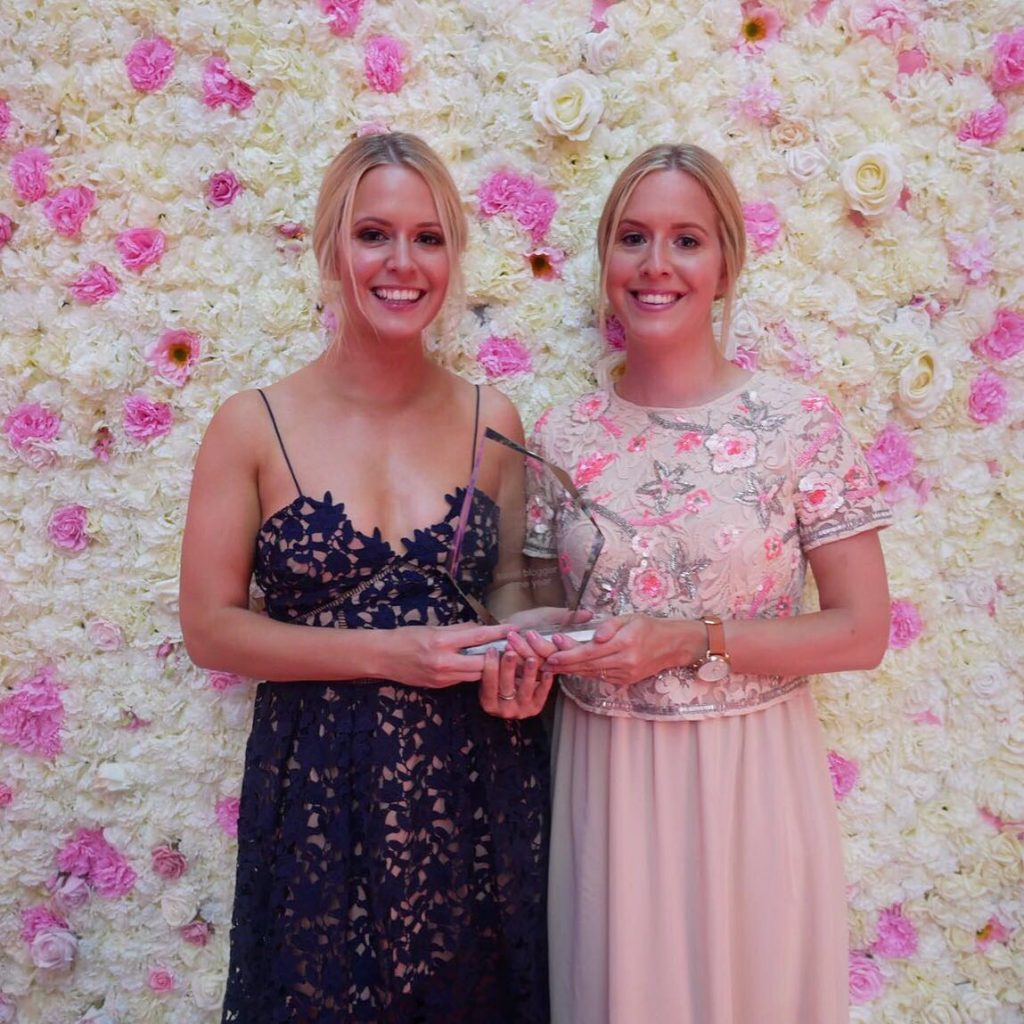 Having already kicked off our heels in the lift, we bounced into our suite to be greeted by yet another surprise: this time our very own framed caricatures. Even more life-like than our mirror versions, this was an incredibly thoughtful gift from the hotel and it has since taken pride of place above my desk. A gentle knock at the door shortly after also brought with it a bottle of Prosecco, which we enjoyed alongside juicy cheese burgers and chips in our dressing gowns. Classy ladies.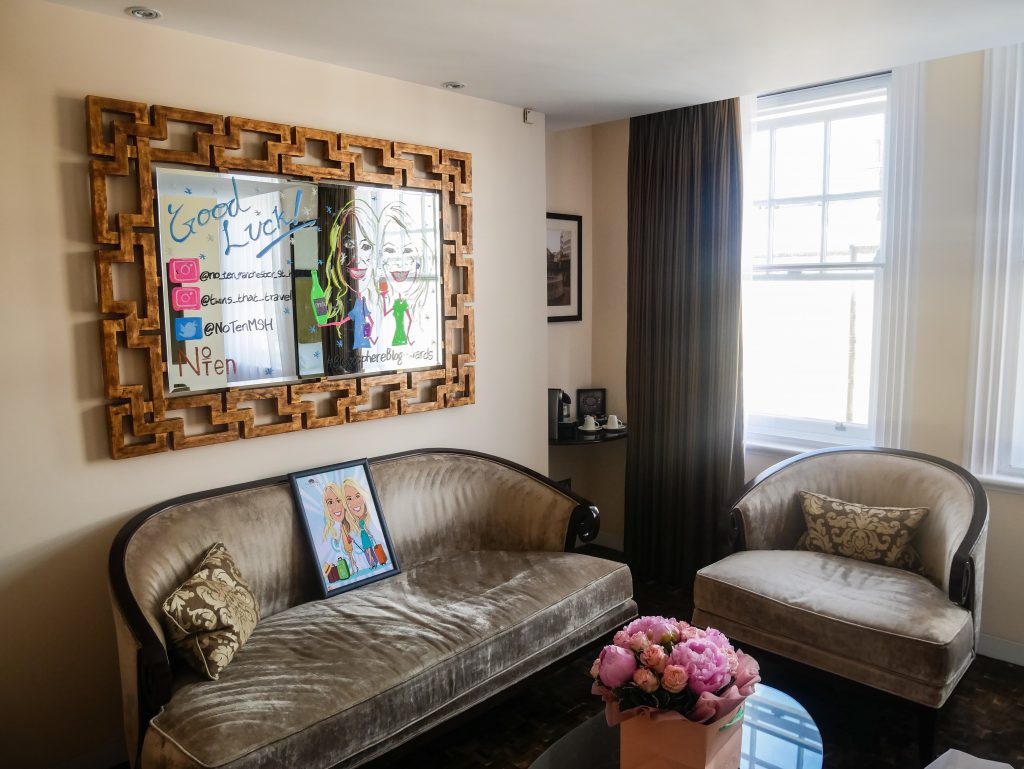 Over a delicious breakfast of fresh omelettes, fruit salads and eggs the following morning, Warren delivered his final surprise: our very own personalised postcards – complete with caricatures – ready to be delivered to our pen pal club members. Yet another example of the generosity and thoughtfulness of the staff at No. Ten Manchester Street.
This is a hotel that had gone truly above and beyond.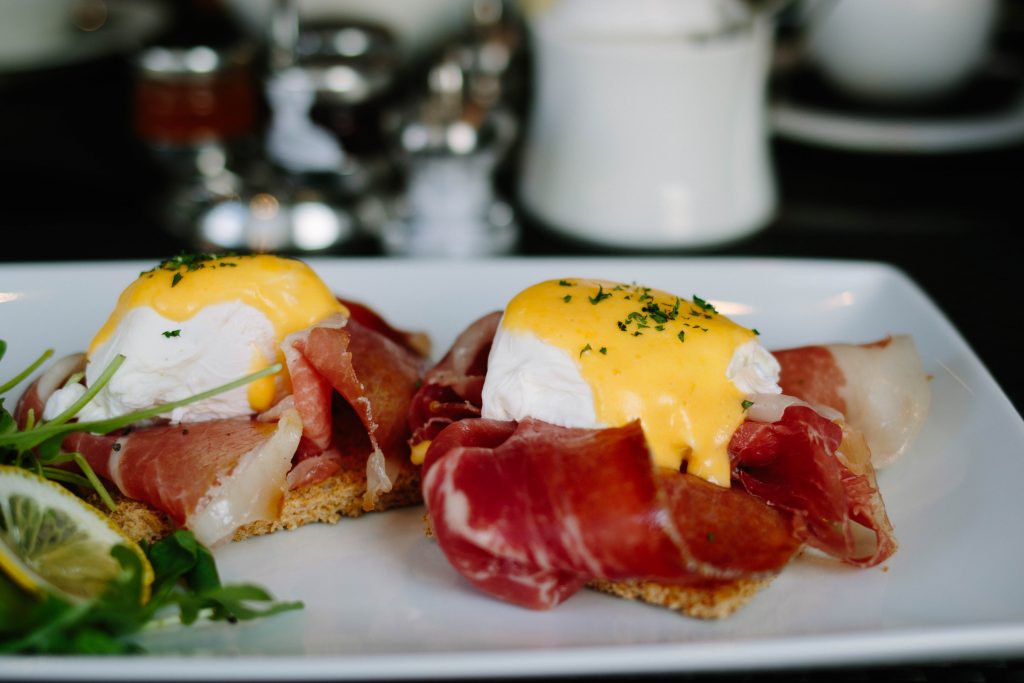 Our final treat before our reluctant departure from No. Ten was a hotel tour, beginning with an entirely unexpected visit to the hotel's walk-in humidor, containing a mind-boggling selection of hand-rolled Havana cigars. The hotel, Warren revealed, is one of London's finest cigar venues; offering a cigar terrace and atmospheric cigar lounge. As children of the late 80s and early 90s, the smell of a cigar is something we'll forever associate with warm Spanish evenings, and our Dad relaxing on the balcony with a cigar and whisky in hand (coughing profusely). We made a mental note to return with him in the near future, to re-live his Spanish glory days.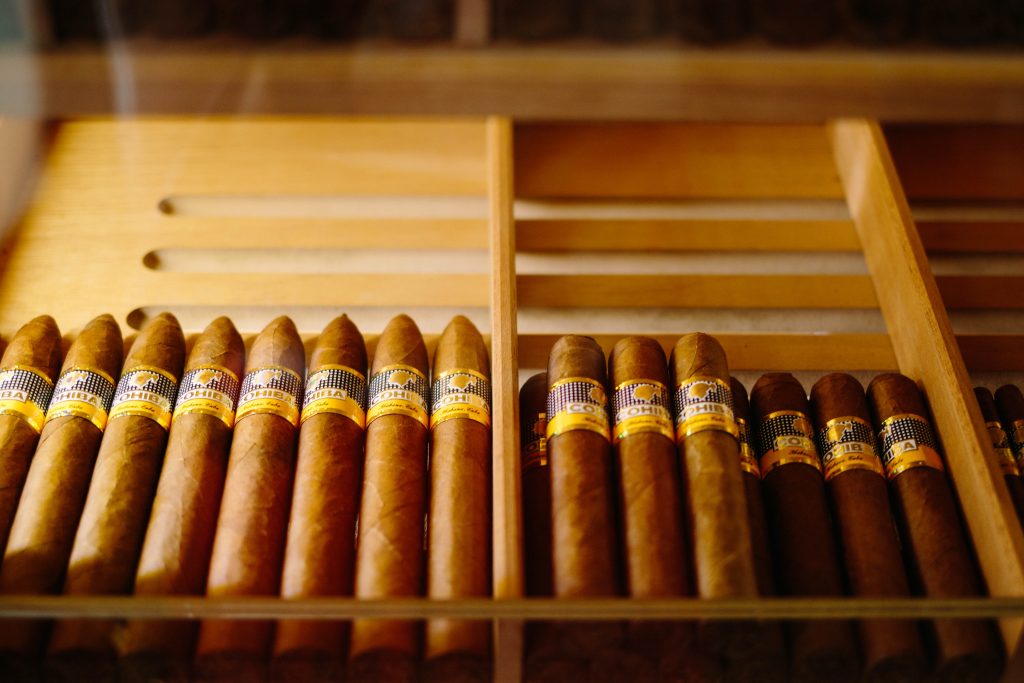 Warren was also kind enough to show us some of the other rooms on offer at No. Ten, including the sumptuous garden rooms, complete with their own mini terrace areas: true pockets of tranquility amongst the hustle and bustle of central London. Additionally, one feature of all the rooms at No. Ten Manchester Street are the HANDY smartphones; fully equipped with 3G and available for all guests to freely take as they explore the city. As frequent international travellers who are at the mercy of wifi spots, this is an ingenious idea and yet another example of the thought and care channeled into No. Ten Manchester Street.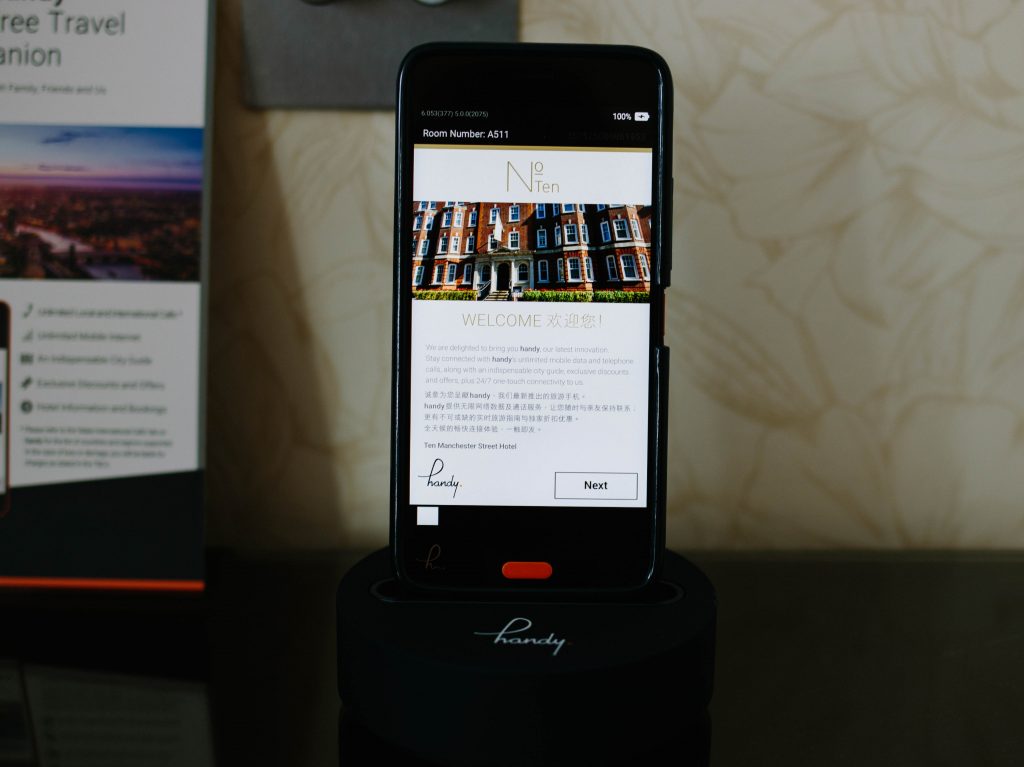 Admittedly, with nerves jangling ahead of the Blogosphere Awards, we hadn't given much thought to our stay at No. Ten Manchester Street. Our minds instead preoccupied with delayed trains and wilting hair, we had no inkling of the thoughtful stay that lay ahead of us. Our time at No. Ten, however, became the true highlight of our whirlwind trip to London – with the hotel showing incredible generosity, warmth and kindness. As we waved goodbye to the lovely staff – our bags now bursting with chubby pink peonies, our very own caricatures and of course, our Blogosphere Award – our hearts were brimming with happiness: this is a hotel we'll no doubt return to again and again.
---
As a thank you to our lovely readers for supporting Twins That Travel, we're offering a T'winning at Ten Exclusive Offer!
Stay for two nights and raise a toast with a bottle of prosecco on arrival and rewind and relax with complimentary Natural Spa Factory gifts.
The package includes:
– Bottle of Prosecco
– Bouquet of flowers from Jamie Aston
– Enjoy a complimentary Handy phone with unlimited 3G & calls to select countries
– Natural Spa Factory Welcome Gift
– Full English breakfast
Terms and conditions:
Offer is valid for a 2-night minimum stay in either a Courtyard Room, Junior Suite or Grand Suite. Valid for stay dates 1st August – 10th September, inclusive of breakfast, bottle of prosecco, flowers and Natural Spa Factory gift. Bookings can be made using the special 'TENTWIN' code and subject to availability. This offer is based on 2 people sharing a room.
Rates will start from:
Courtyard Room: £325.00 per night (Minimum 2-night stay)
Junior Suite: £355.00 per night (Minimum 2-night stay)
Grand Suite: £455.00 per night (Minimum 2-night stay)
Thank you to No. Ten Manchester Street for hosting such a wonderful stay.