It was only by chance that I noticed the little sign. Pinned carefully to a towering phone mast, it was flapping wildly in the wind – the laminated plastic rattling loudly. Holding it still, I glanced at the neatly printed text: 'What to do in the event of a nuclear emergency', it announced. This part of the text was underlined, just in case anyone might underestimate its importance. Below that were pictures of people running, little cloths held over their mouths.
I looked up at the vast, bleak landscape surrounding me – shrubs and wooden huts scattered across the desolate shingle beach – and wondered if the nuclear fallout might already have happened.
I was in Dungeness, a small corner of the Kent coast declared to be both depressingly desolate and awe-inspiringly brilliant. Some have been moved to tears by this landscape – the enormous beach and big skies bringing about some sort of surprise spiritual awakening. Others have been left feeling unsettled, the hum of the looming nuclear power station offering the perfect backdrop for an apocalyptic thriller. I certainly wouldn't have been too surprised to see a zombie stagger out from behind one of the clapboard cottages.
It all felt a little 'Mad Max'.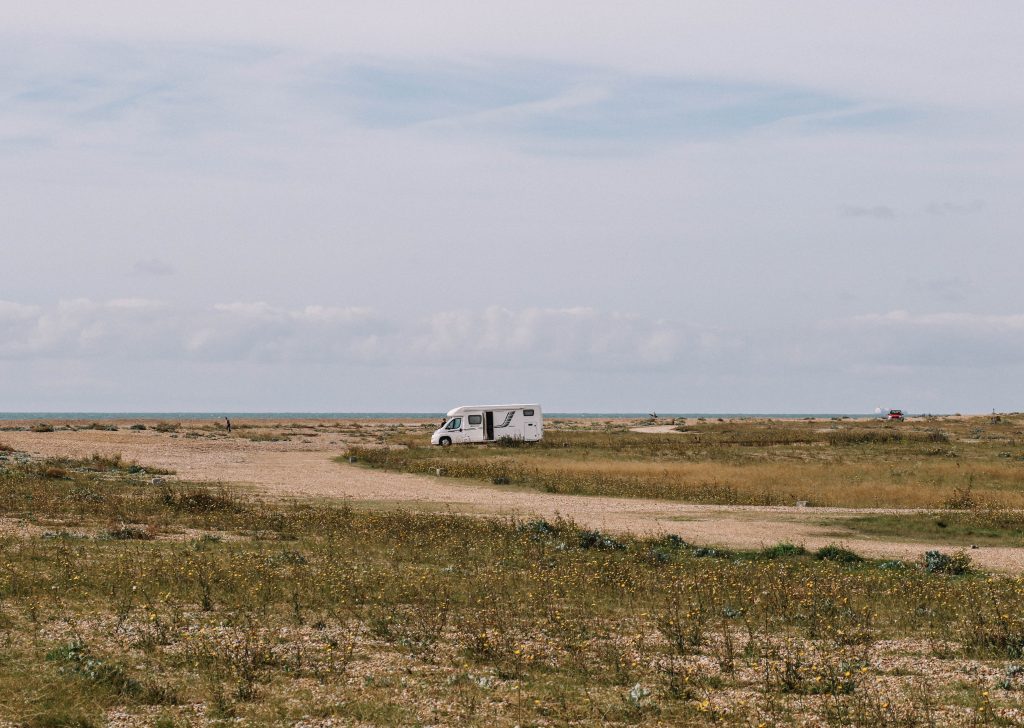 'Dungeness' – a suitably bleak name derived from the Old Norse word for 'headland' – is a bizarre place. Declared to be England's only desert, it is also the largest expanse of shingle beach in Europe. Additionally, it's home to an RSPB reserve; over 600 types of plant; the rare short-haired bumble bee; flocks of migrating birds; a nuclear power plant; a small 'village' of hotchpotch homes; the giant 'listening ears' of the Royal Air Force; endless decomposing huts and fishing boats; the sleekly designed homes of ex-Londoners; a miniature steam train and two lonely lighthouses. This unique landscape has posed as a backdrop for an episode of Dr. Who, an Eastenders 'special' and a music video for Nicki Minaj. It's this last reference that I find the most strange. It's difficult to imagine New York's Nicki Minaj and her glittery nail extensions trudging through all the scattered seaweed. I once read that she demands buckets of fried chicken as part of her rider, and wondered if they had popped these inside one of the dilapidated fisherman's huts for her.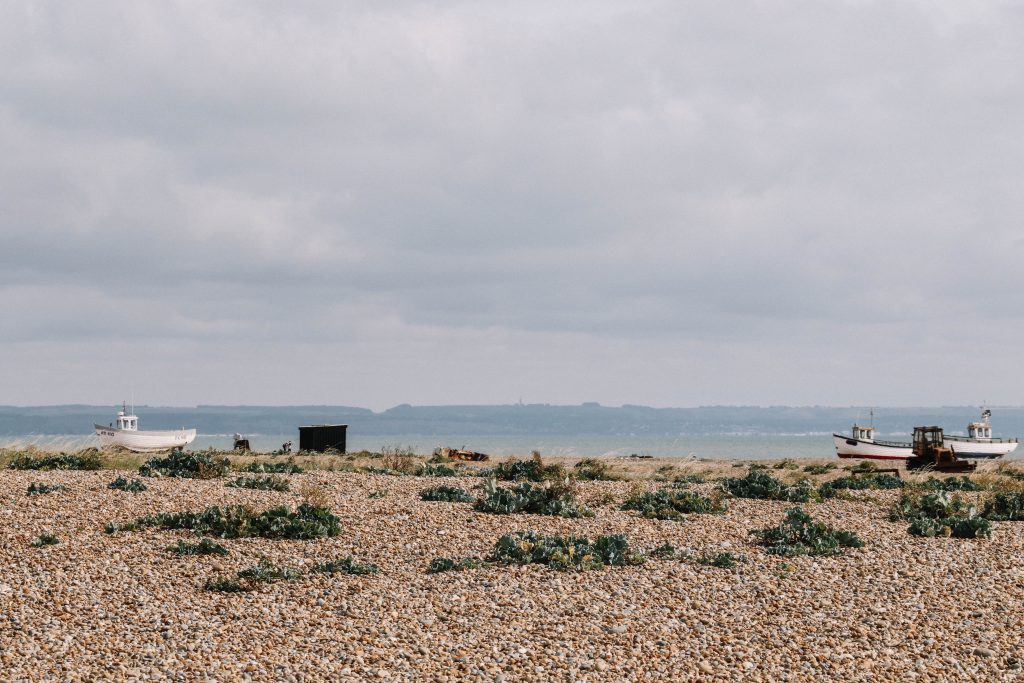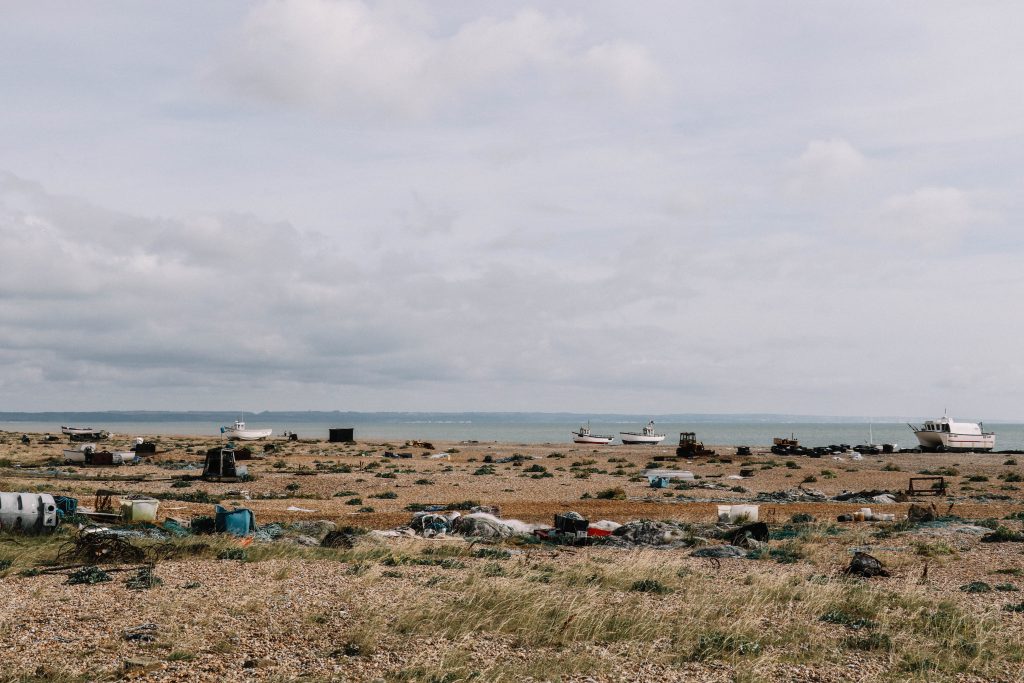 I'd been keen to come to Dungeness since I saw an article on the diverse range of homes built here. From traditional fishing huts – resident on this piece of coastland since 1617 – to the wave of cutting-edge architectural triumphs that have popped up over the last decade, each of the resident forty houses are the unique product of their owner. It's the closest thing to a cult that I've ever seen: one that has rejected conventional city life for a life in the wilderness where anything goes. Even old train carriages for homes.
Driving into Dungeness (a very short journey from Rye, through Camber Sands and down a largely empty coastal road), it didn't take long to spot this iconic landscape. It's hard to overestimate the sheer size of it, something only exaggerated by its flatness. It seems at times that the sea, shingle beach and sky are all one: a shimmering vision of blues and greys. At one end of the coastline lies the colossal power plant, its humming murmur carrying across the beach. Scan away from this and you'll spot the towering lighthouse, followed by clusters of derelict bungalows, timber clad chalets and weather-beaten huts. And amongst all this? Well – nothing. The odd empty train carriage, corroding iron warehouse and – as we saw – a lone caravan, parked amongst the dried seaweed. As we arrived, a man stepped out, standing with his hands on his hips and staring fixedly out at the horizon. It's an hypnotic side-effect that Dungeness has on most of its visitors.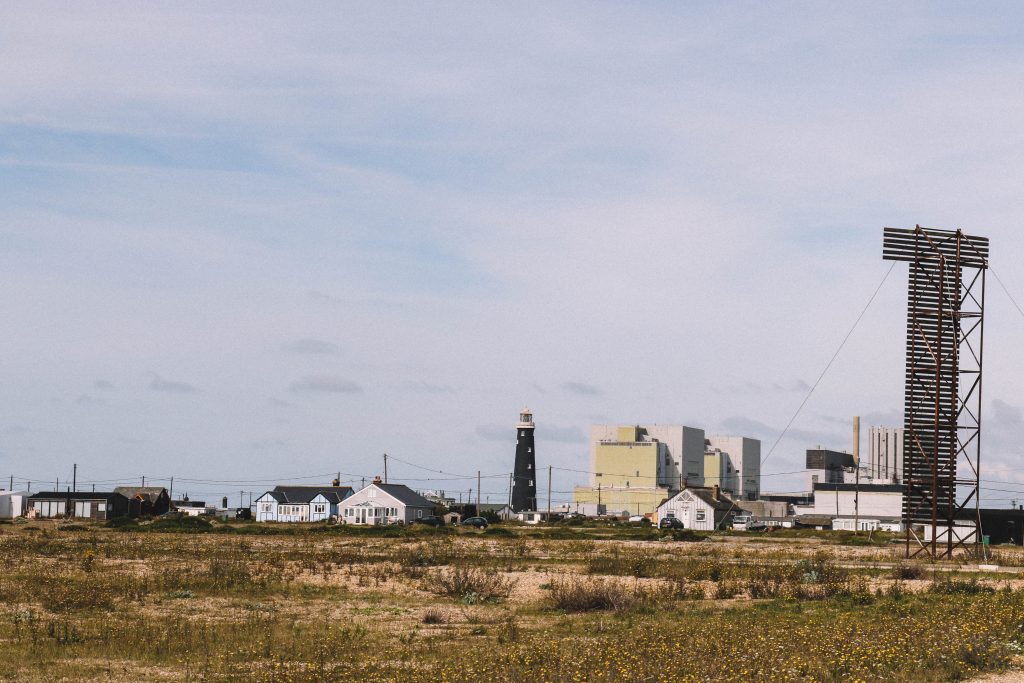 Parking near a fish shack – one that looked like it had been blown there during a storm from The Wizard of Oz – we stepped out into the wilderness. "This is weird", my boyfriend whispered, wrapping his coat around him. I couldn't disagree. Aside from its vastness, what immediately strikes you is Dungeness' soundtrack: one of whistling winds, the hum of nuclear power and your own raggedy breathe. It's eerily peaceful and equally unnerving. Walking heavily across the shingle beach, we headed immediately to the 'village' where the group of houses sat. Navigating past a giant, abandoned tractor, we instantly spotted the infamous 'Prospect Cottage' , the once home of film-maker, Derek Jarman. A vision of black timber and daffodil-yellow window frames, the cottage overlooks its famous gardens, made of flint circles, intricate patterns and tough-looking shrubs. On the side of the cottage, inscribed in black italic writing, is the poem: 'The Sun Rising' by John Donne. This was Jarman's sanctuary away from city life, a place where only the coastal winds and sighs of nuclear power could disturb him. It wasn't quite the traditional 'escape to the country' story that I'm used to – no thatched cottages or pretty rose gardens here. But still, I quite liked it. In fact, I think I sort of got it.
Mike didn't. Mike felt depressed and was worrying that we had left too many valuables in the car.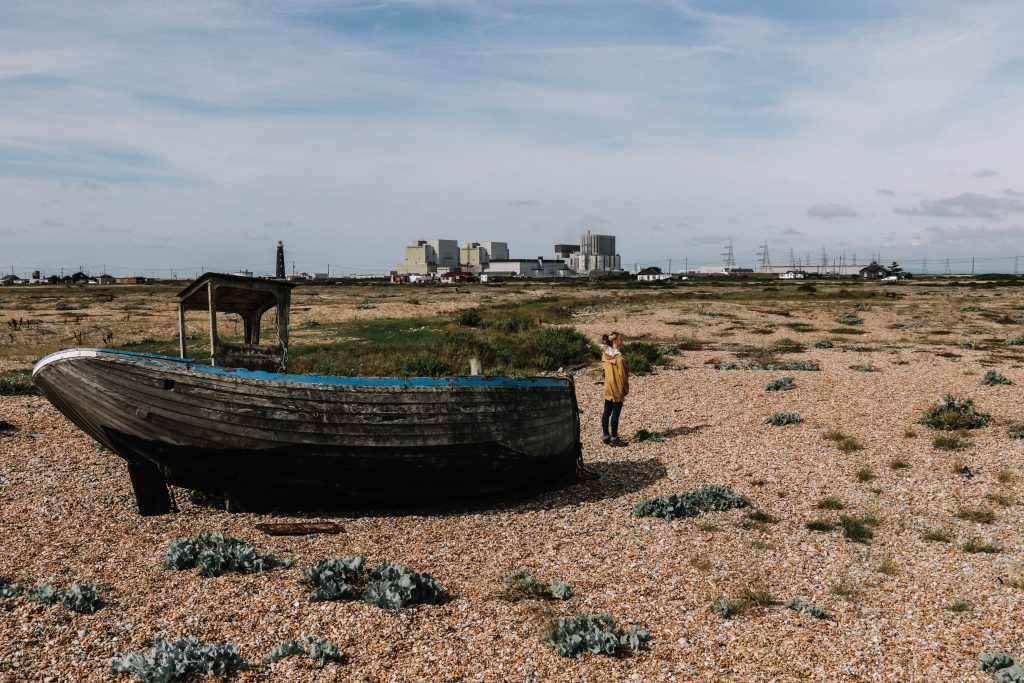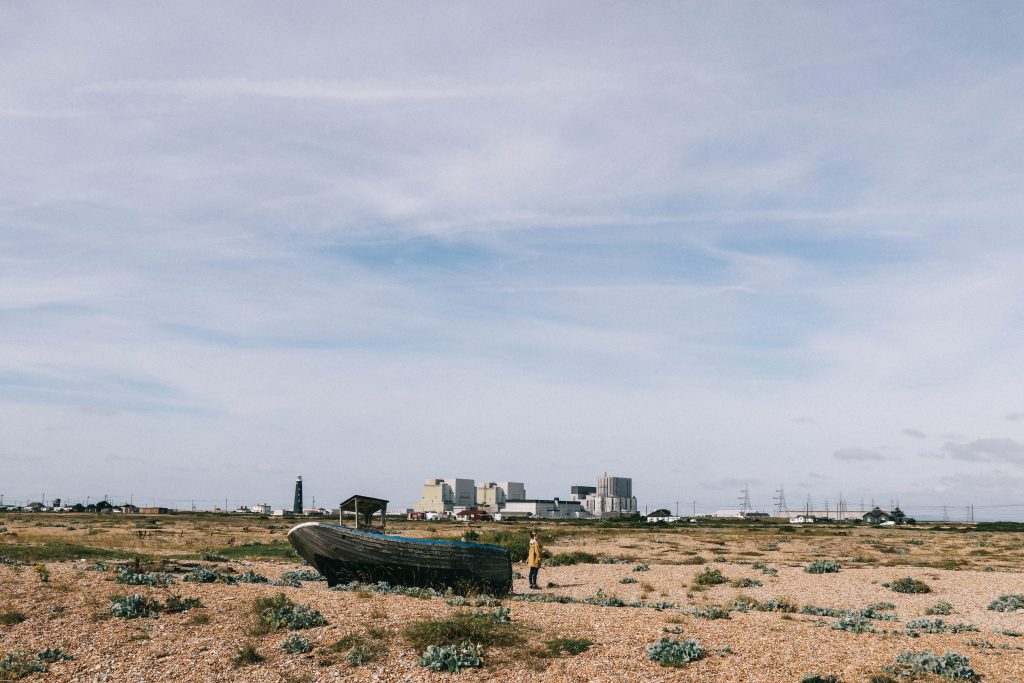 Walking down the 'main road' through the village, it was fascinating to spot the other patchwork quilt of houses built here. Perhaps one of its most famous houses is 'Pobble House' (using the old Kentish word for 'pebble'): an award-winning home built by leading architects. An eccentric holiday home, the house is made up of three cabins, meshed together with rusty steel. It's beautiful, all clean lines and big open spaces. Not far from here lies 'Shingle House', another trendy holiday home that channels a distinctly scandi-vibe, flaunting a timber and cement interior. I imagine trendy Londoners stay here a lot, drinking black coffee and reflecting on life outside of the M25. Although these houses were beautiful, I preferred the smaller – possibly asbestos-riddled – clapboard cottages that were scattered amongst their 'trendier' neighbours. One little cottage was called 'Way o the Wind' and looked a little scrappy. It had obviously spent one too many winters being battered by coastal winds and salty rain.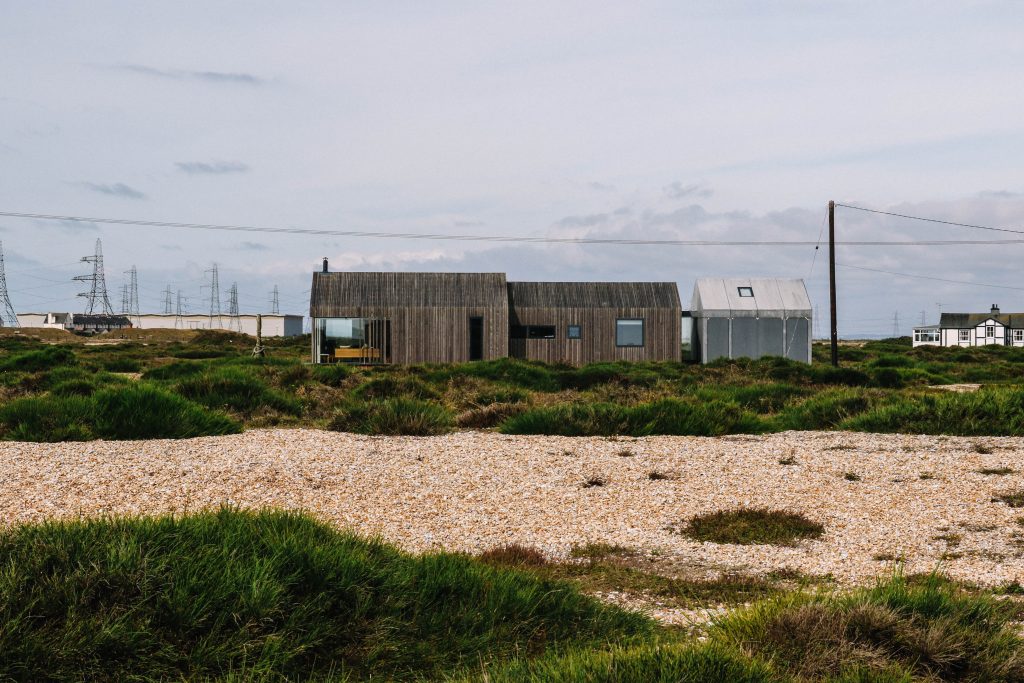 Eventually, we rounded the corner and spied the resident pub: The Britannia Inn. This is a place that promises you mouth-wateringly fresh fish and chips in the summer, and log fires to keep you warm in the winter. I quite liked imagining myself there in the depths of winter, the sound of crackling fires and stormy winter winds filling the place. Just past the Britannia lies one of the area's working lighthouses and lastly, the infamous Romney, Hythe and Dymchurch Railway. This fully working steam and diesel locomotive is one-third the size of a normal train, and can be heard chugging slowly across the desert-like landscape. Serving the Romney Marshes – the area where Dungeness sits – this little train can take you from Dungeness to Hythe, and is a fantastic way to gauge a sense of the enormity of this stretch of coast. We took a short trip to New Romney and back, squeezed inside a little wooden cabin with clouds of white smoke intermittently filling our carriage. This miniaturised journey only added to the dreamlike nature of the landscape, weaving its way through the back gardens of Dungeness' residents. As we passed one back yard, I spotted a brightly coloured sign propped up by a short wooden fence. 'Welcome to Oblivion', it read – the scrawled yellow paint dripping down the piece of driftwood. I didn't know whether to laugh or cry. It summed up this uniquely odd piece of England very well.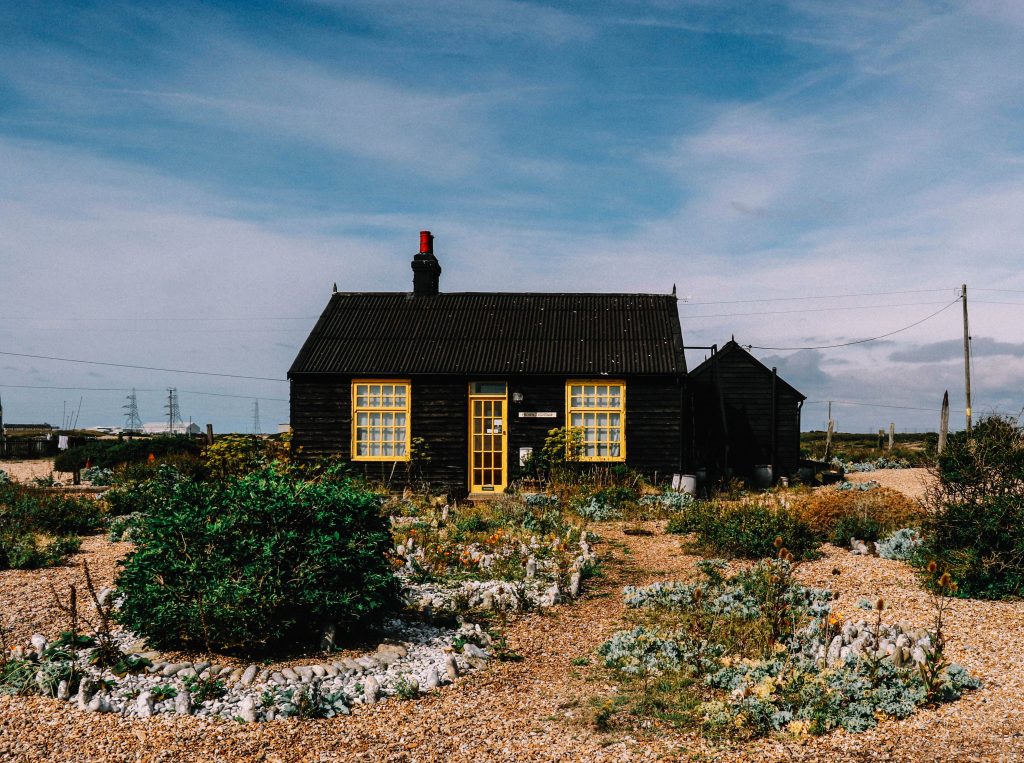 The train now coming to a slow halt back at Dungeness' miniature railway station, a gaggle of families waited eagerly to board the train for their obligatory trip out into the wilderness. They smelt of suntan lotion and strawberry ice lollies. Seeing them there felt oddly jarring, a little like seeing your next door neighbours in the middle of the Wild West, arguing over factor 30 sunblock. This sense of disorientation is perhaps a common side-effect of a visit to Dungeness. After a morning spent under its bizarre and mesmerising spell – only the sound of whistling winds and crunching shingles to distract you – it's all too easy to forget that you are still in East Sussex. Oklahoma? Maybe. But England? Definitely not.
Yes, Dungeness is a bizarre and unusual strip of coastline – a place for zombie movies and Nicki Minaj videos.  But it's also a place for  families, tourists, sticky fingers and miniature steam trains. It's a curious place, a unique place – and a place that perhaps only England can pull off with such eccentric ease.