This review of Yoto Player vs Yoto Mini contains affiliate links.
In an effort to divert our toddler from the lure of Peppa Pig, I began to research screen time alternatives (largely as a replacement for screens on long car journeys and flights).
Although my sister had already invested in a Toniebox, I was looking for something a little more portable – something without little figurines that would, inevitably, get lost.
The first thing that came recommended was the fantastic Yoto Player: a portable audio device that puts kids in control.
Designed by two dads, Ben and Filip –  both of whom who were looking for an alternative to screens (and possibly driven mad by the incessant whinging of Baby Alexander) –  the original Yoto Player was launched in 2018.
Thanks to a fully-funded Kickstarter campaign and a year spent tinkering with a prototype, the Yoto Player flew off the shelves; with parents and kids alike raving about its usability and fantastic audio content.
It was even named one of TIME's 2020 Best Inventions.
However, and while the Yoto Player has remained a popular product (it's now on its 3rd iteration), those tech-savvy dads weren't finished. In 2021, the Yoto Mini was launched: a palm-sized audio companion boasting many of the features of the original Yoto Player, but without the size.
While this expanded range is fantastic news, it's nonetheless put parents in a bit of a predicament.
Which is best: the Yoto Player or the Yoto mini? What are the differences between the Yoto vs Yoto Mini? And (for parents of two or three year olds), which is best for a toddler – the Yoto Player or Yoto Mini?
Having now tried and tested both Yoto Players (my sister has the Yoto Mini, while I use the 3rd generation Yoto Player), I can thankfully provide some answers.
Below is a complete audit of the differences between the Yoto vs Yoto Mini, alongside my final verdict on whether the Yoto or Yoto Mini is best for a toddler.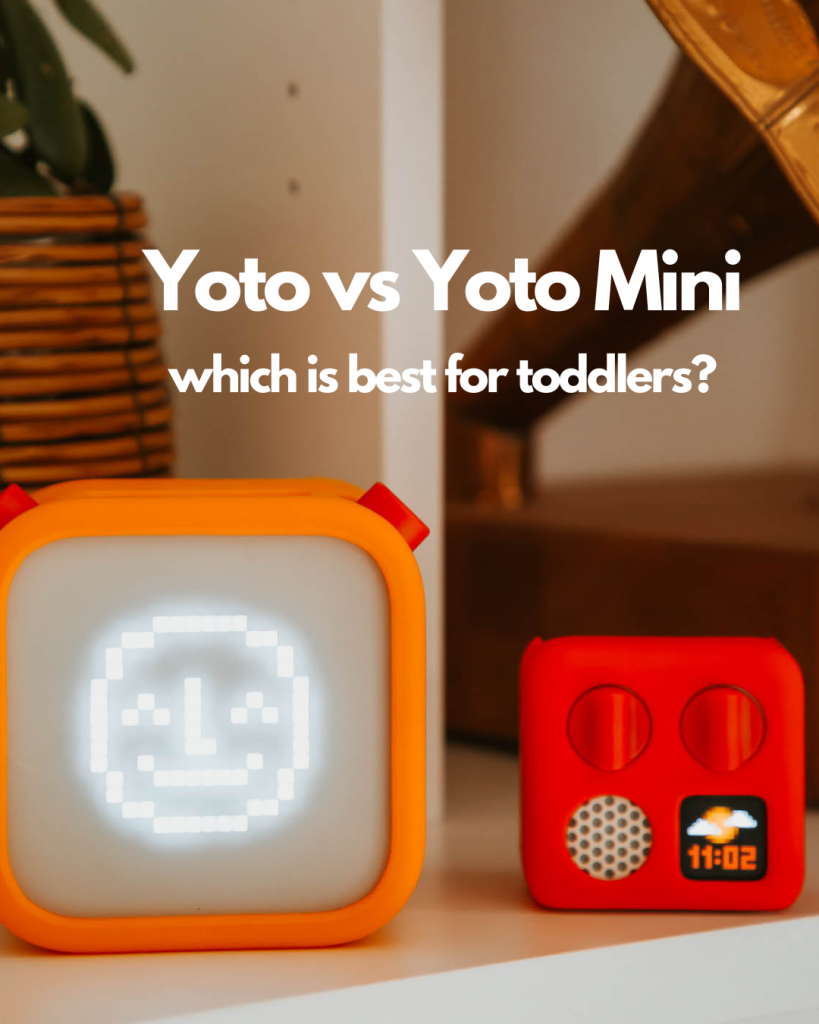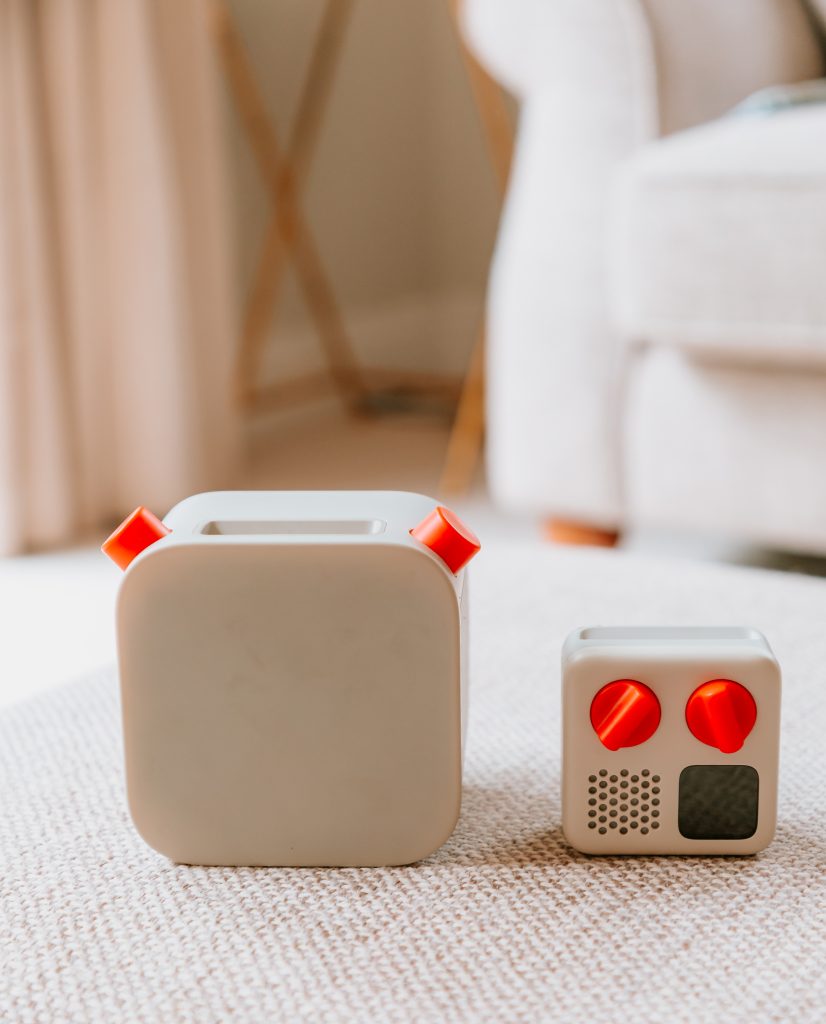 How Does the Yoto Player Work?
Before we launch into a full comparison of the Yoto vs Yoto mini, firstly a quick overview of the larger Yoto Player. The vast majority of the larger player's features come as standard with the Yoto Mini, so this will be a useful outline of how the Yoto family works more generally.
Designed to encourage independence by letting your little one take control of what they are listening to, the Yoto player is, from the outset, effectively a small audio speaker.
However, dig a little deeper and you'll soon realise that the Yoto does far more than simply play music. There's an entire world hidden inside these modest gadgets.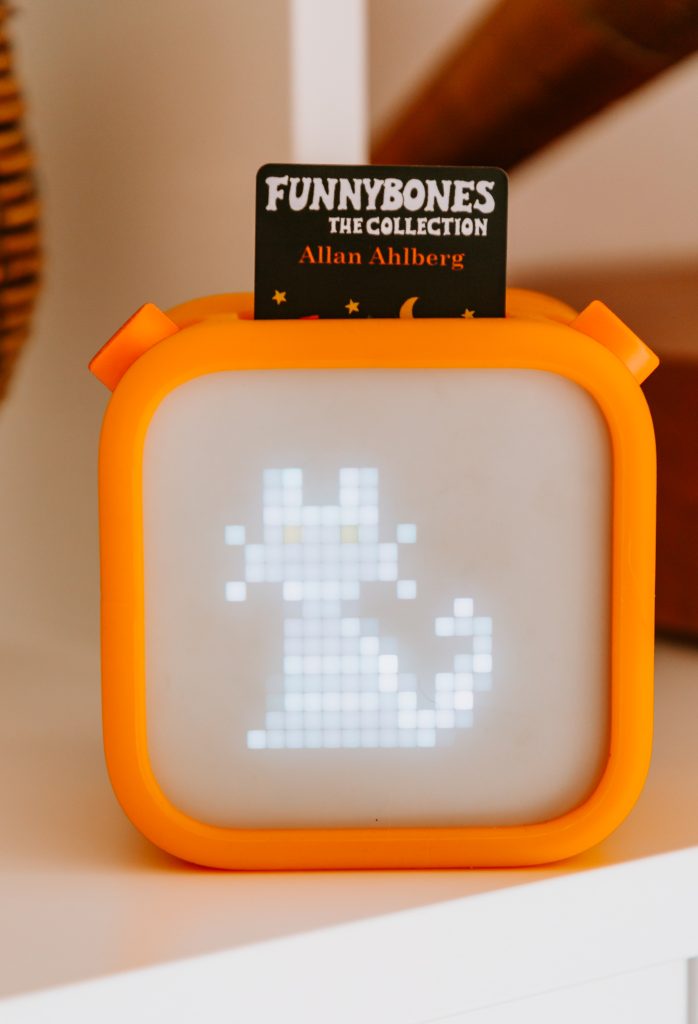 Yoto Cards
Aimed at children between the ages of 3-12 (more on this later), the Yoto has a slot at the top that kids can insert 'Yoto cards' into. These cards have pre-recorded stories on them, alongside songs, educational material, podcasts, poetry and recordings geared towards movement and mindfulness.
The Yoto Player also comes with blank cards that you can record your own audio onto (you just record this via the Yoto app and then link it to a blank card – it's very easy).
You can also download the content from the cards and app onto your player – storing them for when you're on the go.
With big, bright chunky buttons, kids can then turn the dial to skip through stories and adjust the volume on their own.
Free Audio on the Yoto App
Alongside the cards, you can also use the Yoto app with your player, in order to access some great (and entirely free) audio.
This includes radio stations such as BBC Radio, Fun Kids Radio and French, Spanish and German speaking stations. You'll also find sleep sounds, sleep radio, white noise and, if you need it, an alarm (although why you'd need this with a young kid remains unclear).
On the app you'll also find plenty of other great little hacks, including a toothbrush timer, tidy up timer, home work timer and soundscapes (fantastic for imaginative play). These soundscapes include Dinosaur Island and Construction Site, both of which my son absolutely loves and they definitely help to bring a whole new dynamic to our open-ended play.
The Yoto player can also be used as a bluetooth speaker, so you can play your own audio through it from your phone. Additionally, you can also buy headphones for the Yoto Players (big and small) – ideal for listening on the go.
As I mentioned above, both speakers can also be used offline and you can download the stories from your phone and cards onto each player. The 3rd generation Yoto Player can store 600 hours of stories, which (you'd hope) is plenty to keep your little one occupied.
Yoto Player Accessories
Lastly, both Yoto players come with a great array of accessories, including jacks (to make travelling with them easier), travel and card cases, headphones and cute little card pouches.
Overall, for what is in essence an audio speaker, the Yoto Player is an incredibly versatile, feature-packed and engaging piece of technology.
It really is brilliant.
In fact, I'd even go as far as to say it's the best kid's bluetooth speaker on the market and (I believe) much better than the TonieBox.
The Yoto Card Membership
While you can buy your Yoto cards separately and there's plenty of free audio content on the app, Yoto do run their own Yoto Club (only available within the UK).
In short, this monthly subscription membership automatically sends out 2 Yoto cards (of your choice) each month. Once you've selected them, they'll also automatically be available on your Yoto app, before arriving in the post.
The cost of the Yoto Club is £9.99 per month, or – if paid yearly – £99.
We haven't signed up to the club yet as we're still finding there's plenty of free audio to get through on the app. Likewise, and so is the nature of toddlers, we find our son likes to listen to the same story on repeat – ad infinitum (something I'm sure will change – we hope).
Is the Yoto Player Suitable for a 2 Year Old?
Given that Yoto suggest that their player is suitable for children aged between 3 – 12, I was obviously a little unsure as to whether it was worth introducing it to my 2 year old.
According to Yoto, prior to the age of 2, the Yoto Player is best used by parents – largely as a bedtime tool and around the house. This is thanks to Yoto's large collection of sleep audio (including white noise), its calming night light and its handy room temperature monitor.
The company don't expect that children under 3 will be able to independently interact with the player in the way that older kids might.
However, and while all kids develop at their own pace, my 2.5 year old has really enjoyed using the Yoto Player – and gets an obvious kick from selecting and changing the cards himself.
Of course, he's still is a little fat-fingered and clumsy, and he can get frustrated if he can't immediately manoeuvre the cards himself, but he's learning. The joy on his face when he manages to slot the card in and the audio starts is priceless.
He's also really enjoying the autonomy that comes with getting to choose which story he wants to listen to. To prevent overwhelm, we usually present him with just two or three choices, and he'll choose which goes in (usually Peppa Pig).
We also use the toothbrush timer when we brush his teeth, which has been a life-saver. As any parent of a toddler knows, brushing their teeth can be an ordeal – and so having this happy audio to lean on has made it a far more pleasant experience.
We also play stories to him at bedtime and it definitely helps him to settle. It's lovely hearing Thomas the Tank Engine playing over the baby monitor as we make dinner; knowing he's drifting off happy and content.
Another unexpected bonus of the Yoto Player (and app) are the free soundscapes, which we stick on when he's engaging in open-ended play (playing with his diggers, trains, dinosaurs and the like). The construction site soundscape is particularly brilliant and he loves the rumbling sound of the vehicles.
Perhaps the only thing our 2 year old can't yet do is reliably use the dials to skip through the stories. He just hasn't quite grasped the concept of this quite yet.
Instead, he tends to over-enthusiastically twist the dials back and forth, without pausing (this goes for the volume too). He also gets a little frustrated with the headphones, so again, this is something we'll probably wait to re-introduce when he's a bit older.
Overall, I'd ultimately say that the Yoto is appropriate for a 2 year old, even if they can't enjoy all its bells and whistles.
My son completely understands its function and he really enjoys the independence of choosing his own cards. I also think that by introducing it early, he'll be able to reap its benefits even more so once he hits 3.
Lastly, when he's at childcare, I use the Yoto Player as my own bluetooth speaker and listen to the radio through it. It's surprisingly handy.
Differences Between the Yoto vs Yoto Mini
Now that we've covered the main functions of the Yoto Player, let's get down to business: a comprehensive review of the Yoto Player vs Yoto Mini.
While I have the 3rd generation Yoto Player, my sister (and her toddler) have the Yoto Mini. We've therefore had a great opportunity to compare the two models side by side, and to see how they work in different settings.
Firstly, let me stress that while there are some differences between the two products, these are fairly small and nuanced. On the whole, what you get with the original Yoto Player is what you'll also receive with the Yoto Mini.
However, there are some variations – and dependent on what you're looking for from your audio speaker – these differences may sway your decision.
So, let's begin. What are the main differences between the Yoto and the Yoto mini? Read on to find out more.
1. Size and Sound Quality
When it comes to size and sound quality, there are a few differences between the Yoto Player vs Yoto Mini.
The 3rd Generation Yoto Player is geared towards use around the house. As such, it's bigger – at 11 x 11 x 10.5. Thanks to its size, it also has what Yoto refer to as 'acoustically-engineered' stereo sound – meaning that it has two fairly sized speakers.
However, and although it's the 'larger' of the two products, it's far from big. In fact, if you choose to get a jack for your player, it's incredibly portable and easy to lob in the car, if need be.
On the other hand, the Yoto Mini is predictably smaller – 7 x 7 x 4 (it fits into the palm of your hand). Due to its size, the sound is also mono, via just the one speaker. The Yoto Mini is therefore designed for use on the go and with headphones.
However, having listened to the Yoto Mini without headphones, I think the sound is just as good as the Yoto Player, if not better (something I definitely hadn't expected).
2. Battery Life
Once charged, the battery life of the Yoto Player (3rd generation) is 24 hours, whilst the Yoto Mini is 20 hours.
Charging the Yoto Player is also a little bit more convenient than the Mini. It can be used alongside a wireless charging dock – something that the Yoto Mini doesn't have. Instead, you'll need to charge the Yoto Mini via a USB-C (you can also use this USB to charge the original Yoto Player, too).
However, it's important to note that the wireless charging dock doesn't come free with the Yoto Player and you'll need to pay for it separately (£30).
Charging mechanics aside, the battery life of both players is pretty fantastic and the difference in battery life is negligible.
3. Display
As the Yoto is intended to be an alternative to screens, both players have been deliberately designed to have fairly basic displays (something that initially enraged my toddler).
The Yoto Player has a bigger display, featuring an intentionally pixelated display. However, although pixelated, it's still bright, fun and engaging.
This display will change regularly, taking the artwork from whatever story you happen to be listening to, and can also show the time and weather (the display will automatically turn itself off if it's not on charge).
You can also make some really fun artwork for your own customised cards, by choosing from different icons inside the Yoto app.
By contrast, the display on the Yoto Mini is much reduced – a small square at the bottom of the player. It shows all the same artwork and features as the 3rd Generation Yoto Player, but for obvious reasons, is simply smaller.
Given that this display is meant to be pared back anyway, I don't think this design difference really matters. The content your kids are meant to engage with is the audio, not any visual features.
When it comes to dials on the Yoto vs the Yoto Mini, both have two dials – although the buttons on the Yoto Mini are smaller and so possibly more fiddly for younger kids to use.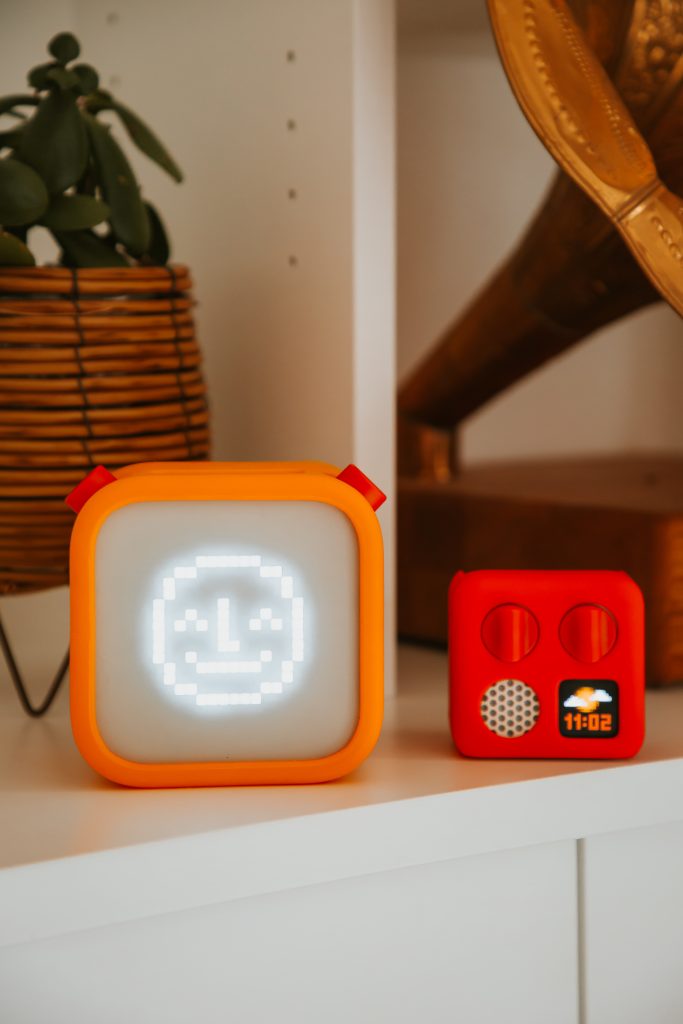 4. Features
When it comes to the differences between the Yoto Player and the Yoto Mini, there are surprisingly few. In fact, any discrepancies largely come down to the size of each player.
However, it's important to note that Yoto Mini has lost some of the functions and features of the 3rd Generation Yoto Player.
Night Light
Firstly, the larger Yoto Player has a night light, which the Yoto Mini lacks. Personally, I think the night light is a real plus of the Yoto Player, and it's really handy to use alongside the white noise when my son goes to bed (and when we're travelling).
To turn the nightlight on, turn the Yoto over so the display is face down – and you'll see a light come on. This is automatically set to white, but you can control the colour and intensity via the app; something we think is brilliant.
Without this night light, the Yoto Mini might perhaps have less of a role come bedtime.
Room Thermometer
Likewise, the Yoto Mini doesn't have the room thermometer that the Yoto Player has. Again, we use this regularly as part of our bedtime routine (to ensure our son's room isn't too hot) and I think we'd miss it if we had the Yoto Mini.
OK-to-Wake Light
Thankfully, the Yoto Mini does benefit from the Yoto Player's fantastic 'OK-to-wake' light, which is a godsend when sleep training. In short, you can set a light to come on your Yoto, which lets your little one know it's OK to get up (preferably after 6am).
We have chosen a cosy red for bedtime and a green light to come on when it's OK for our son to get up (this can all be set up in the app, in the parental controls section). The display also adjusts, with it showing an image of the sun in the morning, and the moon at night.
5. Portability
The Yoto Mini was designed with portability in mind, so that parents and kids can throw it in a bag and travel with it. It's small enough to sit in the palm of your hand or your lap, which also makes it perfect when travelling by car or airplane.
As such, it really is fantastically portable. It's lightweight, tiny and with its 'mini adventure jack' on, you can wrap the handle around your hand and head off.
By comparison, the 3rd Generation Yoto Player is bigger and a slightly awkward cube shape. It therefore takes up quite a lot of room in your bag and isn't necessarily something you'll want to carry around with you (a small kid would tire of carrying it around very quickly).
However, and on the flip side, it's easy enough to move quickly and effortlessly around your home, and is far from heavy.
6. Listening Experience
When it comes to comparing the Yoto Player vs Yoto Mini, one thing I assumed was that the Yoto Player would offer a far superior listening experience.
Given that the Yoto Player has stereo sound and two speakers, whereas the Yoto Mini has the single speaker, I was pretty adamant that this 3rd generation speaker would outstrip the Mini audio wise.
However, and surprisingly, this wasn't the case at all.
Firstly, both players can be used alongside headphones, which immediately alters the listening experience anyway. With headphones on, both players offer a crystal-clear and intimate listening experience.
However, even without the headphones, the Yoto Mini really packs a punch in terms of quality and volume. In fact, I'd venture that it's possibly even better than the larger Yoto player – something I definitely hadn't seen coming.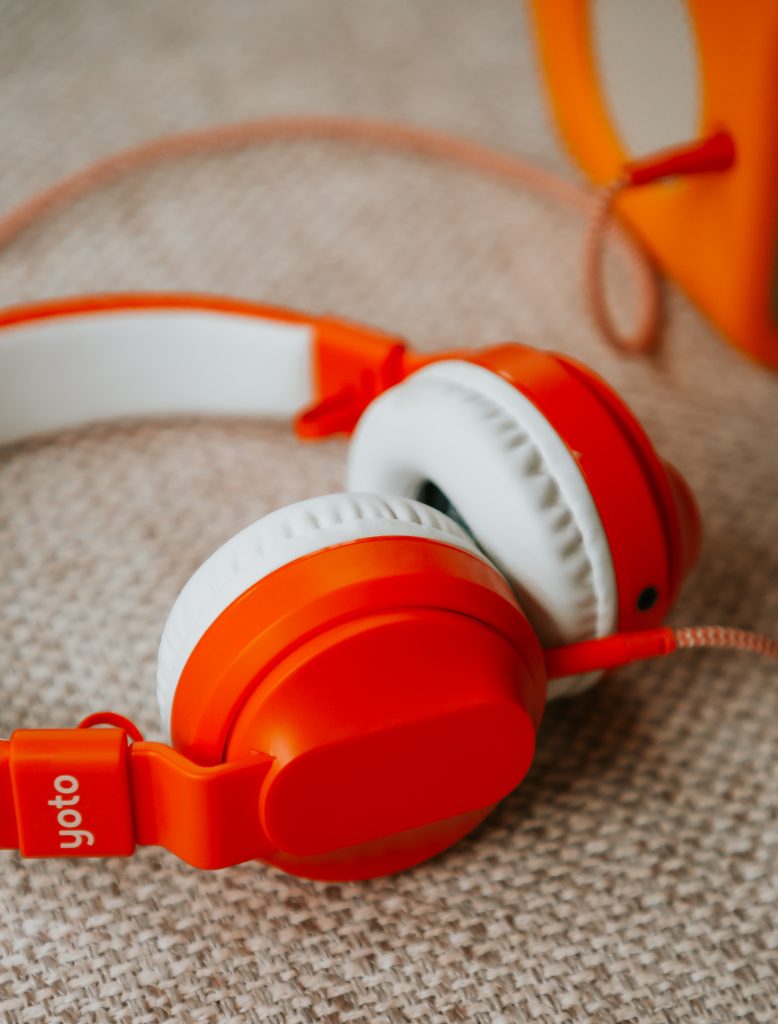 7. Price
Perhaps the biggest difference between the Yoto Player vs Yoto Mini is the price.
The 3rd Generation Yoto Player currently costs £99.99, whereas the Yoto Mini is £59.99.
Importantly, both only come with the same initial accessories (a basic charger) and with one starter card, so you'll need to pay extra for cards regardless. However, given that there's so much free audio on the app, I'd probably hold off doing this until you've really explored all the content.
However, if you do want to get started with some cards immediately, then you can buy Yoto's Starter Pack Bundle (currently £10, reduced from £19.99). This includes 6 cards, although these don't include the big hitters (like Peppa Pig) and instead include cards like 'My First 100 Words', 'Crackling Fire' and 'Songs from the Playground'.
They are nice enough, but not hugely engaging (at least my two year old didn't think so, anyway).
Alternatively, if you know what your kid likes, you can go straight for themed bundles, including The Grufflo and Friends bundle (£24.99), Super Simple Songs Collection (£24.99) and Disney Songs.
You can filter the cards by age group, to make things a little easier.
Which is Best for a Toddler: Yoto Player or Yoto Mini?
So, having trialled both the Yoto Player and Yoto Mini on two toddlers, which do I think is best suited to their needs?
It's a difficult question to answer.
Firstly, before you choose your Yoto model, you should ask yourself what you'll be using it for. Do you want a versatile speaker that'll fit seamlessly into the wider eco-system of your home? One that can play music and podcasts in the day, but help with sleep training and relaxation at night?
Or, are you looking for a device that you can throw in your bag and take with you in the car, or on holiday? A speaker that your child can easily hold onto?
Secondly, how much are you hoping to use your Yoto speaker? Is it just something you'll bring out for car journeys or flights? Or are you intending it to become a regular and integral part of your child's routine?
Initially, and as I mentioned at the start of this review, I was looking for a speaker that we could use on the go; a device that would tempt my son away from Bing's endless whinging.
As such, I'd have therefore initially thought that the Yoto Mini was best for our family.
However, we eventually took the plunge with the 3rd Generation Yoto Player – and I'm so glad we did.
Yes, this player is bigger and packing it isn't quite as effortless as it would be with the Yoto Mini, but this trade off is more than worth it. Our Yoto Player has become so much more than just a screen time alternative.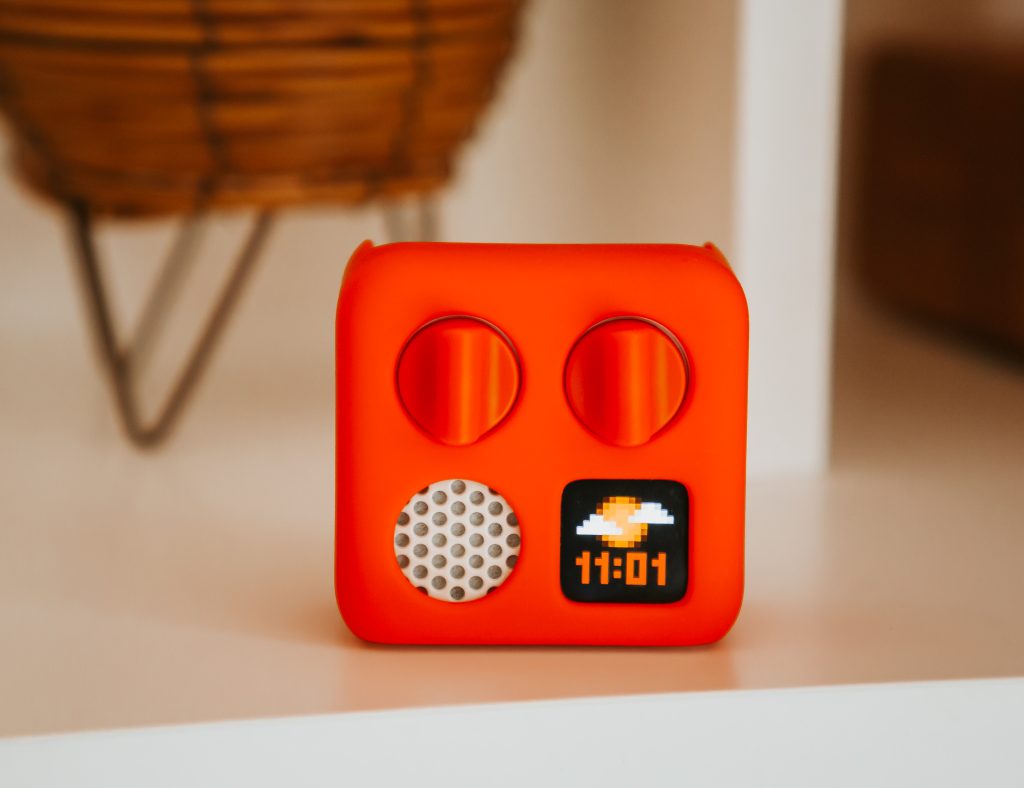 It's an inherent part of our bedtime routine and a sleep trainer. It enhances our play with evocative soundscapes and entertains my son in the car. It is our on-the-go radio and podcast provider, and our trusty white noise machine and night light when we travel.
It helps lead our nursery rhyme time and has helped my son learn how to count. It also connects him to family members far away, thanks to Yoto's customised cards.
And best of all? Despite being only 2.5, it's a device that our toddler can most definitely use, thanks to its tactile buttons and large display.
While I'll concede that the Yoto Mini does have many of these features, and could be used in an equally versatile way, I still can't help but fall on the side of the larger Yoto Player – perhaps even solely for its night light function.
I also think a toddler may find the Yoto Mini a little more frustrating to use, purely due to its smaller display and buttons.
Ultimately, and while I think the Yoto Mini is fantastic for travel, having a Yoto Player that we can use not only for travelling, but also for nighttime and morning routines, has been a real game changer.
And it's for this reason that I would say the Yoto Player is best for toddlers (and, at a push, better than the Yoto Mini).