11 Best Things to do in Venice Beach, California
1. Stay at The Kinney, Venice Beach
If you're researching best things to do in Venice Beach, LA, it's more than likely you'll also be looking for somewhere to stay.
Look no further than the fantastically fun, The Kinney – based in the Marina Del Rey area of Venice Beach (also known as LA's marina).
Claiming to be one of Venice Beach's most fun-loving residents, The Kinney is a colourfully curated hotel filled with giant murals, modern art work and neon signs. It's the sort of place you might find Barbie and Ken enjoying a weekend getaway: vibrant, sassy and hot pink.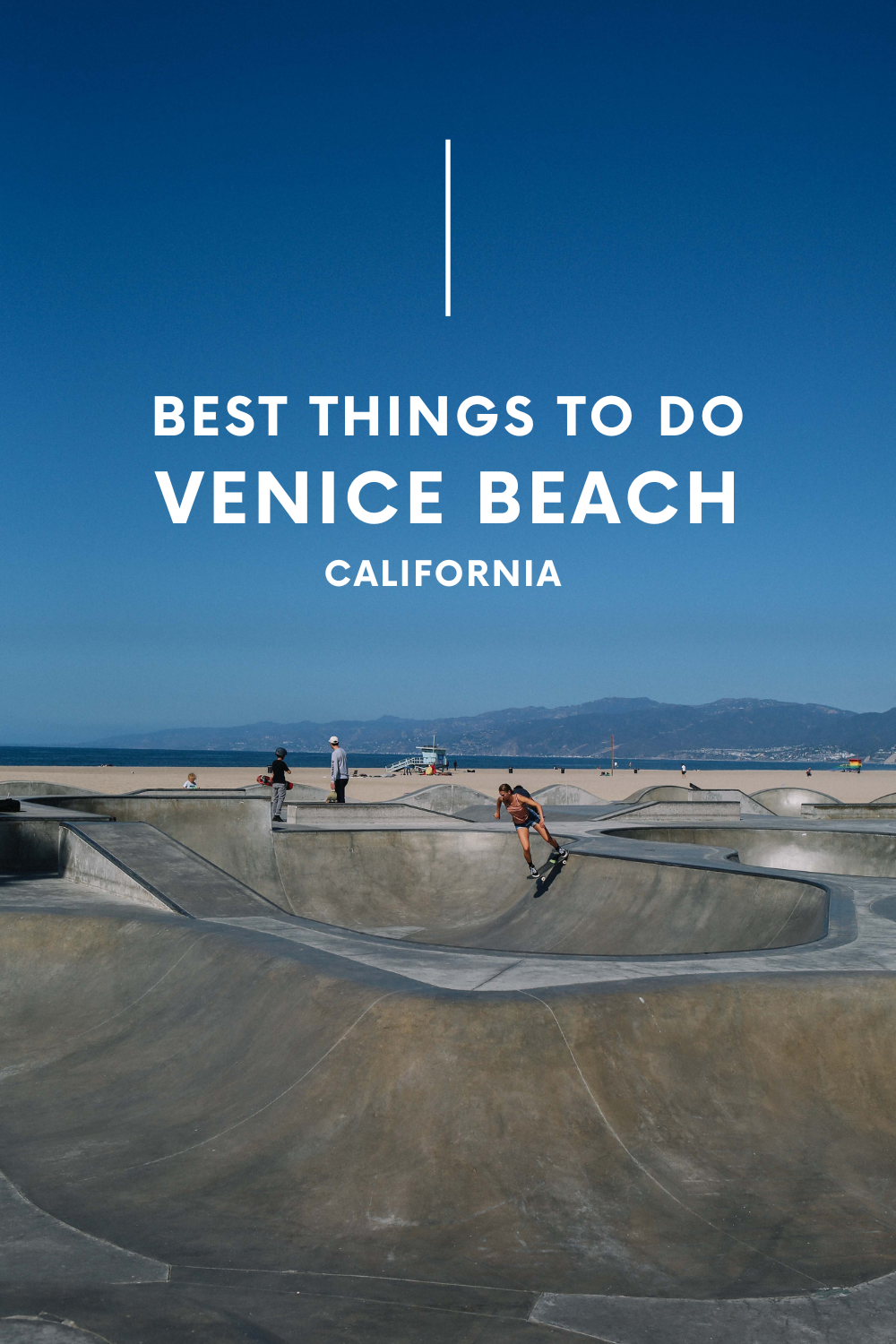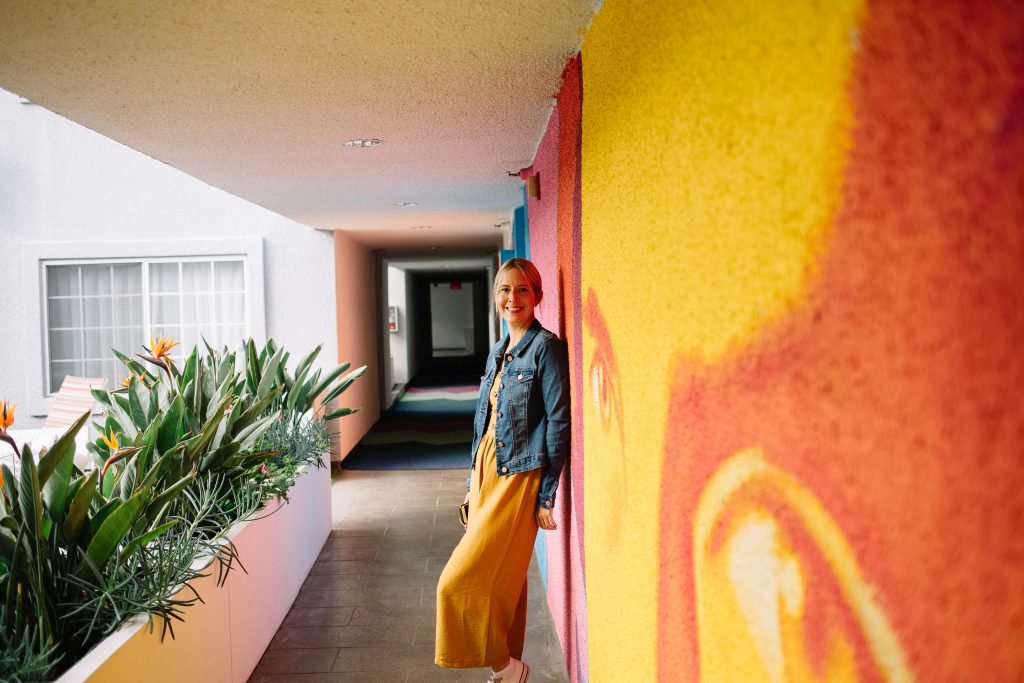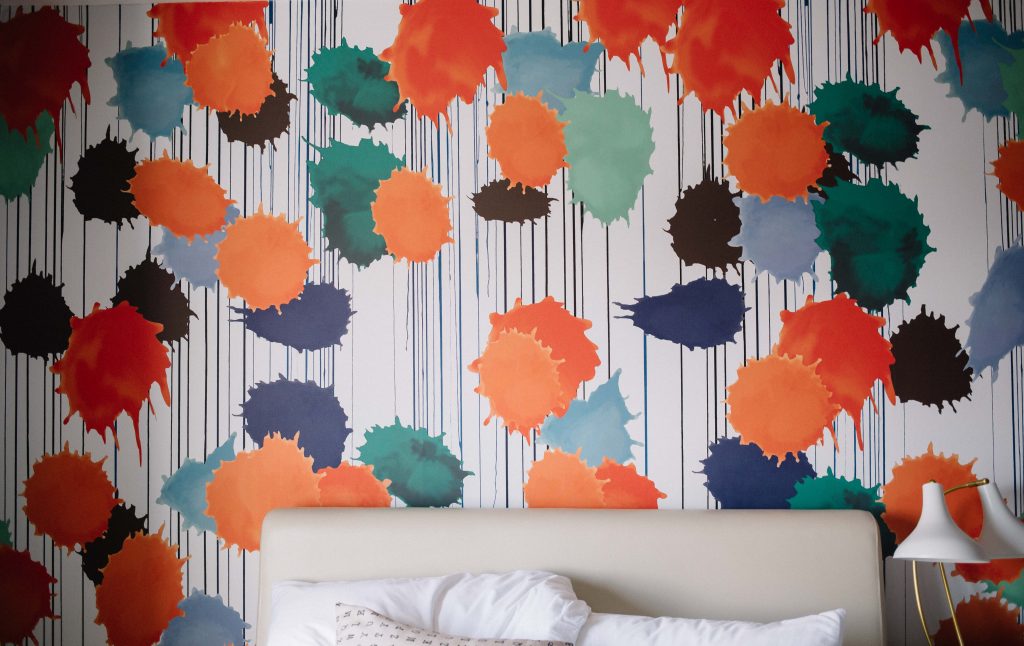 Boasting 68 rooms built around a 'social' courtyard, here you'll also discover a fire pit, ping-pong table, outdoor bar and neatly installed plunge pool.
Although the hotel doesn't have a restaurant, there is a small – and wonderfully kitsch – space to grab breakfast, with options including Acai bowls and burritos.
Free Wi-Fi is also available, along with beach cruiser bikes. These bikes were our staple mode of transport during our weekend in Venice Beach, Los Angeles – and given the area's network of bike lanes, were totally stress-free to use.
The cost of a double room at The Kinney begins at $190 in low season, rising to $466 during peak times (e.g August).
2. Head to Abbot Kinney Boulevard
Once declared by GQ Magazine to be one of America's coolest blocks, Abbot Kinney Boulevard (or 'AK' to locals), is Venice's heartland: its creative, artistic and unapologetically hipster capital.
A mile-long stretch filled with made-in-LA stores, creative restaurants, boutique coffee hideouts and smatterings of street art, it's a place you'll find families, fashion-conscious shoppers, foodies and – if you're lucky –  undercover celebrities.
In terms of the best things to do in Venice Beach, LA, a morning spent exploring here is definitely one.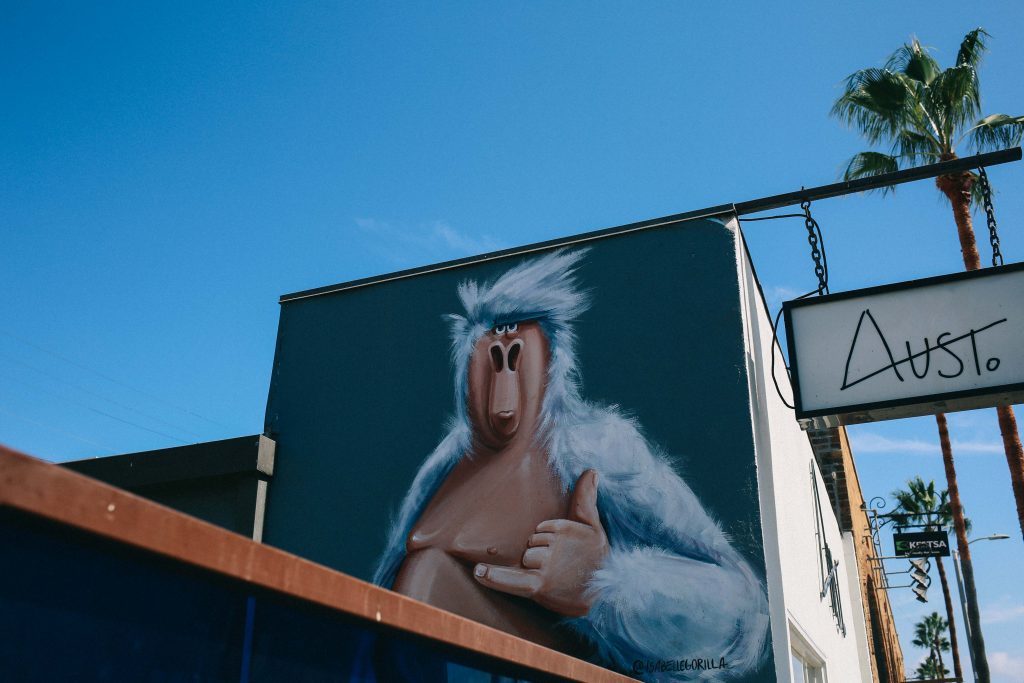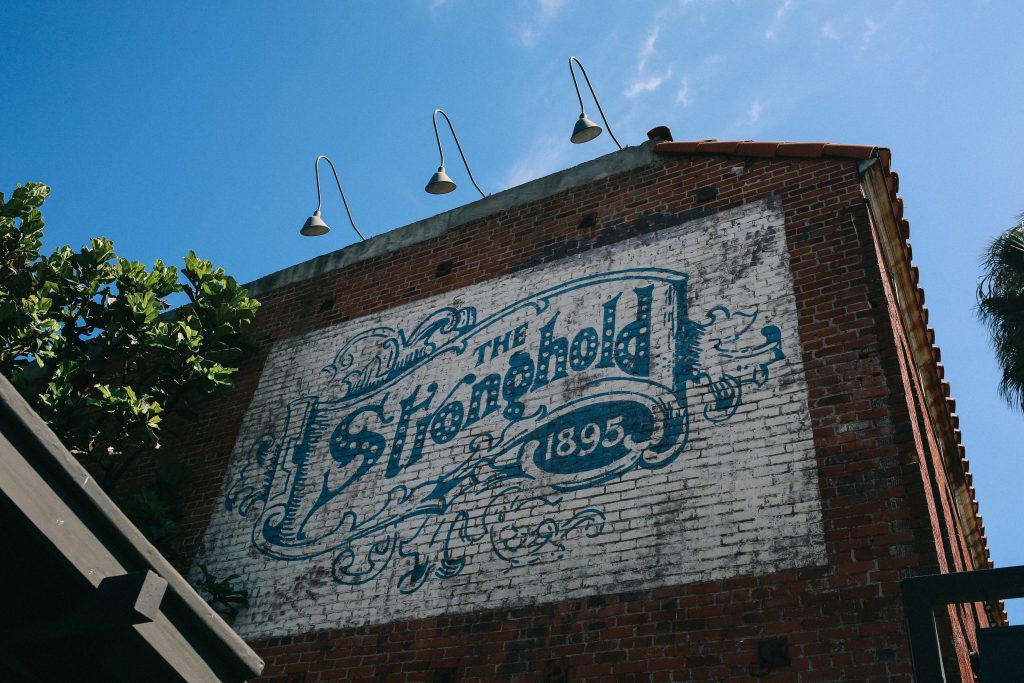 Some favourite stores of ours included Burro, a store filled with stylish homewares and Urbanic Paper Boutique, which – if you have stationerphilia like myself – will take up at least an hour of your day.
On the first Friday of every month, the Boulevard also celebrates 'First Friday' – when an eclectic range of delicious food trucks arrive on the street. Beginning in the afternoon (at 5pm) and spilling into the evening, First Friday on Abbot Kinney has an absolutely brilliant atmosphere – with crowds eating, chatting and sipping cold beers on the curb-side.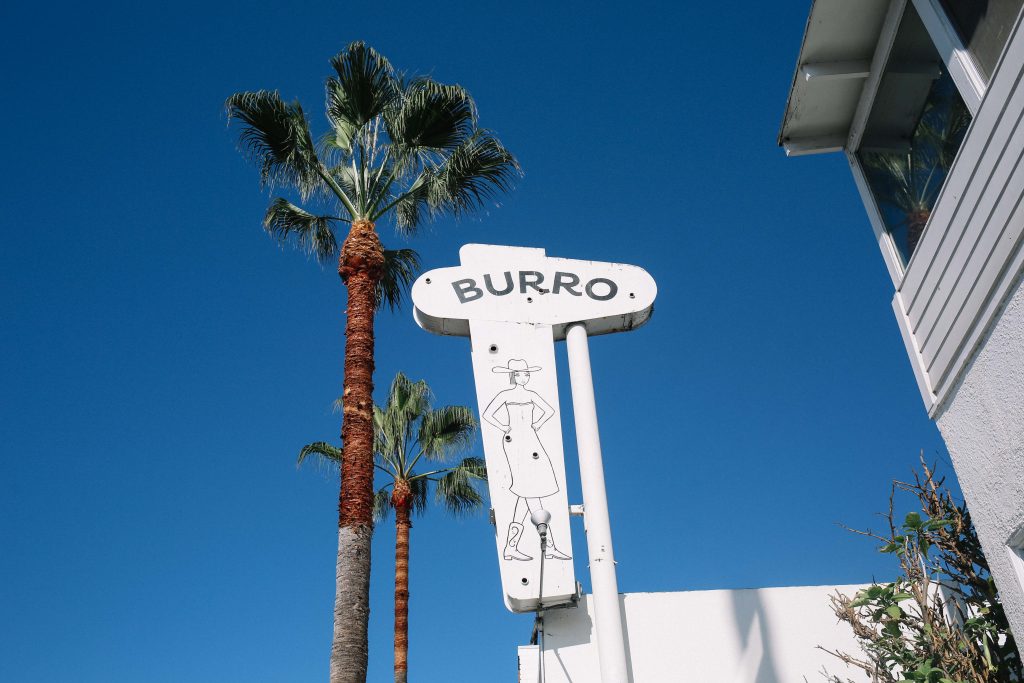 3. Brunch at The Butcher's Daughter
We are firm believers that The Butcher's Daughter is one of the best places to eat in Venice Beach, Los Angeles.
Dubbed a 'vegetable slaughterhouse', The Butcher's Daughter is – ironically – an entirely vegetarian restaurant. Needless to say, it's an incredibly popular hangout, with artistic photographs of its communal dining tables filling social media.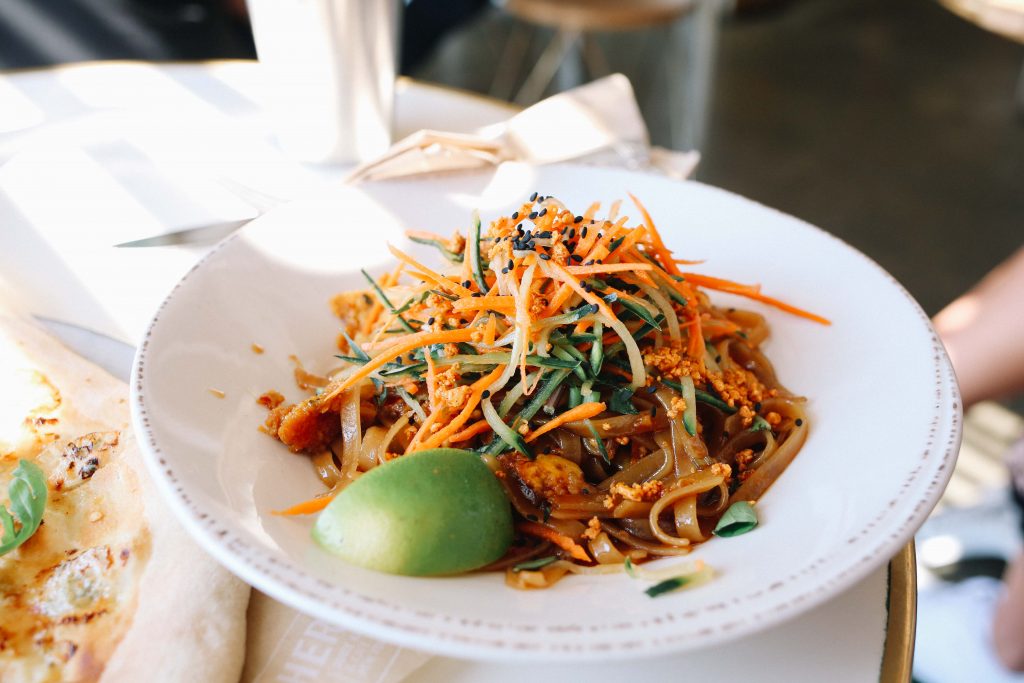 The food is delicious, offering a creative blend of flavours that extend far beyond avocado on toast. Surprisingly, The Butcher's Daughter is also a restaurant that doesn't break the bank. Our own brunch – two main courses, two sides and two drinks – came to around $50, inclusive of tips.
When it comes to top things to do in Venice Beach CA, a meal here should definitely come top of your list.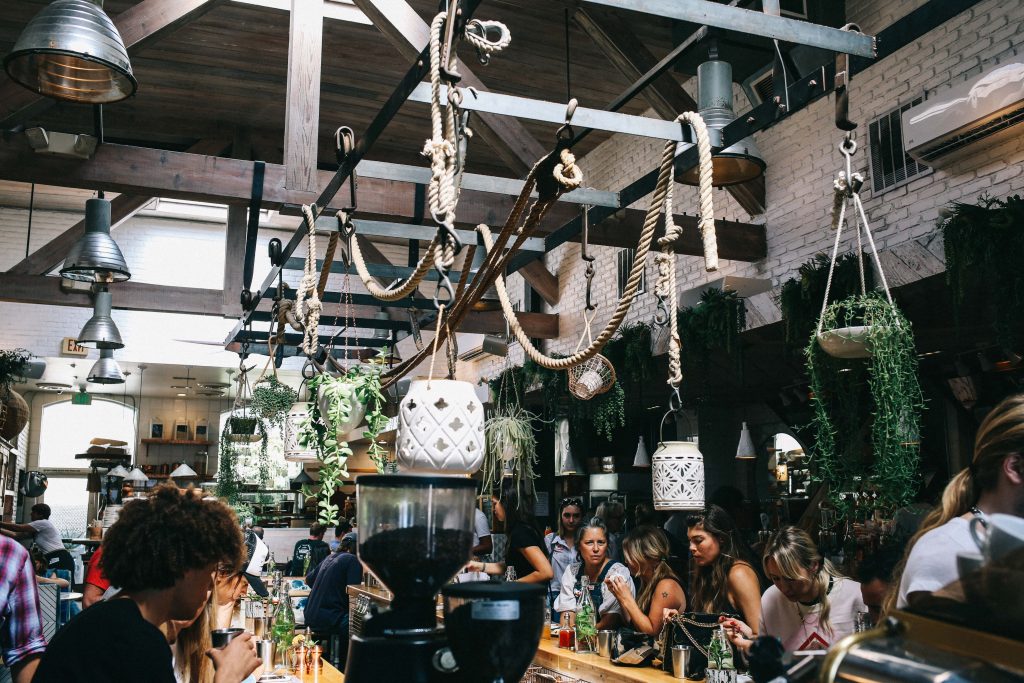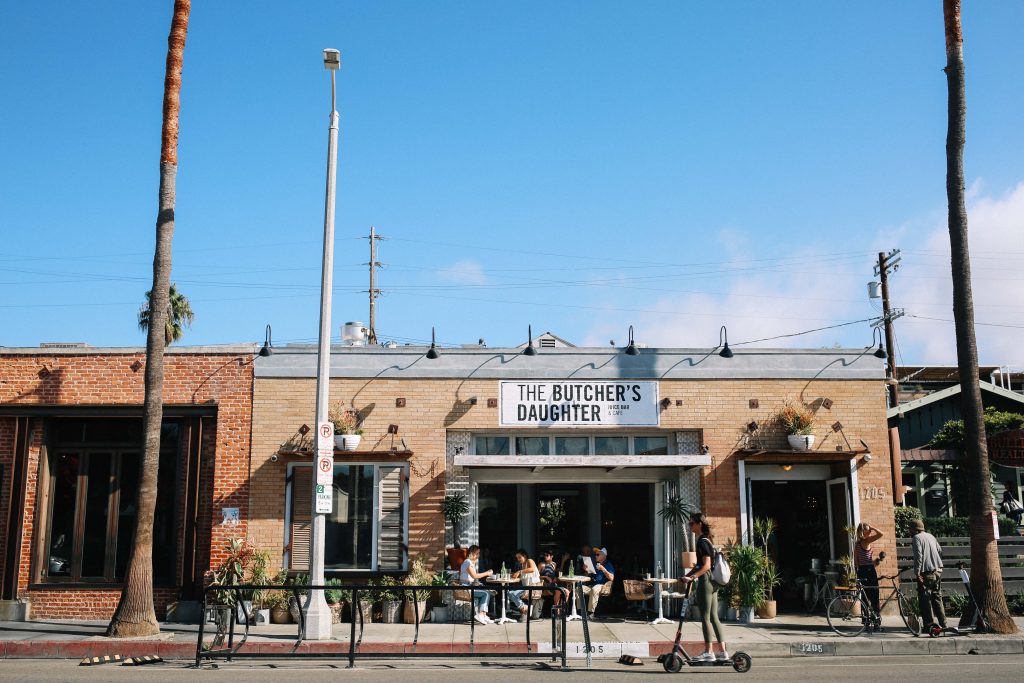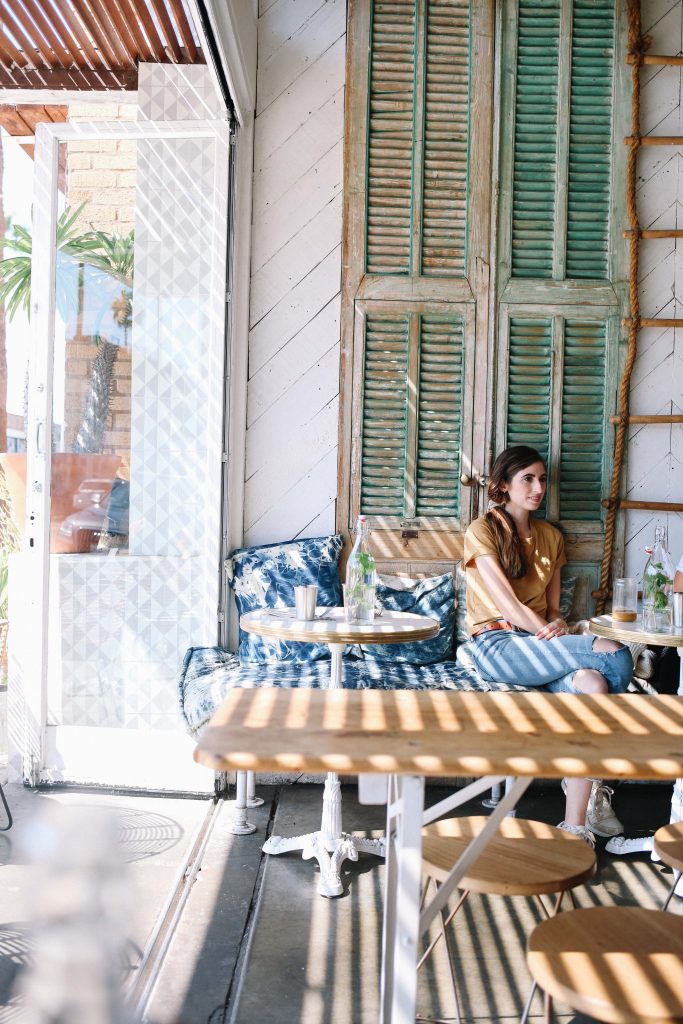 4. Explore Abbot Kinney Boulevard's Street Art
When researching best things to do in Venice Beach, California, you'll probably come across references to Abbot Kinney's rainbow-infused street art. These fantastic outdoor art works are something you can either explore independently, or via a private tour.
Our favourite spots included the 'Love Wall' by jkgolderown on Santa Clara Street (1239 Abbot Kinney Blvd), the 'So Good' piece by Alex Yanes in the parking lot next to Rag & Bone (1118 Abbot Kinney Blvd), and a dazzlingly bright geometric print by Love bErto (1025 Abbot Kinney Blvd, near Broadway in Venice).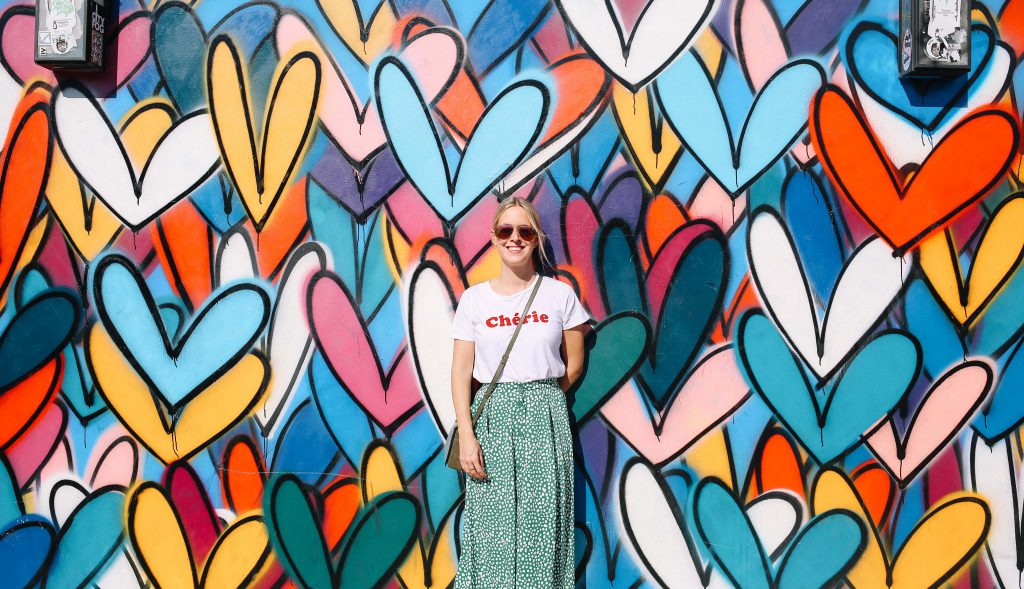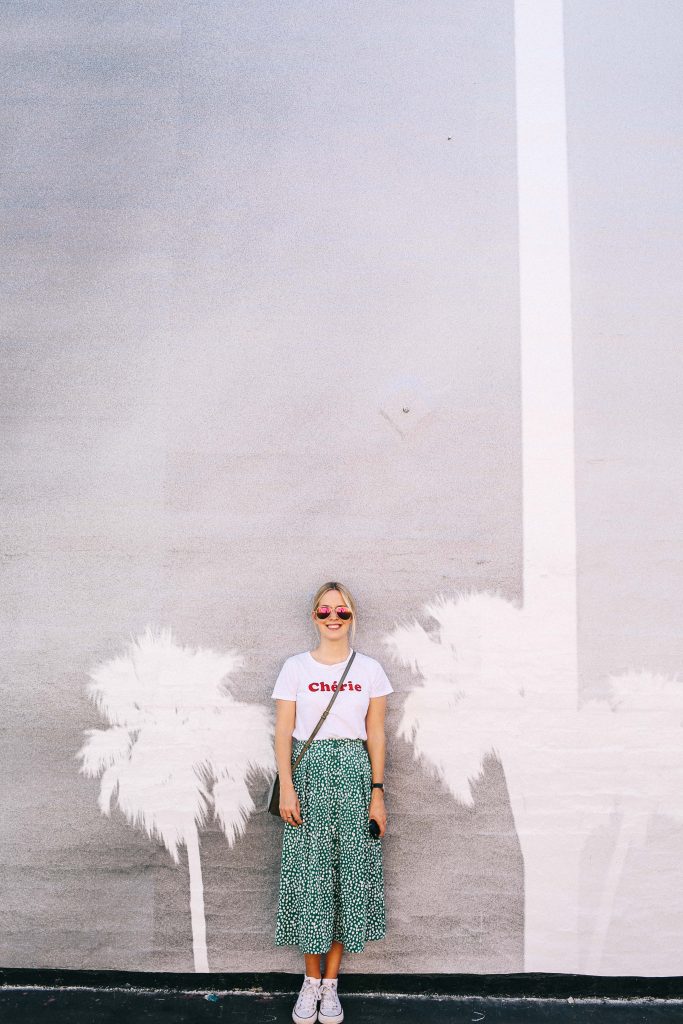 5. Try the Best Ice Cream in LA
Before you leave America's coolest block, make sure you refuel at the Boulevard's famous Salt & Straw.
The brainchild of two Oregon natives, Salt & Straw offers unbelievable handmade ice-cream, in a seemingly endless number of flavour combinations.
When I visited – and with Venice's creative spirit apparently going to my head – I ordered the 'Sweet Potato Casserole with Maple Pecans' flavour (unexpectedly delicious), whilst Claire stuck with convention, opting for a Sea Salt flavour. Both were incredible.
6. Head to Venice Beach
A place where Arnold Schwarzenegger was discovered as he honed his biceps and where rollerbladers snake and glide, Venice Beach is one the area's most flocked-to spots.
In fact, when looking at unmissable things to do in Venice Beach, LA, the chances are that this stretch of golden coast line will be the first thing that's suggested.
When first arriving at Venice Beach, our advice would be to simply drift – walking the famous Venice Beach Boardwalk (officially named the Ocean Front Walk). Take your bike or simply join the crowds that wander up and down, people watching as you go.
Be sure to also stop by Muscle Beach (found near the start of the Board Walk) and the world-famous Venice Beach Skate Park. With a surprisingly fraught history, the skate park – the vision of Jesse Martinez – took nearly twenty years to build, and is claimed to be the most expensive skate park in the world.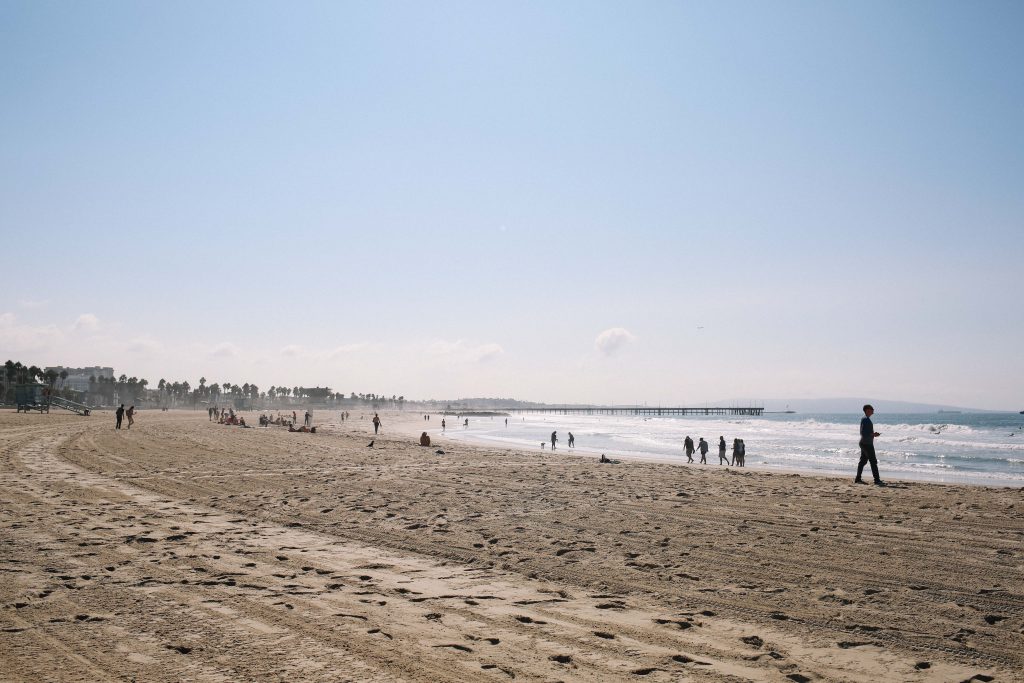 7. Head to Santa Monica Pier
Walk up Venice Beach (a thirty minute walk, or a fifteen minute bike ride) and you'll spot the snaking silhouette of a rollercoaster; an iconic Ferris Wheel turning next to it.
Santa Monica Pier – yet another resident in LA's Hall of Fame – has been one of the area's landmarks for over 100 years. Although on the border of Venice proper (the wider area of Santa Monica stretching past it), the Pier is a place to visit as the sun sets; the glowing lights of Pacific Park  coming to life.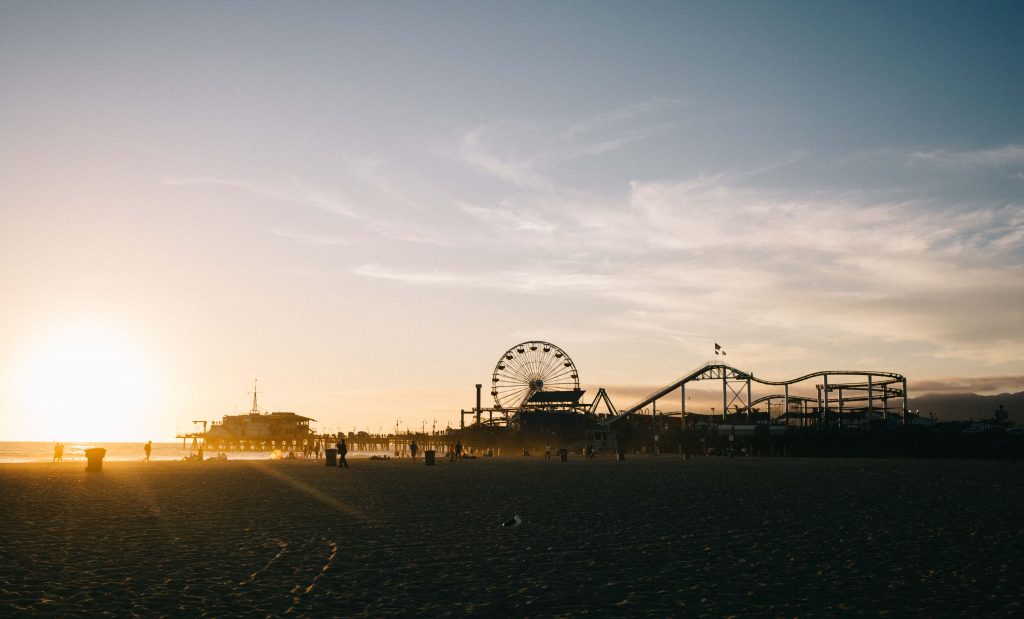 Home to a selection of rides – including the historic Looff Hippodrome Carousel – an amusement park, entertainers, souvenir shops and food stands, the Pier is easily one of the best things to do in Venice Beach, California.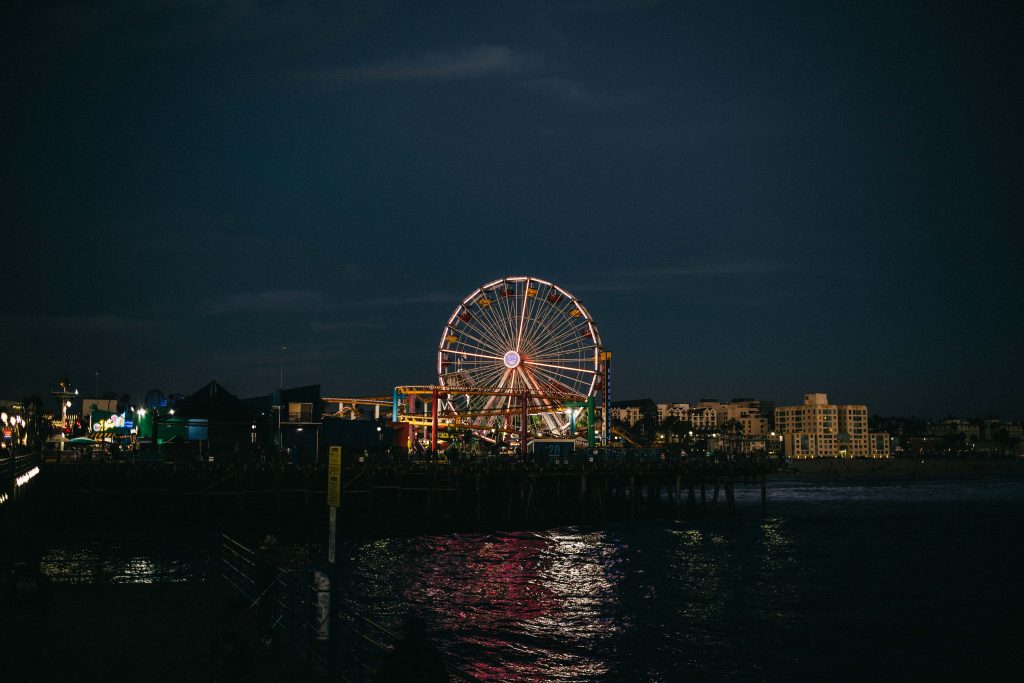 8. Explore Venice Beach's Beautiful Canals
When planning what to do in Venice Beach, Los Angeles, you might wonder if the area shares its Italian namesake's biggest feature: its canals.
In 1905, developer Abbot Kinney arrived in LA and declared his grand vision: a Venice of America. Secreted away from the commotion of Venice Beach, Kinney designed and built seven man-made canals, dredged from the surrounding saltwater marshland. Determined to bring about a cultural renaissance in Southern California, Kinney even imported several gondolas, allowing tourists and visitors to glide the waterways of Los Angeles.
Although initially popular, eventually tourists left the area and many of the canals were filled in – leaving just a handful behind.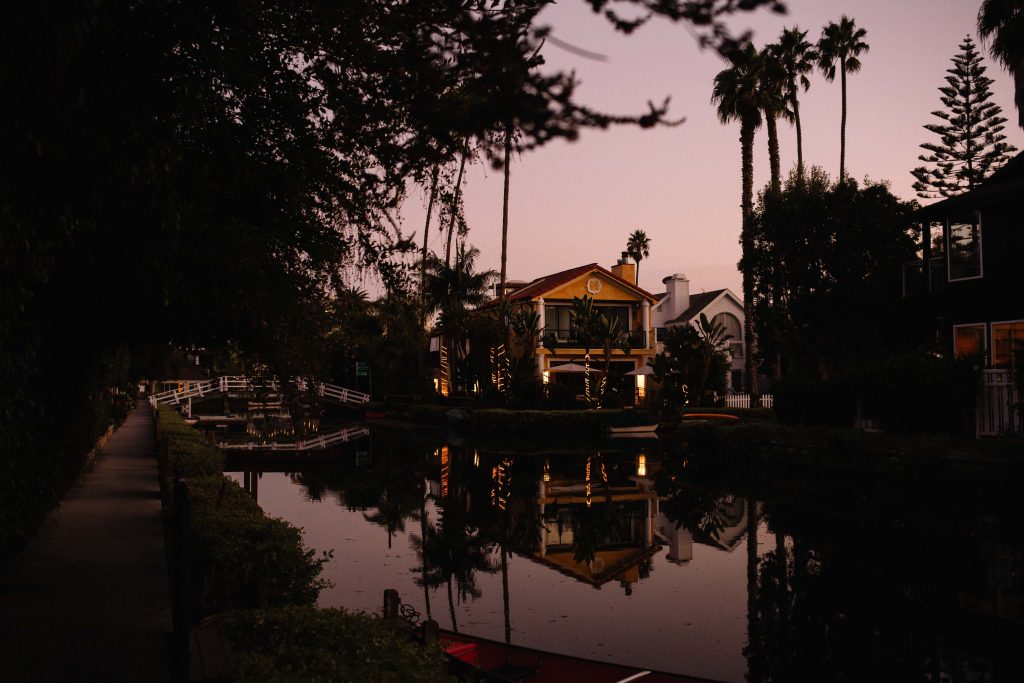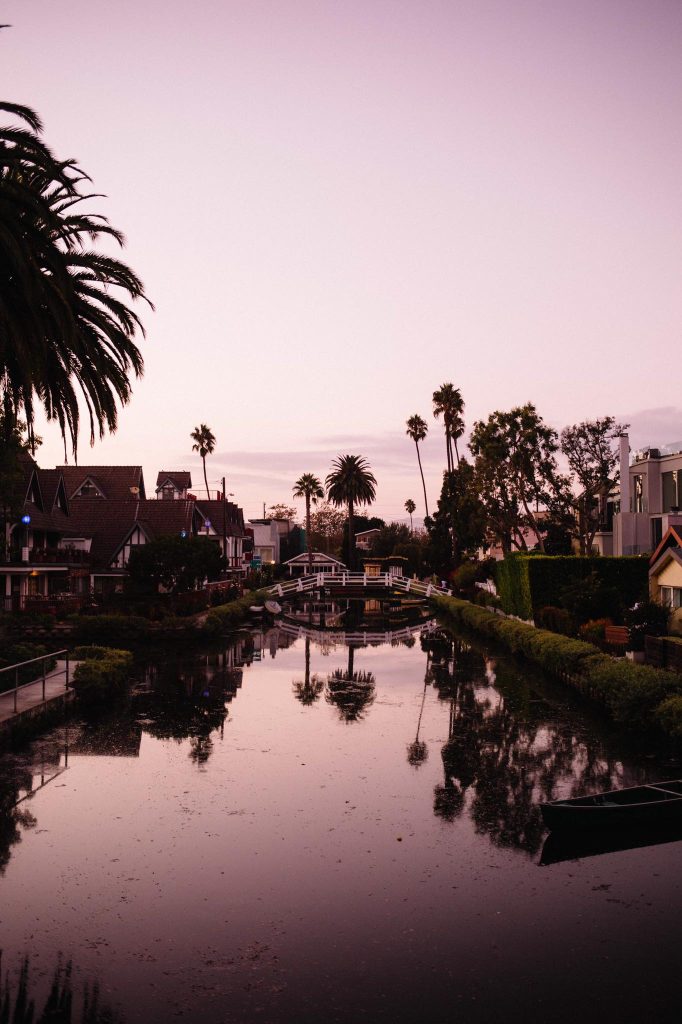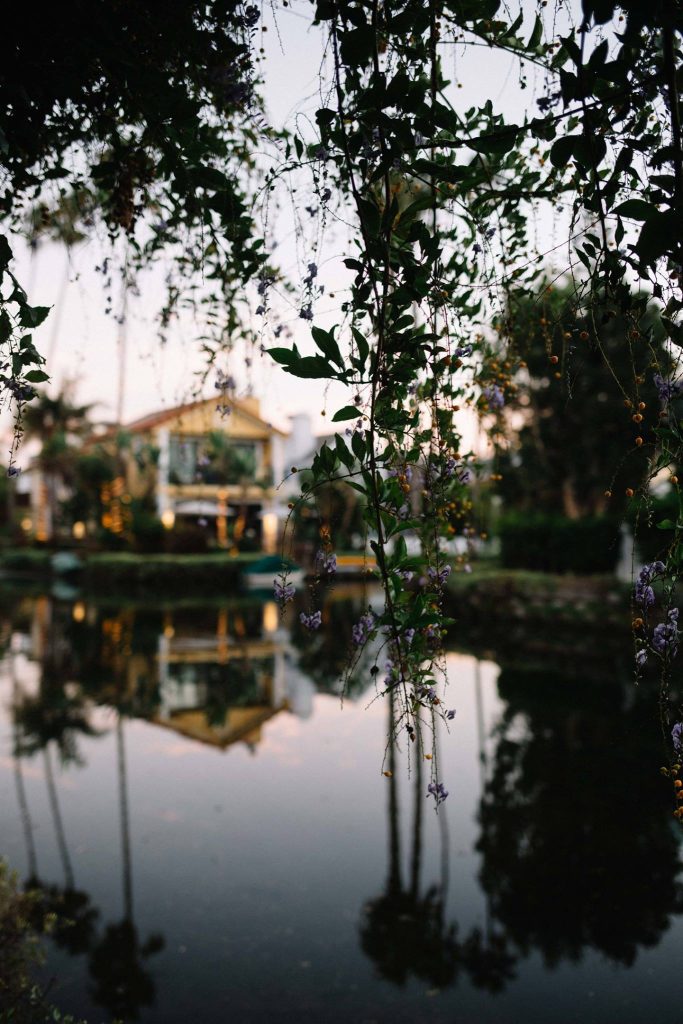 Often named one of the most beautiful areas of LA, the canals can be found hidden amongst carefully designed homes, winding archways of pink roses and yellow fishing boats. When compared with the feverish pace of downtown LA, Venice's historic canal district offers complete escapism.
Today, the area is largely residential, but still unbelievably pretty.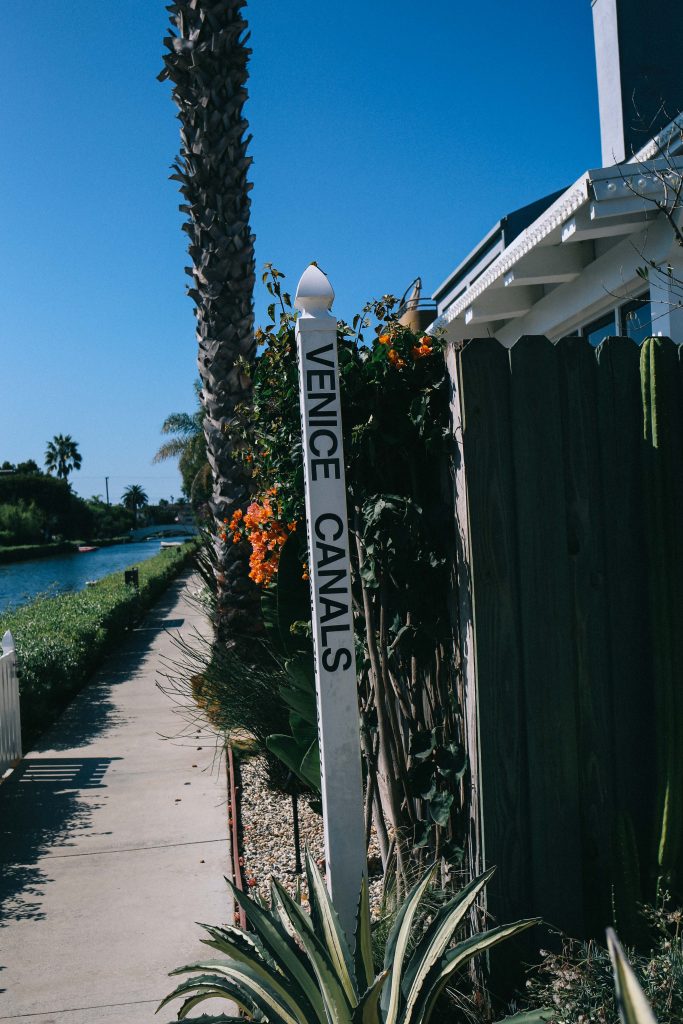 9. Explore Santa Monica Proper
Although it may not top every list of best things to do in Venice Beach, we think the area of Santa Monica (or 'SaMo') and its Main Street is well worth exploring.
Each Sunday, a Farmer's Market comes to SaMo (and Wednesdays also), offering a friendly, wholesome and family-friendly affair. With competitions, food stalls, pony rides and live music, Santa Monica on a Sunday morning is quite possibly the antidote to the mania of wider LA.
While there, be sure to stop by the laid-back Dog Town Coffee, found on Bay Street, or Holy Guacamole, on Ashland Avenue, for some incredible burritos.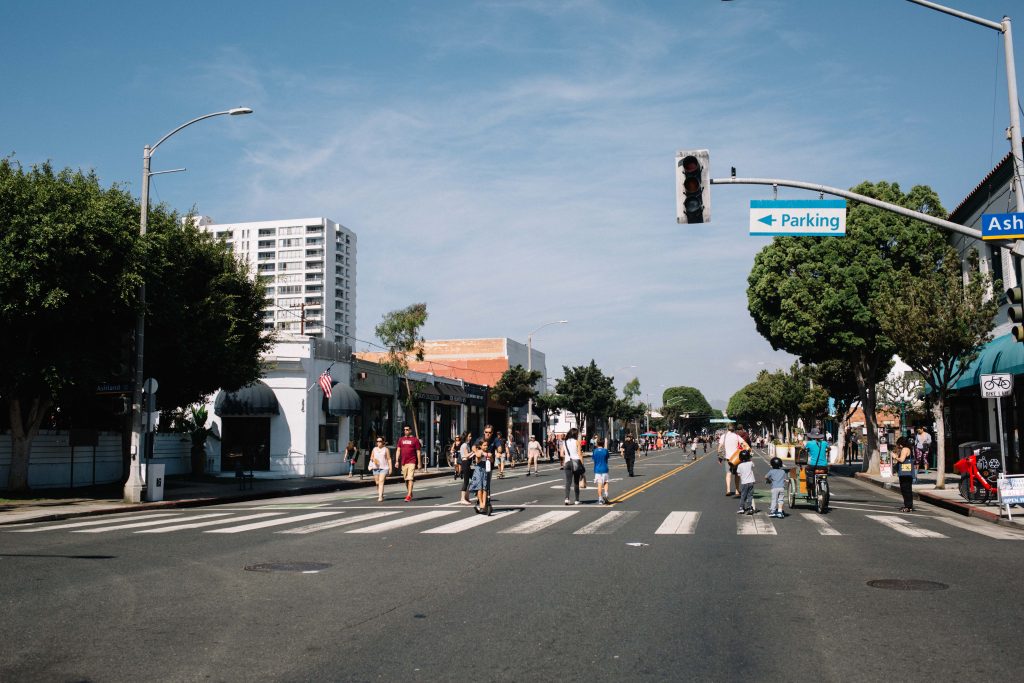 10. Brunch at Gjusta
As you might have noticed when researching top things to do in Venice Beach, brunch spots often dominate things.
So, rather than wolfing down a quick snack at your hotel, why not grab a scooter and head to the incredible Gjusta for a mid-morning meal.
Unapologetically hipster, Gjusta is a vision of warehouse chic with a deli-style set up. With a shaded patio outside for guests to sit, why not head here to try their delicious Shakshuka eggs and toast, or hearty mushroom bowls.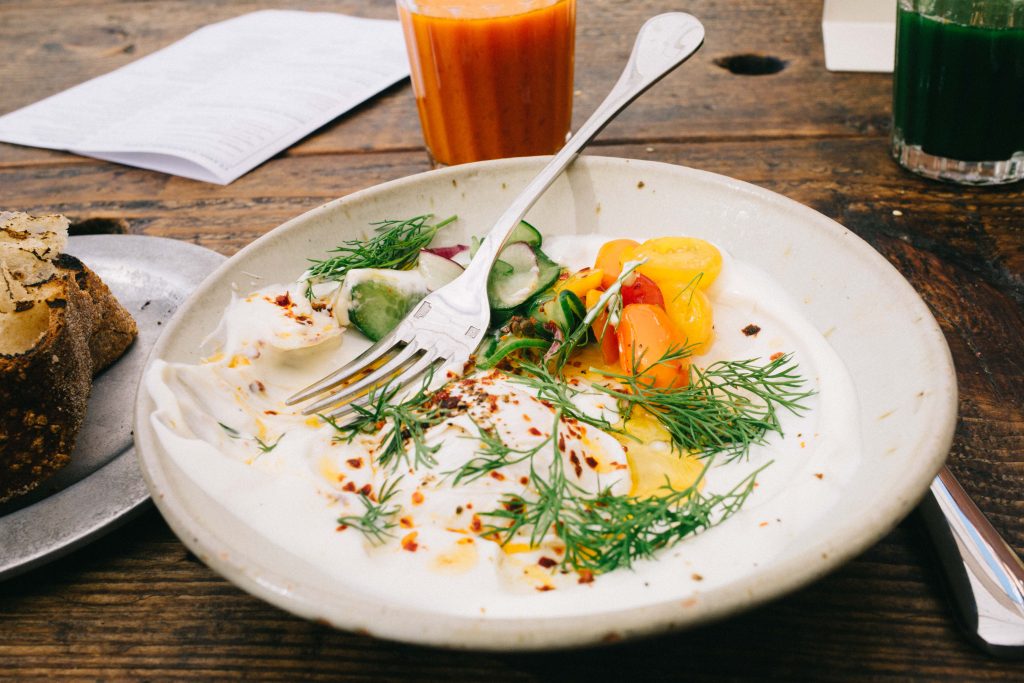 Given its popularity (it's one of the best brunch spots in Venice Beach), it's perhaps unsurprising that Gjusta is a little expensive (expect to pay $36 for its pasture-fed chicken). However, if you're happy to indulge, then there is no better place to spend a Sunday morning.
11. Blue Star Doughnuts
If you're in the mood for a snack, why not head back to Abbot Kinney Blvd, for a quick stop at the unrivalled Blue Star Donuts. Our favourites were the Cointreau Crème Brûlée and the delicious Buttermilk Old-Fashioned doughnuts.