This article on LEGOLAND for toddlers contains affiliate links.
Prior to our own visit to LEGOLAND earlier this year, we were unsure what to expect.
While we knew, of course, this was going to be a fantastic theme park – one with great rides and  an outstanding level of detail – what we didn't know was whether it would be suitable for our toddler.
Aged 2, we were aware that he wouldn't qualify (height wise) for many of the rides and the vast majority of attractions would be lost on him. Given that a trip to LEGOLAND is not cheap, we therefore had some reservations as to whether we'd made the right decision. Is it really worth taking a 2 year old to LEGOLAND? Is LEGOLAND suitable for toddlers? What is the best age to visit LEGOLAND? We had no idea.
However, and having now visited LEGOLAND with my toddler, I can thankfully provide some insight. Although a place with some hair-raising rides, I firmly believe that LEGOLAND is the ideal place to take a toddler. In fact, I was surprised by just how much my own 2 year old adored his time there.
So much so, in fact, that we'll be heading back again very soon.
Below is a list of 16 reasons why I think it's definitely worth taking a 2 year old to LEGOLAND.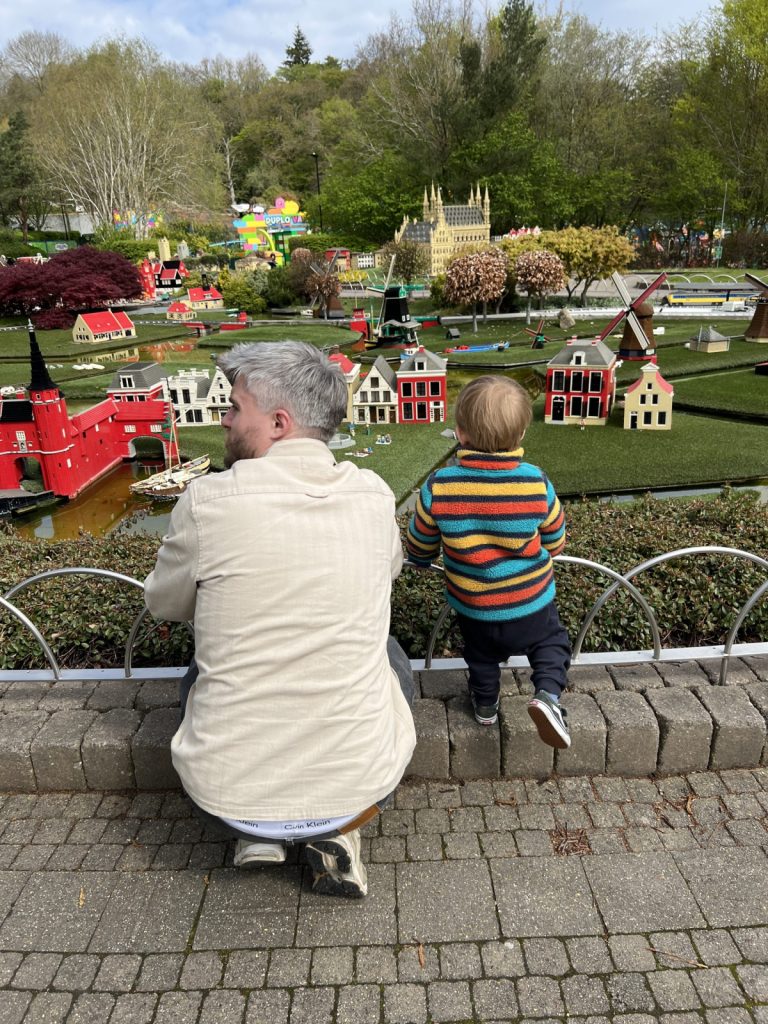 LEGOLAND for Toddlers: 16 Reasons Why it's the Perfect Place to Visit
Before we begin, a quick note on height restrictions at LEGOLAND Windsor.
Now, it's true that many of the rides at LEGOLAND Windsor have height restrictions – the main being 0.9m. This consequently excluded our 0.8m son from the majority of rides (alongside the much loved L-Drivers experience). 
However, all was not lost. There were still plenty of fantastic rides he could enjoy and more than enough to fill an entire day (if not more).  If you want to plan these rides out ahead of time, do download the LEGOLAND app and filter rides by 'Tiny Feet' to see which rides your little one can enjoy.
Alternatively, you can view all height restrictions here (just look for those where no minimum height applies).
1. DUPLO Valley.
If you're wondering if LEGOLAND is good for toddlers, look no further than the pastel-hued world of Duplo Valley.
Our son was already a fan of DUPLO and so thankfully recognised the characters that decorated the valley's entrance. He was ecstatic just to see the bright pink and blue bricks that made up the arch, and to catch a glimpse of a DUPLO dinosaur soaring skywards.
This part of the park is a preschool paradise and definitely one reason why I think it's worth taking a toddler to LEGOLAND. There are no height restrictions on any of the rides here, meaning you don't have to worry about peeling a screaming toddler away from any attractions. As such, we spent about two hours in this section of the park and thoroughly enjoyed our time here.
There are a number of great rides here, including DUPLO airport, which our son rode five times. This gives little people the chance to 'pilot' a helicopter – as they gently rise up and down a pole (adult supervision required). Our own toddler thought all his Christmases had come at once when he stepped foot on this ride and it's perfect for any vehicle-crazy toddlers.
The DUPLO Dino Coaster is another good ride and an entry level rollercoaster, although it was, admittedly, a bit too much for our son.
Another real hit was DUPLO Playtown, which is a playground in the centre of the valley. It's really well done and there's a coffee shop (Costa) just behind it – meaning you can sit on a bench with a nice coffee, while your little one runs havoc. With interactive features, including a fire engine and a police car, our son spent over 30 minutes playing here (although please note, at peak times, it's quite a busy spot).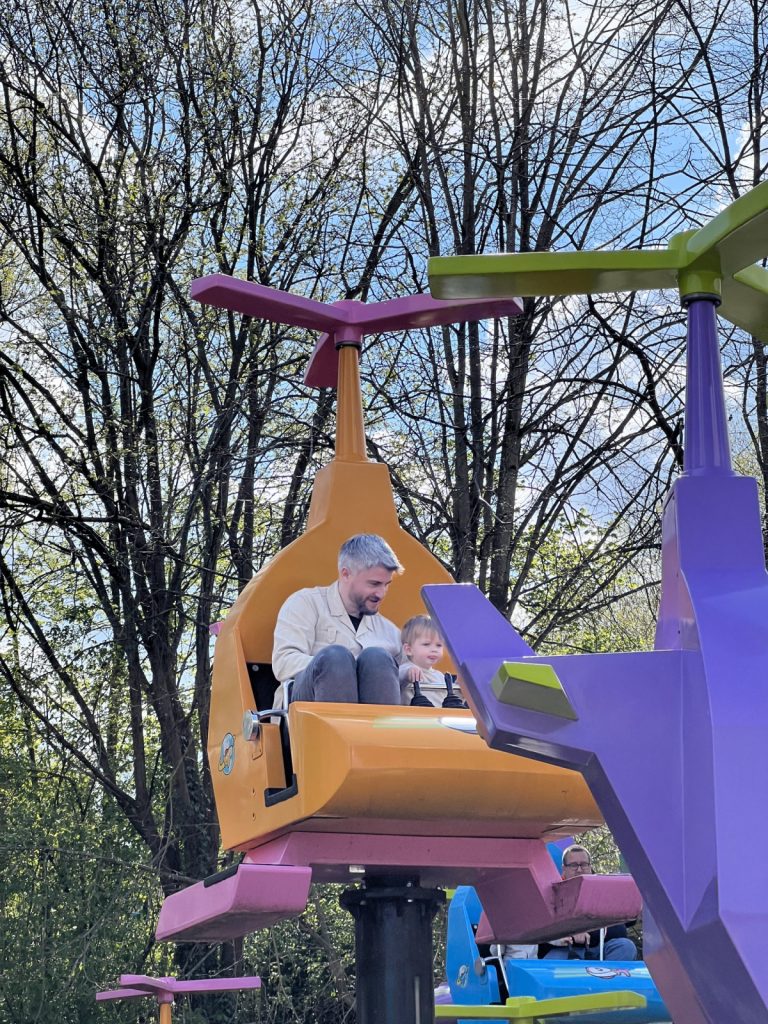 The little train, the DUPLO Express, was also a very sweet ride for toddlers and our son was thrilled to see the giant DUPLO tractor at the centre of the ride.
Another plus of DUPLO Valley is that there is little queue time (aside from a short queue for the DUPLO Airport). As these are't the big ticket rides, and many of the older children will flock to the likes of LEGO® NINJAGO® The Ride, you can quite easily walk up to most and get on after just a few minutes wait (note we were visiting on a weekday during term time, which helped things).
Overall, DUPLO Valley is a genuinely fantastic part of the park and one reason why LEGOLAND is suitable for toddlers.
2. Children Under 0.9 Metres Go Free
Given that the height reservations at LEGOLAND UK mean that toddlers will be unable to go on the majority of the rides, the Powers That Be very fairly decided that children under 0.9 go free at LEGOLAND UK.
During peak times, this can save you nearly £45 per child, which is no meagre amount. As such, our own trip – booked ahead of time and during term time – cost us £34 each, or £68 in total, with our son going free.
Although still not cheap, it's a considerable saving. Just be sure to book weekdays for even cheaper tickets, and during term time.
Given that most toddlers, or 2 year olds, will be under 0.9m – this is therefore another great reason why it's worth taking a 2 year old to LEGOLAND (or, even better, short 3 year olds).
3. Fairy Tale Brook
Located inside DUPLO Valley, Fairy Tale Brook was not only my toddler's favourite part of LEGOLAND, but mine too.
An utterly magical corner of the wider park, Fairy Tale Brook invites visitors to take a gentle and picturesque boat ride. Weaving its way through a small forest, filled with fragrant flowers and herbs, the boat takes you past some beautiful fairytale characters, all made from (you guessed it), LEGO. They include Little Red Riding Hood, Snow White, Aladdin's Cave and the Three Little Pigs.
Although only a short boat tide, there's so much to see and our toddler was utterly captivated by it. Although not the most adrenaline pumping of LEGOLAND rides, it's ideal for small people and another reason why I think LEGOLAND is good for toddlers.
4.  LEGO City Deep Sea Adventure
One of the best rides for children under 90cm, the LEGO City Deep Sea Adventure was a huge hit with our son.
Found in LEGO City land (close to where we stayed at the Castle Hotel), this ride lets you hop inside a yellow submarine, before plunging downwards towards an underwater hidden city. It's a genuinely exciting ride and you'll pass plenty of fish and 'city ruins' along the way (and lots of bubbles – every toddler's favourite).
After the ride is a walkthrough element, featuring tanks filled with more marine life and interactive elements. There's also a little photo opportunity at the start of the ride, which we ended up paying for (and now have the fridge magnet to prove it).
We went on this ride quite a few times, and dependent on where we sat inside the submarine, we saw something different every time.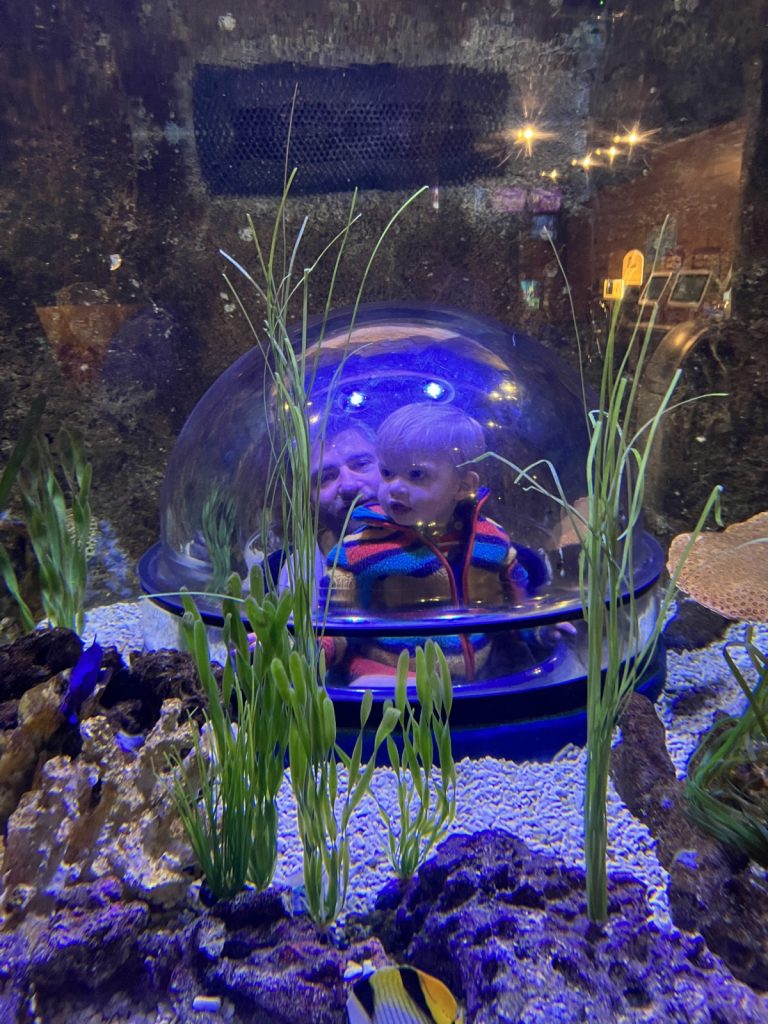 5. Miniland
One part of LEGOLAND we could have spent all day in was the iconic Miniland.
When it comes to the best age to visit LEGOLAND, there really is none when exploring Miniland. Featuring amazingly intricate model scenes from around the world, all made from 40 million bricks, Miniland is a feast for the eyes and overflows with hidden details and features.
Including a tiny Amsterdam (complete with little barge boats), Buckingham Palace, the Taj Mahal, Sydney Opera Bridge and even a tiny Las Vegas and Alpine resort, Miniland is a dream come true for toddlers. Our son was completely obsessed by all the miniature cars, trains, planes and boats that whizzed around each scene, and we spent two hours here, examining each one.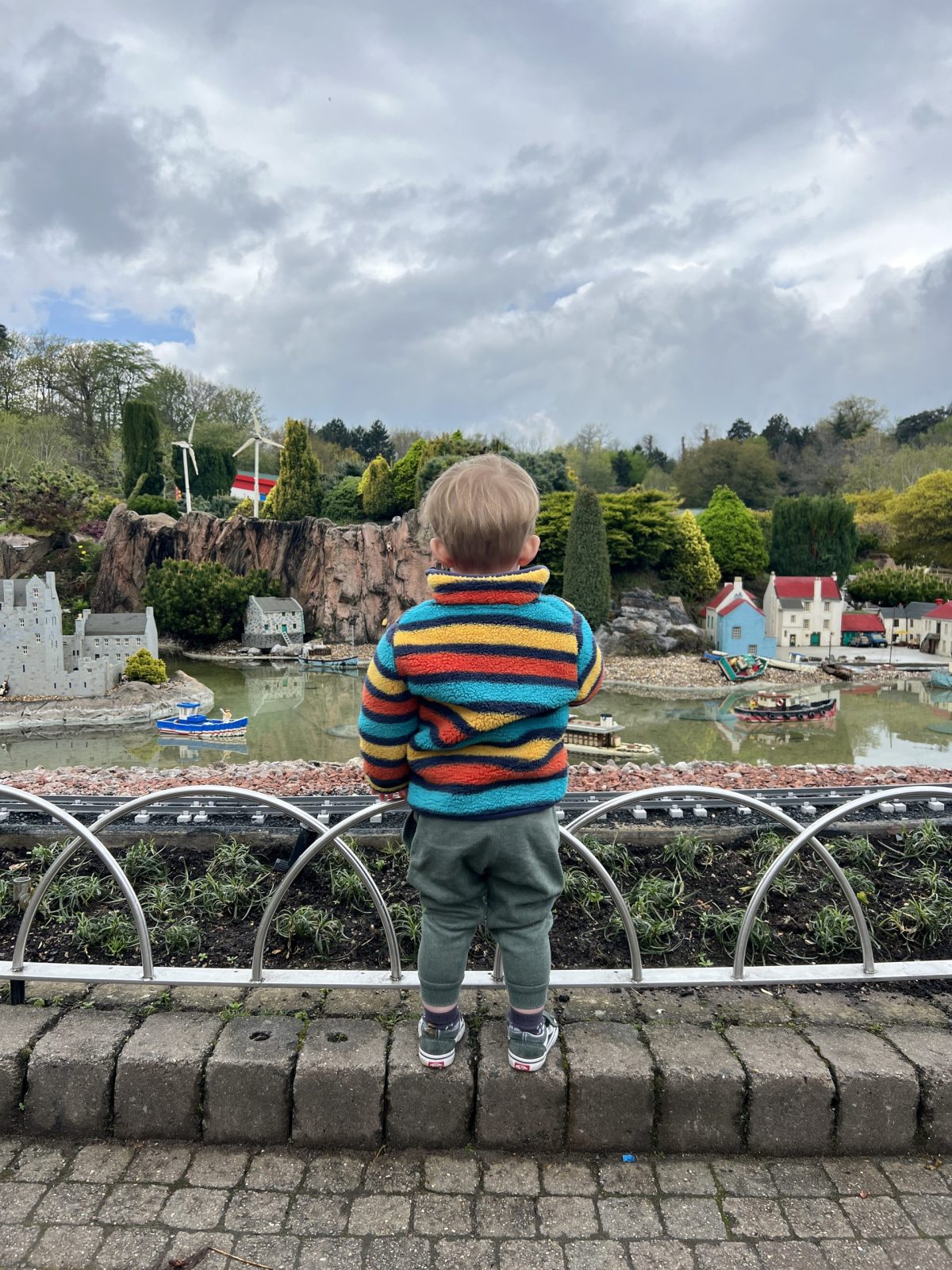 While my son liked watching all the vehicles, I had a genuinely fantastic time checking out all the finer details of each scene, including the tiny pigeons found outside Trafalgar Square. There are also a few 'Easter Eggs' hidden throughout Miniland, including a streaker at Wembley Station – so keep your eyes peeled.
Thanks to the fact that there are no queues here and it's set over a large space, it's also a relatively quiet and peaceful part of the park (with a great ice cream parlour, too).
Another toddler paradise, Miniland is yet another reason why LEGOLAND for 2 year olds is a great idea.
6. Splash Safari and Drench Towers
Found inside the DUPLO Valley, the Splash Safari and Drench Towers is a giant and wonderfully colourful, splash park (open from late May to early September).
With giant DUPLO elephants, lions and giraffes decorating the place, and large buckets of water toppling overhead, this is a fantastic place to bring a hot toddler during the summer months (just be sure to pack your own swimsuit and towels).
Although busy in the summer, there are plenty of quieter spots with toddler-friendly water features and interactive animals to enjoy.
Please note that all children under six must be supervised at all times, so don't forget your own swimsuit and flip-flops. The water is also fairly cold, so you may want to put your toddler in a warmer wet suit and Crocs.
7. Coastguard HQ
Thanks to our toddler's fixation with boats, we knew that Coastguard HQ (located in LEGO City) would be an attraction he'd definitely enjoy.
In short, this ride lets you man a small LEGO themed boat, allowing you to drive it around a course filled with LEGO animals and other interactive elements.
Our toddler was absolutely thrilled that he could 'drive' and although much of our journey was spent wrestling control of the steering wheel from him, it was still really enjoyable. The staff were also very accommodating and as there wasn't a queue, they let us go around multiple times.
8. Castaway Camp
Another great park at LEGOLAND is the Castaway Camp, found in Pirate Shores.
This is also a nice place to have lunch (on the benches outside). On that note, I highly recommend you bring a picnic with you to LEGOLAND. Not only is the food quite expensive, it's also a bit bland and uninspiring. As we have a picky eater anyway, we brought with us a picnic filled with healthy snacks and sandwiches, and are so glad we did.
Although it's advised that this area is for children aged 5 and upwards, there's no minimum height restriction. Given that our own toddler regularly tackles large playgrounds at home, we were therefore comfortable helping him across the 'fortress' and high ropes. However, it's perhaps not a place to let your toddler play unsupervised.
9. LEGOLAND Express
What toddler doesn't love a train? It's staple toddler fodder and something LEGOLAND more than delivers, thanks to the fantastic LEGOLAND Express.
One of the best rides for toddlers at LEGOLAND, this colourful train can be found in Heartlake City and is a great way to see the park. Along the way you'll spot LEGO animals hidden in bushes and behind trees, which provided our toddler with lots of entertainment. You'll also pass a point from which other visitors can squirt you with water guns (tip – sit towards the back of the train to know when this is coming).
10. Lava Dragon Play
One reason I believe that LEGOLAND is good for toddlers is the sheer number of imaginative, interactive and first-class playgrounds it has.
Another of these is the Lava Dragon Play area, found in LEGO MYTHICA. This is smaller than some of the other area play areas and due to the popularity of this land, is definitely busier. As such, you may not feel it's appropriate for your toddler to tackle.
However, we visited when it was relatively quiet and so we accompanied our 2 year old onto this grand playing frame, designed like a dragon. The cylinder slide is quite steep, but was big enough for me to squeeze into, so we could go down together. It also meant we got to experience some of LEGOLAND MYTHICA; a land where height restrictions apply to most rides.
It's these smaller, lesser publicised spots in LEGOLAND, that make it such a worthwhile visit – even with kids under 0.9m in tow.
View this post on Instagram
11. DUPLO Valley Theatre
Make sure you return to the magical DUPLO Valley once you're done exploring, for a puppet show (or two).
Aimed at preschool children, these little theatre shows are sweet and funny, and an ideal way to amuse a possibly over-tired toddler. Each play is based on a fairytale, but has a little twist or two, and includes an array of great puppets.
We enjoyed a show towards the end of the day, once we had finished exploring, and it was a great way to wind down after a busy day. Our toddler also thought the puppets were hilarious.
12. The Magical Forest
Although some might suggest that there are only a few corners of LEGOLAND suitable for toddlers, I'd argue that there's been an obvious effort to build attractions suitable for preschoolers into every land.
This includes the fantastic LEGOLAND MYTHICA, one of the park's newest lands – home to mythical beasts, mysterious creatures and magical tales. Many of the rides here have a height restriction (including the popular Fire and Ice Freefall) and so an interactive walk – ideal for toddlers – has been designed.
The incredible The Magical Forest is a walkthrough attraction, which guides you through a magical forest filled with LEGO built mythical creatures and a host of interactive features (our favourite was the enchanted waterfall).
Our toddler absolutely adored this attraction, especially the dragon hidden inside the cave (in fact, he still refers to it some six months on).
For those who really want to immerse themselves in this otherworldly reality, then you can use the LEGOLAND app to transform some of the creatures into 4D – using augmented reality. We didn't use this feature, as it was impressive enough as it was, but I imagine this would be great for older children.
13. Pirate Goldwash
It's always the smaller, unexpected sideshows that grab our toddler's attention and the Pirate Goldwash, found in Pirate Shores, was one.
Although not included in the price of your ticket (you'll have to pay to have a go), this little activity completely absorbed our son for 20 minutes or so – just be sure to bring a change of clothes, should your little one be a bit too enthusiastic with the water.
It's a simple activity: kids are given a pan and head to troughs of water to sift for 'gold'. Once they've found it, they can then trade it in for a golden pirate medallion – something my son now refers to as his 'treasure'.
It's simple, but effective, and a great game for small people.
14. Balloon School
We stumbled across the Balloon School ride while exploring LEGO City and our son was immediately captivated.
Here, giant hot air balloons gently move up and down (the rider can use a stick to control this movement) as the ride turns around, making for a very tame – but very toddler friendly – sort of attraction. There are no height requirements for this ride, although to ride alone children will need to be 1.3m and above.
We wondered if our toddler might be scared of how high we travelled in our balloon, but it wasn't a problem at all – he loved it.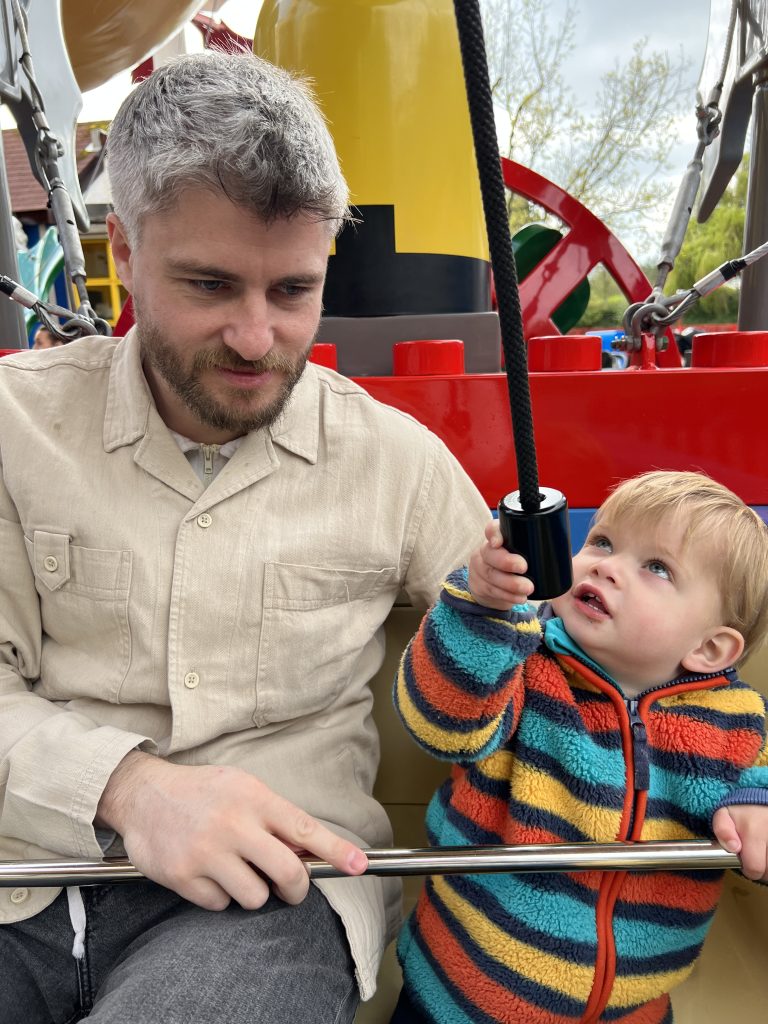 15. Very Pram Friendly
Although a somewhat dull point, one reason why LEGOLAND is suitable for toddlers is the very fact that prams are so well catered for.
I have been to theme parks in the past where prams are frowned upon; there's nowhere to safely park them and it's difficult to manoeuvre around the attractions.
At LEGOLAND UK, however, this is no problem at all and prams are more than welcome. Most, if not all, rides have safe and convenient pram parks (well sign posted) and it felt like most visitors had one in tow.
If you're wondering if you can hire a pushchair at LEGOLAND Windsor then the answer is absolutely, yes. Called Scooterbugs, you can book ahead and hire your pushchair here.
Each Scooterbug costs £10 per day for a single pram and £15 for a double.
16. Great Toddler and Baby Facilities
LEGOLAND Windsor offers some great baby and toddler facilities at its Baby Care Centre – found at the First Aid building in Heartlake City. Here you'll find quiet places to feed babies and change young children. It's a great place to come if the park toilets are overrun and it offers a bit of peace and quiet.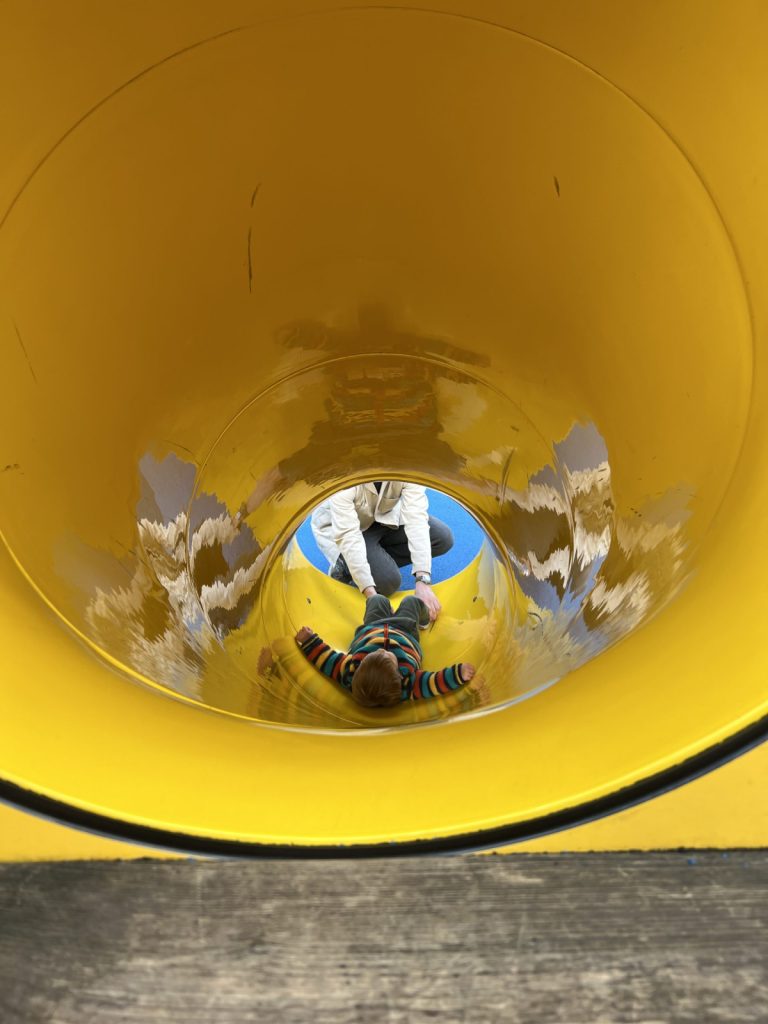 Final Thoughts: Is LEGOLAND Suitable for Toddlers?
Before our own trip to LEGOLAND Windsor, we definitely had our reservations as to whether this was a place our toddler would enjoy.
Aware of the 0.9m height restriction throughout the park, we were unsure whether it was worth taking him to LEGOLAND, particularly if it resulted in him waiting for us to experience the rides individually (hardly an enjoyable family day out).
However, I can confidently and genuinely say that LEGOLAND Windsor absolutely exceeded my expectations when it came to catering for, and entertaining, our toddler.
Alive with fantastic rides suitable for small people, alongside interactive attractions, fantastic playgrounds and great family experiences, LEGOLAND was the ideal place to take a toddler. Our son had the time of his life here and it was well worth the trip and cost.
From the tiny boats he spotted in Miniland, to the magical beasts he came across in the Magical Forest, every corner of LEGOLAND captured our tiny explorer's imagination – and it's a trip he still talks of, incessantly.
And best of all? He got into the park entirely for free.
So, if you find yourself stalling when it comes to booking that trip to LEGOLAND for your toddler, procrastinate no more – just book it.
It really is so very worth it.