A Baby Friendly Stay at The Pig Hotel, Brockhenhurst
At the end of last year, we decided to book a last-minute break to The Pig Hotel, Brockenhurst.
Although Laura had raved about The Pig hotels for years, I wasn't sure if staying at one – with a baby – would be quite the relaxing break she'd previously experienced.
A boutique chain of hotels renowned for their delicious homegrown food, cosy lounge areas, hearty fires and luxurious bedrooms, The Pig hotels are angled at those in need of a wholesome and indulgent break. They are quiet, quintessentially English, boltholes to escape to with a good book and glass of wine.
Notions that I'm not sure my (then) nine month old fully appreciated.
However – and despite my daughter's lack of discerning taste in staycations – we nonetheless decided to take the plunge and book a visit to the The Pig Hotel, Brockenhurst; staying in one of their gorgeous 'Pig Houses'.
A beautiful two-bedroom house, located within the hotel's rambling grounds, the Pig House looked the ideal place to stay with a small baby. Just a minute's walk from the hotel's main building, we could benefit from all the perks of a hotel stay, whilst also enjoying our own space (i.e. offering a safe environment within which Olive could be a baby, without disturbing other guests).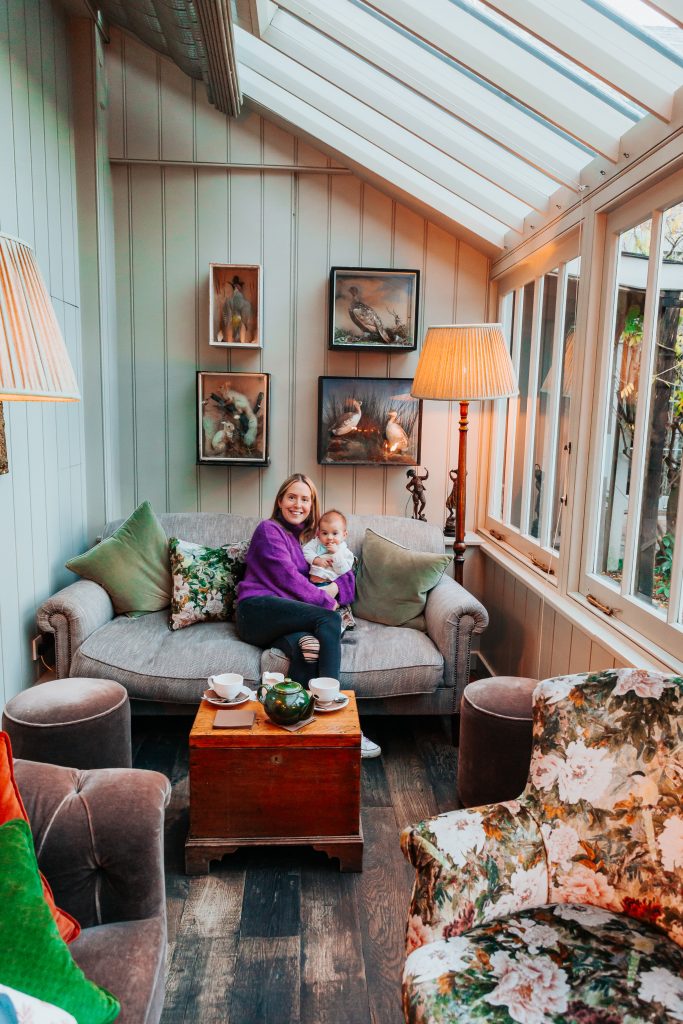 We booked for a long weekend in early December, and although we didn't quite experience the same levels of relaxation that Laura did, we still returned home feeling thoroughly rested and content. For those looking to spoil themselves after those long few months of first-time parenting, I therefore couldn't recommend a stay at The Pig, Brockhenhurt, enough.
Baby Friendly Accommodation at The Pig Hotel, Brockenhurst
Although there are plenty of baby-friendly rooms to stay in at The Pig Hotel, we were keen to book something with two bedrooms. Indeed, the reality of staying in a hotel room with a baby is that your evening ends abruptly at 7pm, when the baby goes to sleep – not something that makes for the most carefree of stays.
Thankfully, we therefore struck gold with The Pig House.
The Pig House at The Pig Hotel, Brockenhurst, is a rustic-inspired two bedroom house, complete with two bathrooms, a guest toilet (fancy), a kitchen with dining area and a lounge, complete with roaring log burner. A home-away-from-home (well, nicer than my own house, in fact), the Pig House is absolutely ideal for those travelling with children.
The Master Bedroom
We were absolutely blown away by the master suite we discovered in our Pig House. Boasting a huge four poster bed, two armchairs, a dresser, wardrobe and a large open plan bathroom with monsoon shower and freestanding bath, we weren't quite expecting the level of space and luxury that greeted us.
As with the rest of The Pig Hotel, the master suite was one of understated, laidback luxury – and I would have been more than happy with that room alone. Olive was also a huge fan of the monsoon shower, which doubled up as a great form of entertainment for her.
Piglets Room
Olive's room – sweetly named 'piglets room' – came complete with an ensuite (and another monsoon shower), a travel cot and, as a lovely touch, baby friendly bath products. The room also had bunk beds for two older children, whilst still leaving plenty of space for the travel cot.
Quiet and spacious, the room was everything we needed for a stay with our baby.
Kitchenette and Sitting Room
The generous kitchenette and lounge area inside our Pig House was exactly the extra space we needed. It came complete with a high chair and large dining table, which made feeding a very messy baby much easier.
By far my favourite part of the Pig House was the lounge area, with cosy sofas, a huge TV and, most importantly, a log burner. In fact, so spacious was the Pig House that we felt a little guilty about the fact we were staying there with just a baby. We needed two more kids to add to the fold, at the very least.
For those looking for other family-friendly options at The Pig Hotel, Brockenhurst, the hotel also offers family rooms, which offer a second bedroom and bunkbeds, and their Pig Lodges  – designed with extra living space and a kitchenette, for those who are happy to share their room with a baby.
Dining with a Baby at The Pig Hotel, Brockenhurst
Good food is one of The Pig Hotel's USPs.
With a commitment to home-grown, local produce, The Pig Hotel prides itself on its 25 mile radius menu. A seasonal affair, which can change by the minute dependent on what's ripe and ready, the food at The Pig Hotel is the highlight of any stay.
Dining with a Baby at The Pig Hotel
The huge plus of staying at the Pig House was that we could order food directly from the restaurant straight to the comfort of our own home (once Olive was asleep). Although I like to think of myself as a flexible, relaxed parent, I had no desire to keep Olive up past her bedtime, nor did I wish to endure a meal dominated by food-flinging and cutlery-grabbing.
I wanted to relax and enjoy my food; to take just a moment to drift away from the all-consuming ride that is motherhood.
Once Olive was down each night, we would have the evening's menu delivered to our door. Settling down on the sofa, a glass of wine in hand, we would make our selections, pop a call to reception – and then sit back and relax until dinner arrived at our front door.
As new parents, this was, of course, utter heaven; we were living an actual fantasy. Tucking into delicious, locally grown food, as the log burner crackled and Olive slept soundly, was easily one of the highlights of our trip.
Although we enjoyed private dining at night, we still headed for breakfast at the hotel's restaurant each morning. The staff were incredibly friendly towards Olive and there was plenty of 'picky' food to offer her from the varied breakfast buffet.
At no point did we feel out of place having a baby with us at The Pig Hotel. In fact, she was the star of the show during her breakfast appearances. Indeed, despite its luxurious offerings, The Pig remains a laid back hotel, welcoming guests of all shapes and sizes (even tiny ones).
Things to do with a Baby at The Pig Hotel, Brockenhurst
We discovered plenty of activities to do on site during our baby friendly stay at The Pig Hotel, Brockenhurst.
As previously mentioned, The Pig Hotel boasts an extensive kitchen garden and greenhouse, which guests are free to explore. As an early walker, Olive adored walking around these peaceful gardens, whilst we inspected all the colourful fruit and veggies growing under the frost-covered earth.
The hotel is also home to a number of animals, including, chickens and (perhaps unsurprisingly) five pigs. We spent quite some time with these pigs, with Olive shrieking with happiness every time they let out a snort. There is also a wild flower meadow orchard to enjoy during the summer months (heaven).
I was a little nervous about allowing an enthusiastic 9 month old to run through the public lounges of The Pig Hotel, Brockenhurst. With visions of Olive ruining the refined soundtrack of pages turning and fires crackling, my jaw was clenched as we took a seat, baby in tow.
Much to my relief, however, no one batted an eyelid at Olive, with her babble merging with the general chitchat and humdrum of the public areas. Sipping hot chocolate while Olive roamed around, we didn't feel like we were intruding on anyone else's down time, and both staff and guests seemed happy to wave and entertain her as she pottered around.
Of course, I did also ensure that I had an hour to myself in the cosy lounge while Olive had her nap back at the house (with James). As any new parents will know, an hour's peace by a fire is a rare occurrence and so I savoured every single moment.
Hotel grounds aside, The Pig Hotel, Brockenhurst, is surrounded by plenty of walks through the ancient woodland of the New Forest. On Sunday, we chose a relatively quick and easy walk around the Forest, stumbling across plenty of wild ponies along the way. Olive was entranced by the ponies, and we spent a lovely sunny morning enjoying all that the New Forest had to offer.
The Pig Hotel is also close to many historic and seaside towns, such as Lymington, which makes for a lovely morning or afternoon out. Before we headed home, we also visited the beautiful Beaulieu, where we had lunch at The Pig's sister hotel, the Limewood Hotel.
Spa Treatments at The Pig Hotel, Brockenhurst
Although our long weekend at The Pig Hotel was one spent as a family of three, I was also keen (read: desperate) to enjoy some alone time. On the Saturday morning, I therefore took a sunny walk through the grounds of the hotel, passing though the kitchen gardens and over a small bridge – heading towards the idyllic 'Potting Shed'.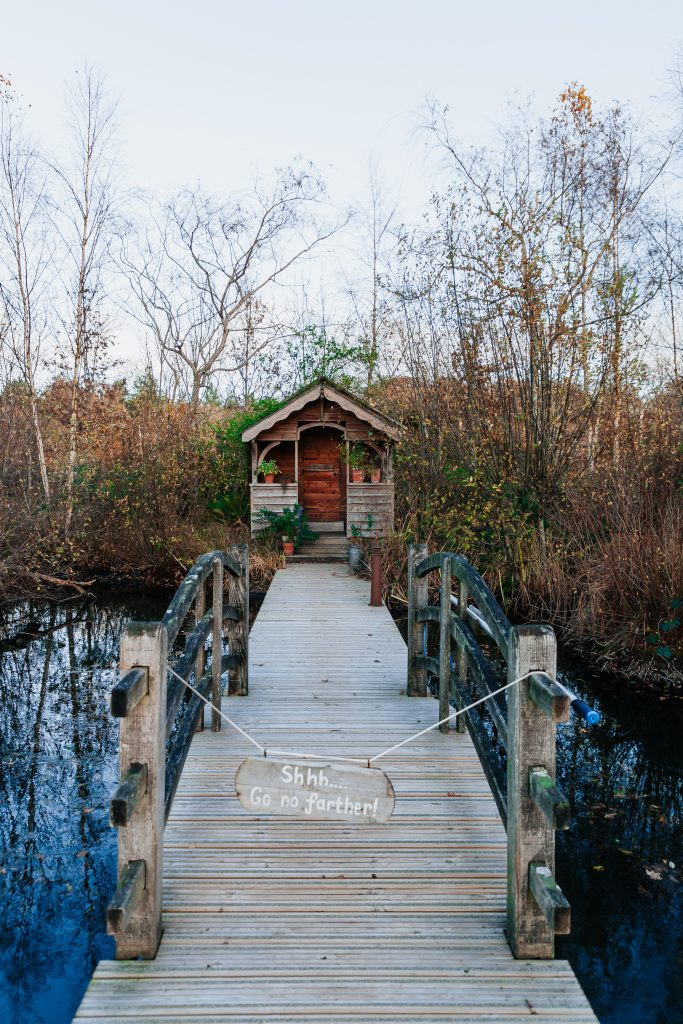 A small, but perfectly formed, shed-come-spa, my friendly therapist greeted me at the door, ready to begin an hour of pure relaxation.
Just like the rest of the hotel, this tiny potting shed oozed laid-back luxury and my full body massage was incredibly calming and restorative. Once the massage was complete, a cup of steaming fresh mint tea was waiting for me, which I enjoyed on a little bench overlooking the sparkling pond.
For anyone visiting The Pig Hotel, I would highly recommend a spa treatment in one of the quirky potting sheds. The full list of spa treatments available at The Pig Hotel, Brockenhurst, can be viewed  here.
Final Thoughts
Despite my initial reservations about staying with a baby at The Pig Hotel, I returned from our long weekend away eager to book (yet another) stay.
A weekend of delicious food, cosy yet luxurious surroundings, and time together as a family, The Pig Hotel surprised me at just how family friendly it was. Of course, I didn't get quite the same experience as those childless guests got (curled up in front of the fire for hours on end), but I did find my weekend just as enjoyable and (dare I say it), relaxing.
Having a family shouldn't mean you're sentenced to a life of holiday parks or soft play. Once in a while, treat yourself – take your baby where you'd like to go and let any worries ebb away.
The Pig Hotel, Brockenhurst, is a fantastic place to do just this.