This list of 6 best things to do in Malibu contains affiliate links.
One of the highlights of our trip to LA, was definitely our day trip to Malibu.
The ideal antidote to the busy crowds of downtown LA, our Malibu day trip was an incredibly relaxing, invigorating and fun one. If anything, we only wish that we'd been able to stay a little longer.
Below is our list of the 6 best things to do in Malibu, CA – including paddle boarding, hiking and exploring a long-forgotten Roman villa. Curious to know more about what to do in Malibu? Read on.
6 Best Things to do in Malibu
1. Head to Malibu Pier
Unlike the busy, fairground pier found in Santa Monica, Malibu Pier is a laid-back oasis and a visit here definitely comes top of any list of best things to do in Malibu.
Not only incredibly quaint, the pier is also adjacent to Surfrider Beach; a surfers paradise boasting 300 yards of surf thanks to the three point break in the waves. It's a great place to stop and watch locals grab their boards and ride out into the ocean.
It's a real pleasure to wander down Malibu's pier – the salty sea air helping to banish any of the humidity found in LA. Grab an ice-cream from Malibu Farm Pier Cafe and sit and watch as fishermen cast their nets. The pier is also dotted with some lovely boutique shops, offering local produce and gifts.
Our favourite spot was Ranch at the Pier, where you'll find everything from fishing tackle to designer, luxury headphones and clothes.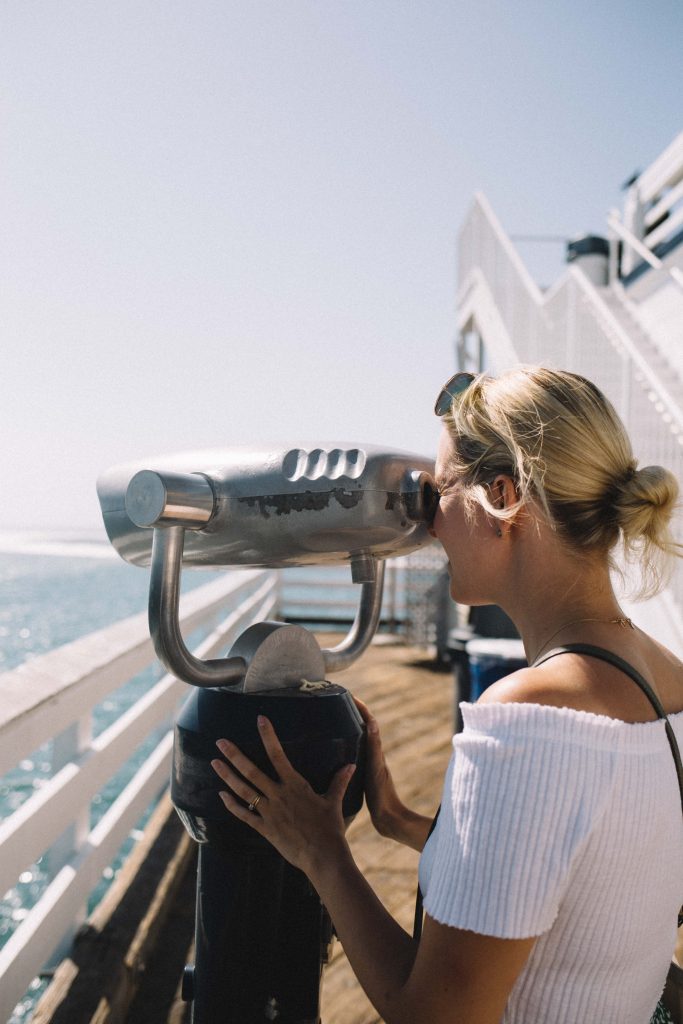 2. SUP at Malibu Pier
During our own day trip to Malibu – the weather clear and warm – we couldn't resist bringing our swimming costumes and taking a dip in the ocean.
Walking back from the Pier, we came across the Malibu Surf Shack (just in front of Surfrider beach) – a Malibu institution since 1972. Here you can hire pretty much everything you'll need to head out into the ocean: from wetsuits to body boards, SUP boards to kayaks.
Deciding to try our hand at something a little more adventurous than just paddling, we hired both wetsuits and SUP boards, costing around $45 for 2 hours for the board and $15 for the wetsuit.
For those that haven't tried paddle boarding, or surfing before, lessons are also available, beginning at $115 for the hour and include everything you'll need.
3. Lunch at Malibu Farm
When it comes to best things to do in Malibu, the answer might just be to sit back with a cool glass of wine and let the balmy coastal winds roll over you.
A perfect spot for this is at Malibu Farm, which offers both restaurant and cafe options.
Providing some of the best views of Malibu seafront (it's found right on Malibu Pier), here you can enjoy delicious meals as the ocean crashes beneath your feet. Unlike the Malibu Farm Cafe found at the end of the pier, this is a full-service restaurant that not only offers delicious, seasonable food, but irresistible cocktails, too.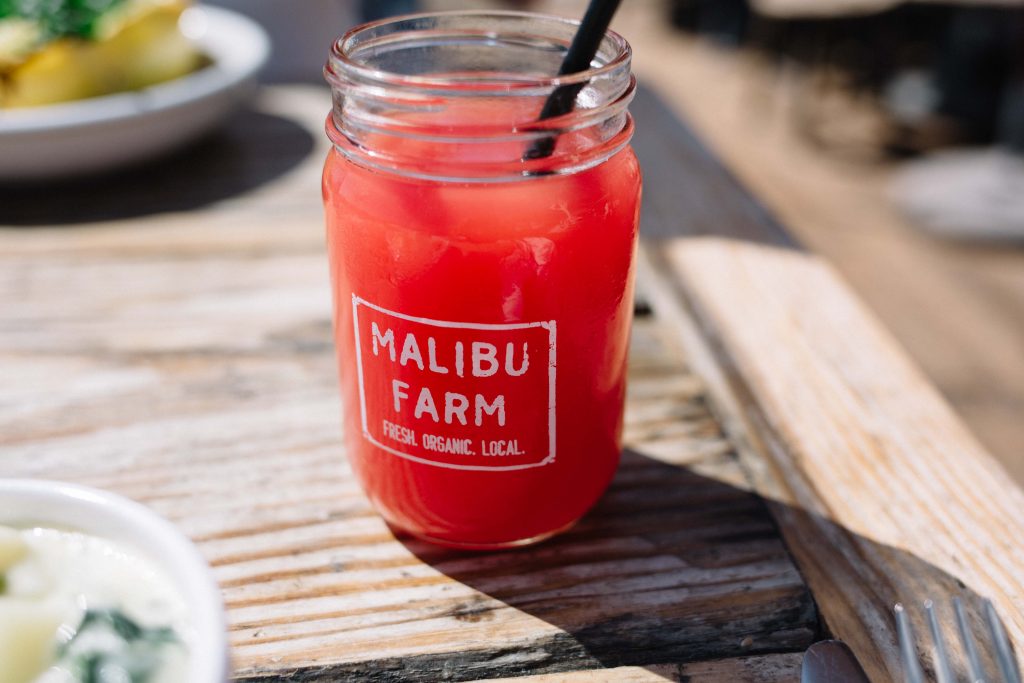 4. Visit Malibu's Spectacular Beaches
In terms of top things to do in Malibu, a visit to this coastline's unbelievably beautiful beaches is a must.
During our own day trip to Malibu, we not only visited Surfrider beach, but the family-friendly Zuma beach, too. Handily, this beach has plenty of parking (over 200 spots) and is equipped with everything you need to spend an entire day here. With bathrooms, showers and picnic tables – there is also a grocery shop and a candy store just across the road. Handily, there is also a bus stop right outside it.
For those looking to explore a more rugged, off-the-beaten-track beach, then be sure to stop by El Matador beach (found in northern Malibu). This beach reminded me a little of the Oregon Coast; with large, jutting rock formations and sea pools filled with birds and local wildlife. It's both quiet and perfect for incredible photo opportunities. Please note that there is a steep, cliff-edge walk down onto the beach – so perhaps not for those with mobility issues.
5. Visit the Getty Villa Museum
Away from Malibu's glittering coastline and beaches, lies one of its more cultural attractions: the Getty Villa Museum.
Found between Santa Monica and Malibu (17985 Pacific Coast Highway), the Getty Villa is entirely free to enter; making it a popular stop with those making a day trip to Malibu (although you will still need to make a timed reservation for your visit). If driving, you'll also still need to pay $20 for parking. The 534 bus also stops almost immediately outside the Villa – you just need to make the 10 minute walk up the hill towards the Museum's main entrance.
Built to mimic what is said to have been the most luxurious homes in the Roman world – Villa dei Papiri – the Getty Villa is a beautiful building, filled with Roman and Greek art and surrounded by manicured gardens.
Even if Roman history isn't your thing, it's still worth visiting solely for the Villa's beautiful garden, pool and spectacular views of the Pacific Ocean. Here you can walk under shaded walkways, past fountains, sculptures and plants native to the Mediterranean.
Our favourite spot was the incredibly calming and (beautifully) fragrant herb garden. An hour or so here is definitely one of the best things to do in Malibu.
6. Visit Malibu's Waterfalls
When researching what to do in Malibu, one thing I was surprised to learn was that this area boasts some spectacular waterfalls.
Who knew?
When making your own day trip to Malibu, factoring in time to hike to one of these waterfalls is therefore a must.
In total, there are around 10 waterfalls within hiking difference of Malibu; each offering its own trail and unique scenery. As we only had one day in Malibu and were therefore a bit pushed for time, we decided to take the relatively easy and gentle hike to Escondido Falls.
To begin your hike, head towards the Escondido Canyon Park, 27200 Winding Way in Malibu. While there is parking here (costing $12) it is quite limited – so you may be best parking further down on the Pacific Coast Highway and walking up.
In total, the hike is around 4 miles and takes you to within touching distance of this incredible waterfall (it's even be declared one of Southern California's most beautiful falls).
Our Day Trip to Malibu Guide: FAQs
How Long Does it Take to Get to Malibu from LA?
Located in western Los Angeles County, Malibu lies 30 miles from downtown LA. By car, Malibu is just under 50 minutes from downtown LA – and is a regular commute for the city's Uber drivers (so you needn't worry about needing to book ahead). However, do be warned that if traffic is particularly bad, you could be looking at a 90 minute trip.
How to Get to Malibu from LA
Most travel between LA and Malibu via car – whether that be your own hire car, or an Uber or Lyft. We took an Uber from LA to Malibu and it cost us around $60, which while definitely not cheap, was incredibly easy to organise (we were collected from outside our hotel just four minutes after requesting the car).
The drive itself seemed fairly easy – with our driver taking us through Calabasas as a little detour. However, the Pacific Coast Highway offers stunning scenery, so we'd definitely recommend taking that route instead. Do try and set off outside of rush hour, or you could find yourself in queues of traffic (definitely after 9am and avoid travelling between 3pm – 6pm).
Is There a Bus from LA to Malibu?
If you're planning a day trip to Malibu and don't want to take a car, then there is a bus from LA to Malibu, running hourly (sometimes twice hourly during peak times).
The 534 tram line can be picked up on 5th & Colorado Avenue (in Santa Monica) and will take you to Trancas Canyon & Pacific Coast Highway (with earlier stops along the way). The journey takes round 30 minutes and is an incredibly cheap one, costing around $2 if you use a TAP Card.
You can access the full schedule for the tram here.
How to Get Around Malibu
Whilst the main stretch of beach and restaurants in Malibu is fairly small, there are a whole host of other attractions and sites that lie a little further out. We'd therefore suggest either taking your own car to get around, or just organise Ubers as you go.
However, the 534 line does make several stops throughout Malibu – including at the Getty Villa – so if you aren't in a particular rush, this is also another option. Do be warned, however, that the stops aren't always particularly close to some attractions, so you'll also be doing a lot of walking.
Note: electric scooters are now banned in Malibu, so unlike Venice Beach or DTLA, this mode of transport isn't an option.
Where Can You Park in Malibu?
There are places to park throughout Malibu, including some free parking at the beaches. However, these lots do tend to fill up quickly and can be expensive.
Malibu Pier, for example, does have some limited parking spaces (which fill up fast) and can cost between $10 – $20. There are also free and metered parking spots along shoulders of the the Pacific Highway, but are often full, so you may need to bide your time when it comes to claiming a spot.
Your best bet might be to park in one of the County parking lots, which are less expensive to park in (around $10 in summer), but are secure and long-stay.
We found this resource really helpful when searching for free parking in Malibu.
The Best Hotels in Malibu
Well-known as a celebrity hangout, Malibu is not only beautiful, but brimming with premium restaurants and luxury hotels.
Malibu Beach Inn, whilst sounding humble, is in fact a boutique hotel that overlooks the azure blues of the Pacific Ocean – with rooms starting around $622 per night. It's also a stone's throw from the celebrity hangouts of Nobu and the Little Beach House Malibu.