This list of the 12 best eco-friendly period products contains affiliate links.
Thankfully, it seems that the tide is turning on single use, disposable menstrual products.
With their (incredibly) negative environmental impact now being acknowledged, we're seeing not only incredibly cool, but super eco-friendly period products appearing on our shelves.
With the average period pad taking up to 800 years to breakdown in landfill, and plastic tampon applicators now filling our oceans, these reusable period products have come not a moment too soon. Given that the average menstruating female will get through a whopping 5000 to 15,000 pads and tampons in her lifetime, these are sustainable menstrual products that we all need to take seriously.
Having been a fan of Dame's reusable tampon applicator for a few years now, alongside WUKA's fantastic period pants, I thought I'd do a little more research into some of the best eco-friendly period products on the market – trying and reviewing each myself.
Although some of these products have definitely taken some getting used to and may not have felt immediately as comfortable as their plastic-filled counterparts, I've soon adapted and really embraced using them.
Now thoroughly enjoying my eco period, I hope some of the products I've listed below inspire you to ditch the single-use tampon applicators and invest in some reusable period products of your own.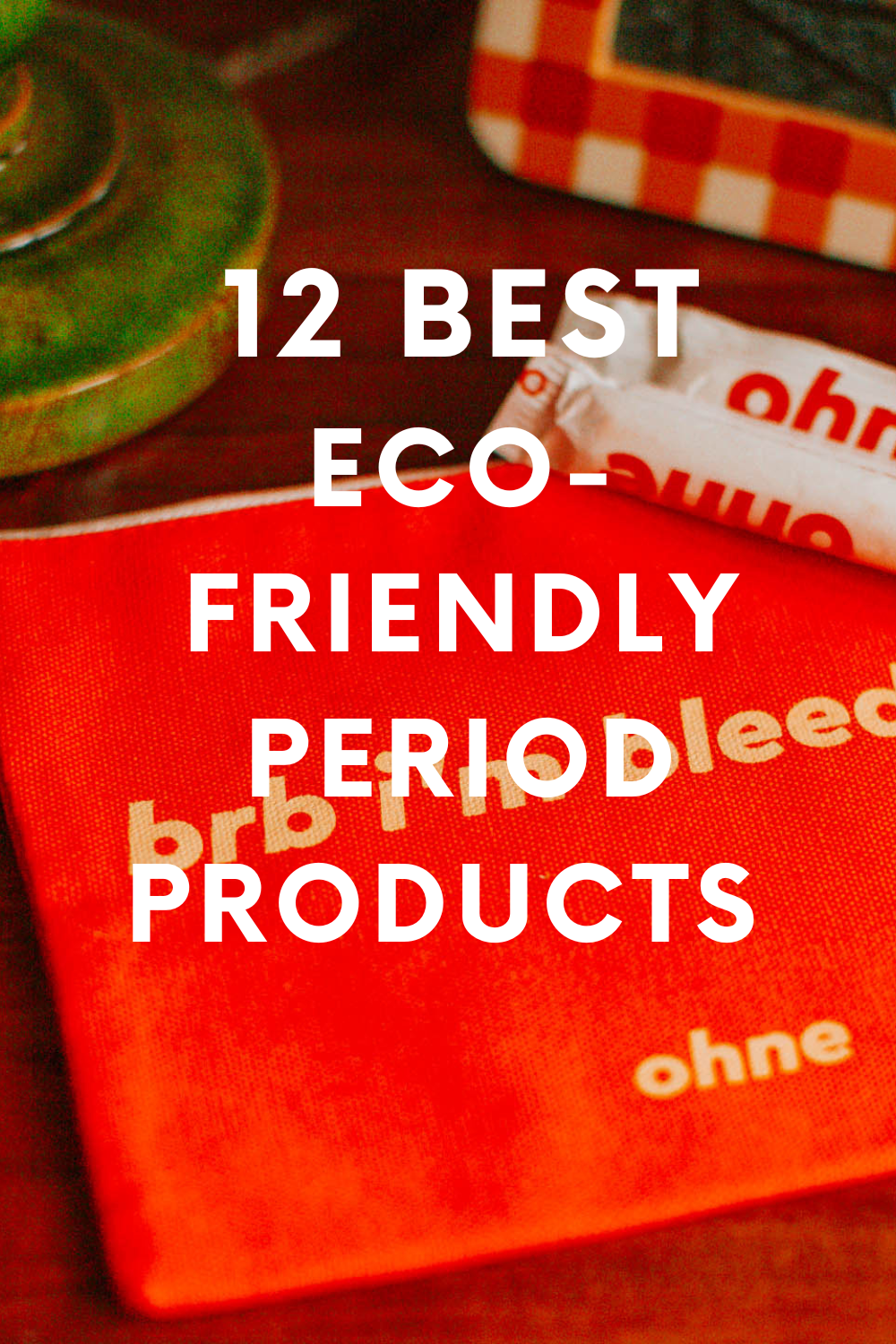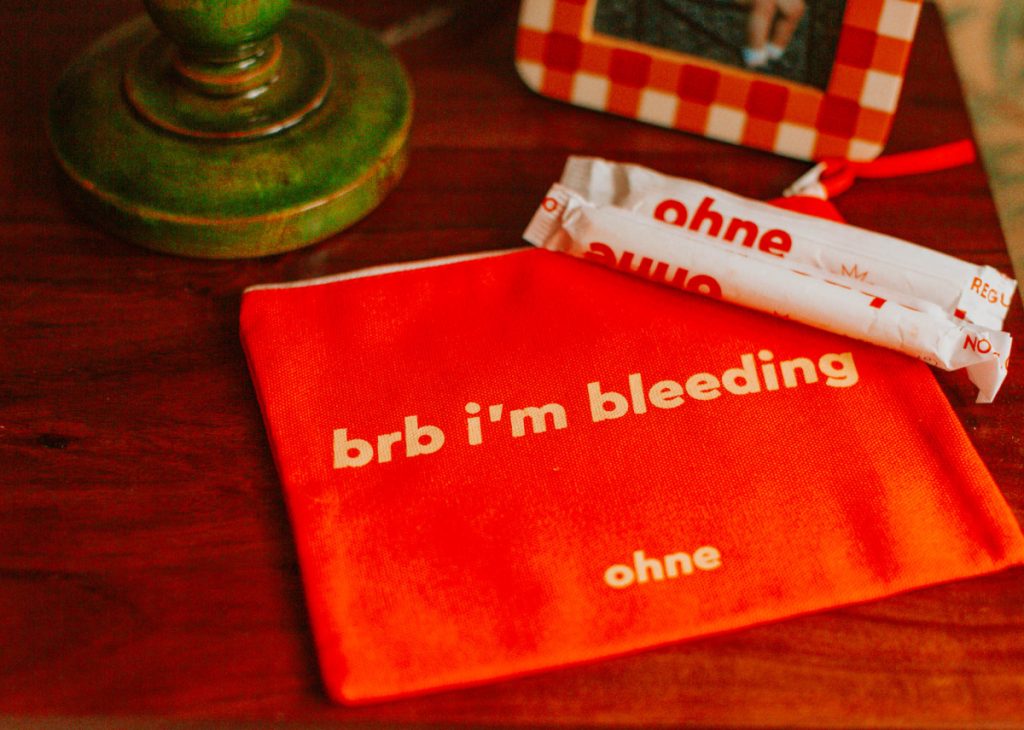 12 Best Eco-Friendly Period Products
Eco-Friendly Sanitary Pads
Traditional period pads are the staple of most monthlies – especially when you first start menstruating.
Over the years, we've all become familiar with the bright colours and catchy slogans of Always or Bodyform. In fact, given their prominence, it's easy to forget that not only are other brands available, but that these more traditional period pads are horrible for the environment.
Thankfully, there are now plenty of alternative eco-friendly sanitary pads available, all of which work a little differently. From pads you can use and put through the wash, to liners made from materials that actually decompose, there are plenty of options when it comes to having an eco period.
Below are some of my favourite tried and tested eco-friendly period pads.
1. Dame Reusable Pads
Get 20% off your DAME order by using the code 'TWINPERSPECTIVES' at checkout.
Price: a bundle of 3, plus dry bag, for £39.99
As I mentioned above, I'm already a big fan of Dame thanks to their reusable tampon applicator and eco-friendly tampons.
Offering award-winning sustainable period products, Dame have now expanded their range, including not just their applicator, but Dame reusable pads.
Having only tried their tampons before, I was really intrigued to try these sustainable period pads, which have already been received to much acclaim.
In a nutshell, these clever eco-friendly period pads are those that you can use again and again – throwing them in the washing machine (at 40 degrees) once you've used them. Made from DAMEdry technology and composing of five different layers, these pads offer odour proof, fast wicking and secure protection throughout your period.
Coming in three different sizes – liner, regular and night – the DAME reusable pads are attached to your pants via poppers, which clip together beneath your knickers.
When out and about, you can store your used pads in DAME's clever 'Dry Bag', which is water, air and odour tight, so you can store them in your handbag free of paranoia.
As I'm so used to the synthetic period pads that we've all used in the past, I'll admit that DAME's pad felt a little odd when I first used it. It seemed just like a (albeit comfortable) bit of fabric and as such, I was really nervous about leaks.
However, I can truly say that the pad worked surprisingly well.
Not only was it comfortable, but it completely did the job, without a single leak. I'll add that I decided to use the 'regular' pad when I was towards the end of my period, when the flow wasn't extremely heavy – as I did chicken out from using it on my heaviest day.
However, for those moderate days, I can confidently say that the pad did just great.
The only drawback I noticed was that it pad does move around a little and 'creep' – moving towards the back and upwards. This did mean that I had to go to the bathroom a few times and rearrange it, which wasn't ideal.
I'd therefore perhaps recommend using DAME's reusable pads on those days you're likely to be home a little more, or not extremely active (i.e. going on a run), just so you can realign the pad when you need to.
This aside, however, I really did like these reusable, eco-friendly period pads and will definitely be using them again (they also washed brilliantly).
2. Fluus – the First Flushable Pad
Price: monthly subscription – 15 for £5 or 45 for £15
A completely different offering to Dame's reusable pads are the new and groundbreaking, Fluus pads.
Single use pads that you can flush (yes, flush), Fluus claim to be 100% biodegradable and entirely flushable – breaking down after just one flush.
Indeed, and based on their own 'flushtech' technology, Fluus flushable sanitary pads are 'flushable certified', having been awarded the WIS 04-02-06 Certificate (which, in short, means they reach the UK's benchmark for 'flushability' standards).
Made from plant fibres, these super soft pads break up as soon as the water hits them – and after six hours will have broken down by 80%. By the time they reach the water treatment centre, they can be safely treated and regenerated into biogas and fertiliser.
Absolutely fascinating stuff.
Now, although all of this is incredibly impressive, do they actually do their job as period pads? Do Fluus pads work?
Claiming to be 15% more absorbent than market leaders, I decided to trial one of the Fluus period pads on my heavier days – ensuring that it was really going to have to work hard for its money.
One thing I wanted to note was just how soft these eco-friendly period products are. Made entirely from plant fibres, and free of micro plastics, Fluus period pads are like lining your pants with cotton wool – they are just so lovely.
However, due to this softness, I did notice that the blood tended to initially 'pool' a little bit on top of the pad. This meant that there were a few moments of discomfort (and vague panic), before the pad eventually absorbed the blood. However, once it was locked in, it remained dry and secure and leaks were no issue at all.
I've also had no problems at all flushing these pads and it's actually quite fascinating to watch them break up as they go down.
Overall, I'm absolutely in love with the Fluus flushable pads and will definitely be purchasing more (I initially ordered their trial pack, which is entirely free of charge).
3. Re:gn Reusable Period Pads
Price: £19.99 for 3 pads
For those of you who (like myself) have the luxury of a heavy flow, you might be worried about the absorbency of these newer, sustainable period pads. Without traditional synthetics locking away the blood, you might be left feeling a bit vulnerable.
Thankfully, the brilliant Re:gn have designed reusable sanitary pads designed for a heavier flow and as such, are larger in size than some of the other eco pads out there. Each Re:gn pad measures at 30cm long and can, the brand claim, hold up to four regular tampon's worth of blood.
I really loved these pads for my own eco period. I liked their slightly more vibrant design and found that they 'creeped' much less than the Dame reusable pads. They also worked perfectly when I wore them at night, on my heavy days.
4. FLO Bamboo Pads
I recently bought FLO's Babe Bundle to set me up with everything I needed for an eco period.
This fun brand offers an array of different sustainable period products, alongside vegan condoms and bladder care products.
The bamboo pads that came in my bundle are super soft and 100% organic and biodegradable. I've been using their 'plus pad', which is 30cm long, but will try their lighter-flow 'day pads' next time, which are only 24cm long – so possibly less bulky.
I don't think you get the same absorbency with eco-friendly period towels as you do with the (nastier) synthetic sort – so you will have to be prepared to change them more frequently. But it isn't a huge hassle and the pros of opting for a sustainable sanitary pad far outweigh continuing with the likes of Always or Bodyform.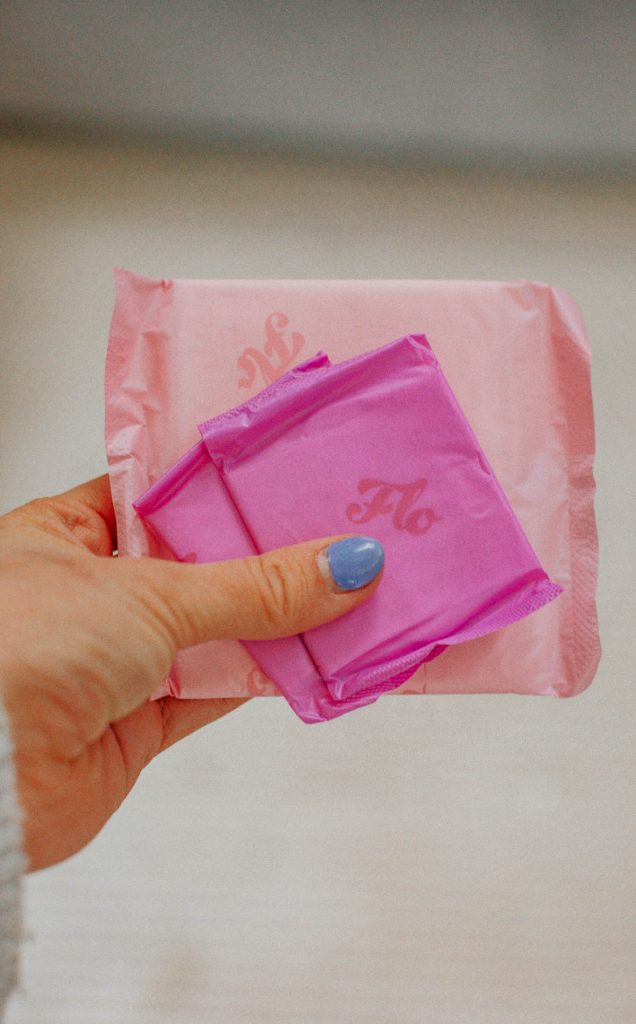 Environmentally Friendly Tampons
When it comes to eco-friendly period products, perhaps some of the hardest to find are (applicator) based tampons.
Whilst there are already many sustainable tampons on the market, all of which are free of bleach and are biodegradable, it's harder to find reusable, sustainable tampon applicators.
Below are some of these biodegradable tampons, alongside the UK's leading reusable tampon applicator.
5. DAME's Reusable Tampon Applicator
Price: the DAME Reusable Applicator is £19.99
I've been using DAME's reusable tampon applicator for over four years and it's now a regular feature of my monthly cycle.
In fact, I don't even think about buying traditional, single-use applicator tampons anymore and love the fact that this one applicator has seen me through nearly 48 periods (pregnancy aside).
In short, DAME's reusable tampon applicator is designed to be used alongside its own biodegradable tampons (to be binned, not flushed). Made from medical grade Mediprene, the DAME reusable tampon applicator contains inbuilt antimicrobial properties to keep it nice and clean. Once you've used it, you therefore just need to give it a quick rinse and it's ready to go again.
As I mention in my full review of DAME's reusable tampon applicator, the applicator does feel a little bigger than those you might be used to and does not have the synthetic coating that makes other applicators feel so 'smooth'. However, it's far from uncomfortable to use and you soon get used to it.
It really is a game-changing eco period product and one I'd highly recommend investing in.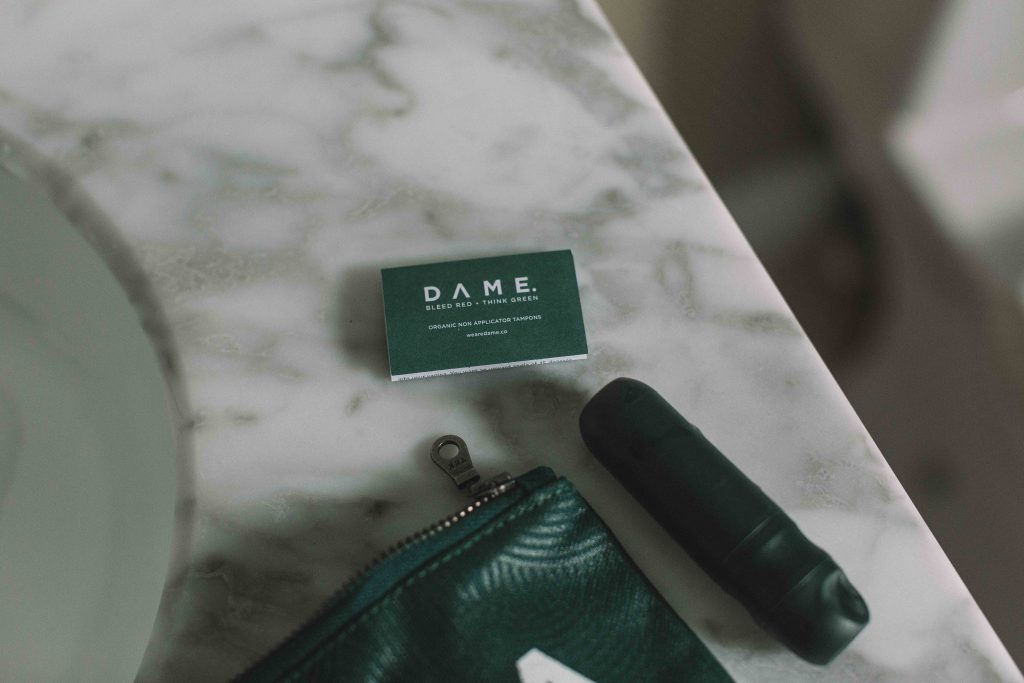 6. Daye CBD Tampons
Price: 12 CBD tampons for £11.16 (cheaper if you subscribe)
I was first drawn to Daye by their very aesthetically-pleasing brand and the fact that they're leading the way when it comes to CBD period products.
Indeed, Daye are not only wonderfully sustainable – producing 'nude' tampons that feature flushable wrappers and renewable sugarcane applicators – but they are also fantastically innovative.
Drawing on the latest science, Daye have devised a host of period and vaginal health products aimed at making periods more bearable and improving the health of our most intimate parts. These fantastic products include 'Proviotics' for your vagina (taken as a tablet), vaginal microbiome screening, CBD balm to rub on cramping bellies and organic tampons.
However, in this list of the best eco-friendly period products, I wanted to focus on Daye's CBD infused tampons in particular.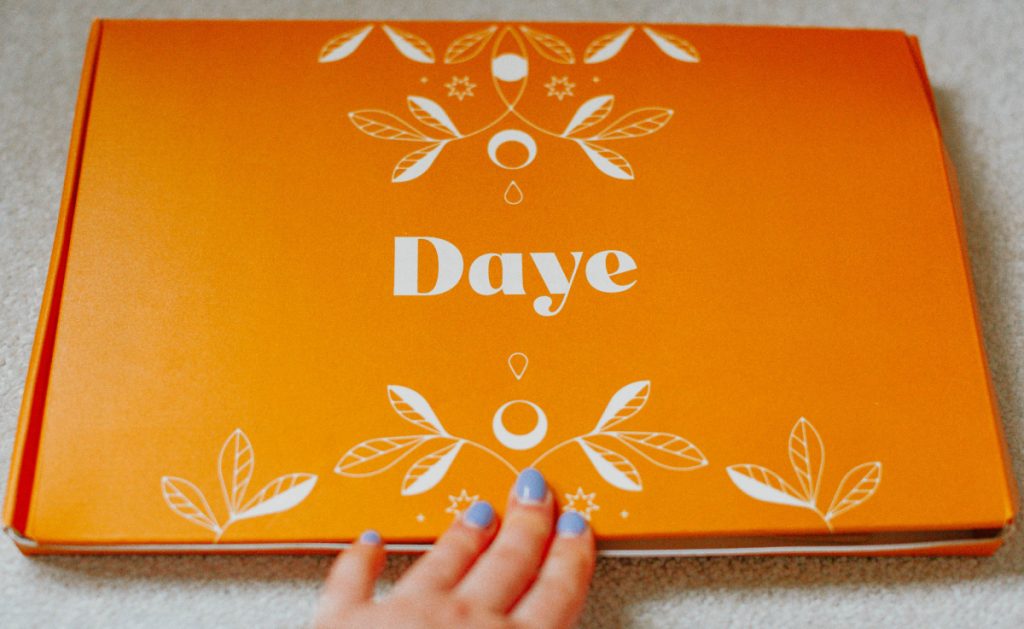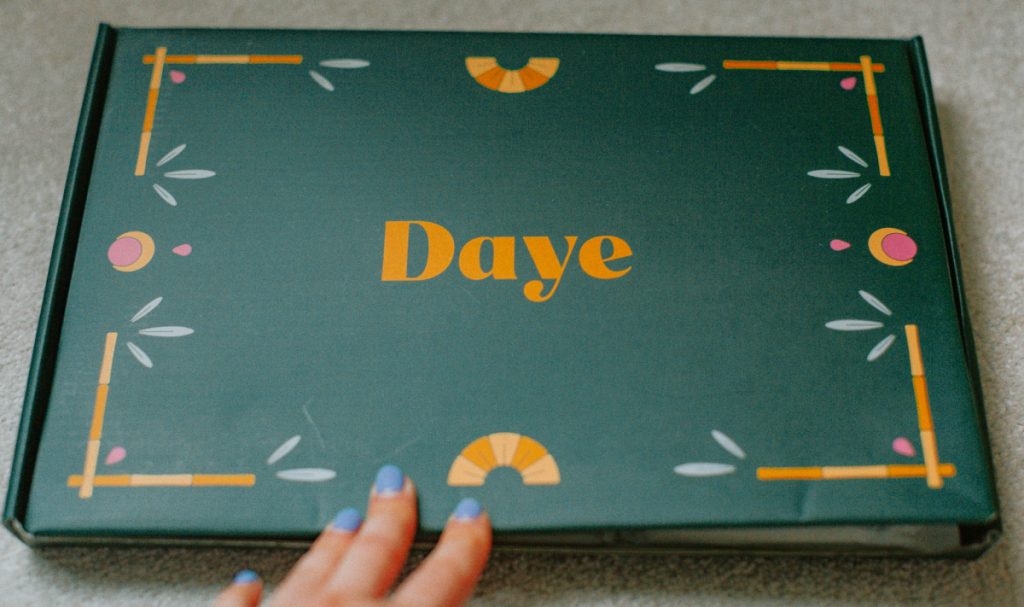 Since having a baby, my periods have morphed into a different monster entirely – and are now incredibly heavy and painful. This is something I've largely just put up with, aside from regularly popping Paracetamol when I can. I was therefore really intrigued to review Daye CBD tampons, to see if they could help alleviate my painful periods.
Firstly, I'd quickly reassure any reader that Daye's tampons are completely safe to use.
Using only pharmaceutical standard cannabinoids, the CBD coating that Daye use is THC-free (meaning you aren't about to get high using them), and is from a clean production line and comes from a single, trusted supplier. Also ensuring they offer a medical-grade CBD, you can be sure that Daye's tampons are safe, legitimate and effective to use.
My own experience of using CBD tampons has been nothing short of transformational. In fact, the difference when it comes to using Daye's CBD tampons, compared to standard tampons, has been like night and day. My cramps have been significantly more manageable – so much so that I haven't had to rely on over-the-counter pain killers, at all.
Using the Daye CBD tampons really has been a revelation.
Knowing that they are also sustainable and organically made, has also ensured I love Daye products even more (and the metal box that the tampons come in is just exquisite).
I'd therefore definitely rate Daye as one of my favourite eco-friendly period products.
7. FLO Tampons
Price – combo Pack £5.95 for 11
Another environmentally-friendly tampon brand is the wonderful FLO, who I mention above.
A little like Daye, FLO have their branding and marketing down, presenting their tampons in pink tubs that don't look too dissimilar to a Ben and Jerry's tub of ice-cream.
I recently trialled their FLO eco-applicator tampons, which are (true to their name) organic, hypoallergenic and biodegradable. Their tampon applicators are also 95% plant-based (sugarcane) applicators and are fully recyclable. Just be sure to bin them, rather than flush them.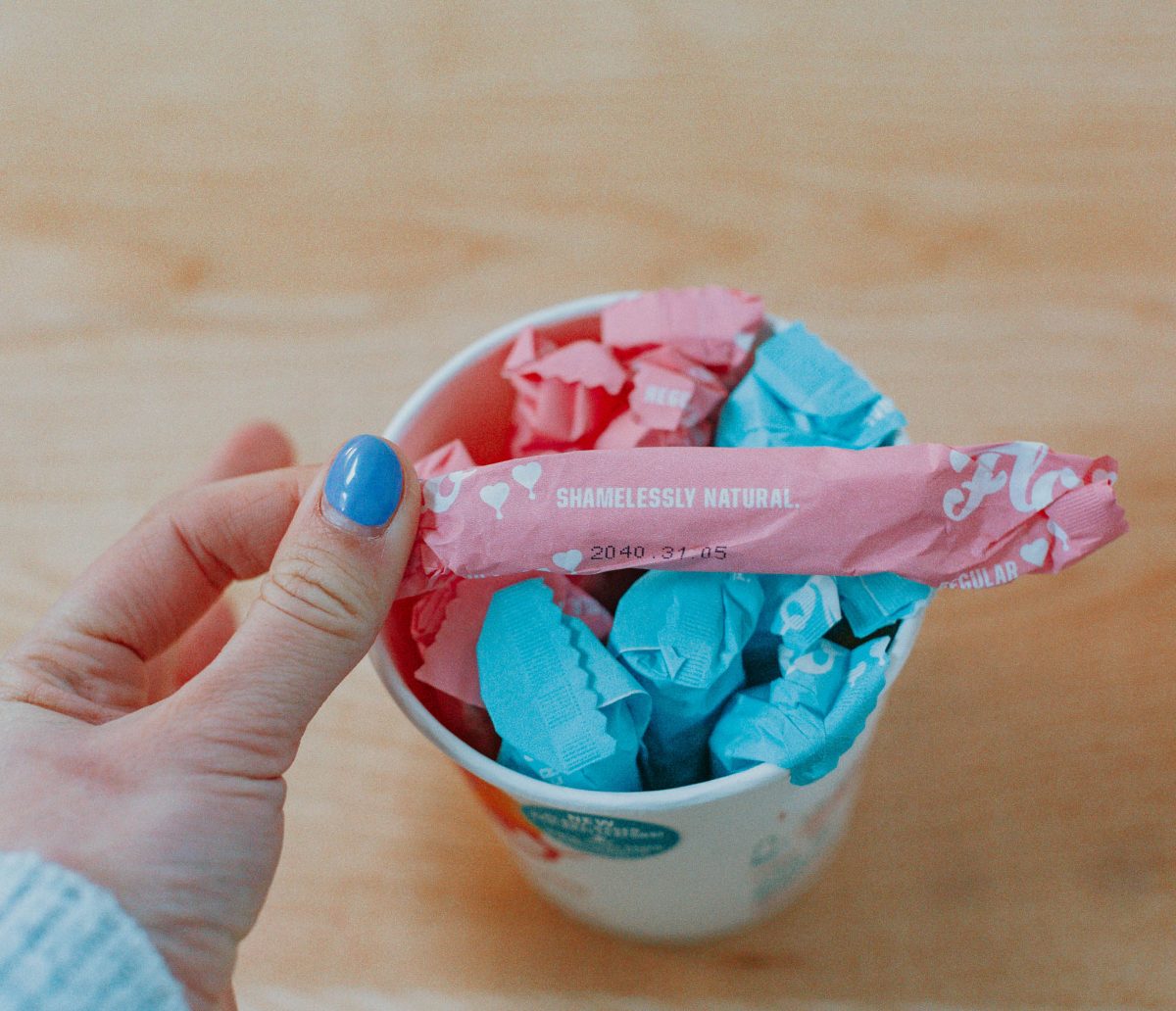 I was really intrigued to try these tampons, simply because their customers have described using them as like 'having a cloud in your vagina' – a compelling proposition, indeed.
I often find sustainable tampons to be a little rougher than those synthetically-coated tampons that we are all so used to using. As such, inserting them can be slightly uncomfortable and on lighter days, removing them can chaff a little.
Would FLO tampons therefore remedy this discomfort?
Overall, I found the FLO tampons to be really comfortable to use – very soft, fantastically absorbent and a pleasure to wear. I wouldn't say that they were 'cloud like', though. The plant-based materials used in biodegradable tampons do to tend to be somewhat rougher than the synthetic fibres that make up their peers – but they were nonetheless very comfy.
I'd definitely use them again and would absolutely champion their use over traditional, single-use tampons.
Best Period Pants
When it comes to eco-friendly period products, period pants are by far my favourite invention.
What could be more comfortable – more indulgent – than doing away with pesky tampons and pads, and simply putting on a comfy pair of  knickers that you know will successfully absorb your flow?
I've been using period pants for a few years now, largely on my lighter days, and they really are a game-changer. Rather than having to worry about those last few days of light bleeding – and using pads 'just in case' your period makes a reappearance – you can just slip on your period pants and go.
Below are what I think are the best period pants on the market at the moment.
8. WUKA Period Pants
Price: adult sizes start at £19.99, dependent on style and absorbency 
I first wrote my WUKA period pants review in 2018 and have been using them ever since. They are now my familiar, trustworthy sidekick each time my period rolls around and are working just as well as they did nearly five years ago.
Comfortable and coming in an array of shapes and sizes, WUKA claim that their heaviest flow pants can hold up to 12 tampons' worth of blood – quite the feat. Easy to wash (simply throw them in the wash at 30- 40 degrees, without fabric softener), these are pants that you can use again and again.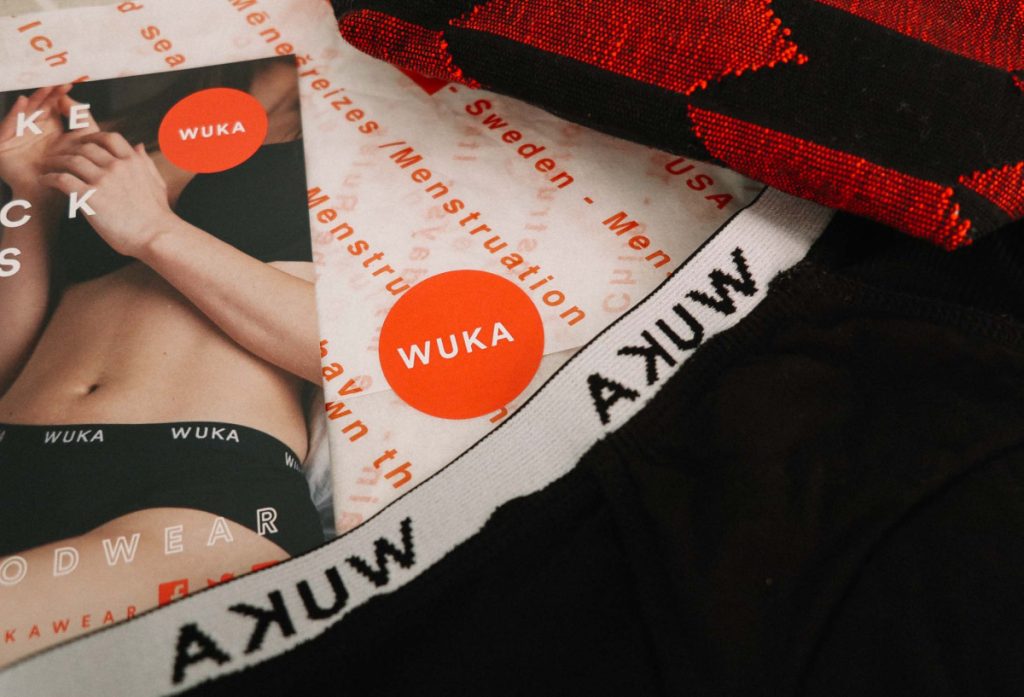 In the five years since I first bought a pair of WUKA period pants, the brand has really come on – introducing a number of new styles and shapes to their range.
These include their luxury 'Tencel' pants, offering ultimate luxury and softness, their fancy lace range, their 'stretch' range (perfect for days you might feel bloated, or for anyone on their postpartum journey), and their lovely summer collection.
WUKA period pants also come in different styles, including briefs, hipsters and thongs.
One of originals, WUKA are definitely some of the best period pants on the market. Furthermore, their constant innovation and introduction of new styles and functions, means they are definitely staying ahead of the (growing) crowd.
9. Ohne Period Pants
Price: starts at £27 dependent on style and absorbency
Now, I'm not ashamed to admit that what first drew me to Ohne was their tongue-in-cheek and disruptive branding.
Initially starting life as a store dedicated to writing a 'new chapter' for periods, today Ohne is a fully-fledged wellbeing shop, offering everything from period pants to sex 'tools'. Loud, proud and confident, the Ohne collective is a fun and irresistible one – and definitely one worth checking out.
Last year, I invested in a pair of the Ohne period pants – attracted to their super bright and fun colours. Unlike most period pants, which tend to be black and a bit unimaginative, these pants are (in Ohne's own words), the cutest period pants on the market.
I went for their high waist, moderate absorbency pants (in a very fetching lilac colour), which I use on days 3-4 of my period. I cannot stress how comfy these pants are and effective. They don't dig in around my waist and I can't feel them at all when I've got them on.
They also don't look like period pants, something I love.
10. Modibodi Period Pants
Price: starts at £18.50 dependent on style and absorbency
Claiming to be the UK's No.1 period pants (and the original), Modibodi regularly top lists of the best sustainable period products.
Alongside producing pants for every person and eventuality – from men's incontinence pants to kids' training pants – Modibodi are also champions of leak-proof and robust periods pants. Probably offering the most diverse range of period pants, from 'sensual' (i.e. attractive and lacy) period pants, to 'boy-leg' style (like boxer shorts), Modibodi have period pants to suit every taste and need.
They also regularly collaborate with other brands, bringing out fun and functional periods pants. Their latest collaboration is with Puma.
Eco-Friendly Menstrual Cups
When it comes to eco-friendly period products, menstrual cups have perhaps been the one product I've always avoided.
For some reason, I've always been intimidated by these delicate little cups – imagining they are not only a nightmare to insert, but a messy affair to remove.
However, having heard nothing but positive reviews of menstrual cups from my friends, I finally decided to give them ago when my periods returned postpartum. Whilst I can't say they are my go to eco-friendly period product, they are definitely useful (and many women swear by them).
11. Ohne Menstrual Cup
Price: £30
Making another appearance, this time for their fabulous menstrual cup, is Ohne.
Not only are their menstrual cups genuinely easy to use (something I definitely didn't expect), Ohne have also introduced a number of useful accessories to buy alongside them. These include a menstrual cup cleaner, menstrual cup wipes and a disc-shaped menstrual cup (most are usually cone shaped).
I went for their 'midi cone' – a menstrual cup designed for a heavy flow and wearable for up to 12 hours. I also noticed that they recommend using these postpartum after a vaginal birth, for the (seemingly endless) postpartum bleeding that women have to put up with.
Although I'll admit that it took me a few times to get the hang of using the cup, once I had the knack, it really was so much simpler than I'd anticipated. This is largely down to the clever (optional) detachable ribbon that clips onto the bottom of the Ohne menstrual cup. This means that you just need to tug at it gently (as you would a tampon string) when it comes to removing it.
The cup also has 'wave' like ridges across it, so that the cup can grip to you as you insert it, to prevent it slipping back out. It also has an anti-spill rim, which I can confirm has been very effective so far.
Overall, the Ohne menstrual cup has been a real joy to use and has offered a gentle introduction to using menstrual cups in general.
12. Saalt Menstrual Cup
Price: £29
Although I haven't had time to write a full Saalt Menstrual Cup review, I know that amongst my friends, this is by far their favourite eco-friendly period product.
The cup – the vision and invention of mother to five daughters, Cherie – comes in two versions, a disc shaped (shallower) version, or a more traditional cup shaped model. Made from 100% medical grade silicone, these cups are said to be unbelievably soft and very forgiving when you insert them.
The Saalt menstrual cup needs removing and replacing much less than a tampon – and, dependent on your flow, should see you through a good 12 hours. For someone who hates having to constantly go to the bathroom to change my tampon, this is a real game-changer.
To make sure you choose the right size and shape for you (e.g. dependent on whether you've had children, or have a tilted cervix), be sure to take their quiz before ordering.