This review of the ASUS ZenBook Pro 14 Duo OLED Laptop contains loaned items. 
Like the vast majority of people these days, we wouldn't have been able to start – or grow – our business without a laptop.
In 2014, it's what we used to first set up our makeshift blog. Since then, it's what we've lugged around the world with us – editing photos and writing blogs as we go.
In short, without a laptop, Twin Perspectives wouldn't exist.
However – and unfortunately for us – our laptops aren't exactly designed for the travel blogger lifestyle. In fact, they're better off left at home; chained to the desk and permanently plugged into the mains.
In 2014, I bought a 16″ Macbook Pro. Undoubtedly powerful and great for content creation, this model of laptop is nonetheless enormous. Heavy and thick (especially as this is an older model), travelling with this computer has been the bane of my life.
Weighty and cumbersome, it takes up my entire hand luggage and is incredibly heavy to carry around. Add to this the fact that its battery life is almost non-existent and I might as well just bring a desktop with me.
I can't edit photographs or work on blogs on the go – nonchalantly pitching up at cafes in Italy, or settling down in the middle of the Agafay Desert – to do so. Instead, I nearly always have to be plugged in and sat in my hotel room; destroying any romantic notions of a nomadic lifestyle.
My laptop also gets incredibly hot, incredibly quickly. I tend to therefore work on flat, cool surfaces – too scared to perch the thing on my lap in case it leaves me with third degree burns.
Far from making travel blogging easy, my current laptop therefore just slows everything down.
Finding a Laptop for Content Creators
As much as I wanted to switch to a lighter, more portable laptop, I was worried it would mean compromising on power and processor speed.
To run the programmes I used for travel blogging – Adobe Lightroom, Photoshop and Premiere – I needed a computer not only with some oomph, but with plenty of memory. I also required a high-quality display; something the Macbook's retina screen certainly delivered on.
As far as I could tell, if I was going to move to a smaller and lighter laptop, I'd have to possibly lose some of these tools.
However, and just as I was about to resign myself to a life as the world's slowest content creator, an email from ASUS appeared in our inbox.
Announcing the arrival of their newest laptop – the ASUS ZenBook Pro 14 Duo OLED – the email explained that this computer had been devised with content creators in mind.
Slim and lightweight, but packed with innovative features – including a dual screen – ASUS generously asked if we'd be interested in trialling and writing a review of the ASUS ZenBook Pro 14 Duo OLED (2022). As content creators who were regularly on the go, they promised that this laptop had the potential to completely transform how we worked.
With a trip to Poland coming up – and the idea of taking the MacBook already filling me with dread – I didn't need to read much more.
I was more than happy to give ASUS's latest creation a go.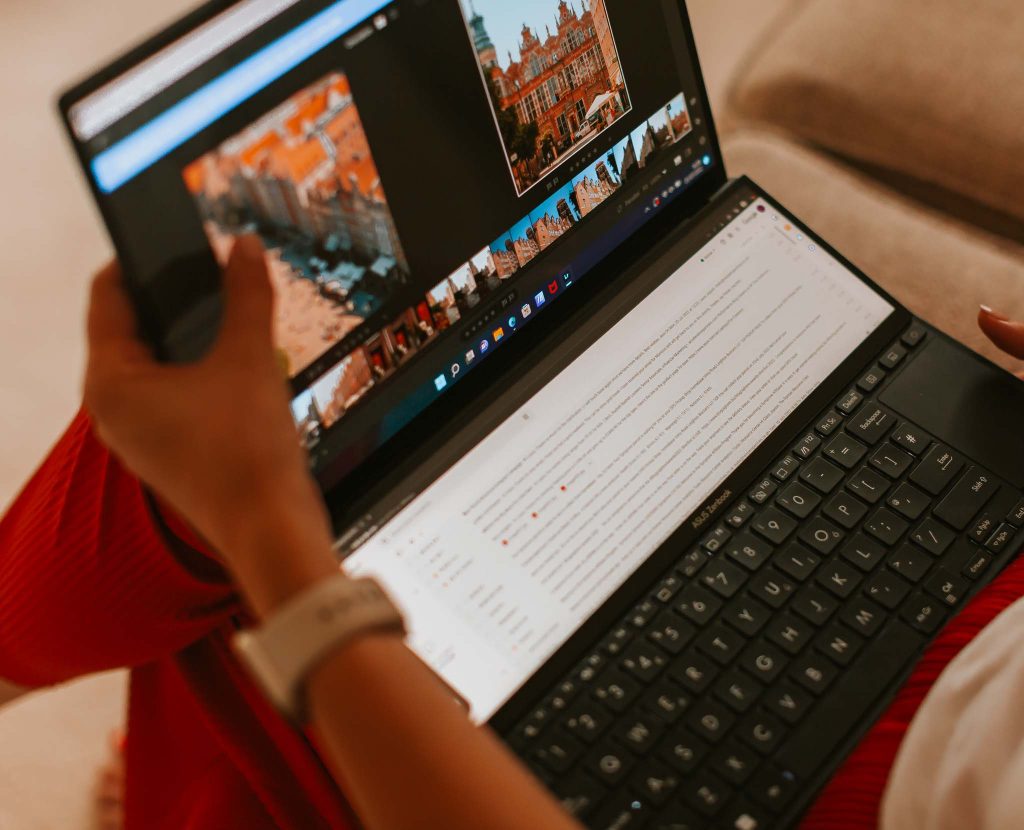 First Impressions of the ASUS ZenBook Pro 14 Duo OLED (2022)
A week or so later and it was time to begin my review of the ASUS ZenBook Pro 14 Duo OLED.
Arriving in a very sleek and sexy black box, I was immediately impressed.
Beautifully packaged (and dare I say it, better than any MacBook), I was thrilled to discover that the ASUS ZenBook Pro 14 Duo OLED not only came with all the usual accessories, but with a Stylus Pen, too – ideal for editing on the go.
The laptop itself is incredibly good looking; boasting a matte black exterior, with gloss detailing. It also has an innovative anti-fingerprint coating – ideal if, like me, you live with a sticky-handed toddler.
Having won multiple design awards, including the Red Dot Product Design Award in 2022 and an iF Design Award in 2022, this laptop is quite a thing to behold.
Although not super lightweight, I immediately appreciated that it was much lighter – and thinner – than my old MacBook. I could even slot it into a slim pocket on the front of my backpack (something that would make travelling much easier).
Lifting the lid and the laptop's USP was immediately obvious. Sliding seamlessly up from the laptop's chassis was a second, smaller screen – tilted upwards at a perfect 12 degrees (a feature that has the potential to make multi-tasking a breeze).
Because of this second screen, the keyboard has therefore been moved towards the bottom of the laptop and is somewhat smaller than the size of the keyboard I'm used to. Another difference (to my MacBook at least), was that the trackpad was positioned on the bottom right of the computer – something I'd need to get used to.
Turning on the computer and I was immediately impressed by the quality of the main OLED screen. I'll be honest, I was a little doubtful that the ASUS Zenbook Pro 14 Duo OLED could really compete with my MacBook's retina display.
But compete it does.
Boasting a 14.5″ 2.8K OLED NanoEdge display, the colours on the ASUS ZenBook Pro 14 are vibrant, sharp and completely dazzling – ideal for photo editing.
Having formed some first impressions, I was excited to trial and write a review of the ASUS ZenBook Pro 14 Duo OLED (2022). Having been a MacBook convert for over a decade, I was keen to see what I'd been missing out on. Would this really be the best laptop for content creation? How would its features improve my work and outputs? And – most importantly – would I want my old laptop back at the end?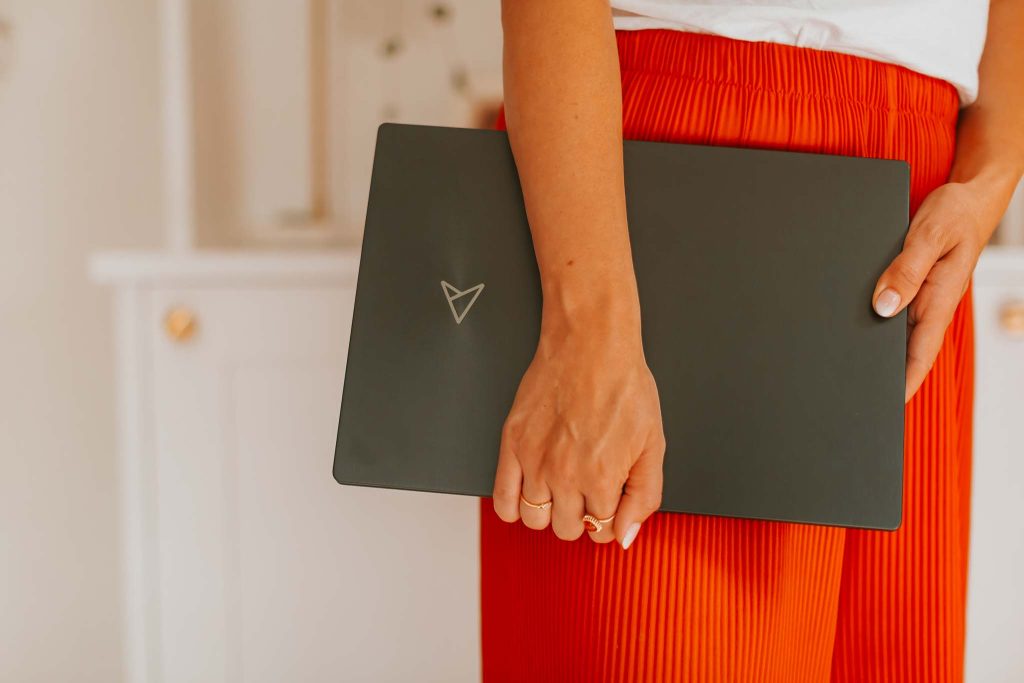 My Review of the ASUS ZenBook Pro 14 Duo OLED
UX8402: What I Loved
Now, I'll be the first to admit, computer technology is hardly my forté.
However, an all-out 'techy' review isn't what ASUS (thankfully) wanted.
Instead, they wanted to see if the new ASUS ZenBook Pro 14 Duo OLED suited the content creator's lifestyle. Did it really help to improve workflow, enable us to work flexibly and ultimately, improve our creative outputs?
To stress test these ideas, I took the ASUS ZenBook Pro 14 on a recent trip to Gdansk – with the intention of creating all our content whilst we were out there (something we managed to do).
Here's what I loved about using this laptop.
Lightweight (i.e. I Could Actually Travel With It)
Perhaps the most obvious – and fundamental – thing that I loved about reviewing the ASUS ZenBook Pro 14 Duo OLED was the fact that I could  (stop, press) actually travel with it.
Indeed, the irony that I was a travel blogger, who couldn't actually create content as I travelled, was not lost on me. Taking this laptop to Poland was therefore a revelation.
It's so slim – 2cm thick, in fact – that I simply slotted it into the front pocked of my cabin case and almost forgot about it. Getting it out at security was a breeze and I even worked on the plane; its battery more than coping with 2.5 hours work.
It's the perfect travel buddy, especially when compared with my old MacBook.
Faster, More Creative Workflows – Dual Screen
I'll admit, I've never worked across two screens before and was therefore dubious about how much I'd actually get from the ZenBook Pro 14 Duo's two screens.
The main screen, as I mentioned, is an eye-popping 14.5 inches. The second screen (called the ScreenPad Plus) is smaller and sits in the chassis. It's not quite as impressive in terms of pixels and clarity, but still great for a screen so small. It's also tilted at an ideal 12 degrees, so you aren't craning over to see it.
I should also say that both screens are touch screen and Stylus compatible.
Initially, it did take me a while to get to grips with using two screens (there is the option to turn the second screen off, if you really don't need it). For the first day or so, I therefore found myself just using the main screen, rather than utilising the dual screen function.
However, once I did begin to use both – the way in which I worked changed completely.
Rather than flitting between different tabs and windows – particularly when editing – I could work seamlessly across both.
For example, when I had Adobe Lightroom open, I could have the photograph I was editing up on the main screen, while my toolbars and menus were displayed along the bottom, second screen. This meant I could zoom in on the images without loosing my toolbars – editing tiny details with incredible ease.
This was also true when I was editing videos and meant I could have any video footage maximised on the main screen, whilst the editing tools sat beneath.
ASUS's 'Task Group' function also means that you can set and personalise a group of 5 different apps – with all 5 windows running simultaneously. Once saved, you simply tap this group and all apps open automatically: three windows on the second screen and two on the main screen.
This makes multi-tasking a breeze. I usually had my email, Google analytics and Spotify window open on the second screen, and our website and Adobe Lightroom open on the main screen. If I was writing a blog, I also kept my references and notes down on the second screen, so that I could easily refer to them whilst I writing (a real game changer).
When I had calls with clients, it was also useful to have Zoom open on the main screen and any related emails or briefs sat beneath them – making conversations much easier.
Once I started using the ASUS ZenBook Pro 14 Duo OLED's two screens, I honestly couldn't stop. I couldn't believe that I'd not worked this way before, or how much more fun and responsive it made the content creating process.
120HZ OLED Screen
As I've said before, I was pretty sceptical about the quality of the display on the ASUS ZenBook Pro 14 Duo OLED.
Apple are fairly renowned for the quality of their displays and as someone who wants to see each and every detail of a photograph, I was worried that this laptop just wouldn't be able to deliver.
However, deliver it did: the main display is absolutely stunning and makes photo editing a joy.
Indeed, ASUS promises that its ZenBook Pro 14 Duo OLED (2022) offers 100 percent coverage of the DCI-P3 digital cinema colour space, and is DisplayHDR True Black 500 and Pantone certified. This is definitely evident and as a result, tempering even the most nuanced of colours is a breeze.
Netflix also looked great on here (perfect for downtime when we were travelling).
Fast & Powerful – Evo Duo (Latest Intel)
As I mentioned above, one reason that I'd never made the transition from my bulky MacBook to a more lightweight laptop, was because I was worried I'd lose both speed and power.
However, ASUS have somehow made the Holy Grail of laptops – delivering a sleek, slim and light machine, that still has all the power of its weightier peers.
With a 12th gen Intel Core i9 Processor and 32GB of memory, the ZenBook Pro 14 Duo OLED didn't even break a sweat when running Adobe Lightroom or Premiere. Given that my MacBook sounded like it was about to take off, or combust, when using Photoshop, it really did feel as though this laptop has the more powerful offering.
Fantastic Cooling System
I cannot tell you how delighted I am to have a laptop that no longer reaches dangerous temperatures when running anything more taxing that Microsoft Word.
In fact, this is one thing that I really did want to celebrate in this review of the ASUS ZenBook Pro 14 Duo OLED UX8402.
When designing this laptop with content creators in mind, ASUS evidently realised that this computer would likely be running some big programmes, and would be used in all temperatures and environments.
It therefore needed a fantastic cooling system to keep things running.
Thankfully, with an AAS Ultra Cooling System, 38% increased air flow, Dual fan and the fact air can flow under the smaller second screen, overheating is not a problem for the ASUS ZenBook Pro 14.
In fact, aside from hearing the fan once or twice, this ASUS has stayed pleasantly cool.
Can Connect To Anything
For any MacBook users out there, you'll understand just how frustrating it is connecting to any external devices. Whether it's SD cards, USB drives or even headphones, Apple ensure you have to buy a new accessory for every possible circumstance.
When it comes to the ASUS ZenBook Pro 14 Duo OLED, however, this isn't an issue – at all.
Indeed, realising that in order to be creative, you might need the luxury of being able to insert an SD card or camera, the team at ASUS have ensured that their laptop offers every port imaginable.
There are multiple Thunderbolt 4 ports, an SD Express 7.0 card reader (perfect for editing photographs on the go), a headphone jack, several USB ports and an HDMI port.
It's safe to say that ASUS have all the connectivity bases covered.
When travelling, this feature made multi-tasking super easy and I could charge my phone, download photographs, listen to podcasts and connect to my GoPro, all at the same time.
Perfect for Podcasting
When it comes to content creation, something we love 'producing' (and I use that term loosely) is recording our podcast.
Previously, we've recorded this over Claire's Apple iMac. However, it often sounds tinny and we've struggled to get the levels right when it comes to our voices.
Again, the ASUS ZenBook Pro 14 Duo has this covered. Inside its deceivingly slight frame is a four-array microphone and a speaker system by Harmon Kardon. The microphone also has AI noise cancelling technology, filtering out all ambient sound.
This means that Claire and I can record our podcast on the go (something that's never happened before) – without needing to worry about any distracting background noise.
My Review of the ASUS Zenbook Pro 14 Duo OLED UX8402: What I Didn't Love
Although I've been seriously impressed by the ASUS ZenBook Pro 14 Duo OLED, I have noted a couple of drawbacks.
I Struggled with the Keypad and Trackpad
Firstly, I should say that a strange passion (for want of a better word) of mine is to stand in electrical stores and try out different computer keyboards; typing nonsense as I go.
I cannot resist an ergonomically pleasing keyboard – particularly one that makes a satisfying 'clicking' as I type. On this front, the ASUS ZenBook Pro 14 Duo OLED does deliver; its keys are a joy to use. Designed to the highest of specifications, each key has a 0.2mm cap dish, devised to match the shape of your fingertips. The result is a very comfortable and slightly muted feel as you type – very different to the MacBook experience.
However, and as much as I've enjoyed this side of things, I'm still struggling to use a keypad that sits at the very bottom of the laptop. My arms and wrists have to be held upwards and close to my body to be able to type comfortably – something that tires them quickly.
I also find the trackpad a little awkward to use, particularly as its fairly narrow.
However, perhaps with more use these are things that I'll get used to – particularly as I've been using a MacBook for so long.
Respectable, But Not Extraordinary, Battery Life
I know, I know – beggars can't be choosers when it comes to battery life.
Indeed, the current battery life on my aged MacBook Pro is approximately 13 minutes – something that's so tragic, it's almost laughable.
Consequently, any laptop that I can use for over an hour, feels nothing short of miraculous.
However, and whilst the ASUS ZenBook Pro 14 Duo OLED does have a respectable battery life (they estimate around 9.5 hours), I've found that when running programmes such as Adobe Lightroom, or using two screens, it tends to max out at around five hours.
Of course, this isn't bad at all – but it also isn't exceptionally long. I'd still definitely need to bring a charger with me if I was working out and about for the day – and I probably wouldn't be able to use it for too long on a long haul flight.
The Price
As I've owned a MacBook for so long, I'll admit that I'm a little out the loop when it comes to laptop pricing.
However, given that my MacBook cost around £1,500 – this is the sort of price I was expecting for the ASUS ZenBook Pro 14 Duo OLED (2022).
I guess I was a little optimistic.
The ASUS ZenBook Pro 14 Duo OLED starts at £1,999.99 quickly scaling up dependent on your specifications. Now, this is not cheap – not cheap at all, and I'd really need to think long and hard about whether I'd want to make such an investment.
This is perhaps my main reservation about this laptop and something I wanted to be sure to flag in this review of the ASUS ZenBook Pro 14 Duo OLED (2022).
My Review of the ASUS ZenBook Pro 14 Duo OLED (2022): The Verdict
The last few weeks reviewing the ASUS ZenBook Pro 14 Duo OLED has changed how we work.
This is a genuinely phenomenal machine. Lightweight, thin and incredibly portable, travelling with this laptop has been a game-changer. The battery has lasted long enough to take out with us during the day – working on trains, in cafes and on planes – and has stayed cool, calm and collected at all times.
Whilst the second screen definitely required some getting used to, once I realised its potential, I was hooked. Life has been so much easier with it and I find myself working at a faster, more creative, pace.
Thanks to the fantastic specs of the main screen, standard processes – like photo editing – have also become even faster and more enjoyable – and I've remained incredibly impressed by the vibrancy and depth of the display.
How I use the ASUS ZenBook Pro 14 Duo OLED has been entirely different to how I've historically used my MacBook. It's encouraged me to think differently about workflows and has empowered me to work more fluidly with content; working as I go and with greater spontaneity.
This machine, of course, is not faultless (and its price tag is considerable), however, its ability to make me think differently about how I work has been nothing short of transformative.
And for that reason, it gets the thumbs up from me.