The following ideas for days out in Somerset came about thanks to a trip made possible by Boutique Retreats (a gifted stay).
There's something about England's South West that I find hard to resist, especially once those dark nights start to creep in.
As we begin to wake up to frost laced gardens and the rattle of tired radiators, I begin to think of heading some place else – driving past the pretty villages of the Cotswolds, through rural Wiltshire and down into the rolling hills of Somerset.
Each time I visit I know I'll discover a new sleepy village filled with muddy wellies and market stalls overflowing with cheese, bread and cream. And, if I get bored of that? Then I needn't travel far to uncover creative and gallery-filled towns that are (thankfully) free of those London price tags.
In fact – and despite regularly visiting the South West – in terms of things to do in Somerset, I'm still steadily working my way through a very long list.
Having just returned from yet another wintery trip south, I wanted to put together some ideas for days out in Somerset: reviewing the magical, beautiful and homely spots I've visited.
I hope you'll find it helpful when planning your own adventure through what is (officially) my favourite corner of the UK.
Where to Stay in the South West: Somerset
Although we've stayed across the South West – from Exmoor to Dartmoor, Devon to Cornwall – one of my favourite counties will always be Somerset.
Far enough from London to feel relieved of its chaos, yet close enough to reach in just a morning (around a three hour drive), Somerset is known for its rural charm, pastoral landscapes and – unavoidably – cider.
However, delve a little deeper and you'll also discover a county that is enjoying its own creative revival – with local towns such as Frome dubbed one of the UK's most stylish towns.
Indeed, this vibrant county is far more than just a place for farmsteads and piles of ripening apples – it is dynamic, entrepreneurial and fiercely independent.
When planning our own trip to the South West, we therefore knew we wanted to stay in Somerset and, thanks to an earlier trip this year, we also knew who we wanted to stay with.
Introducing Boutique Retreats
Boutique Retreats, a company dedicated to bridging the gap between boutique hotels and holiday cottages, had previously hosted us in the height of British summertime, when we headed to the small, but perfectly formed, 10 Brushford – found in rural Exmoor.
We were so impressed with this friendly company (and the small but thoughtful touches throughout their properties), that we made it our mission to stay with them again.
This time around, and after browsing a few of their Somerset properties, we decided to book three nights at one of their holiday homes 'with a difference': a former 18th Century gate lodge, on the grounds of one of Somerset's most beautiful private castles.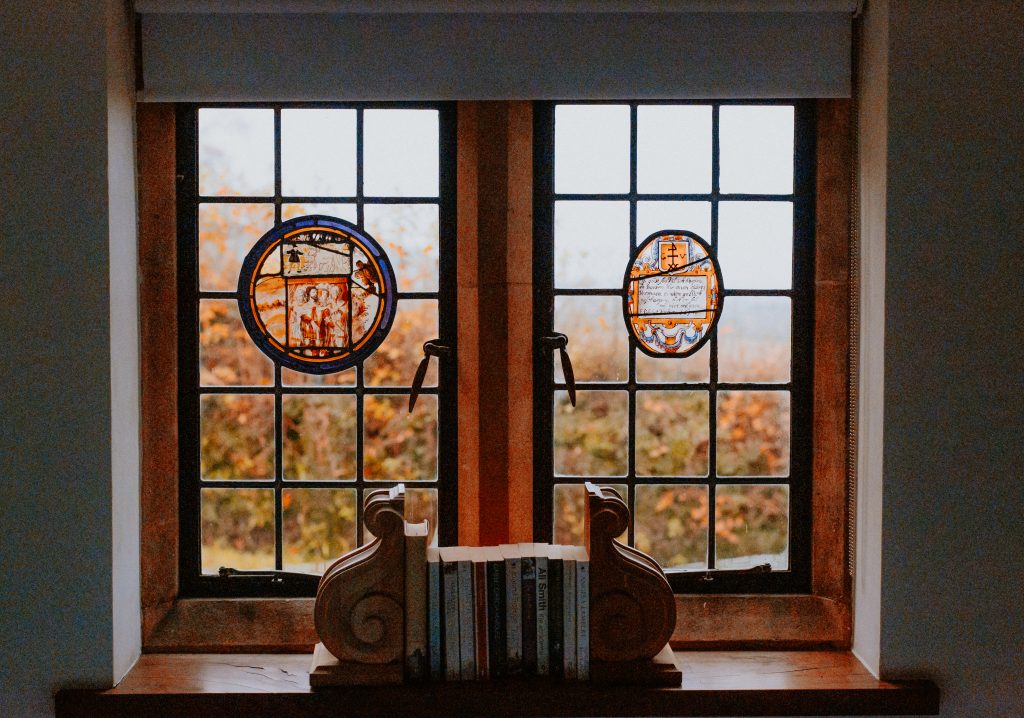 Windsor Lodge, Compton Pauncefoot
We arrived in the tiny village of Compton Pauncefoot just as a storm swept in and the sun began to set – Somerset's hummocked hills now plunged into an inky darkness.
Driving down (apparently endless) winding lanes – hedgerows towering over our little car – we strained through the darkness, looking for glimpses of Windsor Lodge. However, surrounded by clusters of little cottages and outbuildings, it was difficult to tell where we might find our castle.
Eventually, I clambered out the car to brave the wind and rain – looking around for our missing fortress. Glancing towards the top of the nearby hill, I finally spotted it: a swaying sign for Compton Castle and next to it, our very own Windsor Lodge.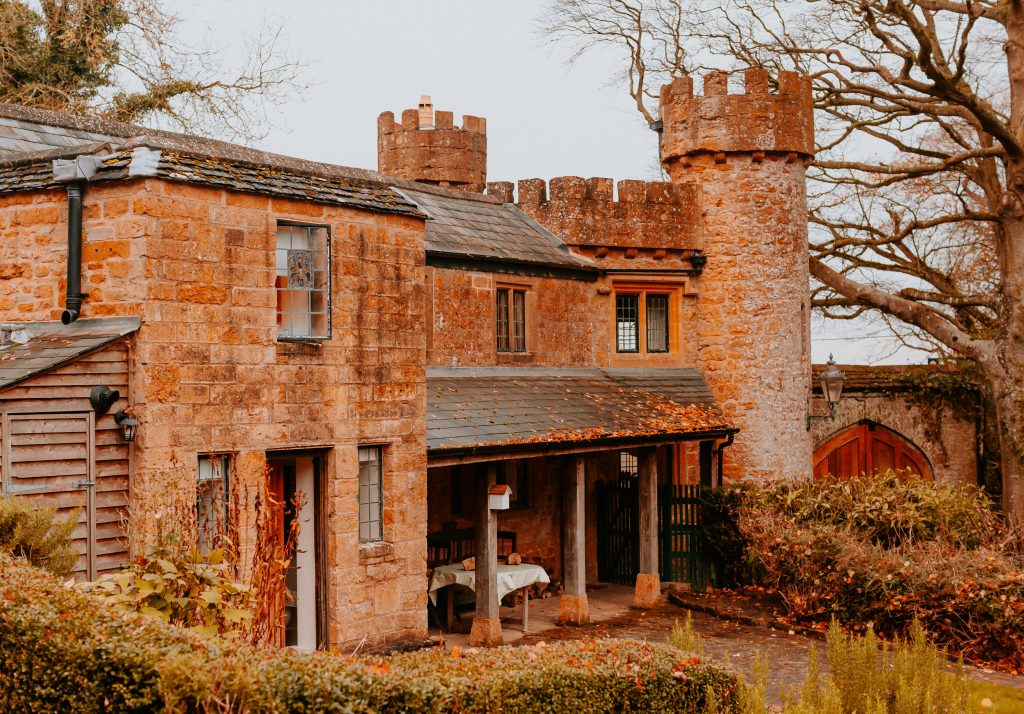 Windsor Lodge's History
Proudly sat at the top of the village, with views of Glastonbury Tor and King Alfred's Tower, Compton Castle (and its gate lodges) were built in 1820 by hapless romantic, John Hubert Hunt. Intended as a romantic gesture to his lover, the castle included a heart-shaped lake, filled with swans and exotic birds.
However, for the apple of his eye, it seemed that the lake was not enough. In fact, she soon had an affair – leaving poor John Hunt distraught. As an ode to his heartbreak, he eventually added two smaller, tear drop shaped lakes next to the heart; evidently finding a little cathartic relief in some costly landscaping.
Today, Compton Castle is privately owned: a modern day fairytale nestled in the heart of bucolic Somerset. However, keen to share a little of its magic with others, the owners have now opened one of the Castle's gate lodges – Windsor Lodge – to guests, bookable via Boutique Retreats.
The Inside of Windsor Lodge
Having opened the Lodge's private gates (carefully passing a herd of wild deer as we went), we entered the home's private gardens and parked up, the sparkling Compton Castle visible just around the corner.
Part of the Castle's private estate – yet still enjoying its own private space – Windsor Lodge looked like its very own miniature castle: complete with turrets and gothic lead-lined windows. In fact, should someone have told me that this was in fact the real life Compton Castle, I'd probably have believed them.
Running from the rain and into the Lodge, we opened the door to a large entrance hall filled with a dining table, piles of well-thumbed books and handsome armchairs.
Beautifully warm and filled with the scent of delicately perfumed candles, it was immediately obvious that Windsor Lodge was far from a cold or neglected gatehouse. It was instead an inviting and unbelievably beautiful home.
Passing through the entrance hall and the Lodge revealed a large, open plan kitchen filled with dazzling quartz white worktops, accents of lime green and the latest equipment and little luxuries (Nespresso machine included). Turning on the wireless radio and lighting a few candles, we quickly poured a glass of wine and listened as the rain fell against the kitchen's beautiful stained glass windows.
In the distance we could see Mr Hunt's famous heart-shaped lake glinting in the darkness.
To the side of the kitchen was perhaps the Lodge's cosiest of rooms – its gently curving living room. Filled with sumptuous white sofas, a thick carpet and a beautiful cream wood burner (an overflowing basket of dried wood, kindling and well-thumbed newspapers lying next to it), it was here that we spent most of our time.
As the storm blew outside and night drew in, we stoked the fire, opened the complimentary box of chocolates and settled into castle life (perhaps a little too easily).
Come bedtime, we headed up to the (unexpectedly roomy) upstairs. Featuring two large bedrooms (one complete with a turreted walk in wardrobe), a snug third room, a family bathroom and a beautifully modern and appointed en-suite, it was difficult to believe that Windsor Lodge had once been a lowly gate house.
By London terms, this place was palatial.
That night, lying in the glow of the nearby Compton Castle, I listened as the rain fell and (as if on cue) a nearby owl hooted. Staying at Windsor Lodge was like being enveloped inside a fairytale – a testament not only to the home's unique surroundings, but to the beautiful touches left by its owners.
For those considering booking Windsor Lodge as a romantic weekend away, be sure to take advantage of Boutique Retreats' 'Just for Two' rate: applying a 20% discount to your booking.
Ideas for Days Out in Somerset
1. Explore Creative Frome
After a night spent inside our Rapunzel-inspired getaway, we began our day with a trip to the county's latest posterboy: the pretty town of Frome.
Once a sleepy market town, Frome (or 'va-va Frome' as it was dubbed by The Times), quickly rose to fame thanks to its celebrated monthly market: The Frome Independent. Crammed full of local produce, talented artisans and creative folk, the Market can easily occupy your entire morning; attracting over 80,000 visitors each year.
In particular, it's well worth exploring the 'Design Maker' section of the market, which showcases the South West's most exciting designers.
For those who might miss the Market, then a number of supper clubs and 'Night Schools' take place throughout the month. Whilst walking Frome's fairylight filled streets, we spotted a small group of people enjoying a crochet workshop in one of the town's independent stores.
The Frome Independent takes place the first Sunday of every month.
Away from the monthly market and there is still plenty to see in Frome. In particular, the town's Instagram star – Catherine Hill – is well worth a visit. A steep, cobbled street lined with leaning boutiques and busy restaurants, the Hill spends its summers decorated in colourful bunting and its winters bathed in glittering Christmas lights.
Some of my favourite shops on this photogenic street are Solksen (a Scandinavian inspired store) and Frome Hardware: an outlet that wouldn't look out of place in East London. There are also a number of brilliant places to eat close to Catherine Hill, including the all organic Garden Cafe and the much celebrated Fat Radish.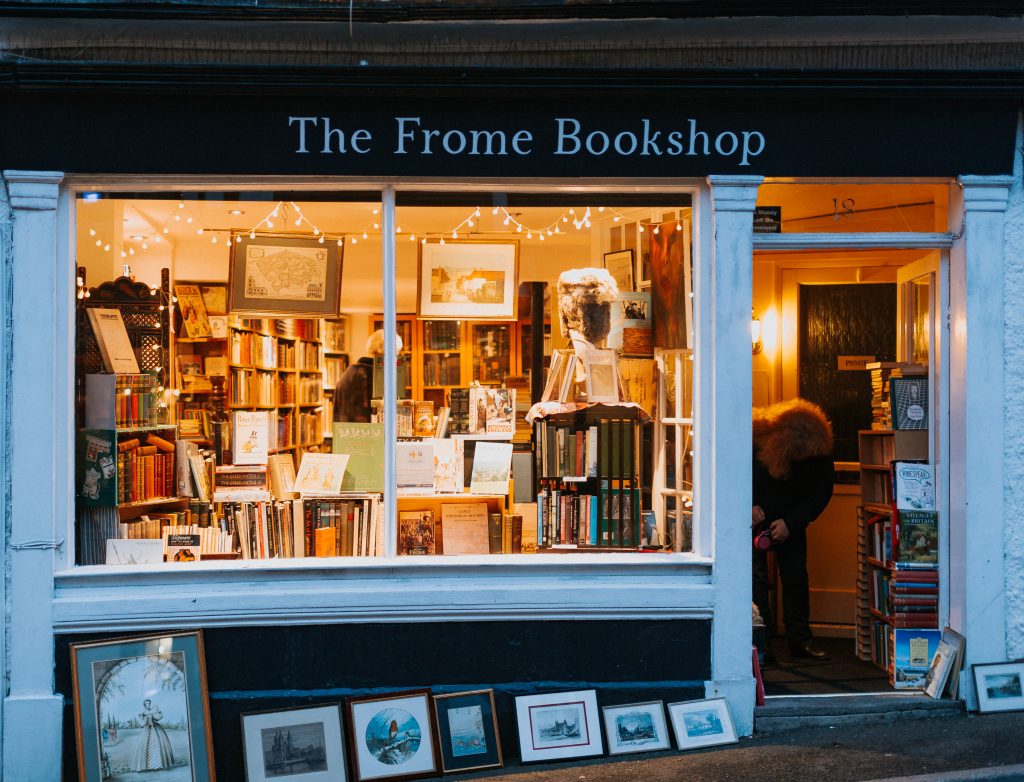 For those of you still on the hunt for photogenic locations, then walk to the nearby Cheap Street, where a stream (fresh from the neighbouring Mendip Hills), flows down the middle.
Declared one of the best kept Medieval streets in Europe, this pretty spot, complete with timber-beamed buildings, offers visitors the chance to participate in some more distinctly 'Fromie' retail therapy.
2. Enjoy Arty Bruton
A little like its neighbour, Frome, Bruton has undergone something of a modern day renaissance. Although home to just 3,000 people, it is the proud owner of celebrity frequented restaurants, Scandi-inspired boutiques and, most recently, a world-renowned art gallery.
Hauser & Wirth, Bruton
Before heading into Bruton's centre, we visited one of the town's more unexpected residents.
With sites in New York, Los Angeles and St. Moritz to name just a few, Hauser & Wirth are a collection of sharply modern and diverse galleries that – and after international acclaim-  decided to set up shop in rural Somerset.
Found just outside of Bruton on Dursdale Farm, Hauser & Wirth Somerset is situated amongst beautifully landscaped gardens, designed by renowned landscape architect Piet Oudolf.
The gallery itself resides within large barns and outbuildings, and the exhibitions are decidedly agricultural in nature. Outside, the gently rolling 1.5 acre 'Oudolf Field' comes alive in the summer months, as its 6,000 herbaceous perennials burst into bloom.
The beautiful gallery and flower meadow aside, what perhaps impressed us most during our visit was the restaurant found on site at Hauser & Wirth Somerset: the Roth Bar & Grill.
Michelin Recommended, the Grill not only serves incredible food, but is an art installation in itself – featuring a bar constructed from waste materials found throughout the farm.
We stopped by here for a delicious breakfast and, if we'd had time, would have absolutely returned for dinner.
The Hauser & Wirth Gallery is free to enter.
Shopping & Eating in Bruton
Caro
Having graced the pages of Elle Decoration and Harper's Bazaar, Caro – a Scandinavian inspired store – is perhaps one of Bruton's most exciting ventures. Filled with beautifully hand made items, this concept store was the vision of interior designer, Natalie Jones, and even boasts its own tiny b'n'b.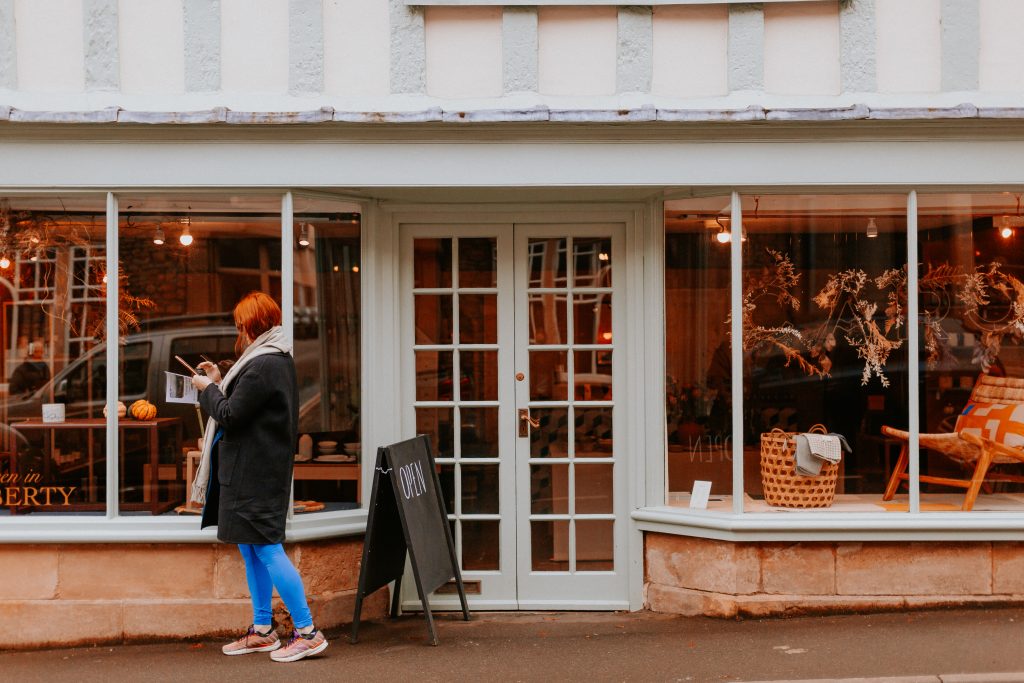 Fifty High Street
Overflowing with carefully selected household items from Labour and Wait, we stumbled across Fifty High Street on our way to Caro.
Part of the larger Labour and Wait collection, Fifty High Street was designed in partnership with Hole & Corner Magazine. Perhaps unsurprisingly, this little shop therefore has an undeniably millennial feel to it, with small corners filled with carefully arranged magazines and delicate wooden spoons.
At The Chapel
Apparently frequented by Dominic West, At The Chapel has become Bruton's hub – a place to gather, relax and wile away a Sunday morning. Featuring a restaurant, bakery, winery and hotel, At The Chapel is a hybrid of an establishment: a place to stay, to enjoy a Sunday roast with the family and a spot to collect freshly baked croissants on a Saturday morning.
3. Designer Shopping in Shepton Mallet
While I understand that retail therapy might not necessarily come to mind when researching days out in Somerset, there is at least one place that is worth a brief march around: Shepton Mallet.
Kilver Court Designer Village, nestled away in the heart of this small town, is an unexpected find: home to the Mulberry Factory Shop (warning: discounts aplenty) and a beautifully presented village of small designer stores, including brands such as Whistles, Toast and Jigsaw.
Housed within a former Victorian building, the shops span a myriad of different levels; each connected by creaking staircases and narrow hallways. There are also a number of cosy restaurants and cafes on site, including a carefully curated garden centre.
We've spent many hours wandering this beautiful shopping area and with over 50 designer brands to rifle through, we've always come away with a bargain or two.
For more outlet shopping, you might want to also explore Street, where you'll find Clarks Village.
4. Head to the Coast: Torquay and Neighbouring Dorset
I'll admit, this doesn't strictly fall under things to do in Somerset, but is too lovely to miss.
For our most recent stay in the South West, we were on the Somerset and Dorset border – meaning that Dorset, and its famous Durdle Door, was just a fifty minute drive away.
With the winter sun making a rare appearance, we therefore thought it sacrilegious not to make the journey south: spending a Sunday morning peering over pearly white cliffs and letting the salty breeze play havoc with our hair.
Durdle Door
Just fifty minutes from our (sadly temporary) home in Compton Pauncefoot lay one of Dorset's most photographed spots: the beautifully named Durdle Door.
Part of the South West's famous Jurassic Coast and belonging to the neighbouring Lulworth Estate, Durdle Door is a feat of au naturel engineering: featuring a limestone arch and foaming blue seas.
Formed after years of steady erosion – the  waves eventually breaking a hole through the middle of the soft rock – Durdle Door has now become a popular place to come for reflection, for stone skimming and for summer's day swims.
For ease, park at the nearby Pay & Display car park (located above the beach) and wander down the path towards the sound of waves. Here you'll find two (shingle) beaches on either side of Durdle Door: perfect for windswept dog walks or lazy picnics.
West Bay
For those hoping to explore more of the Dorset coast, then head west – towards the equally beautiful West Bay.
Although experiencing a peak in popularity thanks to that ITV drama series, Broadchurch, West Bay has long been a popular destination for walkers, sun bathers and families.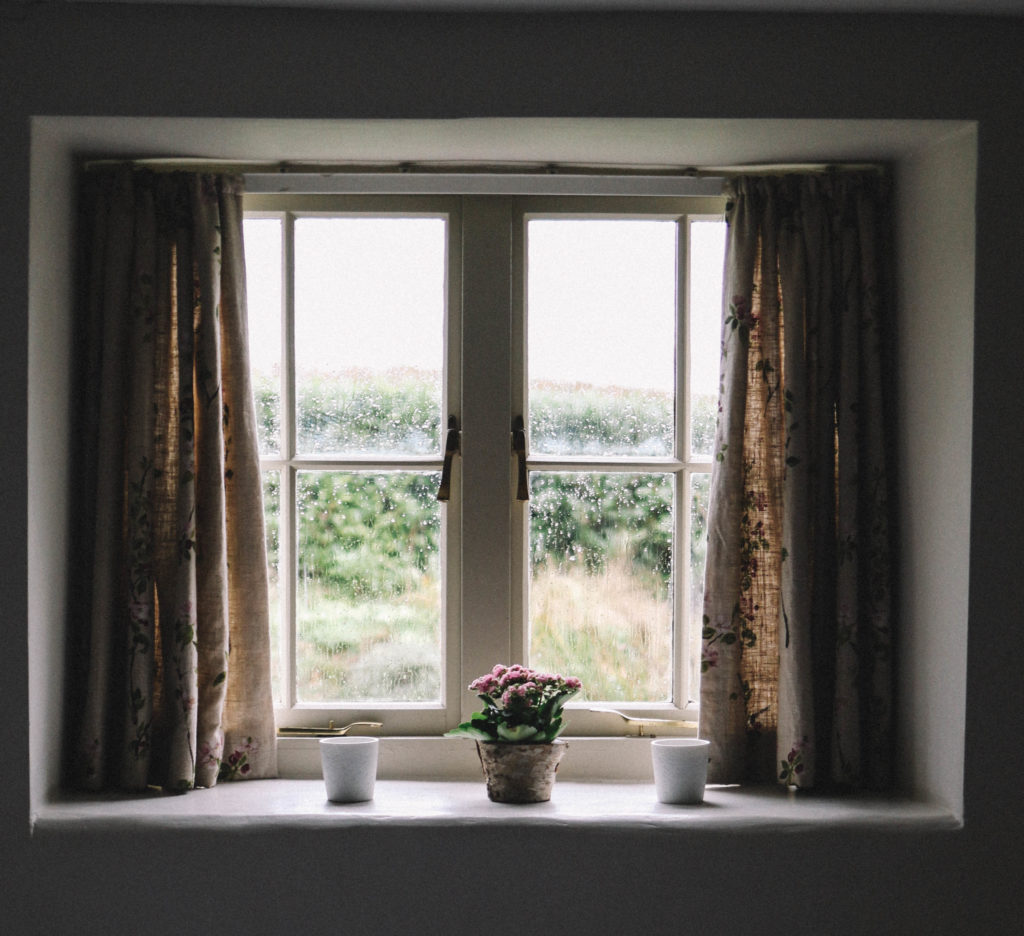 We visited on a cold January day and dutifully followed the path upwards towards the peak of the Bay's famous golden cliffs. A staggering 50m above water, the cliffs offer beautiful views across to Cheshil Beach and beyond.
In the town, you'll find plenty of small antique stores worth a rummage though, along with tea rooms selling scones and hot Cornish Pasties.
Torquay: Enjoy Lunch at Rockfish
Although a tourist destination in its own right, we had just one sole (if you'll excuse the pun), purpose when visiting Torquay: a trip to Rockfish.
A small chain of sustainable and local seafood restaurants, we had already visited Rockfish when visiting both Dartmouth and Exmouth. Much more than your average chippy, Rockfish sells hours fresh fish – from Dover Sole to Brixham Crab.
Come here to enjoy bowls of steaming mussels and Atlantic Prawns, before tucking into buttery lemon sole and bowls of curried mushy peas.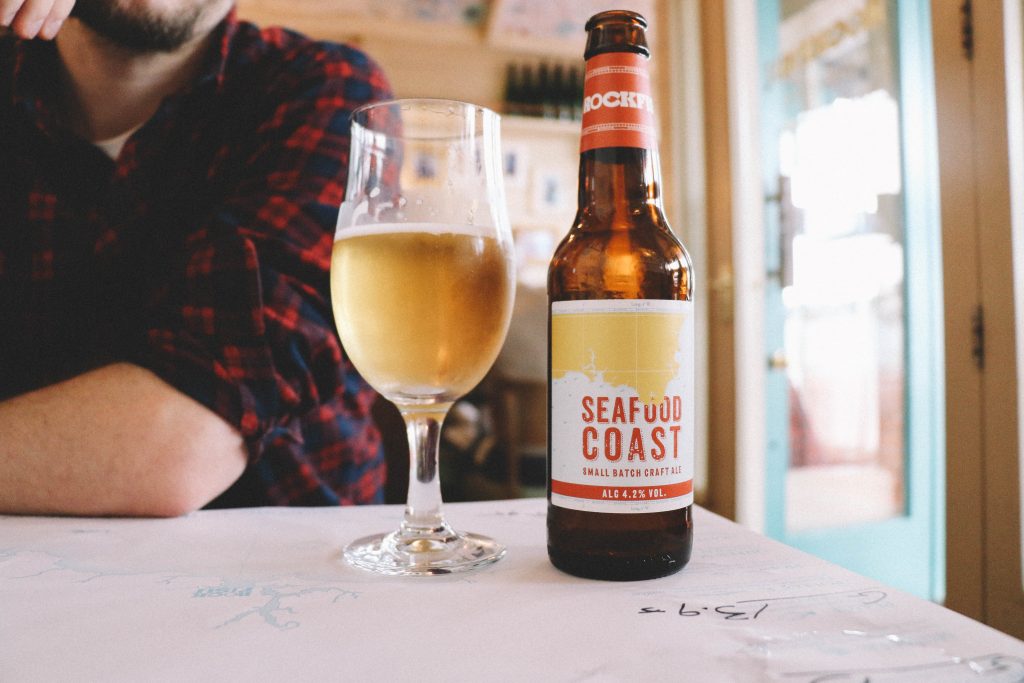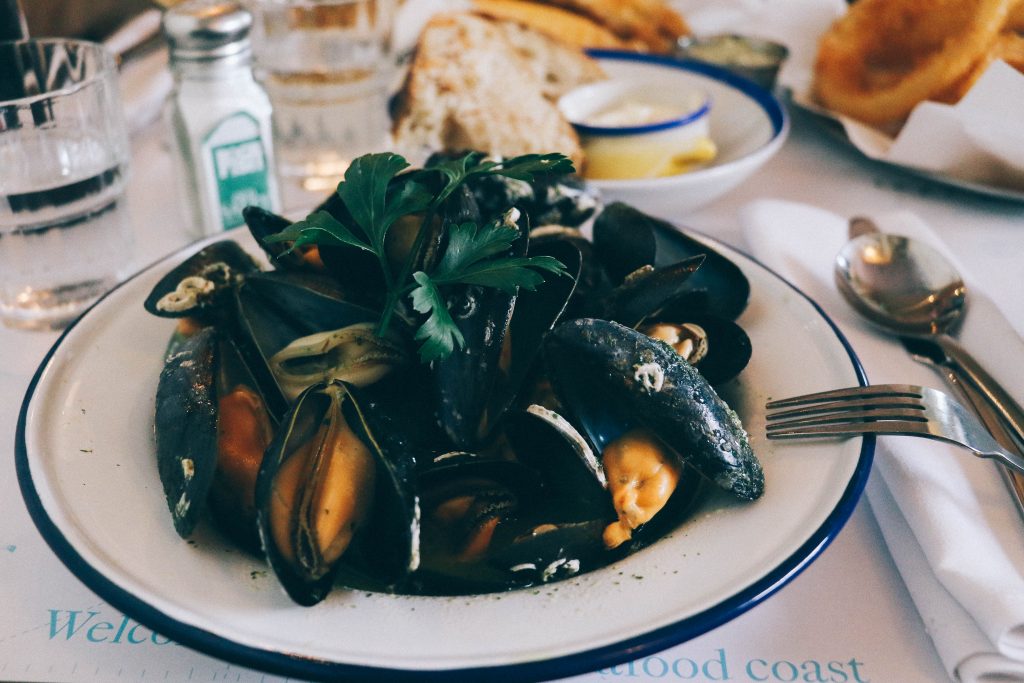 5. Head to Somerset's Largest City: Bath
When researching days out in Somerset, you'll notice that one suggestion crops up again and again: a trip to Bath.
The county's darling, Bath is Somerset's capital city: a place of Jane Austen-esque buildings, Georgian exteriors and a formidable creative scene.
In terms of things to do in the city, your options are almost endless. However, there are some key sites worth placing at the top of your agenda.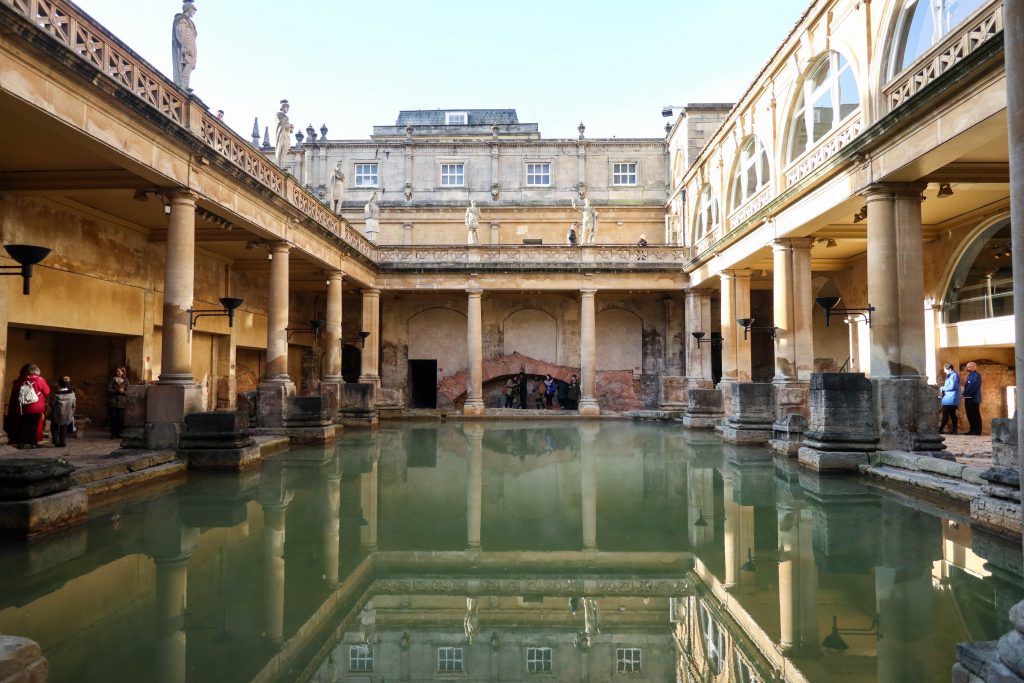 Boasting Georgian steam rooms, two 46-mineral filled thermal baths, an ice hamper, an infrared sauna and a roman steam room, Bath's newly revamped Thermae Bath Spa is a sublimely relaxing spot to spend the day.
The Spa also features a beautiful open-air pool, with views across the city's original Roman Baths and surrounding hills.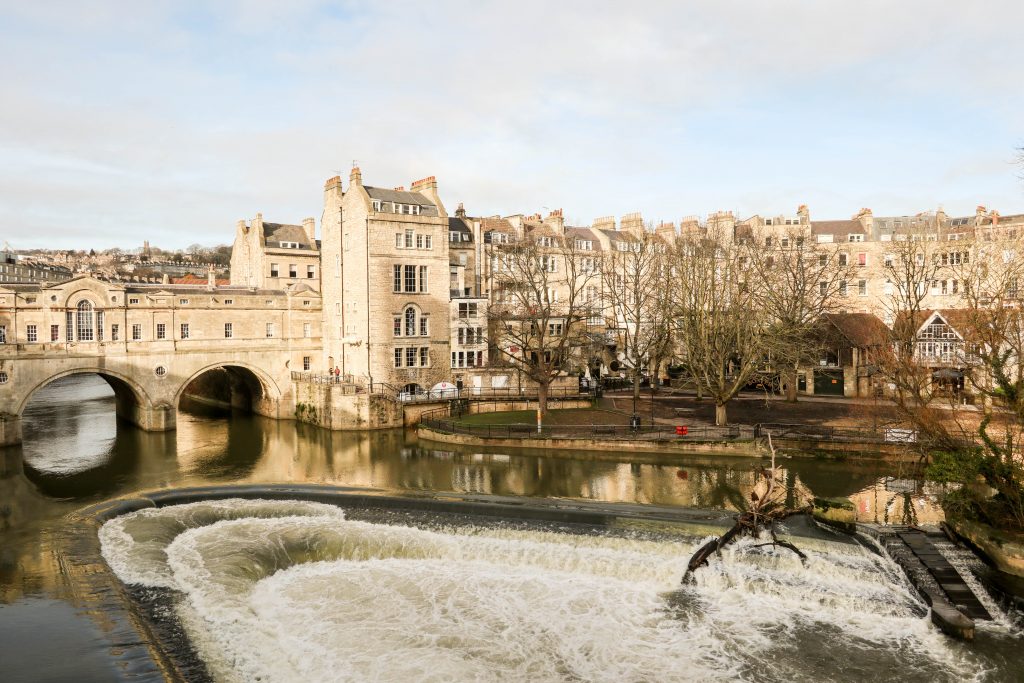 The Roman Baths
The most iconic sight in Bath is, of course, the city's Roman Baths. Some of the most preserved remains of a religious spa in the ancient world, it's no surprise that this World Heritage Site is one of the most visited attractions in the UK.
Be sure to take up the offer and 'taste' the waters before you leave – you are certainly in for a surprise.
Sally Lunn's, Bath
Sally Lunn's Historic Eating House perfectly encapsulates Bath's quainter side. Established when French refugee, Sally Lunn (or Solange Luyon), began working onsite at a bakers in 1680, Sally bought with her her recipe for French festive breads (or 'bunns') .
Very quickly, Sally and her famous sweet treats quickly became something of an institution. Stop by here for a steaming pot of tea and sample these mouth-watering French delicacies.
Days Out in Somerset: Final Thoughts
Somerset will always be one of my go to destinations when the days get shorter and the ground grows harder.
Surrounded by rolling hills and enveloped inside small villages, here you can spend winter's fleeting daylight hours browsing award-winning artisan markets, visiting world renowned galleries and enjoying cold coastal walks. In fact, in terms of deciding on days out in Somerset, you'll find yourselves spoilt for choice.
If these many choices overwhelm you a little, then why not do what I do?
Book your cottage, your hotel, or your caravan and simply head South West – your mind free of plans, itineraries and to do lists. Arrive, make a cup of tea and settle down; letting yourself relax into Somerset's slower pace of life.
Over the next few days, simply get in your car and drive – through lush green hills and down narrow country lanes. Wherever you go, I guarantee you'll find a warm village pub waiting, or perhaps a small market town hiding an internationally celebrated gallery.
With our own recent trip to Somerset following this pattern, we were still able to  uncover what might just be our favourite spots in the county so far: deceptively small Bruton and its Michelin endorsed restaurant.
So, and as the winter months slowly creep in, why not start planning for your own trip South West?
The UK's most (and dare I say it) underrated county is waiting for you.
Pin it: inspiration for days out in Somerset.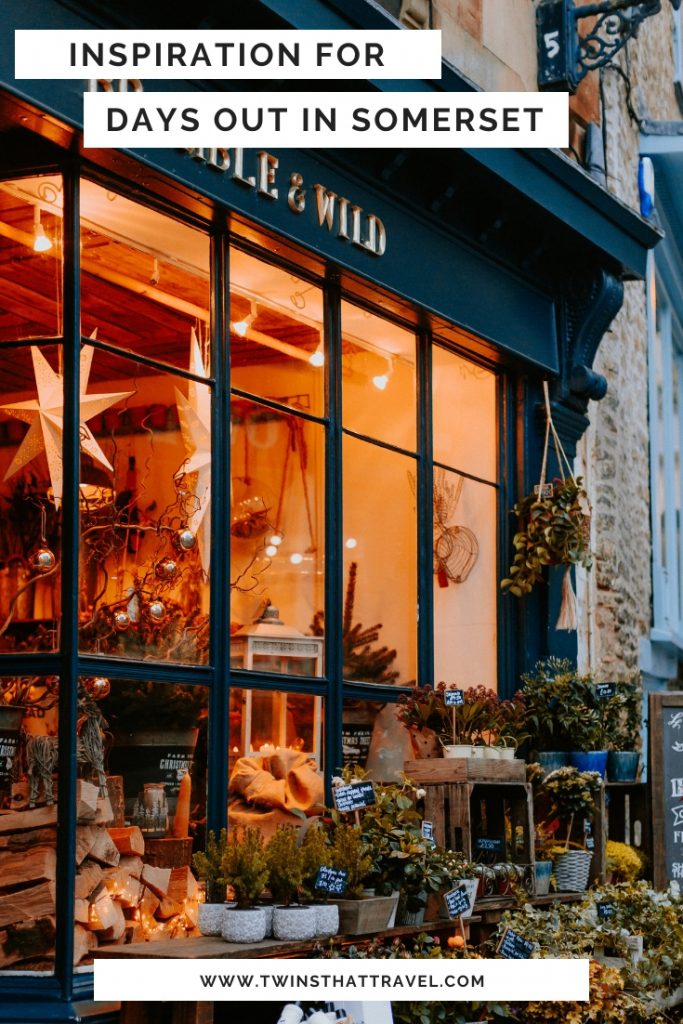 Days out in Somerset