This guide to what to pack as a female traveller in Jordan contains affiliate links.
As a country that is both progressive and traditional, I did a lot of research into what to wear as a woman travelling in Jordan. A predominantly Muslim country, I was conscious that I wanted to dress respectfully, whilst still feeling comfortable and confident.
With a packed itinerary for our fourth TTT Tour – taking us from city, to desert, to the infamous Dead Sea – I was anxious to have all bases covered for all the activities and sight-seeing we had planned.
Now that I've just come back from this women's only tour to Jordan, I've thankfully got plenty of insight into what you should pack as a woman visiting Jordan. Although the country is by no means as strict as its neighbours – Saudi Arabia and Iran – Jordan does still require female visitors to dress modestly.
Below is a complete guide to what to pack as a female traveller to Jordan. The post is split into the four locations we visited – Amman, Petra, Wadi Rum and the Dead Sea – with each requiring a slightly different packing list.
Packing List for Amman, Jordan
As a predominantly Muslim country, expect to dress modestly while exploring Amman.
Although Western travellers aren't expected to cover their heads, female travellers should nonetheless attempt to cover their shoulders, knees, chest and nape of necks.
As someone with a mild obsession with midi-dresses, this guidance was more than easy to adhere to. During our stay in Amman, our group wore a mixture of dresses that covered our shoulders and knees, and relaxed trousers and t-shirts.
We visited Amman in September, when the city was still very hot (around 38 degrees). If you're visiting during the warmer months, then a sun hat, sunglasses and plenty of sun tan lotion will also required. Many of the sights in Amman, including the Citadel and Amphitheatre, have little to no shade – so definitely be sure you plan ahead (think water and handheld fans).
What to wear in Amman as a female traveller:
Midi-dress that covers shoulders, chest and knees
Relaxed trousers
T-shirts or a shirt that covers your shoulders
Sunhat
Midi skirt
Scarf (handy to cover shoulders or head if necessary)
Sunglasses
Water bottle
Durable sandals, i.e. Teva (we love these sandals)
What to wear in hotels in Amman
During our visit to Amman, we stayed at the luxurious W Amman Hotel.
Within the hotel and around the pool and bar area, the dress code was very relaxed and Western. We wore bikinis and swimsuits in the pool, and shorts and vest tops for going to and from our hotel rooms.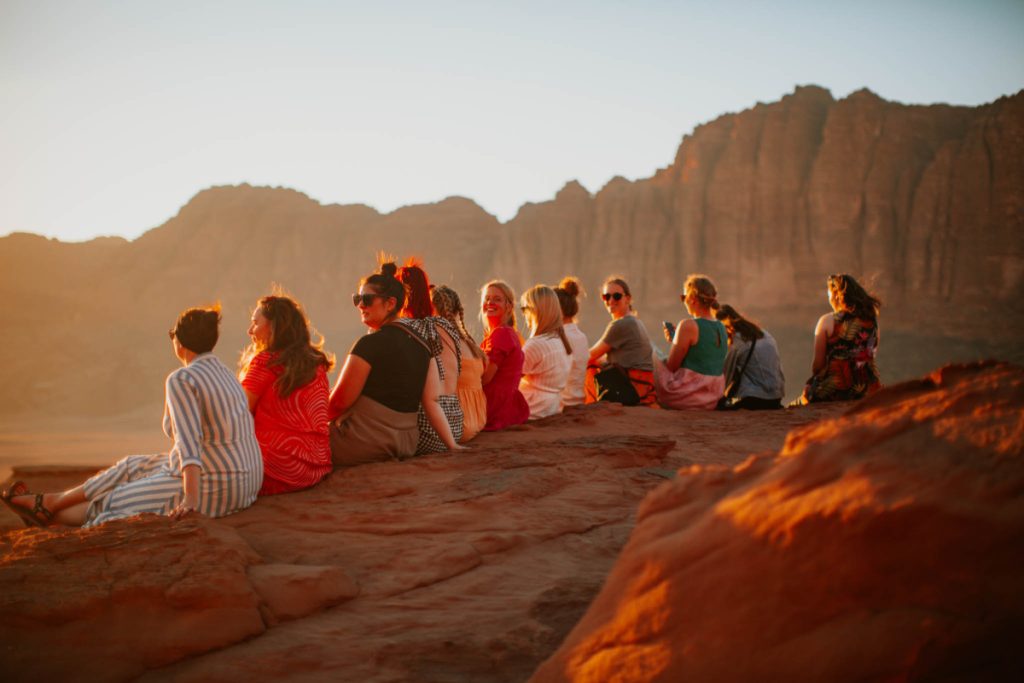 Packing List for Petra, Jordan
As one of the Seven Wonders of the Modern World, Petra is a real tourist hotspot.
Search for Petra on Instagram and your feed will immediately be flooded with images of girls with long flowing dresses, perched on rocks overlooking the famous Treasury.
From these images, it might seem that Petra is a relaxed site, where people can comfortably turn up wearing ball gowns. However, and as we quickly learned, this is certainly not the case.
Visiting Petra is hardgoing. Exploring it is a veritable hike – involving 900 steps (to see the Monastery) and a long, uphill walk out of the ravine once you've seen it. It's hot, dusty and physically demanding
Furthermore, Petra is still home to the traditional Bedouin people and although they are more than used to tourists, it's best to dress modestly to avoid causing any offence.
Packing list for women visiting Petra:
Walking boots (for those living in the UK, these Joules walking boots are ideal)
Light shirt to cover you from the sun
Comfortable walking trousers or leggings
Shorts that will prevent rubbing and chafing (these LuluLemon cycling shorts were ideal for our visit)
Sunhat
Comfortable backpack (I cannot recommend the Travel Hack Backpack enough)
Sunglasses
Suntan lotion
Water bottle
Blister patches
If you only intend to visit Petra's Treasury, then you could probably get away with a dress and sandals – as it's a fairly straightforward 30 minute walk down to the site. However, the Treasury is just a small part of Petra. We'd therefore strongly recommend dressing ready for a hike, so that you can enjoy all of what this phenomenal ancient site has to offer.
Packing List for the Wadi Rum Desert
During our visit to Wadi Rum, we didn't actually see another soul and as we had our camp to ourselves.
As the camp was run entirely by men, however – all of whom were traditional Bedouin people – I think dressing conservatively in Wadi Rum is still important.
The temperature range in Wadi Rum can also be quite extreme and it's definitely worth checking temperatures for the time of year you're visiting – as this will inform what you need to pack.
We visited in September, which was an ideal time to explore Jordan's 'moon valley'. It was plenty warm enough during the day (we just wore shorts and t-shirts) and the nights weren't too cold at all – dropping to around 14 degrees. This temperature just required a warm fleece for the evening time and a pair of fluffy socks. The camp provided us with quilts and additional blankets – alongside raised beds, which also definitely helped keep things warm.
Tip: The sand in the Wadi Rum desert is a deep orange and stains everything it touches. It also gets everywhere – in your suitcase, staining your shoes and even in my toothbrush. We'd therefore recommend wearing only dark colours in the desert and wearing old clothes or shoes, that you don't mind getting mucky.
What to pack as a female traveller to Wadi Rum:
Loose fitting clothes i.e. long sleeved shirt and trousers
Midi dresses
Sun hat
Sunglasses
Sturdy hiking sandals – we can highly recommend Teva Sandals
Fluffy socks and wooly hat for the night time (if visiting in September)
Warm fleece or jacket
Head torch or travel torch: needed if you need to visit the toilet at night
Portable phone charger: although, surprisingly our camp had both plug sockets in our rooms and WIFI
Head scarf to keep the sand out your mouth in the jeep or on a camel ride
Baby wipes: not all camps have showers
A separate bag to put your sand-covered shoes in once you leave the desert, otherwise your suitcase and clothes will be covered in it
If you enjoy stargazing, then there is no better place to do it than in Wadi Rum. Bring a camera with a tripod and get your stargazing app ready. During our visit, we were able to see the Milky Way very clearly and even managed to capture it on our iPhones, it was that vivid.
Packing List for the Dead Sea, Jordan
As a popular holiday spot for both local Jordanians and international visitors, the dress code for women travellers to Dead Sea is far more relaxed than in the rest of the country. As you will mostly be enjoying the Dead Sea at a resort, expect to pack similarly to any other summer holiday.
During our stay at the Holiday Inn, there was a real mix of visitors, including women wearing Birkinis, alongside other women wearing very skimpy bikinis – and everyone was equally welcomed.
Top tip: do not shave for 3-4 days before visiting the Dead Sea. The sting from any slight cuts will not be worth those smooth legs or armpits.
Packing list for a female traveller visiting the Dead Sea:
Multiple swimsuits: wear an old swimsuit (dark colour) if you're planning on making use of the mud baths. My swimsuit was badly stained after enjoying the mud and despite multiple washes, it's probably ruined
Sunhat
Sunglasses
Water shoes – there are lots of stones in the dead Dead Sea that are painful to walk on barefoot
Cover up for walking through the hotel and around the pool
Mosquito spray and bite cream
Sun tan lotion
Barrier cream for any cuts, before you go in the sea (Vaseline would do)
We hope this guide to what to wear as a female traveller in Jordan was helpful. If you have any other suggestions, please do let us know in the comment section below.