Sandals Grande Antigua Review
Settling into my British Airways seat, I set about my fastidious pre-flight routine. Pulling out my fluffy socks, I carefully slid them over my feet before turning my attention to the TV screen in front. Expertly scrolling through the latest movies, I made a mental note of my chosen films ('Ladybird' and 'Three Billboards'). Satisfied I'd selected films gripping enough to occupy me for my eight hours in the sky, I unpacked my flight blanket and tucked myself into my seat. Everything was as it usually was: except for one fundamental thing.
Turning in my seat, I smiled triumphantly at my companion; someone who looked notably different to my normal travel buddy (Laura). Grabbing their hand, I pointed at the glowing map in front of us. "Aren't I just the best wife in the world! I'm taking you to Antigua!" Not waiting for my husband to reply, I sat back in my chair and clapped my hands with anticipation. This trip was already feeling very different to the usual.
"You get to travel the world with your twin sister? "You're so lucky". It's a remark Laura and I commonly encounter on our travels. It's also a comment that we agree with entirely (most of the time). Travelling the world with your sister, as we've discussed many times before, is a dream come true and something we're hugely grateful for. However, throughout the many new countries and cities that we've visited, and the endless memories we've made, there's often a niggling sensation; a sense of guilt for the someone left behind. Indeed, the more Twins That Travel, well – travel, the more my long-suffering, travel- blogger-widow is left behind. It would be fair to say that finding a balance between home life and 'work' has been increasingly difficult this past year.
When Sandals UK therefore got in touch, offering us both – and our partners –  the opportunity to experience two very different Sandals Caribbean resorts, it took all of three seconds for us to accept. Restlessly waiting for James to return home that night, I couldn't wait to announce that it would be him who would be the VIP on my latest trip.
I felt like a sugar-daddy of holidays.
Fast forward just a few months and as our BA flight set off for the rather bluer skies of Antigua, I sent a quick message to Laura, who was just ten-minutes behind me on an aircraft bound for Jamaica. With a whole week stretching out ahead of us – no work commitments or household chores to cram into our time together – I realised just how much I was looking forward to our Caribbean adventure.
Below is my full Sandals Grande Antigua Review: a resort that surpassed any of my expectations. 
Sandals Grande Antigua Review
Conveniently located just a short twenty-minutes from Antigua's airport (but fortunately not on the flight path), Sandals Grande Antigua sits nestled on the picture-perfect Dickenson's Bay. Voted the Caribbean's "Most Romantic Resort" – something that became glaringly obvious the moment we arrived – Sandals Grande Antigua offered the ideal location for two people who were approaching their second wedding anniversary and in need of some quality time together (without the cat).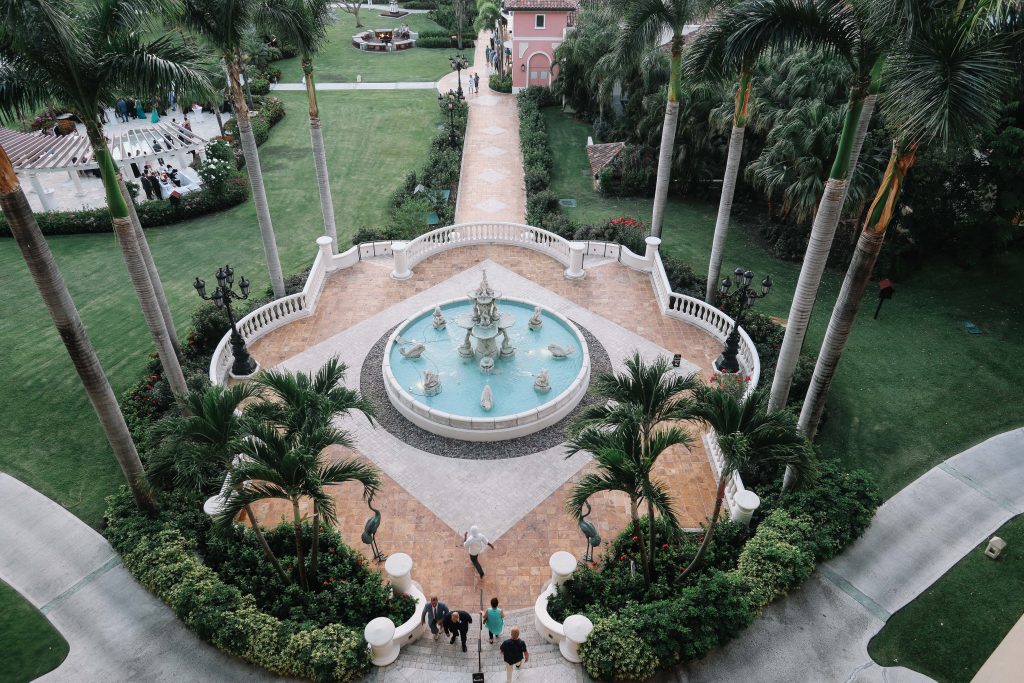 The Sandals Grande Antigua site is split into two distinct parts: the Caribbean Beachfront Village and the Mediterranean Village. With the Caribbean side sitting pride of place along the sandy beach, the Mediterranean resort is an additional extension to the original resort, built further up into the green hills that surround Dickenson's Bay. Arriving on a hazy afternoon, the salty breeze blowing in from across the sea, I wondered how we'd manage to find our way around the resort. Indeed, less of a resort and more a sprawling, colourful town, visitors to Sandals Grande Antigua are spoilt for choice.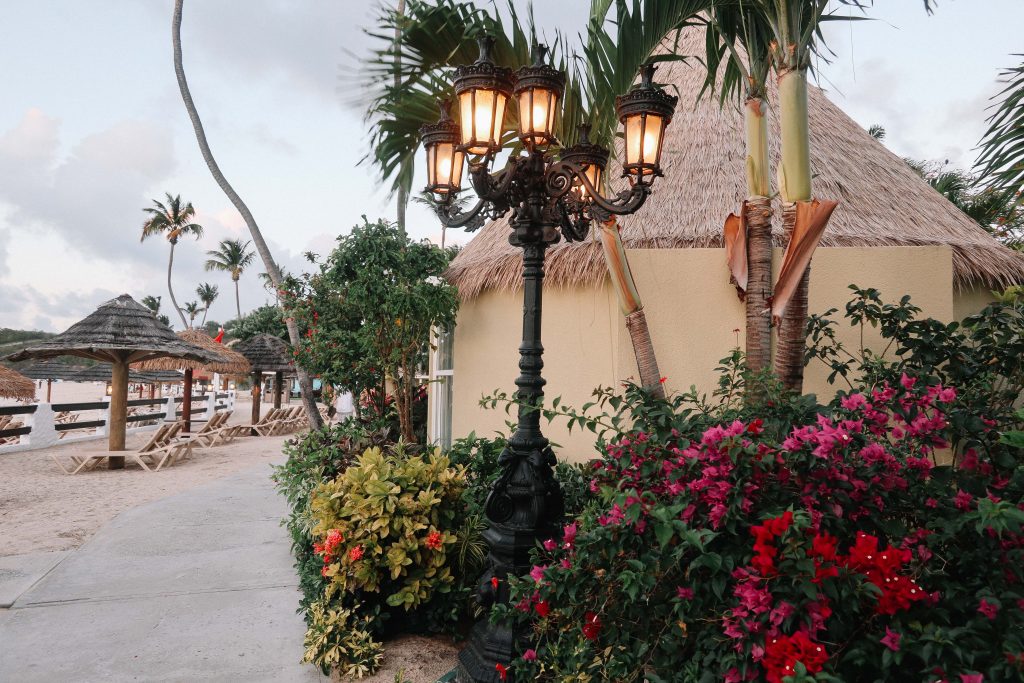 Sandals Grande Antigua Review: Accommodation
Our home for the week was set within the Mediterranean Oceanview village, in a Club Level Suite offering views out over the resort and sea, from its own private balcony. Settling into the village with a glass of champagne on arrival, I could already feel my shoulders relaxing. Quiet, calm and cool, our welcome to Sandals was the perfect antidote to an eight-hour flight.
Pulling back the balcony doors, a wave of heat and noise hit me. Peering down from our balcony, an exciting, palm-tree filled world waited below. From the huge Mediterranean Pool filled with lilos and swimmers, to the twinkling, turquoise Caribbean sea that lay ahead, it was a sensory overload. I was overwhelmed by a strong desire to be everywhere at once: poolside drinking a cocktail, diving into that shimmering water and lying motionless on my giant bed; luxuriating in my own smugness.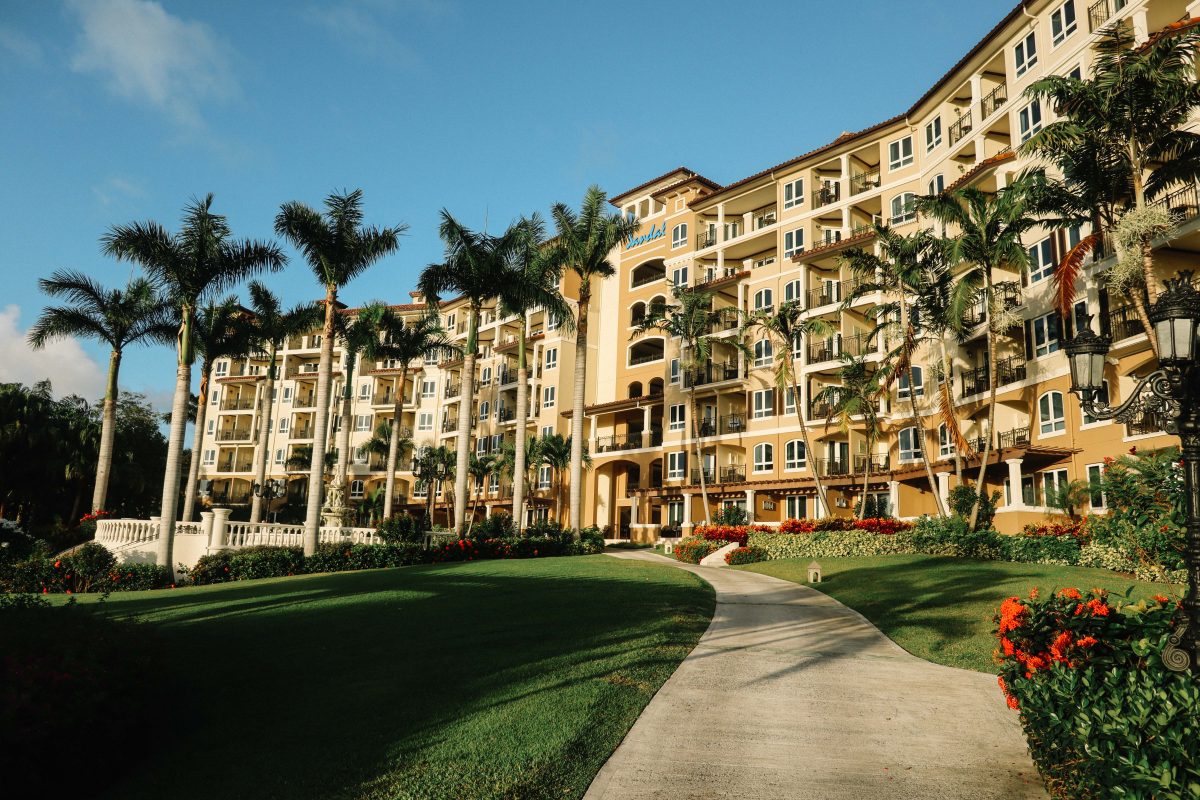 Boasting the largest bathroom I've ever seen in a hotel room, complete with whirlpool bath tub, walk in 'rain shower' and 'his and her' sinks, the bathroom was almost a holiday experience in itself. Running myself bubble baths most nights and using the Red Lane Spa products, I spent a lot of time in this area of the suite. It seems that Sandals had given me something quite rare; something not often enjoyed in modern life: the gift of free time.
The main sleeping area in the suite was equally as luxurious, with a four poster bed (that required a little jump to get up onto), a sofa, desk, private ocean-view balcony, and perhaps my favourite part: an unlimited, fully-stocked fridge, complete with a small bar of spirits. As someone usually wary of the curse of the minibar, the Sandals fridge was my first introduction to the concept of a luxury, all-inclusive. I really could drink the entire contents of it and not be charged a penny more. Better still? It would magically restock everyday. My jet-lagged brain was blown. They say simple things can be the most pleasurable in life, and the Sandals minibar was an unexpected highlight.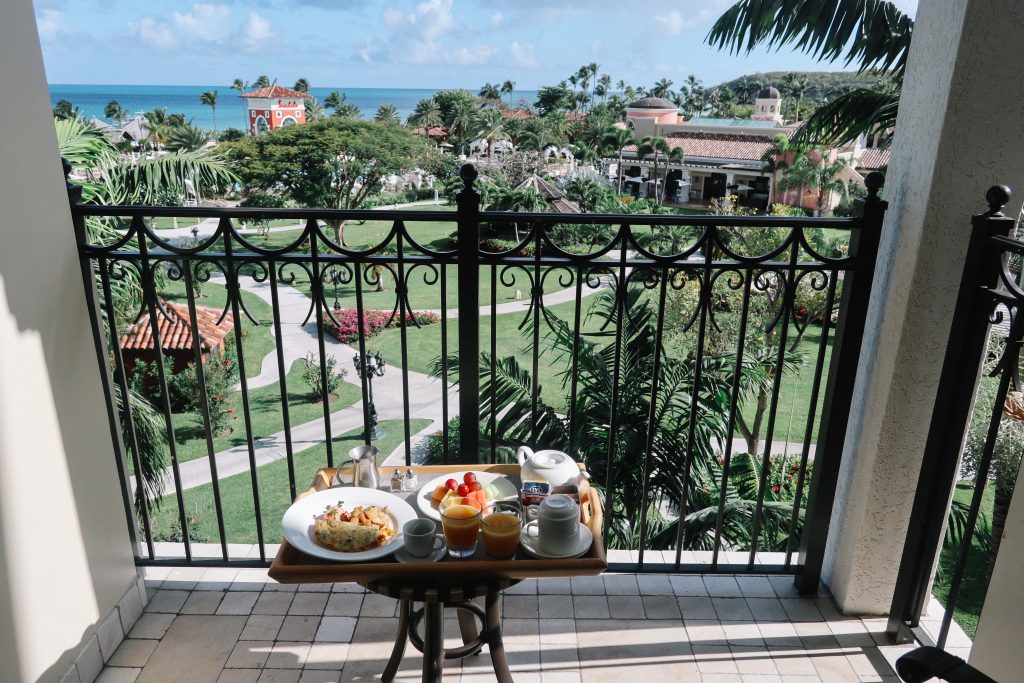 As with every Sandals resort, both the Caribbean Beachfront Village and the Mediterranean Village offer private villas, which fall into the 'butler level' category (something Laura was fortunate enough to experience at her Jamaican Ochi Beach Resort). Having experienced Club Level, however, which offers additional luxuries such as breakfast in bed and a concierge service – I felt we experienced an equally luxurious, stress-free stay. Indeed, it certainly didn't make the Sandals experience any less romantic, with all staff working tirelessly to ensure your time at the resort is a fairytale.
Sandals Grande Antigua Review: Restaurants
"I want to eat it all", was my first response to seeing the vast array of restaurants and bars offered across the resort. Surveying the list, and still having difficulties believing this was all-inclusive, I opted for 'Barefoot by the Sea' as our first dining experience at the resort. Within 30 minutes of settling down at our table on the soft, white sand, we had already wolfed down fresh calamari and were eagerly making our way through a spicy Mahi Mahi fish dish. Delicious, freshly cooked and diverse, the menu was no different to other high-end restaurants. It also came with the added extra of idyllic sunset views.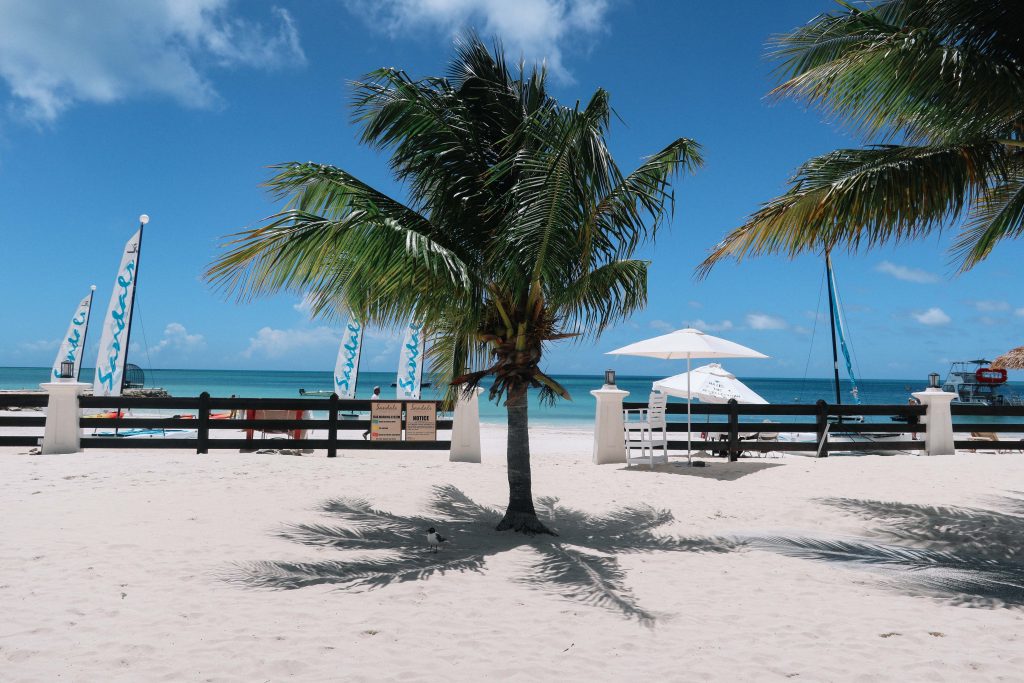 Listening to the palm trees rustle as an evening breeze moved in, I yawned and took a sip of my cocktail; the sky blushing a deep pink above us. It was 6.30pm on our third night at Sandals Grande Antigua and we had already fallen into a lazy routine: beach hammock cocktails a firm favourite each night. With no place  to be and with our phones safely tucked away in our room, we gazed out across the water as the hammock gently swung back and forth.
With fire pits glowing behind us, Sandals Grande Antigua seemed to offer endless pockets of privacy. Complete with cosy spots where couples or friends could nestle away for an afternoon nap , and hanging 'love baskets' for sunset drinks, the resort felt entirely secluded despite its size.
Aside from the host of delicious restaurants, including: Italian, Caribbean, French, Japanese and Mexican, Sandals also offer the opportunity to experience a 'Private Candlelight Beach Dinner for Two.'  It was a treat I booked to celebrate James' birthday. The thought of an overly romantic candlelight dinner, in front of crowds of restaurant goers, was a concern as we strolled down to the beach front, yet – and as I should have come to expect from Sandals – the dinner was private, subtle and classy. It was perhaps even more romantic than our own wedding breakfast.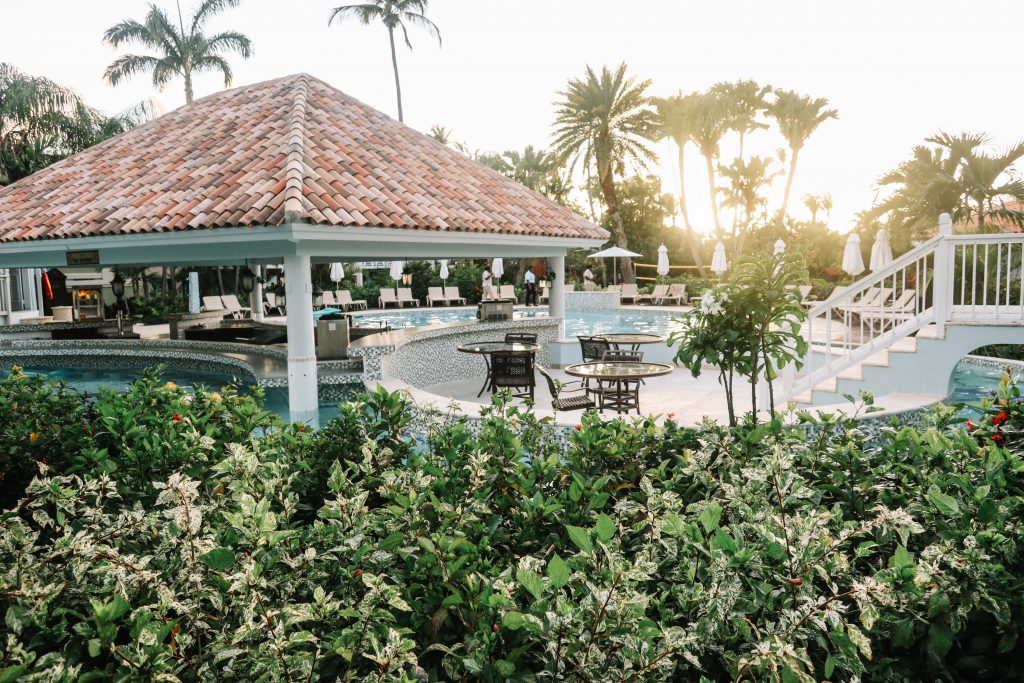 Arriving on the beach as the sun began to set, our butler for the night  – the brilliant, charismatic and little bit too charming, Nelson – greeted us. Adorned with fresh white flowers and candles, our table looked like a miniature top table at a wedding, complete with our own personalised menus. Quietly congratulating myself for organising a birthday to remember, we settled into this magical birthday scene; toasting glasses of cold prosecco and enjoying four incredible courses. The night ended with a surprise chocolate cake and glowing candles. My only regret of the whole evening was the fact that we were already married; the setting the most picture-perfect scene for a proposal.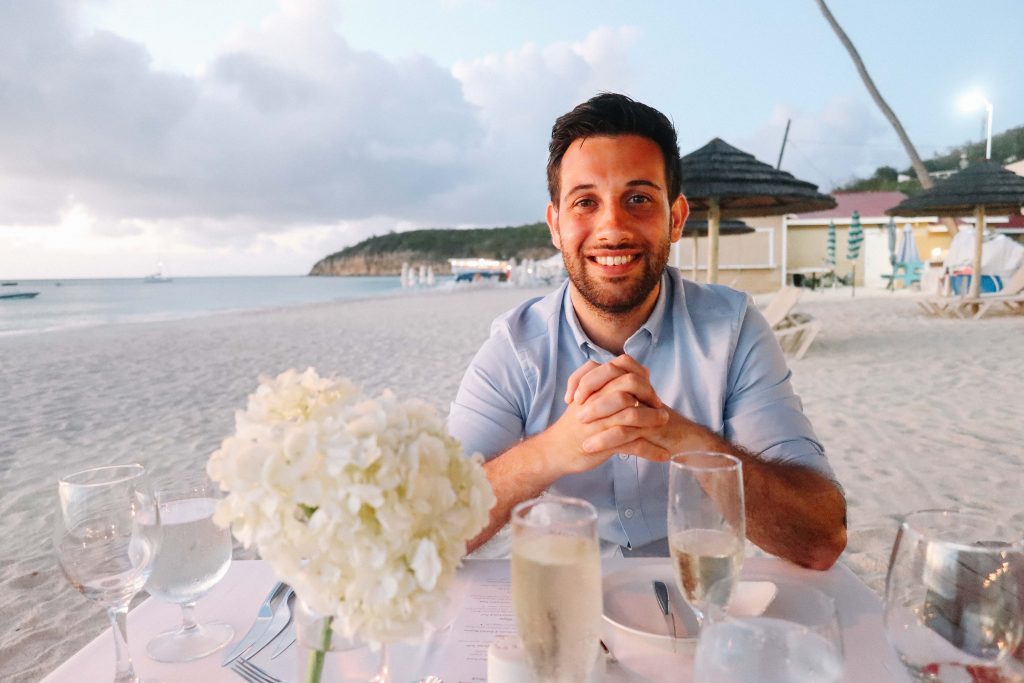 Forget cramped all-inclusive buffet restaurants featuring sad salads and luke-warm mains; dining at Sandals is an indulgent and delicious experience. From intimate dinners at Kimono's  – the Japanese restaurant offering Teppanyaki style cooking – to fine dining in our fanciest clothes at Eleanor's, our favourite memories were made over these candlelit dinners.
Sandals Grande Antigua Review: Red Lane Spa
On arrival at Sandals Grande Antigua, we were greeted by a luxurious envelope from the Red Lane Spa,  which sits on site. Tearing it open, I discovered that the generous team at Sandals had decided to treat us to a sixty-minute 'Scents of Love' couples massage. Excited, I looked up from the envelope to see the slightly less thrilled face of James. Having never experienced a massage before, and with muscles wound tight from 10-years of working for the NHS, the walk to the spa the following afternoon was a silent one.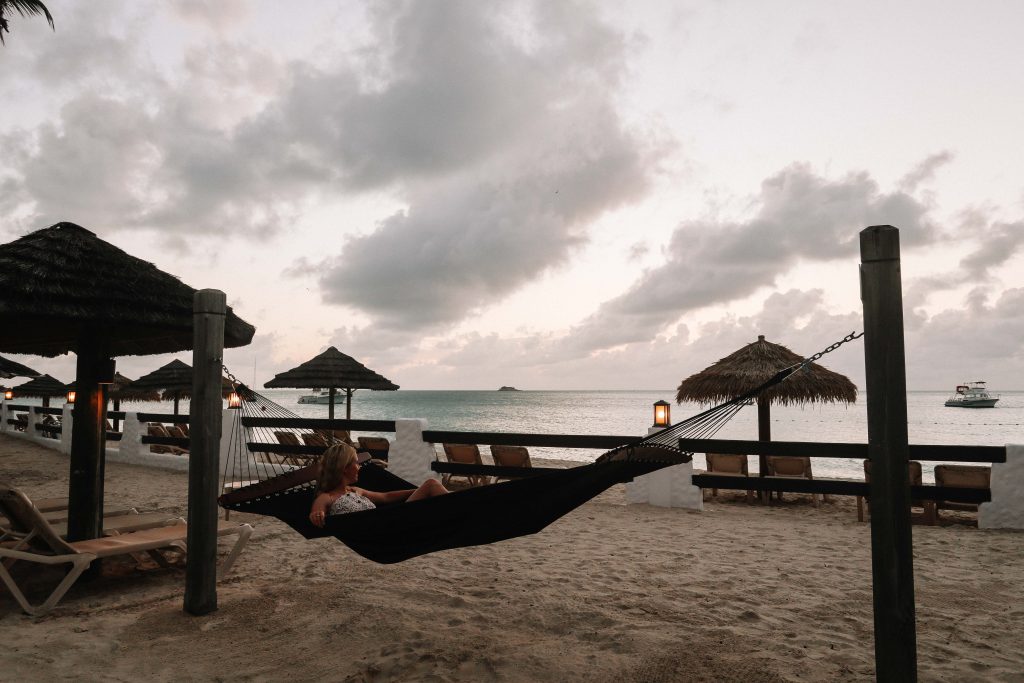 Stepping into our treatment room, however, and I quickly realised I needn't have worried about his suspicions towards the art of pampering.  As candle light flickered around the quiet, breezy room, with just the faintest sound of gentle piano music in the background, James looked both relieved and happy. It was a refined, subtle and polished environment, with neither a cucumber slice or Celine Dion track in sight.
The hour-long massage melted away as fast as the candle wax used on our limbs, and (thankfully) featured no strangled cries of pain from James. In fact, a gentle nudge was needed to wake him up at the end. I smiled smugly at this fact; pleased that I finally had a pampering convert on my hands.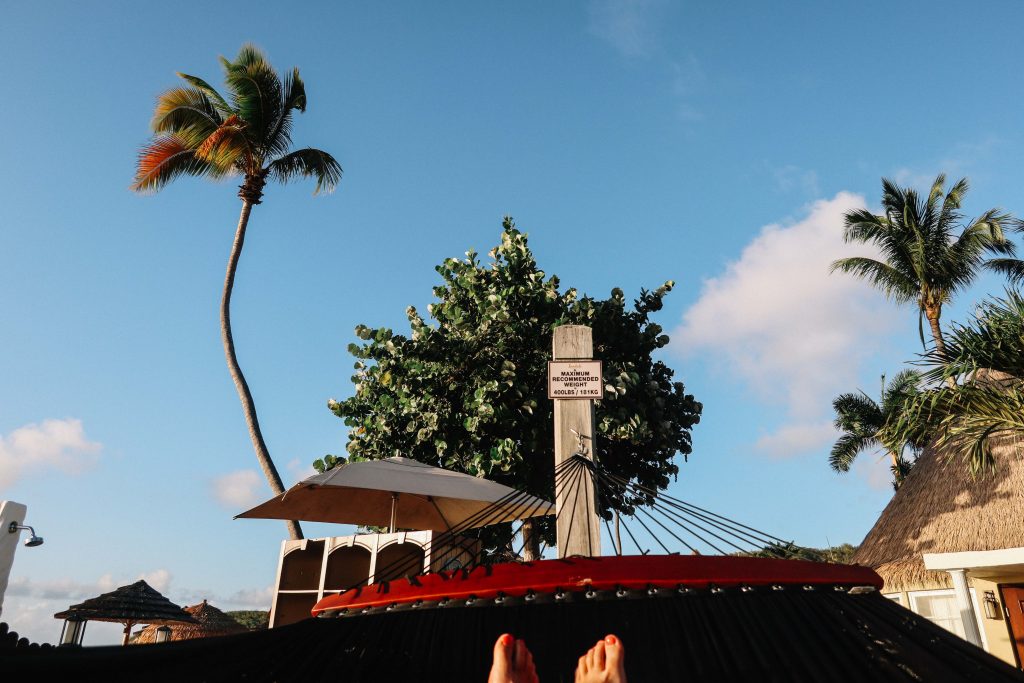 Slipping out of my robe after the treatment, I felt myself finally begin to relax into the slower pace that characterises this resort. After a year of constant travel and pressing deadlines, it had taken me a while to succumb to this world of relaxation. Perfectly designed to shelter you from reality – surprising you constantly with thoughtful gifts and gestures – I realised it was near impossible not to relax on a Sandals holiday.
Sandals Grande Antigua Review: Activities
Heading into our week-long stay at Sandals, I was mildly anxious at the prospect of seven full days devoted to pool side lounging. Surely there are only so many cocktails one person can enjoy? Now accustomed to non-stop itineraries, the art of relaxing isn't something that comes naturally to me. Filling the week with just a few 'gentle' activities was therefore something I was keen to do; something made easy by Sandals' very own Island Tours.
"This is a sea cucumber and it breathes out its butt," our tour guide Hercules declared as our kayaks gently bobbed beside him. As a collective "eurrgghh," rang out across my group, I thrust my hand forward, eager for a hold of this funny looking creature. If there's one thing travel blogging has taught me – it's to stay curious. Carefully putting my new favourite animal back in the water, we continued our kayak around Antigua's mangroves – pastel pink starfish and jelly fish dotting the lagoon below. Our kayak exploration, including a snorkelling excursion around Bird Island, was the ideal way to learn a little more about Antigua and its coastline. A little rum punch along the way also helped us get into the Caribbean spirit. Having had our fix of the island by water, our day continued with an exploration of the island from quite a different vantage point.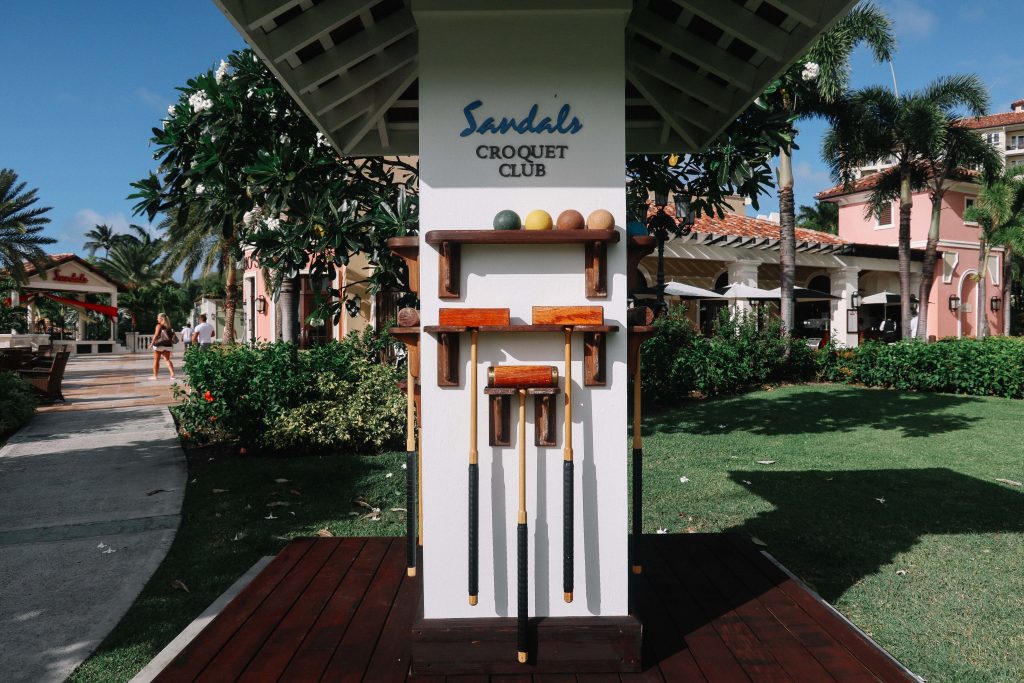 "Hold my hand," I ordered, as our guide strapped me onto the zip wire that led out across Antigua's rainforest. Having conveniently forgotten my fear of heights when agreeing to take part in this 'Canopy Tour', I stared dizzily down at the branches below. Despite my jelly legs, however, and with a quick prayer to the universe, I jumped into the unknown, hurtling (which, in reality was no more than 20mph) across the open space. Landing safely at my next post, and with a new-found cockiness to my step, the rest of the canopy tour past in a blur of leafy arial views and wild 'whooping'. It was an incredibly fun afternoon and a great way to see the island from a very unique perspective.
For those looking for resort based activities, Sandals Grande Antigua excels – with not only seemingly endless land and water based activities but in their very own 'play makers'. It was a concept I became utterly obsessed with.
Playmakers have the enviable job of well – 'playing'; bringing together guests across the resort to embark on heated battles of croquet, ping pong, volleyball and shuffle board. Initially too shy (and too British) to join in, my debut eventually came during an intense game of croquet; something I felt my genes were naturally geared towards given my British heritage. With a can of Carib beer in hand, I expertly swung my mallet to cheers and whoops as my ball sailed along the course. Fighting off intense competition from fellow Brits, my pink ball flew through the final hoop first, and I thrust my mallet into the air in celebration. One of the resort's photographers even captured the moment – the photograph now occupying pride of place on my mantlepiece.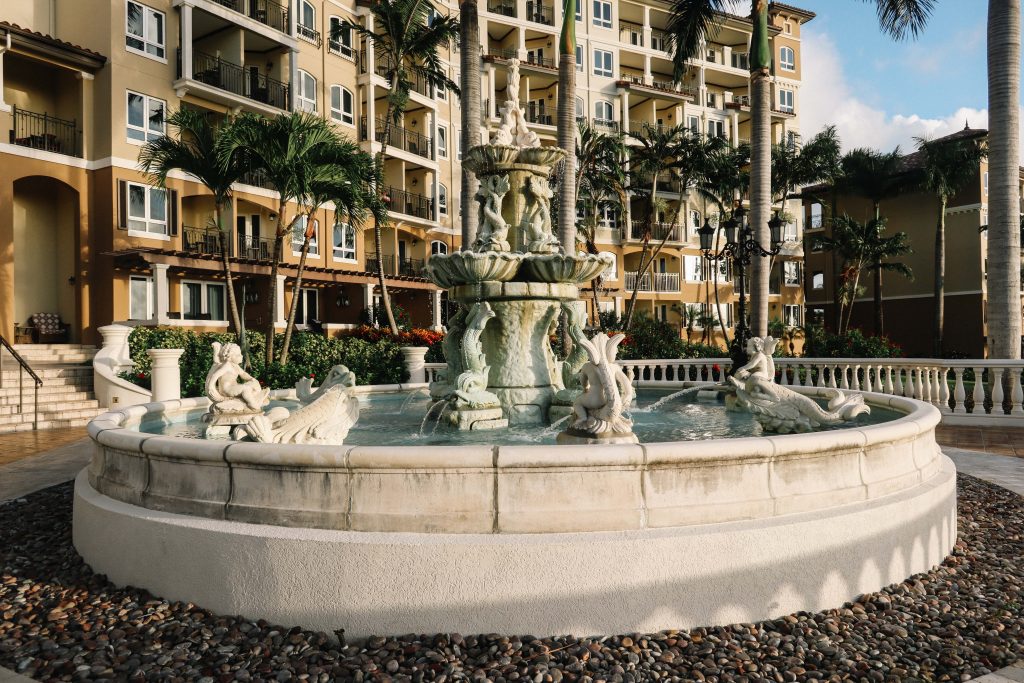 The quiet, slightly cynical Brit who had arrived six days earlier was now replaced by a relaxed, play-loving croquet champion. The Sandals way of life was doing me wonders and I only wish I could have stayed longer. Caribbean Claire wanted more.
---
Sandals Grande Antigua Review: Final Thoughts
As a travel blogger, my greatest flaw has always been my ability to miss a place before I've left it; to become so attached to a part of the world that I get a lump in my throat when I have to leave. It's something I've come to expect – something I blame on my high levels of nostalgia and sentimentalism (thank you, mother). And so, as our final night drew to a close at Sandals Grande Antigua, I'll admit that I had a little cry into my napkin.
Walking back to our room, my mind feverishly trying to remember every final moment of our holiday together, I was overcome by the feeling that I couldn't – and wouldn't – survive life back in the real world. The idea that I would manage without our daily routine of trips to the 'Cat Cafes', poolside cocktails and hammock time, seemed impossible. Most importantly, however, I would miss the rarest gift that Sandals had given us: genuine, quality time together.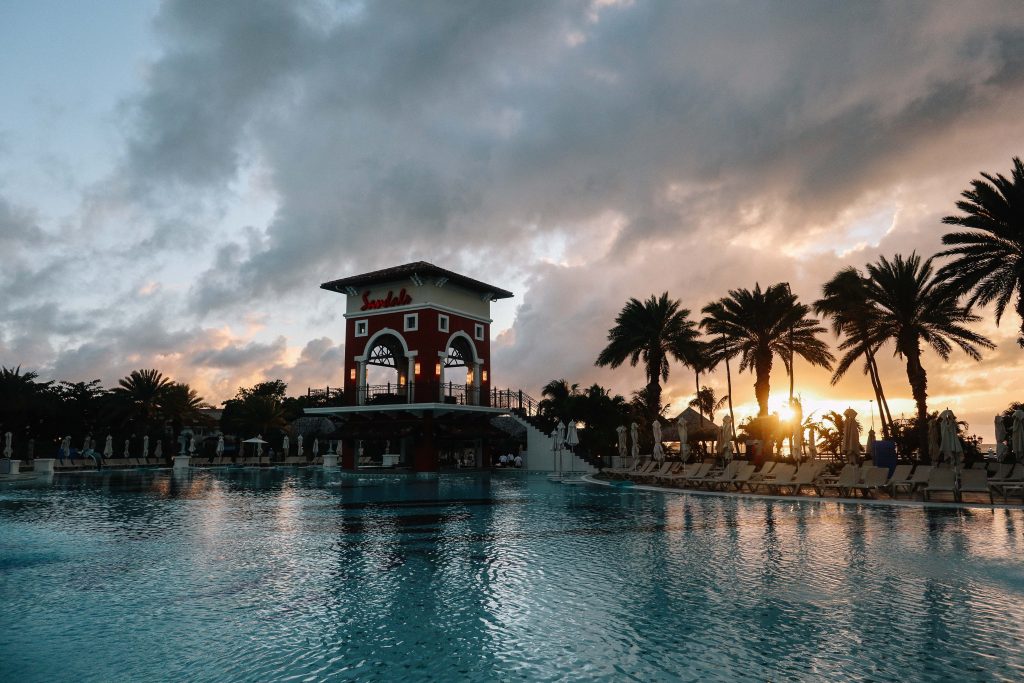 From clutching each others' hands as we snorkelled through the tropical coral of Fish Island, to simply watching the sun set together, Sandals encouraged us both to reconnect away from the pressures of everyday life; enjoying instead a little shared bubble of luxury.
Thank you to Sandals UK for inviting us to Antigua. It was the trip of a lifetime!
We flew to Antigua courtesy of British Airways, who fly to ten Caribbean islands from Gatwick Airport. 
Pin for later: