Although this review of Mahabis Flow slippers is sponsored, our partnership with this brilliant brand came about organically and after much slipper lusting. 
A few years ago, I happened to read The Travel Hack's review of the Classic Mahabis slipper. Casually browsing the internet for Christmas gift inspiration, I stumbled across the article having resigned myself to the obligatory festive slipper purchase. However, intrigued by the beautifully styled designs filling Monica's review, I quickly abandoned my festive search and instead spent over an hour browsing the Mahabis website: my own feet now front of mind.
Apparently, this Scandi inspired brand had sparked a passion in me that I didn't know I had.
After years of lusting after my own beautifully designed slippers, the hand of fate intervened. Nearly five years since their original launch, Mahabis now had a new pair of slippers to showcase; slippers made with frequent travellers in mind.
The Mahabis Flow slippers.
'Would you be interested in reviewing a pair?' the Mahabis team kindly asked over email. Naturally, they didn't need to ask twice. Indeed, fast forward a few weeks and here I am: writing this review with a pair of Mahabis Flow slippers decorating my feet. Yet the million dollar question remains: have these Mahabis slippers lived up to their hype?
Have they truly 'transformed downtime'?
Who Are Mahabis?
For many of you, Mahabis might already be a familiar name. The brand's innovative take on the humble slipper took the loungewear market by storm when it made its debut in 2014. The Darwin of the slipper world, Mahabis dedicated themselves to leading the evolution of the trusted slipper: ensuring it shed its outdated layers of fleece, bows and wool trim, and exchanged them for features that were a bit more modern – a bit more useful. 
The result was a minimalist, versatile and unbelievably comfortable take on our nation's beloved slipper. Indeed, the era of Slipper 2.0 had begun.
These newly evolved slippers seemed to be paraded nearly everywhere: the now iconic Classic model appearing in online boutiques, on my Facebook sidebar and in Sunday supplements.
As I schlepped about in my now wafer-thin mule style slippers, I felt like a neanderthal. Dragging the bins out in my outdated shoes – feeling the damp seep through the bottom – I found myself envying Mahabis wearers; those people further up the evolutionary ladder.
Based in London, but inspired by all that is Scandinavian, Mahabis success raged on as they bought out model after model. Including an outdoor version, a Nubuck Leather crafted Luxe model, and even a smaller design aimed at style-conscious kids, Mahabis have, to date, sold over 1 million pairs of slippers worldwide.
Those traditional fleece-lined, foam-soled models must be quaking in their boots.
Introducing The Mahabis Flow Slippers
With Mahabis now on a slipper-inspired roll, it was time to introduce a new model: the Mahabis Flow. Lightweight and versatile – perfect for both wandering plush hotel hallways and cobbled city streets – the Mahabis Flow are aimed at life's carefree individuals.
'We also think that they are perfect for travel', the Mahabis team explained in their email.
As someone who has a knack for choosing shoes that often leave my feet covered in a mosaic of blister plasters, I was intrigued. If one thing was true, it was that I urgently needed a new pair of shoes that could see me through an airport, a long haul flight and days filled with pavement pounding. 
Could the Mahabis Flow slippers be the answer?
A Review of Mahabis Flow Slippers: The Perfect Shoes for Travelling?
A Unique Design
Arriving in a beautifully presented dust bag just a few weeks later, I peeked inside at my new Mahabis Flow slippers. Available in a range of summer-inspired colours, I'd opted for 'Skien Black' – a colour that seemed both suitably Nordic sounding and one (I hoped) could be worn with most colours. 
Pulling the slippers out the bag, they seemed almost weightless. Featuring a (breathable) woven top layer that flexes with your feet, a carefully designed ergonomic neoprene heel, an adaptable foam footbed and a fully breathable lining, the Mahabis Flow slipper is surely a design triumph. 
Not simply a cheaply made and ergonomically questionable fudge of cheap foam and sweat-inducing fleece, Mahabis Flow slippers are the Dyson of the slipper world, made with functionality and quality in mind.
Completely unfussy, the shoe is deliberately minimalistic – designed to be worn with most outfits, and whilst out and about or at home.
Indeed, the 'hybrid' sole means that you can pop these slippers on when you wake up and not take them off until you go to bed – allowing you to tackle airport security, cramped flights and city tours all without a change of shoes.
Saying Goodbye To City Break Blisters: How Comfortable Are Mahabis Flow Slippers?
Although Mahabis' design specifications sound incredibly impressive, I remained hesitant.
My feet are my Achilles heel – quite literally. Narrow and thin, they never seem to fit shoes properly. Furthermore, and thanks to wearing endless pairs of cheaply made and unsupportive shoes over the years, I've ended up with Achilles tendonitis, one fallen arch and toes that look like they've resided inside a small, wooden clog for the last decade.
As a result, I find it difficult to find shoes that are actually comfortable to wear when I travel – particularly when it comes to city breaks and the obligatory miles of walking. Much to Claire's annoyance, nearly every city break we've taken has ended in me limping behind her, as my now shredded and bleeding feet scream from inside their shoes.
I don't travel anywhere without a stash of blister plasters in my handbag these days.
With battlefields for feet, I therefore wondered whether Mahabis' promise of apparently unearthly levels of comfort were realistic.
The Test
Sliding the Mahabis Flow slippers on, I wondered if I'd put them on correctly.
The back of each slipper features a large slip that not only helps you to pull the slippers on, but then wraps around the back of your heel; keeping your foot in place.
Initially, and as I couldn't feel much pressure on the back of my heel, I assumed that I'd not pulled the slipper on high enough. However, examining the shoe, I realised that it was fitting perfectly. Standing up, I took the obligatory walk around my room – waiting for the shoe to slip from the back of my heel – or worse, chaff.
However, as I circled my room, the slipper's clever back simply flexed snugly as my foot and heel moved; with almost no sensation at all.  It was hard to believe that I was wearing shoes.
For someone who regularly has the back of their heels attacked by stiff and unforgiving heels, the Mahabis Flow slippers were a revelation. Wearing them for the rest of the day, my Mahabis Flow slippers came with me as I cleaned, hung washing, drove, took the train to London, marched around the city (in the heat) and came home again. 
All day, it felt like I was wearing almost nothing on my feet.
The mouldable foam lining and sole meant that I felt completely supported (I'm used to dangerously thin soles that send shockwaves up my spine with each step), but not claustrophobically so. Instead, my feet felt free and flexible, all whilst being cradled by beautifully soft material.
Controversially, I also didn't wear socks throughout the day – something that on a hot day in London, could prove catastrophic. However, thanks to the breathable lining, my feet stayed almost eerily dry; enjoying their very own Mahabis inspired air conditioning system.
Slipping off my Mahabis Flow slippers that evening, my feet showed no signs of their busy day. There were no deep impressions from tied laces or bloody scenes thanks to a heel-induced foot massacre. Instead, my feet emerged completely unharmed; reborn, even.
Versatility: Packing Light Thanks to Mahabis Flow
When trying to pack light, shoes can often prove my downfall.  Conscious that I'm going to need lightweight footwear for my flight, a fairly sturdy set of shoes for walking and exploring, and perhaps a quick 'slip-on-slip-off' little number for lounging by the pool or heading to the spa, my luggage for a short city break can often be dedicated entirely to shoes.
Thankfully, the Mahabis Flow will put an end to this.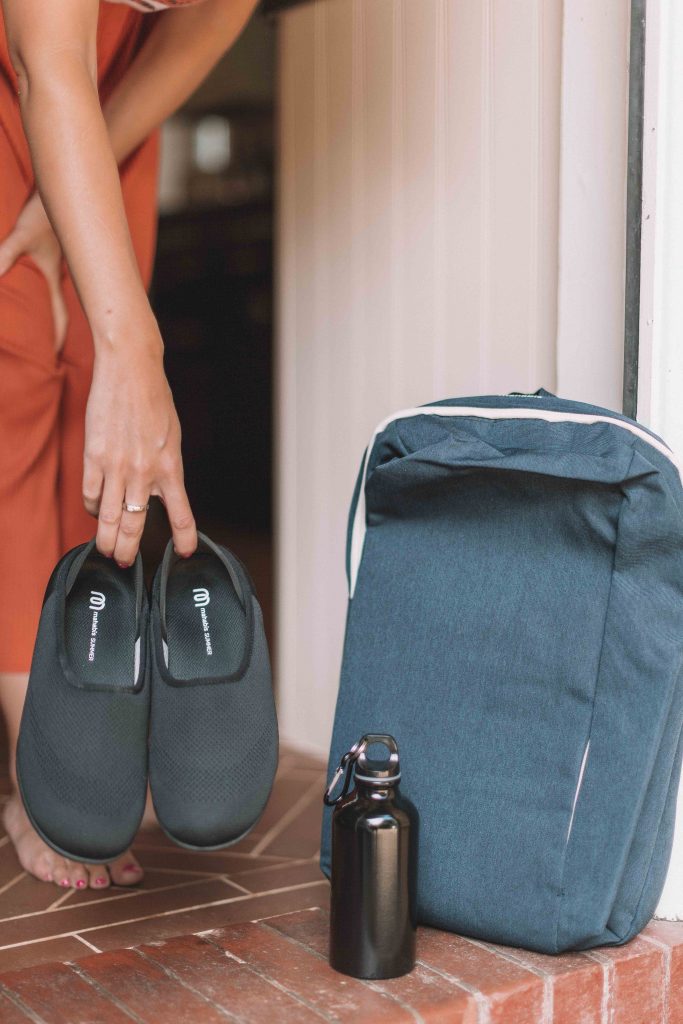 The chameleon of the slipper world, the Flow's hybrid nature means that they are the only pair of shoes I'll need when it comes to future travel.
I'm particularly looking forward to wearing them on a flight. Indeed, instead of having to pull off my trainers each time I board a plane and replace them with a pair of slippers – now I can simply arrive in my Mahabis Flow shoes. Furthermore, and given how flexible the slippers are, I'm hopeful that they'll be able to take my swollen feet in their stride.
Other little pluses will include being able to quickly pop my Mahabis Flow slippers on when I head to breakfast each morning, or when I want to visit the pool.  In fact, it's perhaps this versatility that makes the Mahabis Flow slippers such a brilliant little shoe – and so ideal for travellers.
Simplicity: Functional Fashion
Perhaps one hesitation I had regarding Mahabis was its bold claim that this innovative slipper can be worn for both work and pleasure.
Indeed, perfect for when you're lying on the sofa with a bag of crisps, these slippers are also apparently ideal for when you want to alternatively sashay your way down the streets of London.
Initially, I found it a little hard to believe that I could walk out my front door in my slippers and not look entirely derailed. Would I be like the ladies that wear their dressing gowns to the supermarket? Or PJ bottoms for a dog walk?
However, the Mahabis Flow slippers (perhaps like all of their models) are as far from slipper-like as you can imagine.
Whilst they definitely deliver on comfort and luxury – like any good slipper must – they manage to do this without a faux-fur trim in sight. Instead, they look like a lightweight, sleek plimsol – something you'd catch an LA yoga teacher wearing, perhaps.
One of Mahabis' own promises is that their designs remain as simplistic and minimalistic as possible. Whilst stylish, they are definitely not a spectacle: not something to gawp at like those fluffy slippers at the back of your wardrobe.
As such, they can be paired with most outfits, blending in subtly with a pair of jeans, your favourite leggings or (when at home) your trusty old PJs.
A Review of Mahabis Flow Slippers: Final Thoughts
After five years of living with a mild slipper obsession – adverts for Mahabis slippers taunting me almost daily – finally being able to trial these coveted shoes has been something of a career high.
Having been intrigued by this brand for a long time, my reason for not buying a pair sooner has had nothing to do with the brand's design or products, but perhaps its price tag. Indeed, £69 for a pair of slippers has always seemed to me to be a little – well, extortionate.
Just how good could these slippers be?
However, having spent just one week with a pair of Mahabis Flow slippers adorning my feet, I appreciate this cost a little better.
Mahabis slippers are not cheaply made, fluffy monstrosities. They do not represent fast fashion, or that 'buy now, throw later' mentality that has come to characterise so much of our fashion and lifestyle industry.
Instead, Mahabis slippers are carefully crafted, ergonomically designed triumphs: ready to be worn time after time, year after year. For frequent travellers like myself, the Mahabis Flow will not only keep my feet comfortable when I'm lying in a new hotel room or putting my feet up on a flight, but will also be my loyal companion as I explore new cities, hike new trails and wander new streets.
They are, in my eyes, the superstars of the slipper world – and a brand I would be more than happy to invest in far into the future.
Pin it: