When I was fifteen, my French teacher described an illustrious autumn she'd once spent in France. Apparently forgetting that she was stood inside a glorified port-a-cabin – the heady mix of teenage angst and Charlie Red surrounding her – Madame Lawless was elsewhere; transported back to a lavender-scented autumn in Provence, circa 1978. 'It's during this time that I learnt that French skill– L'Art de Vivre – or the art of living', she explained, staring off towards the Science building. 'Over that autumn I learnt to appreciate the smaller things in life: good wine, good food, a beautiful view. I walked the mountainside villages of Gordes and Lourmarin'. She took a deep breath. 'I even fell in love'. The class were temporarily silenced; Madame Lawless now smiling at something in the middle-distance.
I, however, was captivated. Madame Lawless' descriptions of medieval Provençal towns, jewel-coloured morning skies and snow-capped mountains had flooded my already hormone-ravaged mind. I couldn't think of a place I wanted to visit more – a place more romantic. I wanted to spend my own autumn in Provence. I wanted to fall in love.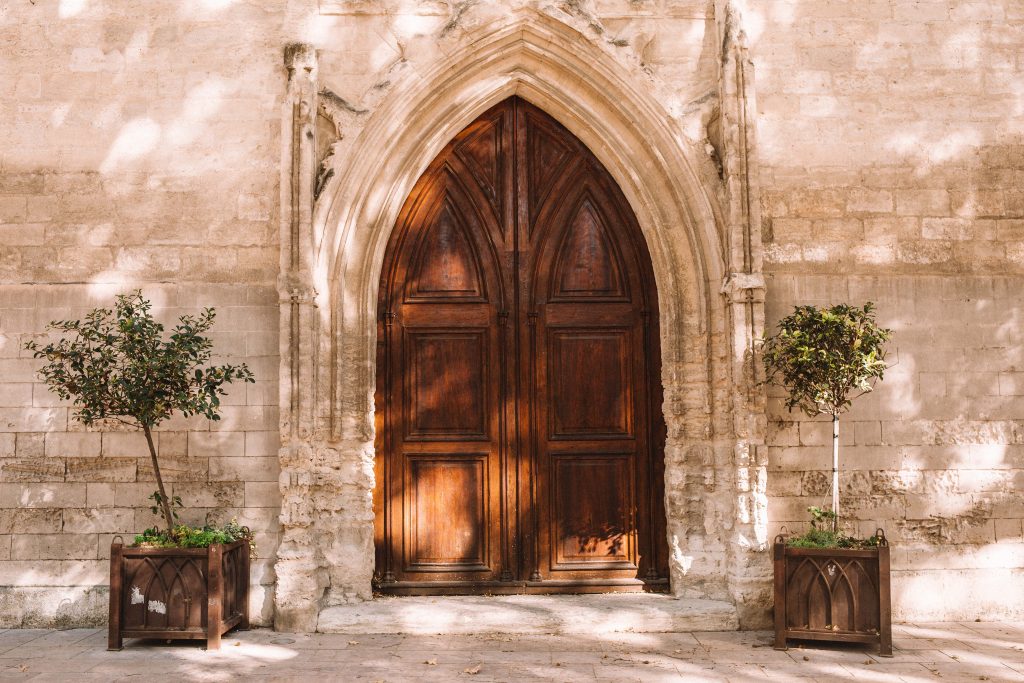 Yet, despite this teenage epiphany, I never did make it to Provence. Instead, I skirted around the region, spending summer breaks in Eze and wintery weekends in Paris. I'd failed to uphold Madame Lawless' legacy: no autumn in Provence and certainly no liaison passionnée. Until last week that is.*
With the region's summer crowds having disappeared in a lavender-scented puff of smoke, we were invited by Vaucluse Provence Attractivité for an autumnal visit to Vaucluse.  A trip that promised quiet and peaceful villages, hushed lanes and mist-shrouded mountains. There would be no sunscreen-scented tour groups or stiflingly hot temperatures, but a Provence that glowed under a soft autumnal light. We signed up immediately.
Below is our subsequent guide to autumn in Provence; including the most beautiful spots to visit, where to stay, where to enjoy some of the region's famed wine and – of course – how to lean back into that distinctly French way of life: L'Art de Vivre. It's a guide that I hope would make my French teacher proud – an ode to Madame Lawless.
A Guide to Autumn in Provence
Starting Point: Avignon
Travel Options: Fly directly to Montpellier airport, via easyJet from Gatwick airport. Return flights begin at £50. Alternatively, Eurostar's service to the South of France has reduced the journey from London to Avignon to just six hours. Return journeys begin at just over £200.
Car Hire: To enjoy Provence (outside of Avignon), we'd highly recommend collecting a hire car at Montpellier airport.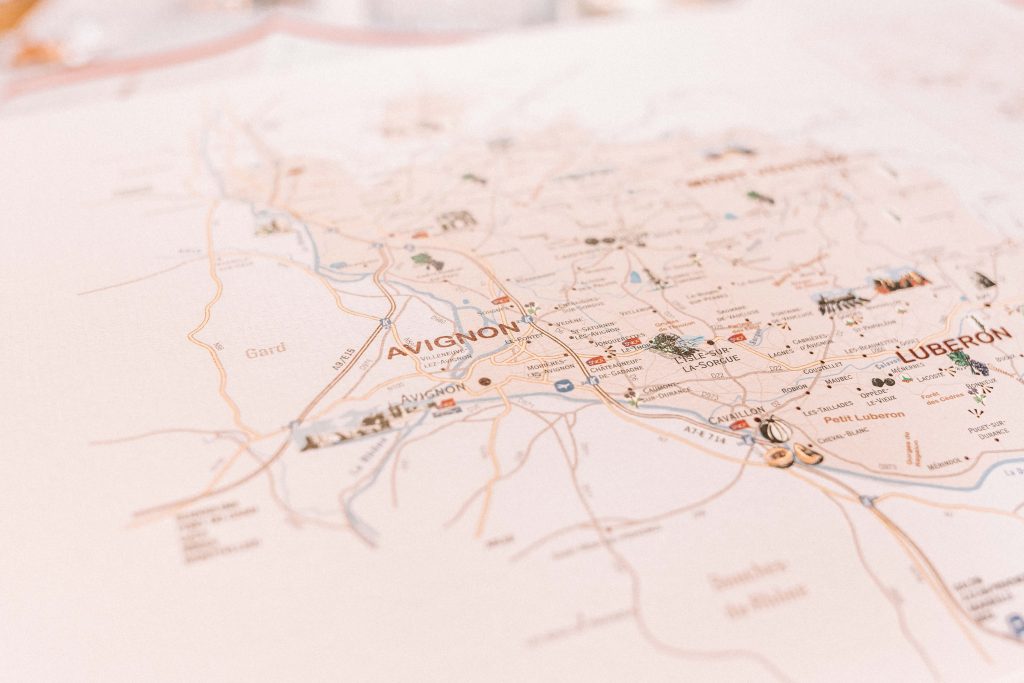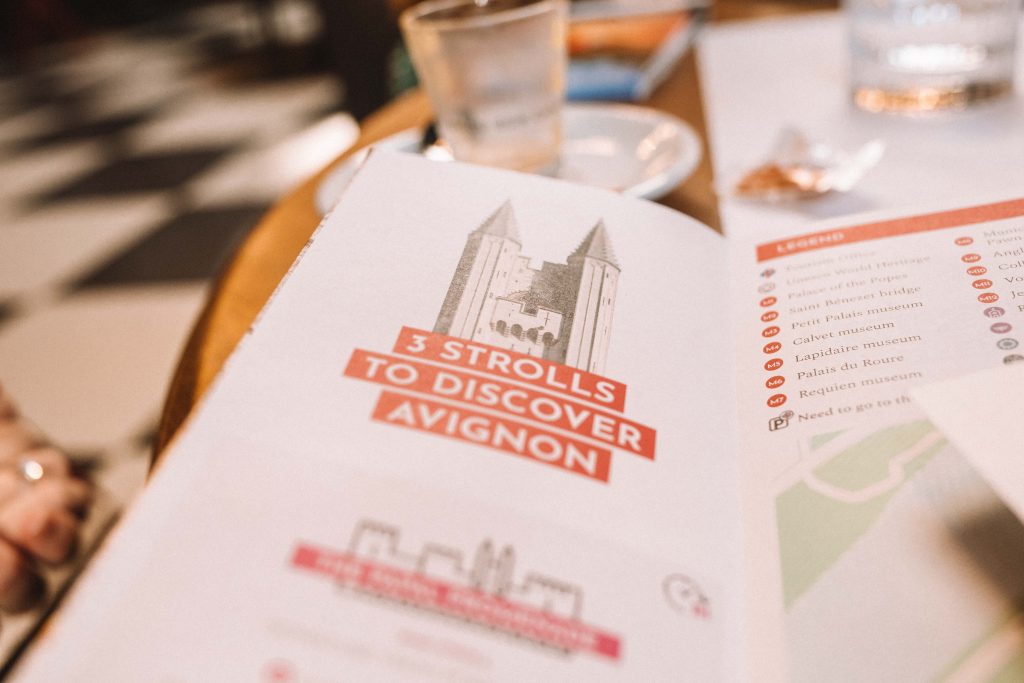 'On the bridge of Avignon, see them dancing, see them dancing', or so the famous nursery rhyme goes. It's a tune that hijacked my brain as we boarded our flight to Montpellier; a vague memory of a cassette player and an animated primary school teacher surfacing. Singing to my fellow travellers – Rich of Paperboyo and Lloyd of Hand Luggage Only – I waited for them to enthusiastically join in, perhaps witnessing the clapping of hands or the slapping of a thigh. I was instead met by blank faces; even Claire denying knowledge of this classic tune.
Avignon – known (to a cultured few) as the subject of a famous nursery rhyme – is also Provence's historical capital and one-time Papal seat. Perched on the banks of the tempestuous River Rhône, it is a UNESCO-protected city filled with cobbled streets, frescoed walls and historical ramparts. Around it, bells ring and swarms of swallows dive and soar; the city's historical bridge extending outwards like a welcoming hand. It's perhaps the most obvious place to begin any guide to autumn in Provence.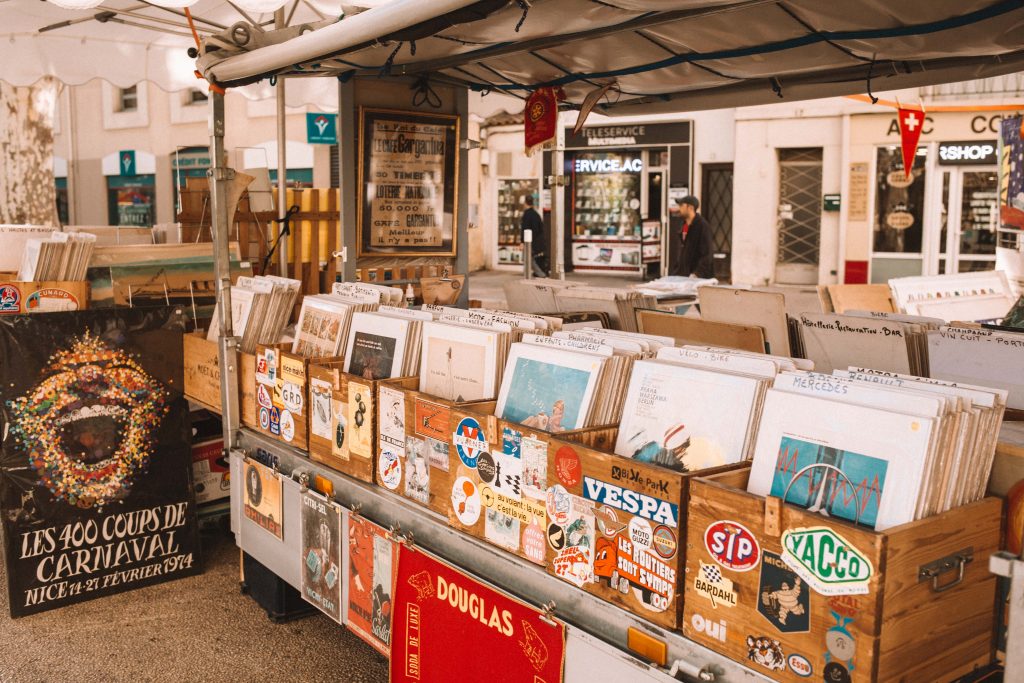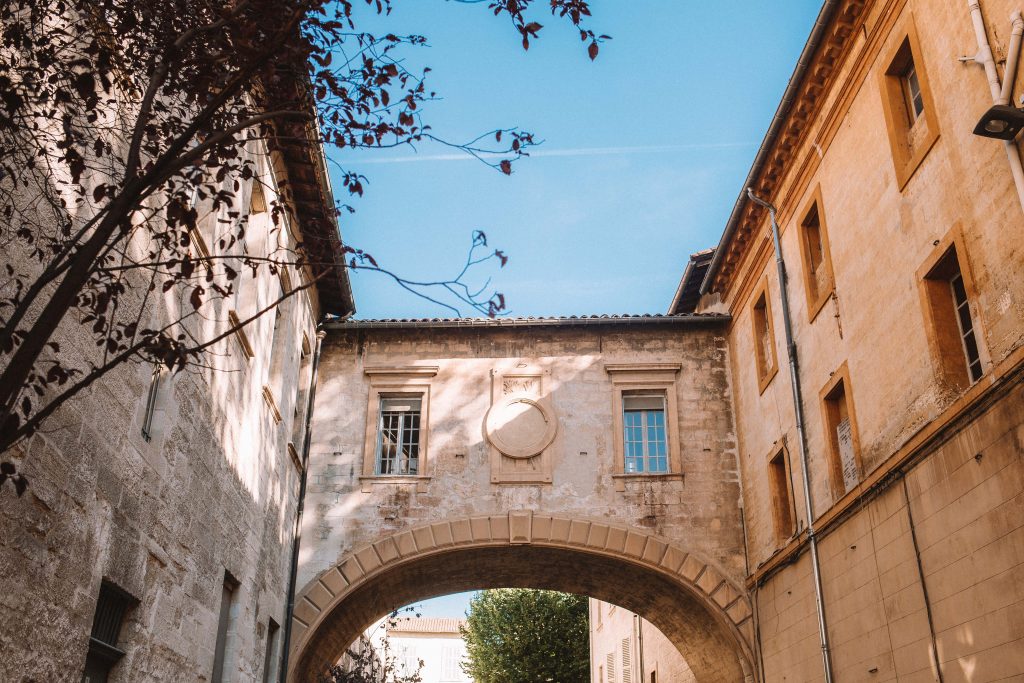 In the summer, the city fills with tourists, as crowds arrive for the contemporary performing arts festival -the Festival d'Avignon – and the warm summer evenings invite al fresco dining. But during the autumn in Provence, things change: the mistral arrives.
'The mistral is the cold northwesterly wind that blows down the Rhône Valley during the spring and late autumn', Sophie, our guide from Avignon Tourism, explained. 'It blows away the clouds, but chills you to the bone.' Outside, the sky was indeed an azure blue; not one fluffy cloud to be seen. 'But' – she added quickly – 'if you wrap up warm, there's not better time to visit this city'. Stepping outside into Avignon's main square – Place de l'horloge – the sun shining and an antique carousel turning, I couldn't have agreed more.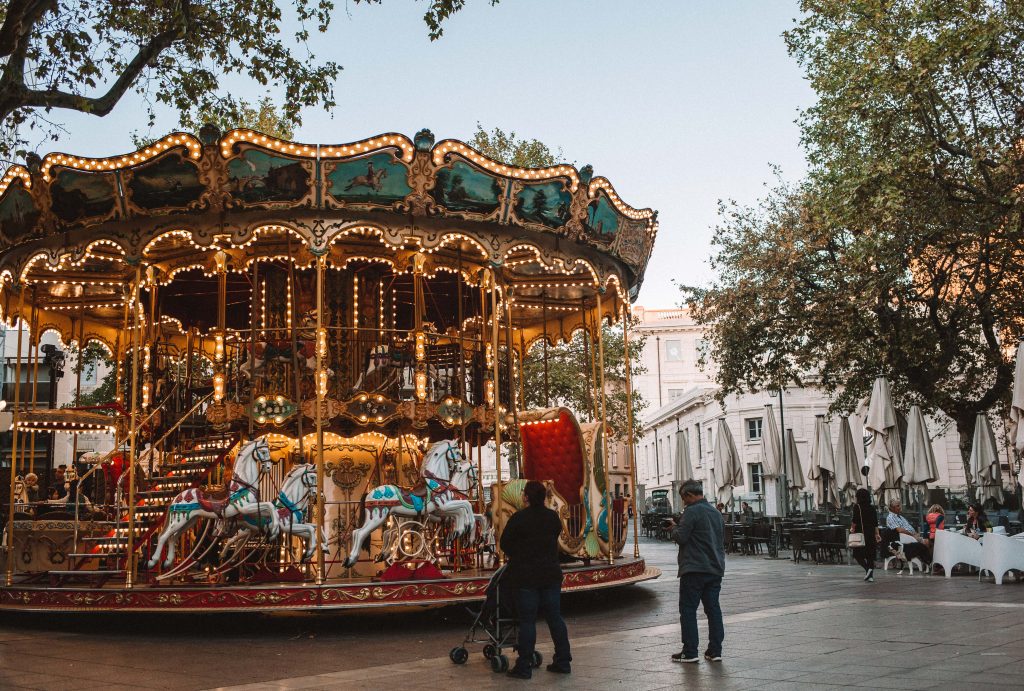 Borrowing its name from its location – bordering the central Place de l'horloge – Hotel de l'horloge is an affordable and comfortable place to stay during autumn in Provence. Our room – one featuring distinctively high French ceilings and shuttered windows – overlooked the main square; golden leaves falling over café tables and chairs. Somewhere, someone was playing an accordion – the tune drifting in through our open window. It was a lovely place to stay.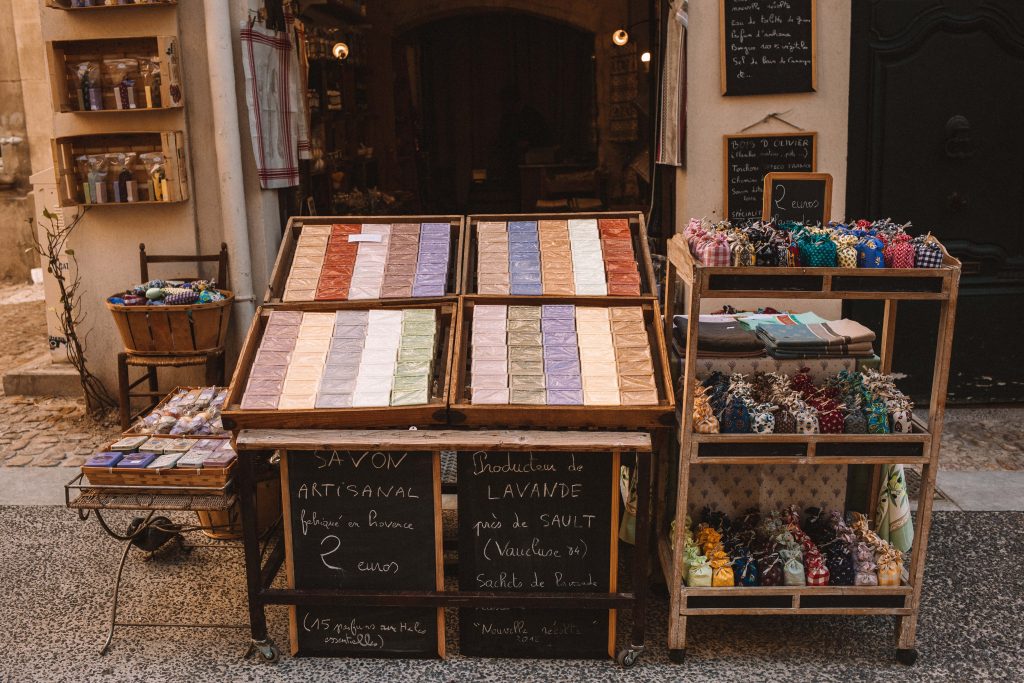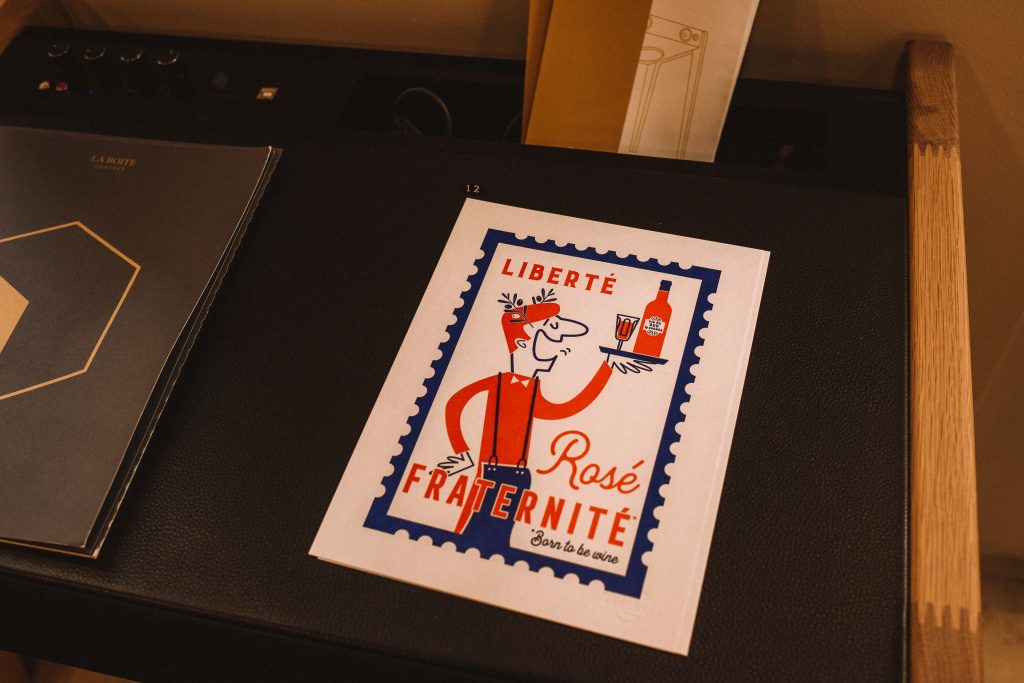 Although the hotel does not have a restaurant – offering neither lunch nor dinner – it does offer breakfast in an adjoining conservatory, with views out onto the cobbled streets. Double rooms begin at £75 in the low season and rise to £106 per night in the high season (excluding breakfast). With Wi-Fi also included, it's a friendly and relatively affordable place to stay whilst exploring Provence.
What to do in Avignon
When writing a guide to autumn in Provence, it's perhaps easy to imagine that it might be an itinerary filled only with long walks through fading lavender fields, or café au laits in deserted restaurants. Yet, throughout the autumn and winter months, the main tourist attractions in Avignon remain open; with enough museum, castle and gallery visits to fill any weekend.
A Visit to Palais Des Papes
Perhaps it's the haunting nursery rhyme, but when thinking about Avignon, I always assumed it was a city characterised only by a (now half-fallen) bridge. It had escaped me entirely that the city was once home to a string of runaway Popes.
Taking centre stage within Avignon's Old Town (all that falls within the city's historic walls), Palais Des Papes (The Pope's Palace), is the largest Gothic Palace ever built – the (expensive) vision of Pope Clement V. A vast place filled with echoing halls, three-meter thick walls and stunningly detailed fourteenth-century frescoes, Palais Des Papes offered Avignon's seven breakaway Popes a home-away-from-home.
Covering a whopping 15,000 metres (the equivalent of four Gothic cathedrals), today visitors can explore twenty of the Palace's rooms, including the papal bedrooms, chapels and soaring cloisters.
As a quick aside: we visited the Palace at sunset, just as the sun slipped below the green banks of the River Rhône. Climbing one of the Palace's ten towers, we were afforded an incredible view across Avignon and beyond; the sky gradually filling with swallows and ready-to-roost pigeons. If there is a time to visit Palais Des Papes, it's most certainly at sunset.
The Palace is open all year round, with tickets for adults costing €12 and children under eight going free.
Pont Saint Benezet (the famous bridge)
'Sur le pont de Avignon' – our guide began to sing as we walked towards Avignon's famous bridge – 'L'on y danse, l'on y danse'. I grabbed her wrist; I'd finally found a kindred spirit, a tribe mate. Explaining to her that none of the group knew the traditional nursery rhyme I'd been humming incessantly since boarding our flight, my guide laughed. 'The people of Avignon have perhaps heard the song too many times'.
Listening as our guide explained the history of the bridge, I realised that the nursery rhyme had been fairly vague when it came to detailing Pont Saint Benezet's history. Yes, ladies had perhaps once danced on it, but there were a few other notable moments in its history too: not least that it was built by a shepherd (Benezet) following an order from God; who also insisted he carry a boulder down from the mountain; who then asked that he throw the said boulder into the river. It was a task that Benezet completed with apparent ease. (I assume there hadn't been enough verses in the song for this nugget of history).
Once spanning 900 metres and boasting 22 arches, the Pont Saint Benezet had been one of Provence's most iconic crossing points, forming part of the pilgrimage between Spain and Italy. Completed in 1185, the Bridge became the only place between Lyon and the Mediterranean that people could cross the dangerous Rhône River; ensuring it was an ever-busy and popular highway.
Today, just four arches of the Bridge remain, but it is still worth a visit. Although Saint Benezet's former remains have been since removed from the bridge (again: they didn't mention that bit in the song), a shrine still resides here, alongside beautiful views across to the island of Ile de la Barthelasse. Ticket prices for adults cost just €5 and again, I'd recommend visiting at sunrise or sunset.
A Visit to Les Halles
'I'm a Californian living in Provence', Chef Jonathan Chiri declares as he skilfully dices cloves of fresh garlic. 'I wasn't even meant to stop here – I was heading for Spain. But here I am!' He shrugs playfully – gesturing around at his newly opened restaurant, Centr'halles.
Housed within Avignon's thriving food market – Les Halles – Centr'halles is a small, yet perfectly formed, restaurant serving food made only from those ingredients surrounding it. Wiping his hands on his apron, Jonathan was keen to show us some of these box-fresh delicacies: 'Come with me and I'll find you some of the freshest oysters you've ever seen'.
A covered market, Les Halles has been a popular spot for shoppers and diners for over a century. Filled with a vast array of small eateries and over forty stalls overflowing with fresh lobsters, freshly caught pheasants and home-grown olives, Les Halles is a must-see for any visitor (especially during autumn in Provence, when some of the most beautiful produce is harvested).
Throughout our whistle-stop tour of Les Halles, we sampled some of this delicious autumnal produce, including an absurdly acidic goat's cheese (not for the faint-hearted) and engorged cloves of pickled garlic. It was a fantastic introduction to Avignon's gastronomic scene and a wonderful place to spend a morning exploring; picking at samples of glossy olives and smoked veal.
Jonathan, like many of the chefs at Les Halles, offers cookery demonstrations (many on a Saturday morning), based on ingredients purchased throughout the market. Over glasses of white wine, we watched as Jonathan chopped and blended a unique platter of tapenades (courtesy of the neighbouring olive stall), before serving us a lunch of succulent monkfish and whipped goat's cheese. Indeed, autumn in Provence is not only beautiful – it is delicious.
Where to Eat in Avignon
Avignon has no shortage of acclaimed restaurants, including several Michelin-starred establishments.
Whilst visiting Avignon, we enjoyed lunch at Grand Café Barretta. Secreted away at the back of a typically rustic building, the Grand Cafè opened up into a large, galleried room, filled with the gentle hum of music and the sound of lunch time chatter. Located in a beautiful square filled with ancient chestnut trees, the restaurant offers beautifully presented plats du jour and reasonably priced set menus.
For dinner, we headed to Le 46; an unassuming restaurant tucked away behind a cobbled street. Just a few minutes' walk from the Palais de Papes, Le 46 avoids the crowds, instead offering a cosy place to enjoy fresh Provençal food; all complimented by the company of a resident cat. During autumn in Provence, these restaurants tend to be a little less busy than they would be during the summer months; however it is still wise to book ahead.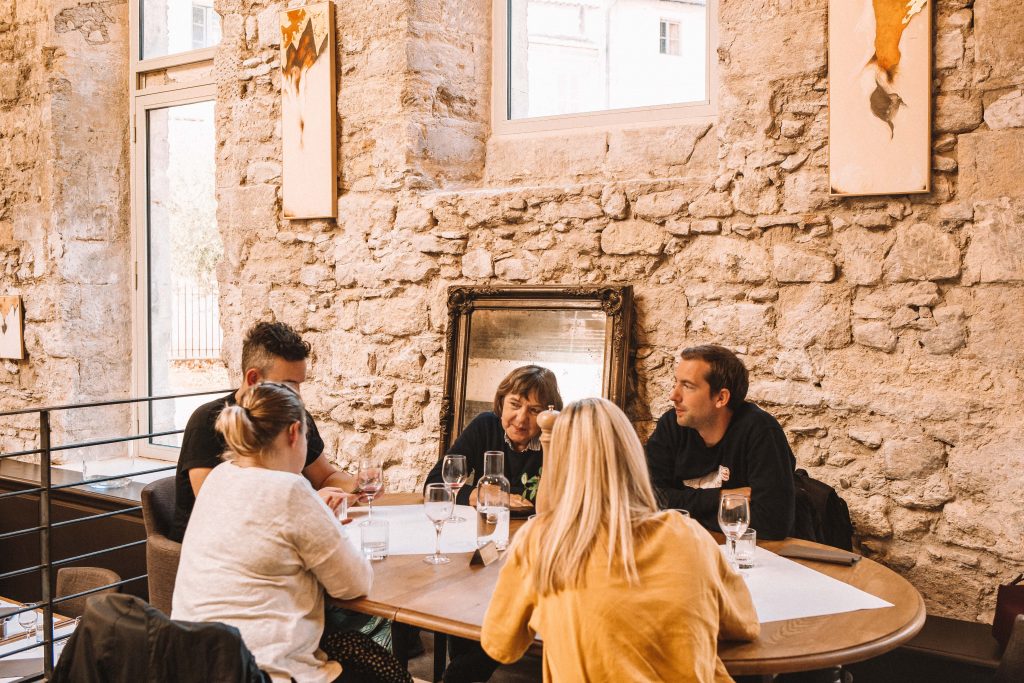 A Guide to Autumn in Provence
Next Stop: Mont Ventoux
For most, Provence means only rolling lavender fields and ancient vineyards. Yet, over these fields loom something else entirely: lofty, snow-capped mountains.
In Vaucluse, one mountain in particular takes centre stage: Mont Ventoux (or 'the Giant of Provence'). A soaring 1,912 metres high, Mont Ventoux resides over the vineyards of the Cotes du Ventoux, shelters the lavender fields of Val de Sault and protects the lush Toulourenc Valley. Peer at any photograph from Vaucluse, and you'll be sure to spot Ventoux's towering shadow in the background.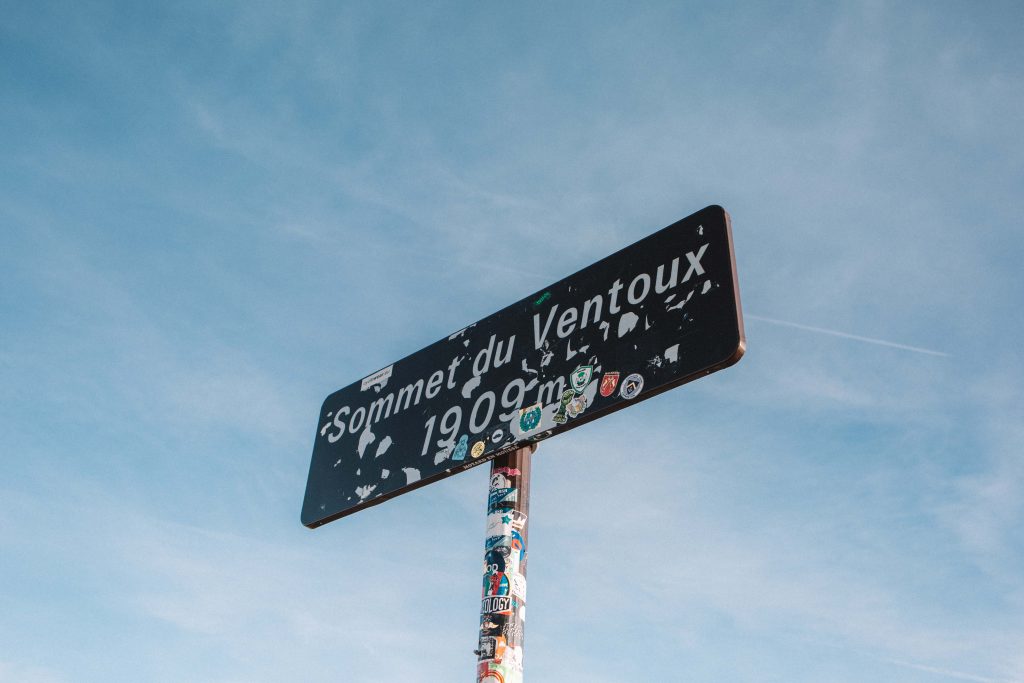 The mountain is known for having two very different sides: one facing the ragged peaks of the Alps, the other gazing towards the Mediterranean. Whilst one side features gentle slopes filled with lavender, orchards and fields of strawberries, the other – a side that is steeper, more demanding  – is home to bands of determined cyclists, and the yearly Tour De France race. It's this side that has witnessed celebrations, tragedies and personal records. Unsurprisingly, we didn't attempt to cycle up it ourselves.
However, for those who do enjoy cycling and hiking, a common route up the mountain begins in Bedoin; the pass taking you through some of the area's most beautiful vineyards and lavender fields. Often undertaken over several days, completing this route is a challenge in itself. Following autumn in Provence, Mont Ventoux is transformed into a ski resort; one offering stunning views across the surrounding valley.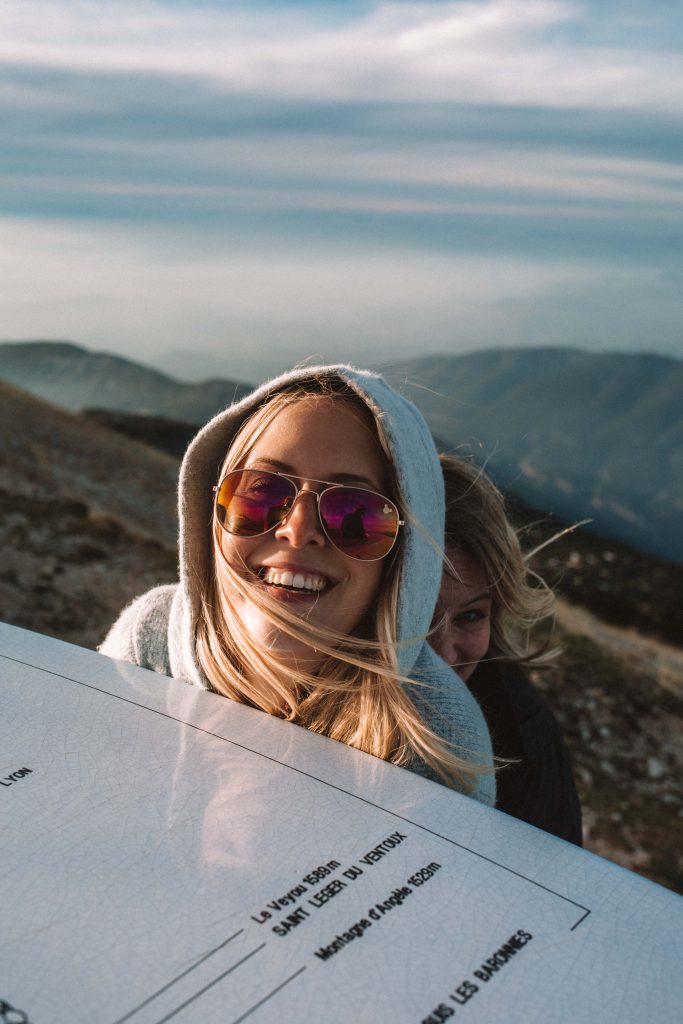 Alternatively, it is also incredibly easy to simply drive up to Ventoux's summit. Beware: the mountain is true to its name – Ventoux also being the French word for 'wind'. Despite the warmer temperatures in the valley, it's wise to wrap up warm before reaching the top.
For those preferring a more gentle introduction to mountain life, there are plenty of other kinder hikes in the nearby Dentelles de Montmirail area. With an almost Mediterranean-like landscape, we enjoyed a warm afternoon exploring this region, walking past fragrant bushes of wild rosemary and basil, and exploring the soft limestone cliffs. Suggestions for hikes around the Dentelles de Montmirail area can be found here.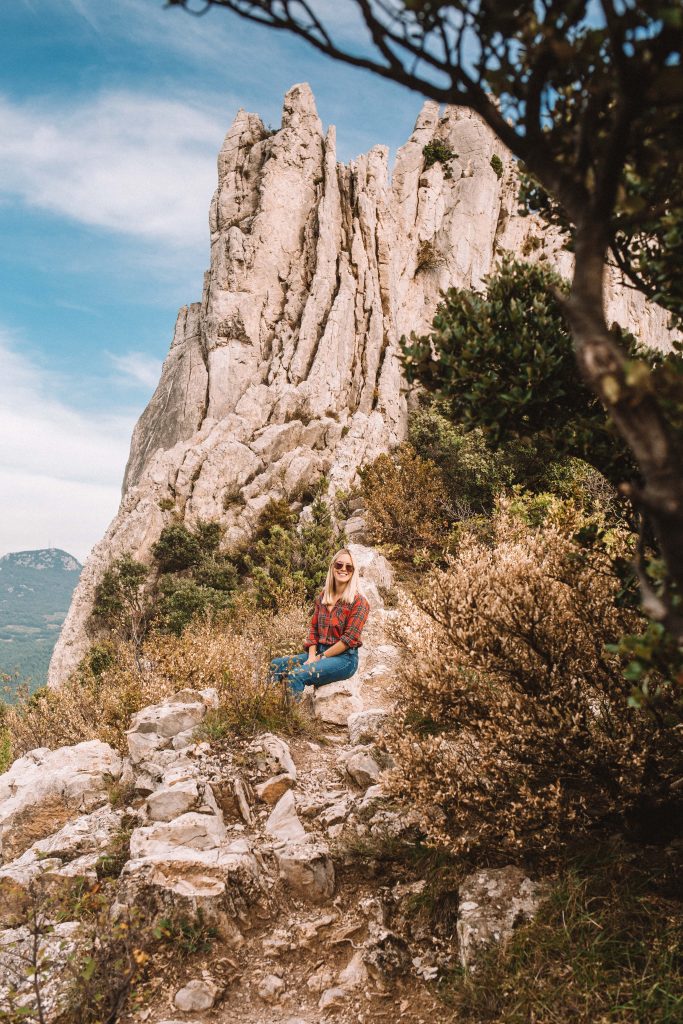 Hotels Near Mont Ventoux: After our own mountain expedition, we stayed at the serenely beautiful Domaine de Cabasse, nestled beneath the village of Séguret.
A Guide to Autumn in Provence
Next Stop: Provence's Prettiest Villages
Of course, no trip to Provence is complete without a walk around its famously pretty villages, and whilst the lavender might have faded, autumn remains a spectacular time to visit. Liberated from the summer crowds and decorated by leaf litter, autumn in Provence adds a special sort of romanticism; one that transforms its iconic villages from a heady purple to deep golden.
Gigondas: nestled in the foothills of the Dentelles de Montmirail, Gigondas has a Disney-like quality to it: the sort of hamlet you might find a singing Belle or a fleeing Cinderella.  Yet despite its beautiful aesthetics, Gigondas remains famed for something a little more drinkable – its vast cellars of deep, red wine.
Home to just 700 residents and surrounded by 1,250 hectors of vineyards, the village is a place built on wine-making. Indeed, the local Grenache Noir grape is said to have been grown here for over 2,000 years. Visit during the autumn months and you'll find the vineyards turning a golden-yellow; the village's labyrinth of wine cellars still open to the public.
Séguret: The rain was falling heavily as we arrived in Séguret;  a village declared to be one of France's most beautiful communes. With the summer crowds long disappeared and the sound of rain drumming on its terracotta roofs, Séguret appeared more charming than ever. Whilst July sees Séguret fill with bustling cafes and gift shops, come autumn in Provence, the village resumes a more peaceful pace: one marked by gently glowing windows and prowling cats.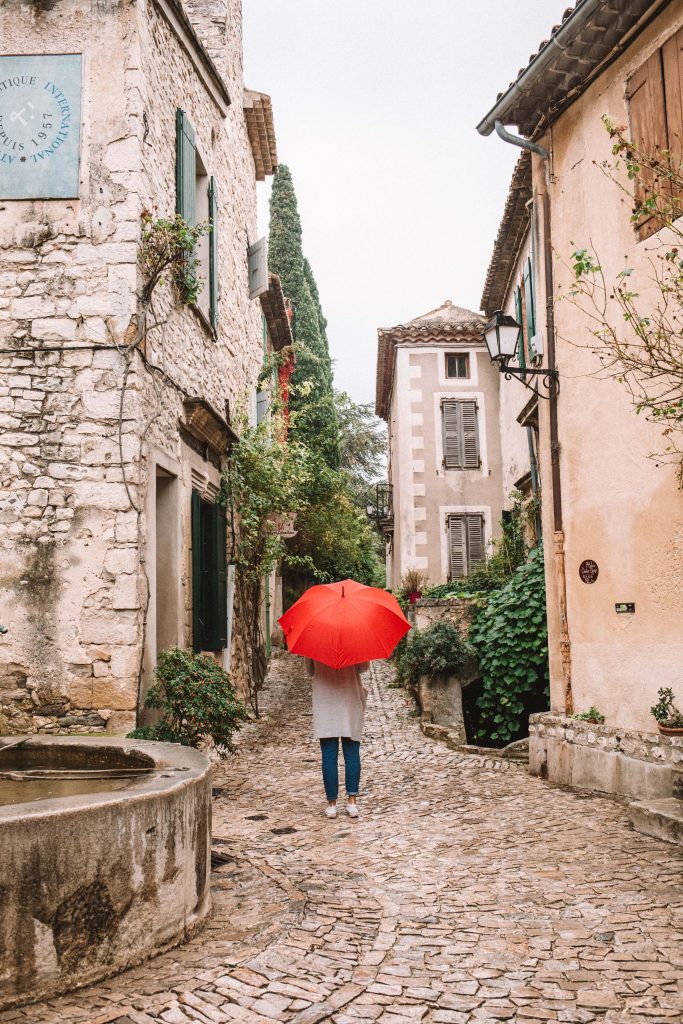 A village of cobbled streets, 100-year old sycamore trees and echoing wishing wells, Séguret is protected by its historic Huguenots' gate, which still feature the original iron-bound wooden shutters. Walking its winding lanes, we were told that whilst the village remains beautiful throughout the year, at Christmas, Séguret unveils its most magical secret: its nativity scene. Paraded through the many foothills and alleys of the village, Séguret glows under the light of lanterns and candles, as a real-life nativity scene plays out. There is an unmistakably jovial mood in the air, as food stalls arrive to provide traditional Provençal 'fougasse' bread and 'panade' soup.
Like most of Provence's towns, Séguret can only be accessed by foot, with places for parking clearly marked at the bottom of the village.
Gordes
'I am so happy we're finally here!', Lloyd (of Hand Luggage Only) shouted as we gathered at the rocky cliff edge. Ahead of us perched the spectacular village of Gordes, one of Provence's most dramatically picturesque villages. Cascading down the hillside like a terracotta-coloured waterfall, Gordes was partially obscured by mist: the sounds of its inhabitants still audible through the drifting clouds.
Yet another 'Plus Beaux Villages de France', Gordes tumbles down the hillside over a number of tiers; the sharp drop of the Vaucluse plateau waiting below. Flanked by ancient Cyprus trees and neatly presented gardens, the village is yet another maze of 'calades' or narrow streets.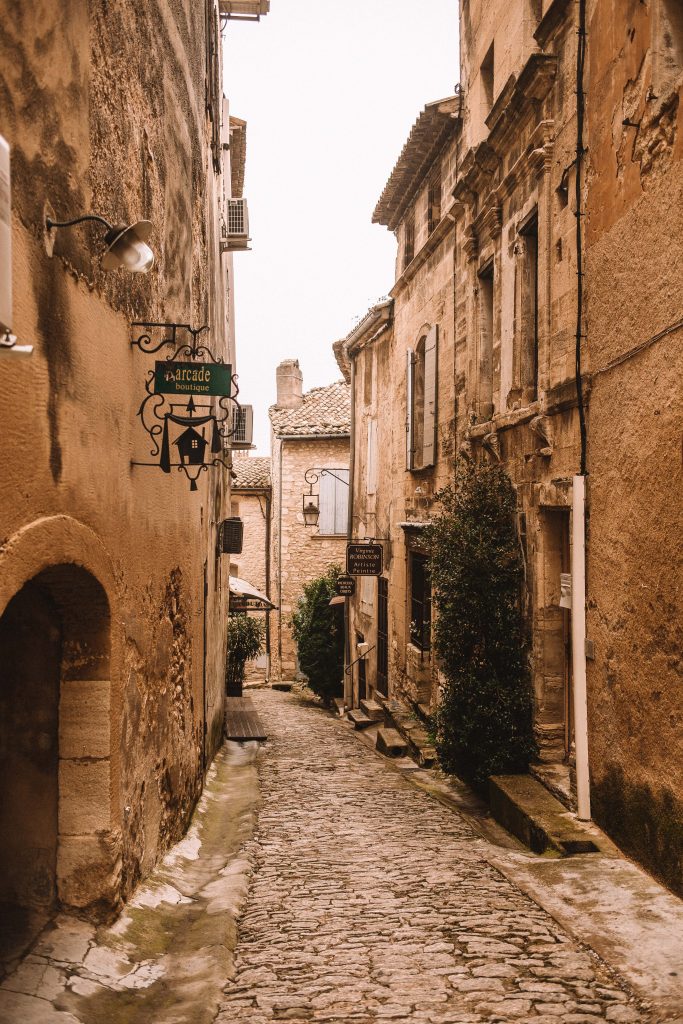 For those looking to combine a trip to Gordes with an opportunity to see another of Provence's most photographed sites, then why not walk down the hill towards the famous Notre-Dame Abbey de Senanque. With the round-trip totalling just under 7km, the walk offers incredible views across the Luberon Valley and a view of the world-famous Abbey from above; surrounded by its sea of lavender. Originally founded in the 9th Century, the Abbey has long remained hidden within this solitary valley, offering a sanctuary to traditional Cistercian Monks. Living according to the rules of St. Benedict, the Monks dedicate their lives to labour and prayer; their immaculate and dizzyingly symmetrical lavender fields a testament to their devotion.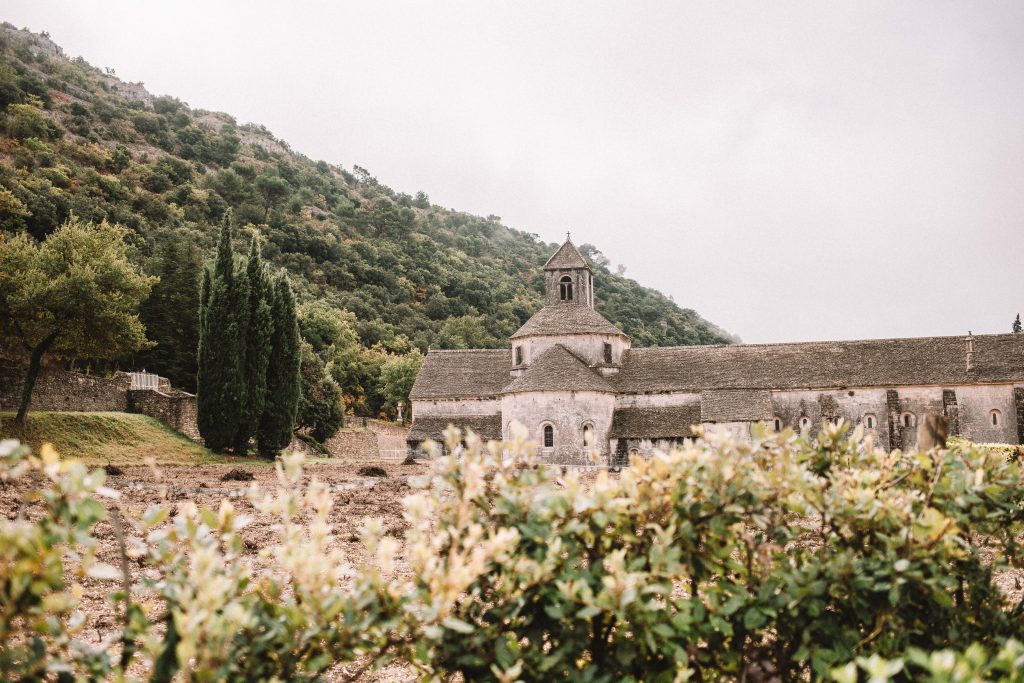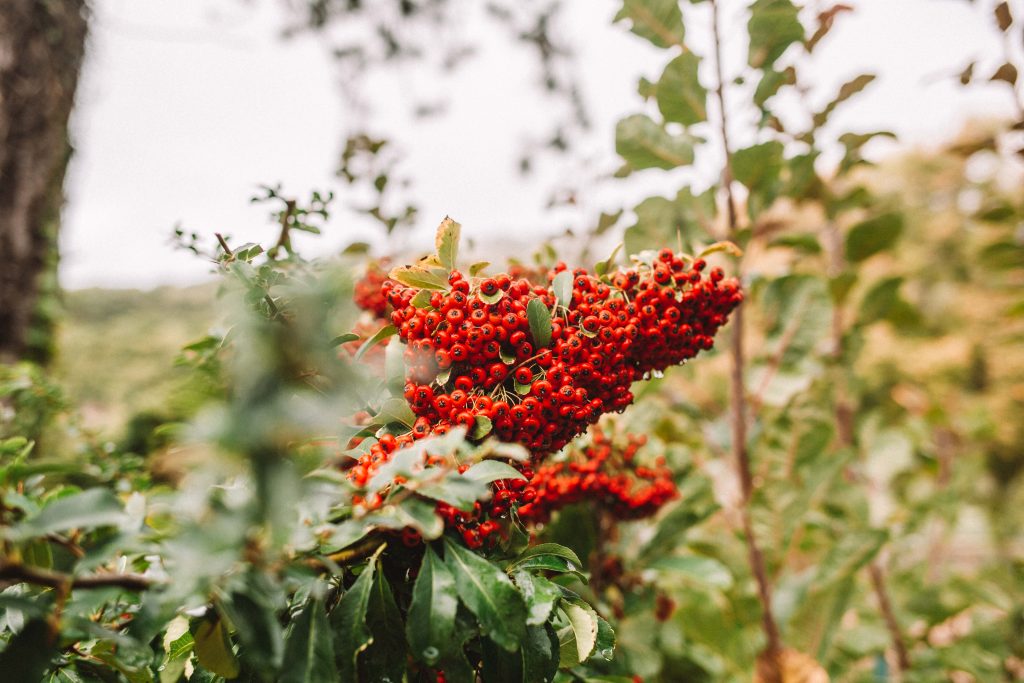 As Senanque is still a working Abbey, visitor numbers are tightly controlled. However, both guided and non-guided tours are available, and visitors are also able to attend some celebrations e.g. Mass. Entry tickets for adults begin at €7.50.
Roussillon
Quite unlike its peers, Roussillon is a village known perhaps not entirely for its beauty, but for its startling colour. Rising up from martian-like earth and situated in the heart of one of the world's largest ochre deposits, Roussillon is a vision of red and orange; a burning flame of a village.
Once home to crowds of inspired artists, today Roussillon maintains its artistic streak; with multiple galleries and art stores filling its lanes. Boasting a palette of seventeen shades of ochre – from a lemony yellow to a fiery red – Roussillon reminded me of a carefully presented paint chart; diverse yet beautifully curated. Visitors to Roussillon are also able to see for themselves the source of these vibrant colours, with free access to the nature trail Sentier des Ocres. Leading to where the original mineral deposits can be found, this spot is claimed to model a smaller (and distinctly French) version of the Grand Canyon.
A Guide to Autumn in Provence
Next Stop:  A Wine Tour
 'Provence goes with wine like bread goes with butter', a local guide had told me as we arrived in the area. 'Or, I guess, like the British go with beef'. I nodded vigorously at her analogy.
An area dominated by vineyards, Provence is a region stained by the jewel-coloured juice of its grapes. It's a place where wine making has taken place since the time of the Greeks; where Romans once consumed barrelfuls of delicate Rosé wine and the Clergy nurtured vineyards. Naturally, any guide to autumn in Provence must therefore include reference to a wine tour (or two).
Domaine De La Tourade:
My limited experience of wine tasting has previously taken place within soft-furnished rooms, complete with delicate background music and distinguished sommeliers. Indeed, it has never included the rural French countryside, a wet Saturday morning, or an orange-coloured VW Combi. Until last week, that is.
Virginie and Frédéric Haut are sixth generation winegrowers in the Domaine de la Tourade, specialising in traditional wine making and harvesting techniques. A visit to their vineyard is therefore a little like stepping back in time – back to an age when the vineyard remained sacrosanct.
However, despite this grape-inspired reverence, Fréd wanted to bring his vineyards to life: offering his visitors not only a glimpse of the traditional, but an opportunity to experience something a little more untraditional: a wine tour with a difference.
Bundled inside a carefully restored VW Combi – the Provence rain falling steadily outside – we found ourselves quickly transported into Fred's heroic vision.  Starting up the engine – the low hum making our seats vibrate – Fred explained that he had hoped to combine two of his greatest loves: wine and, as it would seem, vintage camper vehicles. 'Together, they just seem to work', he declared, the wind-screen wipers crashing furiously and the fan blowing loudly.
For the next thirty minutes, we drove through Fred's seemingly endless estate; crocheted blankets carefully draped over our legs. With the radio on, he explained the history of Domaine de la Tourade, showing us some of the estate's most dramatic scenery and offering up bottles of award-winning wine. It was quite unlike any wine tour I've experienced.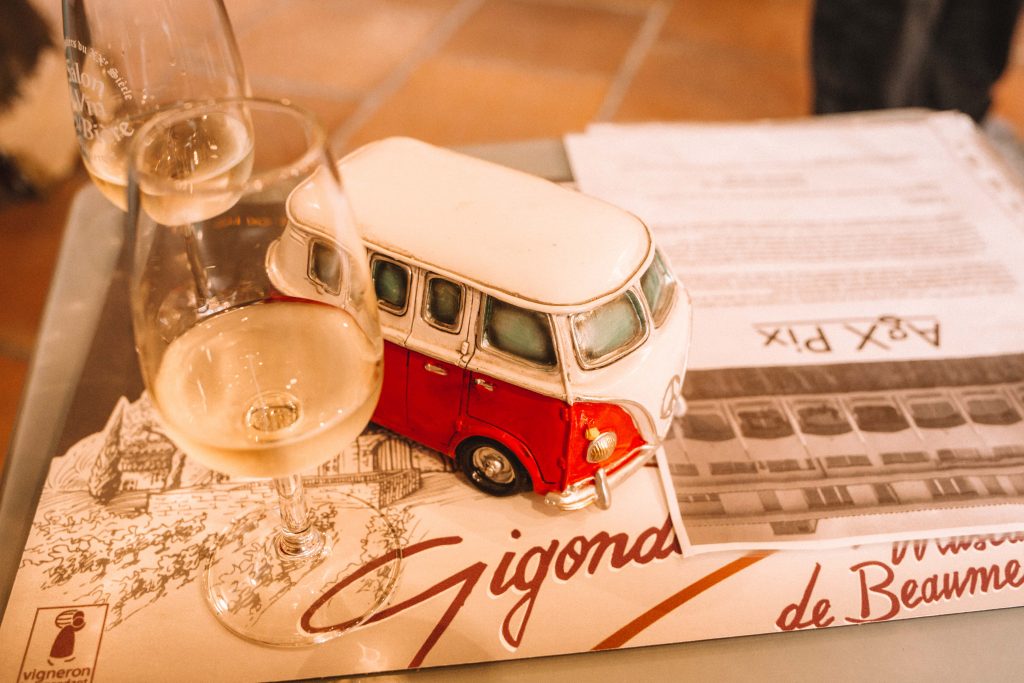 Rates for the tour begin at €15 for adults and €8 for children. For those looking to extend this seventies-inspired experience, guests can also hire the camper vans at a cost of €160 per night (including access to a terrace, BBQ, swimming pool and whirlpool).
A Guide to Autumn in Provence
Final Thoughts
Touted as a place cast in an almost endless August light, it is easy to understand why so many people wish to visit Provence during those long summer months. With the temperatures rising and the days growing longer, the area seems to explode with life: vibrant purple fields, lush green mountainsides and red parasols decorating the landscape. Yet for those happy to miss this purple haze, then there is no better time to visit Provence than in the autumn.
Cast in a balmy golden light, the village streets empty and residents resume their local-based traditions: the wine harvest is celebrated, truffles are sought for and dried chestnuts fill market stalls. With celebrations such as the Fête de la Gastronomie taking place in September, and towns celebrating the arrival of the year's vintage wine,  autumn in Provence offers a glimpse into a more traditional Provençal life: one marked by ochre-coloured vineyards and cool, starry nights.
Next time you consider a visit to this beautiful part of France, why not therefore bide your time: let that fragrant lavender cloud fade and wait for the exhale of autumn. It'll be worth the wait.
*Note: whilst the visit to Provence did finally happen, the illicit love-affair did not.
Thank you to Vaucluse Provence Attractivité  for inviting us to explore this beautiful part of the world.
Pin for later: