This list of the top things to do in Reykjavik contains affiliate links.
Iceland is a country that requires little introduction.
Peppered with topaz-blue lagoons, ancient volcanoes and a stunning glacier park, this land of 'fire and ice' attracts over two million visitors a year. For many of these visitors, however, the country's capital, Reykjavik, is a place to pay just a fleeting visit, rather than a destination to explore in its own right.
During our own recent city break to Reykjavik, we were determined to give the city the attention it deserves – and spent most of our time in Iceland exploring it. Although we did fit in one day trip from Reykjavik, to drive the Golden Circle, we mainly focused our efforts on exploring all the diverse sights that this amazing capital has to offer.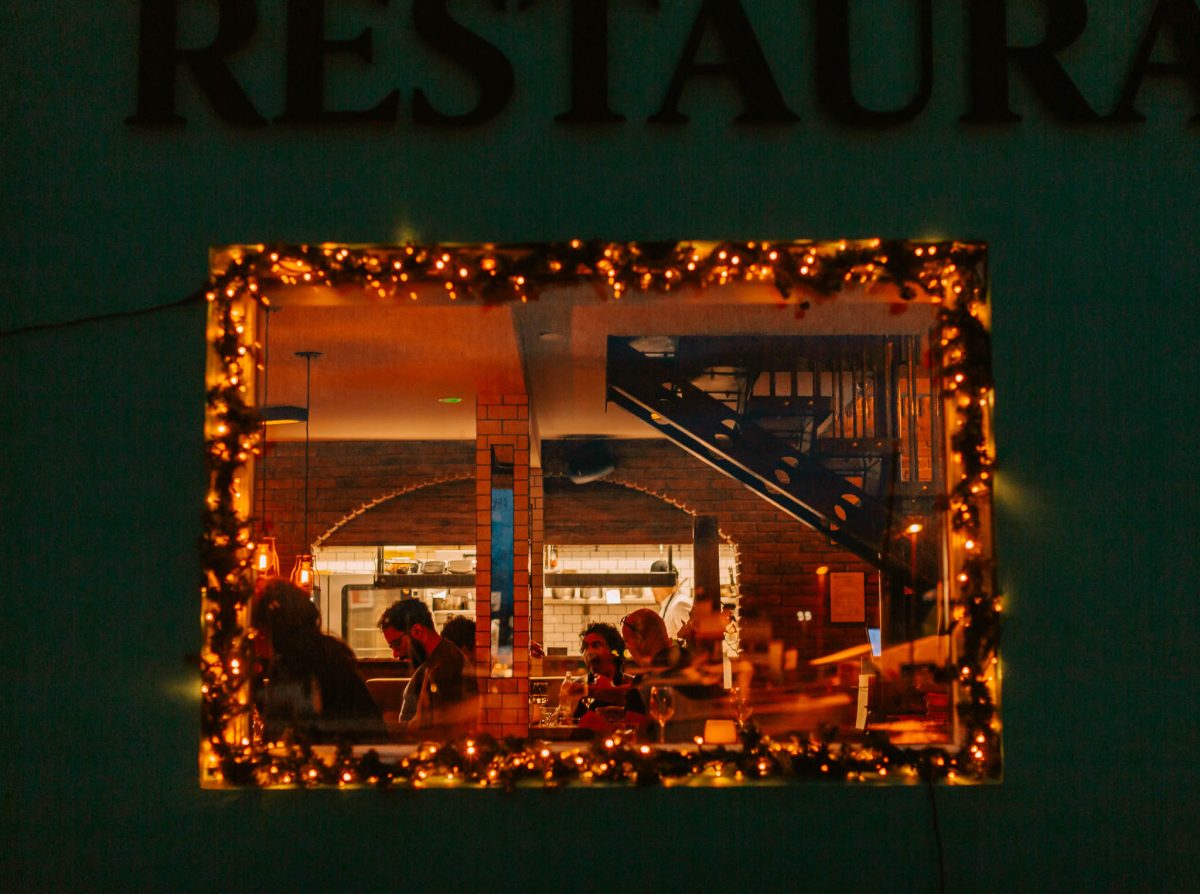 We were genuinely surprised at just how many things there are to do in Reykjavik. From enjoying cosy cafes to whale watching, and from exploring a museum full of penises (yes, you read that correctly), to floating in a downtown thermal lagoon, Reykjavik is a city full of surprises.
If you're planning a trip to Iceland, we therefore advise that you leave plenty of time to enjoy this fantastic capital. You might be surprised at just how much there is to see.
Below is our guide to the top things to do in Reykjavik, spread over a 4-day itinerary.
Top Things to do in Reykjavik
Day 1 in Reykjavik
1. Enjoy Reykjavik's Cosy Coffee Shops
After an early morning flight to Reykjavik, it's time to refuel in one of the city's incredibly cosy cafes. Reykjavik is bursting with these comfy spots, with each offering a place to escape the cold and enjoy a world-class cup of Joe.
Indeed, Icelandic coffee is in a league of its own. Boiled on a stove for several hours, this black coffee is dark, rich and intense – and absolutely worth trying.
As well as offering a lovely spot to relax in, the cafes in Reykjavik are the ideal place to pick up a cheap(er) meal. For example, a bowl of steaming soup and warm drink will set you back around £8.50 in Café Babalú.
2. Climb Hallgrímskirkja's Tower
Once you've sufficiently refuelled in one of Reykjavik's cosy coffee shops, it's time for an introduction to the city – from up high.
Hallgrímskirkja is a Lutheran Church and (surprisingly) is not the city's cathedral. At 74.5 meters tall, however, the church looms large over the city, with its structure designed to resemble glaciers, volcanoes and rocks.
After an early morning flight, we were thrilled to discover that you reach the top of the tower by lift (only) and so we quickly found ourselves at the top, without too much puffing and panting.
Despite the wind that tends to howl up here, the views over Reykjavik offer an unforgettable introduction to the city. Resembling a tiny lego town, set against soaring mist-shrouded mountains, a visit to Hallgrímskirkja's tower should come top (quite literally) of your list of best things to do in Reykjavik.
Note: although the Church is free to enter, a trip up the tower will cost you around £4.

3. Visit the Icelandic Phallological Museum
Having got your bearings thanks to some panoramic views, it's time to enjoy something a little different.
With an hour or so to kill before dinner, we decided to stop by Reykjavik's Phallological Museum. Touted as the only museum in the world dedicated to phallic specimens, we were  intrigued about what we would find here; buying a beer at the museum bar before we headed inside.
Over the next hour, we were introduced to fifty-six penis specimens, belonging to a range of mammals – including whales, cats, dogs and (snigger) humans. As we inspected these 'items' – each floating in formaldehyde – we were also greeted with a mind-boggling array of phallus related facts, including the mating rituals of each animal.
They are facts that'll haunt me forever.
If you're really looking to make a night of it, you can also enjoy a bite to eat in the museum's restaurant, with all of its food shaped like, you guessed it – penises.
Although perhaps not a place to visit with your mother-in-law, the Icelandic Phallological Museum was an unexpectedly hilarious place to explore. Remember to save your pennies for the souvenir shop – there are some very interesting souvenirs to pick up here.
4. Dinner at Grandi Food Hall
If you still have an appetite after exploring the Icelandic Phallological Museum, walk the ten minute journey to Reykjavik's fantastic Grandi Food Hall. Located in the old Fish Market of the city, Grandi Food Hall is now home to many delicious independent food outlets.
A place to grab local and international cuisine, dinner here is another top thing to do in Reykjavik – especially at the weekend, when the atmosphere gets a little livelier.

5. End the Day with a Northern Lights Tour
What better way to end your first day in Reykjavik than with a Northern Lights Tour.
When we arrived at Reykjavik airport, our friendly guides from Jet2 informed us that our Northern Lights Tour would be taking place that night. This was based on the weather forecast for the following few days, with that particular evening providing the best chance of seeing them.
This Northern Lights Tour in Reykjavik was included in our Jet2 City Break to Reykjavik, which not only saved us money, but made the whole experience incredibly stress free. Indeed, a bus collected us at 8.30pm from our hotel and took us to various locations outside of the city, as we chased those elusive dancing lights.
Sadly, we weren't in luck on this occasion, but having been incredibly fortunate to see them in Finnish Lapland, we weren't too disappointed.
There are plenty of Northern Light tours available in Reykjavik, or for those with a rental car, you can also arrange your own DIY tour by heading to Grótta lighthouse in Seltjarnarnes. We mention this picturesque lighthouse later in this post, but this is a remote and beautiful spot to see the Northern Lights – and just a 5 minute drive from central Reykjavik.
For those looking for a truly special experience, there are also a number of Northern Lights boat or yacht tours available from the city, including one run by the fantastic Elding.
Day Two in Reykjavik
4. Enjoy a Day Trip from Reykjavik: the Golden Circle Tour
After acclimatising yourself to life in Iceland's capital, it's time to take a day trip from Reykjavik and enjoy the delights of the Golden Circle. Indeed, although there are plenty of things to do in Reykjavik, it would be rude not to enjoy the Golden Circle – with the entire route completely achievable in just one day.
As we had a rental car, we chose to self-drive the route, in order to give us plenty of flexibility. If you don't have a rental car in Iceland, however, there are plenty of bus tours or private tours available to book.
Our Golden Circle Route from Reykjavik
1. Thingvillier National Park
The first stop on our Golden Circle route from Reykjavik was the UNESCO World Heritage, Thingvellir National Park. It's a simple 45 minute journey from the centre of the city and the park is free to visit, aside from parking costs – which were £4.00.
We only gave ourselves an hour at Thingvellir National Park, but we would advise on leaving yourself closer to two hours, in order to enjoy it to the full.
Our trail took us along the famous Almannagjá gorge, which defines the North American tectonic plate. In fact, the park is home to an entire 7km tectonic rift valley, which separates the two plates of North America and Eurasian. It's this tectonic activity that gives the park it's unique experience and ecosystem, and we found it pretty exciting to walk between the two plates.
Our 1 hour trail also took us past the original seat of Iceland's Parliament, as well as Drekkingarhylur, or the 'drowning pool'. This (seemingly) beautiful dark water pool was actually the site where 18 women, accused of crimes such as witchery or adultery, where drowned between 1618- 1749.
After taking in this sobering history, the trail then takes you up to the beautiful Öxarárfoss Waterfall. On our visit, the 13m high waterfall was in full flow, but in the depths of winter Öxarárfoss will often freeze fully (a sight I'd love to see).
2. Lunch at Laugarvatn Fontana (Geothermal Bakery)
After working up an appetite on our hike, it was time to enjoy an early lunch experience at Laugarvatn Fontana. This is a unique experience in Iceland that's ideal for those exploring the Golden Circle route.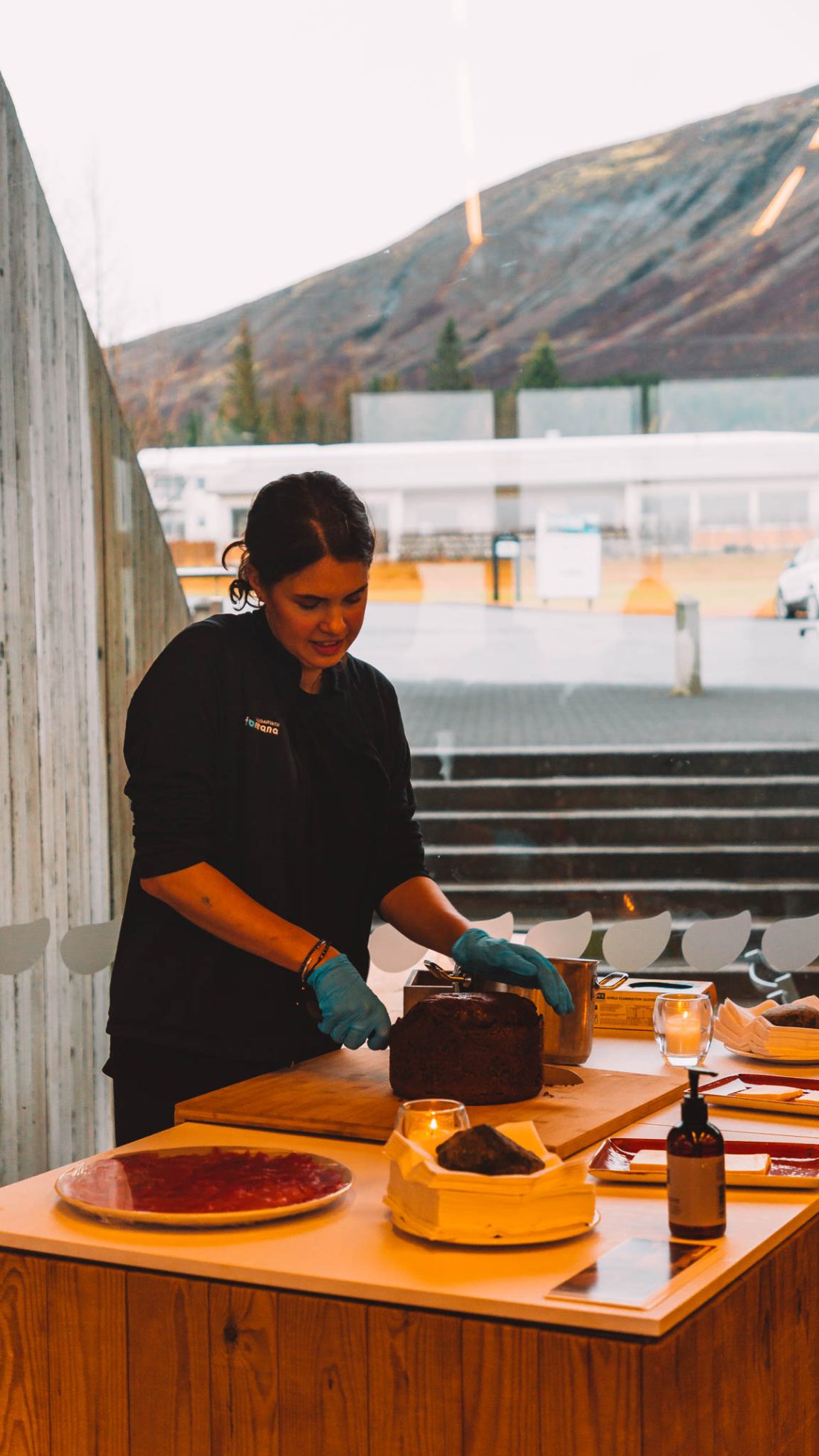 Fontana is a Geothermal Bakery, that cooks its delicious Rye bread under the soil, using the geothermal hot springs to bake it. Arriving in a hurry after our longer than planned hike, we followed our guide down to the nearby water's edge to unearth our lunch.
Amongst the strong smell of sulphur, our little rye bread – that had been cooking underground for 24 hours – was ceremoniously revealed. After being dug up from its natural oven, the bread was 'baptised' in the cold Icelandic waters (i.e. cleaned off) before being revealed to the crowd.
It was perfect.
Once inside and warmed up, we enjoyed the freshly baked rye bread with thick slabs of salted Icelandic butter and smoked trout. It was a simple, yet delicious, lunch and perfect for those on the Golden Circle route.
We also think that a visit here is one of the top things to do in Iceland.
3. Geysir Hot Springs
After filling our bellies with delicious bread and Icelandic butter, our third stop on our Golden Circle tour was to the Geysir Hot Springs. A quick 15 minute drive from Fontana, Geysir was easy to get to and offered free parking and no entrance fee.
In an extremely expensive country, we took this as a win.
Geysir Hot Springs are, as you may have guessed, located in an area of intense geothermal activity. From bubbling mud pits to exploding geysers, this is an incredibly popular spot on the Golden Circle route, but for a very good reason.
Although there are a number of geysers on the site, it's the Strokkur Geyser that draws the crowds. Spurting boiling, geothermal water and mist 100m up into the air every 6-8 minutes, Strokkur is a sight to behold. We spent 30 minutes here, shivering in between Stokkur's displays and addicted to the adrenaline rush we got every time it erupted.
Note: There is a very large restaurant and some souvenir shops on the site, but these looked extremely touristy and expensive, so we steered well clear.
4. Gulfoss Falls
After getting our fix of Geothermal Springs, it was time to get back into the car and drive the short distance to our favourite spot on the Golden Circle route: Gulfoss Falls (Golden Falls).
I must admit – by this point in the afternoon, we were getting quite tired and cold. However, I'm so pleased that we did carry on with our Golden Circle tour, as Gulfoss really is a sight to behold.
Located in the canyon of the Hvítá River, Gullfoss is a double cascade of crashing water over a 32m drop. As one of our last stops on the Golden Circle tour, we visited the Falls as the setting sun peeked out behind clouds and rain, causing the misty water to shine in rainbow colours.
It was utter magic.
Note: In terms of accessibility, the walk to Gullfoss is fairly straightforward (around a 10-15 minute walk, including steps). It should be achievable by most, but do allow plenty of time if you need to take it at a slower pace.
5. Kerid Crater
The final stop on our Golden Circle route was Kerid Crater.
Kerid Crater was formed after a volcanic explosion, around 6,000 years ago. Now filled with milky, blue-green water in a 55-meter deep lake, it's a truly beautiful sight to see. There is a special path to take you around the periphery of the crater and it can be enjoyed without any hiking or steps.
I imagine in summer, with the contrast of blue skies and green grass, Kerid Crater really comes to life. Indeed, I should note that as we were visiting in winter, we were very limited by sunlight hours. By the time we got to Kerid, it was growing dark and it was hard to truly appreciate its beauty.
If you're keen to avoid driving in the dark in Iceland, you might want to head home after Gulfoss and revisit Kerid on another day.
Day 3 in Reykjavik
1. Brunch at Grái Kötturinn
To kick off your third day in Reykjavik, it's time to enjoy a delicious brunch at one of the city's coolest cafes. Grái Kötturinn (Grey Cat), is said to be a favourite of local and international celebrity, Bjork – and we quickly realised why.
Cosying down in a corner nook, we enjoyed creamy mugs of coffee and big breakfasts of fluffy pancakes, topped with bacon and maple syrup. As parents to toddlers, allowing ourselves a leisurely Saturday morning to read our books, drink coffee and enjoy breakfast was utter heaven.
Tip: this is a very small cafe, so arrive early to avoid disappointment.
2. Shopping in Reykjavik
Flea market opening times: Saturday and Sunday, 11:00-17:00
After a long trip the day before, day three in the city was focused on exploring more of the top things to do in Reykjavik. As this was a Saturday for us, we decided to begin the day by enjoying the many independent shops that the city has to offer, including its weekly Flea Market.
The Flea Market, located down by the old harbour, makes for a brilliant place to pass an hour or two. Take time to explore many of its eclectic stalls, selling everything from childrens' toys to old coins, antique furniture to Icelandic knitwear.

3. Book a Whale Watching Tour from Reykjavik Harbour
One of the best things to do in Reykjavik is to enjoy a whale watching tour.
We were a little hesitant to initially book whale watching in Reykjavik, with the £70 -£80 cost putting us off. However, on this sunny Saturday afternoon, we decided to bite the bullet and book our whale watching tour through Elding Whale Tour.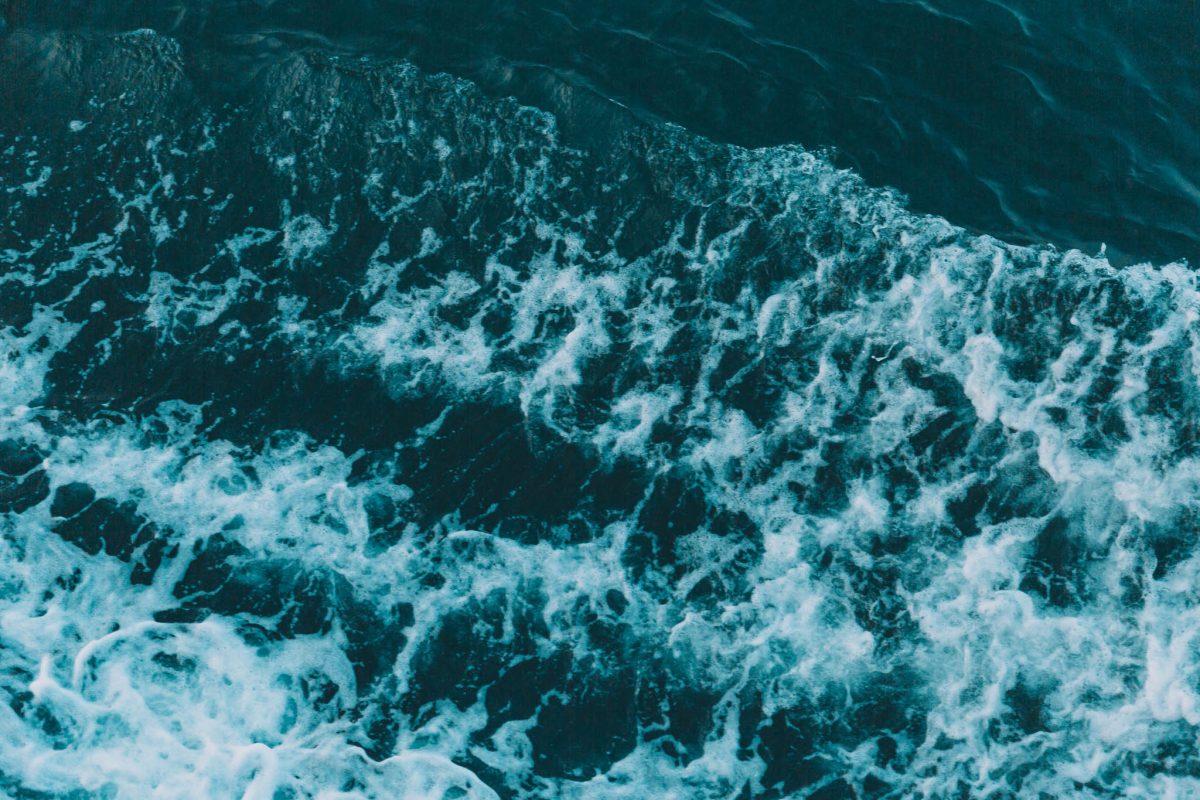 We had to be at Elding's offices (found on the old harbour) for 12.45pm – with the tour setting sail at 1pm and lasting 3 hours. I was a little concerned that the afternoon could quickly turn into a very cold and slightly boring affair (if we didn't spot anything), but the three hours truly whizzed by.
Although we didn't see any whales, the tour was one of our highlights whilst in Iceland and we did spot four pods of dolphins, as the sun set across the Atlantic Ocean. It was a truly bucket list moment and I would highly recommend this as one of the top things to do in Reykjavik.
4. Warm up with Dinner and Drinks at CooCoo's Nest
After three hours on a boat in the Atlantic Ocean, we were in desperate need of a cosy bar and restaurant. A short walk from the Old Harbour is CooCoo's Nest, which is a lovely, small bar and restaurant located close to the Grandi Food Hall.
We made the most of the bar's happy hour, drinking homemade Baileys before a delicious dinner of sourdough pizza and pasta.
Day 4 in Reykjavik
1. Enjoy the Views from Harpa: Reykjavik's Music Hall
On our final day in Iceland, we wanted to continue to tick off the best things to do in Reykjavik – with a visit to the city's gleaming music hall, Harpa.
Throughout our visit to the city, we had wondered what this gleaming building was, located next to the city's harbour. Giving Hallgrímskirkja a run for its money in terms of the most striking building in Reykjavik, this building is a glittering spectacle, especially at night.
Harpa is home to the Iceland Symphony Orchestra, Icelandic Opera and Reykjavík Big Band, which hold regular concerts throughout the year. If you're not lucky enough to get a ticket to see one of these concerts, worry not.
Harpa is open to inquisitive tourists all year round and we thoroughly enjoyed wandering around this architectural triumph. The building is also home to a lovely shop (ideal for picking up some high-end souvenirs and gifts), alongside two restaurants.

2. Visit Grotta Lighthouse
While we were in Reykjavik, we were keen to explore some of the city's quieter shoreline. Hopping in our car, we drove 5 minutes along the coast to Grotta Lighthouse, located in southwest Reykjavik – at the tip of the Seltjarnarnes Peninsula.
Home to the city's old lighthouse, which had served the city from 1897, the area is also a nature reserve and a lovely spot to come for a quiet walk, whilst taking in the magnificent views of the Atlantic.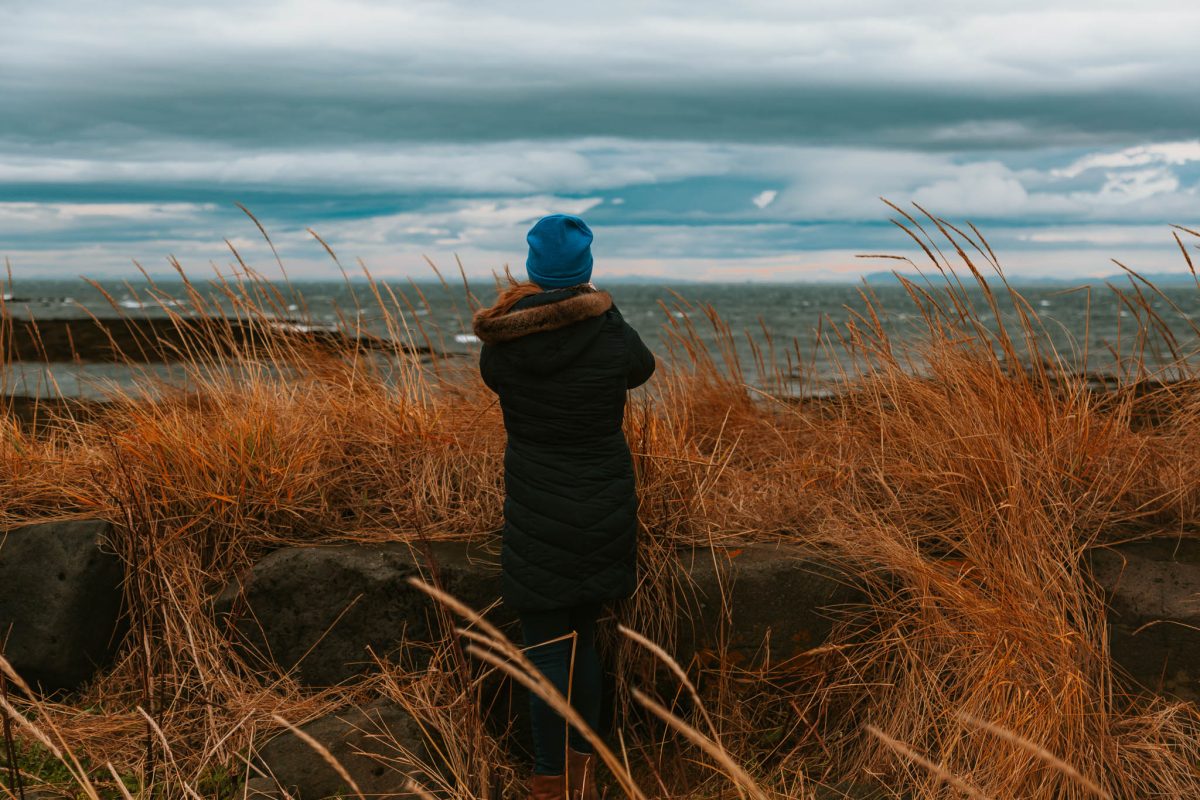 In the summer months, the nature reserve comes alive with breeding birds and seals. In winter, however, Grotta Lighthouse transforms into a popular hangout for Northern Light chasers. With little to no light pollution around it, spotting the lights is far easier in this remote spot, than it is in the city.
To add a little luxury while you wait for the Northern Lights, mother nature has even provided a naturally heated geothermal pool for you to dip your feet in – the perfect antidote to a cold winter's night.
3. Visit the Sky Lagoon
To end our city break to Reykjavik, we decided to treat ourselves to a visit to the Sky Lagoon.
Although Iceland is famous for its Blue Lagoon, the Sky Lagoon is a relatively new comer, opening in Spring 2021. What makes the Sky Lagoon ideal for those looking for things to do in Reykjavik, is the fact it's located just a 10-minute drive from the city centre.
We booked a 4.30pm slot, just as the sun was setting and the Atlantic winds were beginning to blow. As we submerged our shoulders into the geothermal pool and rounded the corner to reveal an infinity pool overlooking the Atlantic Ocean, we knew we had made the right choice by visiting.
This is another bucket list experience and definitely one of the top things to do in Reykjavik.
Flights and Holiday packages to Reykjavik
If you are looking for a city break package to Reykjavik, then we can highly recommend Jet2's City Break to Reykjavik package. This includes flights from the UK (we took Jet2 flights to Reykjavik from Birmingham Airport). 
Our trip to Reykjavik was booked as part of Jet2Holidays winter city breaks package. This package is for 4 nights minimum, and is priced from approximately £720  per person. The package includes:
Return flights from the UK
Airport transfers to and from your hotel
10kg Hand luggage
22kg Hold luggage
ATOL protection
A Northern Lights tour voucher
During our own visit, we stayed at Grand Hotel Reykjavik – a four-star hotel located on the edge of the city. This was a beautiful hotel and for the price of the package deal, impressive.
Things to do in Reykjavik: Is This City Worth Visiting?
Despite our initial worries that we might find Reykjavik a little boring (it is small, after all), we can now firmly say that a four-day city break to Reykjavik was absolutely worth it.
A city bursting with activities to suit both the adventurer and the culture lover, a trip to Reykjavik is a brilliant introduction to Iceland- and a far more vibrant experience than we were expecting.
Allowing us to explore the Golden Circle with ease, alongside spotting wild dolphins in the Atlantic Ocean, there are still plenty of outdoor activities you can experience while based in the city. Perhaps this is what we loved most about our time in Reykjavik; the fact that we could spend the day adventuring, before retreating to a cosy downtown wine bar for the evening.
Offering the best of both worlds – the wilds of Iceland's landscapes, alongside warm hospitality and culture – a city break to Reykjavik is worth every penny.