This guide for how to get from Milan to Lake Como contains affiliate links.
Stirring from my train induced sleep, I stretched and looked out the window – assessing our progress from Milan to Lake Como.
Wincing as the sunlight poured in, it took a moment for my eyes to adjust to the dazzling blue of Lake Como that lay beyond the window; pastel coloured houses falling in and out of view. Framing the scene was the gentle rise of the Italian Alps – deep green shadows against the vivid blue of the water.
I'd woken up, it seemed, in paradise.
Lake Como requires little by way of introduction, known throughout the world as Italy's crowning jewel. It's a destination upon which films, songs, and quotes are based – and a place where much of Hollywood have their second (and third) homes.
It therefore seemed a fitting place to celebrate my first wedding anniversary, a year after marrying under fresh flowers in the rolling Tuscan hills.
To help you enjoy your own slice of this Italian paradise, here's a guide on how to get from Milan to Lake Como.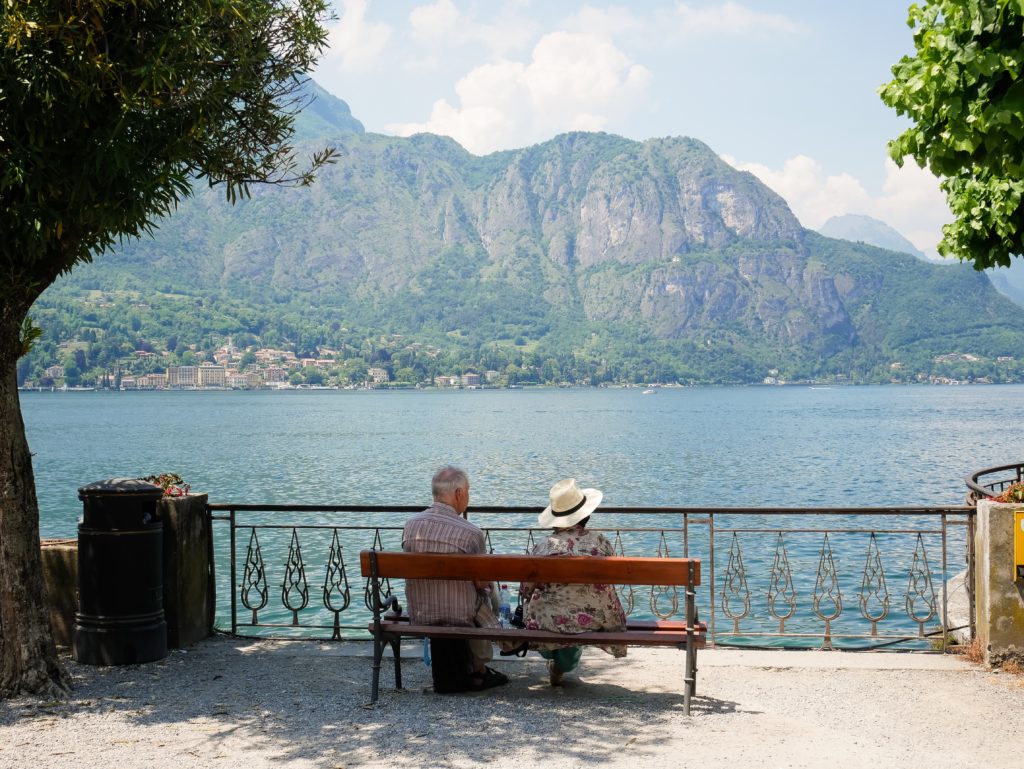 How to Get from Milan to Lake Como
Getting from Milan to Lake Como is surprisingly easy – the journey varying depending on your final destination in Lake Como. Below is a guide to how to get to Bellagio, specifically.
How to get to Bellagio from Milan
1. Train from Milan Central Railway to Varenna-Esino
The first step in getting to Bellagio from Milan is to catch the train from Milan Central Railway to Varenna-Esinio station. Lake Como is 72km from Milan and the high speed train journey takes approximately 64 minutes and costs as little as €6.80.
There are 16 trains a day between Milan and Varenna, view the full Milan to Varenna timetable here and book your tickets directly with Trenord.
2. Ferry from Varenna to Bellagio, Lake Como
Once in Varenna, it's a 10-minute, downhill walk from the train station to the port. It's an easy route – just follow the crowds. Once at the port, you can purchase your ferry tickets at the ticket office.
They advise arriving at the port 20 minutes before the ferry is due.
Please note, the ferries between Varenna and Bellagio only run twice a day. Download the Varenna to Bellagio ferry weekday timetableandVarenna to Bellagio ferry weekend timetableto make sure you plan your journey appropriately (weekday timetable).
These are also car ferries for those driving from Milan to Lake Como, or surrounding areas. The ferry from Varenna to Bellagio is just a ten minute journey and is a beautiful route – have your camera ready.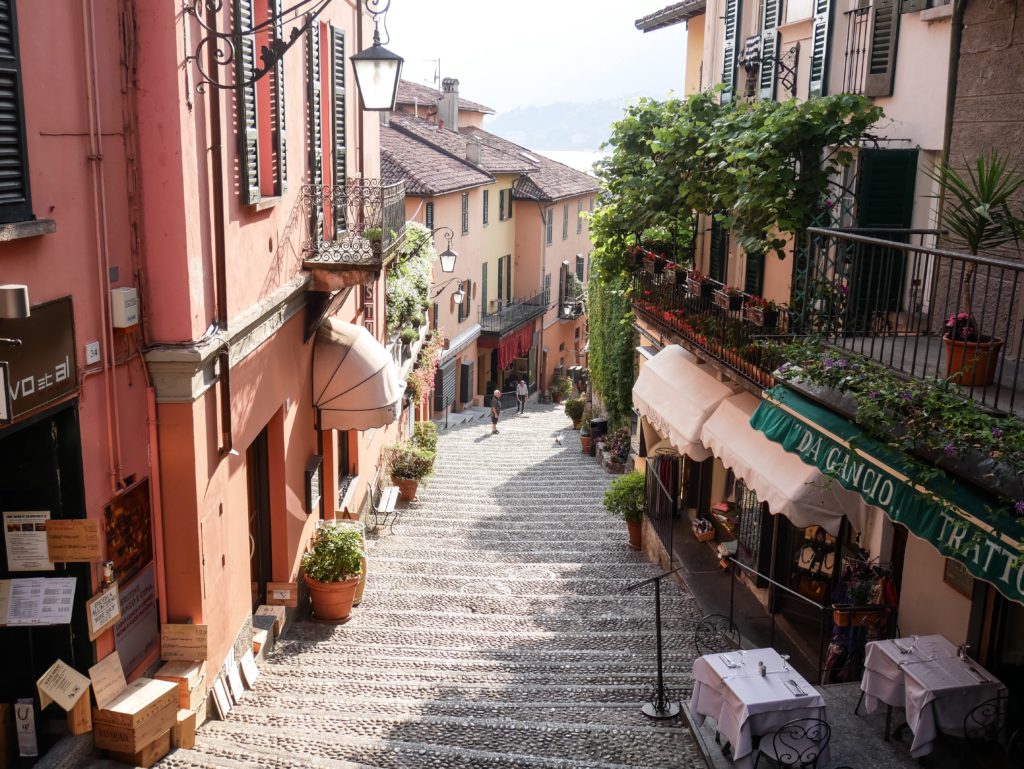 Is it Possible to do a Day Trip to Lake Como from Milan?
Absolutely.
Although I would  urge that you stay longer to enjoy Lake Como, a day trip from Milan to Lake Como is nonetheless achievable. The only thing to plan carefully is your ferry times, to ensure you're not stranded if you enjoy one or two many glasses of wine.
If you're looking for a pre-arranged day trip tour from Milan to Lake Como, we highly recommend the Milan to Lake Como and Bellagio Day Trip. Alternatively, if you'd like to squeeze even more into your day, try the Milan to Lake Como, Bellagio and Varenna day trip.
Things to do in Lake Como
1. Visit Villa Melzi
Villa Melzi is one of two villas and gardens you can visit in Bellagio.
Offering self-guided tours, the waterfront villa was built between 1808-1810, and boasts winding, hillside gardens.
It's an ideal spot for those looking to enjoy a slow afternoon. Built as a summer residence for Francesco Melzi D'Eril, the neoclassical designed villa is a vision of pearly white, bordering the famous topaz-coloured lake behind it.
Not to be missed are the Japanese gardens (purchasing exotic plants was all the rage at the time), complete with a glittering pond, water lillies and  Japanese maple and cedar trees.
2. Enjoy Local Wine and Cheese at Aperitivo Et Al Bar
Be sure to visit the excellent wine bar, Aperitivo Et Al Bar, where I consumed far too much red wine and cheese for someone attempting to be bikini ready in a few weeks' time.
If you're visiting Bellagio and looking for somewhere to sample local, or wider, Italian wines, alongside bulging platters of cheese, honey and meats, Aperitvo Et Al Bar is the place to go.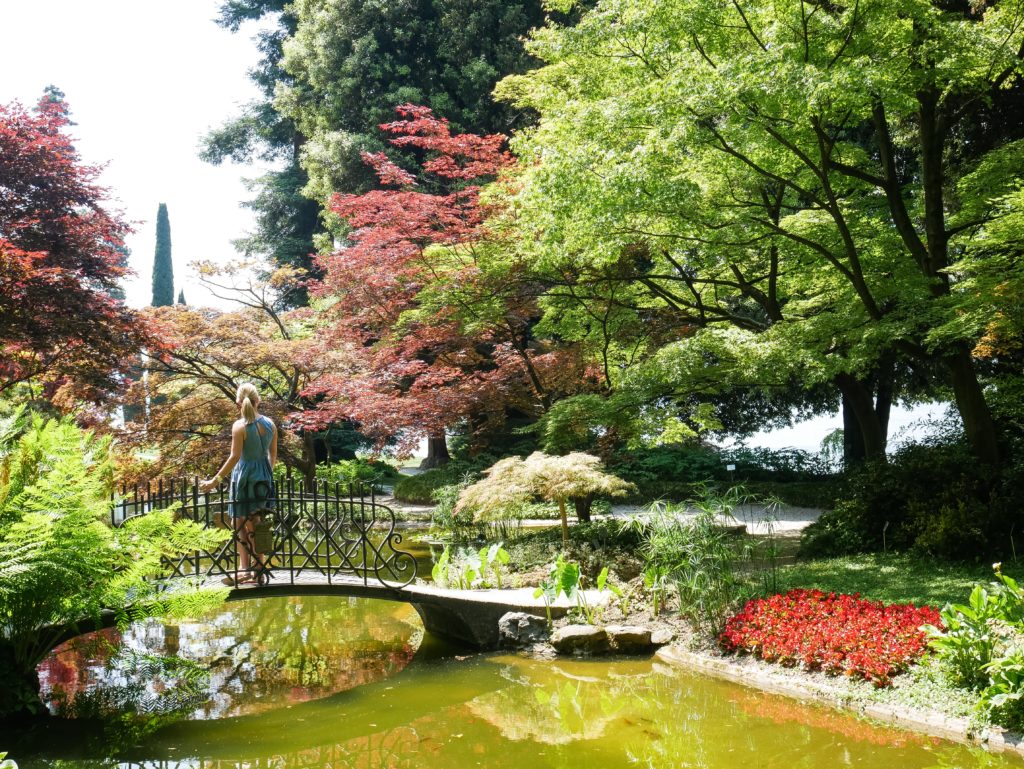 3. Lunch at Grand Hotel Tremezzo
Taking a bite of a creamy mozzarella ball, I gazed out across the lake back to Bellagio, where we had woken up that morning.
Our second day of Lake Como celebrations had propelled us across the water (the ferry is five minutes) to Tremezzo and the infamous Grand Hotel Tremezzo, for an extravagant afternoon lunch.
I'd arranged the lunch as a 'formal' celebration; a present (to myself) for having survived the first year of marriage. As I slurped on a glass of Prosecco – the lake stretching out ahead of me – I felt wildly smug at my decision.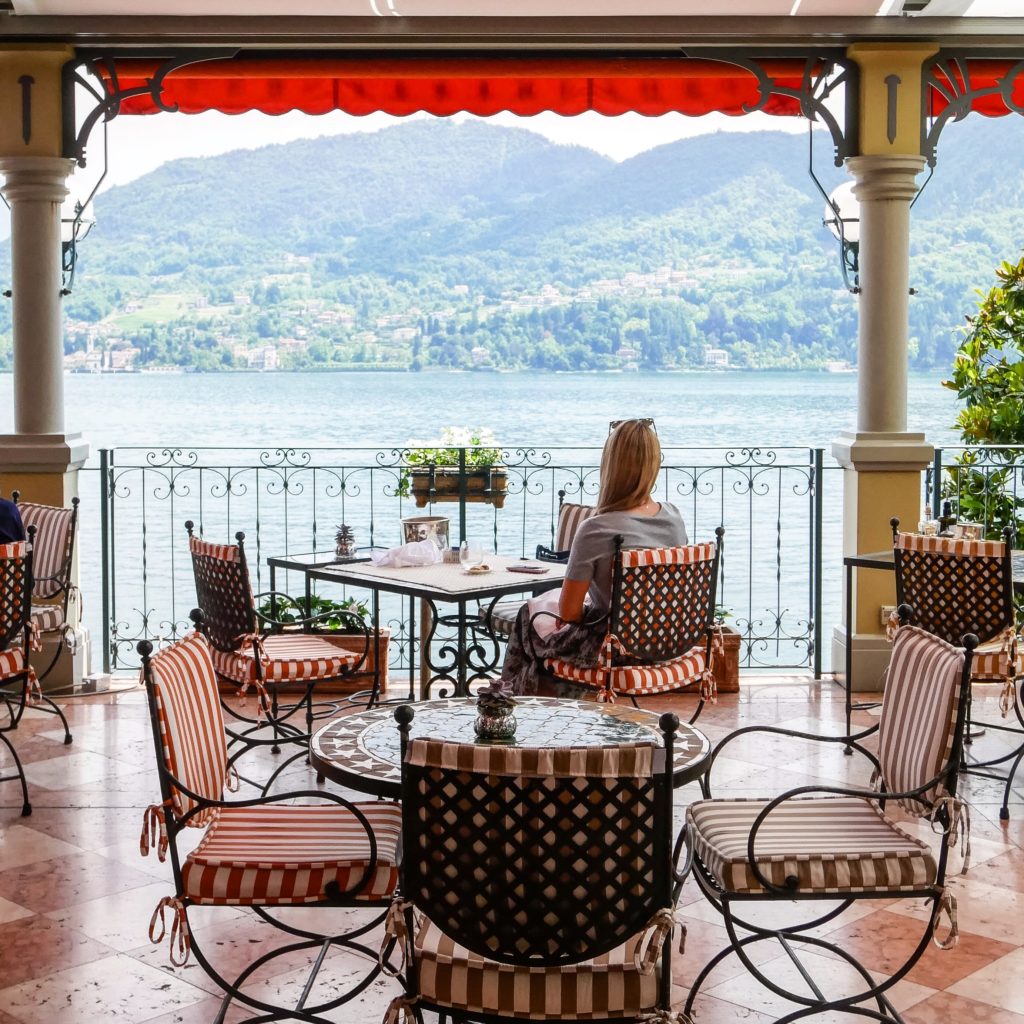 The romantic T Bar, where we had lunch, offered postcard worthy views over the Lake; the hotel's floating swimming pool below us. Over several hours, the light on the lake continuing to change, we made our way through bruschetta; fresh sea bass; locally sourced vegetables; strawberries and cream; and – of course –  an espresso to finish.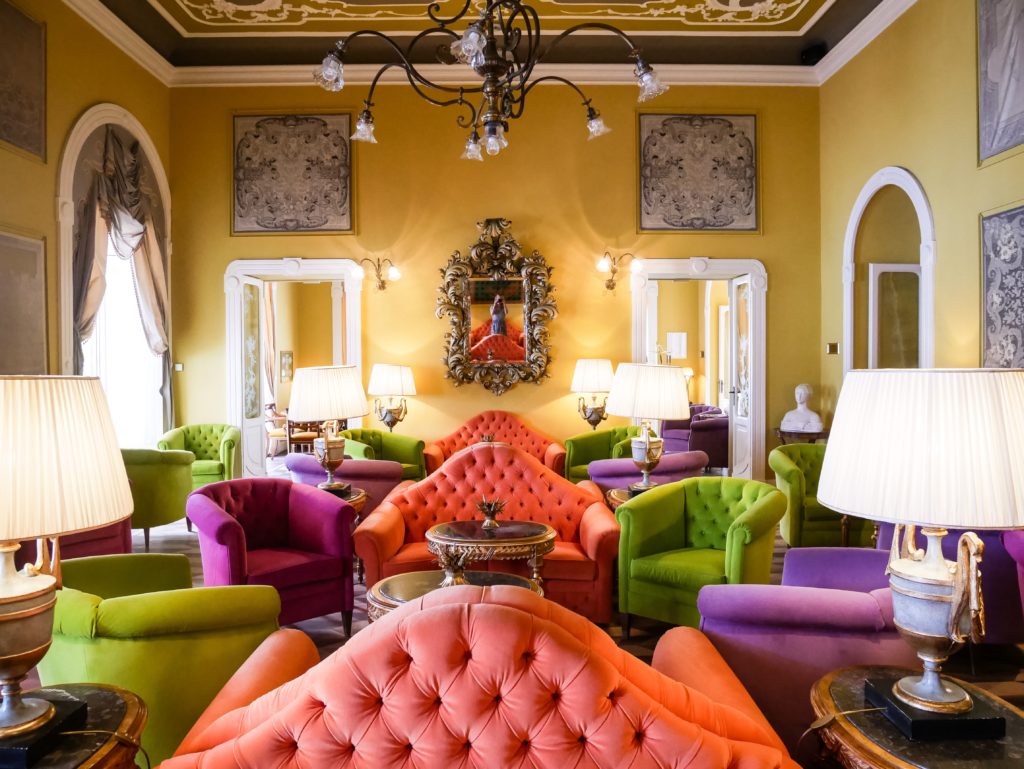 We left Hotel Tremezzo a little reluctantly (squeezing in a sneaky look at the lavish interior before we left), vowing one day to return when we were rich and famous.
For those in search of true luxury when visiting Lake Como, this is the hotel for you. Alternatively, it's the perfect spot to treat yourself to an indulgent lunch or dinner. For us, this was the perfect way to celebrate our first wedding anniversary.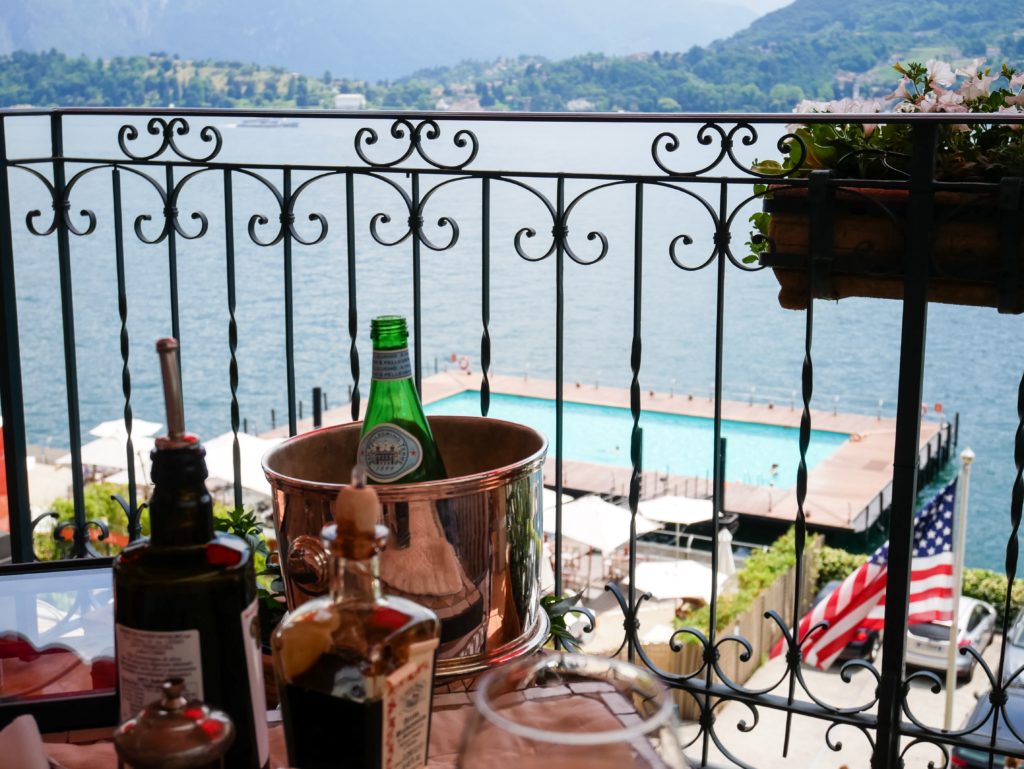 4. Visit Villa Carlotta
As had become somewhat of a tradition after our large, Italian-fuelled meals, the afternoon was spent exploring another heart-achingly beautiful Villa in Tremezzo: Villa Carlotta.
Villa Carlotta's botanic gardens form a labyrinth of miniature worlds and include a ferns valley, the rock garden and succulent plants, the bamboo garden and the old garden (to name but a few).
Villa Carlotta also hosts music concerts during the Lake Como Festival (April through to September); something I've added to my bucket list. I was told about the festival in the ticket queue by a fellow Brit – Peter aged 83 – who had arrived to buy tickets for the evening concert for both him and his wife.
I hope we'll be doing just the same one day.
5. Sunset Gelato on Bellagio's Waterfront
Our second evening in Bellagio was my favourite.
Grabbing some bread, cheese and yet more wine after returning from Tremezzo, we treated ourselves to a DIY dinner on our balcony and a few rounds of cards, before heading down to the waterfront for a sunset gelato.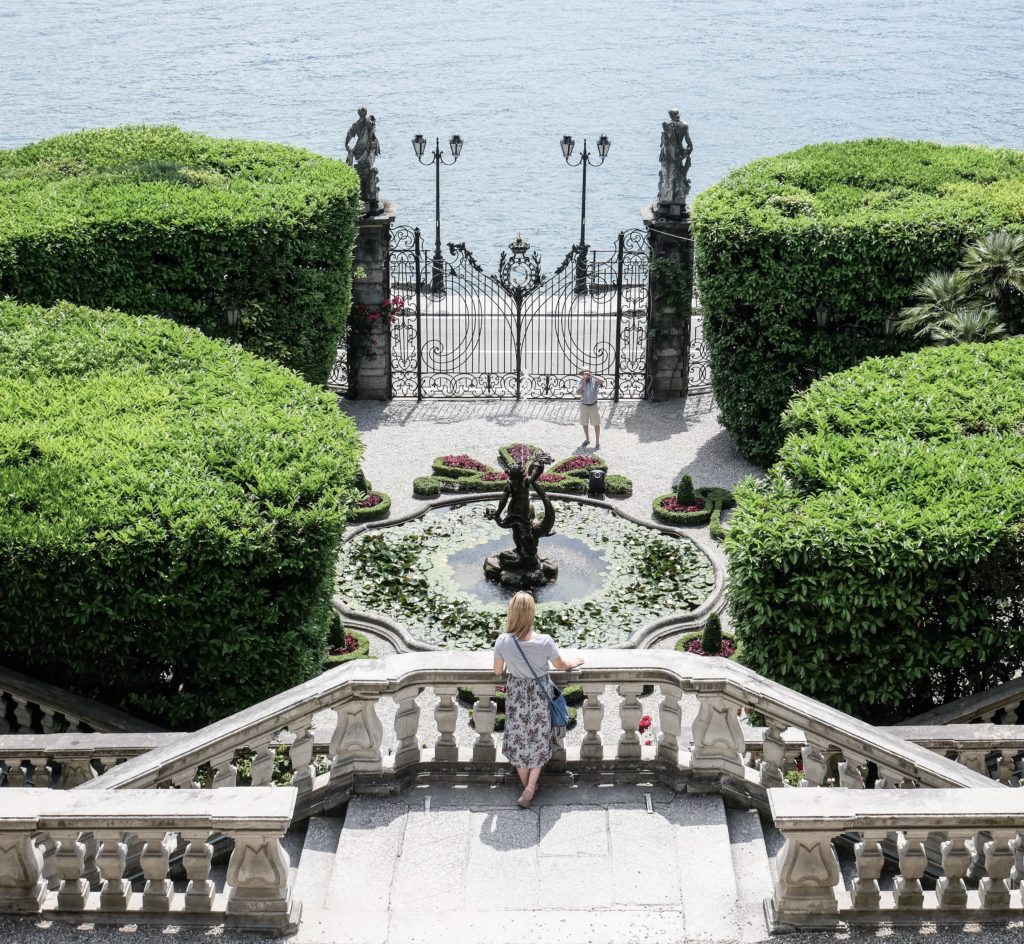 6. Visit Pescallo
As I dangled my legs over the jetty, listening to the whistle of a local as he cleaned his boat, my mind wandered to how wonderful life might be living in this little hamlet.
We had just walked the short ten minutes from Bellagio to Pescallo, a sleepy fishing village that felt a world away from tourist bustling Bellagio.
We were looking for a quiet spot to enjoy our morning pastries and had been told of Pescallo by a local the night before. It was an idyllic spot and a perfect place to base yourself if you're looking for somewhere a little more peaceful.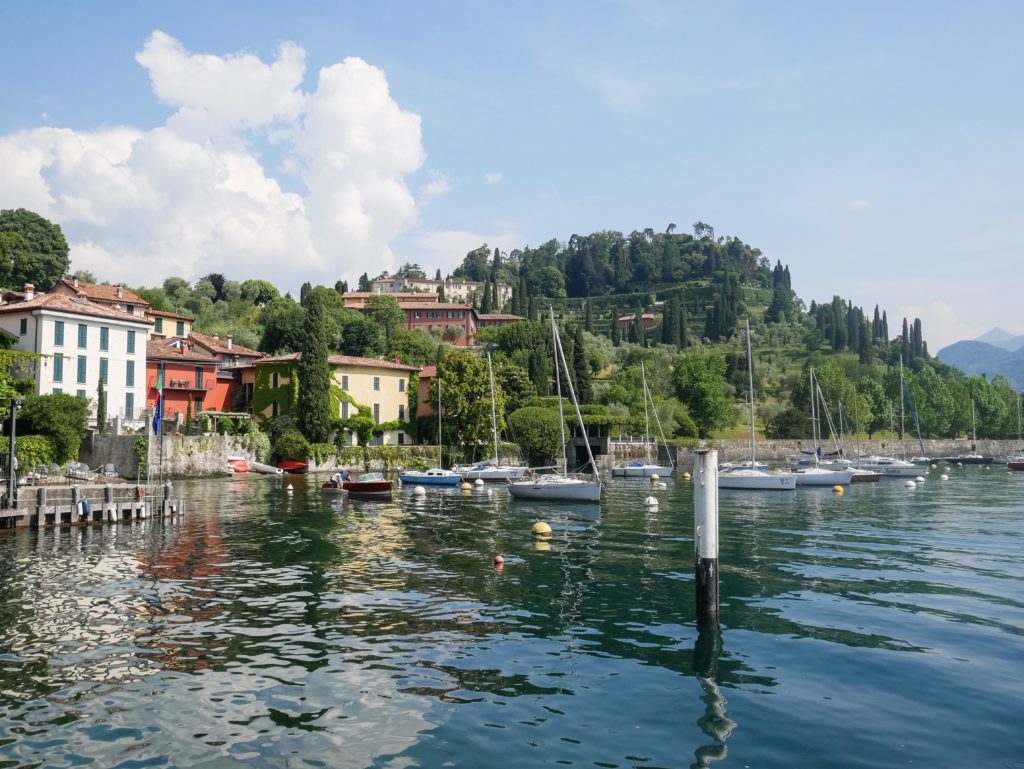 7. Day trip to Como from Bellagio
How to Get from Bellagio to Como – Slow Ferry
Our penultimate day on Lake Como was spent aboard a two-hour slow ferry heading to Como, proper.
We had been recommended the ferry trip by our Airbnb owners as a cheap, but ideal, way to see the majority of the lake. A bit like the slow train home, the ferry pulled into most of the towns and villages en route to Como.
What really caught my attention, however, was the promise of passing the house of one particularly famous Como resident: George Clooney. Armed with my binoculars, I was ready for some celebrity house spotting.
Grabbing two seats on the top deck, our two hour journey began. Chugging along the lake, the sun beating down, it was hard to imagine a better way to spend a Friday morning. The climax came as we passed George's house, sitting boldly on the waterfront, but sadly, it showed little sign of the owner.
Ferry timetable Bellagio to Como (the route is Como to Colico, with a stop at Bellagio).
I'd highly recommend this trip – unless of course you can afford your own private boat hire – as a cost effective way to explore the lake. There is also a 'hop on, hop off' version of the ticket, if you'd appreciate more flexibility.
Fast Ferry Como to Bellagio
For ease, we took the fast ferry (hydrofoil) home, which around 45 minutes and cost €8. This mode of transport was far less romantic, but delivered us home in time for a final dinner.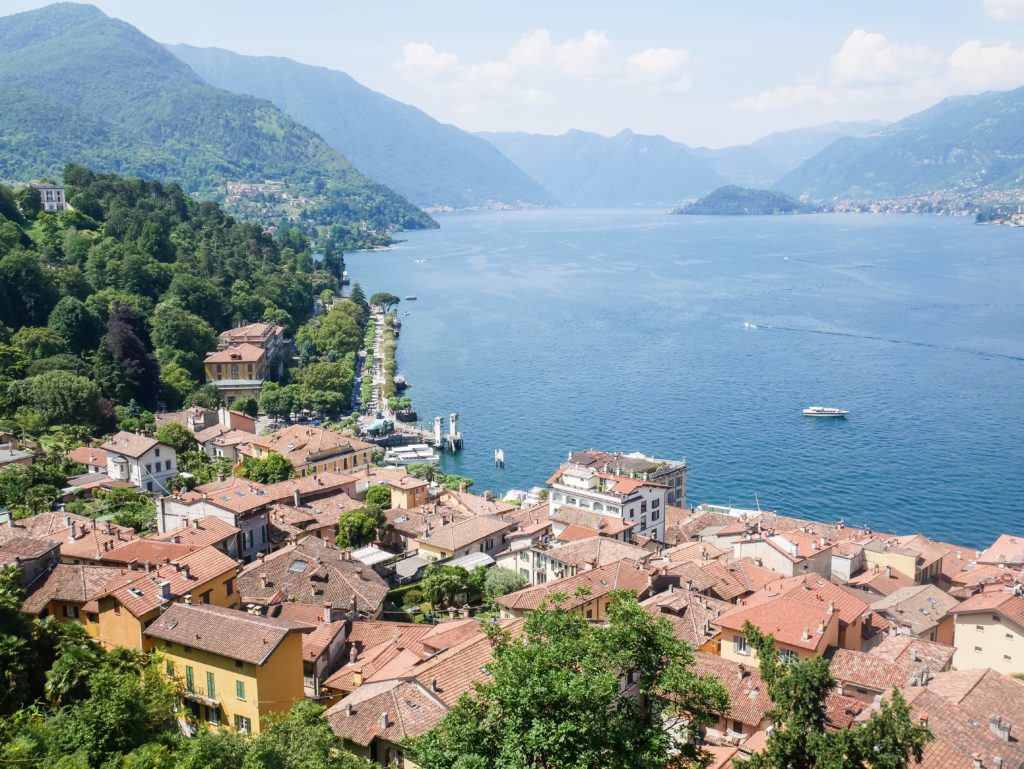 Como itself was a little overwhelming after a couple of days spent in sleepy Bellagio (not helped by a national holiday). Half of Milan, it seemed, had also opted for a lazy day in Como, and the town was heaving with holiday makers slurping freshly made gelato.
Como's Duomo
Braving the heat, we made our way to Como's famous Duomo, built between the 14th and 18th centuries, for our usual gawping session. I'll never tire of Italian Cathedrals –  each as breathtaking as the next.
Via Vitani
Guided by our Lonely Planet, we also nipped through the winding alleyways to Via Vitani, one of the prettiest streets found within the old city walls of Como. Here we treated ourselves to a few silk gifts, thanks to Como being of the world's most important producers of silk products.
Indeed, Como was built on the riches of the silk trade and you can still pick up a tie, or scarf, for a snip of the usual price.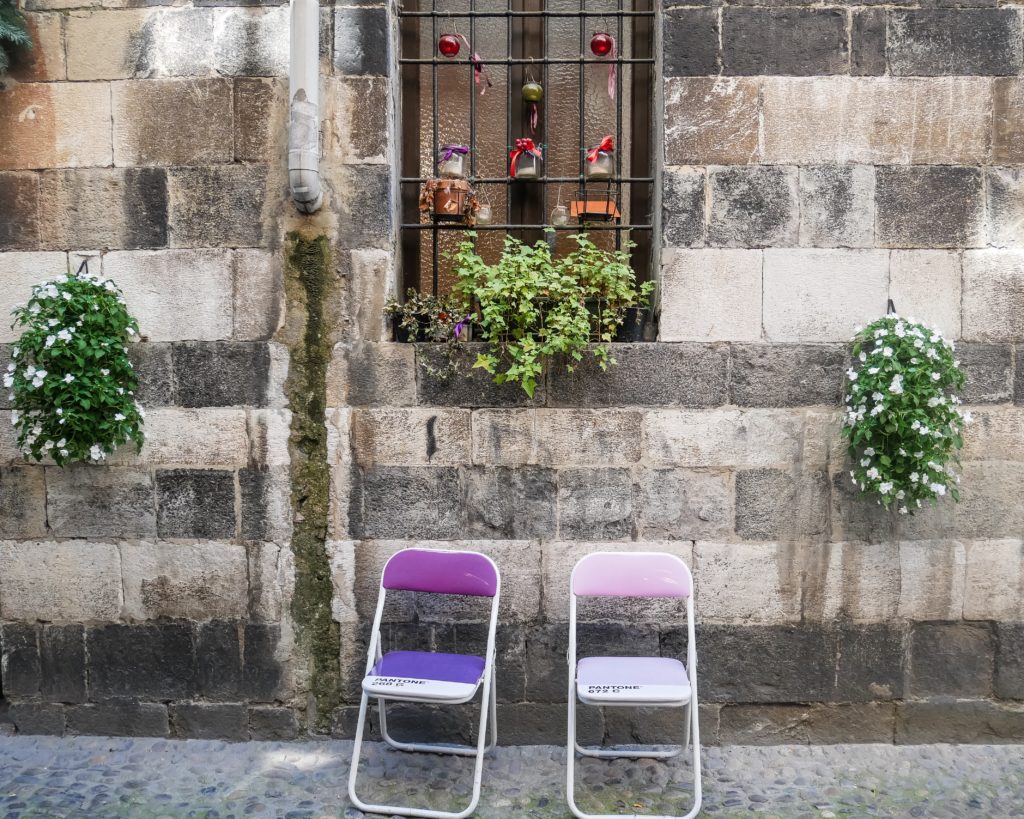 8. Visit Villa Serbelloni
"Some say that snow used to fall on Lake Como for two months of every winter, but I've never seen snow here", our guide told us, as we wound our way up the steep path that led to Bellagio's crowning jewel: Villa Serbelloni.
As the sun glistened on the lake, and I sheltered from the heat under an olive tree, it was hard to imagine this sunny sanctuary covered in snow.
Our final morning in Bellagio was spent on a guided tour of this famous Villa, which was built in 1566 and sits high above sleepy Bellagio. The only way to explore Villa Serbelloni is via a guided tour (once a day during the week and twice a day at weekends), and I was grateful for our guide as the history surrounding the villa is fascinating.
Now owned by the Rockefeller Foundation, the villa is exclusively used by visiting academics in the arts and sciences, who are given their own room in which to work. Although it's not possible to tour the inside of the villa itself, the grounds themselves are worth the climb.
The tour ends at the highest vantage point of the gardens, where it's possible to see where the lake splits into its two strands: Como and Lecco.