Love it or loathe it, the mobile phone is now a necessary part of our travels. Using it to document our adventures, phone home and – most importantly – post those obligatory beach snaps, these small accessories are as essential to our adventures as maps or passports. However, as these phones get increasingly more sophisticated, they perhaps don't meet the demands of travel. With the need for security, durability and reliable battery life, some of today's pricier models aren't exactly the ideal travel companion. So, what is the best budget phone for travelling? One that can provide a long lasting battery, premium camera experience and excellent security? Look no further than the Motorola One.
One of my very first phones was a Motorola. Sleek, thin and sophisticated, the Motorola RAZR was everything that I was not. Aged fourteen, I remember flipping open its silver screen to take a call, feeling like Jennifer Lopez in the 'Love Don't Cost a Thing' video. My Mum had wanted to know what I wanted for dinner. In a sea of Nokia 3210s, my Motorola RAZR made me stand out: all my friends wanted a try at slamming the phone shut after a pretend row with their boyfriend.
Yet, since those early days, my own journey with mobile phones has – like many – gone from one that involved a wide range of models, to one dominated by one lone brand. Somewhere along the line, I've happily slept-walked into paying nearing £1,000 for a mobile phone, without even questioning whether it suited my lifestyle and all that came with it: long haul flights, long days without access to a charger, unsecured networks and sand-filled backpacks.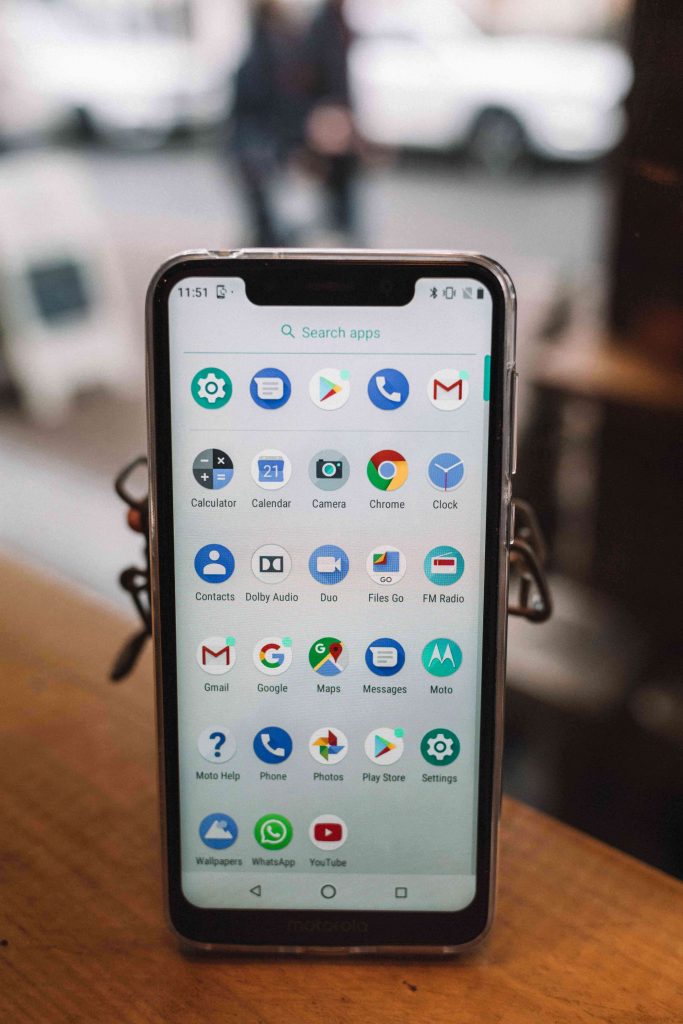 The truth is, of course, my former phones have not made for the best travel companions. With their batteries dying after just a few hours, glitchy software and a price tag that has meant I've taken to carrying my phone in my bra, it was time to find a new phone to travel with.
Enter the Motorola One.
Below is my review of what I believe is the best budget phone for travelling. Having used the Motorola One over the last two months, I've become increasingly attached to this phone and its surprisingly premium feel and features (despite its £199 price tag). With a battery life that's often lasted two days, some beautiful photography features and an operating system that is fast, uncomplicated and secure, travelling with this phone has been stress-free and, in all honesty, a total joy.
The Best Budget Phone for Travelling: The Motorola One
Context
Having spent the last ten years in something of a mobile phone coma, I'll admit that I'd lost touch with Motorola and their own advancements. However, after a little bit of research, I learned that whilst the rest of the world have been busy re-mortgaging their homes to buy the latest smartphone, Motorola have been quietly focusing on providing premium, mid-range Android phones. The sort of phone you won't spend the next five years trying to pay off, or need to pawn your worldly possessions for. Motorola, it seems, have become the people's champion – the mobile phone version of Martin Lewis.
Whilst a cheaper model that is robust, durable and reliable definitely has its advantages, when it comes to travel, most still require a phone with a reasonably good camera. This is where Motorola's own Moto G Series really came into its own, with the majority of its models (and brilliant cameras) coming in under £300.
However, there is now a new kid on the block; one that has joined the ranks of the much-praised G Series.
Dubbed 'The Motorola One' and beginning at £199.95 (an incredible price for the amount of phone you get), the Motorola One shares many of the G Series' features: a good camera, turbo charging and quirky 'Moto Actions'. Yet amongst all this, it has one standout feature: it is an Android One phone.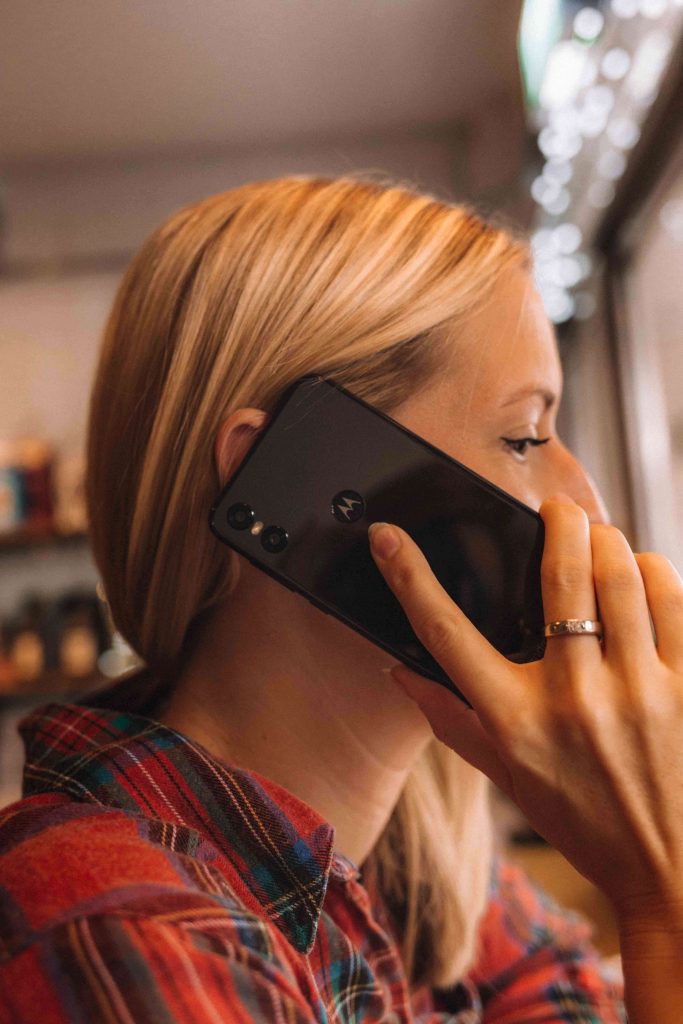 I'll admit, initially I didn't quite understand what this meant (find a fuller explanation below). However, after swatting up, I discovered that it simply meant that the phone's Google designed operating system comes entirely stripped back – as the Google God intended.
This means that there have been few additions from Motorola – no padding or accessories that might slow down the system. Instead, it is an Android purists dream: uncomplicated, simple and primed to receive the latest updates directly from Google. Perhaps in one sense, an Android One phone is a bit like a newborn baby: fresh, untouched and pristine.
The result is a highly secure, reliable and fast mobile phone.
What I Loved About the Motorola One
The Battery Life
Specs:
Battery Size: 3,00mAH
TurboPower Charging: providing 6 hours of charge in just 20 minutes
Potentially not the most glamorous of features, however, the Motorola One's battery life was easily one of its best attributes.
For the last two years, I've had a phone with a battery that has been reducing almost daily. At best, I was getting to 3pm before it died a sudden and frustrating death. As travel bloggers – with 'very serious' commitments when it comes to social media – I use my phone quite a bit, which only worsened the situation. The battery simply wasn't up to the job, and with each update or month that passed, it felt like my phone was clinging to life.
As a result, I had to either carry around a portable charging pack with me (and that was dependent on the fact that I actually remembered to charge the charger pack), or simply hope that I would be home by 3pm each day to charge the phone. Of course, when travelling, this was impossible – and normally resulted in having a dead phone for much of the day.
The battery in the Motorola One, however, has been a game changer. Although running a slick and fast enterprise, because the operating system has been stripped back and the resolution (whilst good) is not overly draining, the Motorola One's battery offers superb longevity.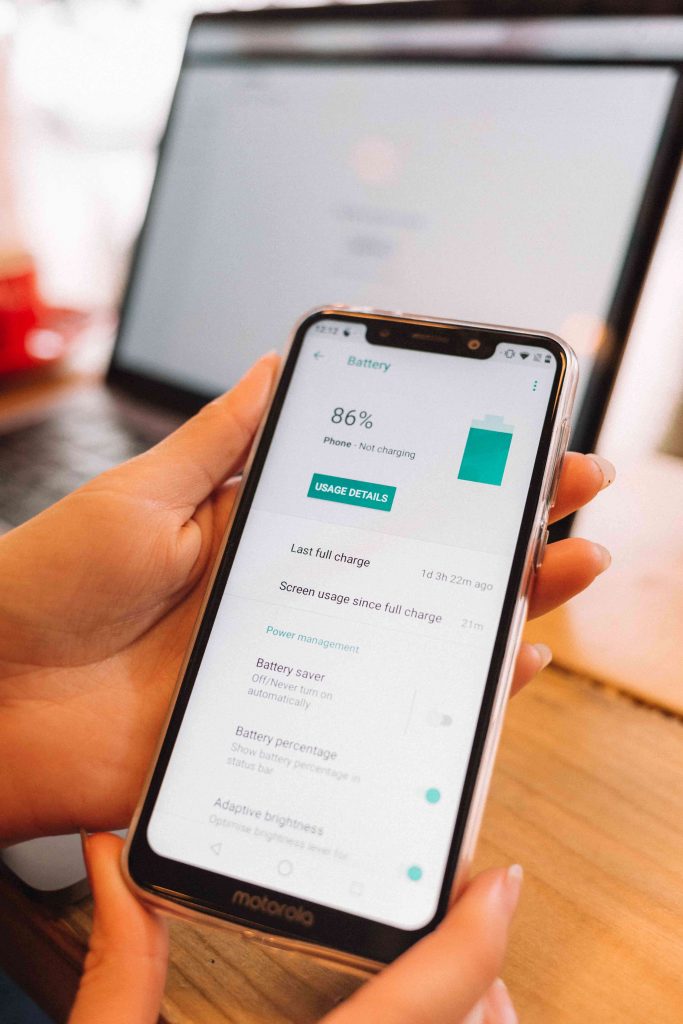 On those days that the phone received only 'light use' (e.g. checking apps, emails and messages perhaps once an hour), the phone still had 65% battery when I went to bed. It then powered through the next day, requiring charging around 7pm. The result was nearly 48 hours of phone life.
On those days when I did use the phone regularly (posting Instagram stories, browsing Instagram, 'tweeting', using Facebook, replying to emails, making calls, checking the news and regularly chatting on Whatsapp), the phone still lasted all day – with 15% battery when I went to bed.
Compared to my previous phone, this is nothing short of a modern-day miracle. It also lends itself to the argument that the Motorola One is one of the best budget phones for travelling, offering a phone that'll easily last the duration of those long-haul flights.
TurboPower Charging
When travelling, you become adept at seizing any opportunity to charge your phone: whilst in a café (when you spot a sneaky power point), at an airport, or via your laptop. This is often a painful experience; involving watching your battery increase 1% by 1% as the minutes tick by. Indeed, memories of sweating in an airport in Jamaica, hunched over a small power outlet next to the luggage carousel, still haunt me.
Yet, for all those time-poor, charging-point deprived travellers out there, the Motorola One is here to save the day, thanks to its TurboPower charging capabilities.
Not just a phrase that I quickly made up, the Motorola One's TurboPower charging ensures that your phone will be able to store six hours of battery life, after just twenty minutes of charging. This is an outstanding feature and just another reason why I believe that the Motorola One is the best budget phone for travelling.
 The Motorola One's Camera
Specs:
13MP and 2MP Dual Camera on the back
8 MP 'Selfie Camera' at the front
Portrait Mode, complete with 'Bokeh' effect
With a price tag of just £199, you might be forgiven for thinking that you'll have to rely upon your digital camera when it comes to the Motorola One. Admittedly, when I first saw the phone's price tag, I assumed the very same.
Yet, the joy of the Motorola One is discovering that despite its cost, it still has many of the premium features of other phones, such as those found in the Moto Z range. This includes the quality of its camera.
Now admittedly, in the Motorola One you won't discover a camera that is of the same quality as a £1,000 premium phone. However, what you will find is a camera that is clear, easy to use and packed with fun and creative features. A camera that far usurps its £199 price tag.
On the back of the phone you'll discover the now coveted 'dual camera' that is present on most flagship models. The top camera offers a respectable 13MP, whilst the bottom camera (2MP) is largely there to offer 'depth' (or what might be known as aperture), allowing users to get that coveted 'portrait' (or 'bokeh') effect.
The result of this partnership are truly beautiful images, with the 'blurred' background causing the subject to 'pop'. However, even without portrait mode, the camera still performs brilliantly – particularly in natural light. Whilst I did notice that in low-light or indoors some 'noise' began to appear, this is perhaps to be expected and is a problem that can plague even mid-range digital cameras.
However, for those travellers simply documenting their travels throughout the day and on the go, the Motorola One's camera is more than up to the job, with the 'selfie' camera offering a flattering alternative.
Other clever little innovations include the 'Spot Colour' feature, which allows you to choose just one colour to retain (for example, the 'red 'of a mug), whilst the rest of the image is de-saturated. The 'Google Lens' feature is also available, enabling users to scan barcodes, identify media and objects, and copy text. This is an especially useful tool for travellers or indeed travel bloggers, who are collecting and storing information on the go.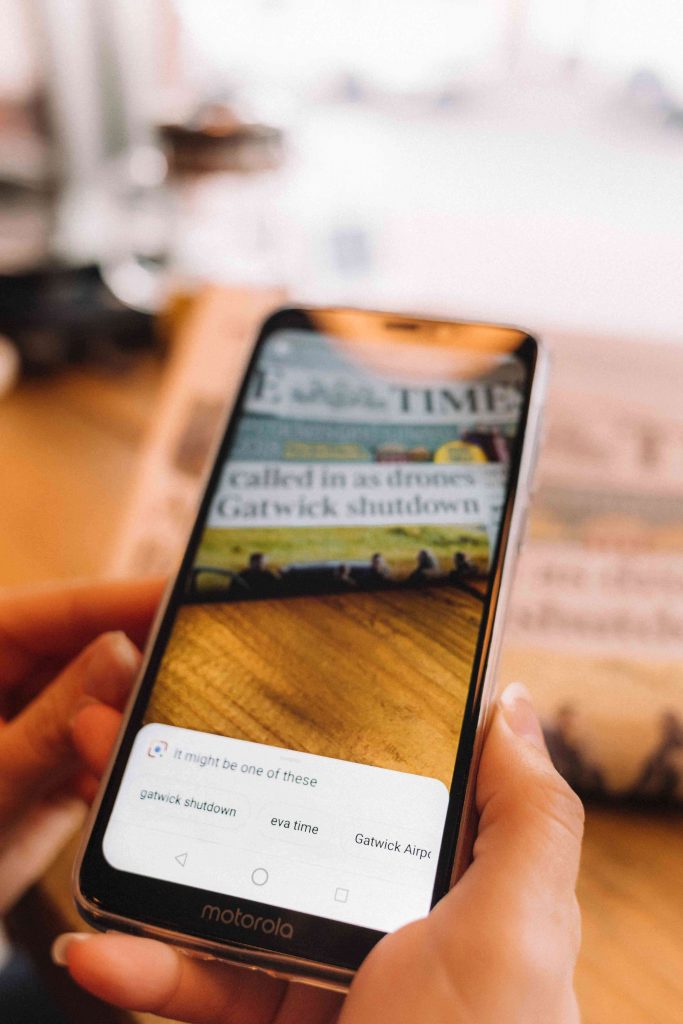 Lastly, the Motorola One boasts a 4k video mode – something I hadn't expected from a mid-range phone. Again, for those travelling or documenting their travels for vlogs or Instagram stories, the Motorola One offers a safe pair of hands.
The Look and Feel of the Motorola One
Specs:
Width: 7.97mm (lightweight and thin)
Weight: 162g
Front glass and superior quality plastic body
'iPhone' typical edge-to-edge display, with 5.9 inch screen.
When I first 'unboxed' the Motorola One, I initially thought it was an iPhone. In fact, after leaving it on my desk, I picked it up absent-mindedly and took it out with me, thinking it was my regular phone.
Clever Motorola – very clever.
Whilst Motorola are known for their diverse and distinctly 'Moto' designs (the Motorola RAZR, for example), the Motorola One adopts the same design as many of the leading premium phones. Whilst some Android and Motorola purists might baulk at this decision, it will inevitably prove to be the smart and popular move.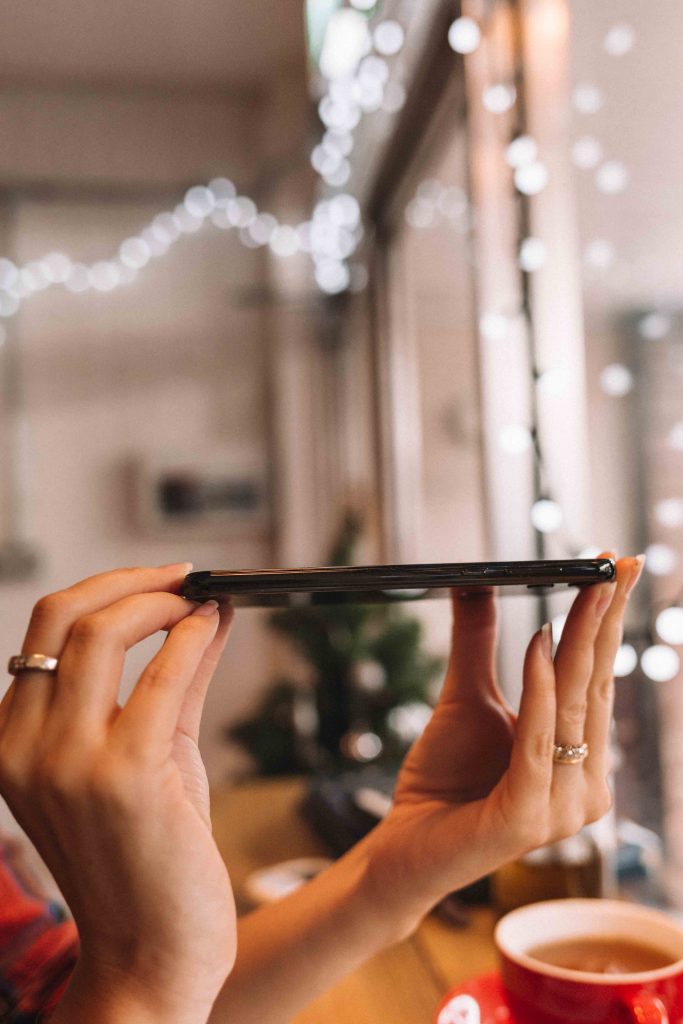 Featuring edge-to-edge display, the now coveted 'notch' (the top section found on the front of your phone), an encased superior quality plastic body, glass screen and black colour, the Motorola One would easily pass undetected in any iPhone lineup.
I think this is particularly important when it comes to mid-range mobile phones. In a world filled with expensive and slickly designed phones, most would not want their decision to pay less to result in a clunky, unfashionable or dated design. By blending in with the crowd, Motorola allows its users to feel that they too possess a premium-feel model, albeit without the inflated price tag.
Another plus was the weight of the phone. Incredibly light (just 162g) and thin, it slipped easily into my rucksack pocket or coat, without any excess baulk or awkward design features.
Again, this small feature lends itself well to the argument that the Motorola One is the best budget phone for travelling.
The Android One Operating System
Having spent the last decade under the spell of iOS, I was hesitant about moving to Android (Google created) software. Would I be able to use the phone? Get the hang of it? Would it be intuitive or frustrating? Would I be able to communicate with the Motorola One?
As mentioned above, the Motorola One is an Android One phone – simply meaning that its operating system has remained largely untouched since departing Google HQ (traditionally, many companies would add their own features and apps to the system). As such, it is clean, unfussy and fast to use; unhindered by additional quirks or updates (a bit like a bare face of makeup, before you start trying to get fancy with some eyeliner or contouring).
Opening the phone for the first time, I was impressed by just how clear, direct and stylish the operating system was. Apps loaded with little lag and the system felt intuitive to use: requiring very little double tapping or navigation. Despite my concerns, within two hours or so, I was confidently navigating the phone and thoroughly appreciating all the Google-related apps.
One thing I'd also failed to appreciate was what an Android One phone offers in terms of security. Coming directly from the mouth of Google – without third party adjustments – the Motorola One is primed to receive immediate and fast updates (including security related updates); often faster than other Android phones. Not only does this mean you can rest assured that your phone is consistently up-to-date when travelling (without having to undergo the lengthy update mission), but that your mobile will receive Google's latest operating system.
Indeed, rumour has it that the Motorola One will be one of the first phones to receive Android 9.0 Pie.
Secure, simple and smart to use, such software is ideal for busy travellers who simply don't have the time to regularly download large updates, or worry that their phones are unsecured and vulnerable to hacking. The Motorola One has this covered, offering timely security updates and adjustments.
Moto Quirks
 Motorola is known for small quirks that have made its phones so distinctively 'Moto'. The 'Moto Actions' collection is just one of these traits.
Designed to offer intuitive and quick access to some of the Motorola One's regularly used features, users are able to access the camera with a simple 'double twist' gesture of the hand, and turn on its torch via a vaguely exciting 'double karate chop' move.
When travelling, being able to quickly access these features (particularly the camera) before a moment has passed, is invaluable (and, I'll admit, quite fun to use).
The Best Budget Phone for Travelling: Possible Areas for Improvement
Given that the Motorola One costs just £199 and yet still boasts a number of premium features, critiquing it seems a little unfair. Indeed, had the phone cost £500, perhaps any rigorous criticism would be just. Yet, for a phone that gives such a lot, for so little, any negative feedback seems unnecessary.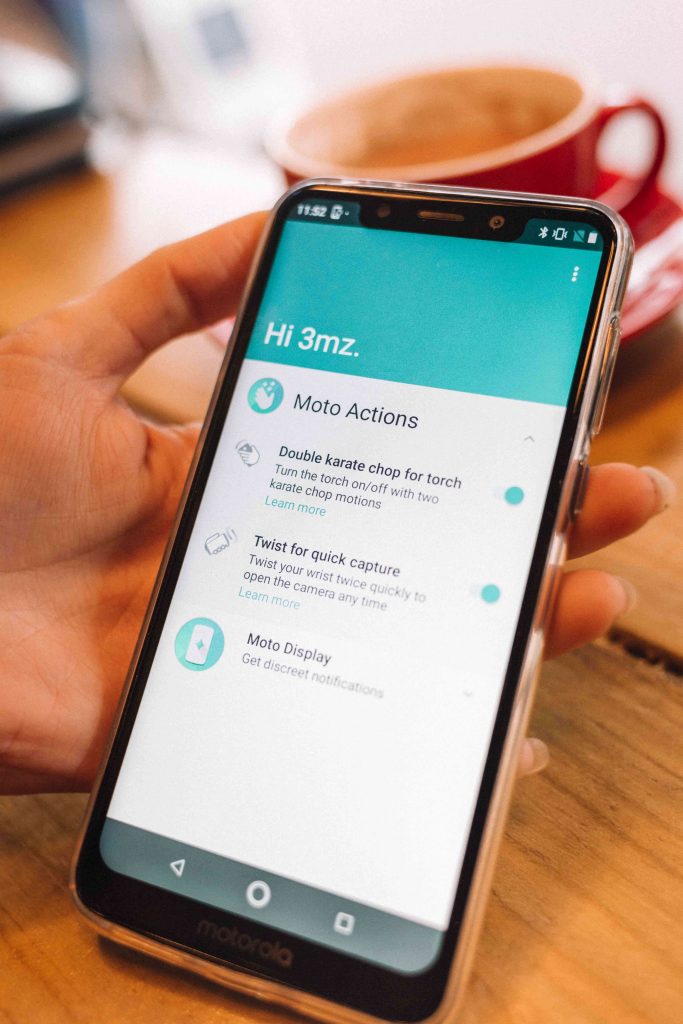 However, there is perhaps one area where the Motorola One has (understandably) compromised on quality, thus ensuring that it can still deliver an excellent price tag.
The Motorola One Display
When using the phone, I was incredibly impressed by the Motorola One's resolution. Offering a 5.9-inch display, with 720p (or 285p per inch), the colours on the screen were vibrant, effective and incredibly clear, albeit not full HD. As such, for every day use, the Motorola One's display is perfectly fine – and I had no problems with it.
However, for those that do use their mobile phones for watching movies or shows, or perhaps editing photographs, you may notice a reduction in quality compared to those phones that offer 1080p HD. The image may feel 'flatter' and lack clarity in certain areas.
Yet, this is hardly a dead-and-buried point, and given that I rarely watch shows on my phone or edit photographs, this reduction in quality had no effect on my user experience. As such, this element of the Motorola One does little to weaken the argument that the phone is (currently) the best budget phone for travelling.
The Best Budget Phone for Travelling: Final Thoughts
For too long, I've travelled with a hugely expensive phone that has offered little more than a poor battery life, large and troublesome updates, glitchy software, and an intense paranoia that it'll be lost or stolen. Indeed, these premium phones have proven to be incredibly tricky travel companions.
The Motorola One, however, has been the dream date. Boasting an incredible price tag, an almost supernatural battery life, innovative camera effects, a secure and safe operating system, and a design that most would mistake for a flagship model, the Motorola One is surely the best budget phone on the market today.
Pin it: