When planning our trip to Los Angeles with Air New Zealand, there was one location that we were particularly keen to visit. Having grown up intoxicated by all things Americana – watching  TV shows and films located on the sandy shores of Malibu – we were excited to experience this effortlessly cool, star-studded beach city for ourselves. With a packed itinerary, we were left with just one day to explore Malibu; but it was a day that turned out to be one of the highlights of our West Coast trip.  The ideal antidote to the busy crowds of downtown LA, a Malibu day trip makes for a breezy, incredibly relaxing experience.
Below is our guide to how to plan your own Malibu day trip, complete with a wine tasting experience with something of a furry twist. Curious? Read on to find out more.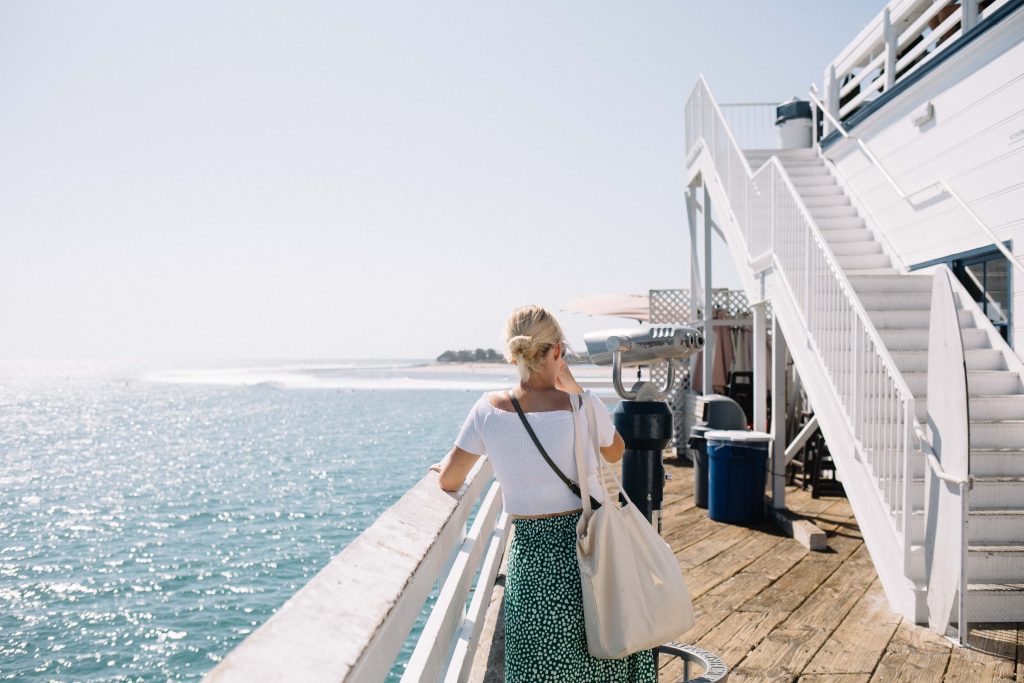 Our Malibu Day Trip Guide
Where is Malibu?
Located in western Los Angeles County, Malibu is situated 30 miles from downtown LA. A balmy, 30-mile strip of pristine beaches frequented by some of Hollywood's most famous and affluent residents, Malibu is California's most celebrated beach town. Despite the glitz and high price tags associated with the area, this beach city and its surrounding hills nonetheless offers a low key retreat for those looking for some time away from the city of stars.
By car, Malibu is just under an hour away from LA, and is a regular commute for the city's Uber drivers.
Morning: Head to the Mountains for a Glass of Wine
It may not seem the most obvious way to start a day exploring Malibu, but embarking on a 'wine safari' at 11am is precisely what we did. Knowing little about the experience beforehand, and only knowing that it was intriguingly titled a 'Giraffe Tour',  we were curious to discover how a safari – something usually reserved for the wild plains of Africa – could take place inside a genteel Malibu wine yard.
Malibu Wine Safaris
Located on the magical sounding Saddlerock Ranch, Malibu Wine Safaris is set amongst a sprawling 1000-acre ranch owned by the Semler family. Initially purchased in 1978, Saddlerock was once an avocado farm before, turning its hand to wine in 1996. It wasn't until 2014, however, that the exotic 'safari' element was added to the Malibu Wine experience.
An addition inspired by a family holiday to South Africa in 2010, today Malibu Wine Safaris offers the unique experience of a wine tasting tour, all whilst sitting aboard a safari jeep. Admittedly, and despite not being the most obvious union of activities, the Malibu Wine Safari experience works, with guests exploring this beautiful estate from their lofty jeep seats, whilst a variety of exotic animals wander by.
How to get to Malibu Wine Safaris
Located deep in the Malibu Hills, you'll need a car to reach Malibu Wine Safaris. We caught an Uber from our hotel in Hollywood; the journey taking just under one hour and costing approximately $50-60. For those driving, jump on the 101 Highway out of LA, before taking the incredibly scenic Mulholland Highway that runs through the Santa Monica Mountains.
Indeed, the drive to Malibu Wine Safaris was an experience in itself; the landscape far more rugged and scenic than we'd anticipated. Malibu Wine Safaris also list private transport providers, which would be useful if travelling as part of a large group.
How much does Malibu Wine Safaris cost?
There are a number of tours available at Malibu Wine Safaris, with each ranging from $65-$180. We took the 'Giraffe Tour', which allowed us to try 6 different wines, experience a private encounter with Stanley the Giraffe (more on this to come), an opportunity to meet more of the other ranch animals, and the luxury of a crackers and chutney spread at the end of the tour. At 1 hour and 45 minutes long, this was just enough time to explore the ranch on our safari jeep, relax in the sunshine with our wine, and – of course – take a few selfies with many a famous furry resident. The perfect addition to any Malibu day trip.
Full tour details can be found here.
The Animals at Malibu Wine Safaris
The animals found at Saddlerock Ranch are not your usual LA locals. Indeed, like many of their fellow LA residents, the animals here are actually retired showbiz actors. After a successful career in film and television, the exotic residents of Malibu Wine Safari are now living a peaceful – some may say privileged life – amongst the foothills of the Santa Monica Mountains.
For many visitors, a trip to Malibu Wine Safari is therefore something of an animal pilgrimage. With Stanley the giraffe now a famed social media sensation (even Kylie Jenner has had her photo taken with him), Malibu Wine Safaris have unwittingly created a motley crew of animal celebrities. Aside from Stanley,  there are many other curious residents, including: zebras, llamas, alpacas, bison and Scottish cows (a slightly surreal sight against the backdrop of the Californian sunshine).
"So, what was Stanley's role in the Hangover 3 movie?" I asked, somewhat absentmindedly as I took a sip of crisp sauvignon blanc. Smirking, our guide looked  me dead in the eye and replied: "He played a giraffe, Claire. A giraffe." Realising how ridiculous my question might have sounded, we laughed – slightly deliriously – as I blamed the early morning wine for my faux pas.
As well as animal encounters, the Malibu Wine Safari tours also allows you to explore the estate in a jeep – whilst simultaneously glugging back wine. This was also an unexpected highlight, and gave us the most beautiful views of the surrounding landscape.
For those looking to experience a wine tasting tour whilst in Malibu, but are eager for something a little different, Malibu Wine Safaris are a brilliant (and entirely unique) alternative. For those hoping for something a little more active, Saddlerock Ranch also offer Malibu Wine Hikes.
Lunchtime in Malibu: Head to the Beach
Malibu Farm
After a morning sampling a delicious array of local wines, we were in urgent need of something to line our stomachs. Hopping in an Uber, we took the 20-minute journey from Saddlerock Ranch to the sandy beach of Malibu, where its famed pier awaited.  Here, we treated ourselves to lunch at the achingly cool, white-washed Malibu Farm, which offers both restaurant and cafe options.
Providing some of the best views of Malibu seafront, we took our seats in a sunny spot in the restaurant; the pacific ocean crashing below us. Over an organic lunch of fish tacos, we watched as a surfer continued to plunge himself into the frothy waves; the scene reminiscent of the rolling credits of some of our favourite TV shows.
I almost had to pinch myself that we were really here.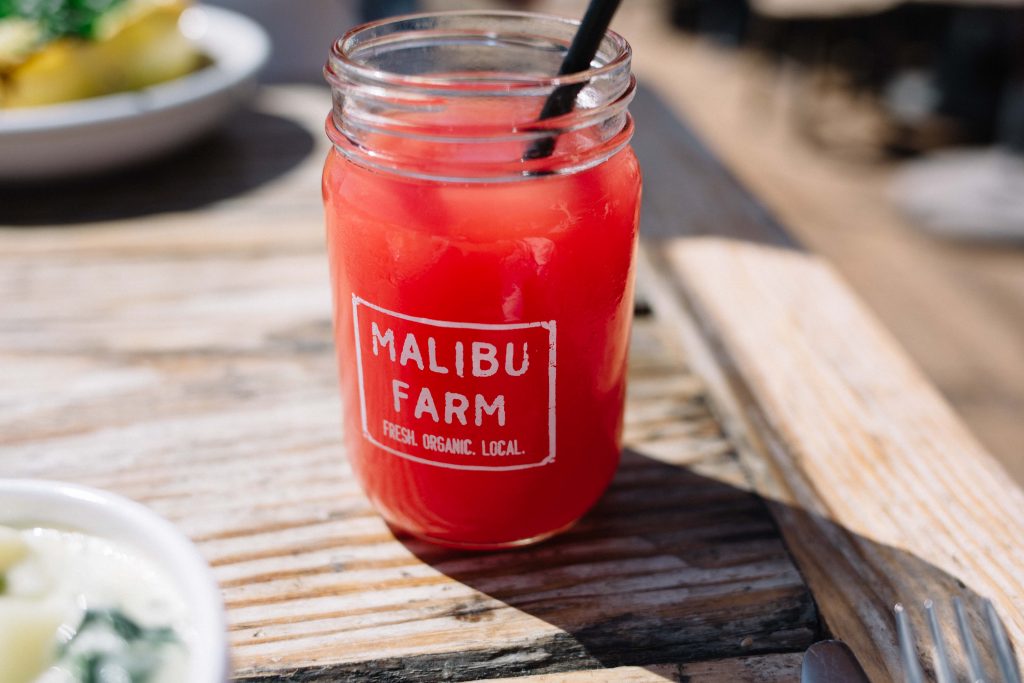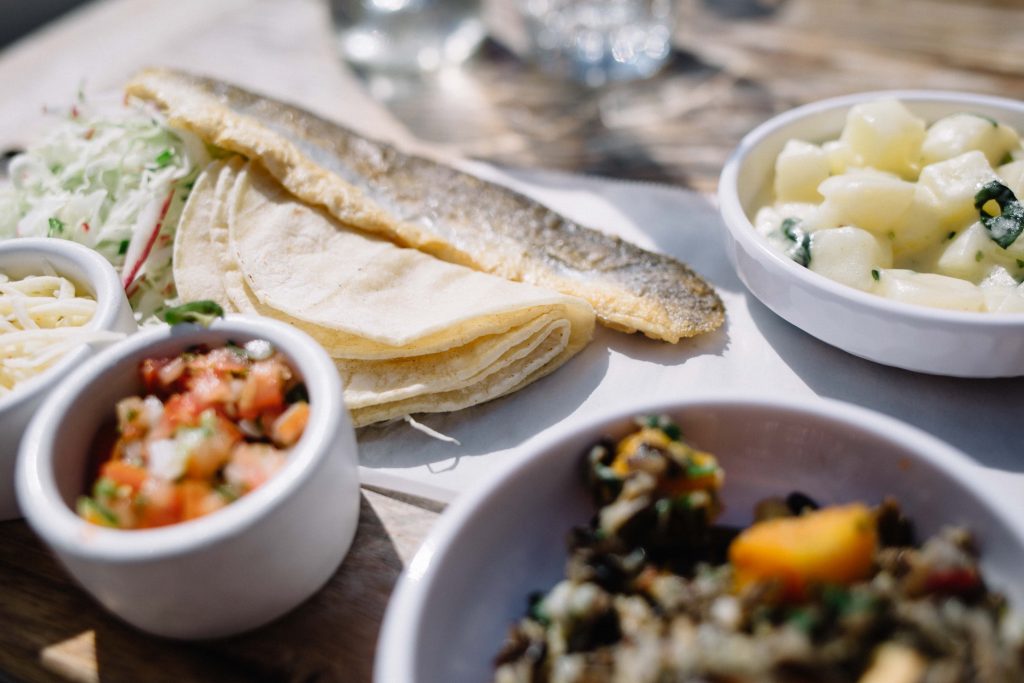 Indeed, as picture-perfect as they come, I felt like we had stepped into a perfectly curated Malibu film set. Observing my fellow restaurant goers around me, I wouldn't have been at all surprised to spot a celebrity – the likes of Jennifer Anniston perfectly at home here. For a lowly travel blogger from Milton Keynes such as myself, lunch here was an experience I'll certainly never forget.
For those looking for a lighter lunch during their Malibu day trip, Malibu Farm Cafe also sits at the end of the pier, offering lighter bites and cooling ice cream. Malibu Seafood is also located nearby, where you can select from the local catch of the day – including fresh crab salad and clam chowders.
Afternoon: A Leisurely Walk Along Malibu Pier and Beach
Unlike the busy, fairground pier of Santa Monica, Malibu Pier is a laid-back oasis and a pleasant addition to any Malibu day trip. Infamous amongst surfers, the pier is adjacent to Surfrider Beach; a surfers paradise offering 300 yards of surf thanks to the 3 point break in the waves. Although not natural surfers (having been born in a concrete town far from any coastline), there was something mesmerising about watching this group of talented folk.
Also open to local fishermen, it was a pleasure to wander down Malibu's pier – the salty sea air a refreshing coolant from the warm sun. Grabbing an ice-cream from Malibu Cafe, we sat on a bench and watched local fishermen cast their nets out to sea. The pier is also dotted with delightful boutique shops offering local produce and ideal gifts for those looking to pick up a few souvenirs.
For those eager to soak up more Vitamin D, Malibu is home to a wide array of pristine beaches. Zuma Beach is perhaps one of Malibu's most famed sandy stretches, with onsite parking available and vast stretches of sugary white sand. If you're visiting in the winter, Point Dume – located at Malibu's northern end – provides a stunning view point from which you might spot migrating Gray Whales.
From beaches to hikes, Malibu also provides an ideal starting point  for those looking to explore more of the Santa Monica Mountains. The Santa Monica Mountains National Recreation Area offers over 500 miles of trails through canyons, waterfalls and rolling hills.
Evening: Dinner at Nobu Malibu
As the afternoon sun retreats on your Malibu day trip, there is only one restaurant to head to: Nobu Malibu. The smallest of the Nobu restaurants, Nobu Malibu fits seamlessly into its surroundings with a relaxed, beach front restaurant. Not as expensive as you might think (you could eat here for around $50-60 per person) Nobu is a quintessential Malibu experience; and one that makes for the perfect end to your Malibu day trip.
---
The azure blue ocean and stunning white beaches of Malibu feel a world away from the intensity of LA. Laid back, yet incredibly refined, Malibu is a delight to explore and a destination that epitomises Californian living. A location that blows away the cobwebs and provides a healthy dose of salty sea air, a Malibu day trip should be high on your agenda when visiting LA.
Just don't blame us if you find yourself dreaming of a new life here.
For those looking to make full use of their time, take a look at the LA tours and attractions available to pre-book here.
Looking for further LA inspiration? Take a read of these: 
How about more USA holidays? Take a read of these:
Not sure how to get to LA? Take a read of our review of our flight to LA with Air New Zealand Premium economy. 
Pin it: