Nose pressed against the window of the minivan – condensation dripping slowly down the glass – I watched in anticipation as the gates to St James's Club Morgan Bay opened. A member of staff smiled broadly, cheerfully waving us in; a pink flower in her hair. We had only been on the island for just over an hour, yet the journey along its winding roads  –  lush green rainforest falling away below us – had already sent me into a frenzied excitement. Bouncing out of the taxi, our driver, Hilary, chuckled as we excitedly collected our suitcases and clamored to rip off our thick jumpers. In the 34 degree heat, our hair was rapidly expanding; transformed into moisture-filled fluff that tickled my neck.
We had arrived in the Caribbean.
Greeted with complimentary pink cocktails and cool, mint-scented towels, the reception staff quickly settled us into one of the resident golf buggies, before our express ride to our rooms. Climbing the hill that led to our sea view rooms – the resort opening out below- we surveyed our new home. Against the hazy, late afternoon sun, we watched as people sipped cocktails at the swim up bar, lounged under the shade of swaying palm trees and floated in the sparkling Caribbean sea. We had arrived in paradise.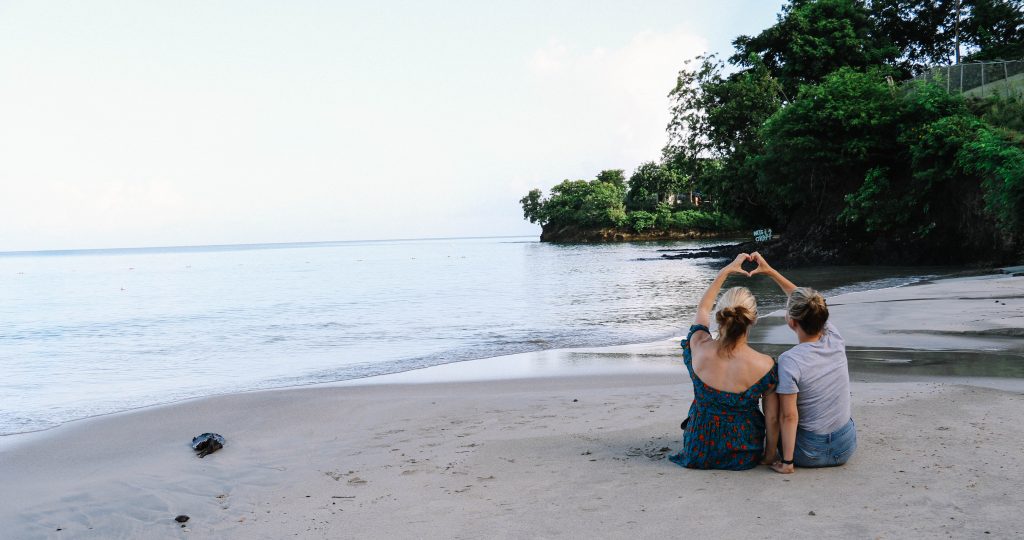 Below is our review of our stay at St James's Club Morgan Bay
Nestled in 25 acres of tropical gardens and just 10 minutes from the Island's capital of Castries, St James's Club Morgan Bay occupies a prime location; with access to its very own golden beach and warm, gentle waters. As this was not only my first time in the Caribbean, but also my first experience of an all-inclusive resort, I was a little apprehensive before my arrival here. As a self-declared 'DIY traveller', I wasn't sure what to expect from a resort that seemingly offered, well – everything. Greedily sucking on my cocktail and surveying the tropical idyll below, however, I quickly decided that any apprehension was unfounded: St James's Club would make an excellent host for my first, tropical adventure, offering a beautiful base from which to explore this emerald Island.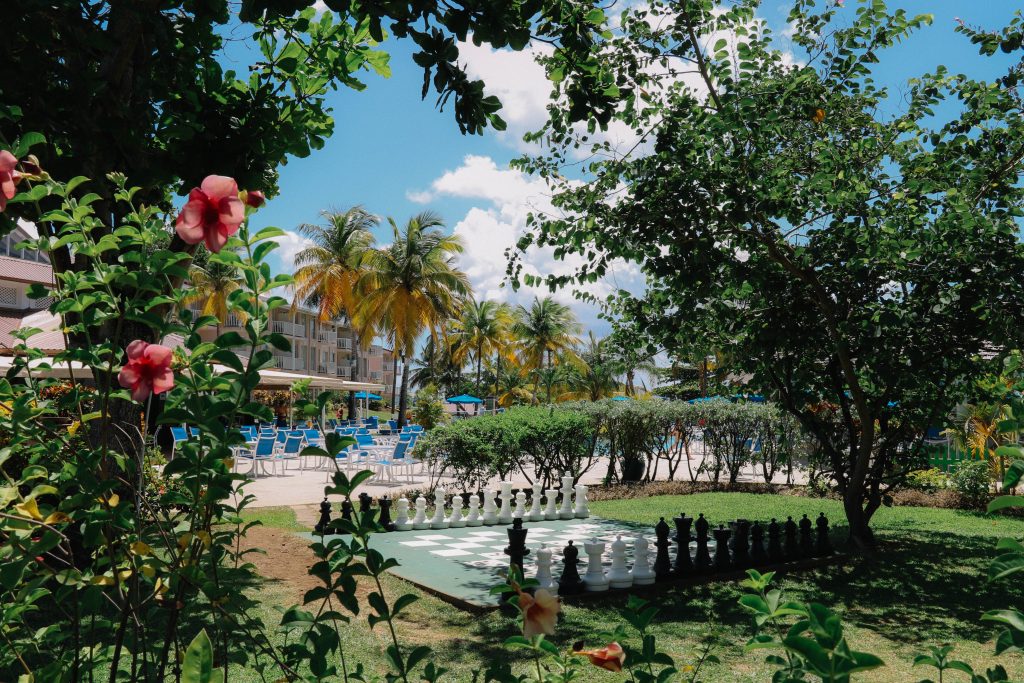 Rooms at St James's Club Morgan Bay
Our home for the week was in two Deluxe Ocean View Rooms that offered panoramic views over the resort and beyond, to Castries. It's not often that we're given a room each, and so to have our own king size beds, alongside enormous bathrooms and living areas, felt brilliantly extravagant. Filled with fresh, tropical flowers and delicious, freshly baked cookies, our rooms were a cool, calm oasis away from the humid heat. The rooms even boasted our favourite TV channel-  E! – allowing us to guiltily enjoy endless re-runs of 'The Kardashians'. As a result, I may forever equate Kim K's divorce with the smell of sun lotion and mosquito repellent.
As creatures of habit, we soon developed a strict evening routine that revolved around a cocktail at the Sunset Bar, before settling on our balconies to enjoy the candy pink hues cast over the resort each night. After sunset, the lights of Castries glinting down the coast, colourful lizards would scuttle past in search of dinner and the sound of crickets buzzed loudly around us. Evenings on our balconies meant peace, calm and of course – several colourful cocktails.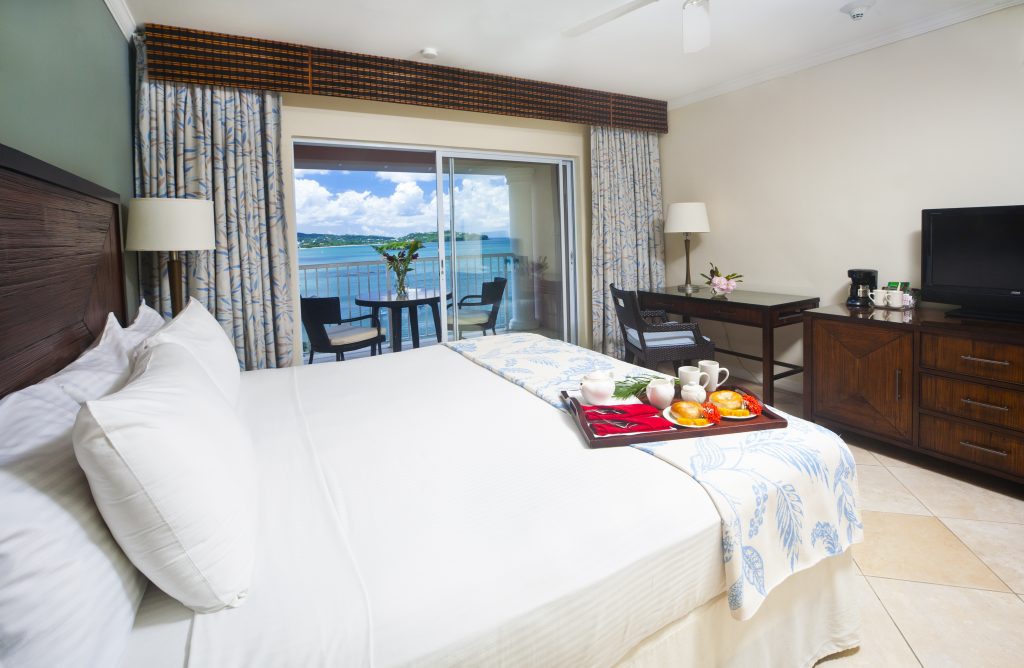 Restaurants at St James's Club Morgan Bay
St James's Club offers five restaurants: Bambou, Palms, Le Jardin, Morgan's Pier, Plum Tree Bar & Grill and Tree Tops. All restaurants are inclusive of your stay, aside from the fine dining experience offered at the indoor Le Jardin restaurant. Having not experienced food at an all inclusive resort before, I was slightly hesitant. Would I be confronted by chicken nuggets and chips, each night? Dining at the Bambou Restaurant on our first evening, however, soon quashed any concerns. The fish – freshly caught at the beach just a few kilometers away – was truly excellent. Meaty, pink crab and delicate snapper fish filled my plate most evenings, and crisp white wine filled my glass. In fact, dining at all the restaurants at the Resort was a real pleasure: our favourite being the atmospheric Morgan's Pier. This wonderfully warm restaurant hovers over the warm Caribbean sea; the creaking floorboards of the pier separating diners from the waves beneath. We ate here regularly, feasting on jerk chicken and fishcakes, whilst fairy lights twinkled above us.
Aside from the restaurants, St James's Club also offers the Choc Bay Café: our favourite spot for an evening cup of tea and slice of cake. Settling down in the cafe each evening, as the sound of crickets filled the air, we indulged in our favourite iced chocolate drink and chatted to fellow guests about their Island adventures . As our eyes began to droop, there was no scramble for a taxi: just a short 3 minute walk back to our comfy, king size beds. This was an all-inclusive perk that I hadn't considered before my arrival.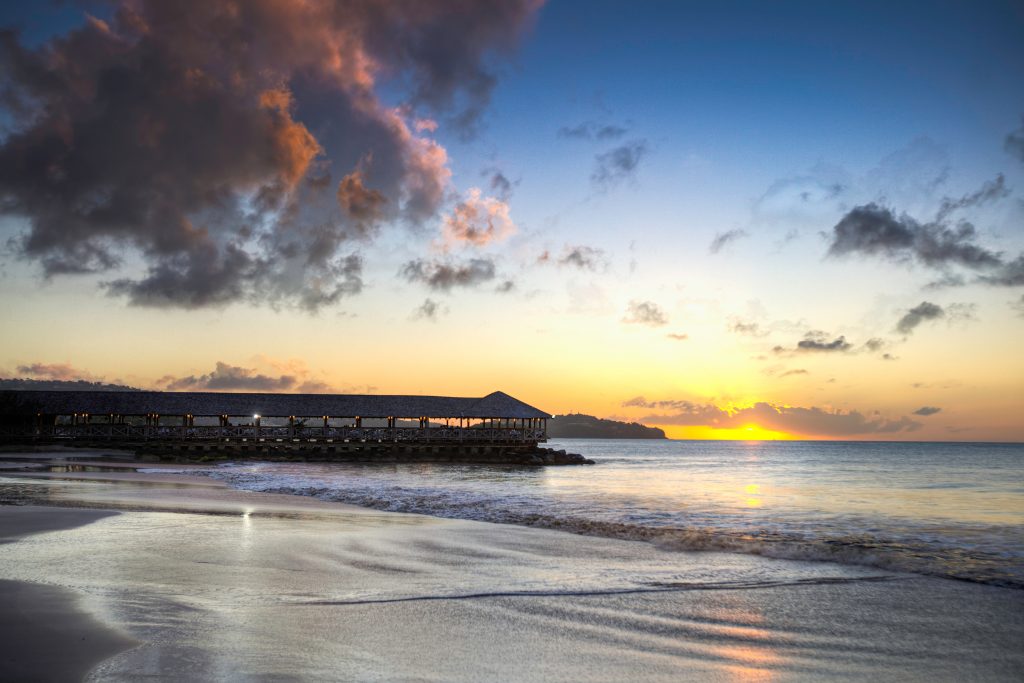 On our penultimate night at St James's Club, we were treated to 'Fete bor la Mere:' the weekly – and infamous – beach party. Strolling down from our hillside rooms, the smell of BBQ making our bellies rumble, we gazed out across a beach now illuminated by bonfires. Children played in the flame-lit sea and groups of people danced to the music; twirling each other around. It looked magical. Later, our bellies full of BBQ ribs, spicy chicken wings and home-made Mac and Cheese, we joined the crowds and danced (terribly) to the traditional Caribbean band, eyes fixed on the fire dancers and their jumping yellow flames.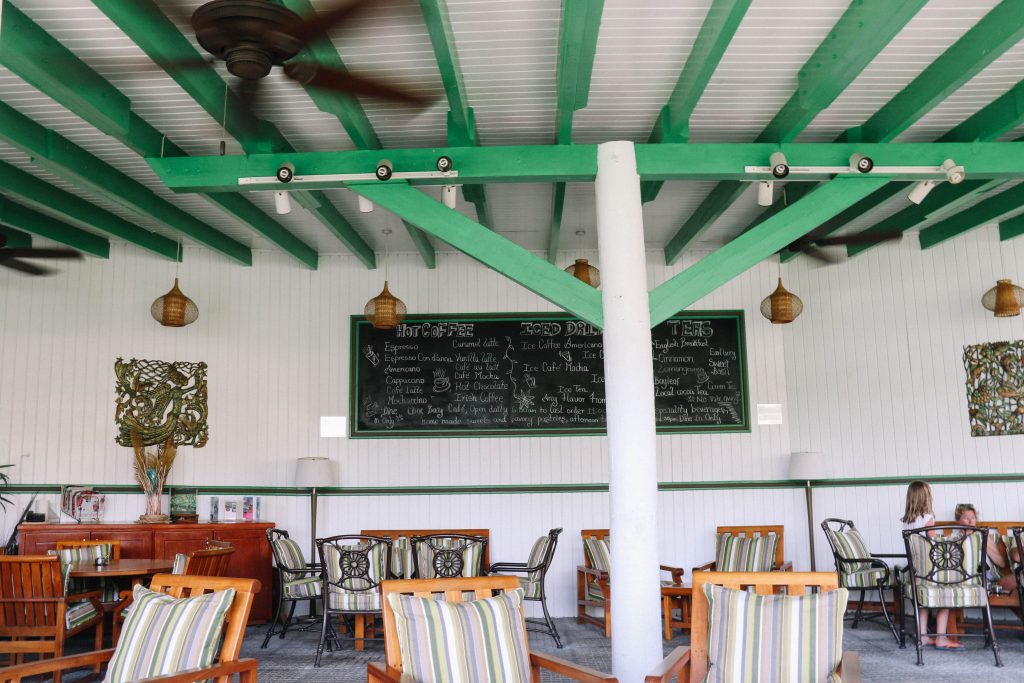 Tranquility Body and Soul Spa
The Tranquility Body and Soul Spa, which was conveniently located next to our own sea-view rooms, was a calm, mango-scented oasis. On our final day at St James's Club, we succumbed and booked in for a treatment here: promised that we would leave feeling 10 years younger (i.e. 10 years old, cough). Arriving a little disheveled, and still stiff from our flight, we were soon transported to paradise with a 90-minute, full-body massage. The treatment included hot stones and a bamboo massage;  the sticks of the bamboo rolling across our muscles with a satisfying crunch. We left feeling like new women and spent the rest of the day asleep under palm trees, now ridiculously relaxed.
 Activities available at St James's Club Morgan Bay
The sheer number of activities – particularly watersports and classes – available at St James's Club, was initially overwhelming. From kayaking, sailing, waterboarding and jet-skiing,  to banana boat riding and pedalos, these fun-packed activities did become slightly addictive. I've never felt so outdoorsy. Furthermore, organising these activities is incredibly easy: just a quick walk across the beach to the watersports hut and you're ready to go (and at no additional cost). We opted for the gentler activity of kayaking most afternoons; slowly bobbing our way along the glassy sea to the nearby cove. For a pair paranoid about sea urchins and freak waves, it offered the perfect sort of 'soft adventure' that we enjoy.
Aside from the watersports, St James's Club also offers an impressive gym – that we (surprisingly) frequented multiple times – and classes that are taken on the gym's calming veranda. After a long flight, we began our week with an early morning stretch class, set amongst fluttering butterflies and chirping birds. Gently leaning into a back bend, I caught a glimpse of a tiny humming bird hovering by a cluster of  pink flowers. Its tiny wings seemed to almost vibrate. Comparing this to my usual weekend fitness class, consisting of  blaring music, shouting and general misery, I took a deep breath and felt hugely grateful to have found myself at this beautiful resort. For those looking for something a little more challenging, St James's also offers a Float Fit class on the water. This translates to 20 minutes of gruelling HIIT exercise, all whilst balanced on a paddle board! Exhausting.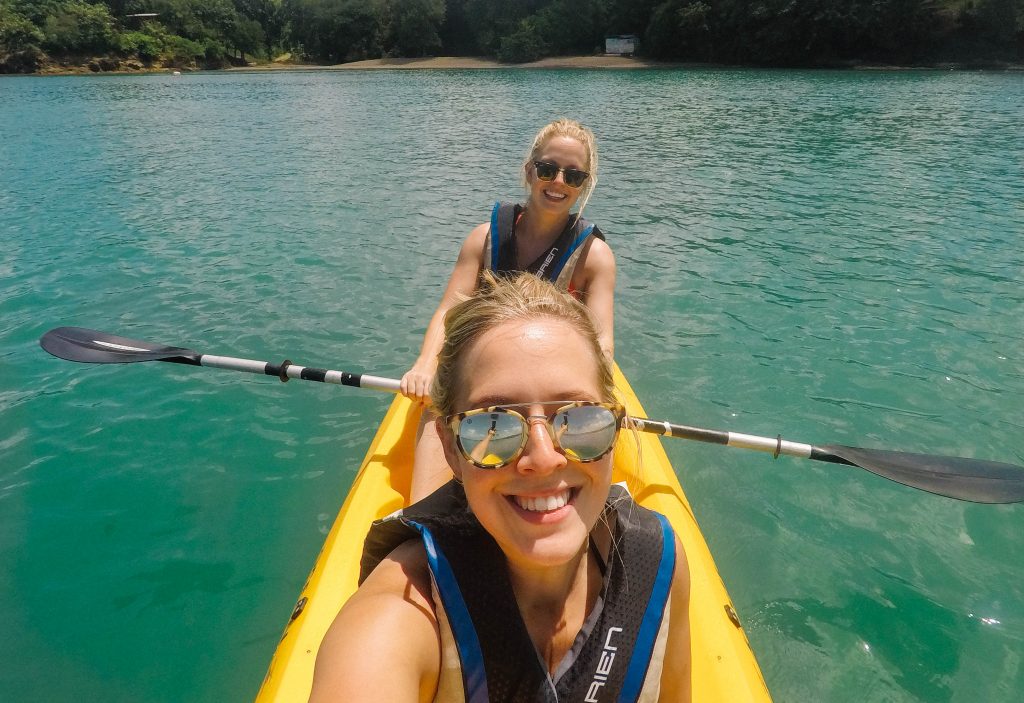 Excursions from St James's Club Morgan Bay
For travellers like ourselves who can struggle to complete a full 'pool day' without getting itchy feet, St James's Club offers plentiful excursions that can be booked at the resort. Our adventures will be covered in another blog post, but all were fantastic and seamlessly organised. The Calypso Catamaran, owned by St James's Club, was a true highlight: involving a day of sailing on the turquoise seas, mud-bath adventures, waterfalls and snorkelling. The resort also kindly booked a hire car for us, following a spontaneous decision to explore more of the Island. Having such knowledgeable staff able to organise this for us, saved us many anxious hours trying to research car rentals and potential routes. The car was ready for us after breakfast the following day, and was whisked away once we returned:  no lengthy queues in sight.
Finer details of St James's Club Morgan Bay
What made our stay at St James's Club Morgan Bay truly memorable, however, were the staff. From the welcoming face of Hilary, our  driver, at the airport, to the farewell waves of the reception staff, we were made to feel completely at home in this corner of St Lucia. A gentle knock at the door just a few moments before we left the Resort was confirmation of this. Flustered, I opened it, expecting to find Laura tapping her foot and pointing at her watch. Instead, I discovered the lovely lady who had so carefully and patiently cleaned my room over the course of the week. She had simply come to say 'goodbye'. After a lovely hug, I left the resort feeling like we were leaving behind a second family; something that made me only more determined to return.
Read our full guide to the island of Saint Lucia here.
Thank you to St James's Club Morgan Bay and Virgin Holidays for hosting such a wonderful stay on the island paradise of Saint Lucia!