Things to do in Belfast, Northern Ireland
A city that was in the grips of a civil war just 40 years ago, Belfast is a destination that has undergone a dazzling transformation.
Once the industrial hub that built and launched the ill-fated Titanic, Belfast has since blossomed into a vibrant and fun city. It's a place where students, locals and tourists gather for evenings of live music, dancing and socialising, and sleek new museums dwarf the city's skyline.
As advocates of the microadventure and holidaying closer to home, we were thrilled to be invited to visit the city as part of our wider Historic Royal Palaces ambassadorship. Due to visit the newly opened Hillsborough Castle, we were fortunate enough to also squeeze in a whirlwind sight-seeing day in Belfast. Located just a short 25-minute drive from Hillsborough, this was the perfect destination to pair with a very royal castle.
A city of delicate cultural layers, where mesmerising murals dedicated to Belfast's troubled past sit alongside newly built tourist attractions and we weren't short of things to do in Belfast.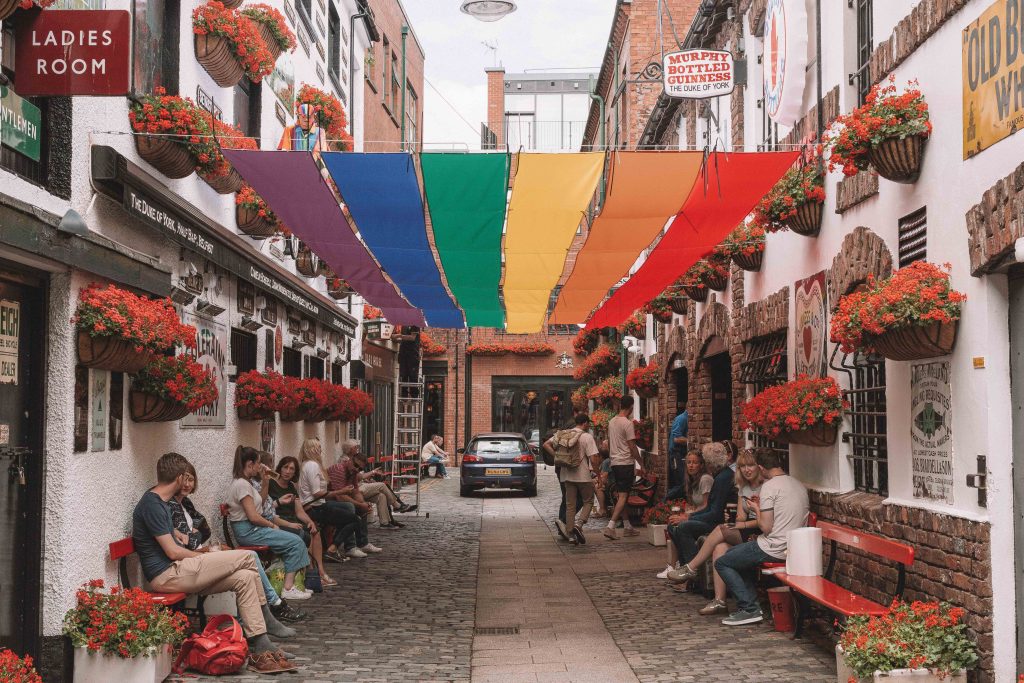 Below is a quick round-up of things to do in Belfast if you're visiting for just one day. From grabbing an obligatory pint of Guinness in one of the city's quirky pubs, to exploring the gleaming and award winning Titanic Belfast museum, there is plenty to cram into your 24 hours in Belfast.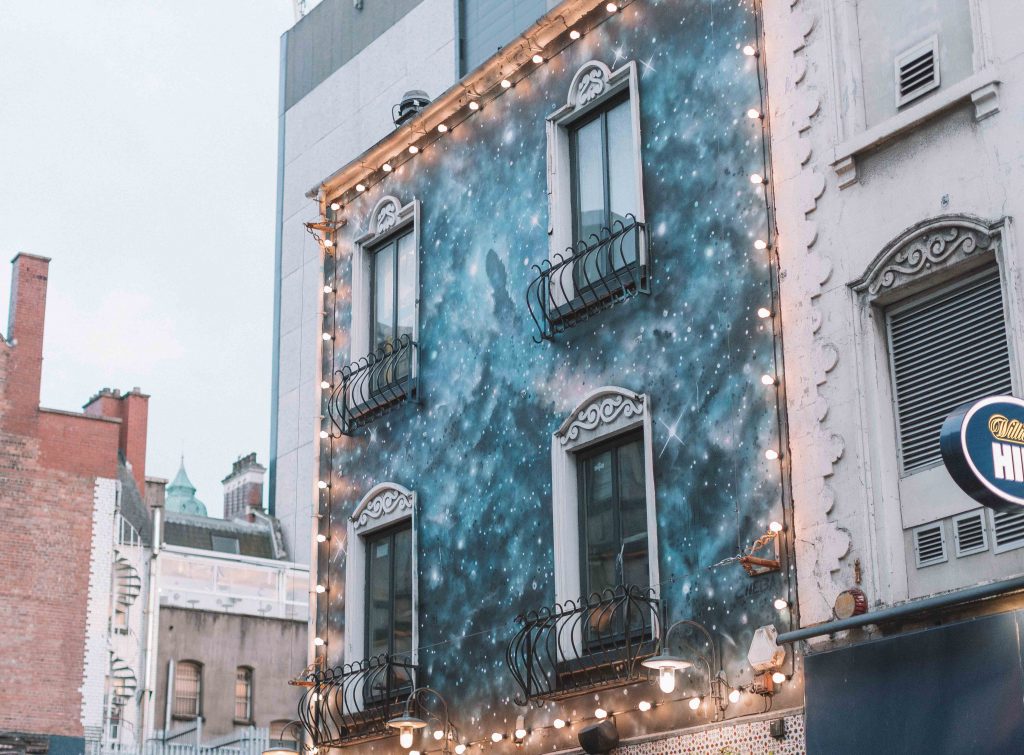 Where to Stay in Belfast 
For our one night in Belfast, we stayed at the centrally located Bullitt Hotel. Tucked away off a busy street, the Bullitt Hotel is the ideal place to base yourself if you want to make the most of your time in the city. With a no frills (yet very cool) approach to hospitality, the Bullitt Hotel is one of the city's trendiest boltholes.
The hotel offers three (brilliantly named) categories of rooms: Dinky, Comfy and Roomy; all of which offer excellent value for money.
We were kindly upgraded to the 'Roomy' room, which offered plenty of space, two cosy queen sized beds and a modern bathroom. For those of you who (like us) have limited time in Belfast, the Bullitt Hotel also offers a handy 'Grub to Go' breakfast. To receive your 'grub', simply select the breakfast you'd like the night before and leave your choice outside your door. The next morning, your breakfast will be delivered in a neat brown bag.
Arriving in Belfast on an unexpectedly balmy day, the hotel's courtyard was a bustling and lively place, filled with locals and visitors enjoying drinks in the afternoon sun. For those looking to make the most of the hotel's food and drink offering, the Bullitt Hotel also boasts a tasty restaurant – Taylor & Clay – as well as, Babel, it's lofty rooftop bar.
A 'dinky' room at the Bullitt Hotel will set you back just £85 ('Grub to Go' breakfast included).
How to Get Around Belfast
If you only have limited time in Belfast, the best way to get around the city is by using public transport. We were kindly given 24-hour passes to use Belfast's City Sightseeing Hop On & Off Tour bus, which allowed us to move seamlessly around the city. Belfast is also an extremely walkable and accessible place, and we opted to walk between the Cathedral and Titanic quarters. Alternatively, for those who enjoy seeing a city by bike, visitors can pick up a Belfast Bike from one of the 50 docking stations dotted around the city.
Uber is also readily available.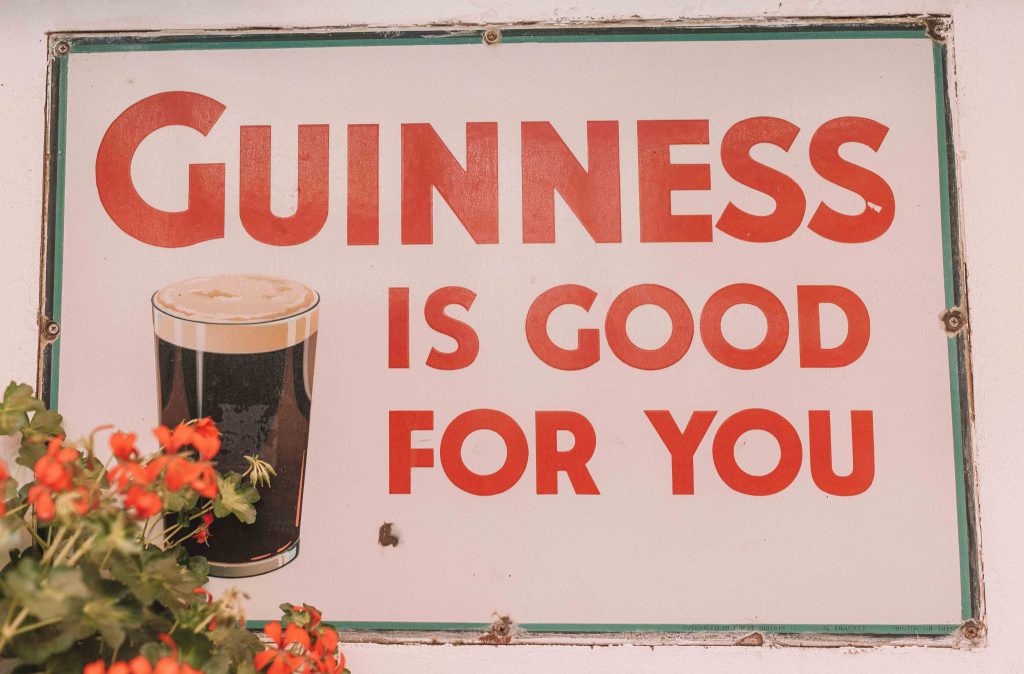 Things to Do in Belfast, Northern Ireland
Discovering Belfast's Murals in the Cathedral Quarter
No visit to Belfast (however brief) is complete without stopping to soak up the city's infamous murals.
A place where the phrase, 'if these walls could talk' has apparently come to life, the murals of Belfast depict a complicated and troubled past. For the most part, these political murals spawn from Nationalist and Unionist tensions during and after the partition of Northern Ireland, and can be found in the 'working-class' residential estates of Belfast.
These can be explored via official tours; something we are eager to do when we return (the famous Black Cab Tours look fascinating).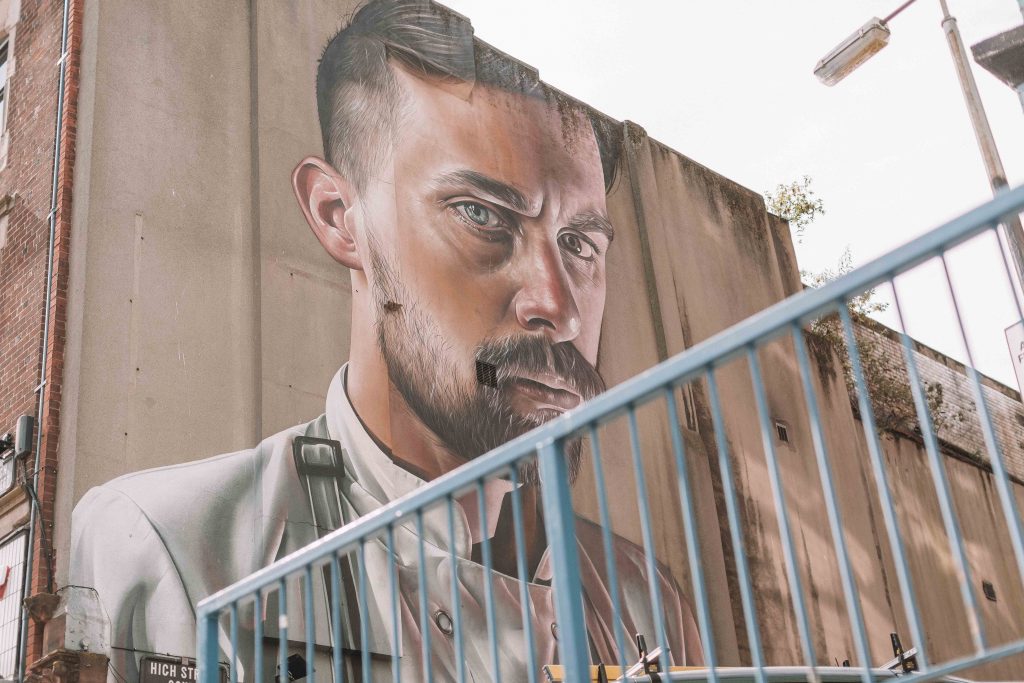 For those keen to catch a glimpse of Belfast's murals in the city centre, however, then head to the Cathedral Quarter.
Here, you'll discover plenty of thought-provoking murals hidden along side streets and alleyways. Although not political, these murals depict Belfast's unique popular culture and offer a brilliant insight into the city's inside jokes. We stumbled upon a mesmerising courtyard of murals in the Duke of York Pub (more on this below), with walls filled with murals celebrating Pride, TV shows such as The Fall, and the good and great of Belfast city.
The murals found within the Duke of York pub (and throughout the adjacent pub, The Dark Horse), are privately funded by the owner as part of their commitment to local artists and Belfast's burgeoning street culture.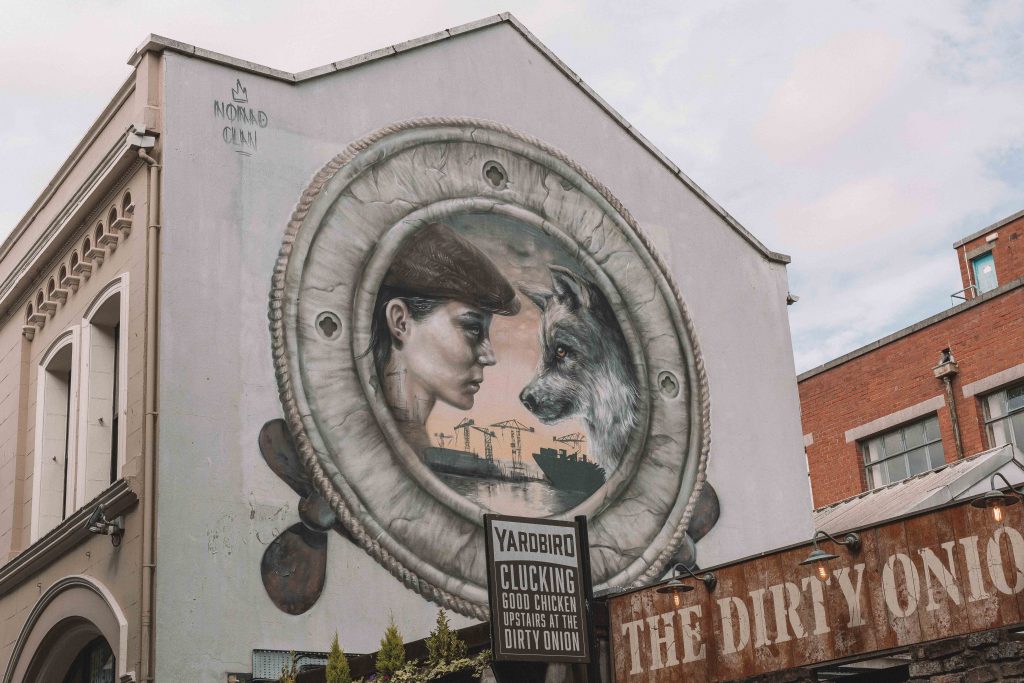 The Titanic Quarter, Belfast
Belfast's Titanic Quarter is a bright and distinctly modern part of the city, located (ironically) on its historical docks. One of the largest urban-waterfront regeneration schemes of its kind, with £425 million pounds of investment, this area is a must-see part of Belfast. Built on the same site that built the Titanic, the architecture here is world's apart from Belfast's once industrial landscape.
For those eager to appreciate all of the city's many nods to the Titanic, you can download the handy 'Titanic Trail' here. Alternatively, catch the 'wee tram' – a replica of the tram that would have transported workers to the docks – for an all bells and whistles tour of the Titanic Quarter.
Titanic Hotel, Belfast
Having stayed at its namesake in Liverpool, we were intrigued to learn more about the Titanic Hotel, Belfast. Said to be the most 'authentic' of the Titanic hotels, Belfast's was once the headquarters of Harland & Wolff; the company that built the Titanic. Now a boutique hotel boasting 119 rooms, the hotel's bar is the perfect place to visit for a distinctly art-deco inspired cocktail.
SS Nomadic
For those eager to learn more about the dock's maritime past, head to SS Nomadic located in the Hamilton Dry Dock. This is the last remaining White Star Line ship in the world and was once used to ferry passengers to the Titanic, ahead of her maiden voyage. Now restored back to its 1911 splendour, SS Nomadic (or 'Titanic's little sister') offers the rare opportunity to experience a small part of the journey undertaken by the Titanic's ill-fated passengers.
Titanic Belfast
Poignantly located on the Titanic Slipways – the very spot where the Titanic was built and launched in 1912 – you'll discover the dazzling Titanic Belfast museum. The world's largest Titanic experience, and the recipient of the coveted 'World's Leading Tourist Attraction 2016', the Titanic Belfast is perhaps the crowning jewel of this city.
Indeed, unlike many museums, the walk up to the Titanic Belfast is, in itself, awe-inspiring – the building's facade glittering thanks to 3,000 aluminium shards. Reaching a height of four 90ft hulls (equalling the tallest point of the Titanic), this is a museum of dazzling proportions.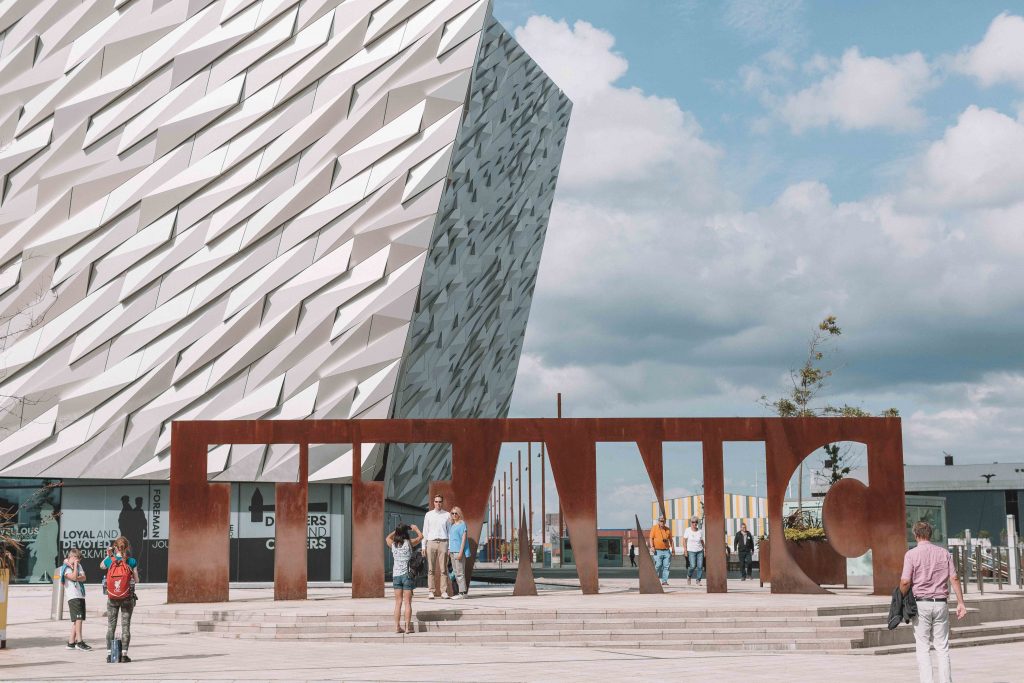 Once inside, the Titanic Experience takes place over 9 floors, all of which offer a fascinating and immersive education into not only the Titanic, but 'Booming Belfast' during the days of ship construction. Surprisingly, we even discovered a small 'ship yard' ride for those looking for a truly immersive experience.
From learning about Titanic's creation, to the touching and tragic stories of those who lost their lives aboard it, this is an absorbing – and at times – moving museum.
Exploring the Cathedral Quarter, Belfast
Belfast's Cathedral Quarter is the place to go for a good night out. Crammed full of bars and restaurants, this is a charismatic and irresistible part of the city. However, it wasn't always known for its heady party scene. Instead, the Cathedral Quarter was once known for its literary connections and housed the headquarters of many of the city's newspapers. Nods to this era can still be found throughout the area, with Writers Square found directly opposite St Anne's Cathedral. In the square, you'll also find quotes from local writers carved into the pavement slabs.
Duke of York Pub
We accidentally stumbled across the Duke of York as we explored Belfast's Cathedral Quarter  – and what a find it turned out to be. A grotto of twinkling fairy lights, mirrors and plaques adorning every inch of its walls, the Duke of York pub boasts an unexpected beauty. The spot had been a pub for more than 200 years, before being 'accidentally' bombed in 1972 by terrorists hiding from police. However, like a phoenix from the flames, the Duke of York was restored and is now one of Belfast's most famous and adored pubs.
For pub lovers, a handy Belfast Pub Trail can be downloaded here.
Tucked away down a small street just off Hill Street, the pub is situated in a snug, bright and cheery part of the Cathedral Quarter; Pride bunting decorating its passageway. The pub is well known for its live music and is said to have been a venue for Snow Patrol during some of their early performances.
As mentioned above, it's the pub's courtyard, shared with the Dark Horse opposite, that houses a dazzling array of murals. In order see the courtyard, you will need to be a customer of the Duke of York or the Dark Horse (an opportunity that's well worth the cost of a pint).
Dinner at Hadskis, Belfast
For our dinner in Belfast, we headed to the excellent Hadskis. A restaurant priding itself on locally sourced produce, Hadskis offers a diverse seasonal menu to suit every tastebud. We were fortunate enough to grab a seat at the bar above the kitchen; enabling us to watch the kitchen in full flow. Dribbling in anticipation as we watched the chefs whip up the dishes of the day, these were definitely the best seats in the house.
Other Suggestions On Where to Eat in Belfast
Having put a request out via trusty social media for a cosy place for lunch in Belfast, we received the same suggestion over and over again: Home. A restaurant that began life as a small pop-up in 2011, Home has become one of the most popular dining options in the city. Located opposite the beautiful City Hall, the restaurant offers an excellent array of healthy dishes, including vegetarian and vegan options.
It was the perfect spot for a light lunch before an afternoon of Guinness sampling and our three-course dinner.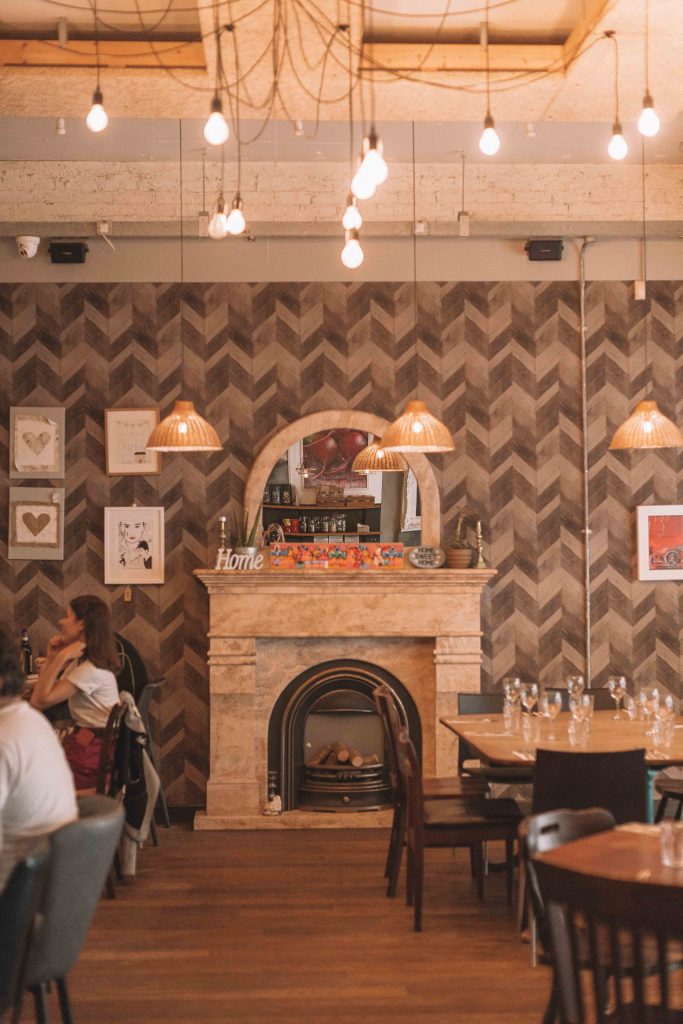 Things to do in Belfast: Final Thoughts
A city that's blossomed into an undeniably cool and eclectic destination, Belfast makes for the ideal weekend city break. Not simply a place to stop for those on a Game of Thrones pilgrimage, Belfast is a city that should be explored in its own right. From a troubled past depicted through captivating murals, to bustling pubs, a world-class botanic garden and a world renowned museum, Belfast is more than just a dark and moody backdrop.
With just one day to explore it, and certain that there's plenty more to see, we will – unquestionably – be back.
Our visit to Belfast was kindly hosted by Discover Northern Ireland, however all suggestions on what to do in Belfast are our own.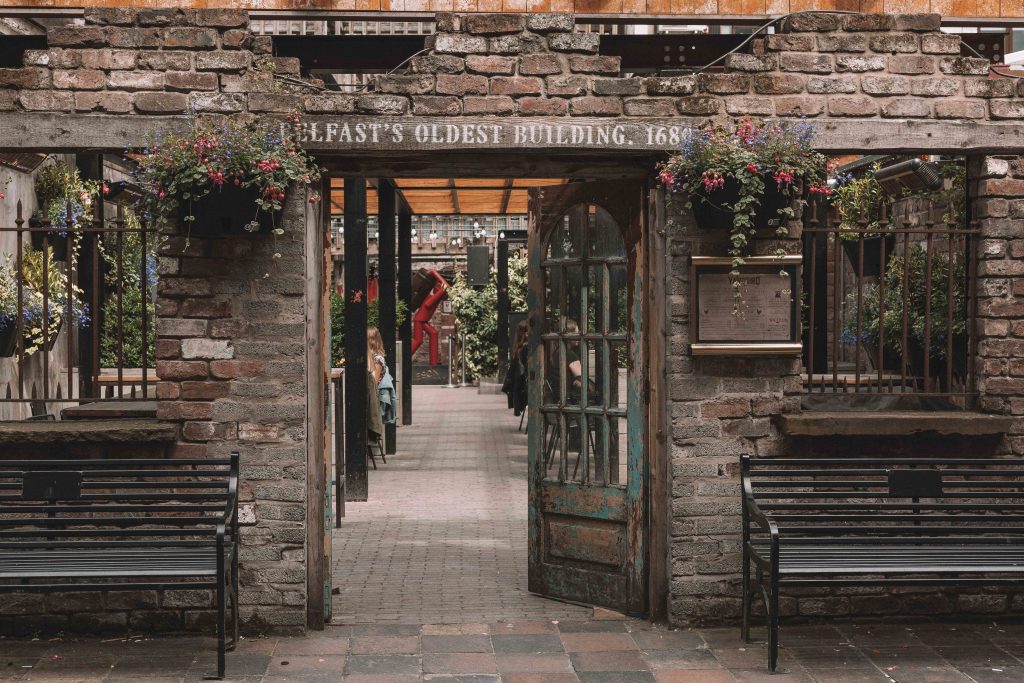 Pin for later: