This summer, we are thrilled to be working as (paid) ambassadors for Historic Royal Palaces (HRP). An independent charity, HRP look after The Tower of London, Hampton Court Palace, the Banqueting House, Kensington Palace, Kew Palace, and Hillsborough Castle and Gardens; ensuring that these iconic pieces of British history are preserved and enjoyed. Over the coming months, we'll be making the most of our Historic Royal Palaces Membership (starting at just £53 a year), with unlimited access to all six palaces, regular discounts, access to member-only events and early entry to exhibitions.
Kensington Palace: A Brief History
Our ambassadorship with Historic Royal Palaces begins with a visit to Kensington Palace and a celebration: the bicentenary of Queen Victoria's birthday.
The two, of course, are linked. It was in this red-bricked palace, hidden beneath the leafy shade of West London, that Queen Victoria lived her young life: growing up surrounded by the Palace's sunken gardens and tree-lined Serpentine Lake. It was here that she laid eyes on her beloved Prince Albert for the first time and where, one warm summer's morning, she was declared Queen of England. Equally as important, of course, it was also where she played with her 'beloved little dog', Dash, and danced until the early hours at parties and balls in silver shoes.
However, it was also a difficult place for the young Queen: one filled with tensions and strict rules; all designed to keep the would-be-queen from harm's way. Once Queen, Victoria left Kensington Palace for Buckingham Palace, famously using what she claimed was an isolated and unhappy childhood to fuel the image of a determined and self-made Queen.
Today, Kensington Palace is still home to the Royal family; with private residences filling much of the building. Once home to Princess Diana and now, the Duke and Duchess of Cambridge (or Will & Kate to you and I), Kensington Palace is perhaps one of the UK's best known palaces: a small and intimate setting, especially when compared to its grand neighbour – Buckingham Palace.
Surrounded by pretty flowers and dancing water features, you might mistake Kensington Palace for a lovely country home – a place that the Royals might decamp to for a weekend of horse riding and port drinking (or whatever it is they do). For a palace, there aren't many towering spires or fairytale like turrets to be found. However, it's easy to forget that Kensington Palace is – really – a home. A home  that offers its visitors a uniquely personal insight into the life of the Royal family; from the rooms in which they were born to glimpses of their favourite toys, their jewellery and their carefully kept diaries.
Beautiful, warm and inviting, with ever-changing exhibitions and access to its impressive royal apartments, Kensington Palace is a fantastic place to spend an afternoon, exploring a place that  – since the Stuart ages – has welcomed our many Kings and Queens, Princes and Princesses.
And now – thanks to our Historic Royal Palaces membership – Twins That Travel.
What Exhibitions are on at Kensington Palace?
For a relatively small palace, Kensington Palace is able (with the support of the likes of Historic Royal Palaces), to put on some fantastic and hugely popular exhibitions.
In the past, these have included a display dedicated to 'Diana: Her Fashion Story' (as a child of the '90s, this was an incredible exhibition, and included that black, revenge dress) and the 'Fashion Rules Restyled' exhibition, which displayed items from the wardrobes of the current Queen, Princess Margaret and Diana, Princess of Wales.  Additionally, and in 2017, an exhibition called 'The Enlightened Princess' looked at the lives of Princesses Caroline, Charlotte and Augusta, and their work in celebrating the eighteenth-century Enlightenment.
Given the number of brilliant and illustrious women associated with Kensington Palace – from Mary II to our current Queen – these exhibitions offer not only an unseen glimpse into their lives (petticoats and all), but promote and celebrate the many female royals that have sashayed their way through our history books.
Move over Henry VIII – there are some new queens in town.
Permanent Displays at Kensington Palace
The King's State Apartments and The King's Staircase
It was a cold, December night when we first experienced one of Kensington Palace's permanent features: the King's State Apartments and the King's Staircase. With Christmas festivities in full-swing, we had been invited to enjoy drinks at the Palace surrounded by sparkling Christmas trees and festive canapés.
Walking in from the cold, chandeliers glinted and the air smelt like rich floor polish and frankincense. As a historian (and I use that term loosely – I studied it at university), I was in my element.
Arriving at the entrance, we were shown to the celebrated King's staircase: open to all Kensington Palace visitors. A stunning sight, this architectural feat showcases the popular trompe l'œi style of the time: an art technique designed to make images and objects appear three dimensional. Painted by William of Kent, the walls surrounding the staircase are filled with characters from an eighteenth-century court; from 'Peter the Wild Boy' to gossiping ladies.
It's a little like an eighteenth-century version of 'Hello!' magazine, albeit without the Coronation Street stars.
The staircase not only makes for an incredible introduction to Kensington Palace, but is very photogenic. Be sure to head to the top landing to get a great photograph of it from above – offering beautiful views over its chessboard-like floor.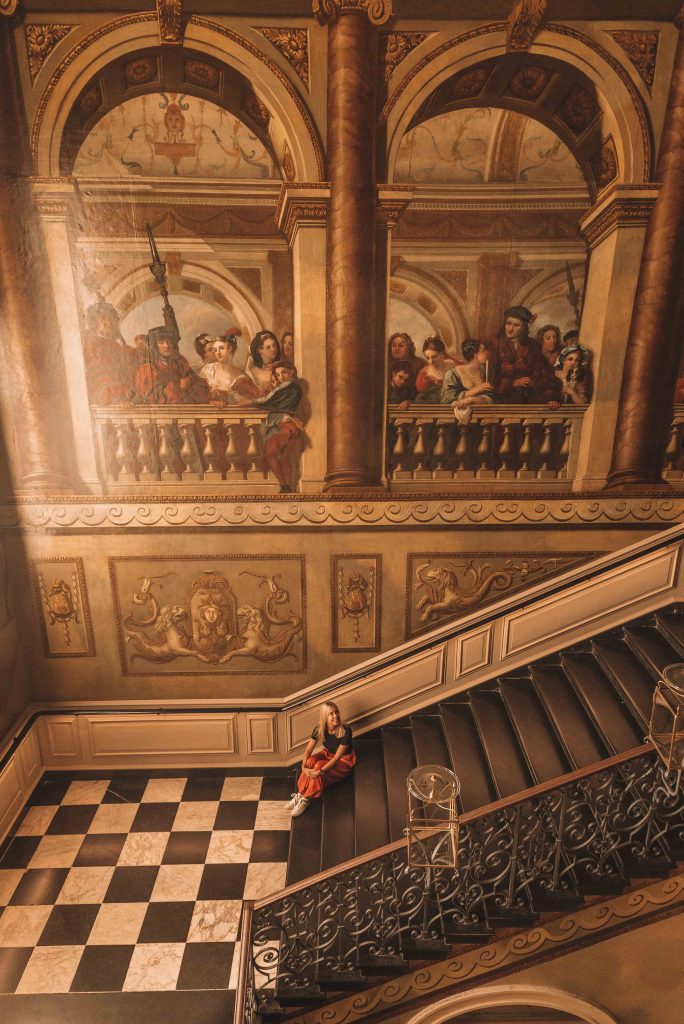 At the top of the staircase is the entrance to your next stop: the King's State Apartments.
Permanently open to visitors, these rooms used to entertain grand meetings and ceremonies, and are – quite frankly – enormous. We were told that as anyone beneath the monarch had to stand in their presence, there was no burning need for furniture; no comfortable chairs or sofas to sit on. As such, these large spaces lie almost completely empty.
Walk through these apartments and you'll pass through The Privy Chamber, The Capola Room (look out for the lovely musical clock in the centre), the King's Gallery and the pièce de résistance: the King's Drawing Room.  On that wintery December night, I was completely bowled over by the apartments and just how close we were to palace life.  For anyone visiting Kensington Palace, I'd highly recommend leaving some time to explore these dazzling spaces. 
The Queen's State Apartments
Also permanently open to the public are the Queen's State Apartments, where William III and Mary II were once crowned joint monarchs. Here, guests can wander through the Queen's gallery, her closet and her dining hall, where Mary and William once feasted on dinners of beer and fish (my kind of monarchs).
Diana: Designing for a Princess
Although the 'Diana: Her Fashion Story' exhibition is now closed, a small and permanent exhibition continues in the palace galleries. Including items from the princesses' wardrobe, handwritten notes to designers, sketches of future gowns and some of her favourite designs, this exhibition is a gentle and truly lovely insight into Princess Diana's love of all things fashion.
2019 Exhibitions
Victoria 200: Celebrating the 200th Anniversary of Queen Victoria's Birth
Although Kensington Palace's more permanent displays warrant a visit of their own, the start of our Historic Royal Palaces membership was timed to coincide with the unveiling of its newest centrepiece (both permanent and temporary): the new Victoria 200 exhibitions.
We were told that these soon-to-be unveiled displays would honour both a Queen, a Mother and an Empress: the once-ruler of the biggest empire that the world has ever known. And the best bit? With our Historic Royal Palaces membership, we enjoyed early access to both of these new displays, alongside two lovely guides: the exhibition curators, Claudia Williams and Polly Putnam.
A New Permanent Exhibition – Victoria: A Royal Childhood
Background
Born on 24 May, 1819, at Kensington Palace, Victoria spent just under 20 years in this shared home; under the ever watchful eye of her mother, the Duchess of Kent, and their machiavellian-like advisor, Sir John Conroy (Victoria's father, the Duke of Kent, had died when she was young).
Provided with an apartment within the Palace, Victoria spent her childhood within just a select few rooms – governed by the strict 'Kensington System' that was rigorously enforced by her mother and Conroy (Victoria, for example, could not walk down the stairs unaccompanied and was never allowed to be left alone; she even slept in her mother's chambers). The idea was that these rules would prepare Victoria for her possible role as future monarch.
Sort of like an eighteenth-century version of 'tiger parenting', perhaps – but even less fun.
To mark Victoria's childhood at Kensington Palace – and with the bicentenary of her birthday falling this year – the palace have therefore reopened these former apartments to the public; showcasing them as they would have appeared during Victoria's lifetime. Filled with her personal items, diaries and drawings, even the wallpaper on display has been recreated from scraps believed to date back to the Victorian era.
The Exhibition
Arriving at the Palace, we were shown a modest, galleried landing: the very spot where a 16 year old Victoria laid eyes on Prince Albert for the very first time. Dripping wet from a rainstorm, their eyes had met and Victoria later admitted she had thought he had 'a beautiful nose and a very sweet mouth'.
Passing through to the main exhibition space and we were met by Claudia Williams, curator of the 'Victoria:  A Royal Childhood' exhibition. With workmen still applying the finishing touches to the space (a lick of paint here, the hanging of a curtain there), Claudia very kindly offered to take us around the display, using her mind-blowing knowledge of Victoria and her childhood to transport us back to the 1820s.
Building on the work of Historic Royal Palaces own curators, the exhibition provides an alternative view of Victoria – focusing not on the mourning widow, but on the determined, ballet-loving child and teenager. Supporting this are Victoria's own items: her little doll's house, built by the palace carpenter, her dolls, her precious pendant containing a portrait of her father, and the world of ballet and opera that she often escaped to.
The exhibition begins in a small room where Victoria would have played, learnt and lived. In the corner sits a pair of an infant Victoria's little booties. Given that she is most commonly portrayed as a woman at the end of her life, these tiny shoes are a lovely reminder that Queen Victoria was more than just a widow.
Moving on and the next room showcases the little Victoria's many passions, many of which, Claudia explained, were used to distract her from the tensions and posturing surrounding her. A passionate dancer, Victoria loved to visit the ballet and opera, and kept little ballerina and dancer dolls to play with.
Visitors are next introduced to Louise Lehzen, Victoria's governess. Described by Victoria as 'the most affectionate and devoted friend I had', it's clear that the feeling was mutual – with carefully kept locks of Victoria's hair on display. Collected by Louise Lehzen as Victoria grew from a baby to a little girl, these locks are a testament to just how much this governess loved the young queen.
Wandering through the room where Victoria, a teenager at the time, was once told she was the new Queen of England, it all felt slightly surreal. "So many people think of her as a slightly miserable figure, but hopefully what this exhibition shows is another side to Victoria", Claudia explained. "She promoted the idea that she had a sad and lonely childhood – but what these items hopefully show is that she had a lot of happy times with her dogs, her mother and her Governess. Her childhood has definitely been misrepresented'.
Peering at one of Victoria's diaries, filled with accounts of her days in the palace, her absent-minded scribblings, and items charting her relationship with her much-loved Governess, it's clear that the young Victoria was not always isolated or lonely.
In fact, she was very much loved. 
Victoria: Woman & Crown
The second (temporary exhibition) celebrating the mighty Victoria can be found in Kensington Palace's Piggott Gallery.
Examining Victoria's private life (behind her often cleverly curated public image), this exhibition was put together by the very lovely, Polly Putnam, who took the time to walk us around the new display.
Filled with some of Victoria's more flamboyant dresses, her dancing boots and the delicate jewellery painstakingly designed for her by Prince Albert, I was genuinely thrilled to see that even as an adult, Victoria stayed a fun-loving and 'gently fashionable' lady.
Fashion & Motherhood
"She was told off for being the last one still dancing at the ball, even at eight months pregnant", Polly told us. "And I think these dresses and shoes show that she did like to enjoy herself quite a bit". 
Agreeing as we walked around the pink-themed exhibition, we paused at what might just be the exhibition's showstoppers: a (tiny) petticoat worn by Victoria on her wedding day, and a formerly hot pink dress designed by the young Queen. At just under five feet tall, the young Victoria was unimaginably small and as such, these lovely dresses seemed almost miniature in size.
Lit up in dazzling lights were also a pair of dancing boots owned by Victoria; made in the fashionable 'Adelaide' style by Gundry & Sons. A satin silver, the shoes looked more of a modern day creation than a Victorian relic.
Another aspect of the exhibition considers Victoria as a mother. Although famously a mother to nine children, it's often written that Victoria disliked her role as mum. However, having been pregnant for the majority of her adult life, all whilst trying to reign as both monarch and Empress, perhaps we should forgive Victoria for experiencing a little work-life tension.
On display throughout the exhibition are beautiful portraits of Victoria with her children, and her own sketches of the family. From these, it's clear that despite monarchial pressures, family was important to the young queen. 
The Grandmother of Europe
The final part of the exhibition looks at Victoria's international legacy and her unique fascination with India.
With nine children and forty-two grandchildren, Victoria could do one of two things: suffocate under what might be a pile of toys, Christmas presents and babysitting duties, or proactively use this unique gift to extend the British Monarchy's power further: marrying off her children and grandchildren to some of Europe's greatest families.
Indeed, Victoria was the (metaphorical) queen of power plays and match-making: waving her children off to the furthest reaches of Europe, all in a bid to strengthen the crown. 
The next part of the display examines Victoria's dedication to India: learning Urdu whilst in her seventies and forming a strong friendship with her Indian servant, Abdul Karim. Declared the Empress of India in 1877, and now experiencing a unique independence since the death of Prince Albert, this period saw Victoria reign with both assurance and confidence; overseeing the largest empire the world has seen.
The Royal Ceremonial Dress Collection, Kensington Palace
Having absorbed a lifetime of Victoria through images, objects and glittering jewellery, we were given one last treat thanks to Claudia Williams – access to the Royal Ceremonial Dress Collection.
Owned by Historic Royal Palaces, the bulk of the collection is housed at Hampton Court Palace. However, a small amount does reside at Kensington Palace and includes some dresses that a young Victoria both designed and wore.
Although Victoria was heavily swayed by Prince Albert when it came to her fashion choices (he often designed and approved her outfits), she still enjoyed contributing to the design process.
Donning a pair of gloves and opening up a large box – layers of acid-free paper tumbling out – Claudia triumphantly held up a tiny, intricately embroidered dress that Victoria wore around the age of 19. Featuring a pattern of climbing flowers and an unimaginably little waist, this pretty dress was further evidence that the young Victoria was far from a solemn widow.
It was absolutely fascinating to see and the most incredible end to our time at Kensington Palace.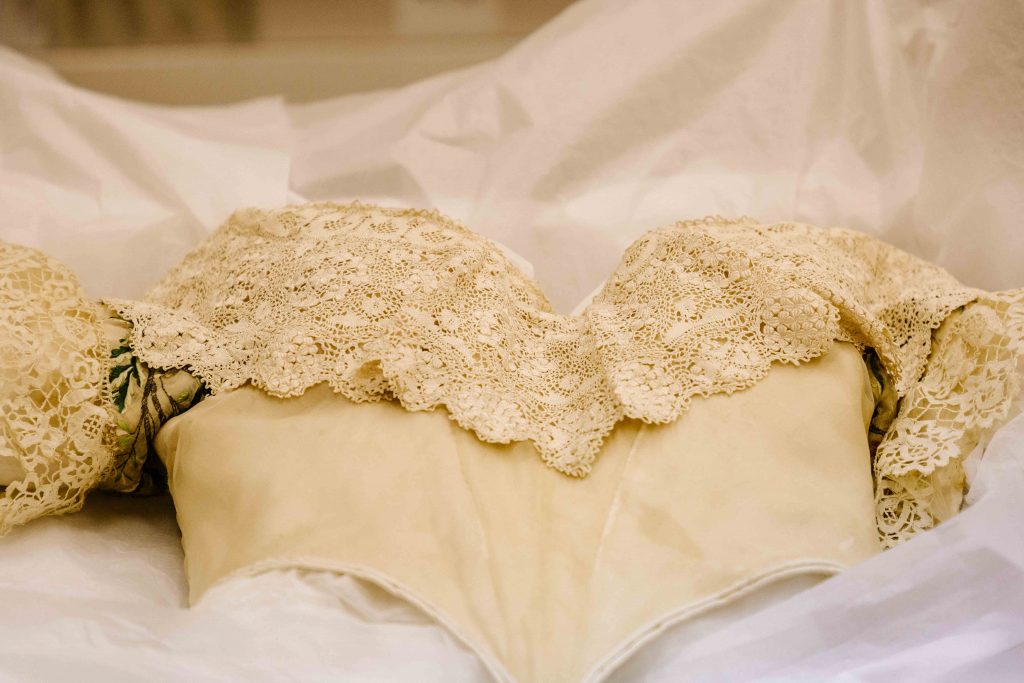 Afternoon Tea & the Sunken Gardens
We finished the first day of our Historic Royal Palaces membership the only way I know how: with a big slab of cake, a pot of tea and a walk around the Palace's beautiful gardens.
Whilst we sat immediately outside at the Palace Café (who do a wonderful Victoria Sponge cake, might I add), for those of you who want to be completely spoilt, I'd highly recommend booking afternoon tea at the Kensington Palace Pavilion and Tea Room (beginning at £34).
This pretty spot overlooks the Palace's Sunken Gardens, which have most recently been re-planted to appear as they would have done during Victoria's childhood. A vibrant display of heliotrope, canna, pelargonium and begonias have turned the Sunken Gardens into a vision of orange, red and yellow: some of Victoria's favourite colours.
It is the perfect way to end your time at Kensington Palace; and a final reminder that despite those monochrome photographs of a mourning and solemn Queen, we should perhaps instead remember Victoria only in brilliant technicolour.
Thank you to Historic Royal Palaces for inviting us to experience this firsthand.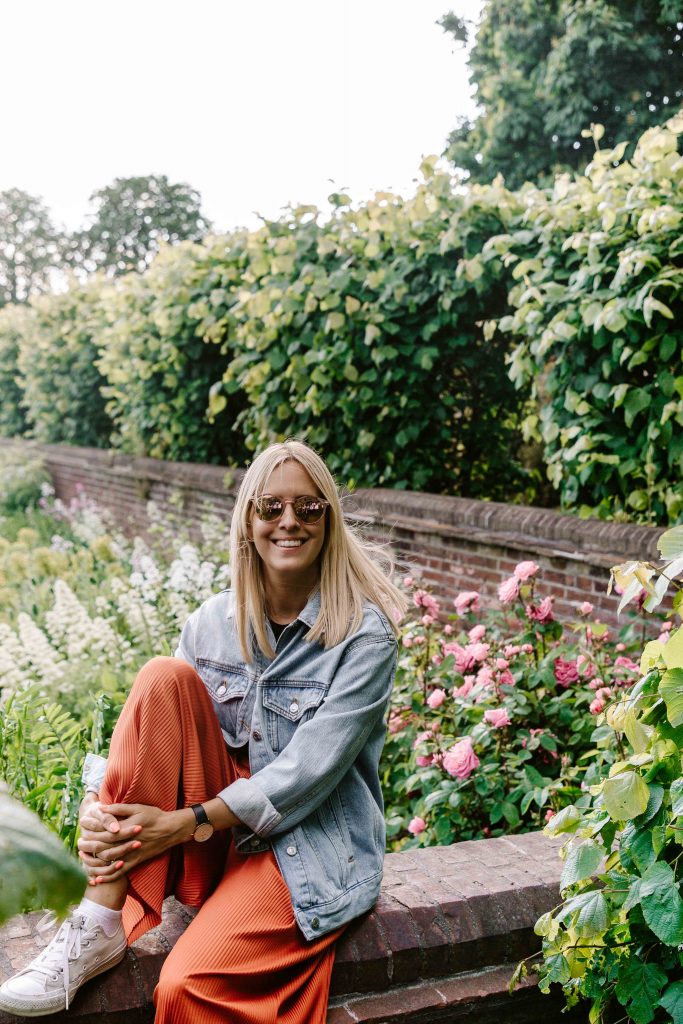 Finer Details
How Do You Get to Kensington Palace?
For a Royal residence, Kensington Palace is surprisingly (maybe disconcertingly) easy to access (although don't, as I hoped, expect to see any Royals wandering around or doing a spot of gardening).
The Palace is surrounded by Kensington Gardens, which can be accessed via the park's main gates, or turnstile gates, found at Temple Gate, Black Lion Gate, Orme Square Gate, Palace Gate and Marlborough Gate.
The Tube: Visitors can arrive at High Street Kensington station, Queensway station, Notting Hill Gate station, or Paddington station  (if coming via National Rail). All stations are between a 10-20 minute walk from the Palace.
The Bus: If you're planning to travel to Kensington Palace by bus, then there are a lot of routes on offer. Routes 70, 94, 148, and 390 stop along Bayswater Road. whilst routes 9, 10, 49, 52, 70 and 452 stop along Kensington High Street.
Bike: Cycle racks are available onsite (next to the Sunken Gardens), but please note that cycling within Kensington Gardens is prohibited.
Note: there is no parking available at Kensington Palace.
What Are the Opening Hours for Kensington Palace?
Kensington Palace is open every day, aside from the 24-26th December.
During the summer months, it is open to visitors from 10am -6pm, and during the winter, opens its doors from 10am – 4pm.
 What is the Historic Royal Palaces Membership?
Before visiting Kensington Palace, definitely have a think as to whether you're planning on exploring any other palaces or landmarks this year. If so, it's well worth exploring a Historic Royal Palaces membership – costing £53 for the year.
For example, if you're planning on visiting the likes of Kew Palace, Hampton Court Palace, The Tower of London or indeed, Kensington Palace in the next year or so, you'll be able to save yourself almost 50% thanks to a Historic Royal Palaces membership.
If not, tickets begin at £17.50 for adults (tip: buying online is cheaper than buying on the day).
How Much Time Do You Need to See Kensington Palace?
How long is a piece of string? Kensington Palace – and its surrounding gardens – can easily take up half of your day (dependent on your levels of Royal fandom, of course). I'd suggest setting aside at least an entire morning or afternoon here – and definitely be sure to enjoy a slice of cake and tea in the cafe once you've finished exploring.
***
This article was in paid collaboration with Historic Royal Palaces, but all thoughts are our own. For more information on a Historic Royal Palaces membership, please see here.
Other articles you might be interested in:
Pin it: