Staring anxiously down the slope of the Milton Keynes Snozone, I hesitantly turned my skis into position and inched forward. It had been 15 years since I'd last skied, and my blasé teenage confidence had all but vanished. Now doing my best impersonation of Mr. Jelly, I wobbled through my first turn as my adrenaline spiked. Tomorrow, I'd be heading on a ski holiday to Tignes and it was rapidly becoming clear that I was wholly unprepared.
After a long eight hour emergency ski workshop, I limped off Milton Keynes' man-made slopes and headed to my locker. Checking my phone, I stared at the set of images that Laura had sent over of our chalet in Tignes – our home for the next week. Mouth hanging open, I scrolled through the photos in disbelief; my aching muscles sucfcddenly feeling much lighter.
Having yet to experience a European ski holiday – my last ski trip having taken place on the slopes of Sugarloaf Mountain, USA  – our ski holiday to Tignes was one that I'd been (nervously) looking forward to. With a glittering chalet waiting for us, panoramic mountain views and plush kingsize beds, I was more than a little excited to experience this small slice of Alpine living.
Indeed, with such beautiful accommodation waiting for us, I needn't leave the chalet at all.
Fast forward twelve hours and Laura and I were running through the departures terminal of Luton airport, bags bursting with thermals and bobble hats. Greeted by our favourite gang of travellers– Hand Luggage Only, Paperboyo and Anne of Atout France (all of whom we'd also travelled to Provence with) – we prepared for yet another beautiful trip to France.
Below are the details of our luxury ski trip in Tignes, including advice on where to stay, information on ski passes and ski hire, tips on where to eat and – of course – whispers on where to find the greatest après-ski.
A Ski Holiday in Tignes: How To Get There
From the UK, getting to Tignes is incredibly straightforward. The two nearest airports to the resort (offering regular flights) are Geneva (which we flew into) and Lyon.
Catching the 8am Easyjet flight from Luton airport, we landed in Geneva an hour later. The frost of the UK replaced with thick blankets of Swiss snow, our excitement levels peaked. From the airport, the drive to Tignes (across the border) then took approximately 3 hours (although this can vary dependent on the weather).
For the drive to and from Tignes, we used Skiidy Gonzales, who provided a seamless door-to-door service (including a lunch stop in a deserted French supermarket).  Although slightly dreading the three hour transfer, the time flew by as we watched as the landscape become increasingly snow-capped.
(If you're unsure about driving, here is a helpful list of alternative transport options, including train journeys).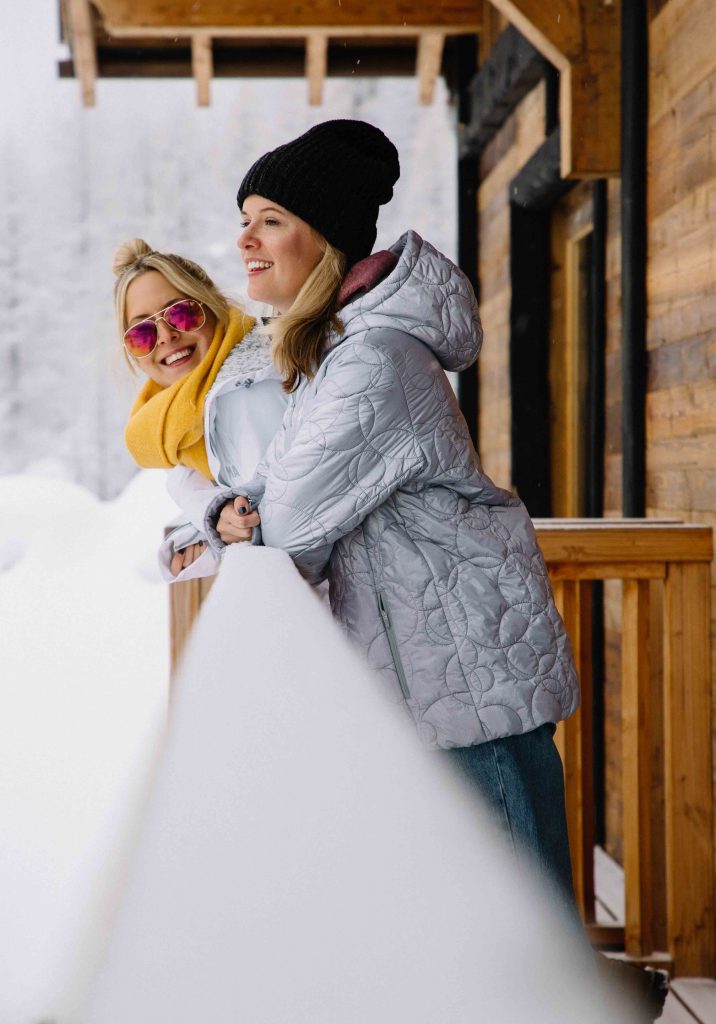 Where To Stay During Your Ski Holiday In Tignes
Comprising of five villages nestled in the French Alps, Tignes boasts to be one of the highest ski regions in Europe.  A soaring 2,100m above sea level, Tignes emerged as a ski resort in 1936, before quickly becoming a popular winter sports destination.
Throughout our ski trip in Tignes, we were based in Tignes-les-Brevières, the smallest and lowest lying of the five villages. Perceived as the most 'authentic' and family friendly of the resorts, this little village offered an ideal spot to relax and take in Tignes' handsome surroundings.
Slightly higher up from Tignes-les-Brevières sits Tignes 1800, which was connected to our village by a new gondola lift. Tignes 1800 acts as a gateway between Tignes and the neighbouring resort of Val d'Isère, and is a redesign of the original village that was flooded in the 1950s.
For those looking for more shops, restaurants and bars, Tignes Le Lac is the resort's centre. Here, you'll find a wellness retreat, a multimedia centre and plenty of entertainment. Alternatively – and for those night owls amongst you – Val Claret is home to Tignes' nightlife, and is the place to come if you're hoping to both party and ski in equal measure  Finally, Tignes Lavachet is just a ten minute walk from Tignes Le Lac, and offers an incredibly peaceful spot to stay.
After a busy week exploring the Caribbean, we were incredibly grateful to be nestled in Tignes-les-Brevières during our ski holiday in Tignes. A peaceful, dazzling wonderland offering a handful of delicious restaurants, bars and row upon row of smoking chimneys, this little village offered an idyllic introduction to Alpine living.
A Catered Chalet Experience With the GC-Kollection & the Boutique Chalet Company
As we stepped into our home for the next four days, a stunned silence fell over the group.
The vision of Guerlain Chicherit – a former professional skier – Residence Charlie was the latest addition to the entrepreneur's impressive portfolio of opulent chalets. Housed within Black Diamond – a complex of six unique residences – we were to be Residence Charlie's inaugural guests.
Boasting six suites and one cavernous children's room, Residence Charlie is joined by its neighbour, Charlie Tango, which is situated on the floor below. For those travelling in a large group, both of these chalets can be rented together.
After an early morning flight and following three hours in a minibus, our group rubbed their eyes in bewilderment as we entered the stunning chalet complex. Welcomed by Black Diamond's complex manager, Neil, we were led into a warm and welcoming ski lounge. Boasting thick carpets, soft lighting and cosy sofas, we were also shown a specially heated area where our ski equipment would be stored. Indeed, forget having to drag your heavy gear up staircases or elevators, Black Diamond instead provides an entire – staff equipped – room to store your items.
Raising a smug eyebrow to Laura as we were led from the lounge towards Residence Charlie, we wordlessly conveyed what we were both thinking: this place was incredible.
Arriving in Residence Charlie's living area via a dazzling glass lift, we were met with an unexpected scene.
"Is that an aeroplane?", Laura asked as we stepped into the vaulted living room. Laughing, Neil confirmed that the table in front of us was indeed created from a 1950s military aircraft; just one of Mr. Chicherit's many creative visions. Staring at the table and surrounding living area (complete with chrome Fussball table, glinting work surfaces and leather sofas), I began to realise that this ski holiday in Tignes would be a memorable one.
Indeed, forget dated pine cladding or well-worn sofas, Residence Charlie looked like something from a Bond movie.
Residence Charlie: the Bedrooms
"Let me show you the bedrooms on the floor below," Neil suggested after we'd surveyed every inch of Residence Charlie's living area. Trying to nod as nonchalantly as I could (without giving away the intense anticipation that I was feeling), we followed Neil down a sleek, black staircase.
On most of our travels, Laura and I tend to share a bedroom – an often vaguely stressful and claustrophobic experience. In Residence Charlie, however, all this was to change.
With six ensuite rooms (plus a children's room), Laura and I had been awarded our own bedrooms. Opening the door to my sanctuary, I was greeted with a plush red carpet and king size bed, scattered with velvet pillows and throws. At the foot of the bed lay huge balcony doors, each offering stunning views across the slopes. Opening the large screen doors I paused momentarily, watching as skiers cascaded down the mountain in front of me. It was an unbelievable – surreal – snow globe scene.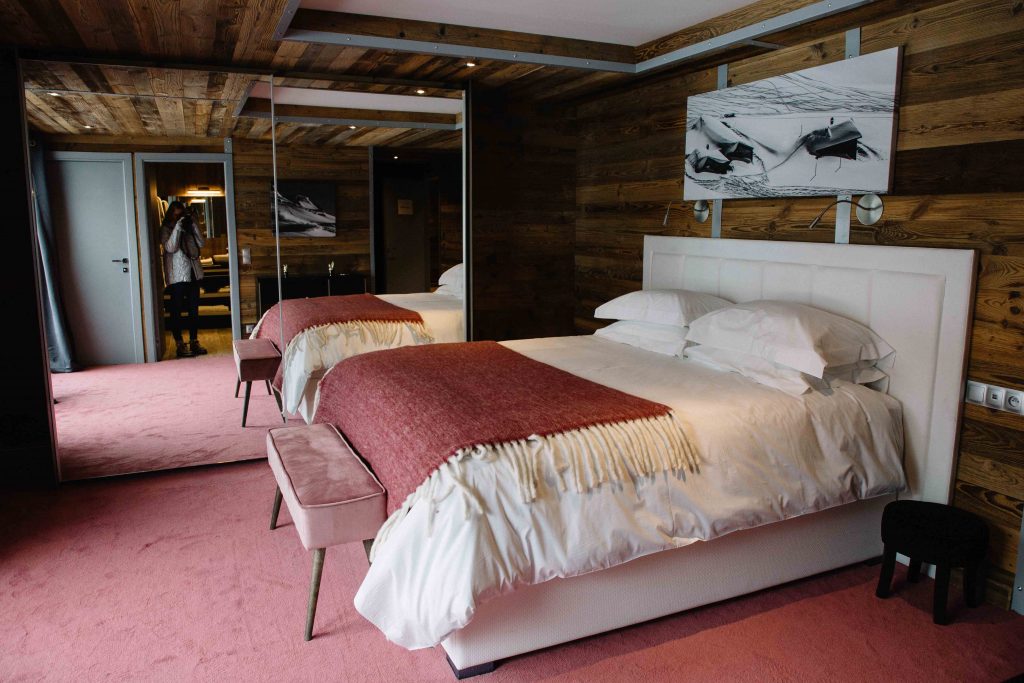 Unable to quite believe that this room was all mine, I hurried to find Laura's equally luxurious bedroom. A pink boudoir, complete with enormous standalone bathtub, we bounced around excitedly; our adrenaline levels now fever pitch.
Yet, the pièce de résistance of Residence Charlie was still to come. Located above an original steel aeroplane staircase – and stretching across the entire top floor – lay the bedroom of my childhood dreams.
Clambering up the metal stairs, we walked into a towering room featuring yet more of the 1950s military plane found in the dining room. Yet this time, it was the gleaming outer shell of the aeroplane that stole the show: its yawning interior creating a perfect snug to house games consoles, a widescreen TV and cosy leather sofas. Having spent much of my childhood inside a lack-lustre apartment in the Costa del Sol, this room was nothing short of a dream.
It perhaps goes without saying that any children staying at Residence Charlie during their ski holiday in Tignes are in for the time of their lives.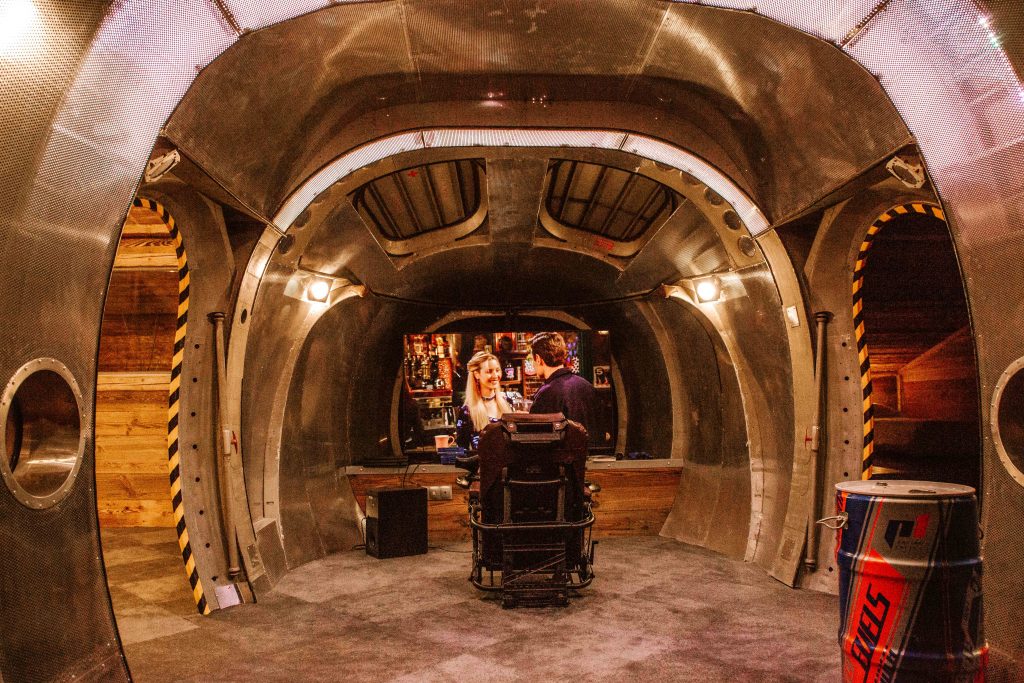 The Après Terrace
An unexpected surprise of the Black Diamond complex was the Après Terrace bar. A communal area for all Black Diamond guests, the terrace came complete with a roaring fire pit, fur blankets and delicious cocktails. With no need to walk into town, we had our very own après ski waiting for us after a long day on the slopes.
Making my way down the spiral staircase that Friday night, I was greeted by the sound of laughter and the steady beat of a live band. The snow falling thick and fast, a winter wonderland appeared ahead of me; the fire pit sending glowing embers skywards. Quickly finding a warm red wine in my hand and plenty of cheery faces smiling back at me, our night on the Après Terrace was a lovely opportunity to mix with other Black Diamond guests – and a wonderful way to begin our ski holiday in Tignes.
Swim and Sauna at Black Diamond
Delving into my suitcase, I grabbed my bikini and scrambled to get changed. Like overexcited children, we were in a race against time to dive into the pool before dinner was served. Grabbing the complimentary dressing gown and slippers from my bathroom, I shuffled rapidly down to the complex's glittering spa. Giddy with excitement, we piled into the newly completed sauna, grabbing some fruit as we went (a vain attempt to counteract all the cheese and wine that was to come).
An oasis of calm and warmth after a long day skiing, the spa was the perfect antidote to heavy, aching limbs. Rivalling any professional spa I've visited, the spa area of Black Diamond was chic, sophisticated and hugely relaxing. Offering panoramic views across the mountains, a pool filled with massage jets, a pine-scented sauna and hamman, and even a selection of in-house therapists, it was hard to prize ourselves away from this magenta-hued sanctuary.
Transport at Residence Charlie
Alongside plenty the Black Diamond shuttle bus, there was also one other mode of transport on offer that I became particularly obsessed with.
Hurtling down the slopes to the ski hire shop, I screamed with a mixture of delight and terror. Housed snugly in the back of a miniaturised snow truck, we were travelling around Tignes-Les-Brevières in speedy style. These nifty little snow cars are perfectly designed for navigating Tignes' narrow, slippery slopes and are a (fun) and adrenaline-fuelled way to explore the village.
It perhaps goes without saying that a spin in one comes highly recommended.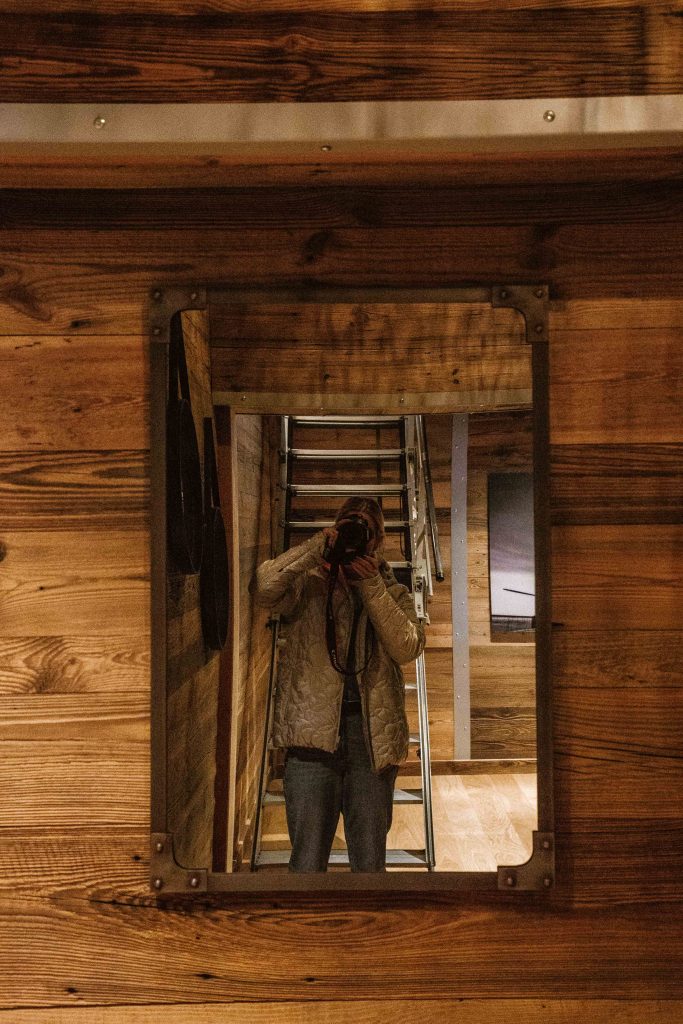 Private Dining at Residence Charlie
The concept of enjoying your own chef whilst staying at Residence Charlie was something that I found both incredibly indulgent and incredibly exciting.
Used to booking a simple self-catering apartment when travelling, I was more than looking forward to experiencing the perks of a catered chalet in Tignes. The snow falling heavily most nights of our stay, it was comforting to know that we didn't need to head out again after a hot bath and a glass of wine. Instead, delicious dinners (and breakfasts) were served at our bespoke aeroplane table; each dish enjoyed whilst wearing jogging bottoms and a pair of slippers.
Our catered chalet experience peaked on the final night of our ski holiday in Tignes, when we celebrated Rich's birthday. Wandering up the stairs at 8pm, we were met by our chef and wonderful chalet host, Alexia – a bottle of bubbling champagne in her hand. Taking our seats around the table, we were treated to the most incredible 5-course Japanese tasting menu, complete with accompanying wines.
Treated to personalised menus, flickering candle light and an extravagant birthday cake to finish, our final supper at Residence Charlie far surpassed any expectations I'd had of the catered chalet experience.
For those staying in the Black Diamond complex, you have the option of fully catered, bed and breakfast or self-catered experiences.
How to Book a Ski Instructor In Tignes
A key – yet often frustrating – task associated with arranging a ski trip comes when trying to find a ski instructor.
For those of us who aren't pro skiers, it's likely that you'll want to book yourself at least half a day of ski tuition when arriving on the slopes. A little baffled as to how we'd even go about the process of finding an instructor when planning our ski holiday in Tignes, we were thankfully introduced to a new and revolutionary booking platform: SkiBro.
"So, it's like the Tinder of the ski instructor world?" I asked after a few drinks at dinner. Scrolling through the SkiBro app, I looked at the list of smiling instructors; each profile complete with mini introductory video. A new booking platform designed to make the securing of ski instructors less daunting, the SkiBro app offers a quick and easy way to find an instructor that suits not only your needs: but your personality and preferred skiing style.
Whilst the boys set off with their own instructor David, Laura and I were paired with the wonderful Rich; originally from Northumberland. Having a quick watch of his video, I was immediately put at ease that my inaugural day on Tignes' slopes would be relaxed and fun.
Our ski instructor pairing turned out to be a match made in heaven, with Rich offering a patient, calm and encouraging shoulder to lean on (quite literally). Starting us on the nursery slopes in Tignes-les-Brevières, Rich gave us a quick refresher in the 101 of skiing. "Remember to squeeze the grape between your leg and the ski boot," he yelled as we made our way down the slope. "And smile!"
The SkiBro app, which can also be used via this website, also provides instant booking – meaning that there is no need to embark on lengthy email chains or awkward phone calls ahead of your trip. Like a quick 'swipe right' on Tinder, you can find and book the ski instructor of your dreams, all via a quick tap on your phone screen.
SkiBro is available in all of the leading French, Swiss and (soon to come) Austrian resorts.
Ski Hire in Tignes
"This is the worst part of a ski holiday," Laura muttered as we loaded into Black Diamond's minibus. We were headed into the village to collect our ski equipment – an activity that usually involves long queues and an awful lot of waiting.  Bracing myself for the worst, we rounded the corner and arrived outside Intersport in Tignes-les-Brevières.
Yet, a small miracle was to occur. Breezing into the shop, there were no crowds to be seen as we were quickly seated and our boots fitted. The whole process took no longer than 15 minutes for our group of six, and we were soon out the door with our ski boots, skis, poles and helmets in hand.
Taking advantage of Intersport's offer to change and swap skis as many times as you need, I returned to Intersport the next day to change my ski boots for a slimmer fit. In terms of costing, Intersport price themselves at approximately €8 per day for ski hire only. For extra savings they offer bi-weekly discount codes on their Facebook page.
Intersport also have stores in Tignes Le Lac and Tignes Val Claret.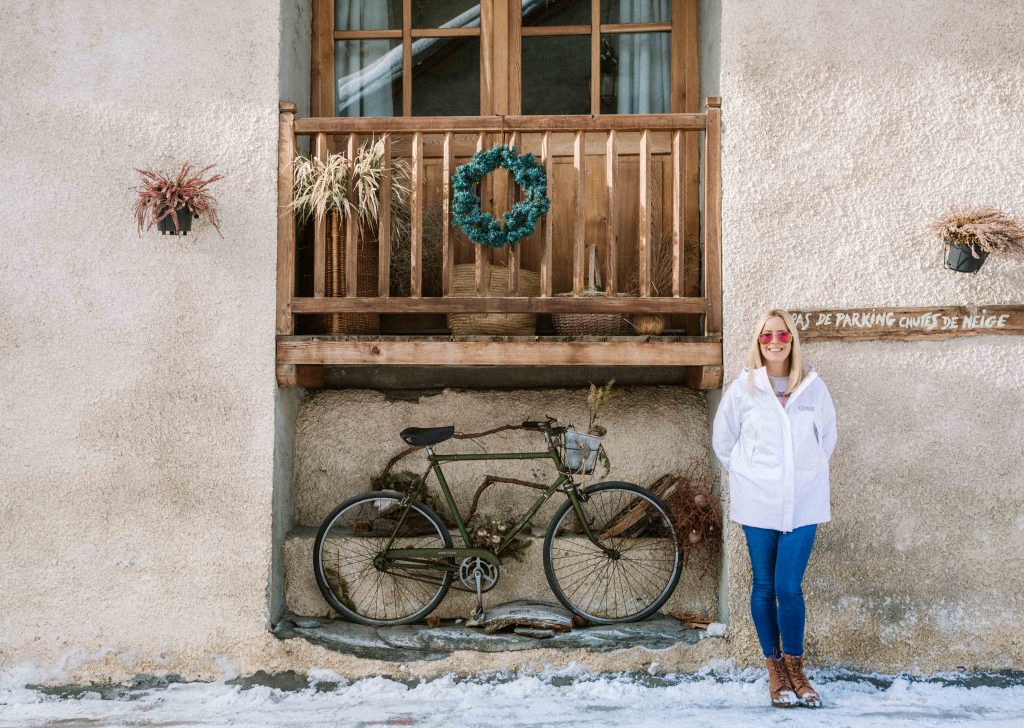 Ski Passes in Tignes
Perhaps the priciest element of any ski holiday (aside from your accommodation), is invariably your ski pass. When booking your ski holiday in Tignes, you have the option of choosing from three different passes, each based on location:
A pass for just Tignes
A pass for both Tignes and Val d'Isère
A pass for Pieton
We opted for the Tignes and Val d'Isère pass, which allowed us the flexibility to ski between both resorts. This option comes highly recommended for those looking to experience a greater variety of slopes and colours. Passes vary in price, ranging from €50 for a day pass to €294  for a six-day pass. For those not skiing, pedestrian passes are also available.
A handy map of all the ski routes in the region can be found here.
Tignes Après-Ski
As our day on the slopes drew to a close, I realised that it was finally the moment I'd been waiting for: Val d' Isere's infamous après-ski experience at the Cocorico bar.
Having heard whispers of revellers dancing on tables, live bands and rowdy singing under the stars, I was keen to experience a little of Corcorico myself. The sun now dipping below the frosted mountains, we gathered on one of the bar's private terraces – drinks in hands.
Before I had time to fall victim to any sense of British awkwardness, the band started up – giant flares launching into the sky. Looking out across the dancing crowd of skiers and boarders – the snow now falling thickly – I felt a wave of happiness that I was getting to experience this magical ski holiday in Tignes. This was nothing like the artificial slopes of the Milton Keynes Snozone.
Two hours later and having danced until we couldn't dance anymore, it was time to say our goodbyes to Cocorico. Reluctantly plucked from the crowd, I vowed to return here – forever remembering it as a place to get lost amongst fresh snow and live music.
Some might say that no ski holiday to Tignes is complete without an après-ski experience at Cocorico; and it's a sentiment that I wholly agree with.
A new Cocorico Bar has also recently opened up in Val Claret. 
Where to Eat During Your Ski Holiday in Tignes
Aside from our delicious meals at Residence Charlie, we also indulged in a few lunches and dinners in and around Tignes. In fact, the restaurants were an unexpected highlight of our ski holiday in Tignes; with the cuisine, wine and cosy setting making each place an irresistible, wintery retreat.
La Sachette
The oldest restaurant in Tignes-les-Brevières, La Sachette offers a warm sanctuary away from the snowy nights. Arriving after a short ten minute walk from our chalet, we took our seats at a small, candle-lit table. On the hunt for a traditional cheese fondue, we immediately located the cheesy sharing platter and ordered it alongside some traditional French snails and – of course – copious amounts of wine. A restaurant since 1893, La Sachette comes with little pretence; offering hearty traditional food, good wine and picture-perfect surroundings.
L'Armailly
L'Armailly is located close to the nursery slopes of Tignes-les-Brevieres. Offering a wood-panelled, rustic haven after our first morning of tense skiing, we enjoyed a lazy, long lunch here. With beer (daring considering we had an afternoon of skiing ahead of us) and traditional dishes such as goat tartiflettes, we dined like kings; making our return to the slopes that afternoon particularly difficult.
Le Panoramic
"We'll be eating lunch on top of a glacier today," Anne said casually over breakfast. Perplexed, I performed a quick Google search of the restaurant – Le Panoramic. Sat atop the Grande Motte glacier, Le Panoramic is one of the best known restaurants within the Tignes resort. With roaring fires, staff wearing traditional savoyard berets, complimentary fluffy slippers and fur throws galore, Le Panoramic is a true, alpine heaven.
Accessed by the funicular located in Tignes Val Claret, the journey to Le Panoramic was an exciting ten minute voyage through a mountain. Opened in 2011, and perched at 3032 metres high, Le Panoramic has quickly gained a reputation as a foodie paradise. The mountain air making our tummies rumble, it was here that we gorged on flame cooked ribs and steak, the creamiest mash potato we've ever tasted, and treats from a seemingly unlimited dessert trolley.
Food aside, however, there is one other attraction that draws the crowds to Le Panoramic: Igloo, the St Bernard dog.
Shuffling as fast as I could in my furry slippers, I rounded the corner and immediately came face-to-face with the new love of my life. Staring back at me sat Igloo – a horse sized, loveable lump who was seemingly oblivious to the crowds of adoring fans. Belonging to the restaurant's owner, it's said that Igloo travels to the restaurant alone most days – riding the funicular independently.
A life of alpine air, crackling fires and endless attention, it seemed that Igloo was living his very best life.
The best way to burn all the calories inhaled at Le Panoramic? An afternoon of skiing. From the Grande Motte glacier, it is possible to ski the entire distance back down to either the resorts of Tignes, or Val d'Isere. However, for those feeling a little too full (like us), the lazier option is to simply take the funicular back down to Tignes Val Claret.
For those considering a ski holiday in Tignes, a visit to Le Panoramic is a must.
A Luxury Ski Holiday To Tignes: Final Thoughts
Piling into our minibus, the snow draped over the village like a soft blanket, I strained my head out the window for one last breath of fresh, Alpine air. Winding our way down the tiny, snow-filled lanes, I cast my mind back to just a few days before, when I had spent the day on the slopes of the Milton Keynes Snozone. The anxiety and fear I'd experienced ahead of our ski holiday to Tignes now a distant memory, I wish I'd known just what a magical experience I was in for.
Far from a weekend of tears, all whilst sliding down the side of the French Alps, I'd come to appreciate that a ski holiday in Tignes comprised of far more than simply parallel turns or aggressive red runs. Instead, Tignes was a place of stunning beauty, peaceful villages and sumptuous dining. Be it a morning of skiing, an afternoon of live music, or simply an hour spent quietly soaking up the mountain views, Tignes is a place for true, unadulterated escapism.
We were invited to enjoy our luxury ski holiday in Tignes by Tignes Tourism and Atout France– however all opinions are our own.
Pin it: