This guide to a day trip from Porto to Foz do Douro contains affiliate links.
Prior to our own trip to Porto, I'll admit that I knew embarrassingly little about the geography of this beautiful city. While I was (at least) aware that it hugged the shores of the magnificent River Douro, I hadn't quite appreciated its proximity to Portugal's wild Atlantic Coast.
Lying just two miles from the river's mouth, I soon discovered that Porto has a distinctly coastal side – an area known as Foz do Douro (meaning 'Mouth of the River Douro'). Just a short bus or tram ride from the city, Foz is a fantastically bohemian and laid-back part of Porto – and an area definitely worth visiting.
Visiting this seaside neighbourhood was a highlight of our short break to Porto and although it was somewhat windswept, it revealed to us yet another side to this incredible city – one filled with tasty seafood restaurants, dramatic vistas and meandering promenades.
Below is a round up of our day trip to Foz do Douro, Porto – including how to get to Foz from Porto, the best restaurants in Foz, what to do in Foz do Douro and some of the best hotels in Foz do Douro (including the famous Vila Foz Porto).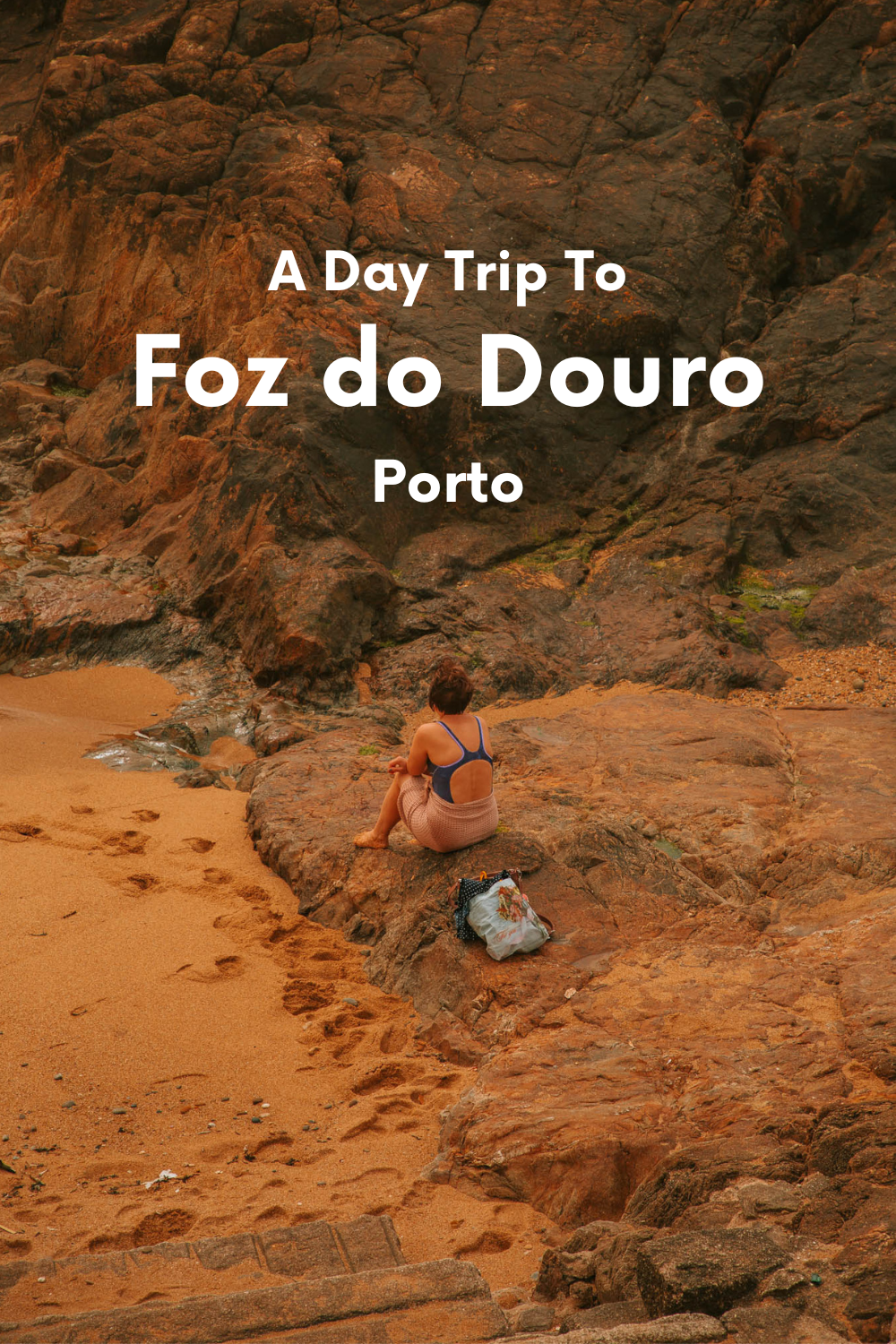 How to Get to Foz do Douro from Porto
Getting to Foz do Douro from Porto is incredibly easy and super fast. In fact, its proximity to the city is one reason why we decided to make the day trip from Porto to Foz.
Tram to Foz do Douro
Perhaps one of the prettiest and most nostalgic ways to get from Porto to Foz is by tram – specifically the Number 1 Tram ('Linha 1').
Tightly hugging the meandering shores of the River Douro, the Number 1 tram in Porto is a regular sight; slowly ambling its way from the city's Ribeira district to Foz do Douro. Dating back to the 1930s, this antique tram is definitely the best way to get to Foz from Porto.
The tram to Foz from Porto takes just under 20 minutes and will cost you around 3 Euros per single trip. Running every 15 minutes, this is a regular and reliable route to take- and exact timings can be found here. The ride starts at the 'Infante' stop in front of the São Francisco Church and ends at the Passeio Alegre stop.
Bus from Porto to Foz
Another good option when travelling from Porto to Foz do Douro is to take the bus (the option we went with).
The 500 bus will deliver visitors to Foz's seafront, with multiple stops along the way. We took the bus from outside the São Bento train station (buses run every 20 minutes) and enjoyed a lovely 30 minute ride through Porto and along the river. Be warned, the bus was exceptionally busy on the way there – but (thankfully) almost deserted on the way back.
Tickets will set you back just 1.50 Euros each way.
Taxi/Uber from Porto to Foz
If public transport isn't your thing, then you can get a taxi or Uber from Porto to Foz.
An Uber will set you back around 6 Euros (you can also use Bolt).
Walking from Porto to Foz do Douro
The walk from Porto to Foz will take you around an hour – although be warned, it involves many hills. We decided to walk back from Foz at the end of the day and whilst we got some amazing sunset views, we were shattered by the end.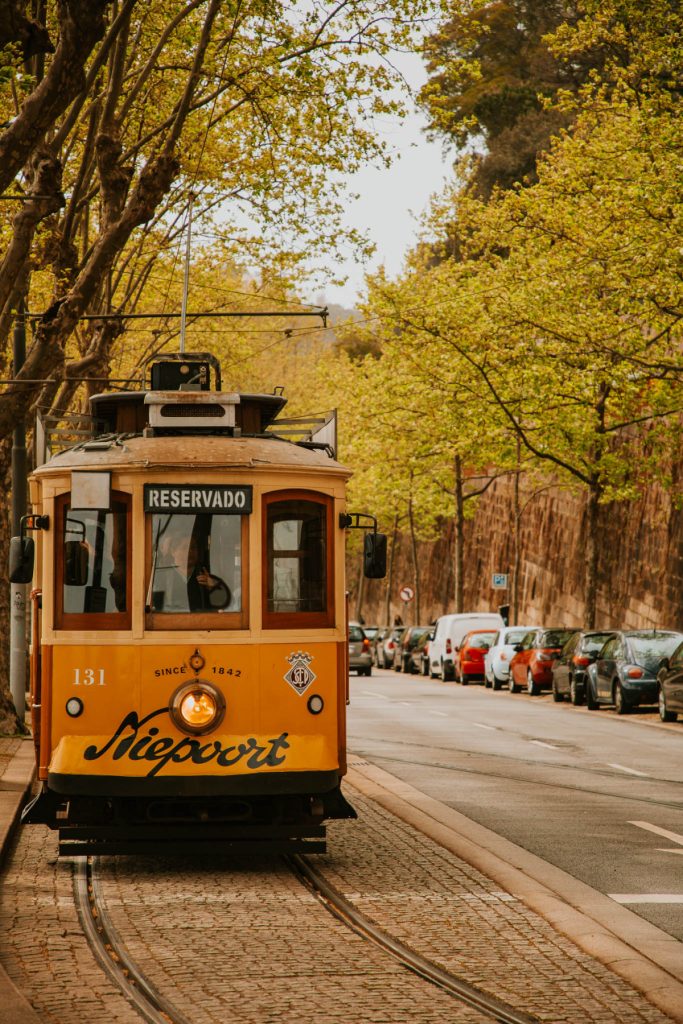 Do you suffer with anxiety around travel?
Sign up to our mailing list for 20% off our brand new course, 'Overcome Anxiety and See the World,' released 5 August 2023
Things to do in Foz do Douro, Porto
Representing the best day trip from Porto (and the easiest), Foz – a former fishing village – is a fantastic place to visit, particularly during the summer months.
Boasting two historic forts, bars perfect for sun-down cocktails, golden beaches, an iconic lighthouse and an incredible Art Deco villa, visiting Foz Porto is a must.
Below is a round up of the best things to do in Foz do Douro, Porto.
1. Visit the Iconic Serralves
One of the most famous occupants of Foz do Douro, Porto, is the magnificent Serralves. 
A large cultural complex, Serralves – found in the leafy suburbs of Foz – comprises of a pastel pink Art Deco mansion (Casa de Serralves), beautiful gardens and a leading museum.
One of the main reasons we wanted to visit Foz Porto was to visit Serralves – lured in by those iconic shots of its turquoise pools and Barbie-pink villa.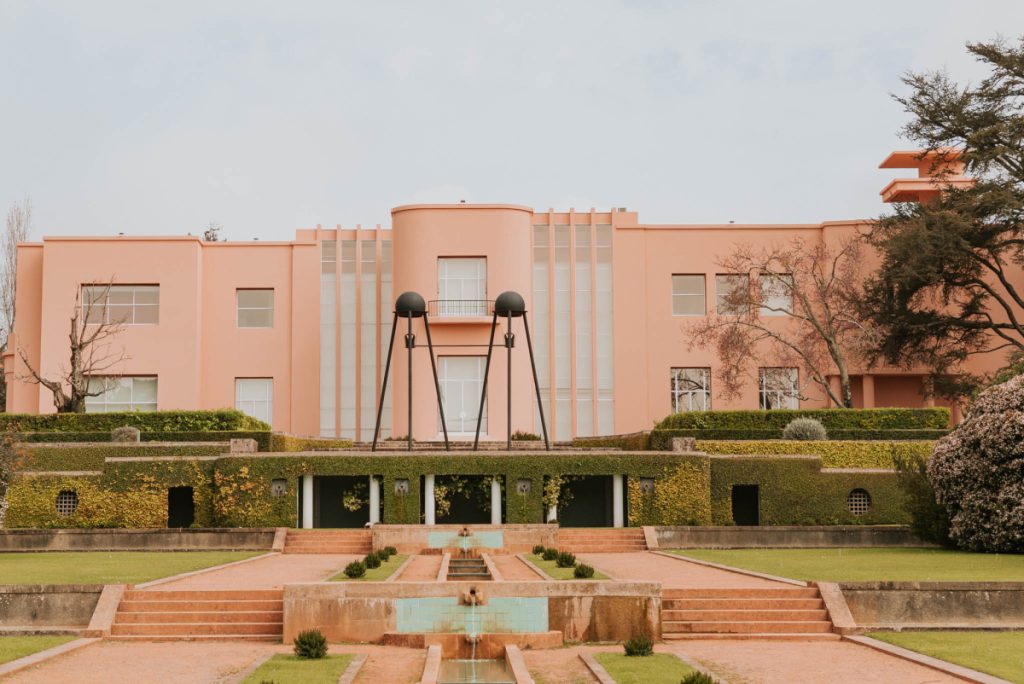 When visiting Serralves, you can either opt for a partial ticket (e.g just to see the gardens, or the museum) which costs around 13 Euros, or a ticket for the entire complex – setting you back 20 Euros.
We opted for the full ticket and are really glad we are.
Not only are the gardens magnificent – spanning 18 acres and home to beautiful instillations and lily ponds – but the museum is a real find; claiming to be the foremost museum for contemporary art in Portugal.
The villa itself is also worth exploring. Built in the 1930s, this Wes Anderson-esque building was once home to Count Carlos Alberto Cabral and was designed by leading architects of the day, including Marques da Silva.
Be warned, Serralves sits back from the coastline – a 20 minute uphill walk away. Thankfully, the 500 bus stops right outside it, if you want to head straight there from Porto (which we did).
2.  Visit Passeio Alegre Garden
A highlight of our day trip to Foz do Douro was an hour long wander through the neighbourhood's fun and pretty Passeio Alegre Garden.
Designed and built in the 19th century, these gardens are a great place to hang out during your time in Foz do Douro – offering swaying palm trees, a crazy golf course, fountains and hidden sculptures.
Close to the shore, locals head here to listen to live music on Sundays and buy tasty snacks from the nearby kiosk, the famous – 'Swiss Chalet.' Given its very laid-back outdoor vibes, it's best to visit here during the summer months.
3. Enjoy Lunch at the Iconic Pedro Lemos
Pedro Lemos is one of two Michelin starred restaurants in Porto, with this one conveniently located in Foz.
Situated within a beautiful, historical house, Pedro Lemos is the place to come to for a special occasion – offering fine dining within stunning surroundings.
A little fancy, be sure to ditch your flip-flops for something a little more refined before you head here.
The set menu here isn't cheap – setting you back 160 Euros per person, however – it is worth it (we promise).
4. Enjoy Delicious Pastries at Tavi
If Michelin starred dining isn't for you, then head to Tavi for phenomenal views, tasty food and friendly service.
This is where we ate during our own day trip to Foz do Douro – tucking into venison burgers as we gazed over the swell of the Atlantic Ocean. Tavi is also famous for its delectable sweet treats, and has been a much-loved pastry and confectionary shop since 1935.
You can visit the confectionary shop separately to dining in the restaurant or, alternatively, you can order one of their many pastries from your table.
Do you suffer with anxiety around travel?
Sign up to our mailing list for 20% off our brand new course, 'Overcome Anxiety and See the World,' released 5 August 2023
5. Visit Foz Lighthouse Porto
Regularly cited as one of the best things to do in Foz do Douro is a trip to the neighbourhood's solitary lighthouse – Felgueiras Lighthouse. Perched where the waters of the River Douro meet the cold currents of the Atlantic Ocean, this is one of the area's most iconic spots.
One of the most photographed sights in Foz do Douro, Porto, this lighthouse is regularly battered by crashing waves and as such, can be a dangerous spot to visit on stormy days. As a result, it's regularly cordoned off to visitors.
However, on calmer days, it's possible to walk to the end of the promenade, where you can get some spectacular photographs of the lighthouse at sunset.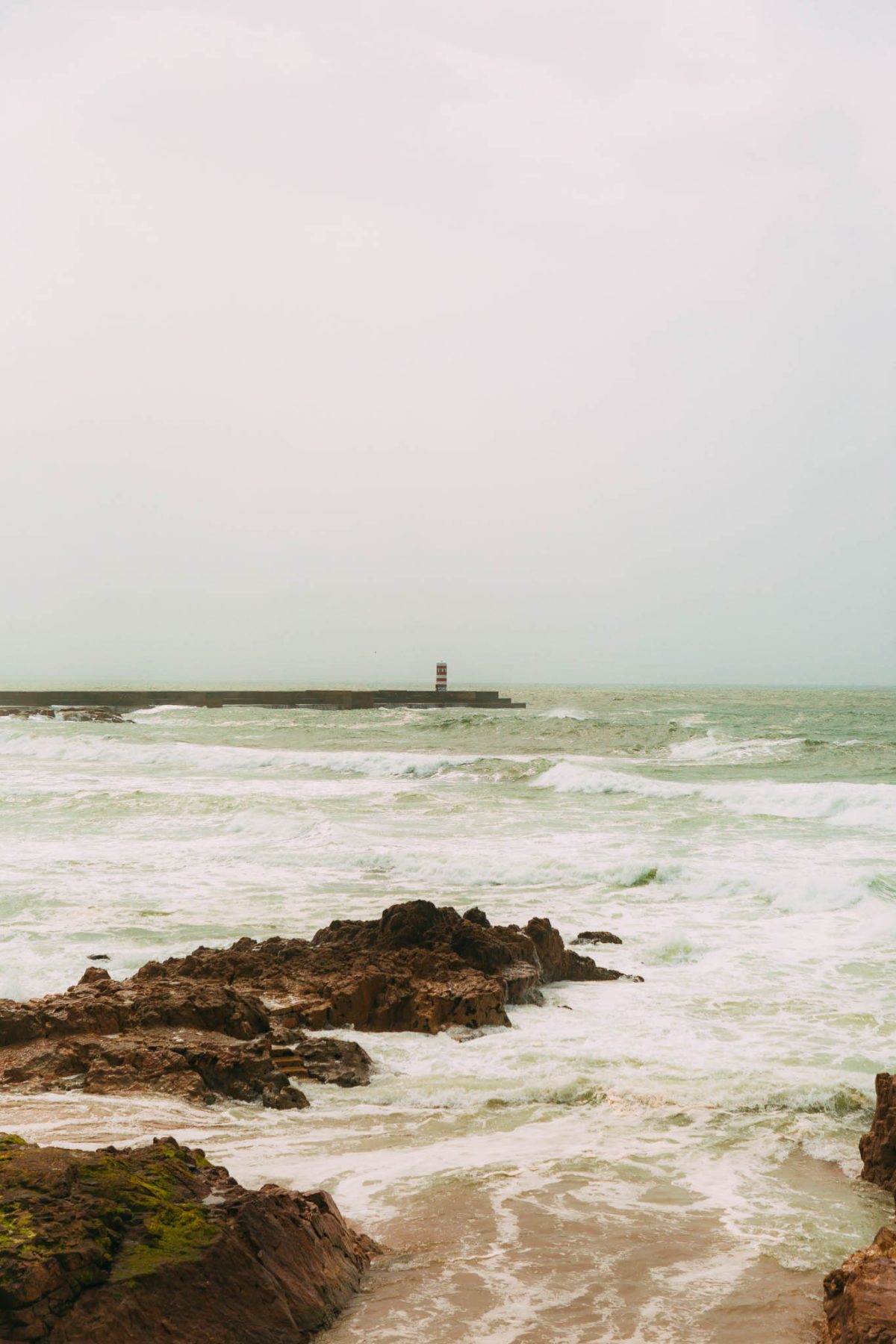 6. Visit Sea Life Porto (Aquarium)
In terms of things to do in Foz do Douro, Porto,  a visit to the aquarium is definitely one – especially if you're travelling with kids.
Admittedly, this is a little further up the coastline, however, it's only an 8 minute taxi away, or a 30 minute walk away. The biggest aquarium in Northern Portugal, Sea Life Porto is home to sharks, turtles, octopuses, sea horses and penguins. It also has some fantastic walk-through tunnels, with giant sting ray swimming overhead.
One interesting area is the one dedicated to marine life found in the Douro River, alongside a fantastic play area outside – perfect for little people.
7. Visit Foz's Oldest Grocery Store
I know, this might not sound like the most exciting thing to do in Foz do Douro, but hear me out.
Augusto da Foz, established in 1954, is one of the area's oldest stores – and well worth a visit during your day trip to Foz do Douro from Porto. Filled with wooden shelves heaving with everything from tinned sardines to delectable goat's cheese, this atmospheric store is a great place to explore – particularly if you're looking for foodie souvenirs.
8. Explore Foz's Historic Forts
Foz's ancient past can be spotted along its coastline, in the form of historic forts and crumbling castles.
In particular, it's definitely worth visiting Fortress São João Baptista da Foz (a stronghold from the late sixteenth century) and Fort of São Francisco do Queijo (also called 'Castle of the Cheese'), built in the fifteenth century.
Incredibly picturesque and offering fantastic photo opportunities, we absolutely loved the Castle of the Cheese, named after the 'wedge' shaped rock upon which it's perched. We visited just as the sun was ebbing behind the crashing waves of the Atlantic and were completely captivated by the views.
Do you suffer with anxiety around travel?
Sign up to our mailing list for 20% off our brand new course, 'Overcome Anxiety and See the World,' released 5 August 2023
9. Enjoy Sunset Cocktails
There are some great places to kick back and enjoy a cocktail in Foz do Douro, Porto, Portugal.
Praia da Luz, a restaurant on the seafront, has a fantastic outdoor terrace overlooking the ocean and is a great place to grab a famous Porto Tonic. Likewise, Praia dos Ingleses occupies a similar beachfront location and is very popular come the evening time, particularly during the summer months.
10. Visit the Beach
Whilst Foz do Douro is lapped by the unforgiving Atlantic Ocean – and therefore often victim to some pretty wild weather – come the summer months the beaches here are extremely popular.
Perhaps the best beaches (and most accessible) are Praia do Carneiro, Praia dos Ingleses and Praia de Gondarèm. All of these boast long strips of golden sands, but be warned – the water is cold, even during the hottest months.
For softer sands – and a more developed 'resort' like feel – head up the coast to the seaside town of Matosinhos. Here you'll find calm, sea water pools – for children and adults – alongside amenities like volley ball nets and showers.
11. Dinner at Cafeína:  The Most Exclusive Restaurant in Porto
Lastly, to end your day trip to Foz do Douro, head to dinner at what is yet another contender for the best restaurant in Foz – Cafeína.
The exterior of this restaurant is absolutely beautiful – covered in yellow azulejos – and the inside is just as pretty, with two dining rooms (one housed within a library).
Having opened over 25 years ago and under the expert guidance of chef Camilo Jaña, Cafeína is a refined, yet homely, restaurant, serving up some fantastic food. Blending the best of French cuisine with traditional Portuguese fare, this is a place to dress up for – and to book ahead at.
The Best Hotel in Foz do Douro, Porto
If, rather than making a day trip to Foz do Douro, you want to base yourself in this neighbourhood, then there is one particular hotel you must stay at.
1. Vila Foz Hotel
Easily the best hotel in Foz do Douro is the timeless Vila Foz Hotel.
Set inside an elegant 19th century Villa, this hotel offers 7 rooms within the original building and a further 60 rooms in its tasteful extension. Featuring an indoor swimming pool, luxury spa and gastronomic restaurant, this hotel is a fabulous place to base yourself when visiting either Foz or Porto.
We visited the hotel for a cocktail and fell in love with its original Portuguese floor tiles, golden stucco ceilings and pistachio green walls.
The first five start hotel in Foz, this is definitely the place to stay for timeless luxury and comfort – and fantastic facilities (be sure to book a massage here). There is also a very handy complimentary shuttle bus that departs every morning at 11am for Porto city centre and returns at 5pm.
Prices range from £191 in low season to £355 in high (for a double room) – with breakfast included.