Our day trip to Hampton Court Palace came about thanks to our sponsored ambassadorship with Historic Royal Palaces (HRP). Throughout the summer months, we will be using our Historic Royal Palaces membership to gain access to some of the country's most beautiful palaces; exploring the bedrooms and ballrooms once graced by England's wayward kings and illustrious queens. To find out more about a HRP membership, please see here.
The History of Hampton Court Palace
I first visited Hampton Court Palace when I was eight years old. After a hot and no doubt nauseating coach ride, my classmates and I were deposited outside what is declared to be one of England's finest Tudor structures.
I remember feeling a bit confused. The sprawling red brick building in front of me seemed more like a rambling country manor than a palace fit for one of our country's most famous philandering kings. 
Hidden in leafy Richmond Upon Thames, in the small town of Molesey, Hampton Court Palace was the original home of Cardinal Wolsey – Henry VIII's meddling almoner. However, deciding that this riverside manor – home to fragrant rose gardens and roaming deer – would be ideal for what might be best described as a Tudor bachelor pad, Henry VIII took Hampton Court Palace for himself.
From the 1530s, the palace became Henry VIII's very own pleasure plaza: a place that he could cruise to on his river boat (with his 800 strong band of courtiers), before spending weekends playing 'real' tennis, horse riding, hunting, feasting and entertaining all six of his wives (not at the same time, I hasten to add). No doubt feeling the strain of his wranglings with Rome and the conundrum of just how to secure his divorce, it's perhaps understandable that Henry needed a place to let his hair down.
Following his death, Hampton Court Palace  – and its now newly acquired ghouls – was inherited by William III and Mary II. With a flair for interior design, these joint monarchs set to work extending the palace, leaning on Sir Christopher Wren for guidance. With his help, William and Mary created the palace that we largely see today – complete with its own Baroque extension, sunken gardens, elegant canal (also known as the 'Long Water') and perfectly honed topiary.
By the early eighteenth-century, Hampton Court Palace was reaching the end of its stint as a royal residence; the likes of Kensington and Buckingham palace now catching the Royals' eye. Following the reign of George II and his wife, Queen Caroline, the Palace was handed over to the town, becoming a sanctuary for 'Grace and Favour' residents.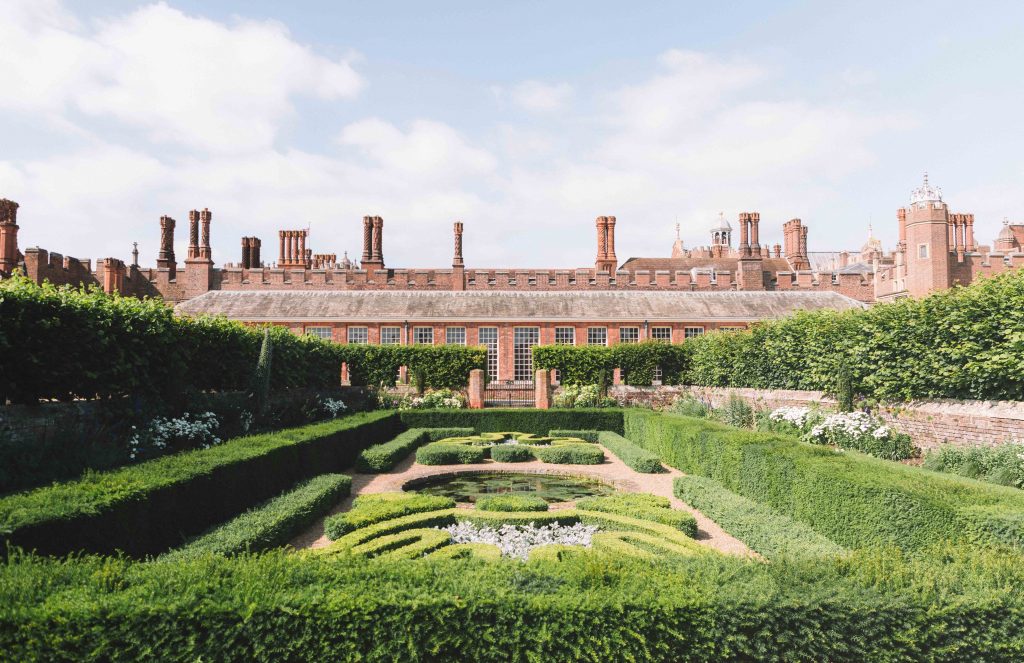 As the (now very deceased) Catherine Howard and Anne Boleyn continued to drift sorrowfully down the palace's hallways – one holding a lit candle – aristocratic widows and their families moved into this labyrinth of rooms and apartments. These 'civilised gypsies' continued to live in the Palace until the 1960s.
Hampton Court Palace Today
Today, the 500 year old Hampton Court Palace remains remarkably preserved; a vestige to another time in which Tudor Kings and their queens danced long into the night and gorged on fourteen course banquets.
Open to the public and conserved by Historic Royal Palaces, Hampton Court Palace hosts annual festivals such as the RHS Flower Show and Hampton Court Music Festival, provides access to Henry VIII's apartments, invites guests to explore its world-famous maze, challenges visitors to try their hand at 'real tennis' and exhibits some of the Royal Collection's finest works of art. 
Even aged eight, I remember leaving Hampton Court Palace positively drunk on Tudor history (something I'd eventually study at university). Unlike any other place I'd visited, Hampton Court Palace was my first taste of living history; a place where I was able to trace the footsteps of England's infamous king and his ill-fated queens. Full of glittering jewels, the echoes of past dramas and listless ghouls, Hampton Court Palace was – and still is – a place that dazzles its visitors.
How To Get to Hampton Court Palace
Situated in the London borough of Richmond-Upon-Thames, Hampton Court Palace is incredibly easy to reach either from London, or by car or boat.
Train
Travelling to Hampton Court Palace by train is perhaps the most hassle free option; with regular trains (via Southwestern Railway) departing from London's Waterloo station. The journey is direct and takes around forty minutes, with a return costing (dependent on when you travel) as little as £14.80. 
As Hampton Court station is still considered to be within Zone Six, you can also use your Oyster Card to travel there. 
From the train station, the walk to the Palace takes around five minutes – just head down the hill and you can't miss it.
Car
For those who are hoping to travel to Hampton Court Palace by car, please note that there is limited parking onsite and as such, it is fairly costly (£1.60 per hour).  Alternatively, you can park at Hampton Court Green car park (500m from the Palace), which will set you back £1.50 per hour, or Bushy Park (a fifteen minute walk away).
Take the Riverboat to Hampton Court Palace
Throughout the summer months, Hampton Court can be accessed via Riverboat – the same way that Henry VIII would have travelled to the palace. The boat runs from Westminster (the journey takes four hours), Richmond-Upon-Thames (two hours) and Kingston-Upon-Thames (forty-five minutes). 
Tickets for Hampton Court Palace
The cheapest way to purchase your tickets for Hampton Court Place is online (they will be more expensive on the day). Online, an adult ticket costs £21.30 and a child's ticket is just £10.70.
Alternatively, and if you're planning on visiting more than one of Historic Royal Palaces' sites (Kensington Palace, for example), then you'll save yourself money by opting for a Historic Royal Palaces membership, beginning at £53 for the year. Not only is your entry to all palaces then free, but you'll receive discounts, invitations to exclusive events, special experiences (ever wanted a rooftop tour of Hampton Court Palace?) and early access to exhibitions. 
To really get bang for your buck, you'll only need to visit two or three palaces in a year to cover the cost of your membership.
Hampton Court Palace Opening Times
Hampton Court Palace is open daily, aside from the  24 – 26th December. Throughout the summer it is open from 10 – 6pm, and closes thirty minutes earlier during the winter months.
Upcoming Summer 2019 Events at Hampton Court Palace
Although I'm desperate to visit Hampton Court Palace at Christmas (it's supposed to be magical), we were excited that our visit to the palace would be in June – just as the gardens explode into technicolour bloom. 
Additionally, and during the summer, the Palace holds some world-famous and beautiful events. Including the RHS Hampton Court Palace Garden Festival, 4 – 7th July, the Real Tennis Champions Trophy (think a Tudor version of Wimbledon) 15 – 21st July, the beautiful looking Lunar Cinema experience, 8-11th August, and the Hampton Court Food Festival 24 – 26th August, there is an incredible amount to experience at Hampton Court Palace.
Our Day Trip to Hampton Court Palace
Having caught the train from Waterloo station, we arrived in the unassuming town of Molesey around midday. Following a steady stream of tourists, we passed over the River Thames (somehow looking more beautiful now that it had escaped the murky waterways of central London) and took an immediate right: Hampton Court Palace appearing just around the corner.
Initially, you might be surprised by the shape and size of the Palace. With more chimneys than turrets (241, to be precise), the Palace looks like a small village; a place that once teemed with courtiers and staff, members of the public and wannabe social climbers.
Indeed, alongside the general humdrum of palace life, Hampton Court Palace's many courtyards posed as a town square – a place where crowds gathered to conduct business, flirt and impress resident royals.
A maze of a place, the palace's serpentine-like design was deliberate and acted as a 'royal filtration' system. The more important you were, the further into the palace you could go –  a little like a slightly elaborate version of a VIP section in a nightclub, perhaps.
Today, and as you arrive at the palace, you'll be surprised at just how easy it is to imagine the Palace as it would have been during this time. With clever exhibitions and immersive soundscapes, arriving at the Palace is like stepping back in time. Wander towards it and you'll soon hear the clatter of carts, the clanging of pans and the hum of townsfolk busily bartering their wares. 
Real Tennis at Hampton Court Palace
Arriving at Hampton Court Palace – and now in full Tudor mode – we were ready to explore. However, before we could begin, we were invited to start our day trip to Hampton Court Palace with something a bit more unusual: a game of tennis.
Now, I find it almost impossible not to picture Henry VIII as an overweight man. Think Henry VIII and I almost instantly think of a sizeable belly, fourteen course banquets and a chronic case of gout. 
Yet, before age and the stresses of regal life kicked in, Henry was a surprisingly athletic young man. During a time when the average height was 5'4, this flame-haired king stood at a staggering 6'1. As such, he had a natural flair for sports and loved nothing more than an after-school joust, a spot of double-axe throwing and a galloping hunt. 
Yet, there was one sport that really caught Henry's attention: real tennis (also known as royal tennis or court tennis). 
Arriving at Hampton Court Palace, we were told it would be this game that Claire and I would try our hand at: all in full view of the unsuspecting public.
One of Hampton Court Palace's many surprises is that it still has a fully functioning 'real tennis' court – used by budding amateurs and worldwide champions. Whilst the original court was first built for Cardinal Wolsey between 1526 – 1529, the current tennis court in use today was built for Charles I in 1625. 
Arriving on court, it was immediately obvious that this wouldn't be your usual game of tennis. Instead, the court was decorated with a dizzying number of white lines (also known as chase lines), holes in the wall and – peculiarly – bells. Three of the four surrounding walls sloped (the penthouses) and the walls were bruised and beaten from centuries of play.
"I promise you that it's a great game when you get used to it", Hampton Court Palace's Assistant Professional, Chris Chapman, promised as we arrived. I watched as the ball violently ricocheted off the 'tambour' (a large buttress in the middle of the court) and hit a net; bells ringing.
I smiled in the way that I used to smile at my PE teacher after a demonstration: unconvinced and with a vague trace of fear.
Thought to have originated in France in the 12th Century – when villagers and market stall vendors would end their day by hitting produce back and forth with their hands – the game of real tennis quickly gained structure and rules, spreading across Europe. By the time Henry came to the throne, Real Tennis was the football of Tudor England.
Picking up the small 27 inch racquet Nick explained that the balls in real tennis were not latex based (like those bouncing through the courts of Wimbledon) but cork based. The result, he demonstrated, was a decidedly 'un bouncy' ball.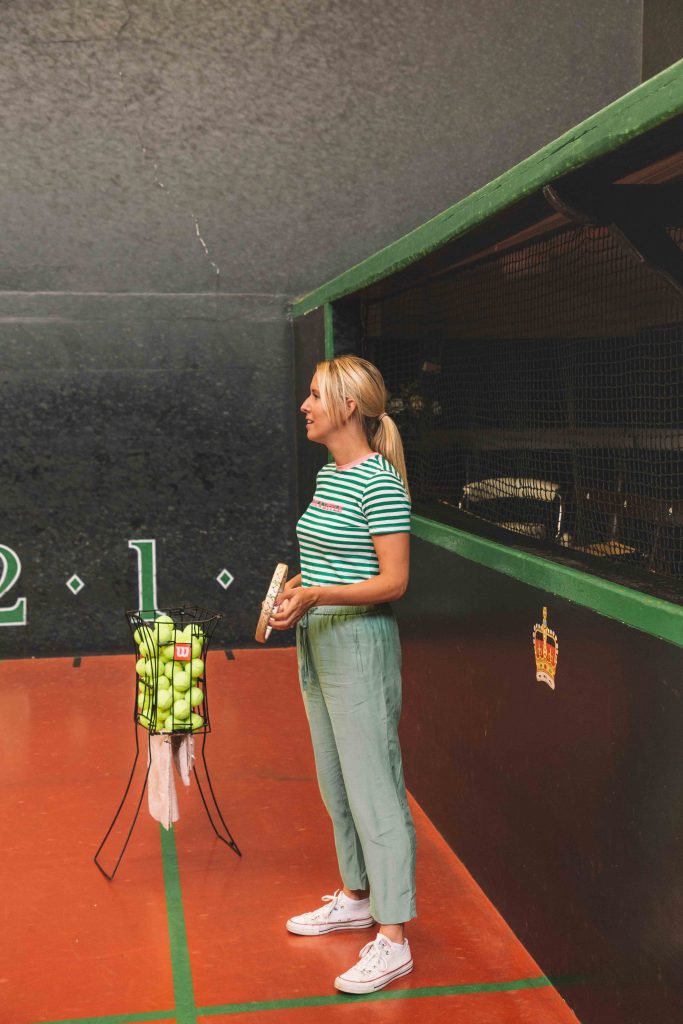 After watching Nick demonstrate the game – including a frenzy of shots called a "railroad", "bobble", "poop", "piqué", "boomerang" and "giraffe" – we were up.
Bravely seizing the racquet, Nick promised to start with what he declared was an 'easy shot'. All we had to do was hit the ball up onto the penthouse (sloping wall) and hope that it rolled back down on the other side of the court, landing triumphantly in the receiving court.
It never did happen.
It turns out that real tennis, complete with its impossibly small racquets and lead-like balls, is not an easy game to play. In fact, Claire and I spent the majority of our time slicing the racquets through thin air. Even the spectating school children eventually got bored – wandering off to watch paint dry, perhaps. 
If you fancy turning your hand to a game once considered only fit for a King, then do book onto a taster session at the palace. An introductory lesson on court starts from £53. 
Exploring Hampton Court Palace's Royal Ceremonial Dress Collection
On our previous trip to Kensington Palace, we were thrilled to be shown part of the Royal Ceremonial Dress Collection, which includes over 10,000 items of delicate royal garments, dating back to the 16th century.
Our day trip to Hampton Court Palace was no different – particularly as it's here that the majority of the collection is held and carefully looked after by Curator, Eleri Lynn. 
After walking through a dizzying number of corridors, up creaking staircases and through a locked door, we arrived in the archives: home to dresses once worn by Princess Diana, a safari suit once paraded by Edward VIII and Charles I's jerkin.
Taking us into a dark, deliberately chilled room, Eleri switched on the lights – revealing shelves lined with tantalising hints of glittering dresses and fur-lined coats.
"I'll begin with what I think is the most exciting piece in this whole collection", Eleri whispered a little conspiratorially.
Reaching for a large box, she peeled back the lid to reveal a plum coloured hat made from woven silk and decorated with a large, green ostrich feather. It also happened to be the former hat of Henry VIII.
Known as the 'Bristowe Hat' (named after the family that donated it), it was slightly surreal to stare at something that once adorned the head of a Tudor monarch. Donated by the family of Nicholas Bristowe, a courtier of King Henry VIII, the hat is said to have been caught by Nicholas when Henry famously threw it up in the air following the siege of Boulogne.
Having gawped at Henry's former headpiece, Eleri revealed her next treasure: a stunningly intricate three-piece suit, once worn by a Tudor courtier. Throughout the 15th century, clothes were of the utmost important and became a symbol of someone's worth, value and standing. Given that Kings and Queens would often open their court to local dignitaries, individuals would spend a small fortune on securing an outfit to wear for their big day.
This suit – which would have only been worn once – is one such outfit: an intricately embroidered masterpiece, complete with tiny clouds and raindrops. Beautifully and painstakingly tailored, the suit (which still bears the sweat marks of its former owner), is a dizzying insight into Tudor fashion and the lengths that folk went to in order to secure their place at the table. 
The Textile Conservation Studio: Uncovering A Hidden Treasure
After admiring many a Tudor garment, Eleri kindly took us upstairs to the serenely peaceful Textile Conservation Studio.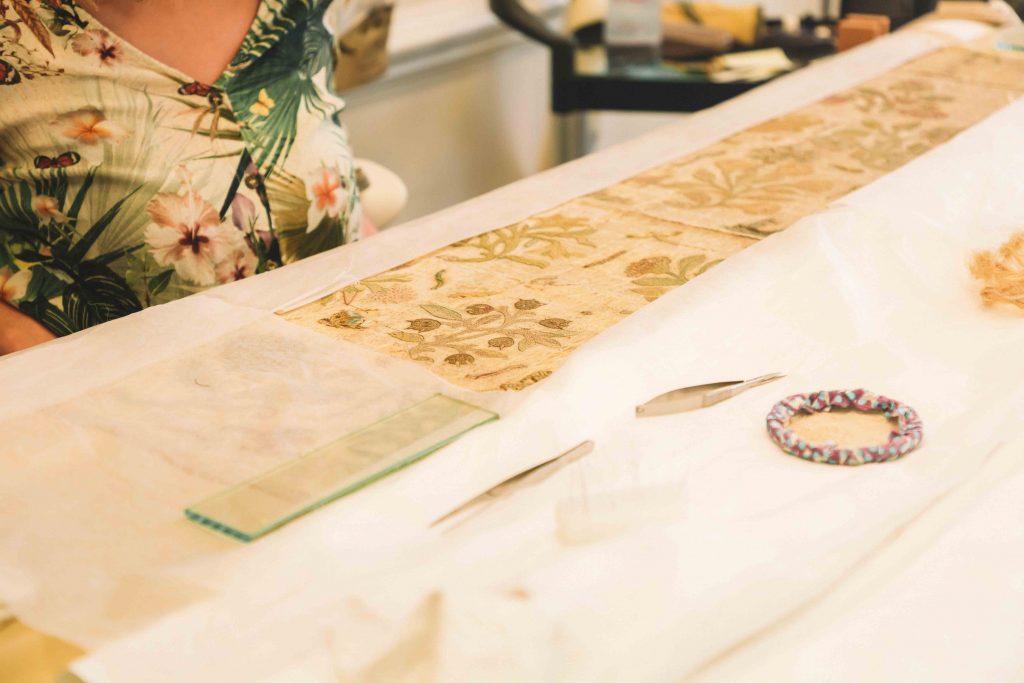 It's here that the dresses, stockings, suits, petticoats, shoes and underwear of former royals are painstakingly restored to their former glory. It's a process that takes not weeks, but months. 
In the corner of the room, one textile conservationist, Libby Thompson, was surrounded by a vibrant, image-filled cloth: the new jewel in the crown of the Royal Ceremonial Dress collection.
"I was just leafing through images of churches and saw an image of a church in Herefordshire that made me pause", Eleri explained. "It was the altar cloth that was framed and displayed on one of the walls that I was interested in".
With an uncanny nose for rare and historically significant garments, Eleri headed to Bacton Church in Herefordshire to see the cloth for herself. Removing the back of the frame that held the cloth, Eleri revealed the original material in all its glory: vibrantly patterned and made from high-status silver chamblet silk.
Embroidered with real gold and silver thread, the cloth had been given to the church by Blanche Parry, one of Elizabeth I's most loyal servants.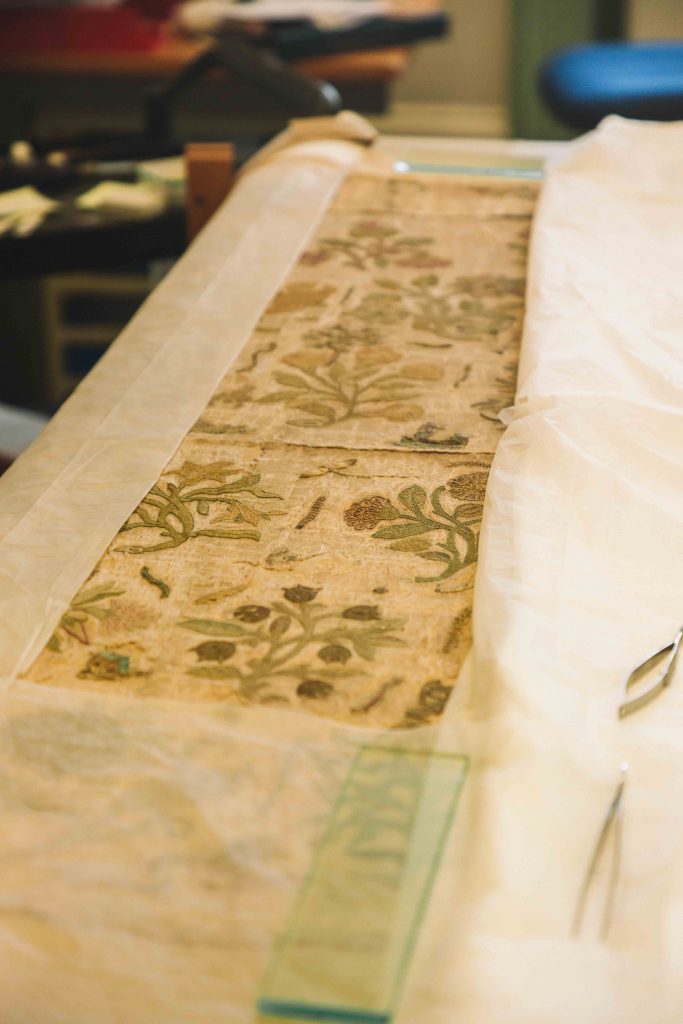 "The church staff's faces went white when I told them what I thought it was", Eleri said, smiling. "Having looked at the pattern cutting, the expensive dyes used on the cloth and having seen Elizabeth's iconic Rainbow Portrait, I was fairly sure that this cloth came from a dress that was once part of Queen Elizabeth I's wardrobe".
Now known as the Bacton Altar Cloth, the piece is currently being restored and will be ready for display at Hampton Court Palace by October 2019.
Watching as Libby carefully embroidered the cloth – working from a number of images and illustrations thought to have originally inspired the dress – I asked her if it felt surreal restoring a dress that the Virgin Queen once wore.
"Oh, completely," she said smiling, "although every day here is a bit surreal".
A Historic Royal Palace Members Only Experience: A Rooftop Tour
As I mentioned, if you sign up for a Historic Royal Palaces membership, you are eligible to enjoy a number of exclusive, unforgettable and behind-the-scenes experiences. One of these is a rooftop tour of Hampton Court Palace.
Scrambling up a seemingly never ending staircase – the ceiling getting progressively lower – we eventually reached a small, unassuming door. Reaching for a large bunch of keys, Sophie – HRP's Press Officer – unlocked the creaking door and swung it open; the mid afternoon sunlight pouring in.
Stepping out onto the roof, surrounded by a maze of towering chimneys, we looked down on the mighty Hampton Court Palace.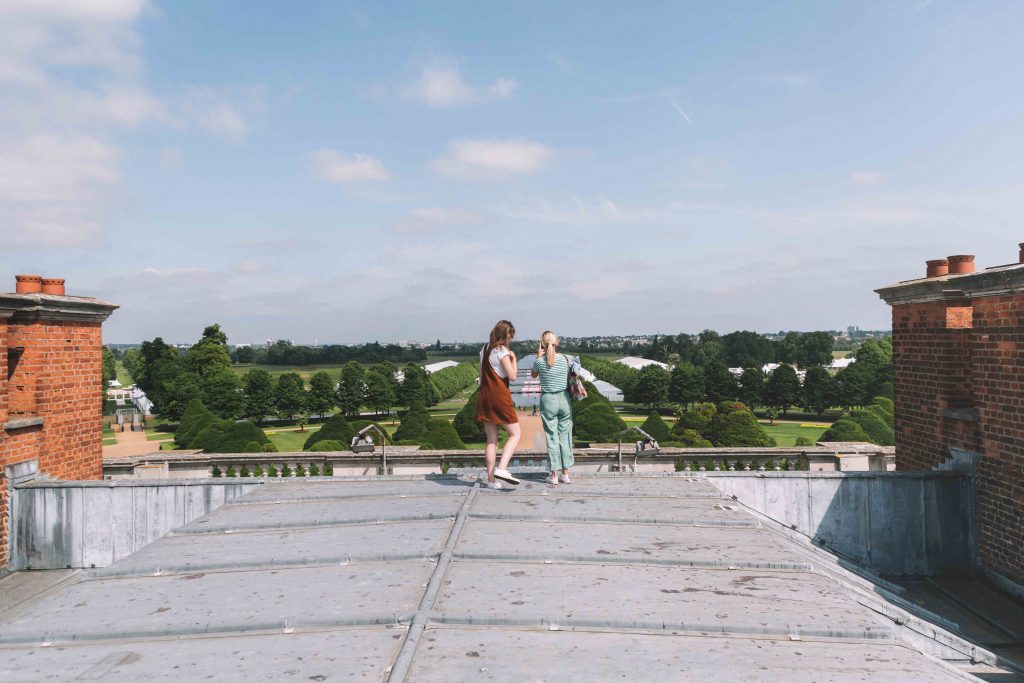 Snaking us through the labyrinth of chimney towers, Sophie pointed out the many sights that you can see from the roof.
Overlooking Hampton Court Palace's 60 acres of formal gardens and 750 acres of royal parkland, these views include a glimpse of the palace's much celebrated maze, its 250 year old 'Great Vine' (originally planted by Capability Brown) and a distant view of London.
High up on the palace's roof – the stained glass windows of the nearby chapel glowing warmly in the sunlight – Hampton Court Palace felt incredibly peaceful. Looking down on its courtyards, the site of the Great Kitchen and its many gardens, you could almost pretend that the world below you was still a Tudor one.
Historic Royal Palaces Gardens
If there is one thing that I remember from my inaugural trip to Hampton Court Palace, it's the gardens.
Indeed, the palace is home to a dizzying number of gardens; each with a different character and theme. Including flower-filled pond gardens, the topiary filled Privy Garden, a large expanse of land called 'the wilderness' featuring over one million flowering bulbs, a herb-filled kitchen garden, the Great Vine and three National Plant Collections, a day trip to Hampton Court Palace is a must for any budding horticulturists.
However, it's perhaps the maze that I remember the most from my first visit to Hampton Court Palace. A (wiley old) maze – and one of the oldest puzzle mazes in existence – this row of hedges completely bamboozled me as a kid.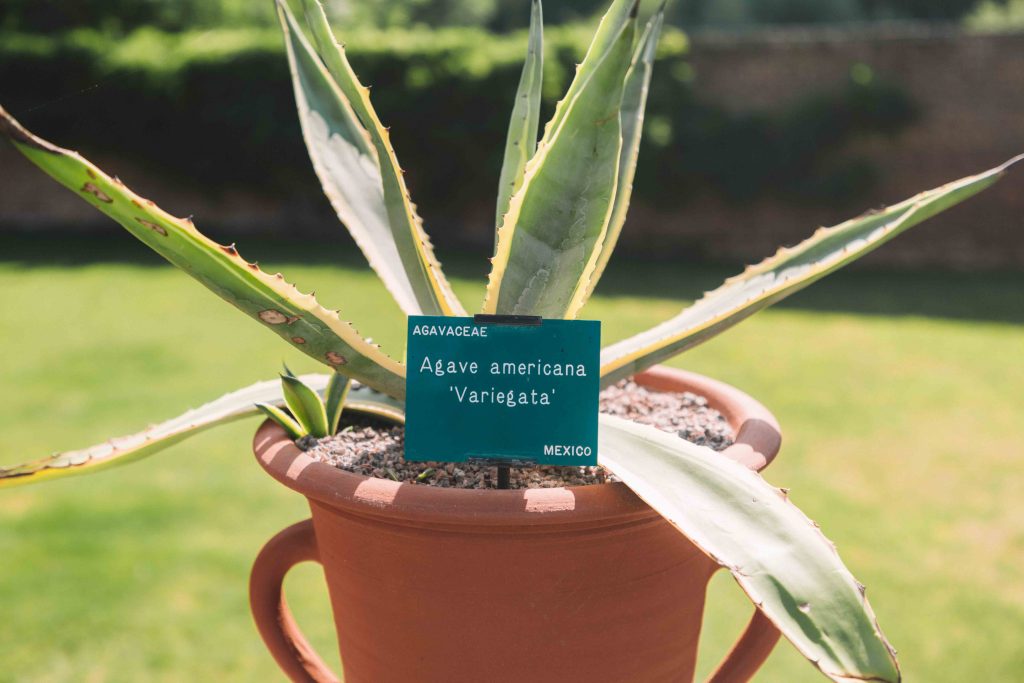 Originally commissioned in 1700 by William III (a man with time on his hands, perhaps) the maze covers a staggering third of an acre and is – by all means – difficult to navigate.
The Magic Garden – specially designed for children – is also well worth visiting if you are exploring Hampton Court Palace with small people. Filled with tales of mythical beasts and folklore, and featuring towers and battlements to clamber over, even I was a little jealous that I didn't get to explore this part of the palace.
Whilst HRP members go free to the Magic Garden, non-members must pay £8 for adults and £6 for children.
Exploring Henry VIII Apartments: A Ghost Hunt
Leaving the gardens behind, we finished our day trip to Hampton Court Palace with something that I'd been looking forward to: a tour of Henry VIII's apartments. 
These rooms, where Henry plotted the death of his wives, his break with Rome and – for want of a better word – partied, were redesigned over a dozen times by the King during his reign. 
Including the Great Hall – host to many of Henry VIII's ostentatious banquets – and the Chapel where he discovered his wife, Catherine Howard, was having an affair, Henry's historic apartments still retain many of their original Tudor features. 
Of course, no good historical palace is complete without a resident ghost or two, and Hampton Court Palace is no different. Perhaps most famously, the 'haunted gallery' in Henry VIII's apartments is reported to be regularly visited by the terrified ghost of Catherine Howard.
Having found out about her adultery in chapel on November 2nd 1541 (via a note discreetly left by the Archbishop), Henry made his decision. No doubt already aware of her fate, Catherine is said to have run screaming down the gallery, demanding to speak with the King.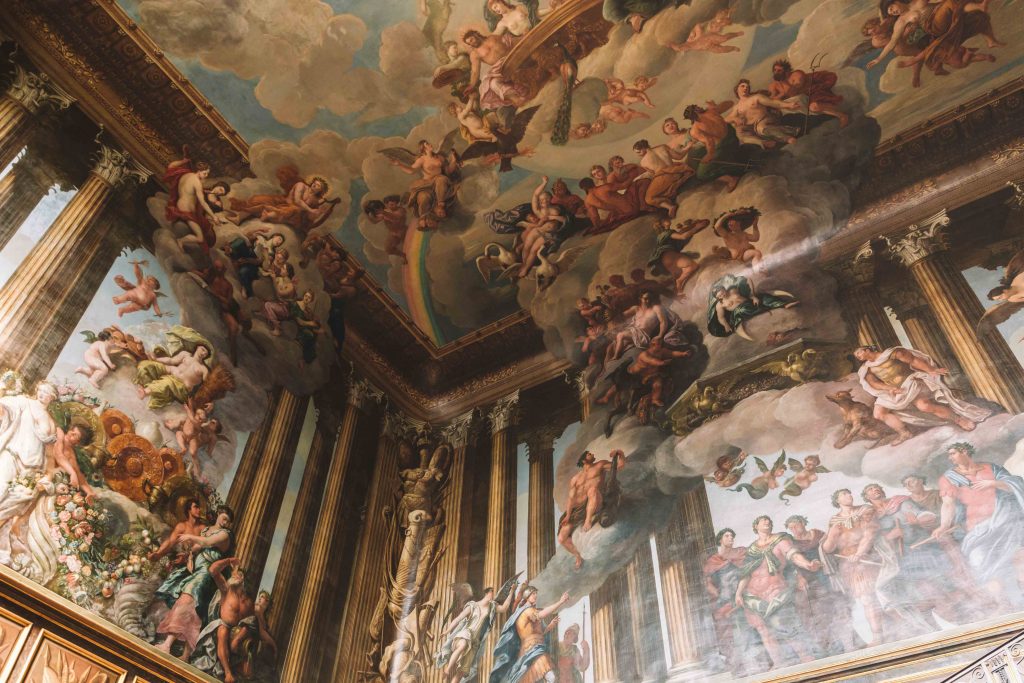 Perhaps unsurprisingly, Henry was unsympathetic. On 13th November, Catherine was beheaded at the Tower of London – the decomposing heads of her former lovers looking on in all their grisly glory.
Who doesn't love Tudor history?
A Day Trip to Hampton Court Palace: Final Thoughts
Growing up, most of the Tudor history I learnt came in the form of books and essays ; via neatly typed sentences and carefully written summaries. However, when I eventually visited Hampton Court Palace aged eight, I remember realising that history wasn't something that only happened between the covers of textbooks – but continued to live and breathe, in places like this.
In places like Hampton Court Palace.
Hampton Court Palace is truly a magical place – and one that even twenty four years later – still leaves me feeling a little bit star struck. A spellbinding experience for both children and adults, treat yourself this year and make sure a day trip to Hampton Court Palace comes top of your list.
Thank you to Hampton Court Palace for hosting us, and to Historic Royal Palaces for sponsoring our ambassadorship. If you want to find out more about securing your own Historic Royal Palaces membership, please see here.
Read about the other Historic Royal Palaces:
Pin it: