This Monzo Premium review contains affiliate links.
I first opened my account with Monzo in 2018, with the intention of using it just as a travel card. Offering entirely free transactions, anywhere and in any currency, using Monzo for travel seemed like a no-brainer.
With Monzo picking up the transaction fee that Mastercard would usually charge its customers, using Monzo abroad meant that I didn't have to travel with large amounts of cash on me (to avoid incurring any charges to my Visa Debit card).
However, aside from using Monzo abroad, I hadn't really considered using it as a bonafide, current account. Having remained loyal to my Barclays account since time began (I think I opened it when I was 12), and due to the fact that I had my mortgage with them, it didn't occur to me that I should make a change.
However, a couple of years later –  having now sold my old house and had a baby – I was in a different place entirely. Now wanting to track my finances more than ever before (particularly with the current cost of living crisis hitting home), I was finding my Barclays current account – and the app that came with it – extremely limiting.
With new 'neobanks' such as Monzo, Starling and Plum, introducing intuitive saving 'rules' to make setting money aside an every day habit – Barclays began to seem more and more archaic.
Likewise, the Barclays app offered no budget monitoring features at all. I received no notifications about how much I was spending, nor how much I had left in my account; something that would have helped me stick to the (financial) straight and narrow.
Eventually, having experimented with using Monzo's saving pots, I decided to make the switch – moving entirely to Monzo and closing my Barclays account.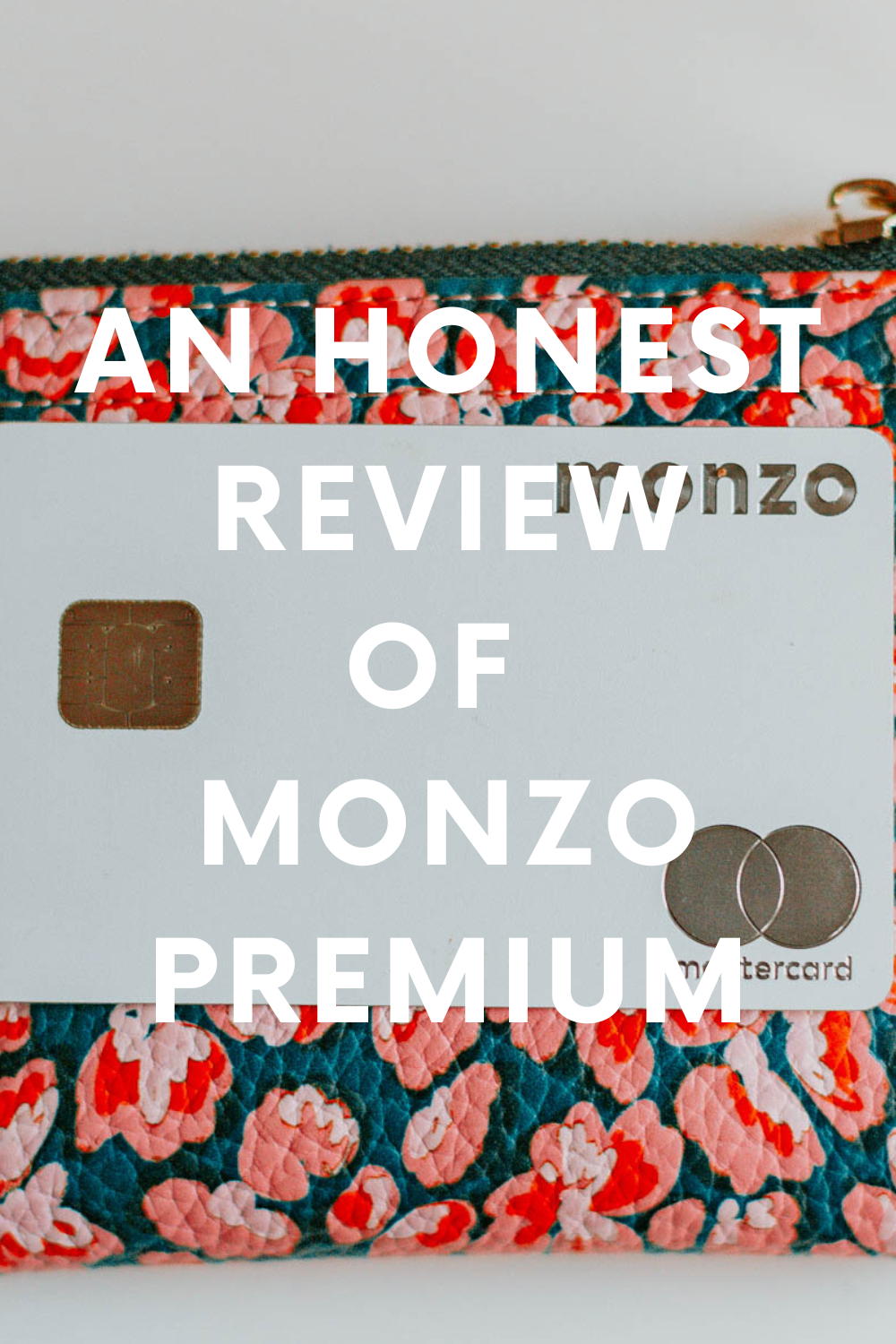 Deciding on Monzo Premium
However, rather than just moving over to my existing Monzo current account, I decided to upgrade to Monzo Premium; an account with a monthly fee of £15.
Offering worldwide phone and travel insurance, higher interest rates, the ability to link to your other bank accounts (credit cards included), discounted access to airport lounges, multiple brand offers and – their crowning jewel – a white, metal debit card – Monzo Premium certainly seemed an attractive deal.
Having since decided to bite the bullet and commit to Monzo Premium, I wanted to provide a quick summary of how I've found the past few months.
Below is my Monzo Premium review and whether I think it's ultimately something that's worth the money.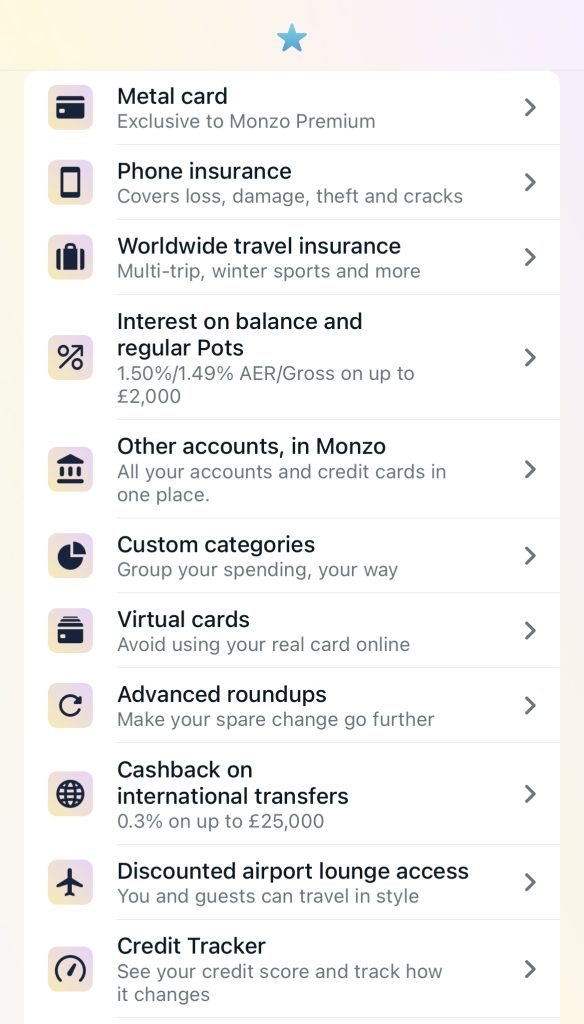 A Quick Monzo FAQ
As Monzo is an online, rather than high-street bank, you might have a few questions (and hesitations) about how it works. Below are all the questions I had before switching over to Monzo Premium.
Is Monzo a Bank?
In short, yes.
Fully authorised in the UK by the powers that be – the Prudential Regulation Authority (PRA) -and regulated by the Financial Conduct Authority, Monzo is a legitimate bank through which you can bank and save money.
However, Monzo is only online, so you won't be able to pop into any high-street chains. Indeed, Monzo is that new brand of bank, a 'neobank'.
In short, this means it has no physical location and is 'mobile first'. Monzo (and its competitors such as Starling and Revolut) also lack certain bank licences that would allow them to offer some financial services e.g mortgages. For other financial services – lending facilities, for example – a neobank will usually partner with an existing licensed bank in order to provide them (and is all above board).
Are Neobanks Better than Traditional Banks?
If you're fairly tech-savvy, undertake most tasks on your mobile phone and want fast and intuitive access to your bank accounts – then yes, neobanks are probably far better than traditional banks.
Furthermore, these online banks offer a fun, engaging and instinctual way to manage your money – offering automatic spending rules (e.g., rounding up all your payments, or putting away £2 when it rains) and provide immediate and real-time oversight of your finances.
However, if you want more traditional financial services – mortgages or high-interest ISAs, for example – then you might find a neobank more limiting. Instead, you'll need to get these larger products through traditional institutions.
Can You Get an Overdraft with Monzo?
Yes, Monzo do offer an arranged overdraft – although the interest you'll pay on this are fairly expensive.
Currently, Monzo charges three variable rates for their arranged overdrafts: 19%, 29% or 39% EAR variable (your rate will be dependent on your credit score). This means that if you use an arranged overdraft of £1,200 for 30 days, with 39.0% EAR/APR (variable), you'd end up paying £32.94 in charges.
For some customers, overdrafts of up to £2,000 can be approved by Monzo, but they do state that they are very careful who they give this facility to.
Which is Better: Monzo or Starling?
When I first decided to get an account with Monzo, I was initially swayed by the possibility of banking with Starling, instead.
Like Monzo, Starling are an online 'neobank' – offering similarly intuitive, well-branded and user-friendly banking solutions.
After much research, however, there didn't seem any huge differences between Monzo and Starling – aside from one thing, that is.
Starling doesn't charge for any cash withdrawals abroad, whereas Monzo (unless you're a Premium customer), will charge 3% on withdrawals over £250 – and  every 30 days (in Europe). Worldwide, you can take out £200 for free every 30 days, after which you'll pay a 3% fee.
However, given that I don't usually withdraw money abroad – and certainly not more than £600, this didn't seem to be an issue.
Likewise, I noticed that Monzo's saving features – something I was especially interested in – seemed a little better than Starling, including its round-up feature.
Ultimately, however, Monzo and Starling come pretty much top of the leader board when it comes to neobanks operating in the UK; enjoying fantastic customer ratings and impressive trust and credibility scores.
Is Monzo Safe?
Yes, very safe.
To reassure you, more than 6 million people are already (very happy) Monzo customers – myself included. Your money is protected by the Financial Services Compensation Scheme (FSCS) up to a value of £85,000.
Although an 'online' bank – you can also talk to a human whenever you need to, so there's also no need to worry that you'll get stuck in an endless loop with AI bots.
How Do I Deposit Cash or Cheques with Monzo?
Although the age of cheques has largely come to an end, a few do still appear in my life – courtesy of birthday or Christmas gifts.
One thing I did want to therefore mention in this Monzo Premium review is the fact that banking a cheque with Monzo isn't quite as easy as banking with a high-street bank.
Instead, if banking with Monzo, you'll need to send the cheque to their PO address (you'll also have to pay for postage, too) – and then wait for a few days for it to be both received and processed. Admittedly, I did find this a bit of chore, but actually – once I'd posted it – it arrived and cleared in my account four days later.
However, if you're a person who regularly receives and banks cheques, banking with a 'neobank' such as Monzo might become a little laborious.
Do Monzo Offer Savings Accounts and ISAs?
Yes, Monzo offer both savings accounts and ISAs – all offering high interest rates than their current accounts and 'pots'.
The majority of these are offered via OakNorth Bank and include flexible ISAs, fixed term saving pots and easy access savers.
What Benefits Do you Get with Monzo Premium?
Firstly, why pay for Monzo Premium when you could settle for their free account?
Monzo offers its customers the chance to choose between three accounts: their Monzo current account (free), their Monzo Plus account (£5 per month) and their Monzo Premium account (£15 per month).
Their most basic current account is great if you're just using it for everyday use, or even only for travel. This account provides all the services you'd expect: award-winning support, fee-free UK bank transfers and access to different savings pots.
Difference Between Monzo Plus and Monzo Premium
The Monzo Plus account offers slightly more benefits, including higher interest rates (1.00% AER variable up to £2,000), brand offers, advanced round-ups to help set money aside and one free cash deposit a month (as Monzo aren't a high-street bank, you'll need to go to designated Paypoints to cash money in).
Monzo Premium has all the benefits of Monzo Plus – and then some. These include: phone insurance, worldwide travel insurance, discounted lounge access, 1.50% AER variable interest rates, fee-free cash withdrawals and five free cash deposits per month.
Like Monzo Plus, you're also entitled to exclusive offers, such as 15% off Patch Plants.
Lastly, Monzo Premium comes with a very attractive metal card (that may, or may not, have swayed my decision when it came to upgrading).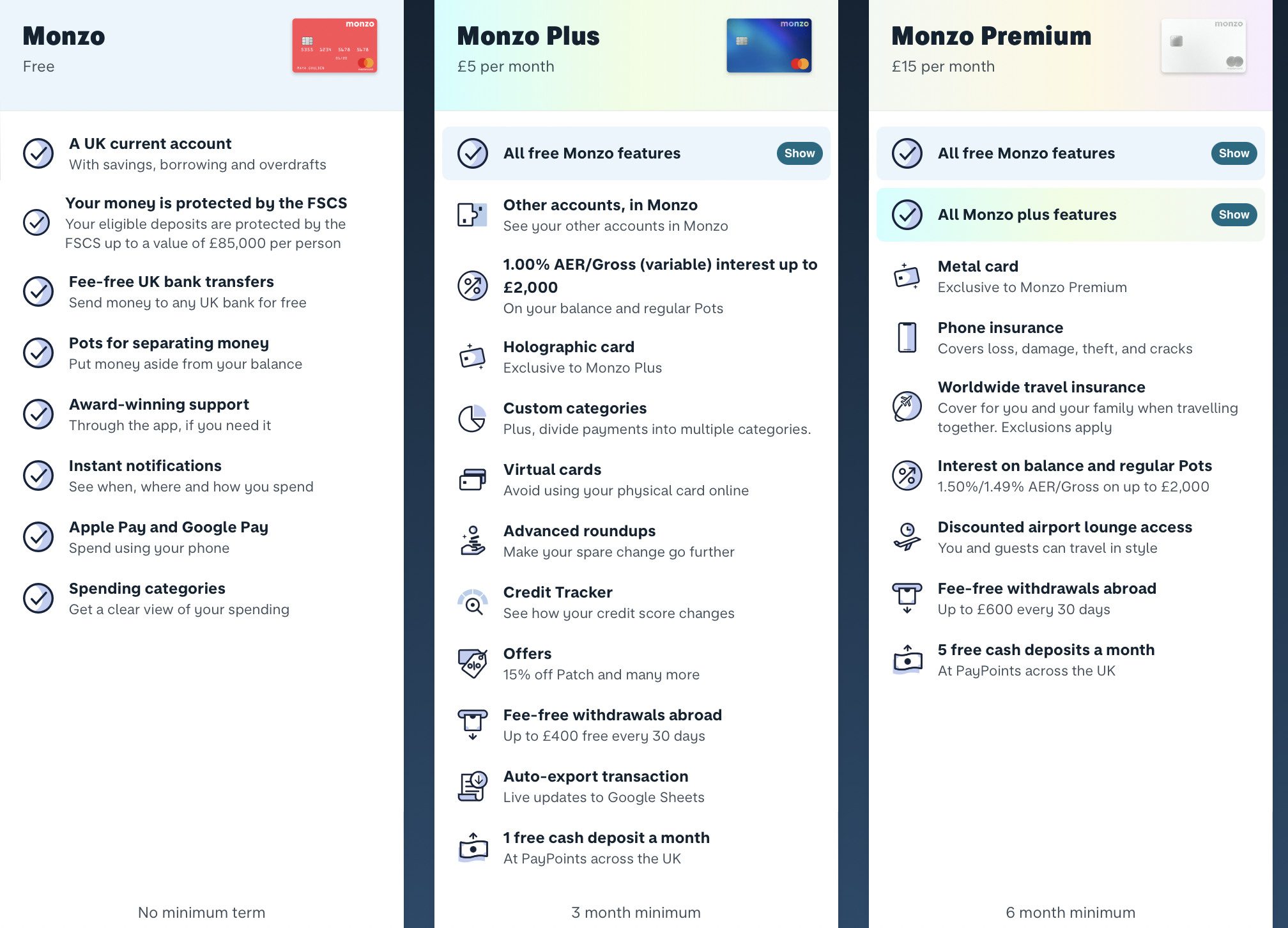 How Easy is it to Switch to Monzo Premium?
One thing that had put me off moving bank accounts was the presumption that it would be an incredibly stressful process.
Imagining that I'd need to call every one of my utility suppliers and re-direct every direct debit, it was a task that seemed completely overwhelming.
However, once I switched to Monzo Premium, I realised that the entire process was laughably straightforward.
Thanks to the introduction of Current Account Switch Service (CASS), the Current Account Switch Guarantee means that (for every bank or building society signed up to it) your new bank is legally obliged to do all the legwork for you: moving across your existing direct debits, standing orders and payment details for your salary (or pension).
If anything goes wrong, they are also responsible for these errors and must reimburse you immediately.
On average, your new bank account can be up and running within 7 working days – although my own switch to Monzo Premium took place over a fortnight (although this was the Christmas period).
As a result, my salary was automatically redirected to my new account, alongside all my direct debits and standing orders. I didn't have to lift a finger, aside from changing just a few things (my linked Paypal account, for example, alongside Amazon payment details etc). My new Monzo card also automatically appeared in my Apple Wallet and I quickly set that as my default card.
The whole process was truly seamless and ultimately made me wonder why I hadn't switched bank accounts sooner.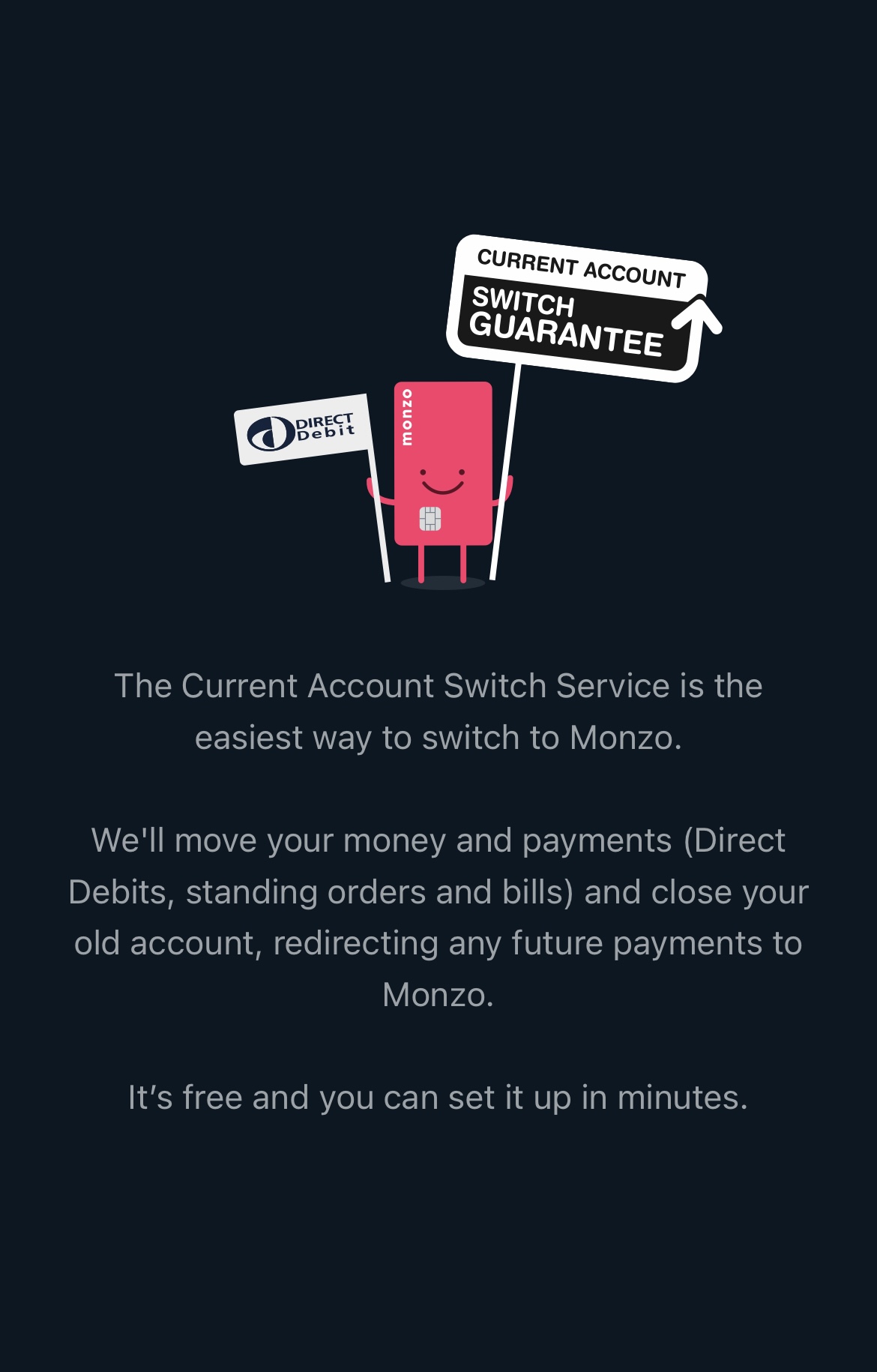 Monzo Premium Review: What I Liked
1. Phone & Travel Insurance Included
Prior to signing up to Monzo Premium, I had separate phone and travel insurance. Individually, these were costing me in the region of £25 a month.
The phone and travel insurance offered by Monzo Premium was therefore a fair amount cheaper – at £15 a month – and meant that everything was in one place.
The travel insurance available via Monzo Premium is worth £159 a year and covers winter sports, which my old policy didn't (it was too expensive to add). It's also worldwide, which again my old policy was not. So all in all, these policy enhancements felt like a win.
The phone insurance provided by Monzo Premium is also fairly comprehensive and includes coverage of cracked screens. Monzo claim that this particular level of coverage would normally be worth £97 a year.
Ultimately, Monzo claim that the average Monzo Premium customer will save around £64 a year on their phone and worldwide travel insurance, which isn't bad at all.
2. Discounted Airport Lounge Access
As a frequent traveller, the discounted airport lounge access offered by Monzo Premium was a definite attraction.
Prior to Covid and having my baby, I was a member of the BA Avios scheme – a Silver member, in fact. This meant I got access to a fair few BA lounges and always appreciated being able to sit in relative peace and quiet, especially when my flight was delayed.
Sadly – and having not been able to travel for a good two years – my fall from grace when it came to the BA Executive Club was spectacular. Almost overnight, I went from the fairly respectable Silver level to the Blue tier – i.e. one with absolutely no benefits at all.
Each time I went to the airport and inevitably got delayed, I could no longer (alas) hide in a lounge anymore.
Now, I have to mention in this review of Monzo Premium that you don't get full, unfettered lounge access. Instead, you get £20 off (per visit, per person) – thanks to their partnership with LoungeKey. If you're travelling with a guest, they also benefit from the same discount.
I had a quick look through the lounges that fall under this scheme and they're fairly comprehensive, including: Club Aspire Lounge at Heathrow Terminal 5, the No.1 Lounge at Gatwick airport (amongst others) and the Aspire Lounge at Birmingham airport.
Abroad, there are also plenty to choose from. These include the Lufthansa Business Lounge at JFK airport and the Pearl Lounge at Marrakech airport.
Having looked at the entrance fee for these lounges, with the £20 discount from Monzo Premium, you'll pay around £20 – £24 for entry, on average.
Generally, this will provide you with access to unlimited food and drink, a 3 hour stay, WIFI, charging points and comfy armchairs (and respite from the chaos of the airport).

3. Advanced Round-Ups
What I've always loved about Monzo is their 'round-up' feature – aimed at making your spare change go further.
Every time you buy something, Monzo rounds up the cost to the nearest pound; automatically adding the change to one of your selected 'pots'. By using this feature, Monzo claim that their average customer will save £129 a year.
While this is a feature across all Monzo accounts, with Monzo Premium (and Monzo Plus) you can increase these round-up amounts – rounding up by 2, 5 or 10 times.
The result is the option to save more – and faster.
4. Five Free Cash Deposits a Month
As someone who still deposits money into their account (thanks to birthdays, or selling things on Facebook Marketplace), I was a little apprehensive about moving to an entirely online 'neobank'.
With no physical branch to walk into, I wondered whether I'd find myself just spending the cash I'd accumulated rather than banking it – which defeated the point of moving to Monzo in the first place.
However, and with Monzo Premium, I can make 5 free cash deposits each month (up to £27,000) using Paypoints across the UK. Thankfully, these Paypoints are across most cities, towns and even villages – meaning paying in your cash is fairly easy.
If you don't have Monzo Premium, it'll cost you £1 per transaction to bank this money (deducted from the amount you cash – e.g. if you add £10 to your account, then £9 will clear).
5. The Metal Card
Now, I'm a bit embarrassed to admit that one reason I was very much drawn to this fee-based account was its beautiful, dare I say it – sexy – looking debit card.
A metal card with an immaculate white finish, the Monzo Premium card is quite the thing to behold. While I always loved the bright Coral coloured card that came with the standard Monzo account – this piece of plastic (or metal, should I say), was in a different league entirely.
Weighty to hold (it weighs 3 x more than their plastic cards) and made from a single sheet of stainless steel, this card is beautiful engraved with flashes of silver and is in, in short, really quite beautiful.
Sitting in my wallet like a tiny piece of artwork, I've already had many a compliment on my Monzo Premium card – something that makes me embarrassingly proud.
6. Great Offers
Although you do get these offers with Monzo Plus, the discounts and benefits you get via Monzo Premium are great (albeit currently fairly limited).
These include: discounted RAC membership (£4.75 a month), 15% of Patch Plants, 50% off your  first HelloFresh box and 35% off your next 3 boxes, 25% off FIIT membership and 20% of Babylon Health.
These offers are changing all the time, so to really make the most of them, make sure you're regularly checking back in on your app – particularly if you have any subscription-based purchases to make.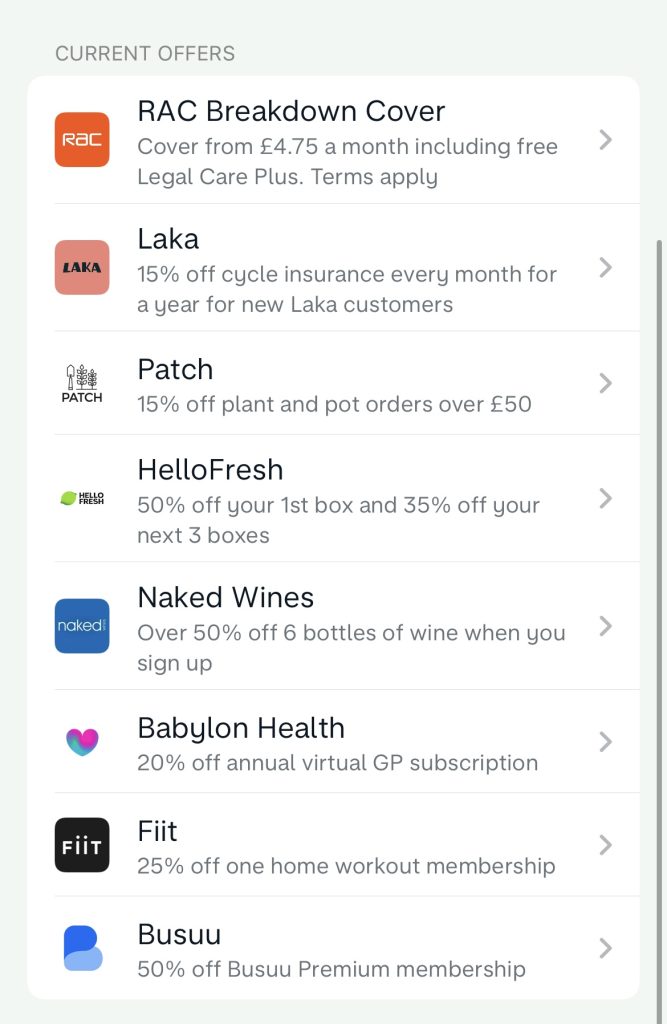 Monzo Premium Review: What I Didn't Like
1. Geared Towards Travellers
When deciding between Monzo Premium or Monzo Plus, I think the main difference really is the insurance offering.
For someone who is travelling regularly, then built-in travel insurance, access to discounted airport lounges and gadget protection is a real perk – and one reason why I decided to commit to this more expensive account.
However, if year-round travel insurance and access to airport lounges are of no benefit, then there's perhaps little point in signing up to Monzo Premium (unless, of course, you are completely captivated by that beautiful debit card).
Instead, and if it's higher interest rates you're after, or access to advanced round-ups, then I'd probably advise you just sign up to Monzo Plus, instead – and save yourself £10 a month.
2. You Have to Sign Up for 6 months
Another downside to Monzo Premium is that you have to sign up for a minimum of 6 months. This means, if you upgrade your account and realise the benefits are of little use to you – or you find you can no longer afford the £15 monthly fee – then you're stuck paying it for half a year.
You can cancel if you're still within the 14 day cooling off period, however, you'll be charged an eye-watering £50 for the card, which isn't ideal.
When it comes to the difference between Monzo Plus and Monzo Premium, this is perhaps another tick in the box for the Plus account – as you only need to sign up for 3 months, rather than the 6.
3. Disappointing Interest Levels
Monzo currently offers its Premium customers access to 1.50% AER/Gross (variable) interest rates on up to £2,000. With the Bank of England increasing interest rates to 3% at the end of 2022, and given that Monzo haven't yet increased this interest rate, you are – in theory – therefore losing money (in real terms).
I'd advise that if it's higher interest rates you're after, then probably look elsewhere. For example, Chase UK offer a 2.1% rate on their easy access savings account and Santander up to 2.75%.
Monzo Premium Review: Is It Worth It?
So, a quick summary to end this Monzo Premium review.
I've been a fan of Monzo for a long time and have always rated their (free) current account.
With quick and easy access to your saving pots, ability to better monitor budgets and easy rules to ensure your loose change works harder, Monzo is a fantastic bank.
Regularly rated one of the best banks in the UK, there is a lot to like about Monzo – even if you decide not to commit to its fee-based accounts. I've always found its customer service to be incredible (no 'holding' on a telephone line for hours on end) and their regular notifications about how much money I'm spending are incredibly helpful.
However, for those who have enjoyed a Monzo account for a while and are now considering upgrading to the heady heights of Monzo Premium, the question will inevitably be: is Monzo Premium worth it?
At £15 a month – or £180 a year – Monzo Premium isn't cheap. In fact, it costs more than you (ironically) might save via it's much celebrated 'round-up' feature. I'd therefore say that if you do sign up, do it with the knowledge that you'll certainly use – and maximise – its benefits.
This means travelling fairly regularly, making use of the discounted lounge access and keeping an eye on its offers and deals.
With my 'regular traveller' hat on, I do think Monzo Premium is worth it. However, from the perspective of a 'saver', I think you could find better deals – and interest rates – elsewhere. Furthermore, I think that if you aren't travelling an awful lot, then you'll perhaps be better off opting just for a Monzo Plus account – saving yourself £110 a year.
Overall, I'm really enjoying being a Premium member of Monzo and as long as I'm travelling abroad, I'll probably keep the account. Indeed, Monzo is a brilliant 'neobank' and one I absolutely love banking with – and whether I'm a Premium account holder or not, I'm still incredibly glad that I made the switch.