This honest review of LEGOLAND Windsor Castle Hotel contains affiliate links.
We recently decided to book a short break to LEGOLAND Windsor, convinced that it would be the perfect trip for our toddler, aged 2.
(And, if we're honest, the perfect trip for his 30-something parents, too).
Scrolling through deals for LEGOLAND Windsor, I came across the option to stay at one of the LEGOLAND Windsor hotels. Often a fairly expensive place to stay, this deal offered up to 30% off a LEGOLAND short break, provided we stayed during term time and on a Sunday night.
Alongside this, we'd also get discounted access on second day tickets into the park – paying just £30 for all three of us. In total, our short break would therefore cost us £368 (plus tickets into the park for the first day, at £34 each).
Of course, this still wasn't cheap and I spent a long time deliberating over whether it'd be worth the money. However, and after obsessively reading LEGOLAND Windsor hotel reviews and scrolling Tripadvisor, we decided to take the plunge; booking to stay at the LEGOLAND Castle Hotel Windsor, in the Knight's room.
With reviews declaring it a magical and once-in-a-lifetime experience, we couldn't resist the magic of the Castle Hotel LEGOLAND. Featuring a wizarding theme throughout, its own restaurant and free access to the LEGOLAND playroom and swimming pool (found in the LEGOLAND Resort Hotel), the hotel promised to be a toddler's paradise.
Before we could change our minds, we hit confirm – booking our stay at the LEGOLAND Castle Hotel, Windsor.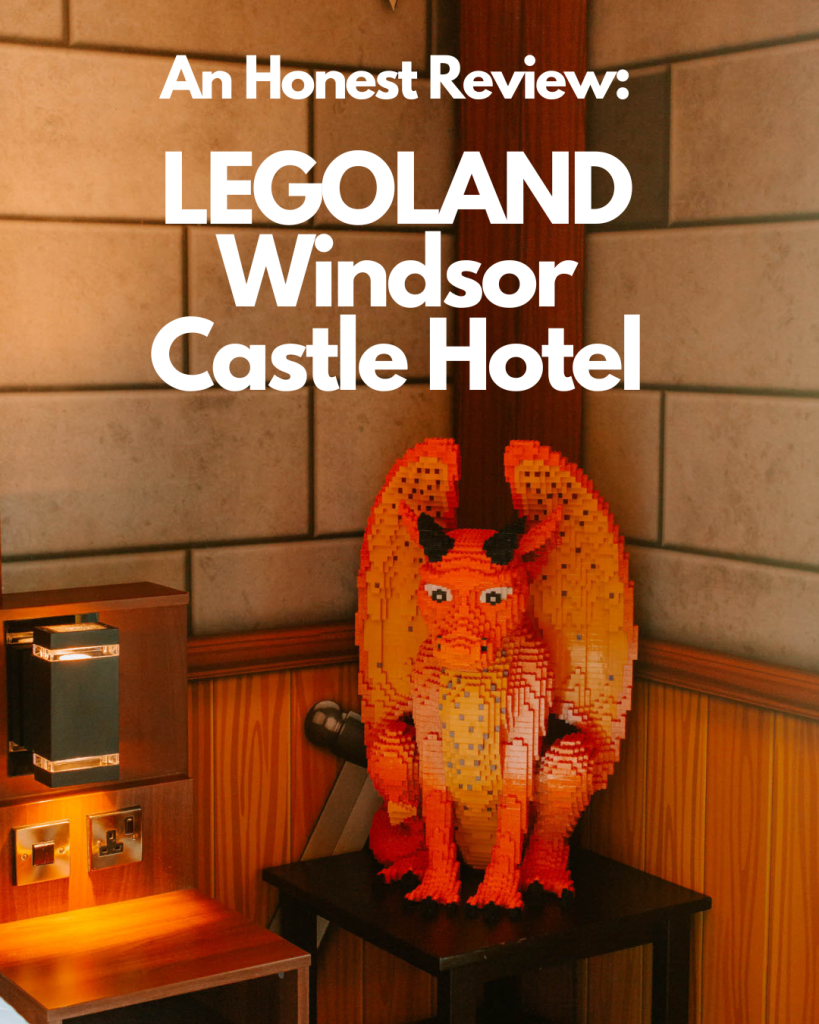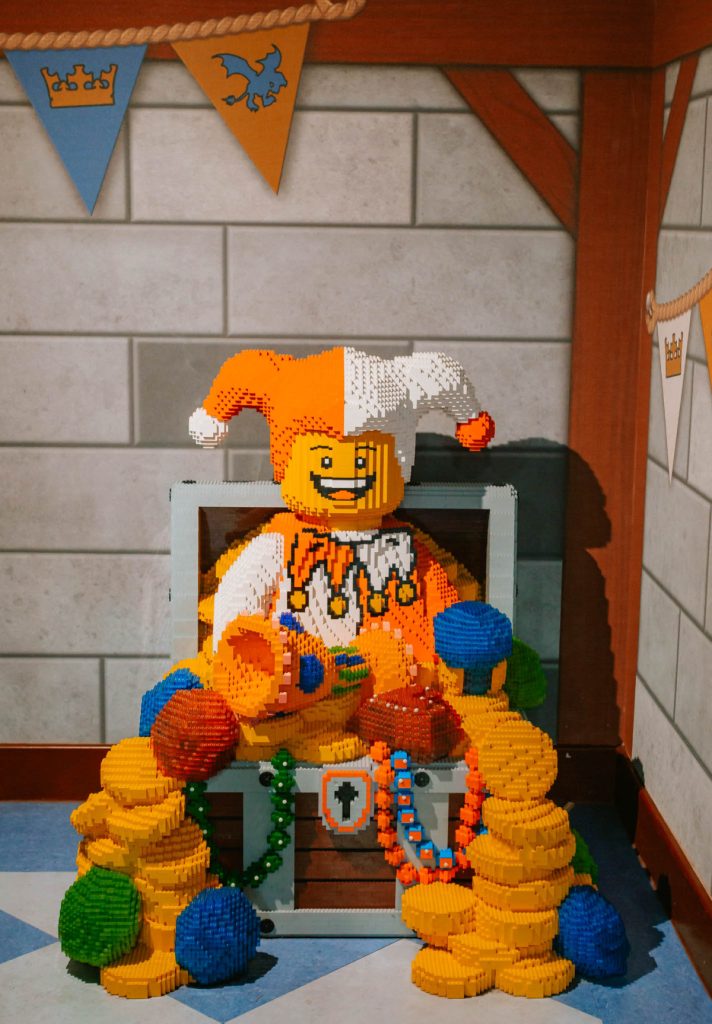 The Benefits of Staying at a LEGOLAND Windsor Hotel
(Please note: the majority of the benefits below are for those staying in the 'premium themed rooms'.)
Given that Windsor isn't far from us (a 45 minute drive), we did wonder if it was worth staying over at LEGOLAND Windsor. If we had driven for hours to get there, perhaps. However, we could feasibly leave the park at 5pm and be home an hour later.
Yet, and as we soon realised, staying in one of the LEGOLAND hotels isn't just about practicalities.
Instead, it's about buying into an experience; one that allows you to live and breathe the LEGOLAND magic from the moment you arrive, until the moment you close your eyes.
There are two themed hotels at LEGOLAND Windsor – the LEGOLAND Resort Hotel and the LEGOLAND Castle Hotel.  With everything highly themed in both, from the toiletries you find in your bedroom, to the music that's played in the elevator – staying here adds a new dimension to your trip. There are also several cheaper partner hotels nearby, but these aren't themed and don't offer the benefits that come with a premium room.
Alongside this overall, immersive experience, there are several other benefits to staying over at one of the LEGOLAND hotels Windsor.
1. Discounted Entry to the Park (Second Day)
If you do decide to stay in one of the LEGOLAND Windsor hotels, then you'll be offered a second day entry to the park at a discounted rate.
In our case, we were able to book our second day for just £30 (whereas it would have normally cost us £34 each). This meant that we didn't have to rush around on our first day in the park (which was also a Sunday and therefore very busy) and could take it easy as we knew we had the following day, too.
Our second day was on a Monday and the park was dramatically quieter than it had been on the previous day. The queues were virtually non-existent and things felt a lot less chaotic. Paying that extra £30 was therefore well-worth the money.
Throughout the summer, LEGOLAND Windsor are also offering a deal whereby you get the second day entirely free. However, given that the cost of staying at one of the LEGOLAND Windsor hotels rockets during this time, I'm not sure you'd save a huge amount (e.g. the cost of one night at the Castle Hotel increases from £368 to £518).
As a result, you'd probably be better off staying outside of peak times and just paying the extra £30 for your second day's access.
2. Free Access to the LEGOLAND Playroom
If you stay at one of the LEGOLAND Windsor hotels (in one of the premium rooms), then you'll also gain free entry to the newly opened LEGOLAND playroom. If you're staying in a standard room, you can pay £10 for entry. The playroom is found in the LEGOLAND Resort Hotel – just a two minute walk from the Castle Hotel, and is open from 3-9pm each day.
I hadn't really given the playroom much thought prior to our trip – why would we need a playroom, when we were going to be outside exploring all day? However, once we arrived and realised that we'd need to fill a few hours between dinner and bedtime, we decided to seek it out.
Found on the mezzanine floor of the Resort Hotel, the LEGOLAND Windsor playroom far exceeded my expectations. A huge space, featuring interactive elements, incredible displays, a Costa Coffee cafe and a vast area to play with both LEGO and DUPLO (including a DUPLO village), this room was one of the highlights of our trip.
Inside the playroom were also lots of staff members on hand, ready to entertain the kids, help them build mega structures, run LEGO masterclasses and generally provide a friendly and positive atmosphere.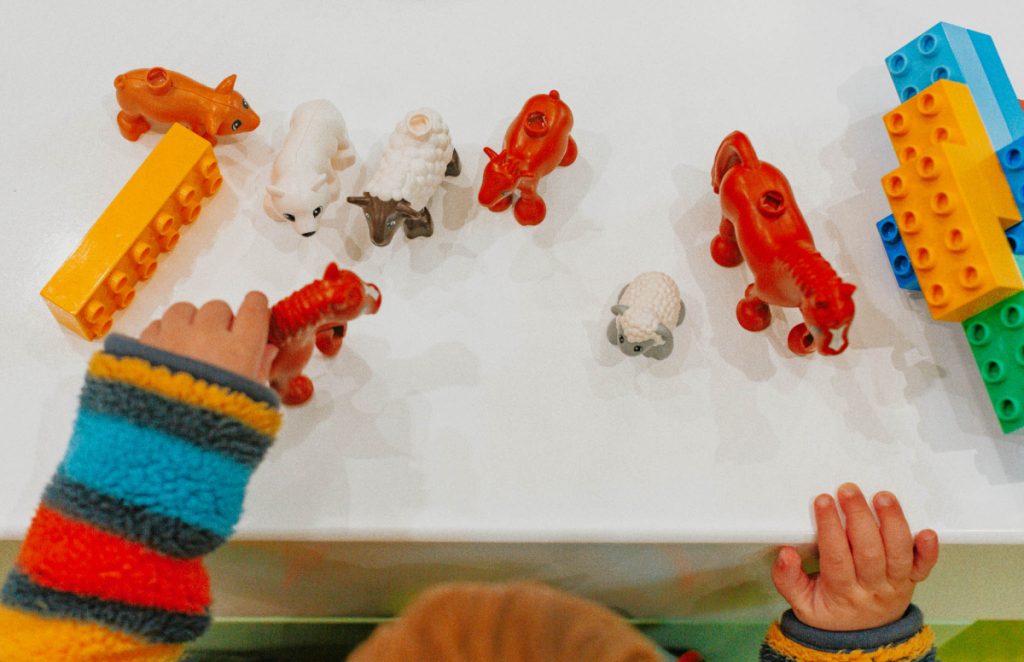 Our son adored this room – especially the huge tubs of DUPLO – and we (unexpectedly) spent nearly two hours in here. Inside is also a great 'Total Sensory Space', for children seeking some quiet, or who may have additional SEN requirements.
The Playroom is one of the great benefits of staying over at one of the LEGOLAND Windsor Hotels, and one that's perhaps not raved about enough.
3. Free Access to the Pirate Splash Pool
Alongside entry to the LEGOLAND playroom, guests staying in one of the 'premium rooms' will also get free access to the Pirate themed swimming pool, also found in the LEGOLAND Resort Hotel.
You have to pre-book your 'slot' in the pool ahead of time (you can do this up to 30 days in advance) and you get free towels upon arrival. Armbands and floatation devices are also available.
In the end, we decided to book our slot for the Monday morning, after our first day in the park.
I'll admit, I was pretty underwhelmed by the pool. I'd imagined a very large pool, filled with LEGO pirate boats and  interactive features – a little like what's found inside the park. However, I was surprised to find that the pool was just one medium sized pool for adults and older children, and a smaller kid's pool – with just one slide and a fountain.
Compared to the splash park found inside LEGOLAND itself (which is incredible), the LEGOLAND Windsor swimming pool was a little lack-lustre and had a similar atmosphere to your local Council swimming pool. Given that you have a time slot, it's also a bit disjointed. Every thirty minutes a whistle goes and one cohort of people have to leave while another arrive, which makes things feel a little muddled.
However, I'll admit that our toddler absolutely loved it, especially the slide. It was the perfect size for him and lovely and warm – and he had a total blast.
4. Use of the LEGOLAND Windsor Hotel Restaurants
Once you've booked your stay at one of the LEGOLAND Windsor hotels, you are given the option to book dinner in one of the hotel's restaurants. Again, this must be done ahead of time, which does add a slightly clinical feel to things.
There are just two restaurants in the LEGOLAND Windsor resort: the Bricks Restaurant (found in the Resort Hotel) and the Tournament Tavern, located inside the LEGOLAND Castle Hotel.  There is also a bar, the Skyline Bar, inside the Resort Hotel.
We had dinner in the Tournament Tavern, followed by breakfast in the Bricks Restaurant, and can certainly say that the Tavern was by far more enjoyable. The Bricks Restaurant had a school-canteen feel to it, whereas the Tavern was much quieter and more relaxed.
5. Early Entry to the Park
If staying in either LEGOLAND resort hotels, all guests get early access to the park from 9.30am (the park opens to outside guests from 10am).  On the face of it, this is great, however, the queue is still incredibly long and was (during our stay, at least) poorly manned.
By the time we got into the park, it was 9.55am, so we only had 5 more minutes than non-staying guests.
6. Free Treasure Hunt
For those guests staying in one of LEGOLAND Windsor's premium rooms, you'll find a treasure hunt waiting for you.
This was something that our toddler really enjoyed and got very involved with. In short, the 'hunt' involved having to crack the code to the vault in our room (manned by a giant LEGO dragon), before breaking in to find our goodie bag.
Inside the goodie bag was a LEGO themed towel, a small coin commemorating our stay, a branded swim bag, a collectible LEGO brick and a hotel-themed lanyard. It wasn't overwhelmingly exciting, but our son definitely enjoyed the experience.
7. Convenient Parking & Park Entry
If you're staying in either of the Resort's hotels, then you can park – and enter LEGOLAND – via the Resort Hotel. This is much closer than the general parking and this entrance is also much quieter.
Which is Better: the LEGOLAND Resort or Castle Hotel?
Before we launch into this honest review of the LEGOLAND Castle Hotel, I want to quickly answer one question: why did we choose the LEGOLAND Castle Hotel over the Resort Hotel?
After all, both are extremely close to one another, both offer themed 'premium' rooms, and both come with additional benefits and access to the same restaurants. However, there is one main difference: the Castle Hotel is currently markedly more expensive than the Resort Hotel (on average, around £80 more expensive per night).
So, why did we choose to pay this additional cost?
In short, we were mesmerised by the interior of the Castle Hotel and its themed rooms. While the Resort Hotel does offer themed rooms – e.g. a NINJAGO room, a LEGO Friends room, an 'adventure' themed room and a 'pirate room' – none of these seemed to compared to magic of the Castle's rooms. These rooms, based around a Wizard's room and a Knight's room, simply seemed better.
I'd also read LEGOLAND Castle Hotel reviews that said the Castle Hotel was much quieter than the Resort Hotel, and the general immersive nature of the Castle Hotel was better. Having now spent time in both hotels, I'd definitely say that both of these statements are true. The Resort Hotel is bigger and seemed quite noisy and chaotic, whereas the Castle Hotel had a calmer, more magical feel to it.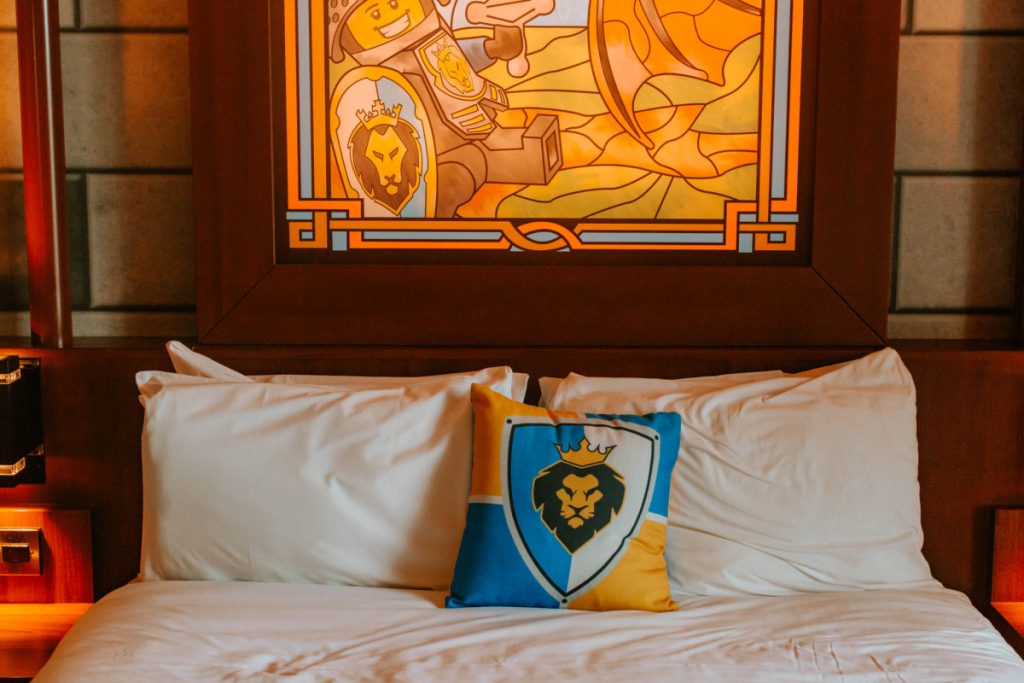 My Honest Review of LEGOLAND Castle Hotel Windsor
Given that a stay at the LEGOLAND Windsor Castle Hotel isn't cheap, I wanted to give my honest opinion on whether staying here is ultimately worth parting with nearly £400.
What I Liked About the LEGOLAND Castle Hotel
Firstly, let's begin with what we really enjoyed about the Castle Hotel at LEGOLAND Windsor.
1. The Entrance & Attention to Detail
There's no denying that walking into the entrance of the Castle Hotel is an impressive experience. At its centre is a LEGO-built wizard and surrounding him, a moat of LEGO. Overhead is a giant LEGO-themed chandelier and every corner is filled with treasure chests and glowing lanterns.
Our son's excitement levels reached fever pitch before we even checked in (an easy self-check in affair) and it was wonderful to see how much he was enjoying it all.
We were definitely impressed by the level of detail found throughout the Castle Hotel at LEGOLAND, and it all felt suitably magical and immersive. Even the elevators added a touch of magic, as they faded to black as the ride began, before lighting up with fairy lights and interactive displays.
The lifts in themselves could have easily entertained our toddler for at least thirty minutes.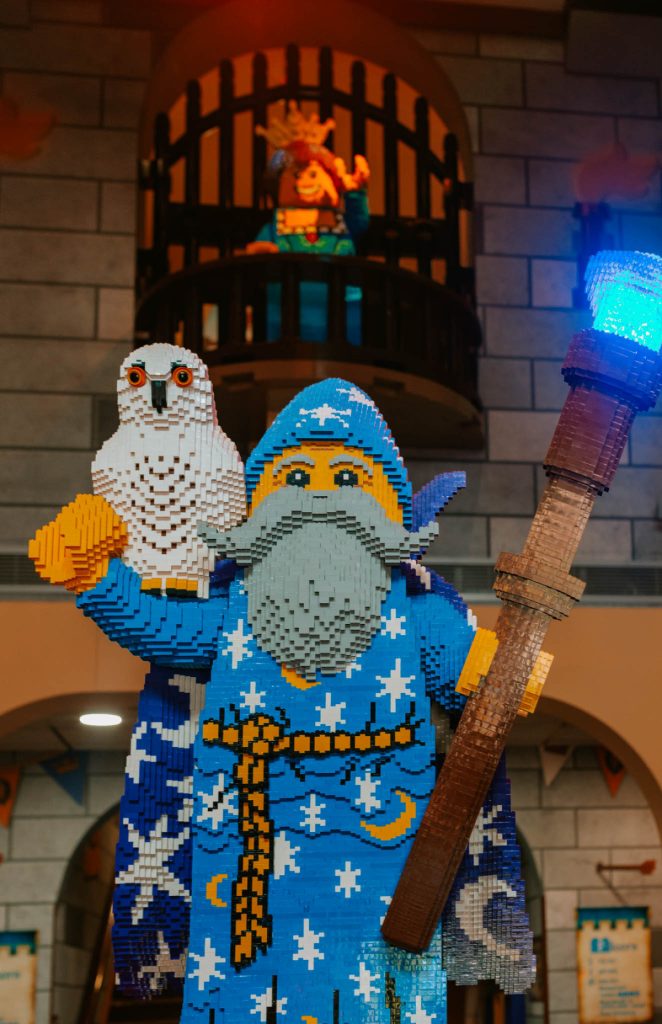 2. Our Knight's Room
As I mentioned above, we decided to book a Knight's room for our stay at the LEGOLAND Castle Hotel.
Aware that our son has a mild obsession with dragons, and spying that there might be a few of these peppered around the room, we decided to choose the Knight's room over the Wizard's room.
Walking into our room and we were both surprised by just how light and airy it was, with lovely views across the lake. Throughout were plenty of amenities, including a Nespresso machine, tea, biscuits and LEGO-themed toiletries (a lovely touch). The level of detail was fantastic and we loved pointing out the stained glass window and hidden LEGO animals to our son.
Although a themed room, it was still uncluttered and clean, including a surprisingly nice bathroom. Of course, this was no luxury Abu Dhabi hotel, but it was nonetheless a room that was – in its own way – magical.
Perhaps one thing that was a little disappointing was the TV. It was fairly old and small, and fixed to the wall – with limited options regarding channels. However, given that we were really there to explore the park, and not watch TV, this didn't have a huge impact on our trip.
3. The Kid's Section & Amenities
As you'll see when booking one of LEGOLAND's premier rooms, there are two parts to each room. Alongside the 'adult' section – boasting a large bed and a TV – down the corridor is another (impressively big) section for children to sleep in.
A wonderfully cosy little alcove, this section includes a bunkbed, a little LEGO station to play with, a PS4 and its own TV, showing LEGO TV.
Our son absolutely loved this area and despite only being 2.5, evidently felt very 'proud' to have this own section of the room. While the addition of the PS4 was a little lost on him, it's still a fantastic feature for older kids.
Overall our Knight's Room was spacious, well-equipped and, for our toddler at least, captivating.
4. The LEGO Playroom
As I mentioned earlier, being able to access the LEGO playroom, found within the Resort Hotel, was a huge bonus. While our room was lovely, we wouldn't have wanted to entertain a small child in there for more time than necessary (this might be different for older children, who are happy to play on the PS4).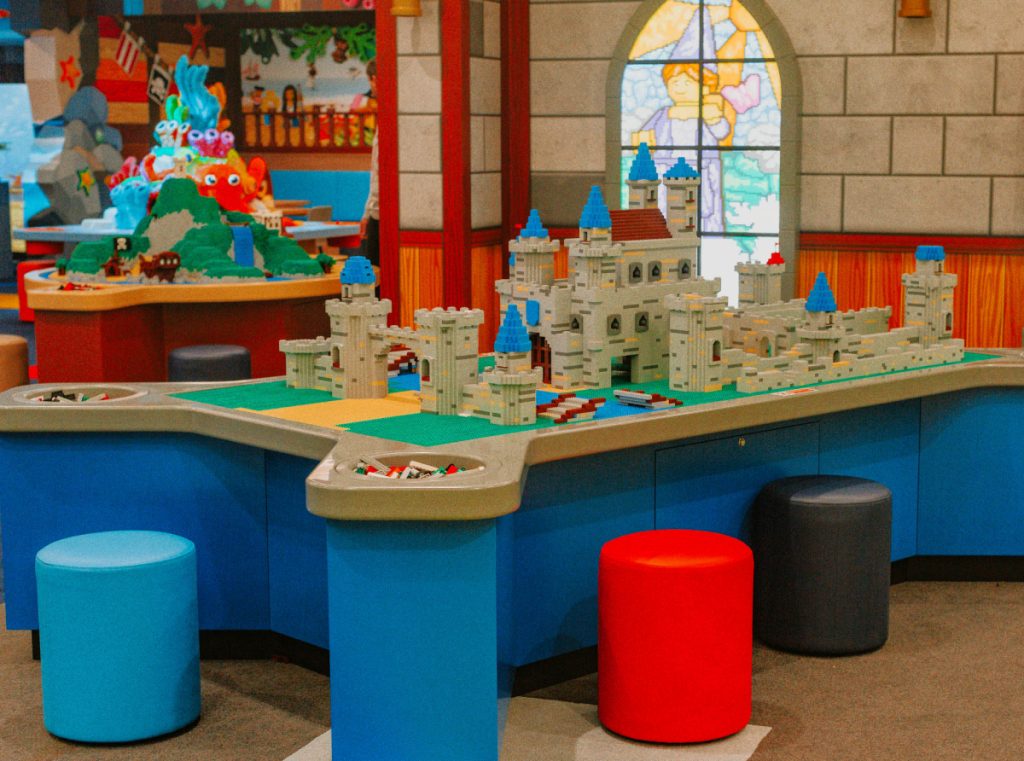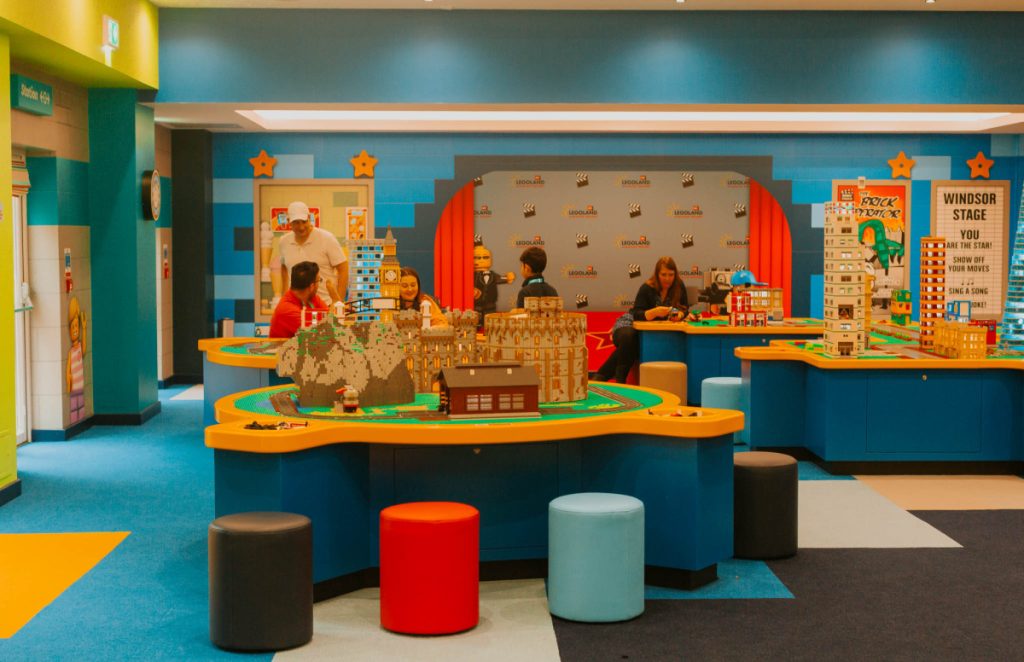 It was therefore great to have the Playroom to head to after dinner. Our son adored the DUPLO section and spent ages searching for DUPLO animals to add to his 'farm'. While he played, we grabbed a coffee and sat back in relative relaxation, while he explored.
5. Our Toddler Loved Every Minute
Perhaps the most important point to make in this honest review of the LEGOLAND Castle Hotel, is the fact that our toddler enjoyed every single second of his stay.
A hotel filled with LEGO figures – including dragons, wizards and potions – alongside bright themed furnishings and welcoming staff, our son must have thought he had been transported to a (much more entertaining) parallel universe. It's easy as an adult to say what wasn't ideal about the Castle Hotel at LEGOLAND Windsor, but through the eyes of a toddler, this hotel came close to perfection.
What I Didn't Like About the LEGOLAND Castle Hotel
While we were generally impressed by our stay at this hotel, I do want to provide an honest review of the LEGOLAND Castle Hotel. Below are therefore a few things that we were disappointed by, particularly given the cost of our stay.
1. The Food
Now, I did know that the food at LEGOLAND Windsor would not be the highlight of our trip. After all, this is a theme park – a place where chicken nuggets and soggy pizza are par for the course.
However, I did hope that given we could visit the hotel restaurants – the Tournament Tavern and the Bricks restaurant – we might unearth some slightly better food. Sadly, this didn't seem to be the case.
The Tournament Tavern
For dinner, we had pre-booked a table at the Tournament Tavern, the restaurant found inside the LEGOLAND Castle Hotel. When we arrived (around 6pm), the restaurant was pleasantly quiet and we were soon shown to our table. Inside, a giant LEGO dragon wrapped its way around a fireplace – a feature our son is still talking about, even now.
We were handed our menu and thankfully all the food seemed to be made to order – featuring a slightly eclectic range of 'tavern' themed dishes (e.g. roasted duck), alongside Cajun chicken burgers and the like. There was also a kid's menu, filled with the usual offerings of fish fingers and chips.
We both ordered burgers and the food arrived pretty promptly, which was a pleasant surprise (especially with a hungry toddler in tow). However, I wouldn't say that the food was particularly impressive. The burgers were bland, featuring undercooked chips and very little else, and our son's dinner was almost cold.
In total, this unimpressive meal cost us almost £60, which seemed ridiculously overpriced (particularly given that we only ordered soft drinks).
Bricks Restaurant (Breakfast)
Breakfast at the Bricks Restaurant was definitely an experience.
We booked an early table, at 7.30am, in a bid to avoid the crowds. However, it seemed that everyone else had had the same idea. Laid out in a canteen style (albeit with table service), Bricks is a noisy and fairly overwhelming restaurant. Of course, I can't complain about this, I brought my own noisy and rowdy child with me too, but it's still quite affronting when you first walk in.
Breakfast was included in our stay and was extremely underwhelming. While my partner went for the full English (which was adequate), I opted for the pastry, cereal and fruit option. The pastry was absolutely tiny, the fruit was bruised and I had a small child's size box of cereal. The service was slow and at times chaotic – with orders being brought to the wrong table – and as a result, we couldn't get out of there fast enough.
For those booking a short break at LEGOLAND Windsor, I'd therefore really recommend eating outside of the hotel. I know from reading other LEGOLAND Castle Hotel reviews that people actually went out for dinner in Windsor, and had a far more pleasant experience as a result. Given that dinner in either restaurant isn't exactly cheap, you might as well treat yourself to a nicer restaurant elsewhere.
2. Uncomfortable Bed
The bed in our room was easily one of the most uncomfortable beds I've ever slept in. Added to this, we only had one pillow each, both of which were paper thin.
As such, we both slept terribly. In fact, I even relocated to my son's part of the room to sleep on the top bunk (which was perhaps even worse, thanks to the plastic mattress).
It was a real shame and definitely impacted our experience of the Knight's Room at the LEGOLAND Castle Hotel.
3. Very Noisy Room
Although the Castle Hotel LEGOLAND was much quieter than the Resort Hotel, it was still extremely noisy come night time.
This is largely due to the fact that the rooms have adjoining doors between them (should you want to book out two or more). Sadly this means that you can hear nearly everything your neighbours are doing – and we had a family with three young children next door, who were up until gone 11pm.
Similarly, you can hear everyone coming and going on the landing outside – with doors slamming and small people running up and down.
Again, this may just be par for the course when you stay in a themed hotel geared towards kids, but it did feel like we were trying to sleep in the middle of Piccadilly Circus.
4. Travel Lodge Quality
Finally, and once you strip away all the (no doubt fantastic) themed items from the hotel, the LEGOLAND Castle Hotel really is just a Travel Lodge. In fact, the rooms are almost exactly the same size as a family room in a Travel Lodge and have a similar set up.
As such, it's all a little smoke and mirrors; a place that looks beautiful, but once you look closer, is in fact fairly basic.
Of course, this wouldn't usually be a problem, but given that guests are paying between £380 – £500 per night, you may be forgiven for expecting a little more quality (something I definitely wanted to highlight in this honest review of the Castle Hotel, LEGOLAND Windsor).
The Woodland Village – LEGOLAND Windsor's Newest Accommodation
While writing this LEGOLAND Castle Hotel review, I noticed that LEGOLAND is introducing a new accommodation choice from May 2024 – the Woodland Village.
Offering 150 lodges, alongside a Clubhouse with bar and restaurant, I think this could be exactly the sort of accommodation that LEGOLAND Windsor needs. The theme is nature inspired, including nature trails and immersive 'Ranger' themed activities.
The new accommodation will be based in a meadow on the outskirts of the park; so still close. I would hope staying in one of these lodges would be a much quieter experience than staying in the hotels. As such, I have to admit that I've signed up to a newsletter to learn a bit more about them (although something tells me that these lodges could be even more expensive than the LEGOLAND Castle Hotel).
Conclusion: Is the Castle Hotel at LEGOLAND Windsor Worth It?
Throughout this honest review of the LEGOLAND Castle Hotel, I've tried to offer (what I hope) is a balanced perspective.
Indeed, booking a short break at any of the LEGOLAND Windsor resort hotels is a real investment; an investment that can cost you as much as £500 (if not more). I therefore wanted to provide a review that was as honest and truthful as possible, to help you make a more objective decision.
Ultimately, the Castle Hotel at LEGOLAND Windsor is perhaps a tad overpriced for what you get. Whilst the theme inside is undeniably beautiful and the attention to detail is impressive, beneath this veneer is a fairly basic hotel; one offering basic accommodation and fairly uninspiring food.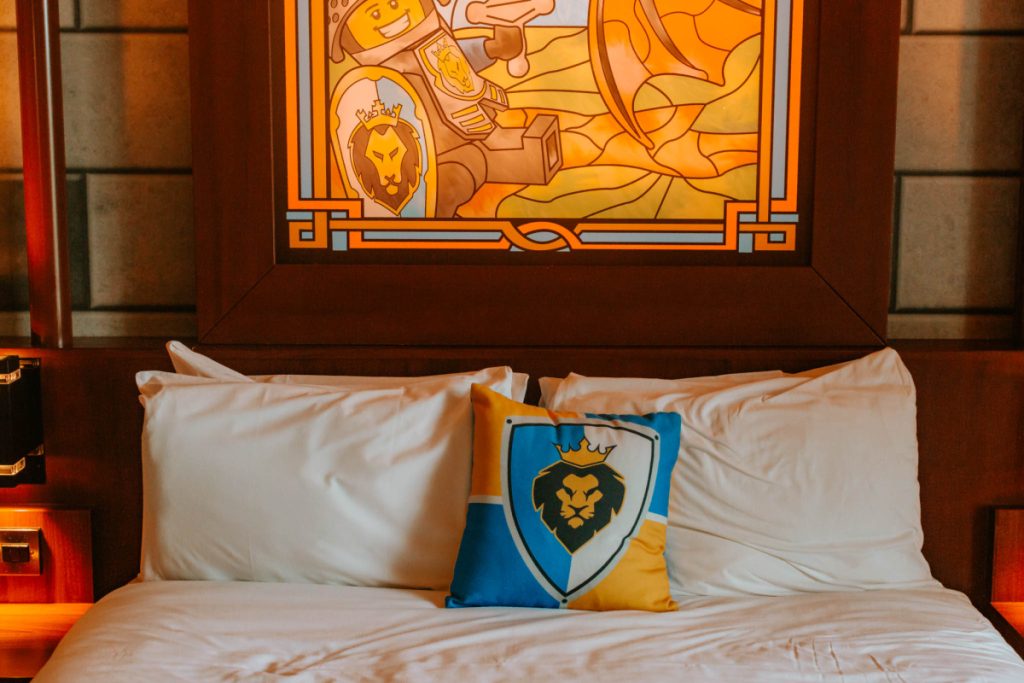 While there's a lot to like about the Castle Hotel – the treasure hunt in the rooms, the magical elevator rides, the LEGO playroom and the kid's area – I still believe that the overall standard  (i.e. the quality of the furnishings and the sound proofing) should be much better for the price that LEGOLAND are charging.
However, before I conclude that this hotel isn't worth the price tag, I want to make one, very important, caveat.
This review is written through the eyes of a (no doubt weary) adult; one who possesses that slightly worn, critical world view. This adult can therefore spot poor service, lack-lustre food and basic furnishings – and can find themselves focusing on nothing else.
This is not, of course, the case for my toddler.
For my toddler, our stay at the LEGOLAND Windsor Castle Hotel was nothing short of magical. He didn't care if our room was a bit noisy, or if his fish fingers were soggy. He didn't notice the mishap with our order at breakfast, or the tired changing rooms at the swimming pool.
Instead, he focused on the incredible LEGO figures around him, the fact his bedroom had a LEGO station in it and the dragon that watched him sleep. He loved every single part of our trip and still, some three months later, is still talking about it.
Yes, the Castle Hotel at LEGOLAND Windsor isn't perfect and, let's be honest, it's eye-wateringly expensive. But, will it make the eyes of your children light up? Will it be an experience they'll remember as only wholly positive? Absolutely, yes.