A few months ago, if someone had asked me if Sark was worth visiting, I'd have shrugged my shoulders. Although I'd heard whisperings about this small Channel Island – one with no cars or street lights – it remained a destination I knew very little about.
Thankfully, after recently spending 4 days on Sark (the unlikely destination for a girls' trip), my indifference towards this magical little island has now been replaced by an all out love affair.
What I discovered was an island bursting with character, friendly locals, fun activities, fantastic places to eat and drink and (most importantly) a distinct way of life.
Indeed, as one local said to us: 'If you're looking for fast service, you're not just in the wrong store, you're on the wrong island.' Things on Sark move slowly, at a pace that deliberately defies the increasing speed of the mainland world.
So if you're wondering 'is Sark is worth visiting?', let us convince you why a trip here is so very worth it.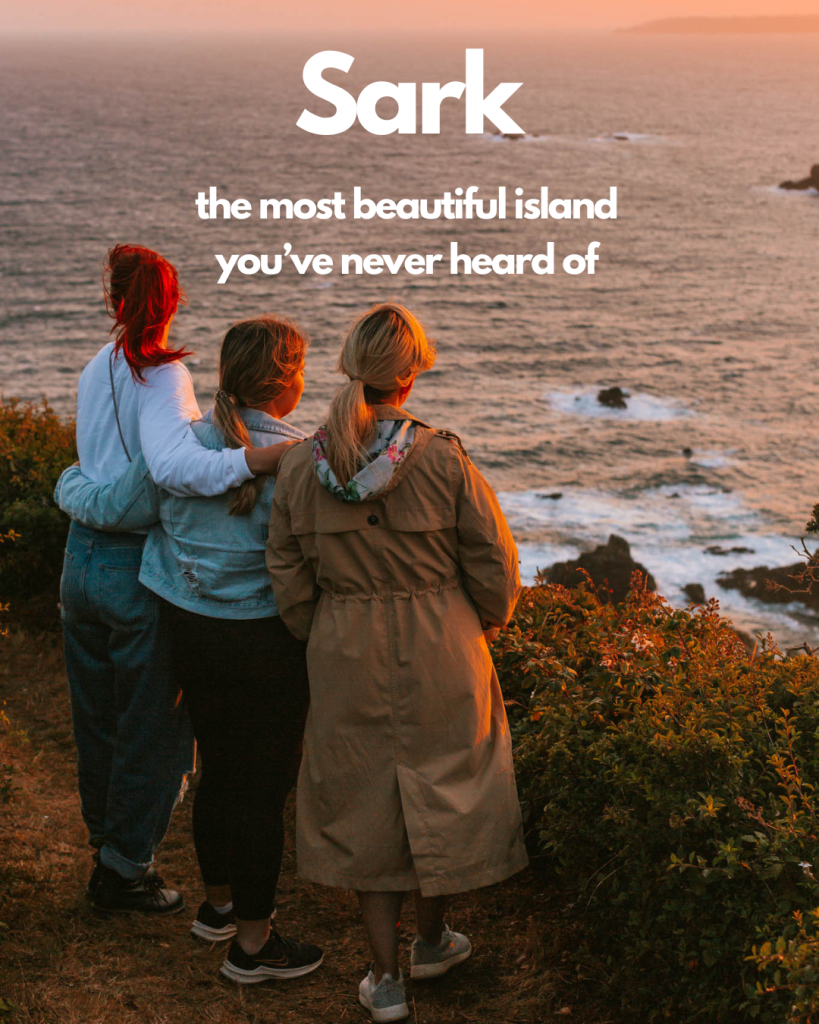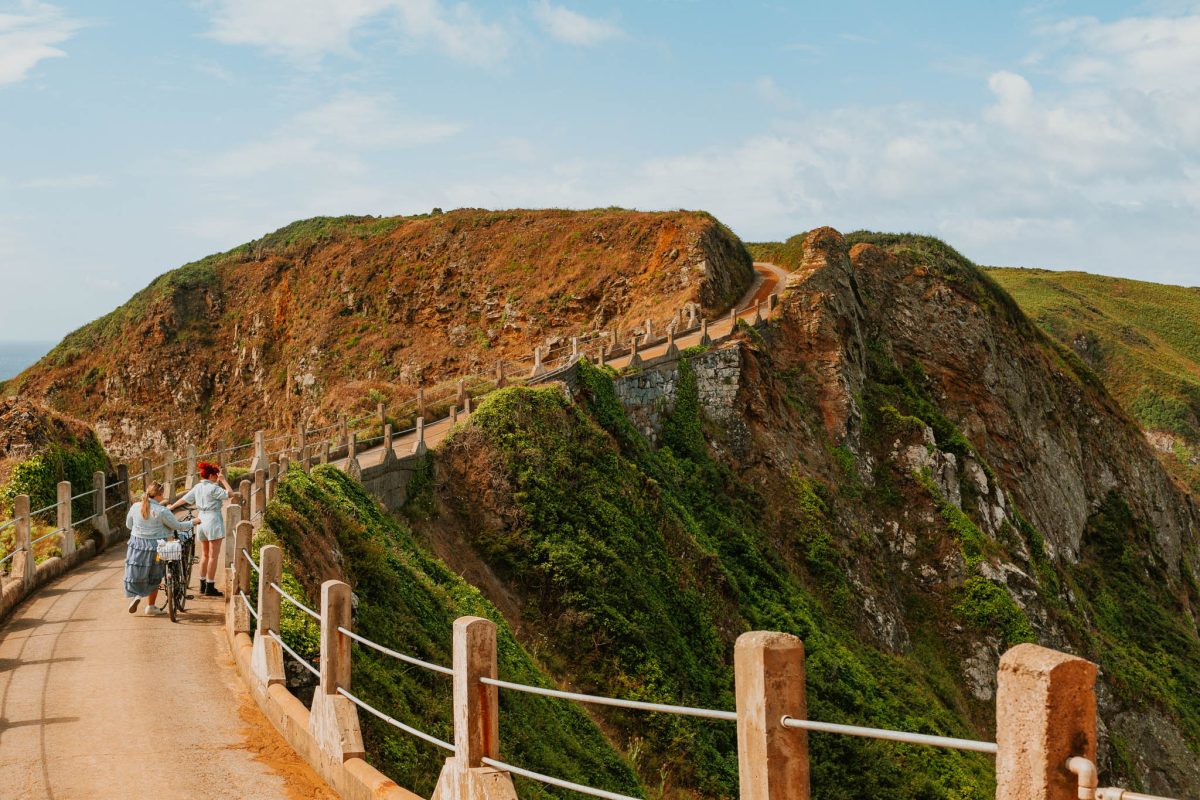 How to Get to Sark from the UK
For such a small island (the smallest of all four Channel Islands, in fact), there are a surprising number of ways to reach Sark from the UK mainland.
1. Flight from Gatwick or Southampton Airport to Guernsey or Jersey
We caught the quick 45-minute flight from Gatwick airport to Guernsey, with Guernsey's airline Aurigny (which also flies to Jersey). This was an incredibly easy journey and the flight provided us with just enough time to appreciate the beautiful views across the UK's Channel Islands.
Alternatively, you can fly from Southampton airport to Guernsey or Jersey with Aurigny or Blue Islands, with a comparable flight time of 45 minutes.
2. Ferry from Guernsey to Sark
Once on Guernsey, you can catch a ferry to Sark from St Peter's Port, in order to make the 9-mile journey to the island. There are a few ferry options available, all of which are owned by the Sark Shipping Company.
The Corsaire de Sercq  – this is a relatively new ferry that takes just 35 minutes. The Corsaire de Sercq is weather dependent and won't run in bad weather (something to consider when planning your trip).
The Sark Venture – this is a slower ferry that takes approximately 50 minutes to an hour. Although not as fast as the Corsaire de Sercq, the Venture can run in rougher conditions.
Private Boat – if there's a large group of you, you may want to consider chartering a private boat from the Sark Shipping Company. Alternatively, your accommodation on the island may be able to do this for you. As guests of the Sark Estate, we were able to book a private boat to and from the island.
View the ferry timetable from Guernsey to Sark.
3. Ferry from Jersey
If you're travelling from Jersey to Sark, you can also catch the Manche Iles from St Helier's Port. The journey takes just over an hour and also links mainland France with Sark.
How to Get to Sark from the Port
As we came to realise during our time on Sark, this is an eccentric little island full of quirky laws.
One of the more unexpected rules is that tractors are the only form of motorised transport allowed on the island. They are therefore your taxi service if you want a lift from the port to the island's main highstreet – 'The Avenue' (it's a steep climb, otherwise).
If you're arriving by public ferry, a tractor will be waiting for you at Sark's port, with a small towed carriage on the back for you and your suitcases.
As we were arriving by private boat, we had the hilarious experience of having our very own tractor waiting for us. Initially confused as to how we'd all fit into the tractor's cabin, we quickly realised we'd be standing inside its rear end loader – suitcases and all.
Travelling up to the top of the island inside the loader was definitely a unique experience, and a brilliantly memorable introduction to Sark.
When is the Best Time of Year to Visit Sark?
Sark is a seasonal island in terms of tourism and isn't open to visitors all year around. The tourism season starts in March and runs to the end of October, when the frequent passenger ferries stop running.
From the end of March, visitors can enjoy spring on the island, taking hikes amongst the erupting wild flowers that decorate its fields and hillsides.
The summer is also the perfect time to visit Sark; allowing you to make the most of the island's beaches and spectacular sunsets. We visited in July and cycled around the island, enjoying long lazy seafood lunches and dips in the sea.
During the summer months, the island is also alive with nature and we were greeted by the sight of hundreds of butterflies filling the air.
If you're visiting Sark in the autumn, be prepared to be greeted by scarecrows galore thanks to the island's annual Scarecrow Festival and trail.
For such a small island, there are almost endless events and activities for tourists to enjoy during its open season. You can view the full range of annual Sark events here.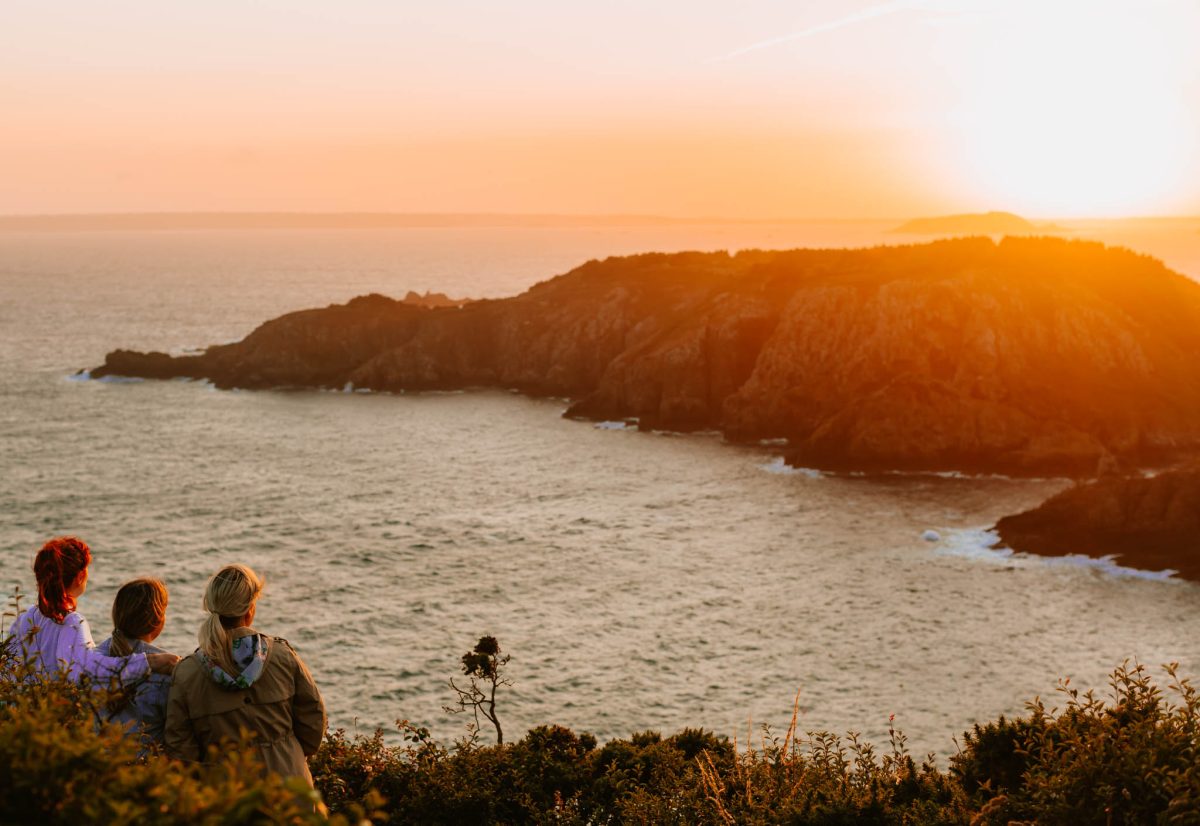 How Do You Get Around Sark?
By Foot
As mentioned above, Sark is a car-free island and the only motorised vehicles you'll find on the island are tractors (or lawn mowers).  A visit to the island is therefore the perfect opportunity to grab your walking boots and enjoy the island by foot.
At 3 miles long and 1.5 miles wide, this is a very walkable island and one to enjoy at your own pace.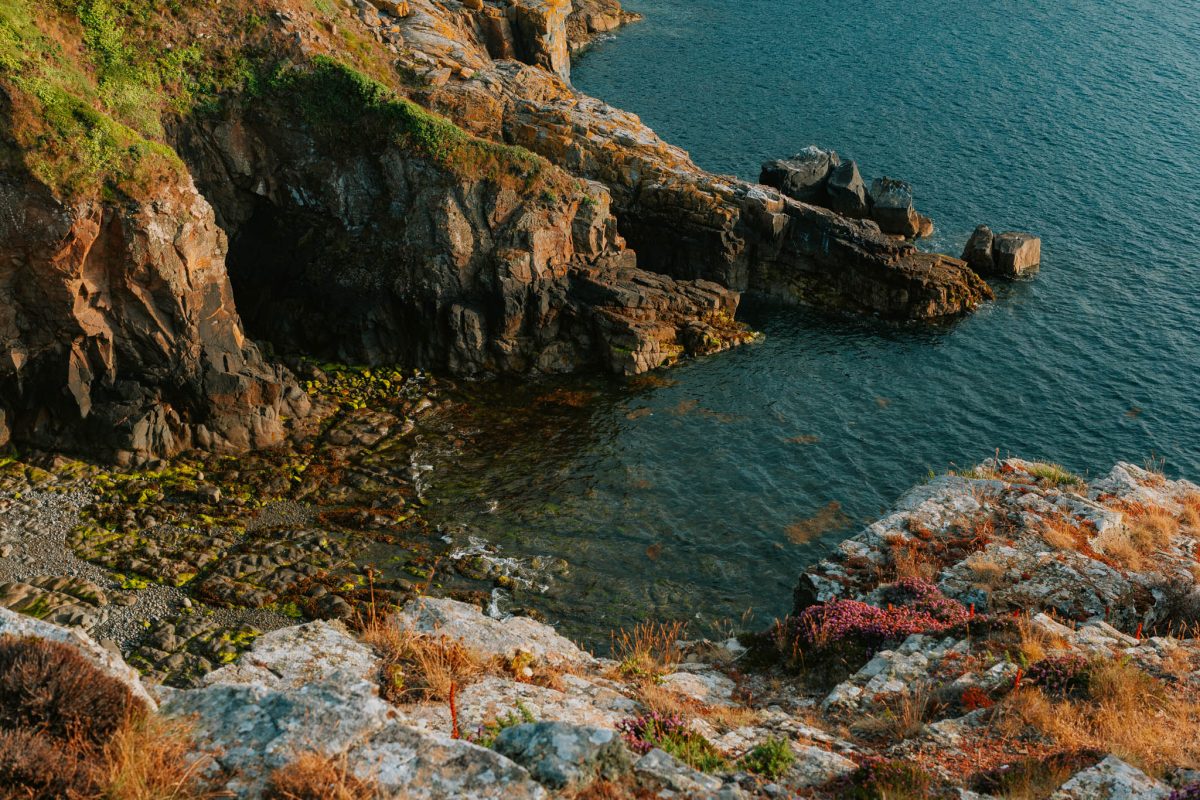 Horse and Cart on Sark
A trip to Sark wouldn't be complete without a traditional horse and cart ride. Although these rides are less about getting from A to B, and more a destination experience, they are still a lovely way to see the island.
Sark Carriage Tours provide all horse and cart rides on the island, and offer one or two hour tours of the island.
Hire a Bike
Although the island is fairly compact, we'd definitely recommend hiring a bike on Sark.
There are plenty of bike rentals on Sark, but we'd suggest using Bams Bikes Sark, who supply electric bikes. Our electric bikes were a brilliant way to see the island (without working up too much of a sweat) and using them made us feel like kids again.

Best Place to Stay on Sark
We were kindly invited to visit Sark by The Sark Estate who offer hotels and luxury cottages on the island. Below is a summary of the two hotels run by The Sark Estate, both of which we'd definitely recommend.
During our stay on Sark, we had the pleasure of staying at Dixcart Hotel.
Lovingly restored, Dixcart offers spacious rooms, a sunny terrace and extensive gardens. The attached Hugo's Bistro offers delicious food and daily breakfasts aside, we had some lovely sunny, seafood lunches here.
The hotel's bistro is named after Victor Hugo – author of Les Miserables  – who wrote part of his novel in Dixcart Hotel. In fact, it's said that Hugo wrote it in the same room that we stayed in during our own visit.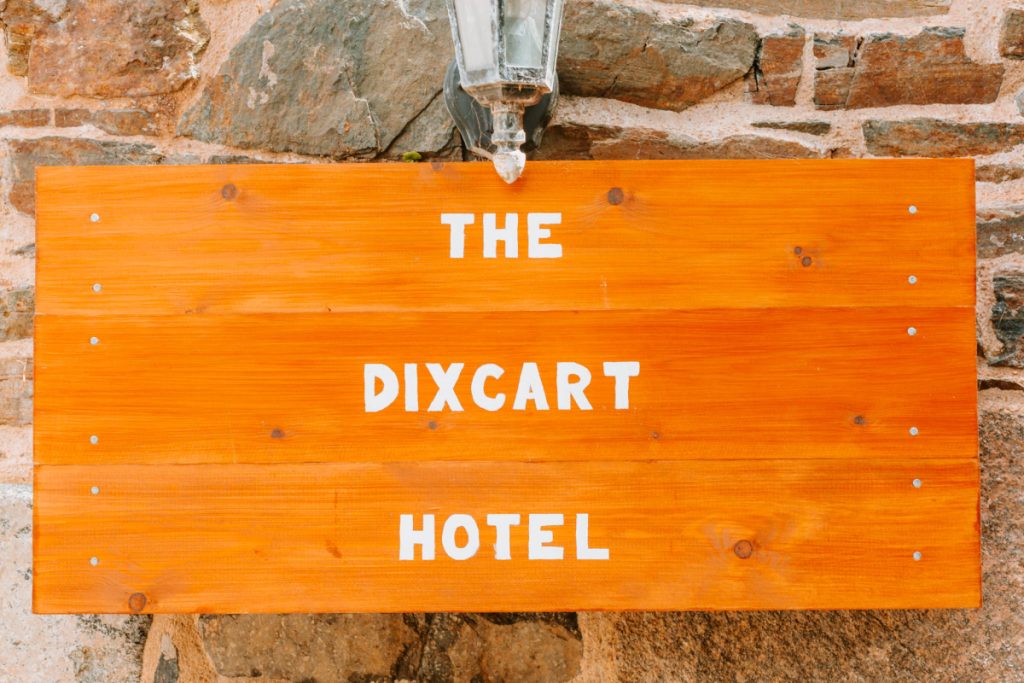 The second hotel and self-catering cottages offered by the Sark Estate are at La Moinerie Village. Cycling down the quiet cobbled lane that leads to La Moinerie, we were transported to a French provincial village. With bright wild flowers climbing cobbled walls, a cosy pub and the sound of bird song, La Moinerie quickly became one of our favourite spots on Sark.
It's also definitely one of the best places to stay on Sark.
We returned to this peaceful spot most days, to enjoy the pub and a chat with Kevin and Ivana, who run La Moinerie. As became a common theme throughout our stay, it was their warm and welcoming nature, and their stories of life on Sark, that made this trip so memorable.
While visiting La Moinerie, we were able to have a quick peek around the luxury lodges available on the site. These two-bed lodges are ideal for families looking for a bit more space and some self-catering facilities.
We put this accommodation firmly on our list for next year, when we hope to return to the island with our toddlers in tow.
Activities and Experiences Arranged Through the Sark Estate
As guests of The Sark Estate, we highly recommend using their expertise to book some activities and experiences while on the island.
From boat trips to sunset picnics, kayaking to stargazing, the team can to help arrange some truly memorable experiences for you.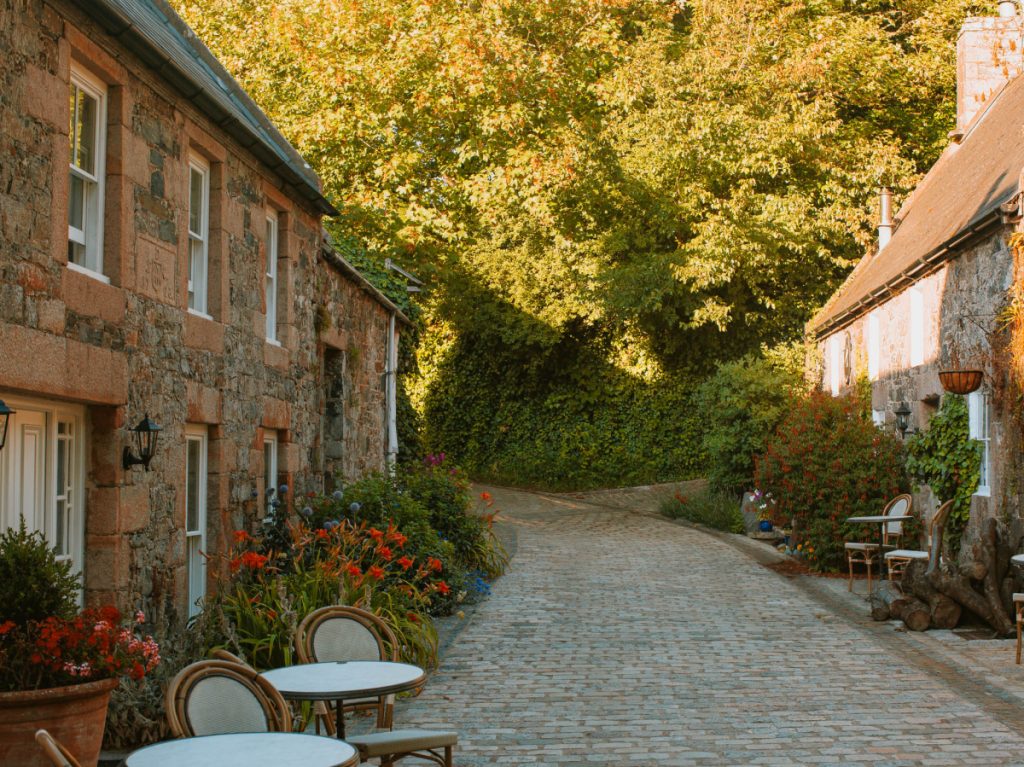 Is Sark Worth Visiting?
12 Things to Do On the Island
Is Sark worth visiting? Yes, and to prove our point, below is a list of just a few activities and experiences you can enjoy on the island.
1. Hire Bikes and Explore Sark
As true converts to the electric bike, we highly recommend renting some from Bams Bikes on arrival.
Being able to whizz around the island was an unexpected highlight of our stay, and left us with a feeling of giddiness and adventure.
There are a number of bike trails to explore indepdently on Sark, but if you're looking for a more formal bike tour, you can book a half-day experience with Adventure Sark.
As we were only on the island for 3 nights, I'm really glad we decided to use the bikes – it made getting around the island so quick and easy; allowing us to squeeze the most out of our time there.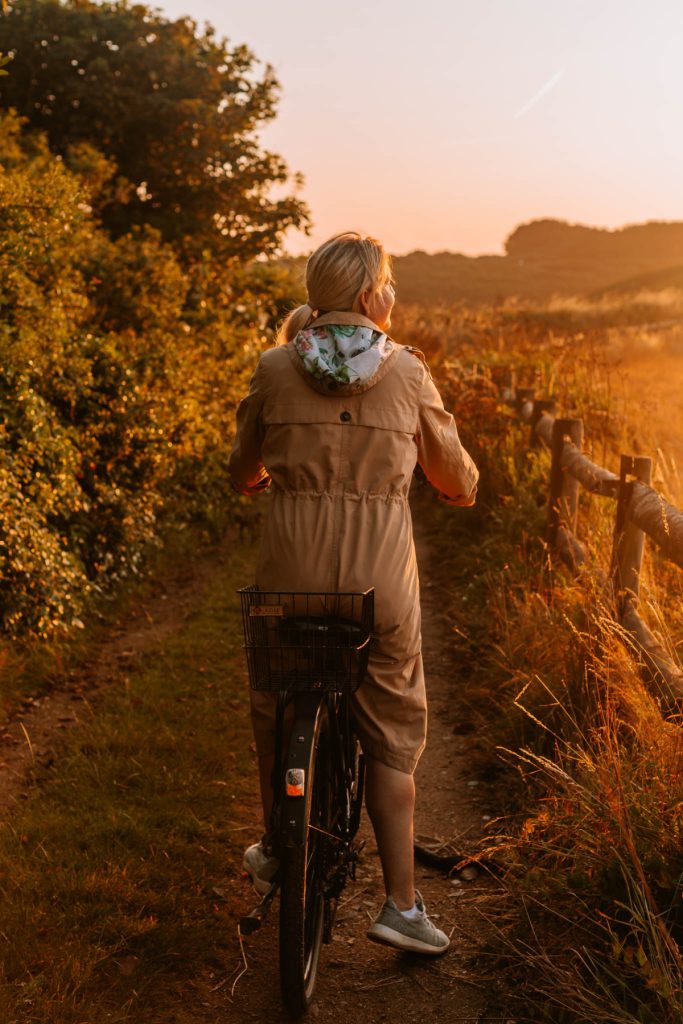 2. Explore Sark's Fantastic Beaches
If you're wondering 'is Sark is worth visiting?', then simply take a look at its beaches. There are a number of stunning beaches and bays  to enjoy on Sark, and below is a round-up of the most popular.
Dixcart Bay 
The most popular beach on Sark is Dixcart Bay. Handily located an easy 10-minute downhill walk from Dixcart Hotel, this little bay was a lovely, serene place to explore.
Swimming is easy at any tide at Dixart Bay. The bay is a mix of sand and pebbles, and has little caves and rock pools to explore. If mobility is an issue, Dixcart Bay is the easiest to access on the island.
Sark's Venus Pool
We were very intrigued to visit the Venus Pool after hearing rumours of its turquoise blue waters. Located on Little Sark, the Venus Pool is a stunning tidal pool that can be accessed two hours either side of low tide.
Getting to the Venus Pool is fairly straightforward (especially if you have bikes), but does require some scrambling and climbing (do wear trainers, not flip flops). However, the plunge into the cool water is well worth the effort and it's a beautiful place to swim on a hot summer's day.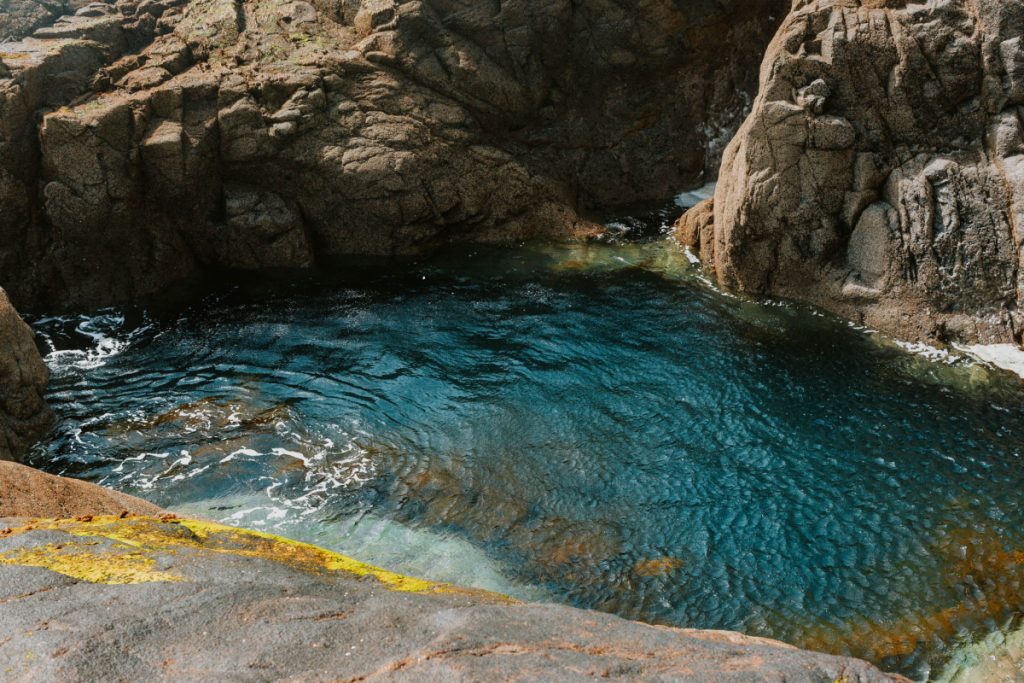 Grande Greve
Grande Greve is known as 'the great bay' and is visible from La Coupée (more on this below). This beach is a bit of a climb to get down to (360 steps, to be exact) but is worth it if you're planning on spending a few hours on the beach.
Grande Greve is particularly popular with families thanks to the crystal clear waters and rock pools.
3. Sunset Picnic on Sark's West Coast
If you're visiting Sark in the summer, a sunset picnic on the west coast is a must. Thanks to our helpful guide at The Sark Estate, we were tipped off about the perfect spot to do just this.
To get to this particular picnic spot, follow the path that leads out the back of La Moinerie Village. Here you'll find the path comes to a natural crossroad – take a left, through woodland until you arrive at the coast. Here you'll find a well-worn path that will take you up a small, but steep hill. Follow this until you reach the top of the rocks.
Here you'll find large flat rocks, the perfect place to lay out a picnic blanket and watch as the sun dips below the horizon.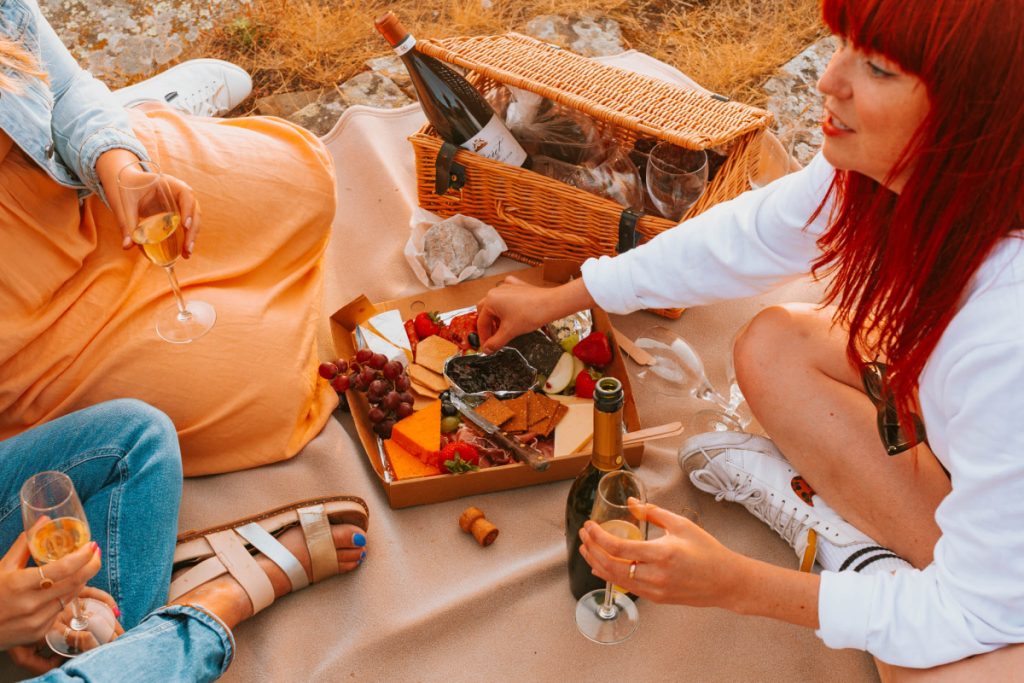 For our picnic, we pre-ordered a charcuterie board from Hugo's Bistro. This turned out to be ideal for a picnic and our basket was stuffed full with cheeses, meats, crackers and grapes. Pairing our feast with a few bottles of wine, we had a perfect picnic setup.
Just remember to pack a torch, so you can get home safely once the sun has gone down (and some warmer layers – that coastal breeze can be chilly).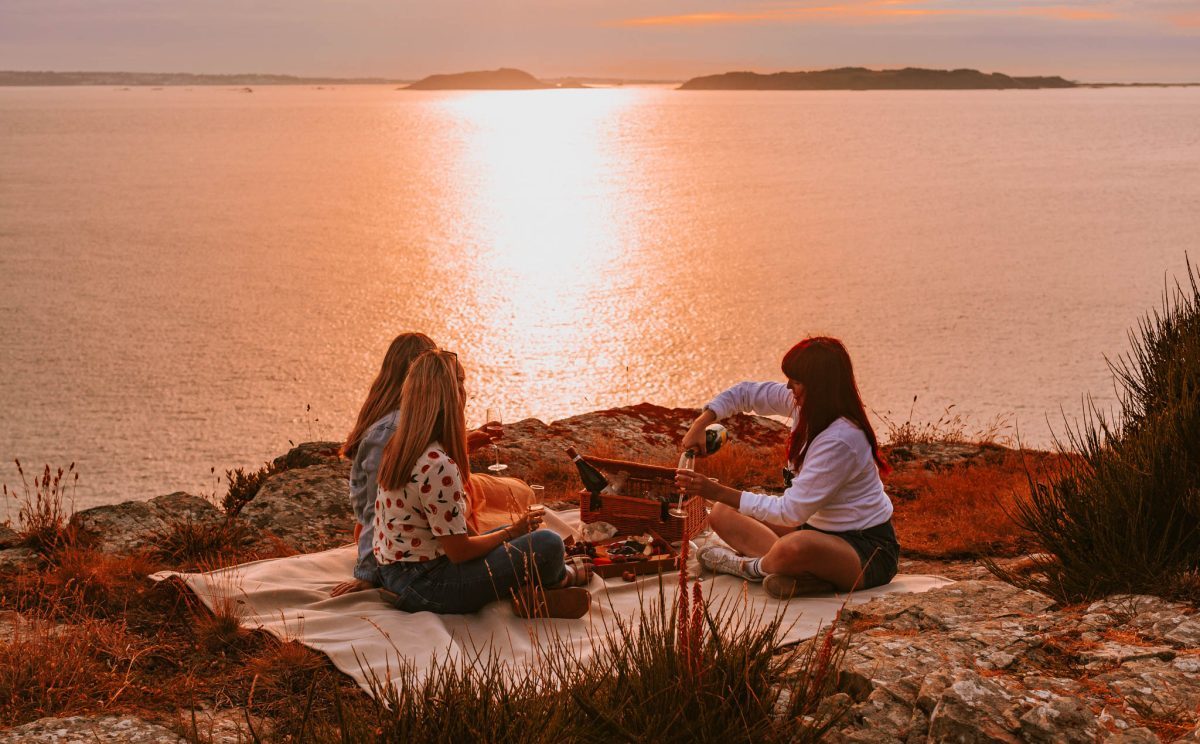 This particular spot aside, there are plenty more places to watch the sunset on Sark. Pilcher Monument, for example, boasts perfect views of the sun setting behind the privately owned Brecqhou island.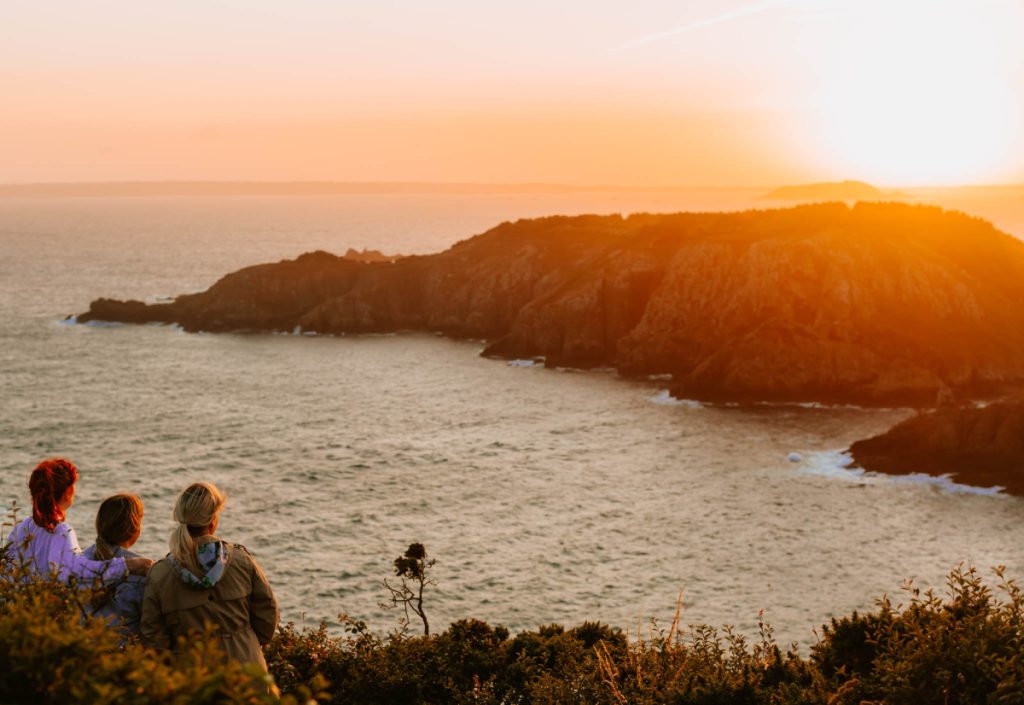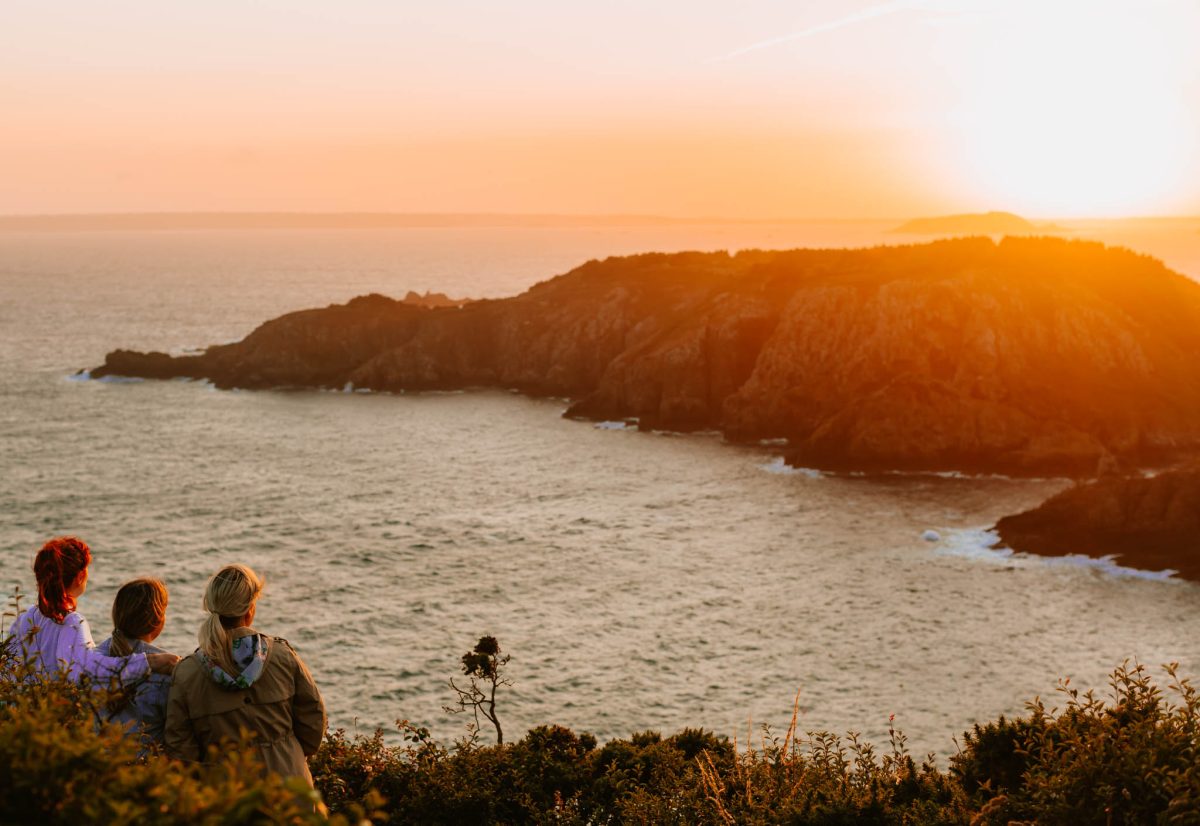 4. Star Gaze on the UK's First 'Dark Island'
Sark was designated as an International Dark Sky Community in 2011; the first in Europe and the first to be recognised globally. An island free of street and car lights, and neon strip lights, when night falls on Sark a new glittering world is revealed.
In fact, the sky is so clear that locals often use the Milky Way to direct themselves around the island come dusk. Magic.
The darkest skies are visible between September and April, so make sure you squeeze in some nocturnal gazing if you're visiting in the autumn.
5. Enjoy a Lazy Seafood Lunch
It would be criminal not to visit Sark and enjoy the delicious, fresh seafood it has to offer. As individuals living in landlocked Buckinghamshire, the opportunity to dine on fresh hand-dived scallops, king prawns, crab sandwiches and lobster was definitely not to be missed.
If you're looking for the best restaurants on Sark for seafood, further down below are our favourite dining spots on the island.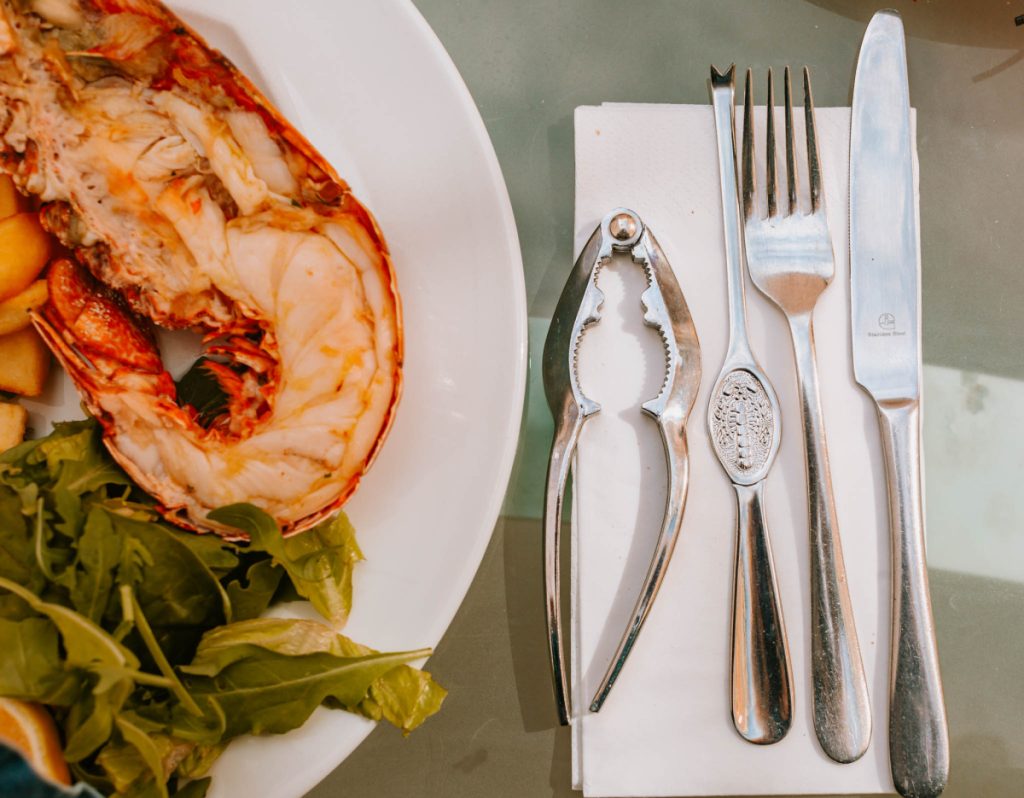 6. Shopping on The Avenue (High Street)
Now, if you're expecting Oxford Street on Sark, I'm afraid you'll be disappointed. Arriving on Sark, we were given a quick tour of the 'epicentre' of the island, including its high street known as 'The Avenue'.
Staring down the quiet road, a horse and cart plodding by, our friends – both based in London – let out incredibly loud laughs. In complete contrast to a normal bustling high street, Sark's was like a country lane (heaven).
Small, but perfectly formed, Sark's high street and island shops are surprisingly diverse. From small home and trinket stores, to chocolate shops and pottery studios, retail therapy on Sark is pretty good.
Be sure to stop by the Sark Yard for lovely home pieces, alongside great coffee and pastries.
7. Kayaking in Sark
If you're looking for some adventure, a kayaking tour of the caves and coves around Sark is a great idea. Adventure Sark offer sea kayaking tours at 10am and 2pm, for two hours during tourist season. Each costs a very reasonable £50 per person.
If you're visiting during the right season, you may even spot some nesting puffins.
8. Horse and Cart Ride
A traditional horse and cart ride is the perfect way to explore the island of Sark. A tour can be arranged through Sark Carriages –  the island's longest established horse and cart provider.
Sark Carriages can arrange a variety of tours, including sunset or moonlight drives (perfect for star gazing), and tours to Little Sark. They also provide a very charming taxi service, too.
9. Hot Chocolate at Caragh Chocolates
On a rainy dark on Sark, there's no better place to head than Caragh Chocolates. Caragh Chocolates are handmade on the island and, aside from a shop bursting with irresistible treats, also offers delicious, silky hot chocolate from their cafe.
We arrived in this cosy store as the heavens opened. Settling down with our hot chocolates, watching the open kitchen bustling with chocolatiers, we were reminded that you don't necessarily need sun to enjoy Sark.
It's also the perfect place for steaming hot drinks and crackling fires.
10. Visit Little Sark and Cross La Coupée
One of the best things to do on Sark is to head over to Little Sark.
Little Sark is a peninsula, forming the southern section of the island. To reach it, you'll need to dismount from your bike and walk the narrow bridge known La Coupée, which offers breathtaking views across Grand Greve beach.
La Coupée was once a perilous bridge to cross, with locals crawling across it during high winds to avoid being blown off. Railings eventually went up in 1900 and in 1945, German prisoners of war paved the crossing.
Little Sark is home to a small hamlet that is fairytale pretty. Riding into the hamlet, we were – once again – transported into a French village; wild flowers and butterflies lining the paths as we peddled past sleepy cottages.
In order to visit the Venus Pool, you will need to cycle through Little Sark. There are also two excellent hiking trails on Little Sark that will take you along the craggy coastline.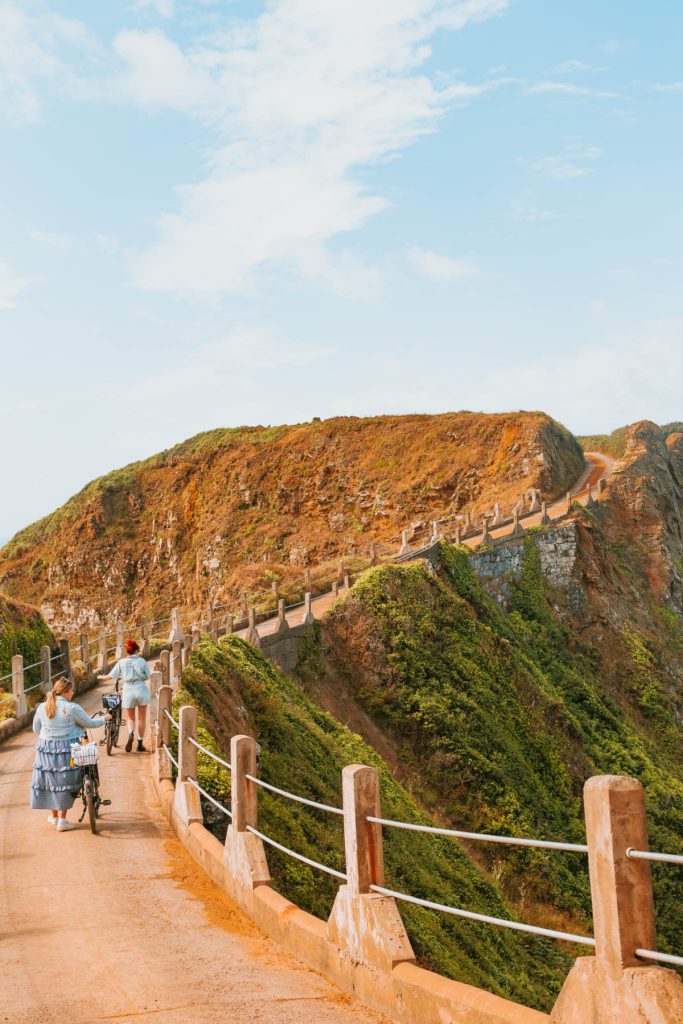 11. La Seigneurie Gardens
If you're looking to explore beautiful gardens on Sark, head to La Seigneurie Gardens. Located on the grounds of a 17th Century manor house, where traditionally the Seigneurie (Lord) of Sark once lived, these gardens are said to be some of the prettiest on all the Channel Islands.
We really enjoyed the maze, belly-laughing our way around as we got increasingly lost in the thick hedgerow.
12. Visit The Window in the Rock
Our final suggestion for best things to do on Sark is perhaps the prettiest and most memorable experiences of them all.
The Window in the Rock can be found by following the path out the back of La Moinerie Village (similar to the walk to the picnic spot mentioned previously). Instead of turning left, however, follow the path right and you'll see a clear path up to the viewing point (it's signposted).
Here you'll find a natural 'window' in a rock that provides breath taking views out over the coastline. This is an ideal spot for a photo opportunity, or the place to stop for a picnic (if you have the stomach for the drop below).
A word of warning, there is a very steep drop from the "window", so this path is not suitable for those with small children, unless they're safely strapped to you.
Best Places to Eat On Sark
If you're wondering 'is Sark worth visiting?', let their foodie scene be your answer.
We were definitely surprised by the variety of restaurants and cafes on offer on the island – and just how many different spots there were to visit.
Below is a round-up of some of the best restaurants on Sark.
1. Hathaways
Hathaways is a fine dining restaurant located on the La Seigneurie site. A renovated 16th century dairy, Hathaways is a lovely place to head for an evening meal, with fresh fresh lobster and crab on the menu. There's a sunny terrace for warm evenings, or a crackling log burner inside for when the autumn chill rolls around.
We can highly recommend the seafood risotto – the freshly caught scallops were some of the best we've ever tried.
2. Hugo's Bistro
Attached to Dixcart Hotel is Hugo's Bistro – a place we enjoyed many breakfasts and lunches. As mentioned earlier in our review of the hotel, Hugo's is the ideal place to come for a lobster lunch in the sunny courtyard, or for a hearty brunch before heading out for the day.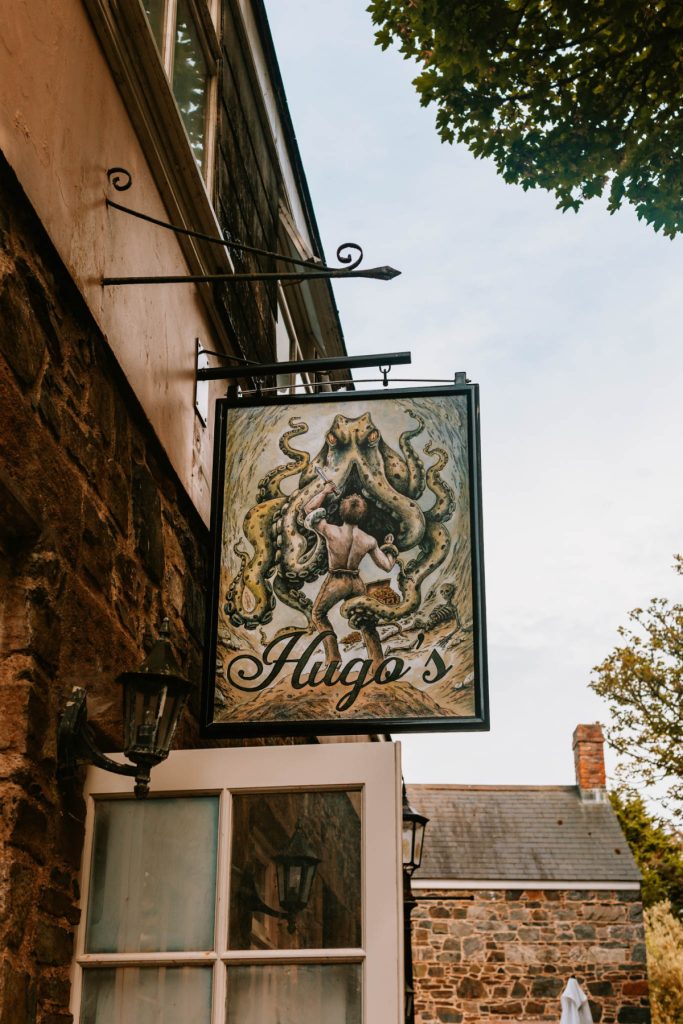 3. Time and Tide
Located on The Avenue, Time and Tide is a relaxed spot to enjoy lunch or dinner. Ideal for those with families, Time and Tide offers a diverse range of homemade food and is very friendly spot.
4. Sark Yard
If you're looking for a fresh coffee and pastry, drop by Sark Yard located on The Avenue.
With outdoor seating in a flower-filled courtyard, this is a lovely spot to start the day; watching islanders open up shop and the horse and carts idle past.
5. Nova's Bistro
Nova's Bistro, located on The Avenue, is open for breakfast, lunch, dinners and coffees, making it a popular spot on the island.
We highly recommend this Bistro for (again) fresh seafood and delicious puddings, including homemade treacle tart and ice-cream.
6. Hatters
Hatters is a family-friendly diner located on The Avenue. If you're looking for a break from seafood, Hatters offers American cuisine (think burgers and chips) in a fun, relaxed atmosphere.
Is Sark Expensive?
We were curious to find out if Sark is more expensive than the rest of the UK, knowing that the Channel Islands are often known for their higher price tags.
However, we were actually pleasantly surprised by the costs in general and it felt pretty comparable to what we would pay back at home (although the upper end of our usual budget).
A large seafood lunch, for example, with a starter and a glass of wine, cost us around £35pp.
The only time we noticed an increase in prices was at the supermarket, where there was a definite mark-up on imported goods (i.e., all goods). However, it would still be achievable to visit Sark on a budget, if you made your own picnics and stayed in self-catering accommodation.
Final Thoughts: Is Sark Worth Visiting?
So, is Sark worth visiting?
Yes, absolutely.
In fact, our bet is that this is an island you'll want to head back to long after you've left; returning to it over and over when you're in need of escape and the blissful sound of silence.
This is an island where time truly slows down; where congested roads are replaced by horse and cart, and relaxing is the only expectation.
For us, four days on Sark wasn't enough – the slowness of island life was only just beginning to relax our bones before it was time to head back to reality. We will, without doubt, be returning to Sark again.