This review of Tielle Love Luxury bedding contains gifted products.
'What bedding and sheets do hotels use?' It's a topic that I've dedicated an embarrassing amount of time to researching. You see, if my life as a travel blogger has taught me anything, it's that hotel beds aren't like normal beds – they are a different species entirely. Soft, smooth and slick, these sheets are the film stars of the bedding world. 
Recently, and after one too many nights wrapped in 600tc sheets, I decided to bite the bullet and find out (definitively) where hotels found their bedding. Surely there was a way I could recreate the magic at home? Sure enough, and after some online investigation, I found that far from being a trade secret, the answer was relatively simple:
Who Are Tielle Love Luxury?
Used by five star hotels including the Pig Hotels, the Dorchester, the Goring and Le Manior aux Quat'Saisons, Tielle Love Luxury are the darlings of the linen world; transforming the humble cotton sheet into silky sateen weave.
Owned by Tradelinens, Tielle Love Luxury was born when people like me (those on the hunt for a thread count high) asked where they could buy their linens. The result? The creation of an online store dedicated to fluffy hotel-quality towels, duck down duvets and crisp, cotton sheets.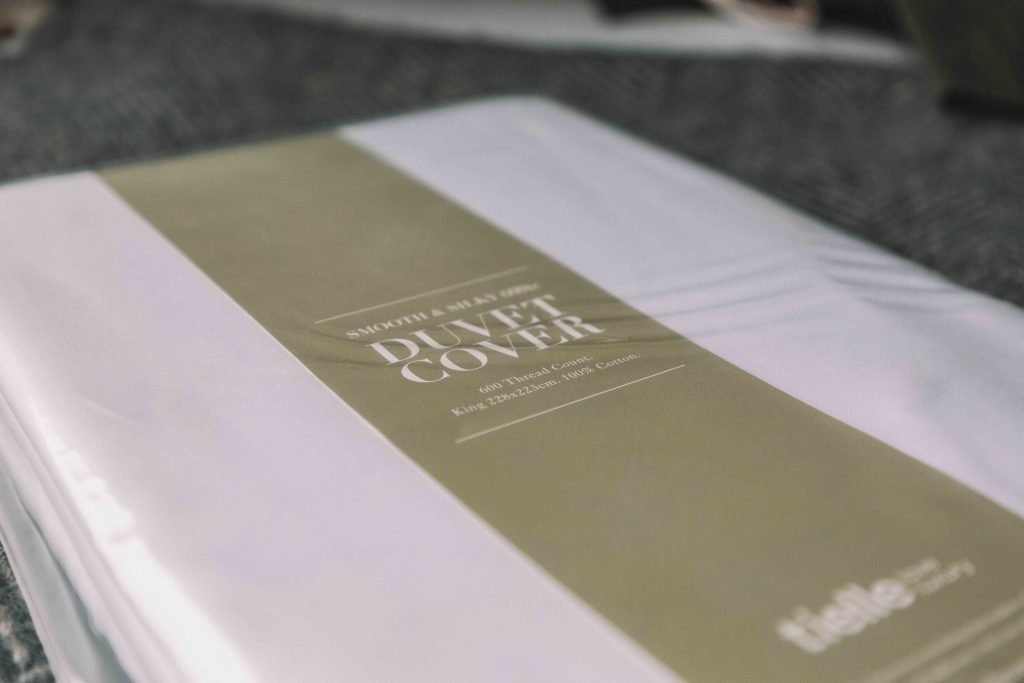 Browsing their site – examining one silky sheet after another – I made my decision: I needed to break up with my old, tired bedding. The odd monthly fling with a 400tc duvet was not enough.
I needed to move Tielle Love Luxury bedding into my home.
Fully committed to my plan, I got in touch with Tielle Love Luxury, ready to make the swap. After talking to their very lovely team and having decided what I wanted to go for, Tielle very kindly offered to gift me their 'Snuggle Sleeper' ready for bed bundle (RRP £302 – £580).
Featuring a Savoy Feather and Down duvet (10.5 tog), two Savoy Duck Feather and Down pillows, a Soft and Strong 400tc duvet cover, a fitted sheet and two Oxford pillowcases, the bundle promised to transform my bed into a hotel inspired paradise.
Flinging off my old bedding as soon as the dispatch email arrived, I waited – ready for silky smooth sheets and cloud-like pillows. My small cottage bedroom was about to get the makeover of a lifetime.
Turning my Bedroom into a Five Star Hotel: a review of Tielle Love Luxury bedding and linen
Tielle Love Luxury Savoy Feather and Down Duvet
Attempting to recreate a slice of five star luxury would mean having to start from the beginning – I needed a new duvet.
In the past, I've never spent more than £45 on a duvet; something the linen karmic gods have never forgotten. My current duvet – one that I imagine was once filled with at least 50% feathers – is now a shell of its former self. Most of those white, little feathers have somehow escaped – now residing inside my hoover or under the bed.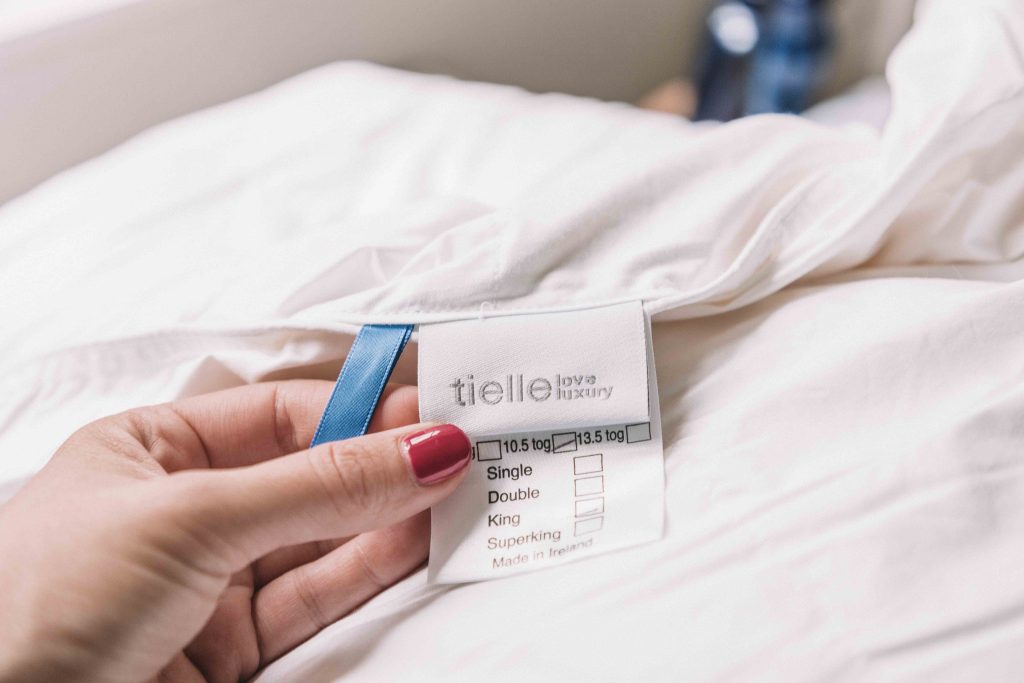 Having learnt my lesson, I therefore wanted to make sure that I was more discerning when it came to my next duvet.
Carefully unwrapping the Tielle Savoy Feather and Down duvet, I already knew that I'd made the right decision. Bouncing out of its packaging, the new duvet was a billowy and snuggly bundle of luxury. Featuring 70% duck feather and 30% down, the duvet is something of a bedding celebrity; keeping guests at hotels such as the Limewood cosy and warm.
Initially, I was a little worried that this 10.5 tog duvet – filled with swirling down and soft feathers – would be a bit warm; perhaps suffocatingly heavy. Being the sort of person who likes to sleep with the window open and a cold gale billowing through, I wasn't sure if such a weighty duvet was for me.
After aerating the duvet and plenty of plumping and smoothing, I climbed in – the duvet settling over me like a hug. Surprisingly light (with just the right amount of weight), the duvet felt far from heavy – even on a sticky summer's night. Making those soft billowy mounds and hills that I've always loved about hotel bedding, I could already tell that my Tielle Love Luxury duvet was leagues ahead my previous bedding.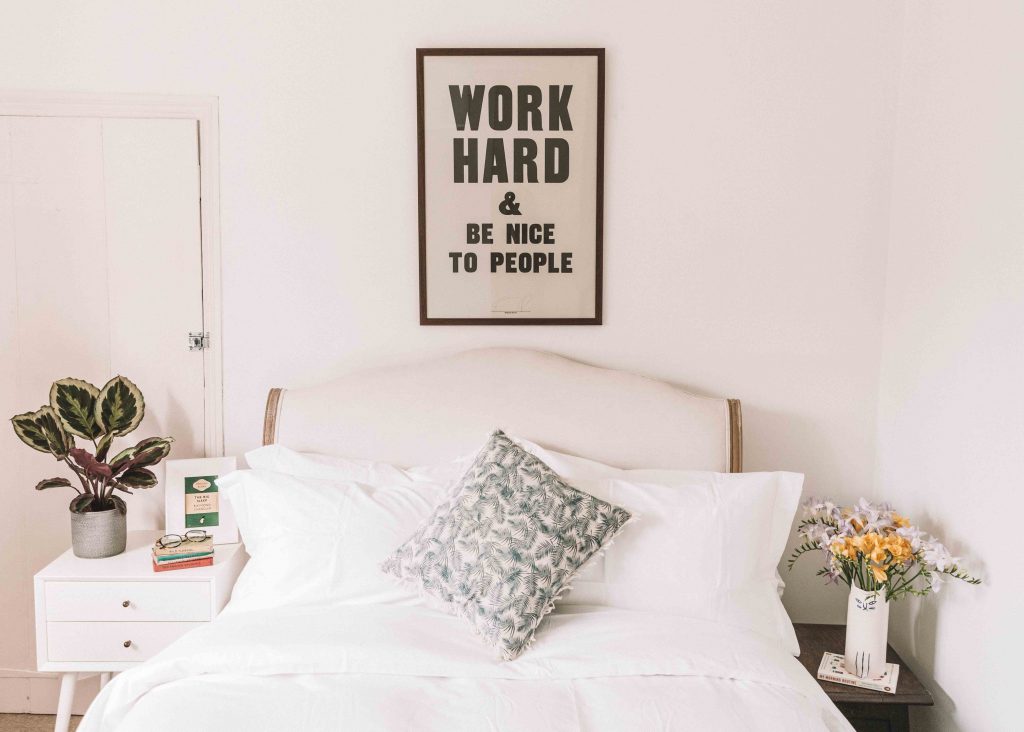 I've now been using the duvet for just over a week and can safely say that it is on par with the duvets I've found in five star hotels in Abu Dhabi, Los Angeles and London.
Although some might be tempted to go for the lighter tog (4.5), I'd highly recommend spending that little bit extra and going for the year round duvet (10.5). As it's not 100% 'pure down' – but blended with feathers – the duvet is incredibly light.
Additionally, it looks fantastic on my bed; creating that sumptuous and full aesthetic that hotels always manage to pull off.
Tielle Love Luxury Savoy Feather and Down Pillows
The humble pillow can make the difference between a heavenly or hellish night's sleep – something I've experienced firsthand. Indeed, it's safe to say that my previous set of pillows (another economical purchase from Ikea) have seen better days. Once filled with  – well, something – they are now lumpy, depleted sacks.
Even the cat refuses to sleep on them.
Thankfully, however, the Tielle Love Luxury Savoy Feather and Down pillows were on hand to save the day.
Filled with the same blend of feathers and down that the Tielle duvet boasts, these pillows are for those who like extremely soft and malleable places to rest their heads. Wake up in the morning and you'll find that your head has made its very own burrow; one surrounded by piles of soft feathers and cotton trims.
For me, this level of support is ideal. Combine with the Tielle duvet and it's like sleeping inside a jar of cotton wool – fluffy, cosy and warm.
However, if you have a penchant for a firm pillow, then this blend of feather and down might not be for you. Having had a quick browse of the Tielle Love Luxury website, it seems that their Rosewood Goose Feather and Down pillow offers excellent neck and head support – and might therefore make a good alternative (although note, it's quite a bit more expensive than the Savoy pillow, starting at £120).
Tielle Love Luxury Smooth & Silky 600tc Fitted Sheet
With your duvet and pillows providing a downy spot upon which to rest your head, it's time for the pièce de résistance: your linen.
Included in the Snuggle Sleeper Ready For Bed bundle are Tielle's Soft and Strong 400tc fitted or flat sheets.  However, these were kindly upgraded for us by Tielle and we were instead gifted their Smooth & Silky fitted sheet – boasting a whopping 600tc.
Opting for the fitted sheet (I'm not sure when I'll graduate to a flat sheet – it seems to me to be a particularly difficult life skill to master), I quickly fanned the linen out across my bed.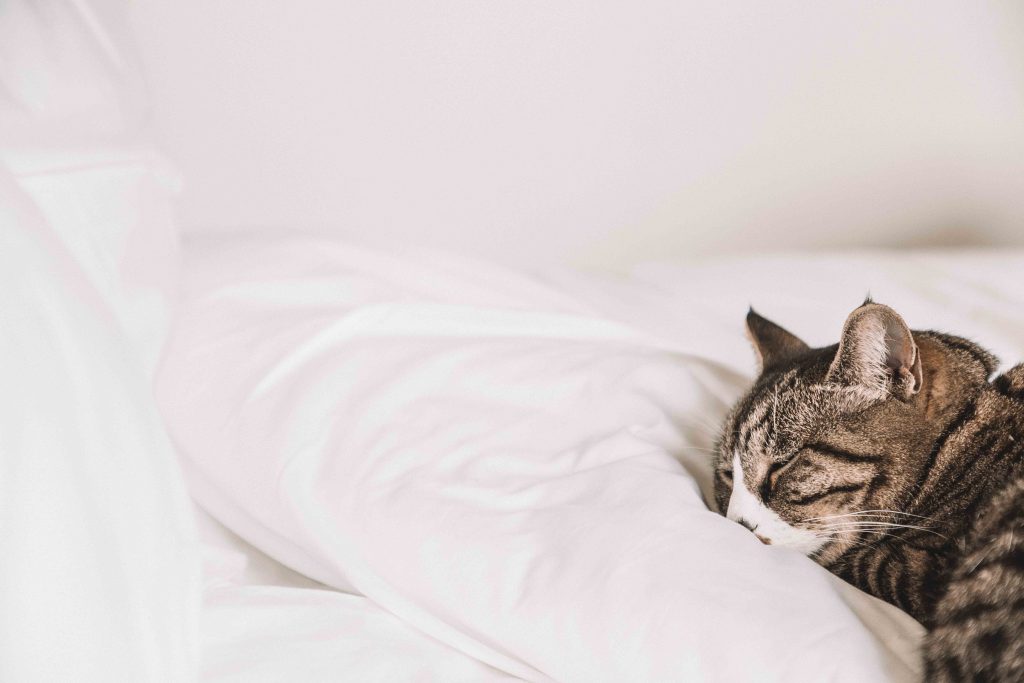 A pearly satin white, the sheet settled over my bed like silk and its creases smoothed out almost immediately. Not only incredibly soft, for those of you with an aversion to ironing, this sateen sheet is certainly for you.
Linen and Pillows: Tielle Love Luxury Smooth & Silky 600tc Duvet Cover & Pillow Cases
Completing your luxury hotel experience, the Tielle Love Luxury Snuggle Sleeper bundle comes with a 400tc Soft and Strong Duvet cover and two Soft and Strong pillowcases. Very generously, Tielle again upgraded these linens to their 600tc Smooth & Silky range; a thread count more than six times what I'm used to.
For those who love hotel bedding with an almost iridescent finish, this range is particularly worth a browse. Both the pillows and duvet cover boast a lustrous sateen finish and hang like poured silk over your bed. Featured in the suites found at The Shard, London, Tielle describes this bedding as being for 'those who want it all' – the bedtime equivalent of perhaps driving a Jaguar and eating caviar, all whilst cuddling a puppy.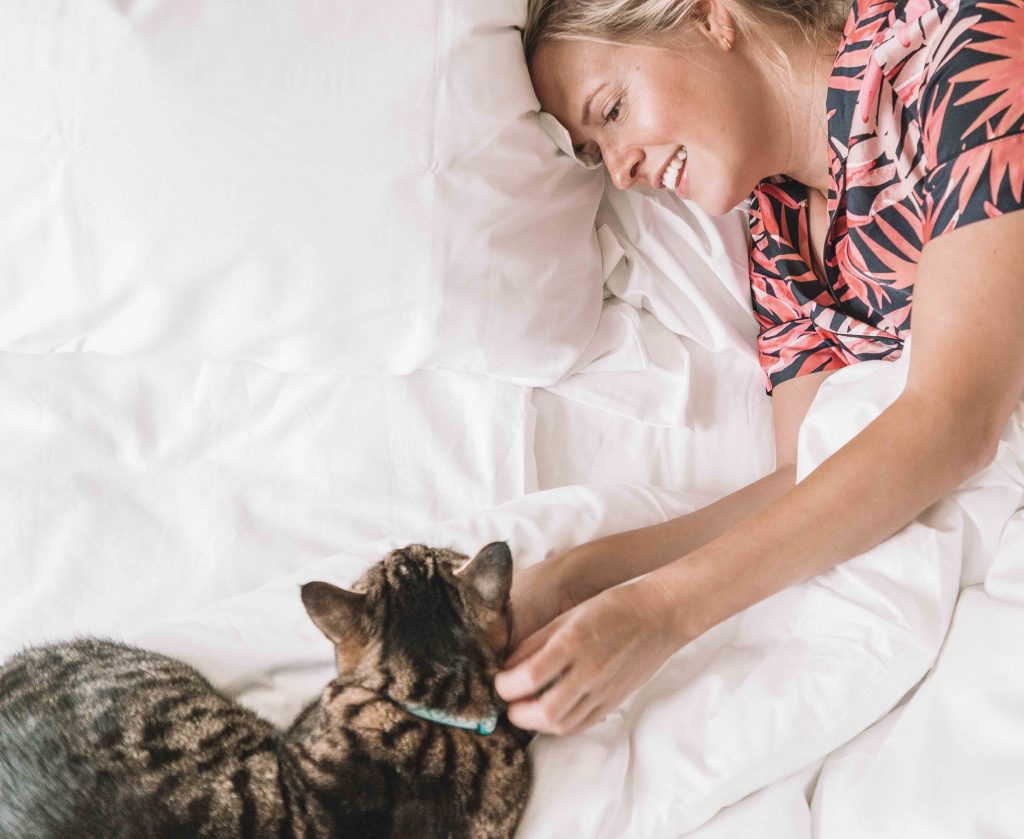 Aesthetically, the bedding is beautiful. Initially, I was unsure how I'd feel about sateen bedding; imagining myself writhing around in silk sheets like a 90's rapper. However, the sateen offers an incredibly subtle finish and has something that I'd perhaps describe as a soft glow.
For those who are after a more traditional finish, I would opt for the 400tc Soft and Strong bedding offered by Tielle Love Luxury, which has a more 'matte' appearance.
Tielle Love Luxury: The Verdict
Having transformed my bedroom thanks to a feather and down filled duvet, two cloud-soft pillows and the softest of sateen sheets, my bedroom metamorphosis was complete. With a new, thread-count inspired haven to call home, I might never need to travel again.
However, would this love affair last? Would I really feel as though I was getting into a hotel bed each night?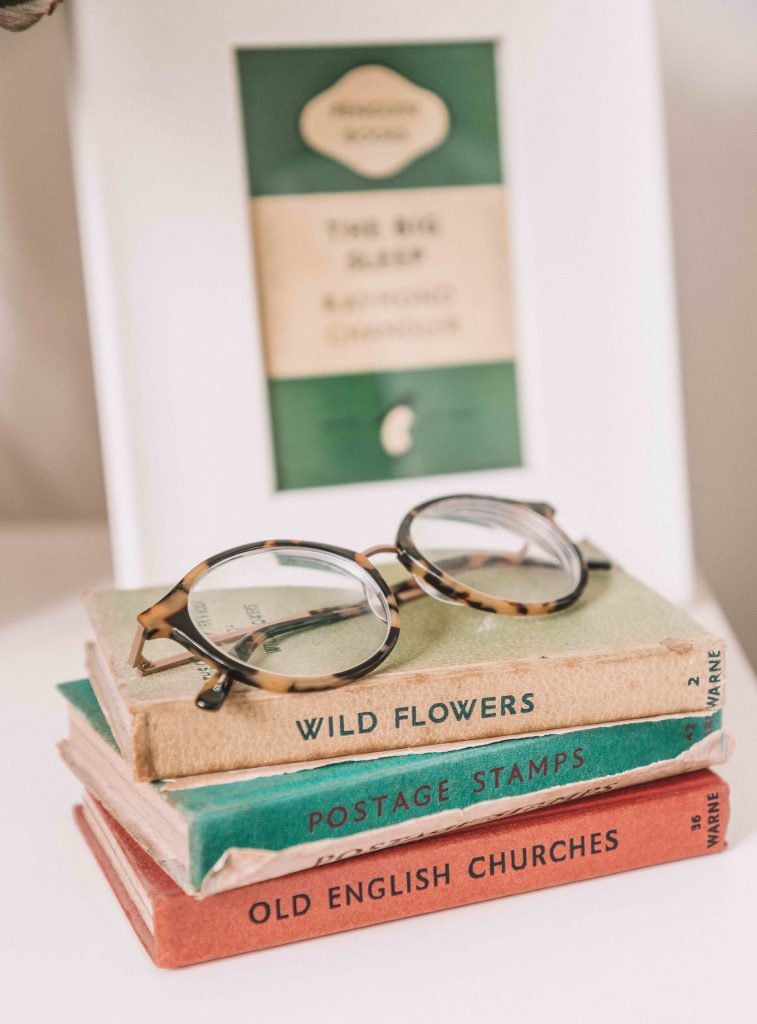 A week on and there's no denying that upgrading both my bedding and my linen has enhanced and improved bedtime ten fold. As someone who has never spent more than a small amount on linen – opting instead for supermarket sheets and high street duvets – it's probably fair to say that I had neglected the one place that we spend so much of our time.  Bedtime was just a mandatory function, rather than an experience.
However, having been introduced to Tielle Love Luxury – a brand that commands an entire community of linen-lovers (who knew?) –  I now realise that bedtime needn't mean the same old duvet or lacklustre pillows. Instead, it can be an experience; something to be enjoyed night after night, feather after feather.
Is Tielle Linen Worth the Money?
Of course, this luxury comes at a price. There is no doubting that Tielle Love Luxury bedding is certainly an investment. For example, if you happen to have a super king sized bed, the Snuggle Sleeper bundle will set you back £580, whilst the Smooth & Silky bedlinen set (featuring sheets, linen and pillowcases) will cost you £260 if you own a king sized bed.
However, I'd urge you to look at this bedding as an investment.
Last year, fed up of being stabbed in the back by my own mattress (physically, not metaphorically), I decided to bite the bullet and invest in a new mattress. At a cost of £650, this new mattress certainly wasn't cheap, but I knew that it would last and improve my sleep, hugely. As a result, parting with £650 didn't feel all that painful.
The same applies to the Tielle Love Luxury bedding; particularly their duvets and pillows. Yes, the prices of these luxury products are perhaps higher than those found on the high street, however, this is luxury bedding that will not only last you, but will transform your bedtime experience.
Bedtime and sleep are unavoidable and necessary parts of our lives – with most of us spending an estimated 25 years of our lifetime sleeping. That's more time than you would spend in your gym with those expensive trainers on, or inside your flash, new car.
So, why not make those 25 years a comfortable, luxury-filled experience? Invest in Tielle Love Luxury and I promise you won't regret it.
Sweet dreams.
Thank you to Tielle Love Luxury for very generously gifting us each their Snuggle Sleeper bundle. All opinions are our own. 
Pin for later: