This guide to fun things to do in St Pete, Florida, contains affiliate links.
It's a hot Friday lunchtime in downtown St Petersburg, Florida – the heat bouncing off the city's pavements in shimmering waves.
Sat under a towering Sea Grape plant, its leaves wrapping their way around the building next door, we're waiting for plates of Cuban food, courtesy of St Pete's beloved Bodega street-food restaurant.
Accessed via a small hatch in a yellow wall, it's here that Bodega's food orders are taken and its mouth-watering dishes served.
It's a popular spot in the city's downtown Edge District – a place where tourists, colleagues and residents gather for Cuban sandwiches, and plates of slow roasted mojo pork and sweet onions.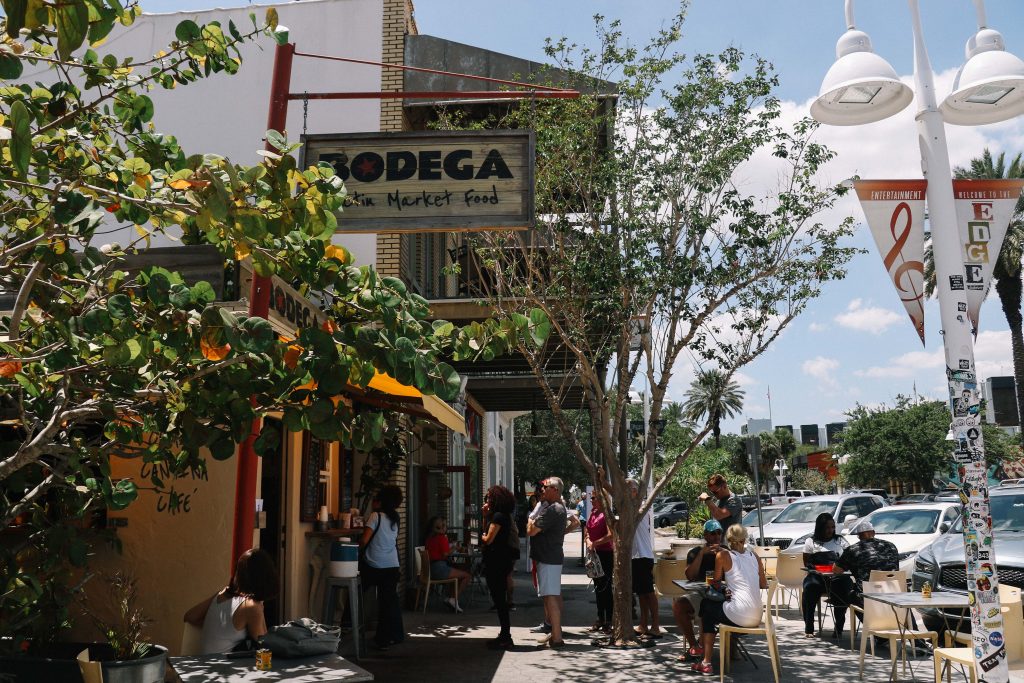 Connected by the 15,000-foot long Howard Frankland Bridge, St Petersburg – or St Pete as it's affectionately known – is Tampa's closest neighbour.
They even share the same sports teams.
Yet, and although separated by just a 25-minute car journey and married together by the wider Tampa Bay, these are two very different relatives; siblings determined to hold their own.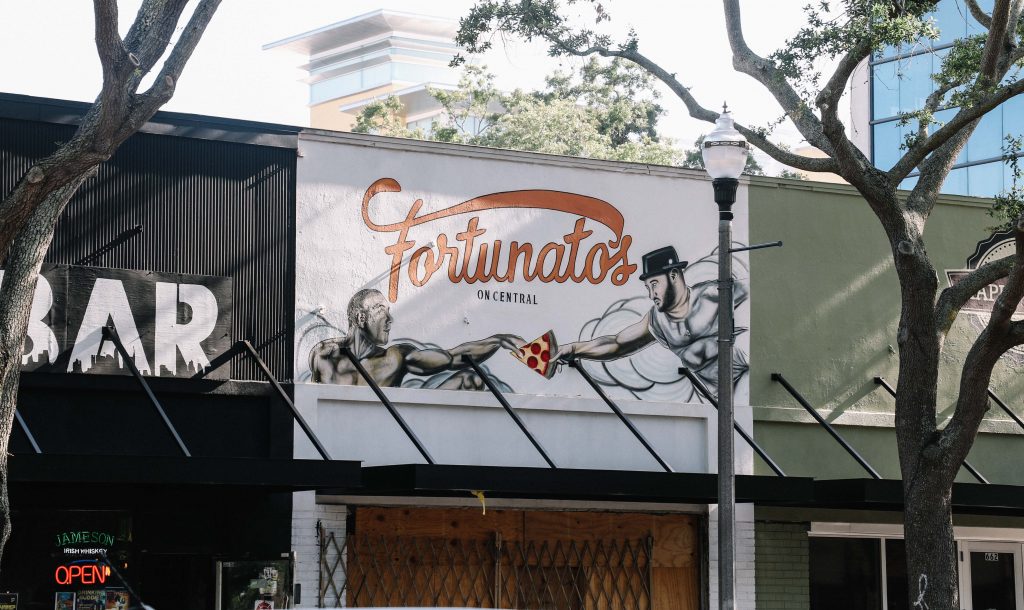 Having visited Tampa just a few days before, I'd expected my visit to St Pete, Florida to be much the same. After all, how different could two cities, less than a bay's length apart, be? Were they really so fiercely different – so independent?
I was about to find out.
Read on for our guide to 13 fun things to do in St Pete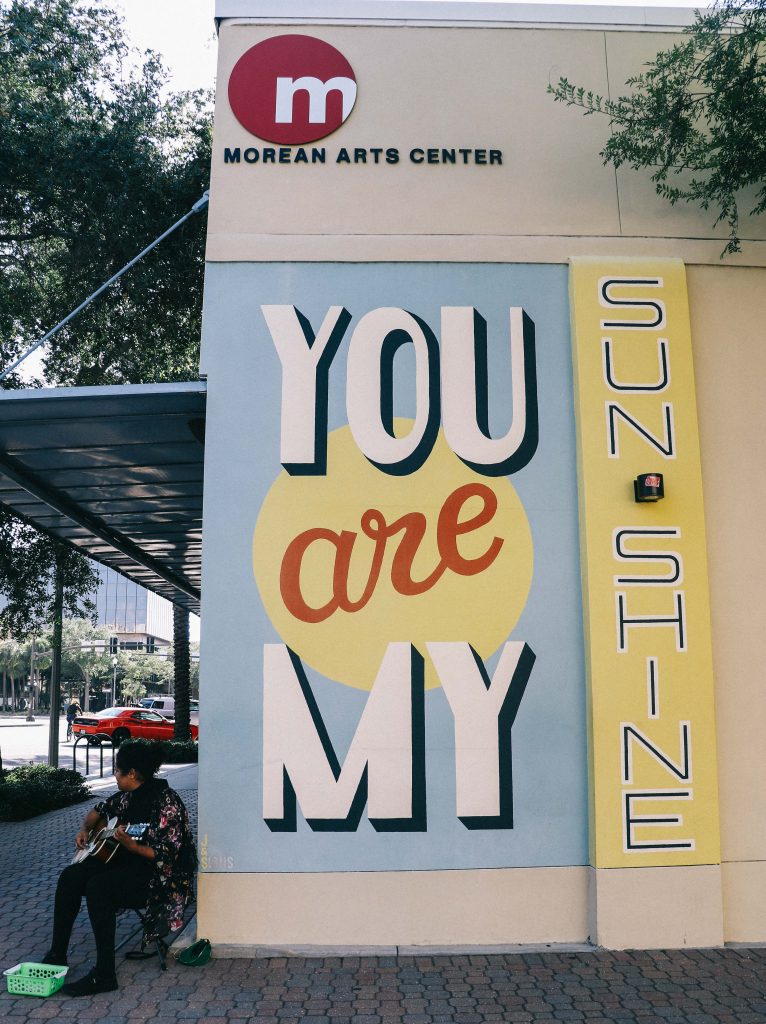 13 Fun Things to do St Pete, Florida
Hurtling across the Gulf of Mexico, Claire's hand shifting the accelerator ever faster, I leaned in as she shouted over the sound of the roaring engine.
"Are we going too fast?", she yelled, our speedboat racing past rows of waterfront mansions. Trying to smooth back my hair – which had now almost trebled in size – I shook my head, bravely.
"No, we're OK", I replied. "Good," she shouted back, before pushing the accelerator ever faster.
We bounced over the next set of waves like a scene from a James Bond movie: Claire's smile now even bigger, my mouth set in a clenched grimace.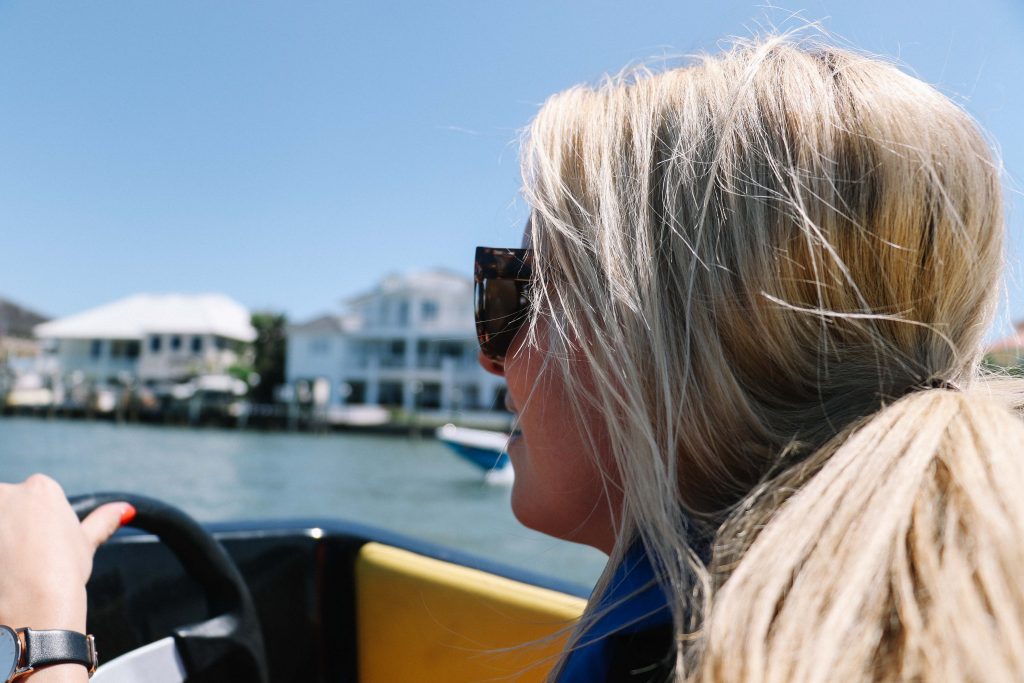 Just an hour before, we had arrived at St Pete Speed Boat Adventures, based on Passe a Grille Way. Offering visitors the opportunity to drive 'mini' speedboats of their own, this was certainly a level up from my normal walking tours.
Led by our tour guide Ben, we would be let loose on the Gulf's shimmering waters, weaving behind him as he sped ahead. "If you don't see a dolphin, I'll eat my hat", Ben promised as we left the harbour. I noted that he wasn't wearing one.
Five minutes later, however, and Ben instructed us to cut our engines, pointing to flurry of activity next to our boat. Sure enough, a small pod of dolphins were swimming nonchalantly past – their fins almost within touching distance.
Ben looked triumphant.
Over the course of the next hour, we'd not only continue to see more dolphins, but sea turtles, rare sea birds and the beloved manatee, too. Interspersed by periods of flying heroically over waves, it was perhaps one of the most exhilarating (and mildly terrifying) tours I'd ever taken.
We completed our trip by heading towards a floating platform: a man selling clams and beer from his onboard store.
Around him, couples and families reclined in their boats, each clutching plates of fresh clams and lemon; their ice-cold beers balanced next to them. "Welcome to St Pete on the Water", our guide said, laughing. Bobbing quietly next to the other guests, it was a version of St Pete that was impossible not to enjoy.
For adrenaline junkies, make sure this is added to your list of fun things to do in St Pete.
If you're visiting St Pete with kids, a trip to Clearwater Marine Aquarium should come top of your list of fun things to do in St Pete. Your little adventurers will be enthralled as they learn about rescued dolphins, sea turtles, otters and other marine animals that enjoy life at Clearwater Marine Aquarium.
The Aquarium also offers boat tours, where visitors can learn more about the environment through the marine creatures that are collected from the grass beds and sand flats surrounding Clearwater Bay. If you're looking for a particularly special end to your visit to the Marine Aquarium, be sure to book the sunset cruise.
Having had lunch at Bodega earlier that day – a restaurant in the heart of downtown St Pete – we'd already had a glimpse of this area of the city. It was a place where the sun felt hotter, where the sidewalks were lined with independent boutiques and coffee shops, and where guitar-playing buskers perched on street corners. It was also a place where vibrant street murals decorated walls, rooftops, doors and passages.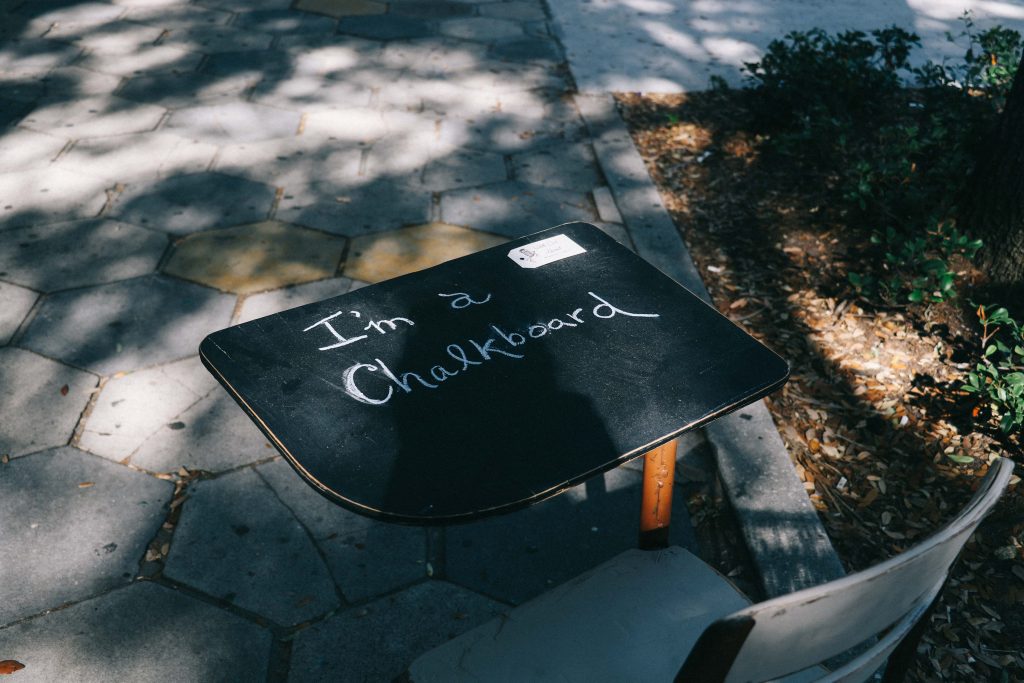 "You know, we hoped for a developing art scene here for a long time – one that was more grass roots – but nothing happened", Derek Donnelly, founder of Saint Paint Arts, tells us as we walk behind a cluster of buildings. "So, we decided just to start something ourselves".
Formed in 2011, Derek began Saint Paint Arts as a collective, featuring a diverse group of local artists and muralists. "We just began to speak to store owners and businesses, to see if they'd mind if we could paint or spray murals on the back of their buildings. What was surprising is that lot of them just told us to go for it".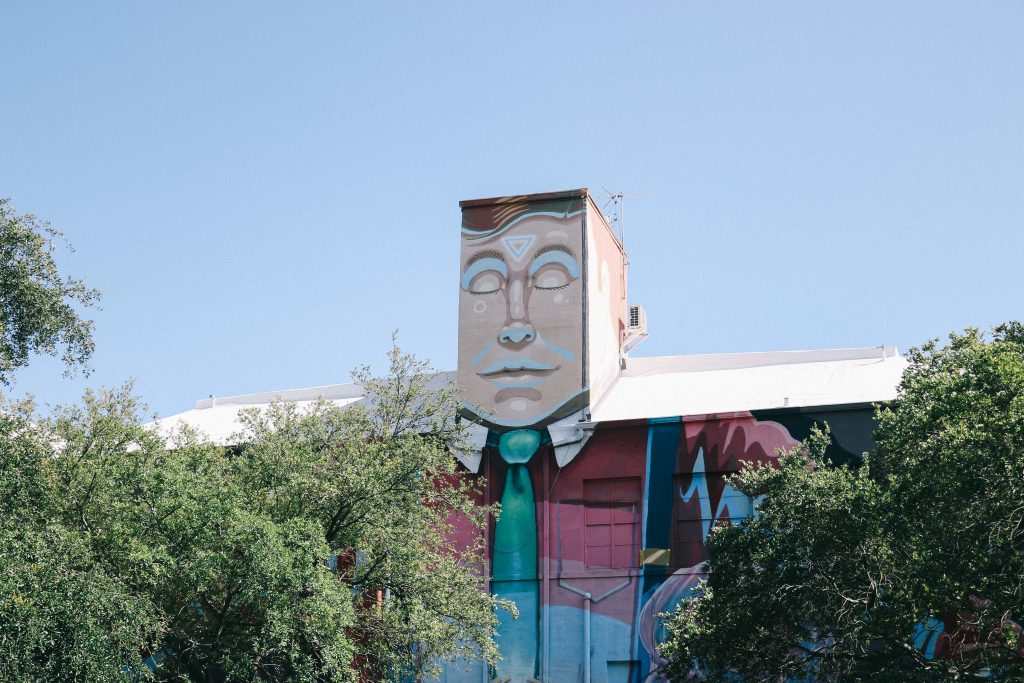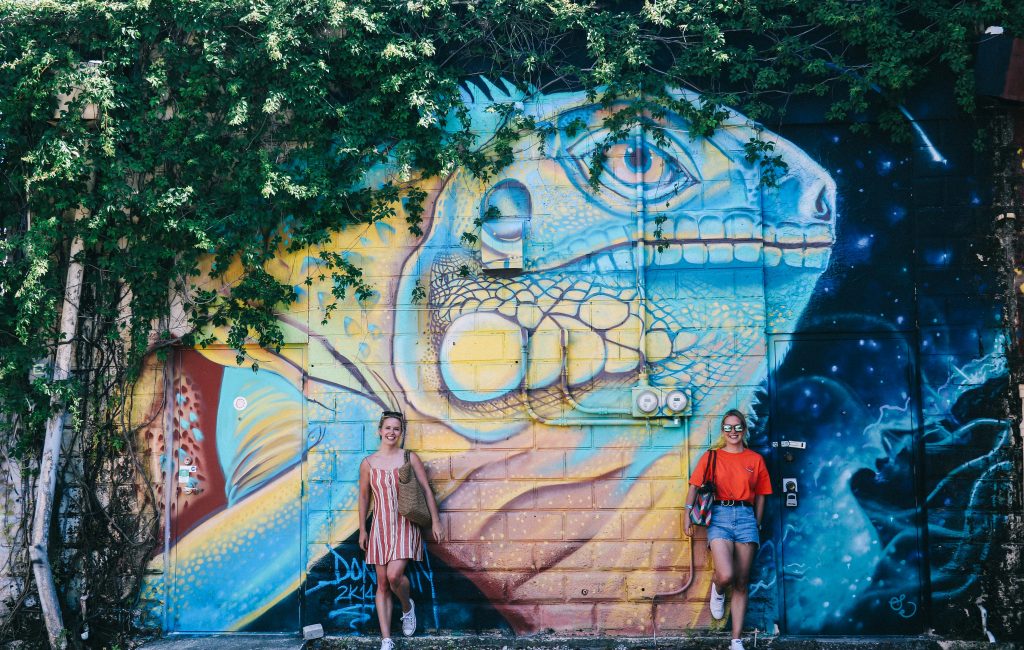 Gathering under a group of trees, Derek gestures to the car park and buildings surrounding us – each decorated in stunning technicolour. "And now, you know, some of us are paid to do this full time. It's kind of crazy".
Looking around and I'm not sure where to begin: the entire area a living, breathing gallery. Ahead of us is the city's now famous Time to Think mural, featuring a corporate businessman embracing his creativity; a jellyfish and starry expanse of universe escaping from his naval.
"That's a nod to the head of Regions Bank who sponsored the mural", Sebastian Coolidge, fellow St Pete artist and co-creator of the piece, explains. "We wanted to include him in it, as a thanks for getting behind us".
Across the road is more of Derek's work – a regal look iguana peering out from under a green fringe of plants. Next to him, a smiling sun looks down at us, whilst a wistful looking Twiggy looks skywards.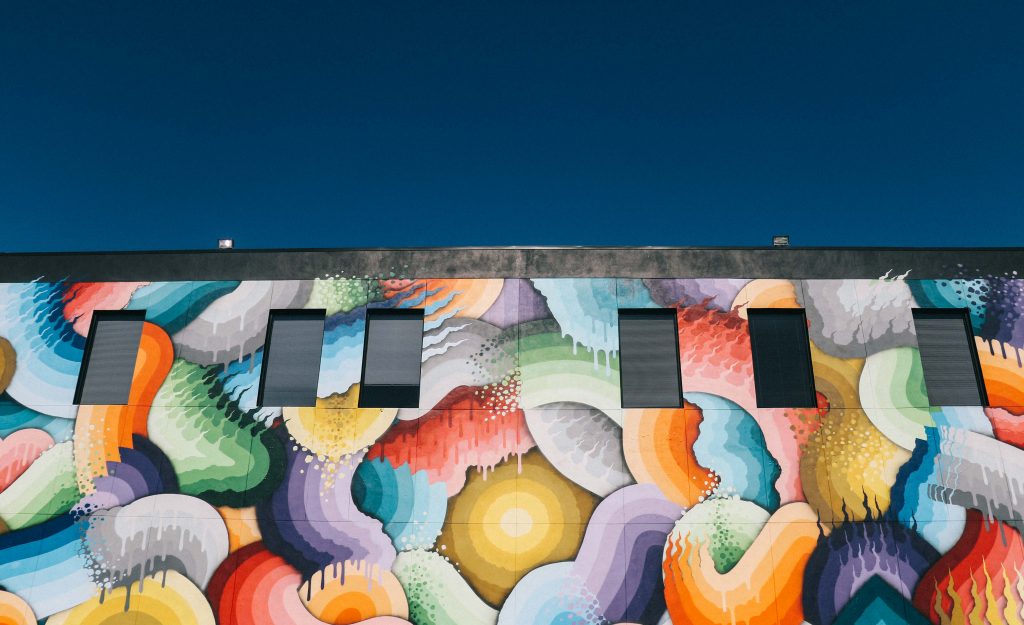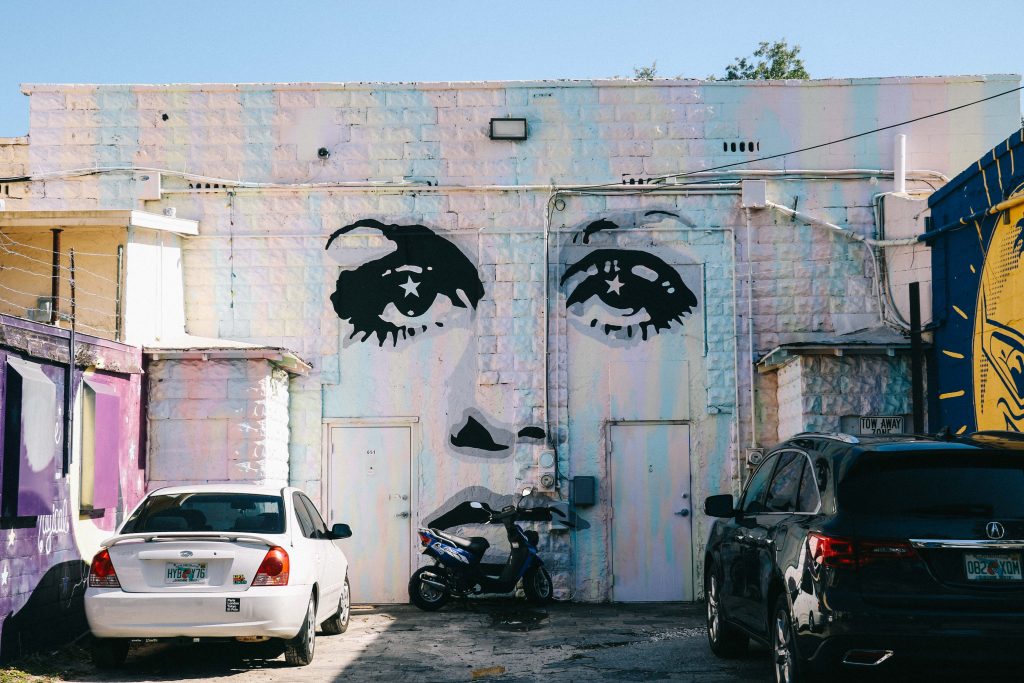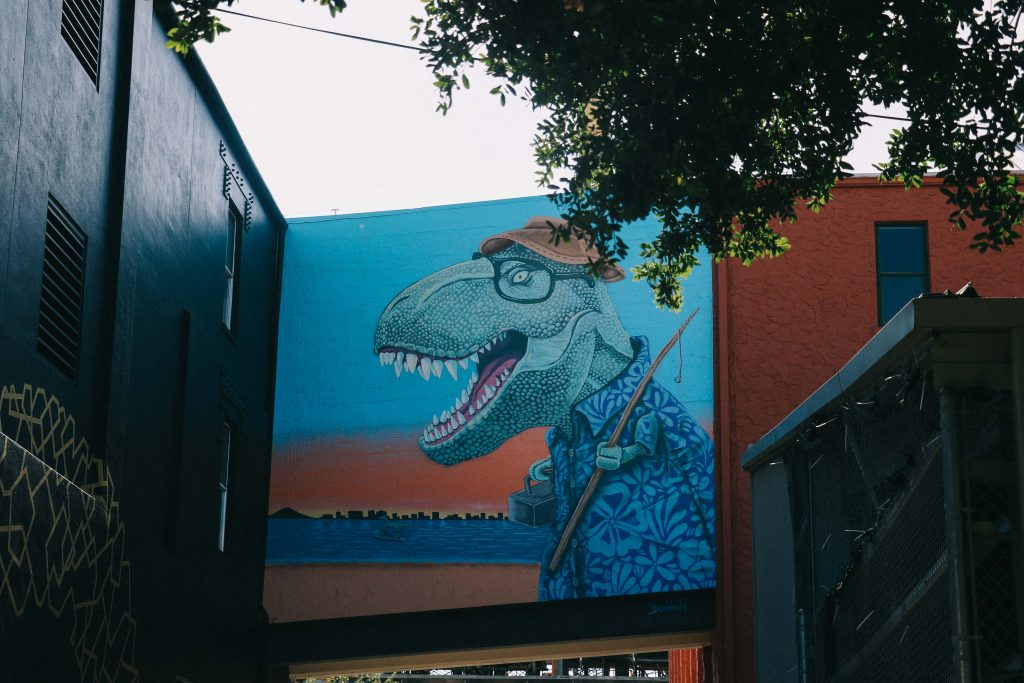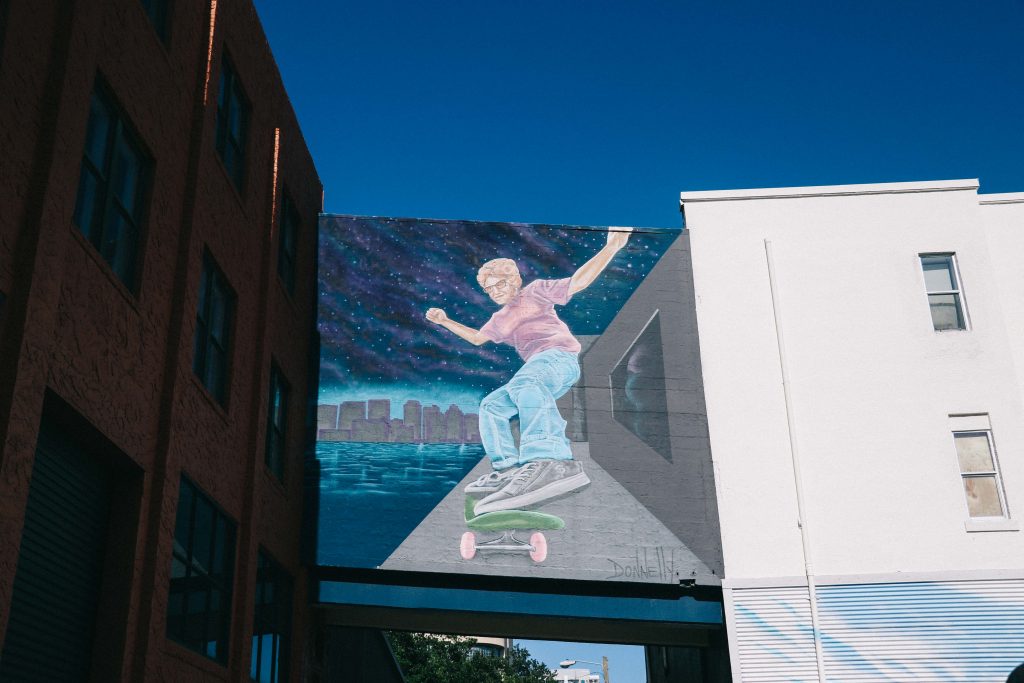 Walking a little further on, passing murals of a spectacle-wearing T-Rex and skateboarding grandma, I ask Derek if St Pete, Florida has always been so dedicated to this brand of creativity – it even has its own street art mural festival, Shine. "Not really. Growing up, this was a place for vacationers or retirees to come, but that's changed in the last ten years or so. St Pete is a really cool place to be now – especially for young people".
He points to a few bars to visit later, including Intermezzo for happy hour drinks. "As the city's gotten older, it's begun to feel younger", he concludes, poetically. This street tour was easily one of the best things to do in St Pete, Florida.
The newly opened St Pete Pier was recently named 'Number Two New Attraction in the Country' by USA Today. Offering 26 acres of sparkling waterfront, head to St Pete Pier to enjoy waterfront restaurants, family friendly areas, a marketplace for local artisans, a fishing deck and public art.
The best bit? You can enjoy it all for free.
Sadly, the Pier hadn't opened when we visited St Pete, and after reading about the city's latest offering, I'm now desperate to return. Ideal for little people, the Pier's playground, tilted lawn and splash pad would be my first port of call with my toddler, Olive.
Make the most of the shallow and calm waters of St Peter and Clearwater by exploring the coast by kayak, canoe or paddle board.
For beginners, The Pinellas County Blueways paddling trail is handily divided into sections, with points of interest along the way. Alternatively, spend the morning kayaking through the mangrove tunnels of Weedon Island Preserve.
Although we didn't have time to enjoy paddle boarding/SUP in St Pete or Clearwater, we have had an opportunity to enjoy it in lots of spots of Florida, including Anna Maria Island and Crystal River. The Floridian coast is like no other ,and we would highly recommend adding it to your list of fun things to do in St Pete, Florida.
For a casual beach town, Clearwater Beach has been named America's No. 1 Beach an impressive amount of times. From wild dolphin spotting to enjoying Pier 60 (with an extensive playground for kids), there's plenty to do both on the beach and surrounding area.
Indeed, if you're looking to split your day between beach and activities – such as Clearwater Marine Aquarium – then Clearwater Beach is the perfect spot.
Proudly holding the title of Tripadvisor's No.1 Beach in the US in 2021, a visit to St Pete Beach is a must when you're visiting the area. During our visit, we stayed at Postcard Inn on the Beach (more on that below), which allowed us easy access to this picture-perfect spot.
Laid back, family-friendly and offering the most beautiful sunsets, St Pete Beach and its white sands and emerald-green waters offers a true slice of Floridian paradise.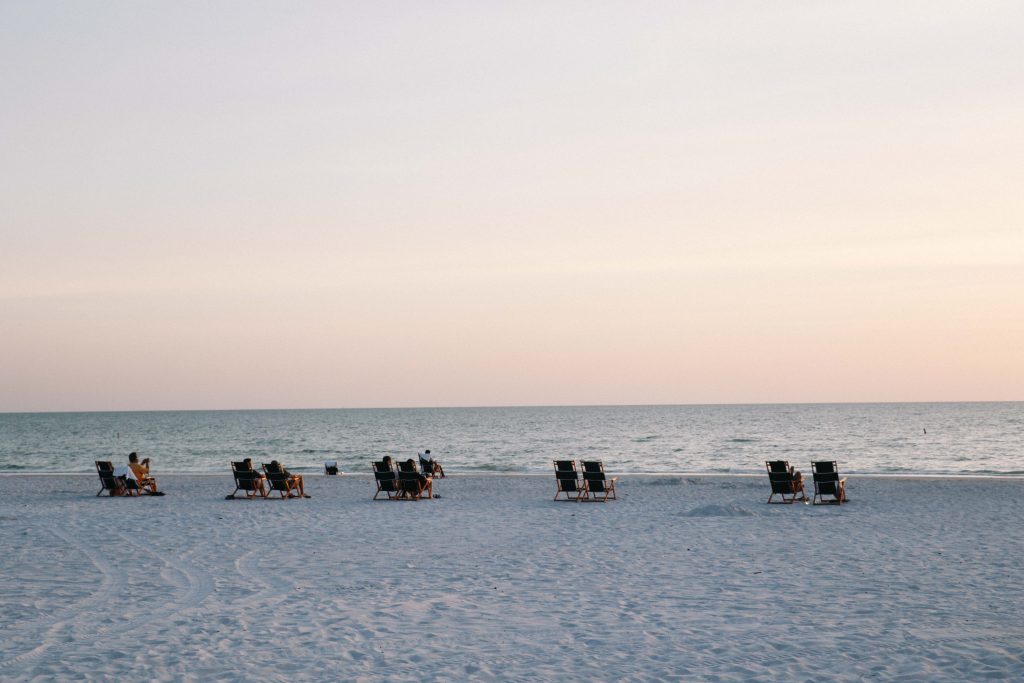 There are three beach bars on St Pete Beach, where you can relax with a drink in hand while enjoying the Gulf of Mexico. For a lazy beach day, head to Pass-A-Grille, which offers four miles of sand, complete with a great restaurant to enjoy a meal or snack.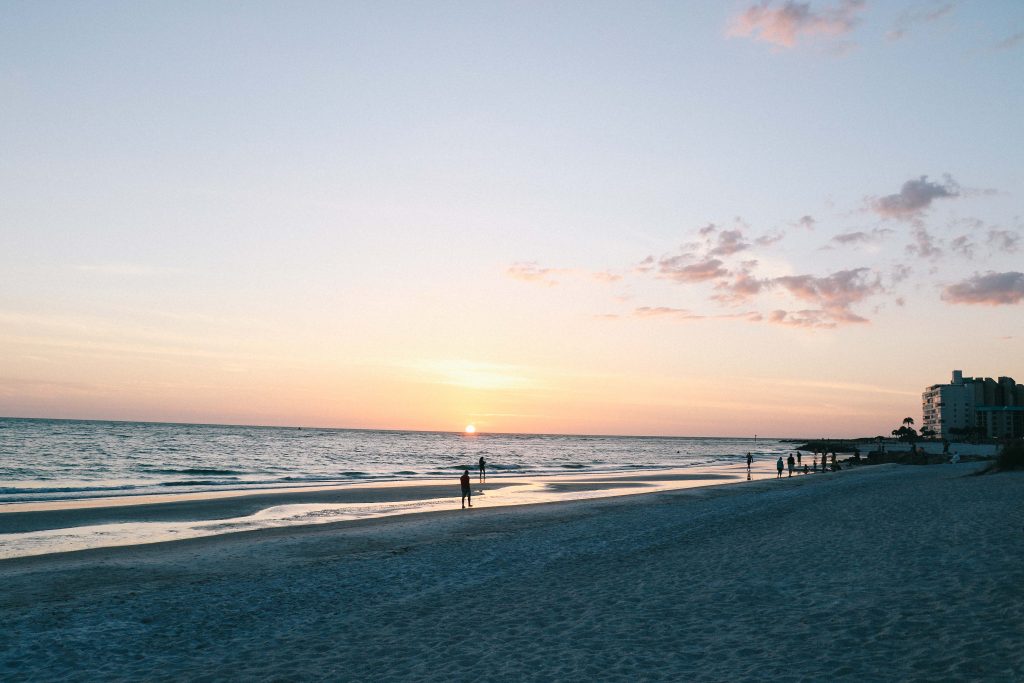 The Florida Botanical Gardens may not come top of your list when planning a trip to St Pete, but they're well worth a visit.
Offering 120-acres filled with tropical flowers, a butterfly garden and plenty of space to unwind and relax, the Florida Botanical Gardens are a great (and free) place to bring your family.
13. Book a Craft Beer Tour
St Peter/Clearwater boasts more than 35 locally-owned breweries. To make the most of the breweries, download the genius named 'Gulp Coast Passport,' which offers exclusive brewery offers.
Where to Stay in St Pete, Florida
Fun things to do in St Pete aside, below is a quick guide of where to stay in and around St Pete/Clearwater.
Our two nights in St Pete were to be spent beachside in St Pete Beach – one of the city's many beach resorts and barrier islands. Indeed, whilst Tampa is bordered by the Hillsborough River and extensive Tampa Bay, St Pete and its neighbouring resorts are instead lapped by the warm waters of the Gulf of Mexico; their sugary soft sands the winners of multiple awards.
Our hotel for the night – a former seafront motel – was just a fifteen-minute drive from the city's downtown area, based on the barrier island of St Pete Beach. Incredibly styled and effortlessly laid back, The Postcard Inn on the Beach had left its motel days far behind, instead transforming into a surfer-chic, boutique hotel.
Passing through the Inn's lobby, one scented by coconut and bananas, we learnt that its former motel rooms had now been tastefully converted into individual cabanas. "No room is the same", the receptionist promised as we checked in.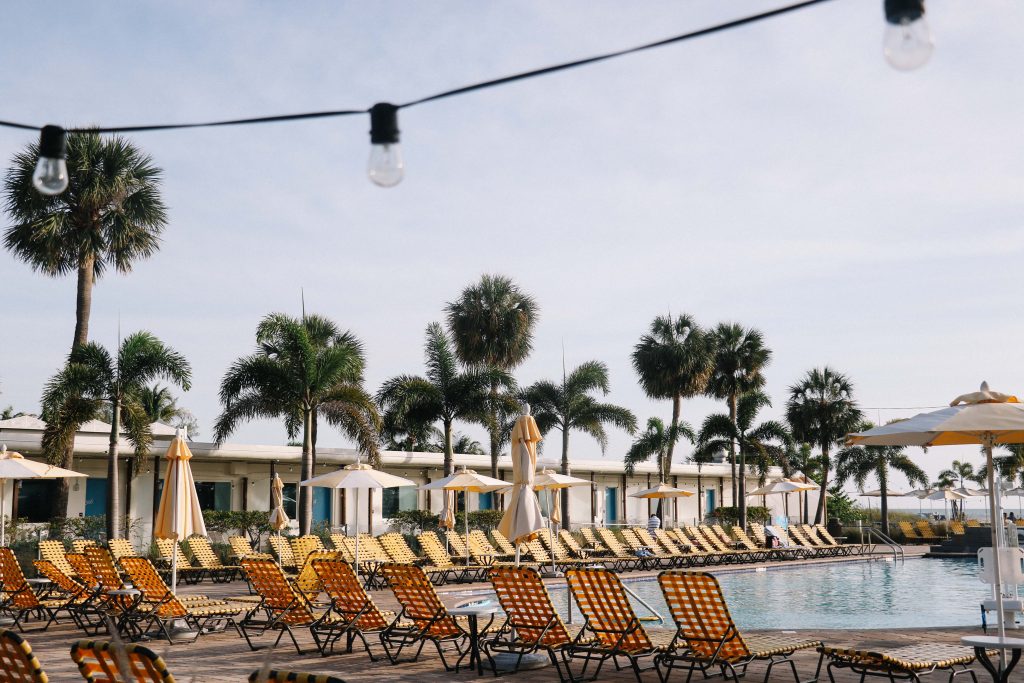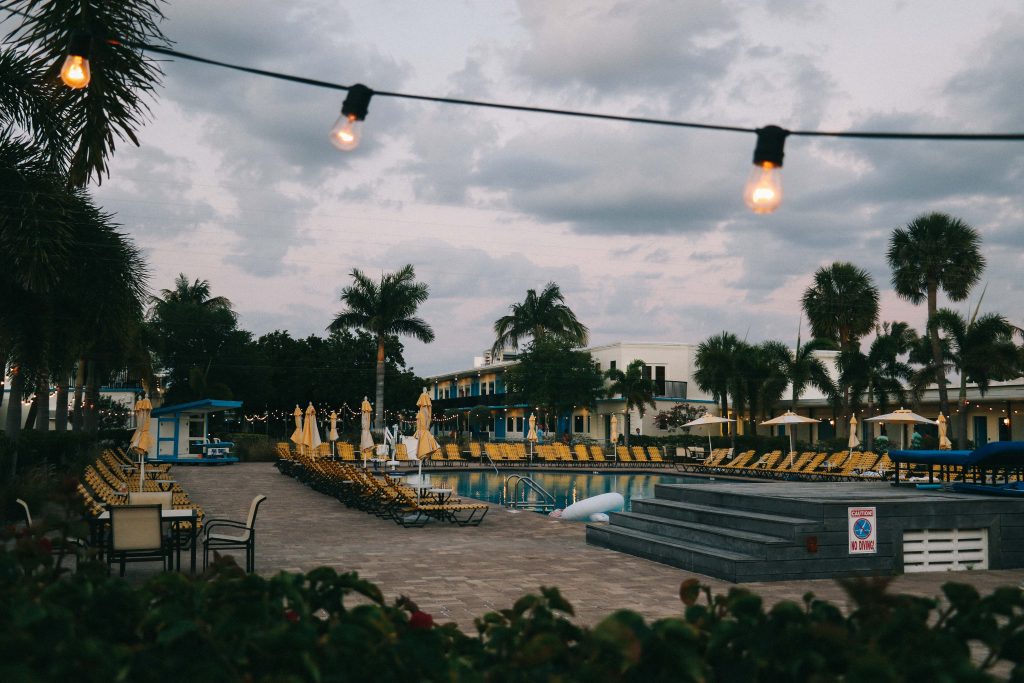 Heading outside, we passed the hotel's outdoor pool. It was framed by strings of glowing light bulbs and swaying palm trees; the neighbouring mango tree illuminated by glittering fairy lights. It all felt very Californian: a kitsch version of Palm Springs, perhaps.
Inside and our room betrayed no signs that it was once a motel. Instead, the vast space was filled by two king-sized beds, an immaculate bathroom and a small kitchen area. Painted a dazzling white, with fresh cotton bedding and artwork from local artists, the room felt more like a miniature beach house than a hotel room.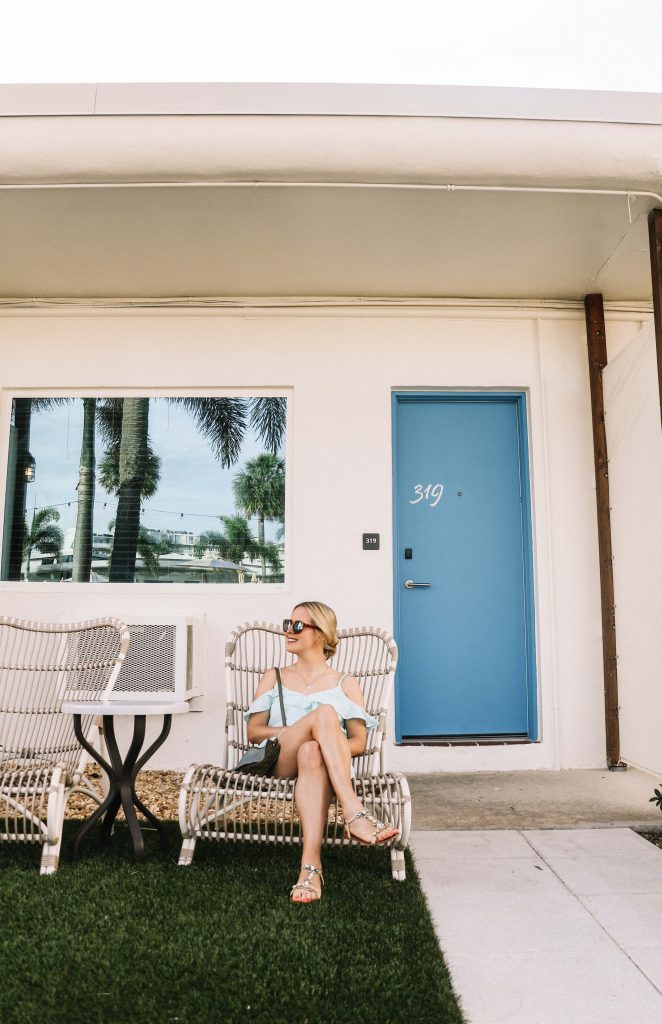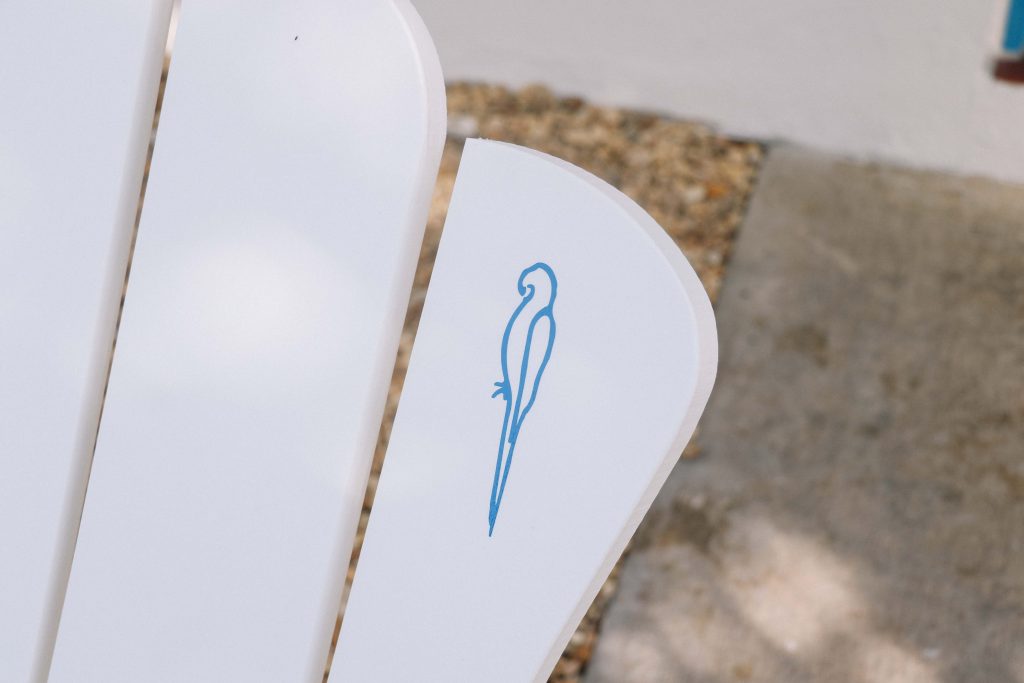 Moving over to the window, I lifted the shutters and watched as the sky turned a blushing pink – one of St Pete's infamous sunsets on the horizon. It seemed the perfect introduction to this easy going city, and a fantastic place to witness our first candy floss sunset.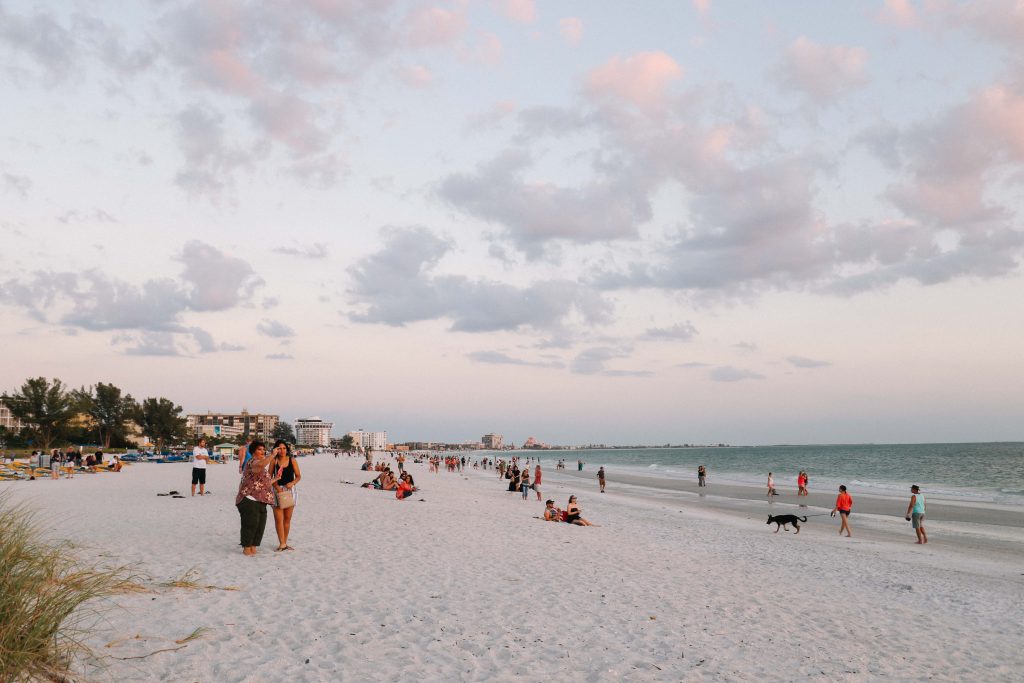 With evening now settling across St Pete Beach – a warm breeze blowing down Gulf Boulevard – we left our hotel in search of one of the area's most iconic buildings: The Don CeSar Hotel. St Pete Beach's very own Great Gatsby, The Don CeSar Hotel is the epitome of Florida's roaring twenties: a time when pink palaces were built for lost loves and writers such as F. Fitzgerald Scott stayed in beachfront rooms, surrounded by stars of the silver screen.
It's also one of the best things to experience and do in St Pete, Florida.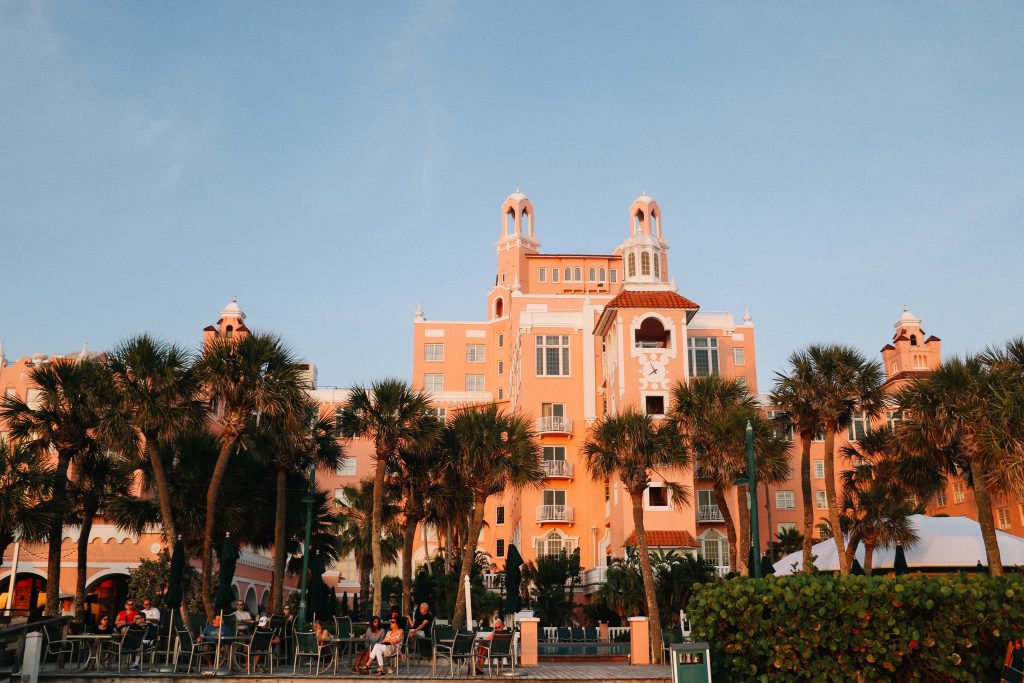 Opened in 1928, the 'pink palace' was the architectural triumph of Thomas Rowe, who built the hotel in memory of his lost love, Lucinda. Frequented by gangsters, singers, actors, writers, politicians, veterans and sportsmen, The Don CeSar Hotel has a long and glittering history; its Grand Ballroom the spot where Sinatra and Presley once serenaded champagne-sipping guests.
Today, the hotel's magic remains. Arriving at the towering pink building – its symmetry of almost Wes Anderson proportions – we met with Kayla, Marketing Manager for the hotel, who led us to the Rowe Bar for sunset dinner and drinks.
The hotel's newest beachfront bar, this outdoor area offers a more relaxed atmosphere than perhaps some of the hotel's finer restaurants – a place where beach goers can sip cocktails with sand-covered dogs at their feet.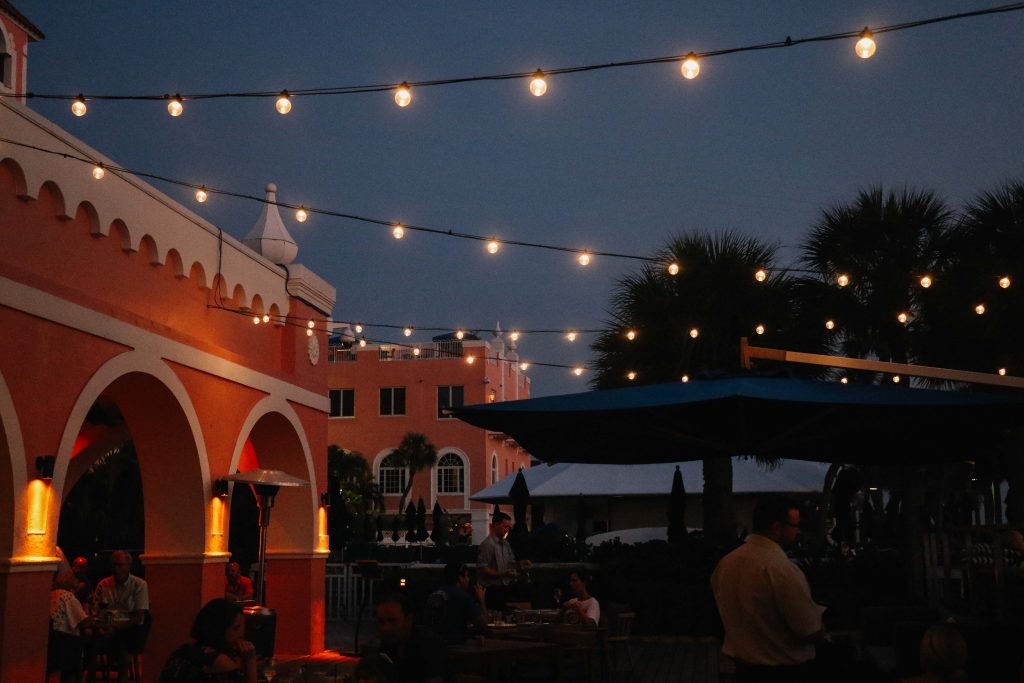 Settling down in front of a roaring fire pit – a glass of Champagne each in hand – we watched as the sun ebbed slowly downwards; the beach now gilded gold. As Kayla told us stories of the hotel's mysterious and glittering history – stories of heartbroken ghosts, spectacular weddings, returning servicemen and infamous film sets – I began to realise how different Tampa and St Pete (its beaches included) perhaps were.
Whilst Tampa was filled with an almost hyperactive zeal to transform and innovate, St Pete seemed its more laid-back cousin; a place happy to indulge in its romantic history over a cocktail or two.
Although change is certainly happening – the bohemian Postcard Inn and Don CeSar's newly renovated Beach Suites a testament to this – it comes at a gentler pace. One that allows for a Piña Colada or two in-between any disruptions.
As we left – passing through the hotel's marbled lobby – I made a mental note to return to this candy-hued palace. For those hoping to experience a sense of bygone decadence, with beach views and experimental cocktails ever on hand, then the Don CeSar Hotel is most definitely the place to stay in St Pete, Florida.
Newly Opened Hotels in St Pete/Clearwater for 2023
The JW Marriott St Petersburg, is slated to open in May 2023. Boasting two restaurants, Spa by JW and 162 guests rooms, this hotel will be a welcome addition to the beachfront. The restaurants and rooms will offer enviable views of a 300-ft private beach that faces Sand Key and across the Gulf of Mexico.
In late 2023, the 163-key Moxy Hotel will be the first lifestyle hotel to open in the EDGE District. One of our favourite areas of St Pete, this new hotel is ideal for those looking to immerse themselves in the downtown hustle and bustle of St Pete.
How to Get to St Pete, Florida
As our visit to St Pete was our third stop on our Florida road trip, we had made our way to the city from Crystal River – a smooth, two-hour journey southwards. However, for anyone intending to fly directly from the UK, the nearest international airport is in Tampa International Airport.
Make the most of the newly launched direct flight from Heathrow to Tampa with Virgin Atlantic, as well as British Airways' direct flight from London Gatwick.
From Tampa airport, it's an easy 25-minute drive onwards: over the bridge and glittering Tampa Bay into downtown St Pete. Although St Pete does have its own airport, it's important to note that it tends to cater only to domestic U.S. flights.
Fun Things to do St Pete, Florida: Final Thoughts
Perhaps Nancy and Buddy had been right: although only a twenty-five minute drive apart, Tampa and St Pete were two very different cities.
Whilst Tampa had a contagious buzz: a very tangible and deliberate sense of disruption, St Pete seemed more relaxed in its attitude towards change. Nostalgic, bohemian and wedded to its past thanks to places such as The Don CeSar Hotel, the city operated at a calmer pace – unhurried in its ambitions to radically transform.
Instead, any changes seemed to come gradually and consciously, led by men such as Derek with a spray-paint can and paintbrush in hand.
Settling back down into our former motel room for the night – the sun casting its last light over the beach – I decide it's a pace of life that suits St Pete, Florida very well indeed.