As much as I searched for a Faroe Islands itinerary before our visit in 2016, I could find very little by way of traveller-friendly guides. Consequently, and as I made my way to the islands one stormy afternoon in September 2016, I had very little idea what to expect. Instead, they remained a destination shrouded in mystery – a place enveloped in rolling sea mist, ancient folklore and closely defended traditions.
Today, however, the Faroe Islands have transformed into something of a social media sensation: photos of the islands' thundering waterfalls, turfed roofs and glacial lakes filling our channels. Unsurprisingly, tourism to the islands has increased, as adventurers seek out its arresting landscapes and hidden bays. As such, and given this influx of visitors, I thought it might be helpful to pull together a comprehensive itinerary for the Faroe Islands.
Indeed, although small, the islands hide an almost endless number of things to see and do – and represent a true adventure destination.
What are the Faroe Islands?
Having arrived on the islands – a thunder filled storm settling over us – and now safely inside our rental car, I took the time to (finally) read up on our home for the next few days.
Officially part of the Kingdom of Denmark, the Faroe Islands are home to the oldest Parliament meeting place in the world, plus 70,000 sheep, 50,000 people, 3 sets of traffic lights and one Nobel Prize Winner.
They are also a place where villages total just five houses and where the Prime Minister's phone number is listed in the phone book.
Its name – 'Faroe' – means 'sheep', and was given to the islands by Viking settlers during the 9th century (although you're more likely to encounter its Faroese name – Føroyar – during your stay). It is a place that is fiercely proud of its own traditions: complete with its own Faroese dialect, separate flag and 110 different bird species.
It is a place of spectacular beauty – of waterfalls, turfed cottages, lagoons and lakes that float atop cliff edges. It's a place declared the 'new Nordic food frontier', offering diners a wealth of fresh fish, sushi, lamb and – if you fancy it – wind-dried sheep's head.
With a history of Vikings, giants, witches, Nordic kings, Irish monks, Scottish settlers and – peculiarly – Seal people, the Faroe Islands have borne witness to a dizzying number of civilisations since its beginnings in the year 300.
Indeed, the Faroe Islands are a time capsule – an open air museum – braving the Atlantic storms somewhere between northern Scotland and easterly Iceland. Once isolated, but now enjoying increased tourism, the Faroe Islands are, according to the hype, Europe's best kept secret.
How Do You Get to the Faroe Islands?
Despite its somewhat mythical reputation, the Faroe Islands are almost disappointingly easy to reach from the UK.
With its own airlines – Atlantic Airways – operating (directly) to and from Edinburgh airport, travelling there is straightforward, although – and be warned – such a journey isn't cheap. Our return flights cost £264 each, with additional flights from London Luton to Edinburgh airport setting us back £45 each.
Yet once you have parted with your hard earned cash, the onward journey is much less painless, with the flight taking approximately 1 hour 30 minutes.

Arriving on the Faroe Islands
Arriving at Vágar airport – the size of which was similar to that of a small supermarket – I observed the other travellers that had also disembarked. They mostly seemed to be native Faroese, returning from a short trip to Edinburgh. Smiling and dressed in that distinctive knitwear made famous by Nordic Noir dramas, they smiled and greeted us warmly as we collected our bags.
The remainder of the Faroe Islands' new arrivals seemed to be experienced tourists, carrying with them hiking gear, photography equipment and bird spotting essentials – one of the islands' most popular draws. Indeed on these islands, visitors can observe nesting puffins and soaring storm petrels.
With an incredibly straightforward arrivals process (a mere flick of a passport to friendly staff), we were quickly through security and out into the night: a long weekend on the Faroe Islands stretching ahead of us.
N.B. if you are travelling from the UK or Europe, you do not need a visa to visit the Faroe Islands.
How to Get Around the Faroe Islands
For anyone visiting the Faroe Islands, I would highly recommend hiring a car. In fact, I'd go as far as to say it's mandatory.
Whilst there are a surprising number of car rental companies scattered across the islands, I'd highly recommend using one that allows you to pick up your vehicle at the airport. We used 62° N, who provided us with a Toyota Auris for four days, costing approximately £460.
Again, be warned, prices on the Faroe Islands can be a little inflated.
For anyone nervous at the prospect of driving on the Faroe Islands – please don't be. The islands boast incredible road infrastructure, with the majority of the islands featuring largely empty, smooth highways. Furthermore, connecting each of the 18 volcanic islands are vast, subsea tunnels, meaning you can island hop easily and quickly.
N.B. if you're claustrophobic, it may be best that someone else drives you through these tunnels.


Where to Stay on the Faroe Islands
After a 45 minute drive (note: everywhere on the Faroe Islands looks much further away on the map), we crossed from the island of Vágur to the island of Streymoy, home to the town of Tórshavn – the islands' capital.
Here we would be staying in one of the islands' most iconic hotels: Hotel Føroyar. A low rise hotel, set in the islands' rolling green hills, each room boasts views out across Torshavn and the foaming ocean. The brainchild of leading Danish architects, Friis & Moltke, it's clear to see that Denmark's love of style is shared by its Faroese peers.
If following this Faroe Islands itinerary, I would highly recommended staying at Hotel Føroyar: with double rooms beginning at £220 per night during the high season, and £160 during the down season.
Your Faroe Islands Itinerary: Day 1
When I opened our room's curtains the next morning, it seemed that we were floating in the middle of a cloud.
Lying ahead of me was thick, white fog that – when I opened the window –  appeared to roll into the room. Gone was the view of the ocean and the capital, and instead the landscape was replaced by rolling mist and the sound of bleating sheep.
Lesson one when visiting the Faroe Islands: the weather. From bright sunshine to thick fog in a matter of minutes, the Faroe Islands' geographic position (in the middle of a gulf stream) means that its weather is changeable, to say the least. As a tip, be sure to pack for all eventualities.

A Morning in Tórshavn & Historical Tinganes
After dressing for a few different weather systems, we set off for our first day of exploring: beginning with Tórshavn.
This pretty little harbour town is the epicentre of the Faroe Islands, featuring the Prime Minister's office (you can knock on the window and wave in), the main shipping port, beautiful boutiques and award-winning restaurants.
Filled with paintbox coloured wooden houses and traditional turfed cottages, it's an easy  (and beautiful) introduction to Faroese culture and its people. As such, I would recommend beginning your itinerary for a trip to the Faroe Islands here.
Our first stop was the historical quarter of Tinganes, with its handsome buildings dating back to the 17th century.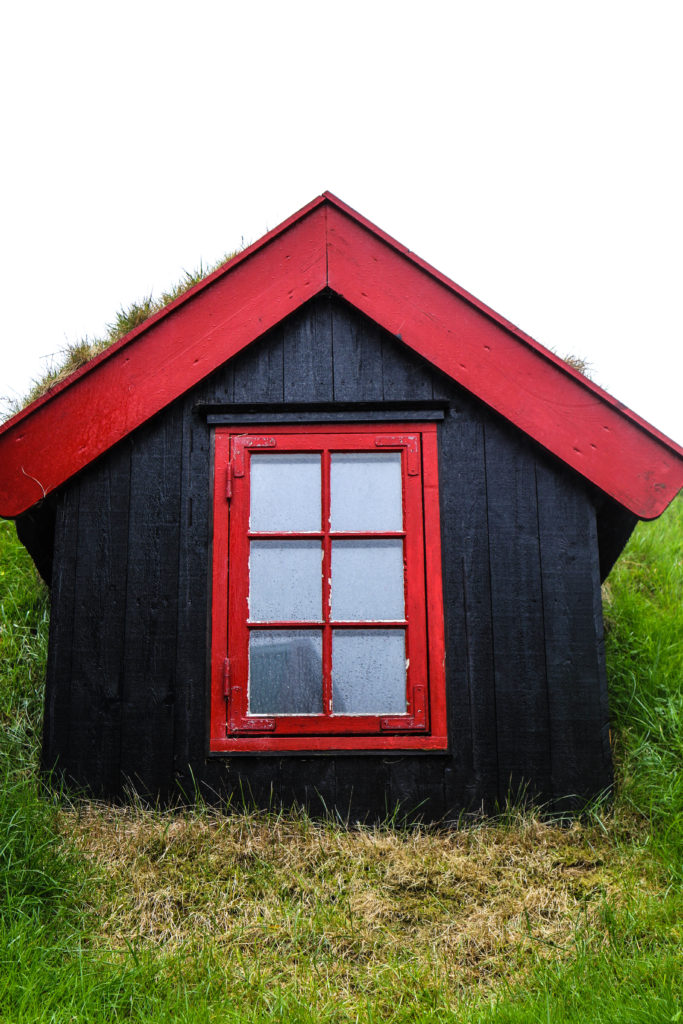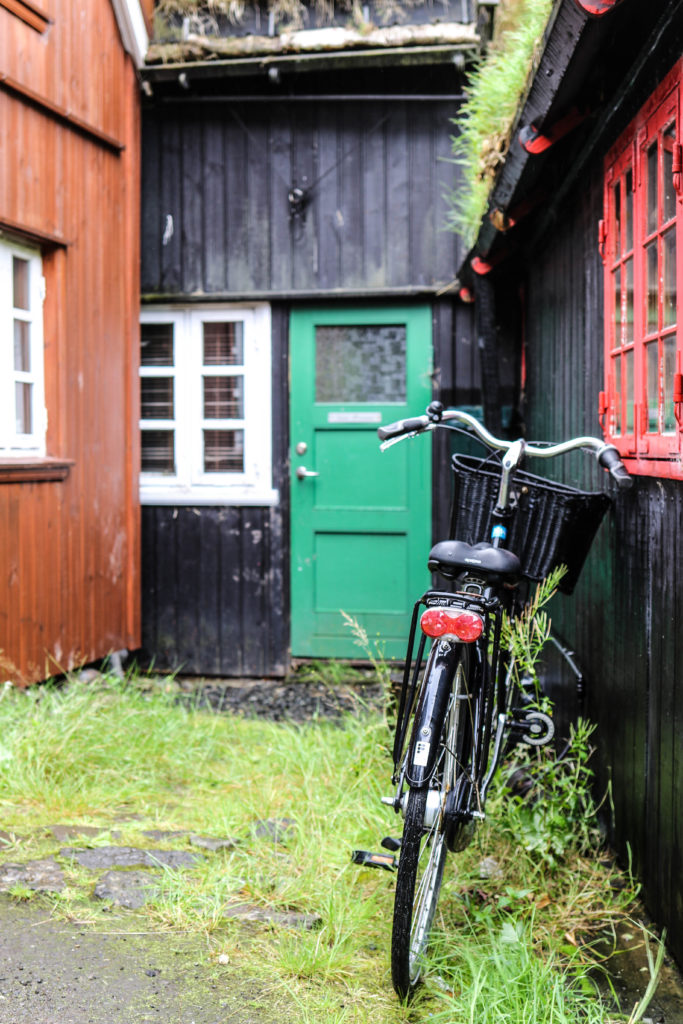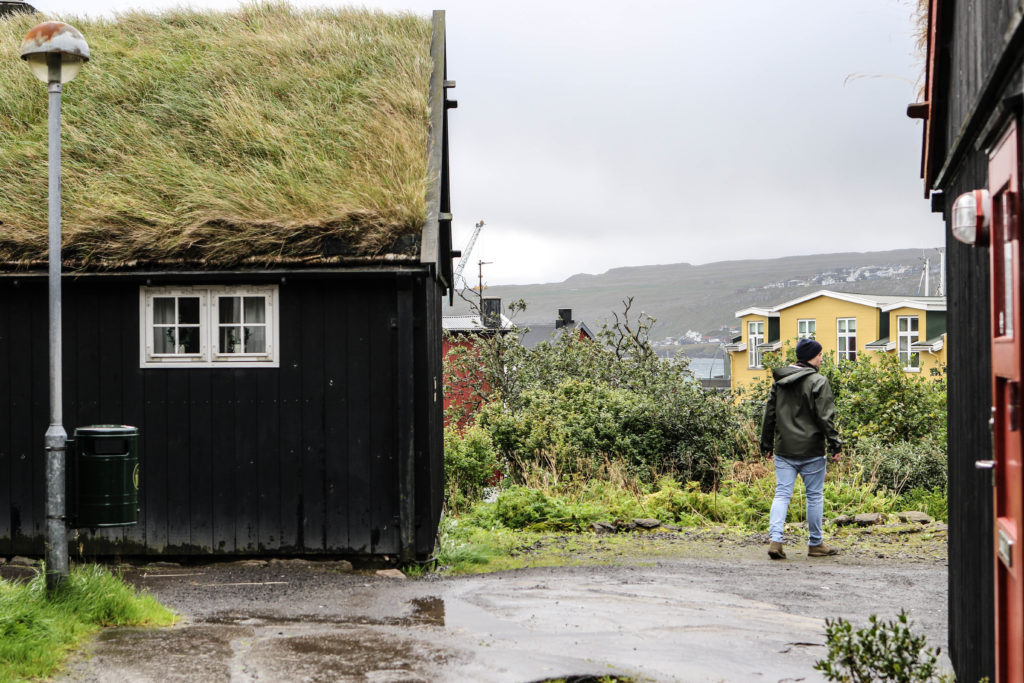 Here, winding streets filled with cottages as high as my shoulder surrounded us; their windows filled with carved wooden ornaments and pretty net curtains. Cats prowled the lanes, hiding amongst flower pots and colourful bikes, and porcelain fish decorated each building.
It is a truly beautiful and wholly Faroese spot to spend an hour or two exploring.
Exploring Faroese Design
With the heavens suddenly opening, we quickly headed towards the nearest shelter: the local lithography studio, Steinprent.
A second lesson for anyone visiting the Faroe Islands: this is an island nation that loves its arts and crafts. Famous for its penchant for knitting, the old Faroese proverb  'Ull er Føroya gull' literally translates to 'wool is gold', and remains an important source of income for the islands.
As such, shops filled with intricately knitted jumpers can be found throughout the capital, and wool is used by many native artists within their work.
The visual arts are also on the rise across the islands, with venues such as The Nordic House (in Tórshavn) showcasing the work of local artists. Be sure to stop by here during your Faroe Islands itinerary to not only view some beautiful work, but for a lovely slab of cake and coffee.
Likewise Steinprent – where we were headed – is a Mecca for artists across Europe; offering creative sorts the use of ancient lithography stones to create unique pieces of art.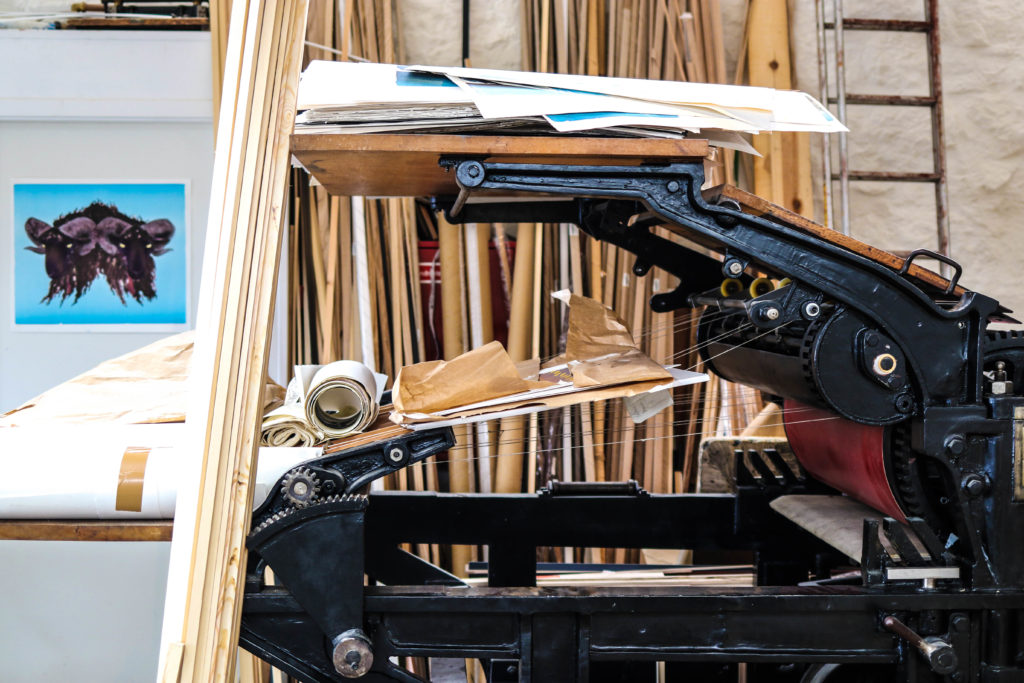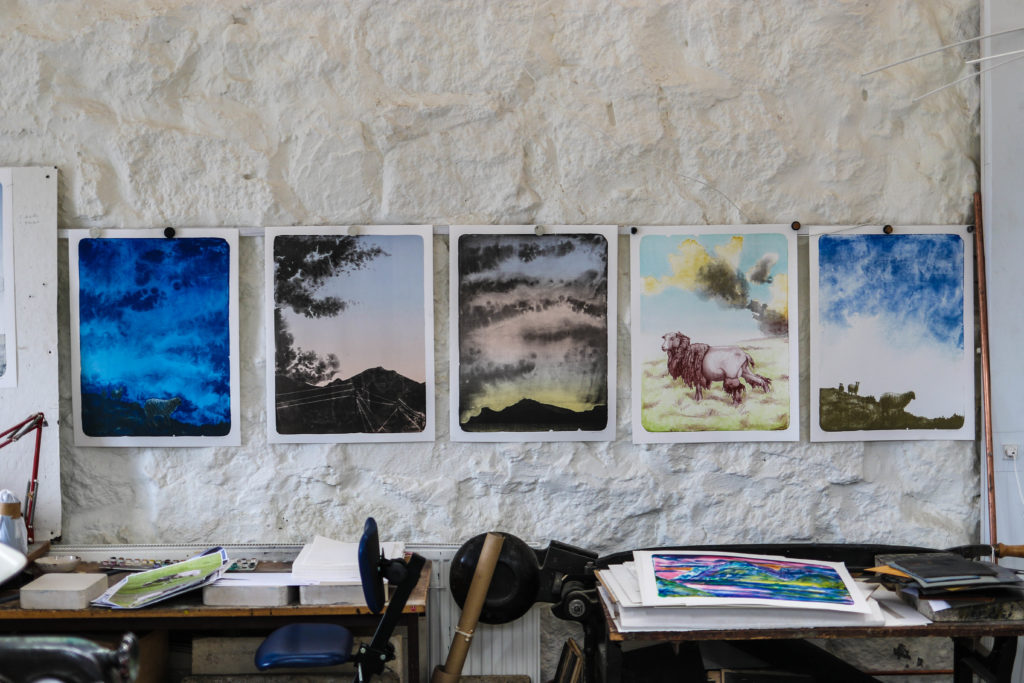 Walking into the studio and out of the storm, the space was warm and smelt of limestone and paint. In the corner, two men quietly discussed an exhibition that was soon to take place; carefully examining prints to hang.
Walking upstairs and we were met with a large, light studio, filled with colourful prints, sculptures and workstations. In the middle stood an enormous German Press; used during the printing process. It was carefully explained to us that during the lithography process, artists sketch directly onto limestone slabs, before ink is added and the print is pressed onto paper.
For anyone interested in anything remotely arty – or in lithography specifically – I'd absolutely recommend visiting this wonderful studio.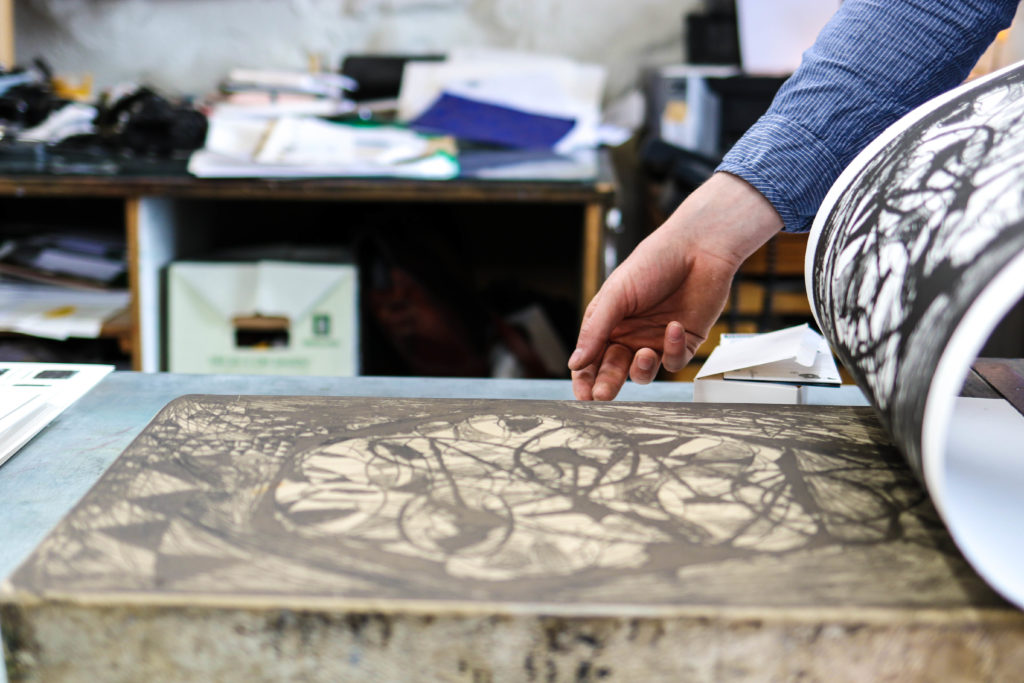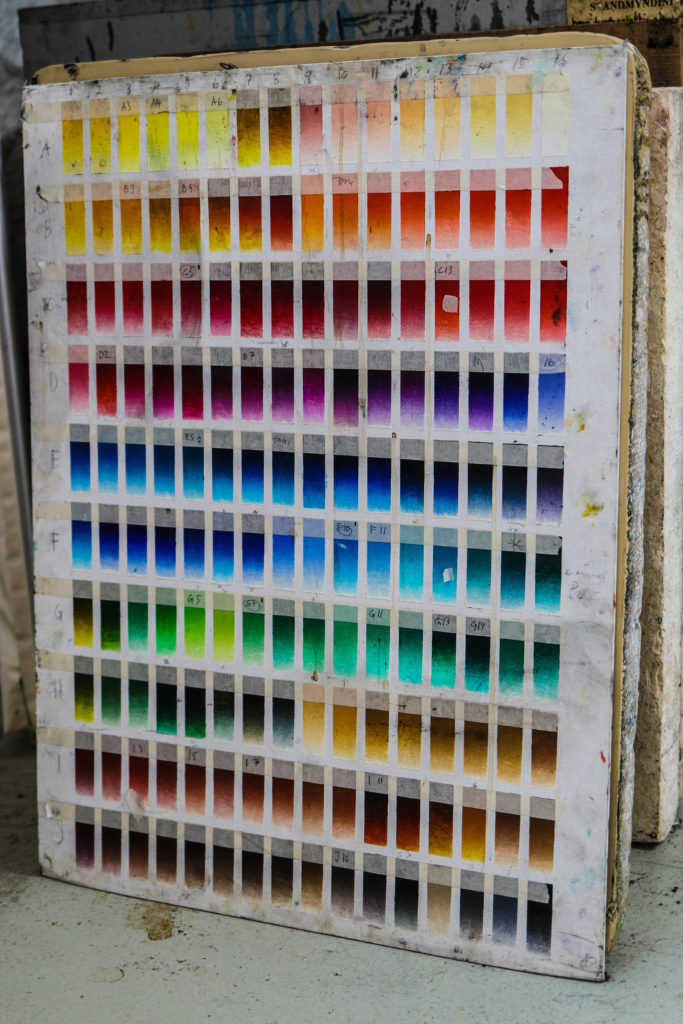 An Afternoon Trip to Kirkjubøur
By now, the rain had cleared and we were able to make our way to Kirkjubøur: home to the magnificent Magnus Cathedral built in 1300, Saint Olav's Church, and the world's oldest inhabited wooden house, Kirkjubøargarður.
As we arrived, a watery sunlight pushed its way through the clouds, making the sea glitter and the little white church shine brightly. There wasn't another soul in sight as we made our way over to Magnus Cathedral; just the sound of the sea and diving seabirds.
It was incredibly peaceful.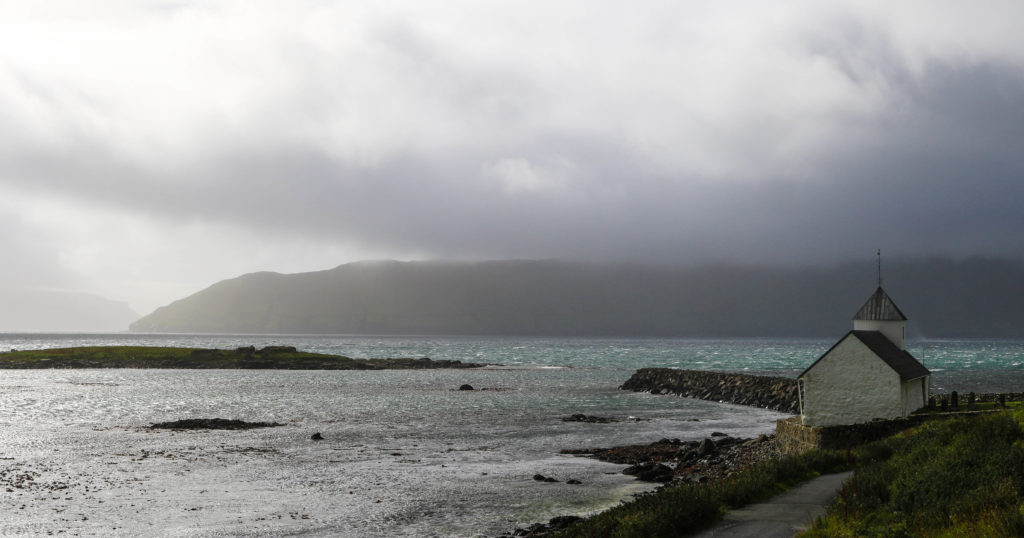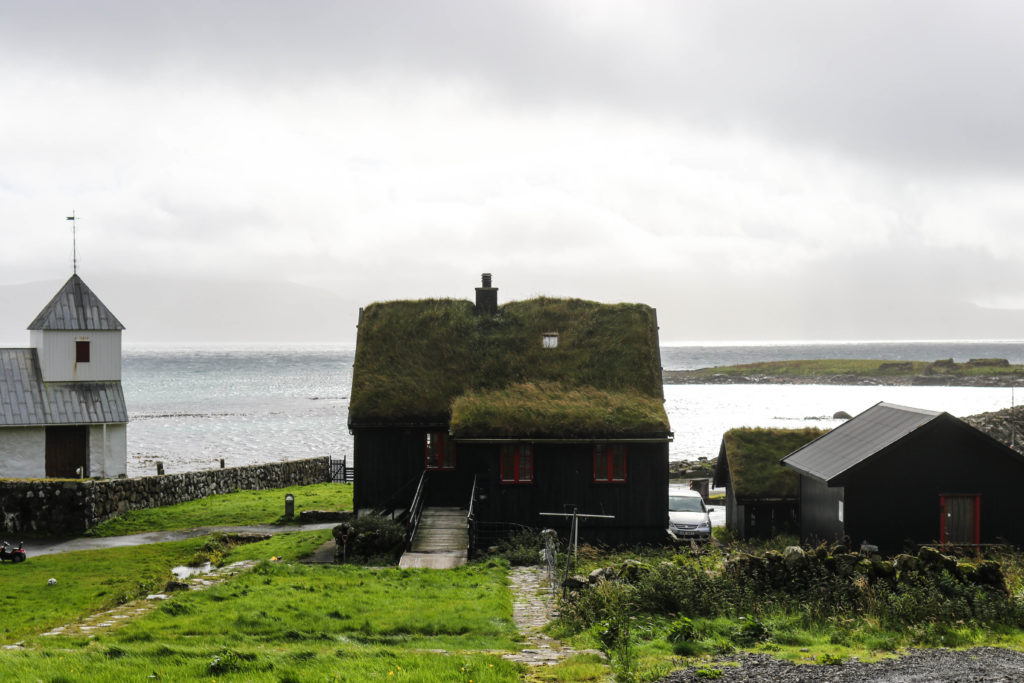 Perhaps my favourite spot was Kirkjubøargarður, the old wood cabin. After an aborted attempt at entering it (walking into the inhabited part of the house accidentally), we eventually found the door and were welcomed into the visitor's section of the cabin.
Unbelievably warm and quiet, the only sound to fill this tiny space was the creaking floorboards beneath us. The home was furnished as it would have been in the 11th century, filled with traditional cookery tools and decorations. At the top of the house,  hides the loftstovan (loft room).
It is thought that it is here that Bishop Erlendur wrote his now infamous Sheep Letter in 1298. This is the earliest document belonging to the Faroe Islands that we know of today, and concerns sheep breeding on the islands.
Peeking through at the snug room, with its small wooden desk and books, I could entirely imagine Bishop Erlendur at work; gazing across stormy seas as he wrote about his many sheep.
If there is one place you visit as part of your Faroe Islands itinerary, please let it be here.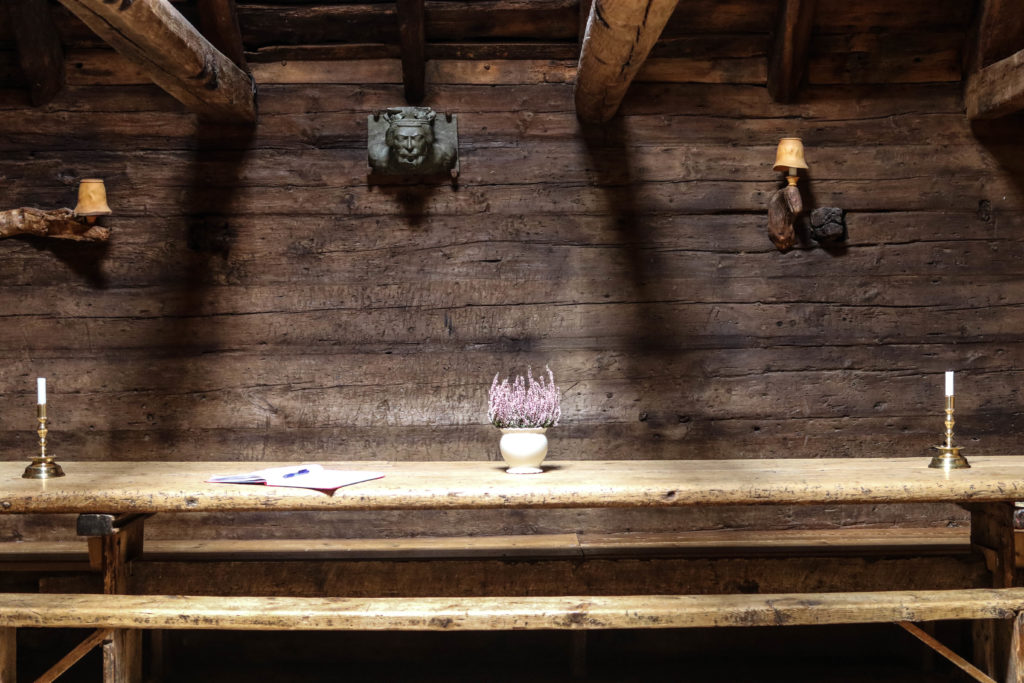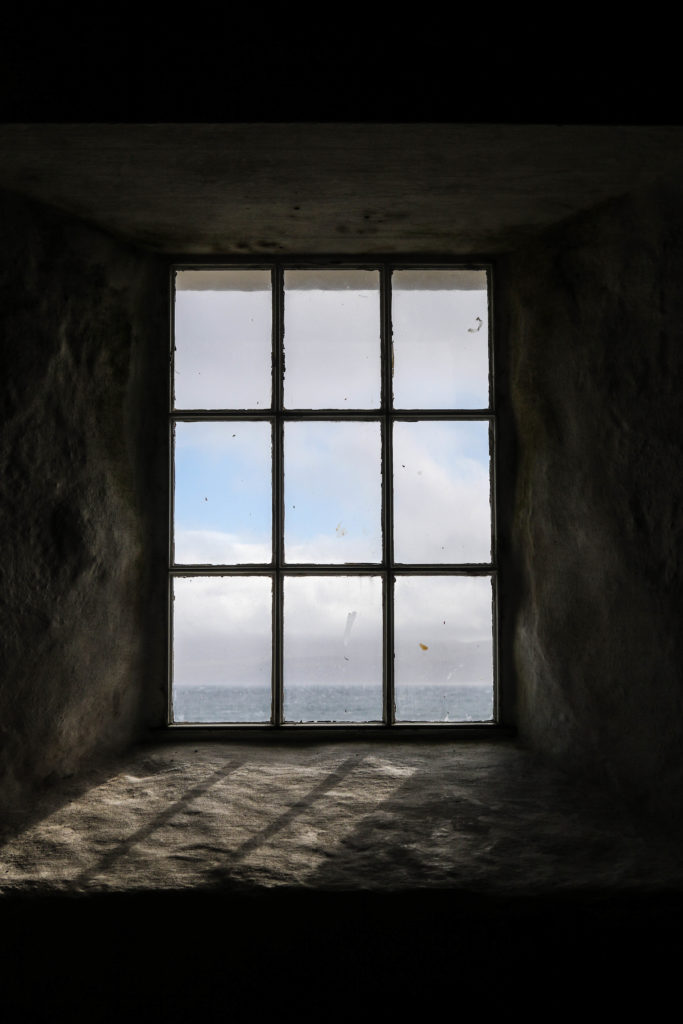 An Evening Sports Match: Tórshavn's Stadium
With the storm clouds now making their watery return, we made our way to our final destination of the day: the stadium in Tórshavn.
Yes, unbelievably, our itinerary for the Faroe Islands included a World Cup Qualifier, as the Faroe Islands took on Hungary.
My usual experience of football matches tends to include abuse hurled at referees and crude chants. But not on the Faroe Islands. As the match began, a little brass band gathered at the end of the pitch, starting up its many tunes. I have no idea what the songs were, but they were very melodic; sung by the many fans surrounding me. I felt like I was in an alternative Scandinavian musical.
By the end of the match – and after some near misses from the Faroese team – I was singing along to the songs (with made up words), clapping and jumping around with my new Faroese friends. It was an incredible night and an unforgettable introduction to the islands.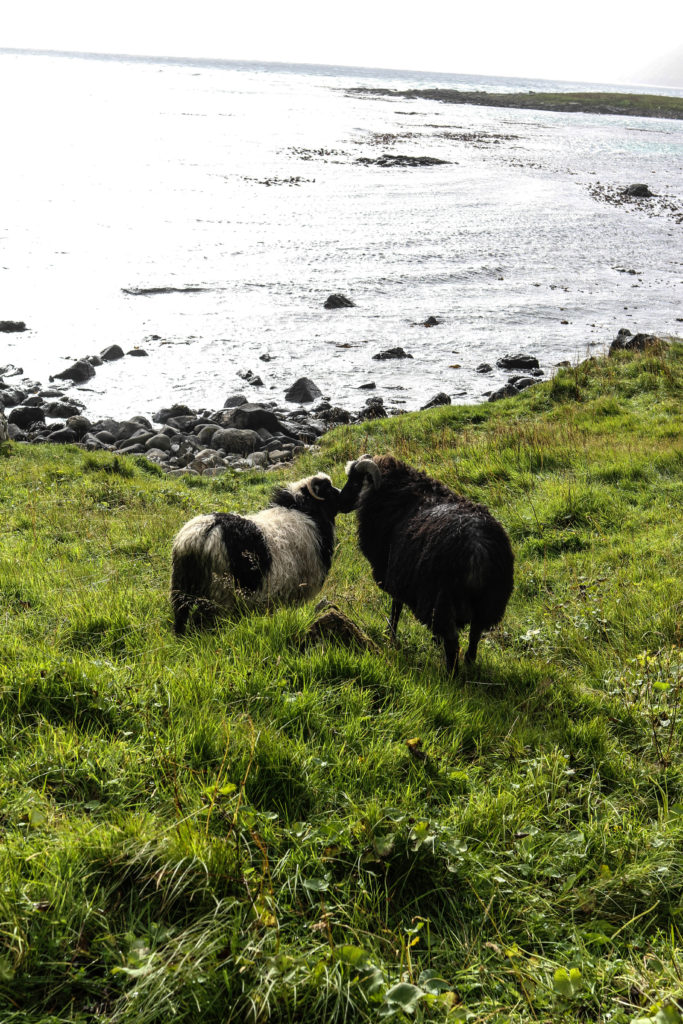 Your Faroe Islands Itinerary: Day 2
Pay a Visit to a Witch & a Giant
The next morning, and with the Faroe Islands now basking in warm sunshine, it seemed an ideal time for a little magic hunting.
Risin and Kellingin, the islands' resident witch and giant, were not difficult to find. Stranded off the coast of the island of Eysturoy, both can be found next to the great cliffs of Mount Eiðiskollur.
Originally from Iceland, this giant and his wife were apparently on a mission to steal the Faroe Islands in order to return it to Iceland – where a crowd of impatient giants waited.
After successfully managing to loop a rope around the peak of the soaring hills, Risin and Kellingin pulled as hard as they could, hoping to drag the islands on their backs. Yet, their plan was thwarted when the mountain fractured. Despite working through the night, desperate to shift the mountain even a few metres, the sun eventually rose and Risin and Kellingin's fate was sealed: they instantly turned to stone.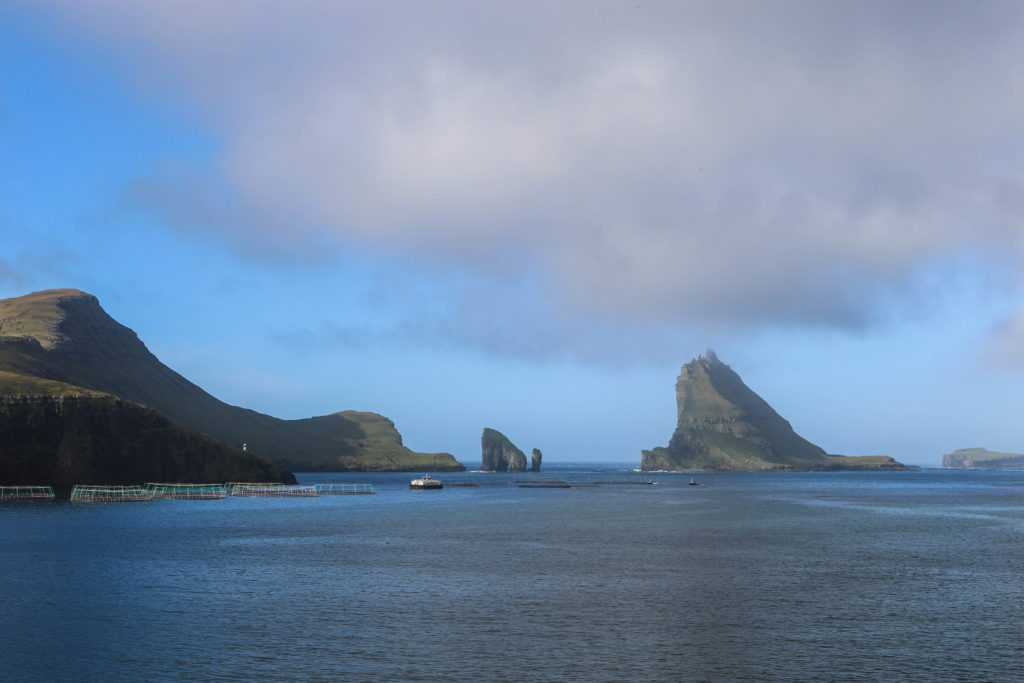 Standing in the sunshine, overlooking mount Eiðiskollur, I could clearly see the witch and the giant, looking longingly back towards Iceland. With her peaky tip resembling a witch's hat and the enormous bulky giant ahead of her, I felt a little sorry for the giant and his wife.
After quietly photographing them and enjoying the perfect stillness of the warm weather, it was time to leave them behind.  With the sun warming our backs, we were headed to the Faroe Islands' most Pinterest-worthy sight: the heroic waterfalls of Gásadalur.
The Faroe Islands' Most Photographed Spot: Gásadalur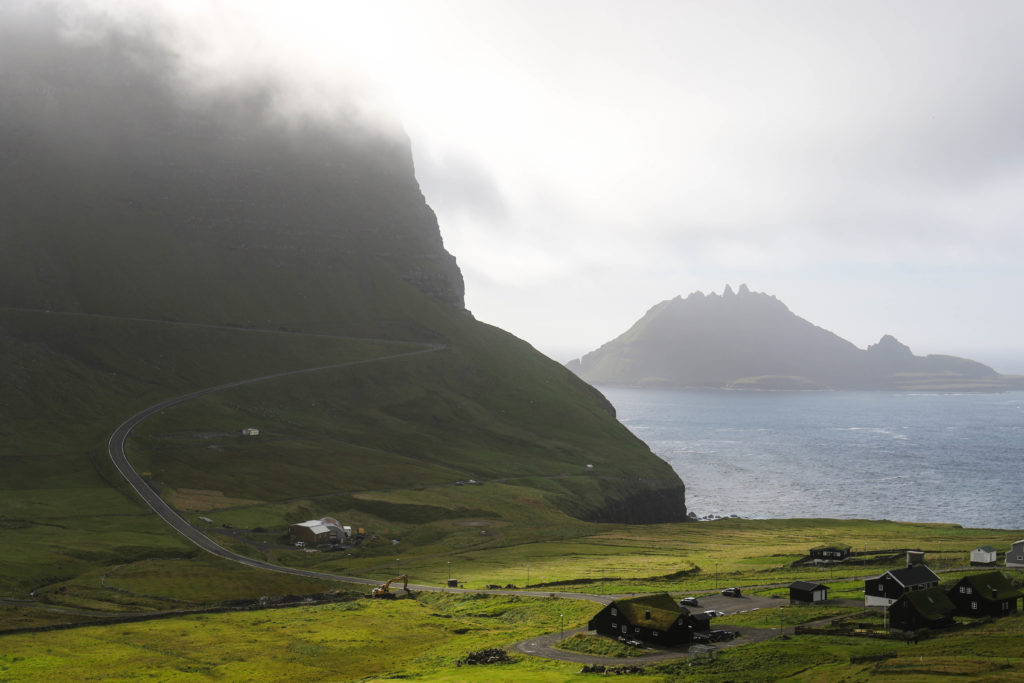 These falls – a perfect cascade of crashing water – fall from the greenest of cliffs into the bluest of waters. They also come complete with a picturesque village perched just above them. As such, they must be included in any itinerary for the Faroe Islands.
Something of a Pinterest sensation, I wondered if the twenty or so villagers who inhabit Gásadalur know that their homes are shared regularly across the globe. Given their remoteness, I thought perhaps not.
Gásadalur – or 'Goose Valley' – can be found on the west coast of the island of Vágur, sitting snugly at the base of the Árnafjall mountains. Permanently shrouded in swirling sea mists and low-lying clouds, the residents of this village could, until 2004, only access their village by undertaking a strenuous 5k walk over hilly mountains, or by tiptoeing precariously along cliff edges.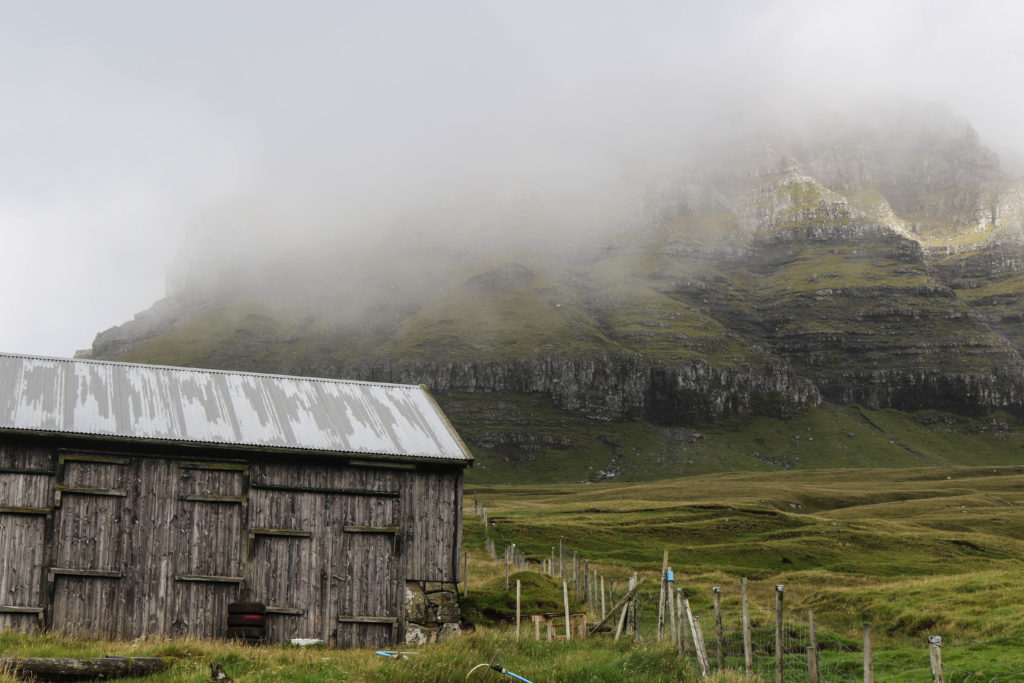 However, in 2004, I imagine that the postman could take no more and a tunnel was blasted through the dense rocky mountains, finally linking Gásadalur with the rest of Vágur.
Today, this isolated village is a photographer's dream: a place where the residents go quietly about their lives as tourists arrive to gawp.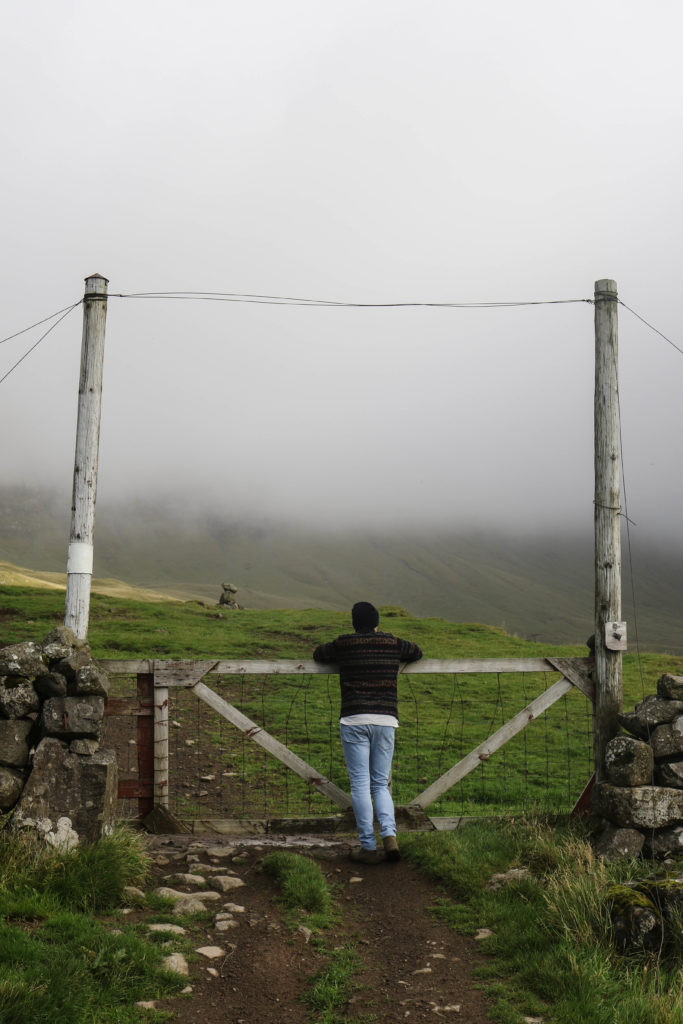 Arriving in Gásadalur, we parked in the small car park created purposefully for visitors; complete with a toilet that reminded me of a small alpine lodge.
The village was quiet, aside from the sound of two men steadily retiling a roof; the sound of their hammers echoing around the bowl-shaped valley. Ahead of us was a traditional black, wooden hut, and hanging from it a row of drying fish. Behind us, an imposing wall of mountains loomed over the village.
Following the sound of crashing water, the waterfall was not difficult to find (situated close to the tunnel where you enter the village).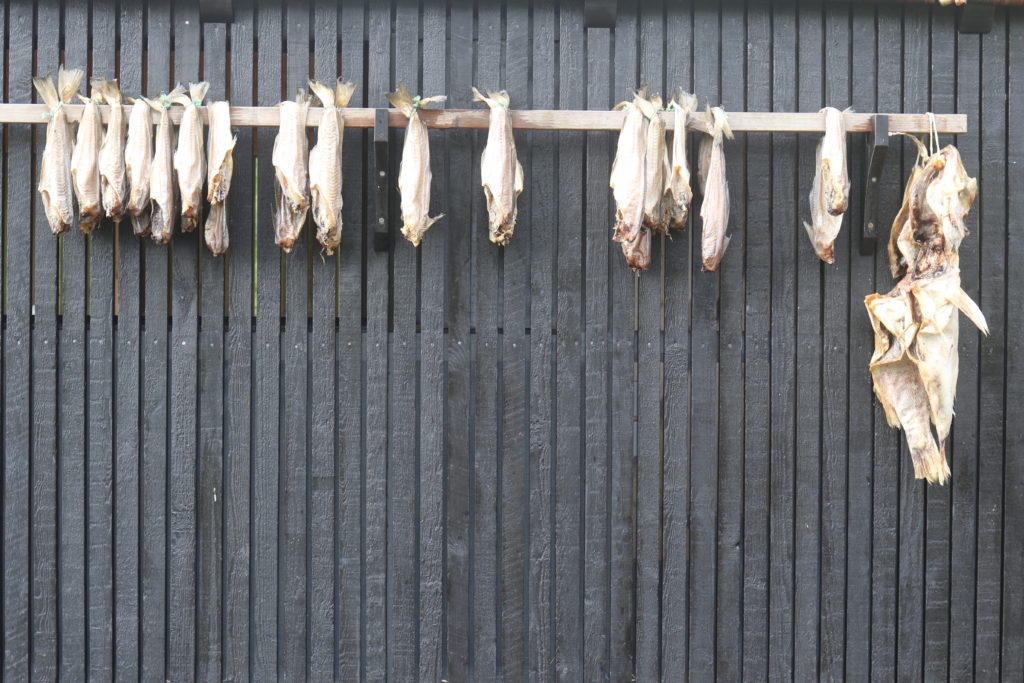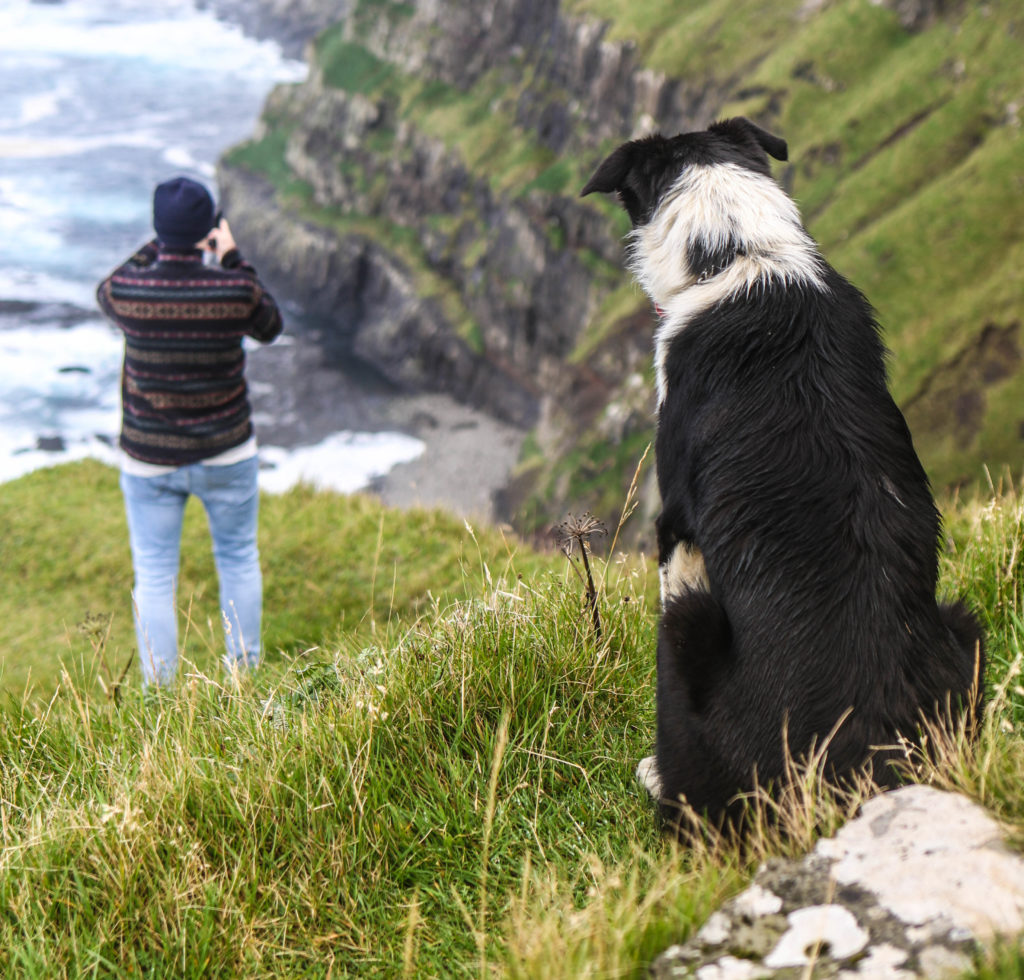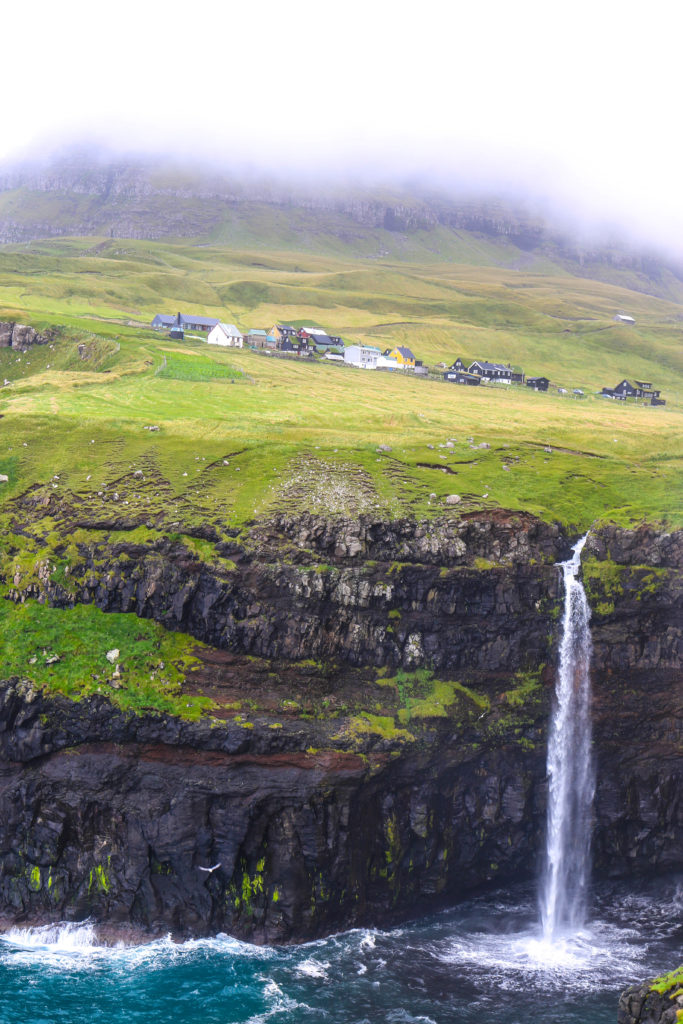 Unsurprisingly, the scene is unimaginably beautiful.  Indeed, it looks almost artificial; faked by a Nat Geo photographer, perhaps.  If following this guide to the Faroe Islands, it goes without saying that spending some time gazing at these falls is a must.
A Road Trip to Picturesque Saksun
The morning gone, our next stop was another internet sensation: Saksun.
Found back on the island of Eysturoy, the journey takes around forty minutes and weaves through the islands' proudly named 'Buttercup Route'. This scenic drive is filled not only with delicate yellow flowers, but with winding mountain roads, wooden bridges and hidden cottages.
A photo opportunity at every turn, be prepared to stop at a moment's notice in order to capture these postcard worthy shots.
Arriving in Saksun, a small hamlet of huts and a glistening white church greeted us. Ahead lay a narrow valley of mountains and in the middle, an almost inky black lagoon. Aside from its beautiful views, there is a small museum here, an open church and some beautiful coastal walks (although do be careful of the tide).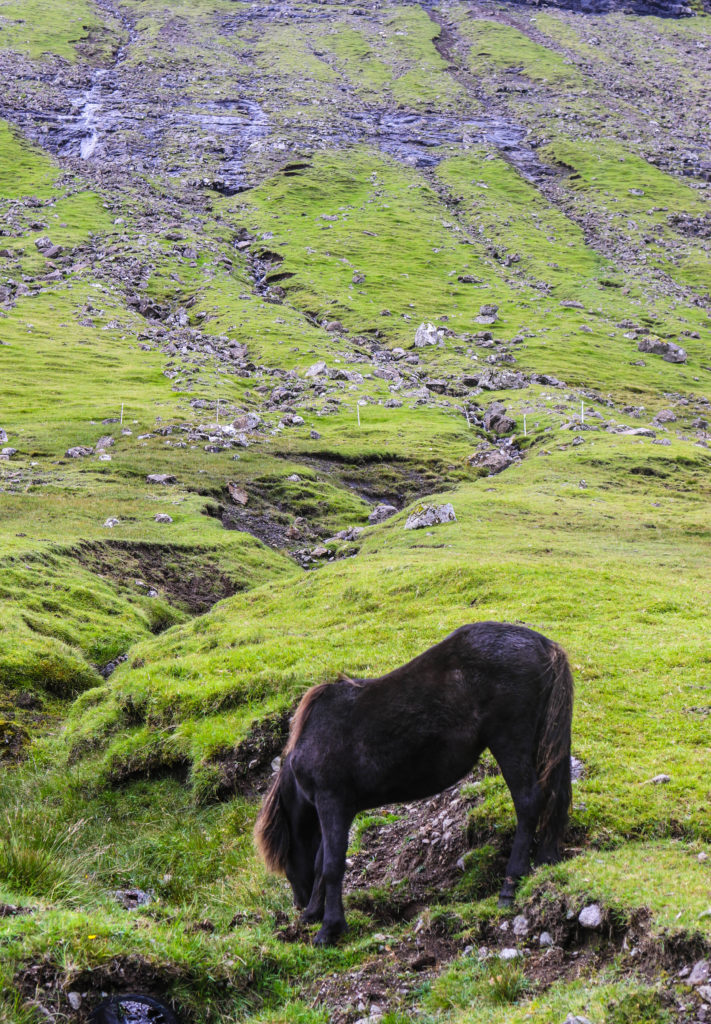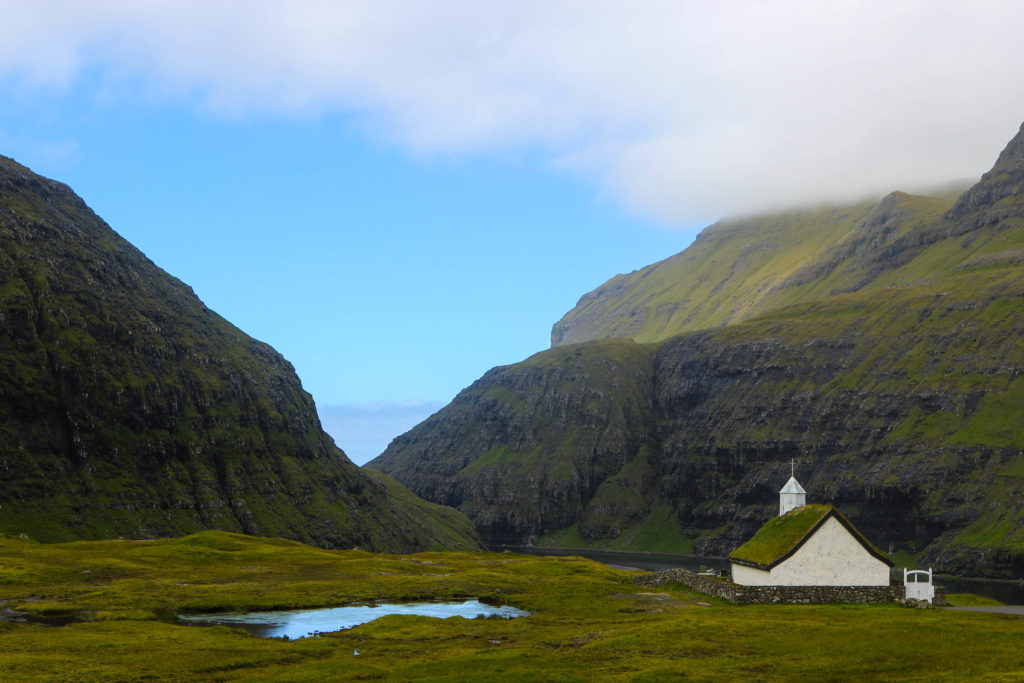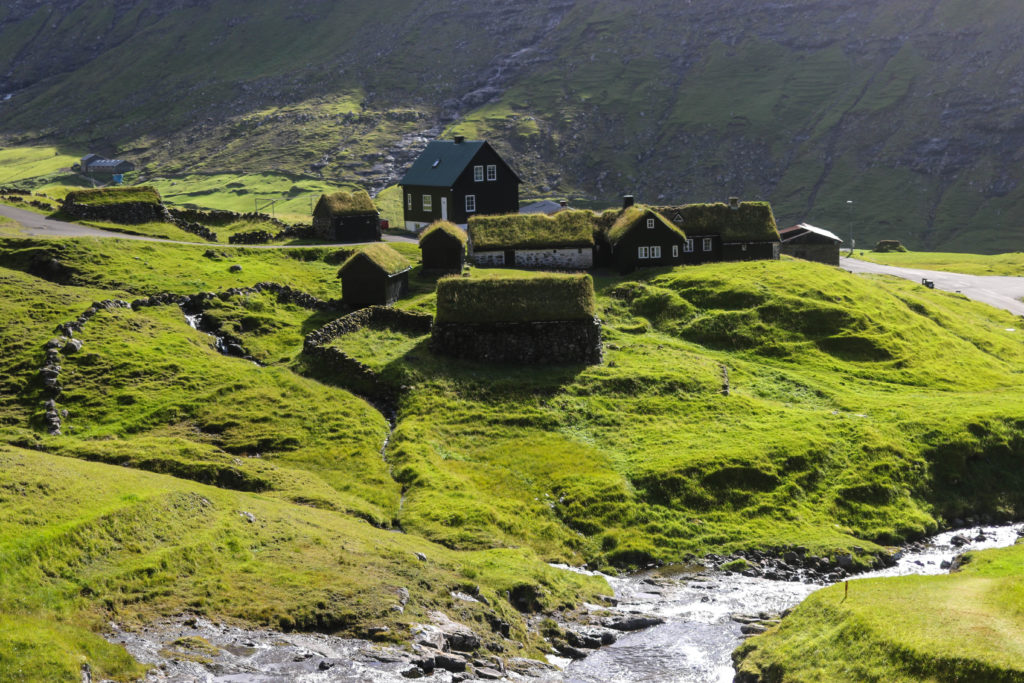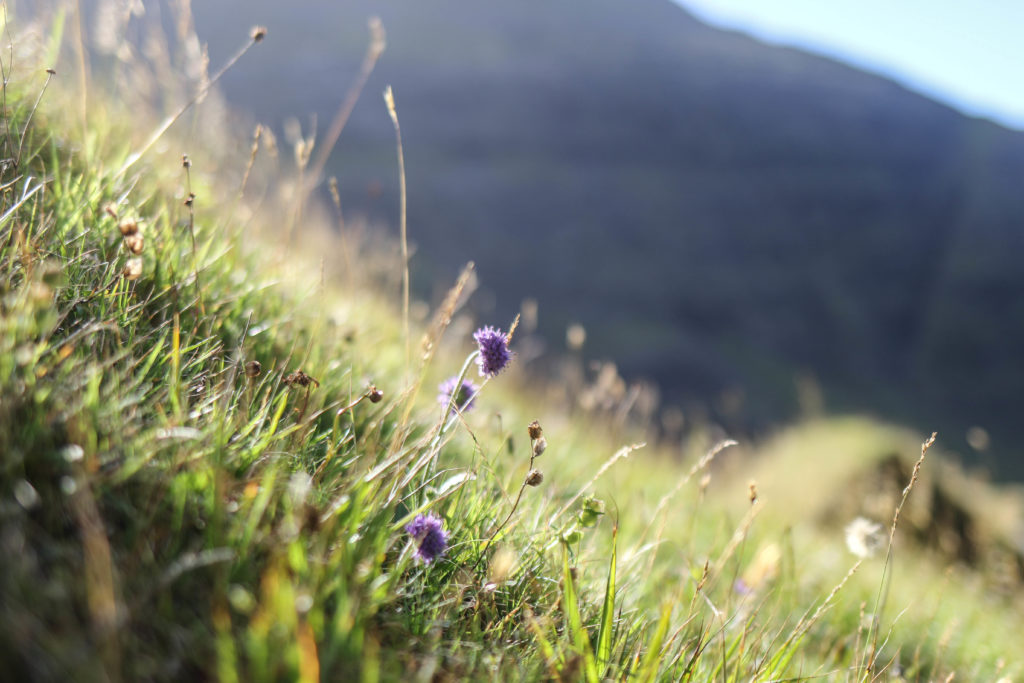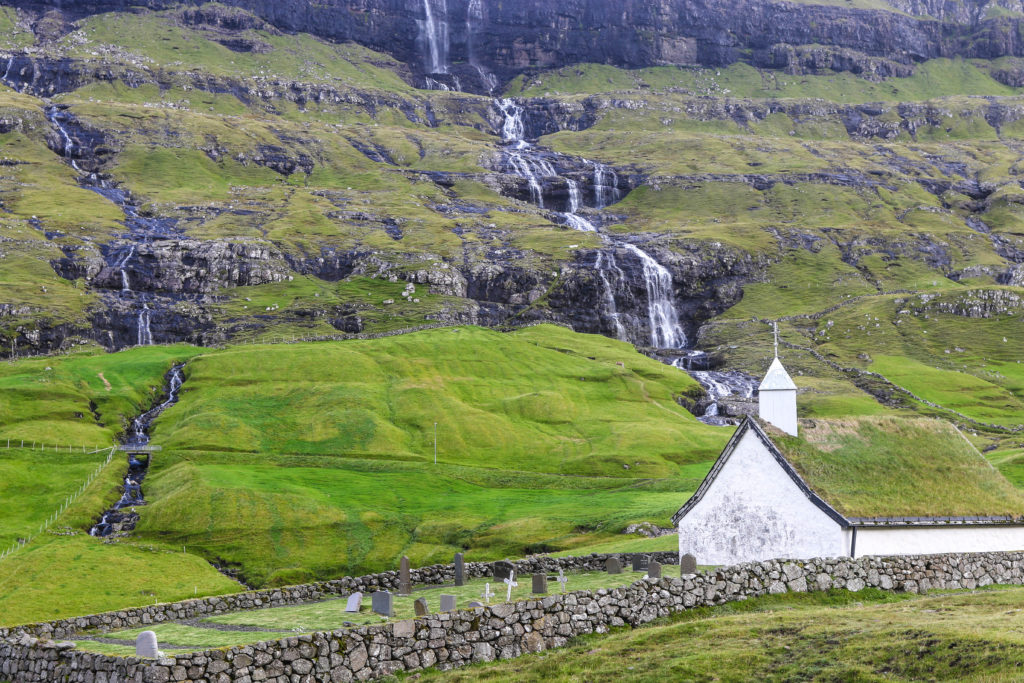 Dinner at Áarstova in Tórshavn
That night – and after a full day of adventuring – we sat contentedly inside Áarstova: a beautiful restaurant set inside a traditional turfed cottage.
Filled with candles, soft lighting, creaking wooden boards and plenty of taxidermy, here we shared an enormous leg of salted lamb, potatoes and red wine (the lamb is one of the islands' most famous dishes, so do try).
It was the perfect end to our time on the Faroe Islands and one of the best spots for a high-end, slap-up meal.
(Again, be warned, the prices at Áarstova can be a little expensive, so perhaps stick to the prix fixe menu if you want to keep costs under control).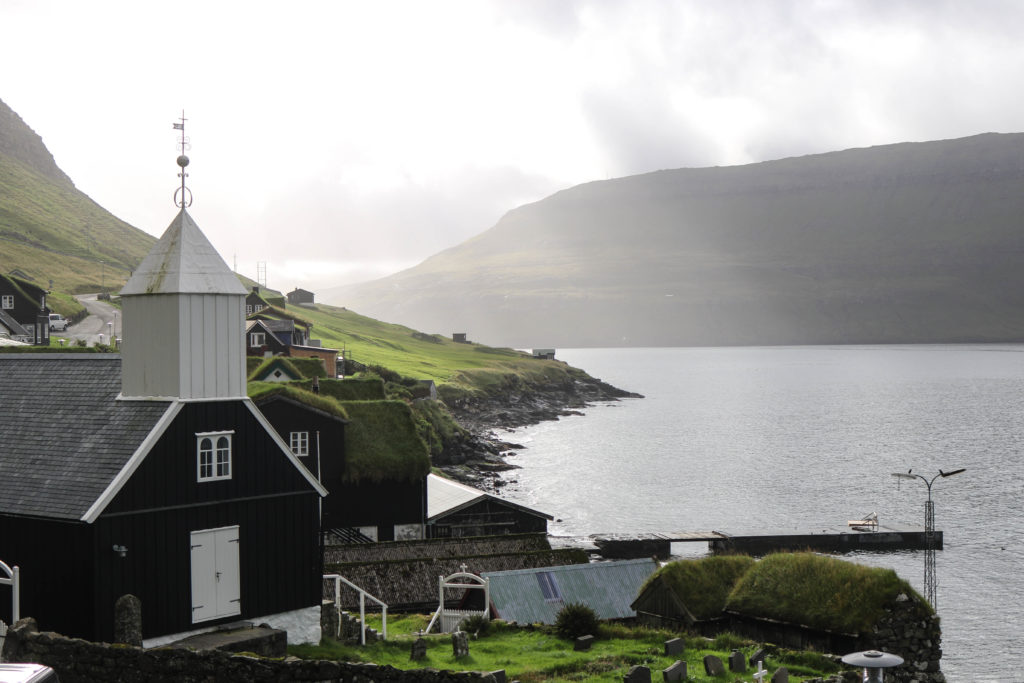 An Itinerary for the Faroe Islands: Final Thoughts
On the night that we had attended the Faroese football match, I'd listened as the crowd proudly sang the islands' national anthem; the sound swelling to fill the stadium.
I later looked up the lyrics to this anthem, discovering that it largely referred to a land where summers made the hilltops fair, and where winters drove men to despair. It also included references to lives lost at sea, to snow covered mountains and to a country of sheep.
But above all this, the song stressed the magnificence, the beauty and the magic of the Faroe Islands – a beauty that the Faroese vowed to protect. Heading home from our long weekend in the Faroe Islands, I realised that I couldn't think of a better summary of this wonderful place: a destination of incredible vistas, of welcoming people and of untamed beauty.
Having followed this Faroe Islands itinerary, I hope it's a description that you'll agree with.
Other posts you might find useful:
Pin It: