This review of the Dyson Airwrap Styler Complete contains affiliate links.
I've spent much of my life battling with the unique specimen that is my hair.
Whilst on the bright side it's very thick and grows incredibly quickly, it also has a peculiar texture that's rarely seen in the natural world.
Somehow it's both densely wavy and curly underneath, while poker straight on top – a hybrid sort of barnet. There's also a lot of it, but the hair itself is extremely fine; lending itself to an almost velcro like texture.
For want of a better analogy, I'd say that my hair resembles the love child of a pubic hair and the endearing patch of fluff found on the back of a toddler's head.
Because of this unique genetic makeup, I've (naturally) spent a small fortune on various hair tools and products over the years. From jumping on the GHD bandwagon in the early 2000s, to trialling (unsuccessfully) the Curly Girl Method, I've tried it all.
The result? Either an incredibly time-consuming styling routine, including lots of red hot tools, or a 'last resort bun' sort of affair.
Neither option, if I'm honest, have been great.
Discovering the Dyson Airwrap Styler Complete
Thanks to regularly dousing my hair in bleach and aggressively straightening it, it's fair to say that it's now not only difficult to style, but has the texture similar to that of scorched earth.
Having realised last year that the Curly Girl Method was not going to help manage my hair (despite definitely helping to restore its strength), I took the reluctant decision to revert back to the dark side and employ heated hair tools to help tame the wilds of my scalp.
However, and although my GHD straighteners were fantastic, I wanted to try and find something that wasn't the equivalent of using two suns to iron my hair; instead looking for something that was a little less reliant on heat when it came to styling.
Doing a little research, I soon came across the Dyson Airwrap Styler Complete.
How Does the Dyson Airwrap Styler Complete Work?
If, like me, you're more familiar with Dyson producing vacuum cleaners than hair tools, you'll perhaps want to understand how this futuristic piece of kit works.
With the Dyson name bringing to the table connotations of brilliance and innovation, I was intrigued as to just how the Dyson Airwrap Styler worked; particularly in terms of how it would deviate from the more established hair tools on the market.
It Uses Air Rather Than Heat To Style 
Having already made quite the entrance on the hair scene with their Dyson Supersonic hairdryer (one that uses a tiny and incredibly powerful motor), the clever engineers at Dyson have used this same motor and put it inside their Airwrap Styler Complete: delivering 3 times the amount of air (and power) as your average hairdryer.
This not only means that the air can be cooler, as it's distributed more powerfully (the maximum temperature is 150 degrees), but that this same air can be harnessed to both style and smooth.
The 'Coanda Effect' – Using Air to Style Your Hair
To the untrained eye, the Dyson Airwrap Styler Complete looks a little like a curling tong.
The base piece (which looks like the base of a barrel), is where the powerful motor sits and above this is where you attach the various  tools that come with the styler.
These different parts include two different smoothing brushes (soft and hard), a volumising brush, a pre-styling dryer (a mini hairdryer, for want of a better description) and two sets of curling barrels (30mm and 40mm).
Blow Drying
To dry and style your hair (you can rough dry it first with the pre-styling dryer attachment), the Dyson Airwrap Styler Complete harnesses what is known as the 'Coanda Effect'. In short, the tool's motor sends a jet of hot air flowing down the barrel of your chosen attachment, which, in turn, attracts your hair to its surface (think of two magnets attracting one another).
This downward air flow mimics a hair stylist's blow-drying technique and directs your hair both downwards and along the brush or barrel; resulting in easily styled and silky smooth hair.
To get different styles, you can either use one of two smoothing brushes provided, or use the traditional volumising brush, to really get that professional blowout look.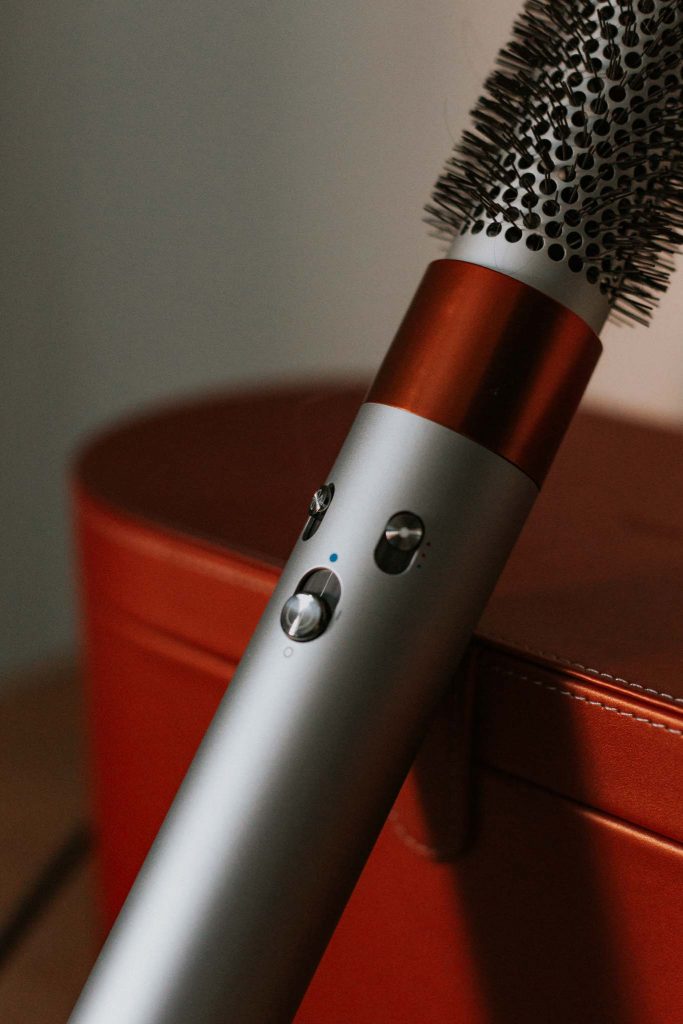 Curling
Once your hair is dry and smooth, you can then switch up tools and use either of the Dyson Airwrap Styler Complete's barrels to curl your hair – choosing a thinner barrel for tighter curls, or the larger barrel for big, bouncy waves.
Again, the 'Coanda Effect' comes into play here and magically attracts the hair to the barrel (without having to use a damaging hot clamp to keep the hair in place). With just air simultaneously keeping it secure and styling it (the heat of the air will ensure it is set in place), your hair is again saved from any unnecessary heat.
Settings
On the Dyson Airwrap Styler Complete base piece are two settings you can use to control your overall styling experience.
Firstly, there is an airflow speed controller, which allows you to increase the power of the air being propelled downwards. I tend to use the most powerful setting, purely as I have thick hair and tend to be a bit impatient – but it might be worth lowering this setting when curling.
Secondly, there is also a heat control setting, including a 'cooling' option. This is great to use when you want to 'set' your curls or have finished drying your hair with a smooth brush and want that shiny, sleek effect.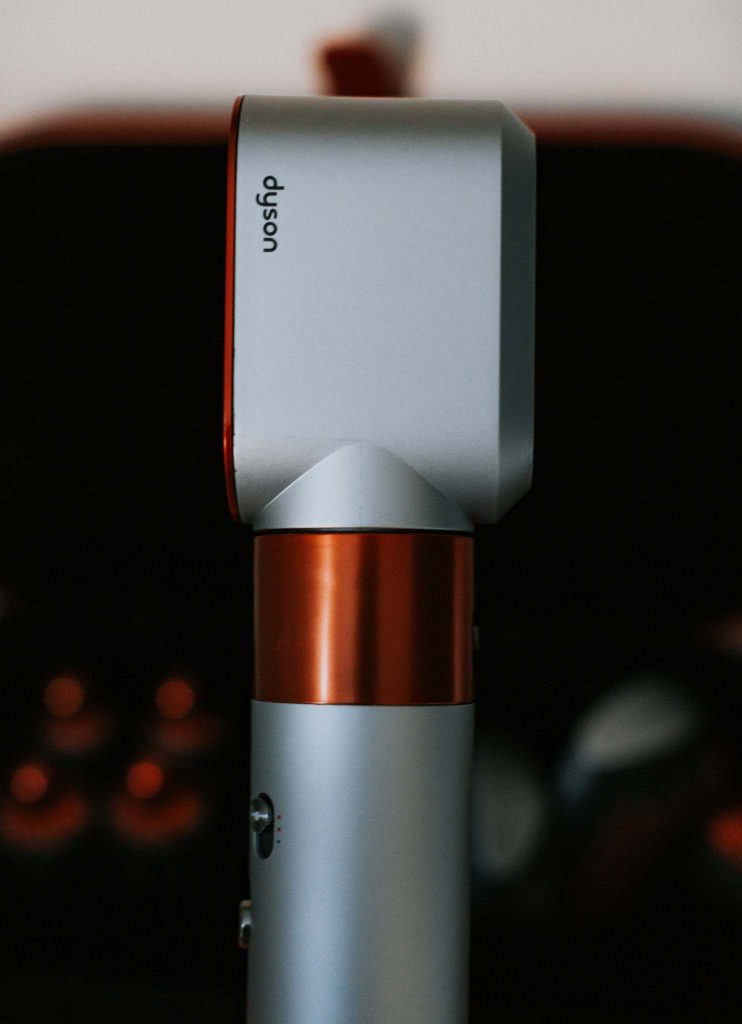 An Honest Review of the Dyson Airwrap Styler Complete: Is It Worth the Price?
Costing an eye-watering £449, the Dyson Airwrap Styler Complete is the most expensive hair tool on the market. Indeed, it almost makes your GHD stylers look reasonably priced.
Although I initially struggled to find honest reviews of the Dyson Airwrap Styler Complete (many were based on gifted items), I did find enough helpful videos to conclude that at the very least, buying a Dyson Airwrap Styler Complete would take the heat off my hair (quite literally), alongside speeding up the long and laborious process of drying my hair.
With a vague backup plan of selling the Styler on eBay if all else failed, I took a deep breath and hit 'order' on the Dyson website; my physics-harnessing hair tool arriving just two days later.
Pros of the Dyson Airwrap Styler Complete
Exceptionally Fast Drying
One of the initial things that struck me when first using the Dyson Airwrap Styler Complete, was just how 'cool' the air felt when I turned it on.
Now, I'll admit that the hair dyer I had was of the £10 variety – and the fact it reached almost lava-like temperatures was probably no good thing. However, as I was used to a higher heat, I did briefly worry if this cooler air would mean a longer drying process.
Attaching the pre-styling dryer (essentially a miniature version of Dyson's own standalone hairdryer), I turned the tiny machine on for the first time – my fingers crossed.
Although the air didn't feel especially warm, I was surprised at just how quickly my hair was drying. Furthermore, it wasn't just targeted sections that were drying, but large segments at once. Within five minutes, the majority of my (thick) hair was roughly dry; ready to be finessed by the other styling tools.
There was no dripping hair and no sections left drenched in conditioner; instead it was 85% dry throughout.
This fast drying action is (apparently) due to Dyson's use of a super-charged motor (producing an incredible amount of power and air pressure) and its harnessing of the 'Coanda Effect' to diffuse and distribute air equally along each follicle.
Although I might not fully understand the science behind it, I can honestly say that  I've never owned a hair dryer that has got the job done quite so quickly.
All in all, it probably shaves ten minutes off my drying time and I imagine that for ladies with thinner hair, you could probably have your hair roughly dried within a couple of minutes.

No More Use of Hot Irons or Wands
Another benefit of using the Dyson Airwrap Styler Complete is the fact you can do away with your old hot irons and wands – something your hair will thank you for.
Traditionally, if I wanted to attempt to sport a semi-smooth look, I'd first have to submit my hair to the blasting furnace of my hair dryer, before then straightening it with 200-degree irons. The result? Hair that whilst definitely straight, was also entirely devoid of life: a dehydrated, scorched shell of a barnet.
I also found that it was causing a lot of the finer hairs around my face to break, causing a lot of fly away and unhealthy looking strands.
Thanks to the Dyson Airwrap Styler Complete, however, you needn't touch straightening irons or curling wands again – instead relying on Dyson's use of carefully temperature controlled air to do all the hard work.
In my opinion – and as someone with very heavy hair – I'd suggest that this technology is most effective when straightening or smoothing your hair. When it comes to curling using the styler (rather than my traditional curling wand), I've had mixed results (see below).
However, it does work wonders for drying my hair in a smooth and styled way – reducing frizz, unnecessary volume and leaving it looking as though I've given it a once over with my GHDs.
The Range of Hair Tools Included
Another thing I was impressed by when it came to the Dyson Airwrap Styler Complete was the number of styling attachments it came with.
Although it has been the case that it's been the Styler's two sets of curling barrels that have stolen the show in most product reviews, I'd argue that the underrated stars of the show are the Smoothing Brush (hard version) and the Volumising Brush.
There are two different smoothing brushes that come with the Dyson Airwrap Styler Complete: a hard and soft version.
I've tried both and have a definite preference for the 'harder' version. It just seems to result in much smoother hair – especially at my roots (where the follicles sit) – and gets through my thicker hair with greater ease.
I tend to rough dry my hair first with the pre-styling dryer tool (until it's around 60-70% dry) and then section my hair off – running the brush through each segment. As I move the brush through, the hot air blows down the brush and directly onto my hair cuticles – both drying and smoothing as it goes.
The results have been brilliant and as a result, I've stopped using my GHD straighteners entirely.
Styling Hair with Volumising Brush: A Salon Worthy Blowout
One thing I've never been able to re-create is that freshly blowdried look that hairdressers seem to master so easily.
Instead, I often find that the round bristle brushes tangle in my hair and I find myself dragging the brush through each section with my teeth gritted. The result, I can tell you, is neither bouncy nor immaculately styled hair.
However, Dyson's version of this volumising brush is not only incredibly easy to use (and doesn't tangle in your hair), but with the help of the 'Coanda Effect', also recreates those bouncy blowdried waves with very little effort.
It's an amazing piece of kit.
It Is Beautifully Presented & Manufactured
Although not a justification for its considerable price tag, the Dyson Airwrap Styler Complete is both beautifully presented and crafted – with each individual part brimming with quality and innovation.
When I bought my own styler, I went for the Limited Edition version – which essentially means it just came in a fancy case (a burnt orange colour). Inside, you'll find each tool and attachment carefully placed in individual compartments and a heat resistant mat laid on top.
It's neat, professional and reminiscent of how Dyson present their hoover accessories.
As with Dyson's own vacuum cleaners, there's no denying that the Styler looks and feels impressive – completely unlike any other hair tool I've seen or used yet. It's light, smart looking and subtle, but also driven by clear design and innovation.
It is a modest piece of kit, but one that really packs a punch.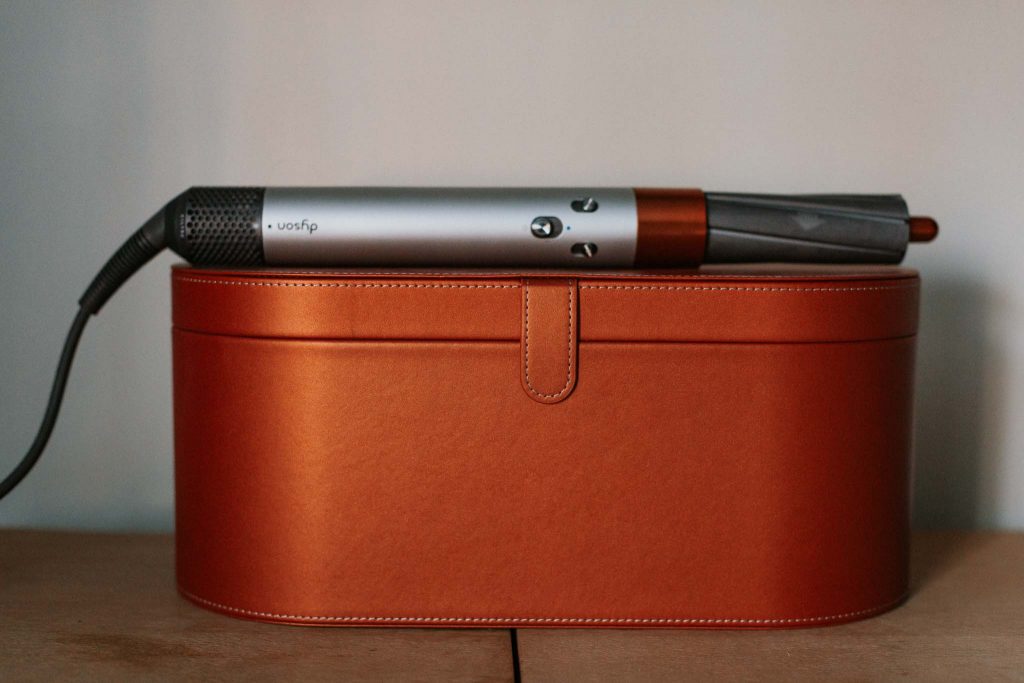 Quiet
Another thing that impressed me with this Styler was the little noise pollution it created.
Thanks to only investing in cheap hair dryers in the past, I'm more than used to having to leave the room to blowdry my hair (to prevent a grumpy reaction from my partner or cat). However, the Dyson Airwrap Styler Complete is a much quieter tool – in fact, it doesn't sound like a hair dryer at all. The noise is definitely less obnoxious and higher-pitched – a little like using a very small vacuum cleaner.
Cons of the Dyson Airwrap Styler Complete
Curls Don't Last (Thick Hair)
The 'standout' feature of the Dyson Airwrap Styler Complete is, apparently, its almost supernatural ability to create effortless waves and curls. This was an element I was really excited to try – and I had visions of being able to curl my hair from almost wet.
While there's no denying that the Airwrap makes creating the curls easy, I find that they tend to be quite frizzy (something that is helped by using the most powerful speed and heat setting) and sadly, do not last.
Now, this might have very little to do with the Dyson Airwrap itself and more the weight of my hair. Indeed, the waves and curls are meant to be natural and subtle – something my heavy hair doesn't do. Instead, it either has to be severely curled or brutally straightened, or else the style tends to fall out.
As such, I've found that the curls and waves created by the Styler don't really last. In fact, and after an hour or so, my hair just looks gently wavy rather than curled or deliberately styled.
This was a bit of a disappointment and as a result, has seen me return to my Cloud Nine Curling Wand. Although this is the sort of traditional heated styling tool I was keen to avoid, this Wand creates the most incredible curls and waves that last up to four days.
In comparison to the Dyson Airwrap Styler Complete, it's therefore much more effective on my hair.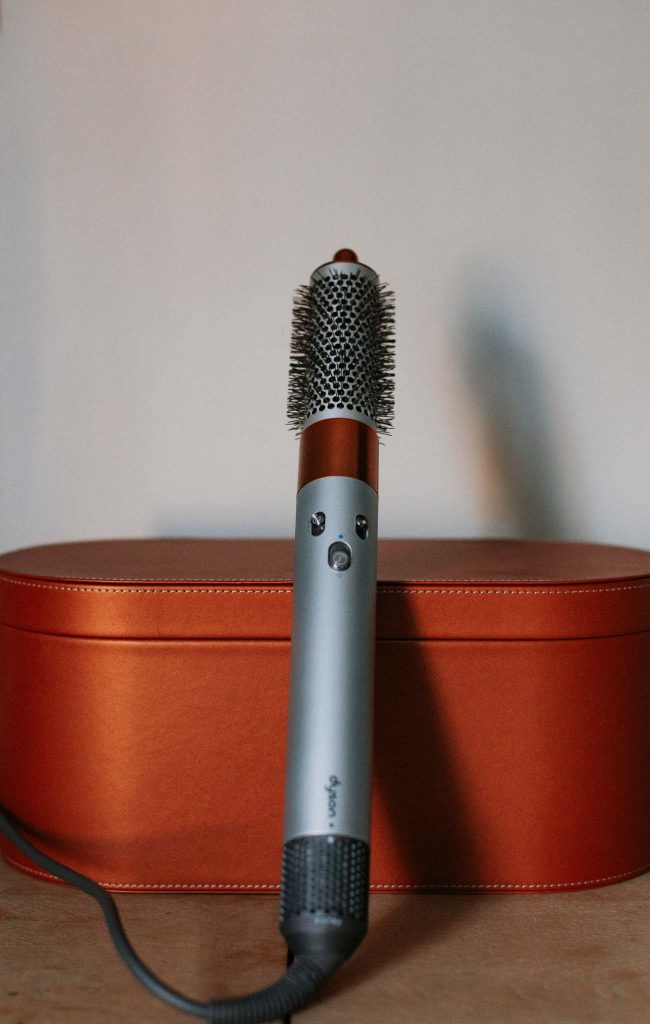 Overpriced?
This latest addition to Dyson's suite of technology is no doubt exciting.
Its use of a super-charged motor, its deployment of physics and its dependence on air rather than heat, is the sort of futuristic technology that we've all come to expect from Dyson.
However, and taken in isolation as a hair tool, is it really worth its considerable price? Is its impact on your hair really that life-changing that it's worth parting with nearly £500 for?
In my humble opinion? It's probably worth half the price in terms of what it's added to my own hair styling routine (and provides a finish that the much cheaper GHD Hot Brush can also provide).
Yes, the Styler is incredibly convenient – it creates a smooth blowout look easily and does save me a lot of time. But has it resulted in me now sporting salon-quality styles each day, every day, with little to no effort?
Probably not.
Issues with the Dyson Airwrap Motor (2022 Update)
I'm adding this section in March 2022, as an update on how my Dyson Airwrap is faring.
The answer? Not great.
After around 12 months of owning it, I noticed that the Airwrap kept overheating very quickly and consequently, the motor would cut out. Once it had overheated, it would be offline for around 20 minutes – an excruciatingly long time when you're trying to get out the door and still have wet hair.
The only way around this (I've found) is to lower the heat and speed setting. This isn't ideal, of course, and it takes much longer to now dry and style my hair.
Verdict: An Honest Review of the Dyson Airwrap Styler Complete
There are a number of things about this innovative little Styler that I genuinely love.
I can dry my hair much faster, I can create a polished and smooth look with very little effort and I can achieve that salon blowout look all by myself. I also appreciate that it's quiet yet powerful, and undoubtedly better for my hair when it comes to its innovative use of air, rather than heat.
However, as someone with very thick hair, I've also found that the Dyson Airwrap Styler Complete has its limitations. Its standout feature – the ability to create luscious curls from damp hair – seems lost on me; leaving me with often wavy and frizzy results.
As such, I've switched back to using my old curling wand when I really want that defined, curled look (which, to a certain extent, defeats the point of investing in this piece of kit in the first place).
Additionally, the newer issue of the motor regularly cutting out due to overheating, means that shelf life of the Dyson Airwrap is ludicrously short.
My final thoughts? If you have thinner or less weighty hair, then I believe you'd absolutely get your money's worth when it comes to investing in this styling tool. I imagine it would leave your hair looking bouncy, volumised and beautifully styled.
However, for ladies with dense, thick hair? I'd warn that you may not get the same results.